This light and refreshing summer salad, packed with nutrients and flavor, is sure to become one you will crave! What I love about this Asian Noodle Salad is the layers and layers of flavor you get to discover. Sweet, tart, and umami for days. And the peanut dressing just sends it all over the top for me, but I'm a little crazy for anything with peanut butter in it!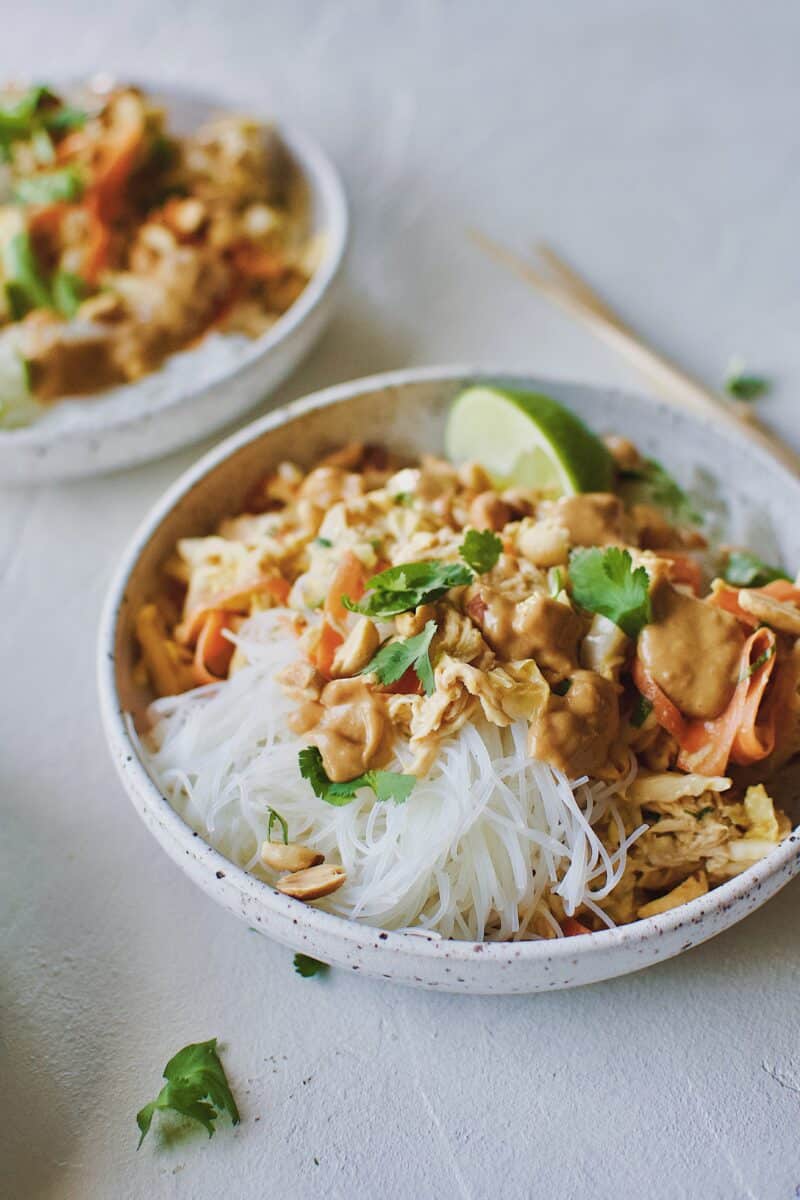 The light, freshness of this salad can't be beat. I often serve this for dinner. It has all the elements of a GREAT meal in it. It also makes for a fresh take on a side salad to take to a backyard cookout or barbecue.
Jump to:
Ingredients
At first glance you may find this ingredient list long and daunting. But I am here to defend it. None of the ingredients are outrageously expensive, and many can be purchased in the bulk sections so you only have to buy what you need. I understand it looks long, but the recipe is quick to make and and one taste makes it all worth it!!
What I enjoy most about this recipe is that it doesn't call for any Asian ingredients that a hard to find. Plus I would call most everything here a pantry ingredient. I keep soy sauce, fish sauce, sesame oil, peanut and peanut butter, lime and garlic on hand ALWAYS. So I have a good jumping off point there. I just have to plan for a few fresh veggies to grab from the store and some noodles. But I even sometimes have an extra package of those hiding in the pantry too!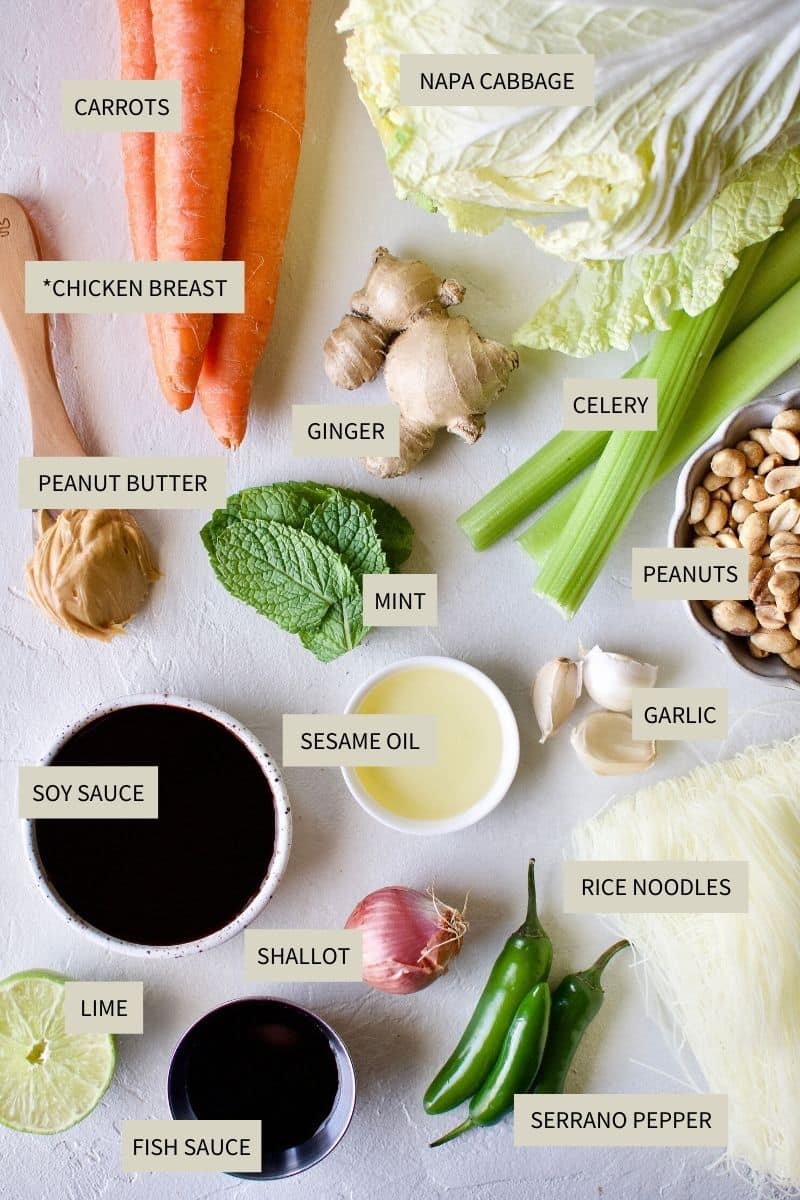 Use the JUMP TO RECIPE button at the top of the post, or scroll to the bottom of the post to see the full recipe card with ingredient measurements and instructions.
Method
This recipe starts by creating a poaching liquid for the chicken. Most of the ingredients go into it and it helps carry so much flavor into the dish. The celery, ginger, garlic, cilantro stems, and sesame oil all go into a pot with the chicken. Bring it all to a boil then reduce the heat and allow the chicken to simmer in the flavorful liquid until fully cooked.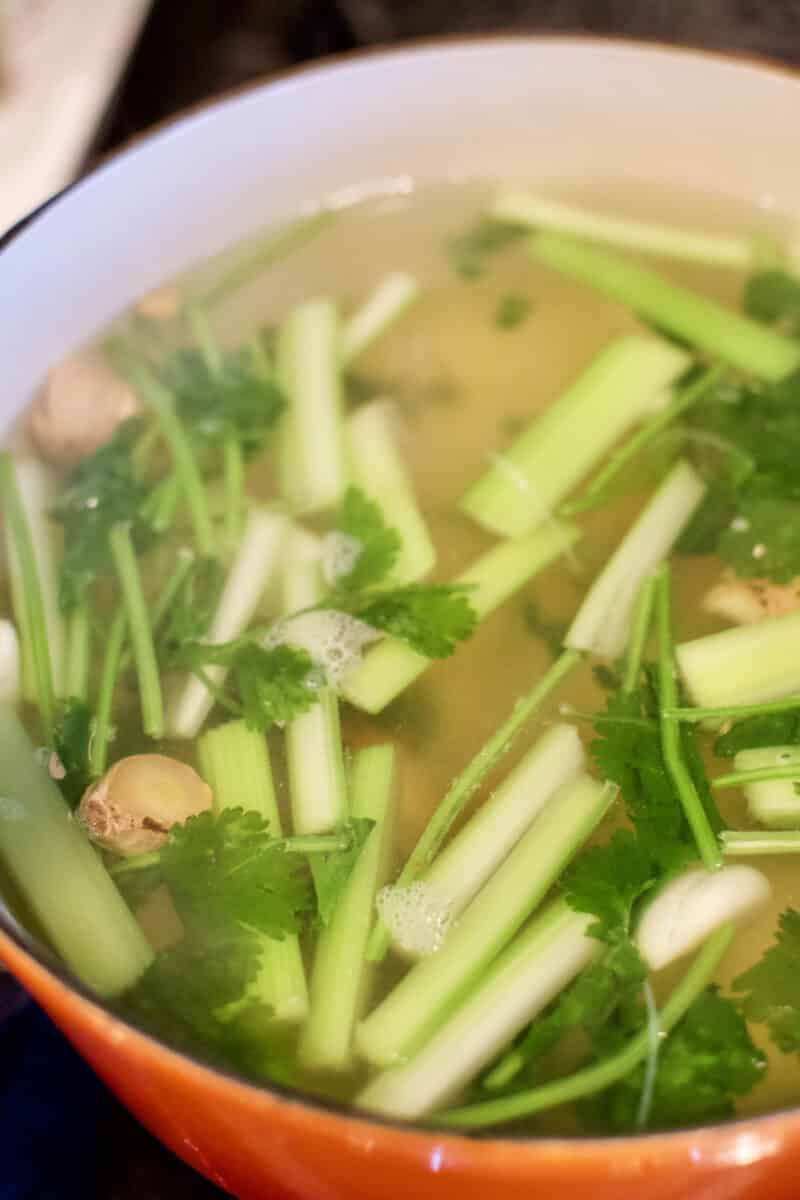 While the chicken cooks, I make the peanut dressing. It is SUPER easy, you basically toss all the ingredients for it into a bowl and whisk it together. See EASY PEASY!
After the chicken cooks, I shred it in the bowl of a stand-mixer fitted with the paddle attachment. This makes super quick work of shredding the chicken. Do this on low speed until the paddle breaks the chicken up into small pieces.
Then toss the chicken with a little bit of the peanut dressing to get all that flavor into the chicken.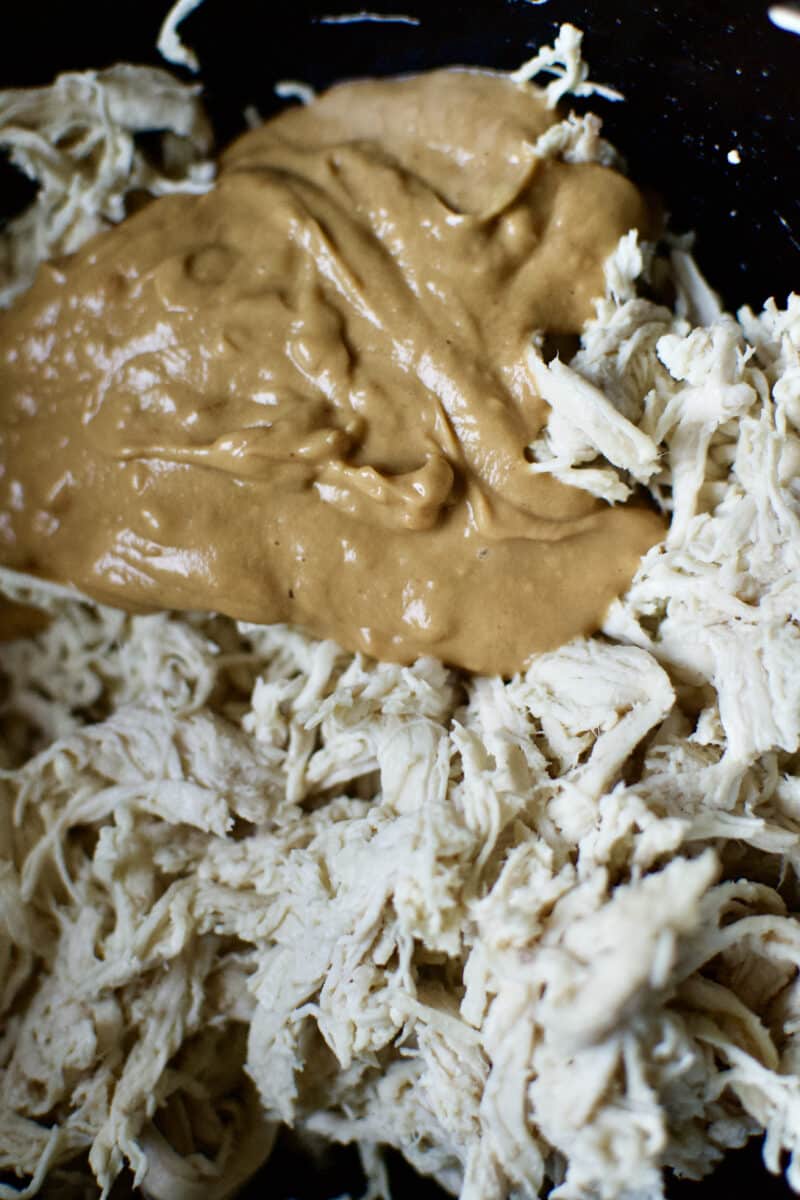 While the chicken cools, I prepare my veggies. Thinly slice the cabbage, serrano peppers, and mint. And using a vegetable peeler, thinly slice the carrots. You can add the carrots in any form you like, doing them this way just adds some more visual interest to the dish.
Then mix all the veggies and chicken together with the peanut dressing, reserving just a little bit to add to the top of the salad when serving. Serve the salad on top of the noodles (that I cook in the poaching liquid - one pot and MORE FLAVOR) garnished with the peanuts and some cilantro if you like it. I also serve with some extra lime wedges for a little extra zing everyone gets to add to their Asian Noodle Salad themselves.
Notes & Tips
I am a big fan of this Asian Noodle Salad being a one-pot wonder. After you poach the chicken, remove all the leftover veggies and herbs from the pot with a handheld strainer. Bring the pot back to a boil and cook the noodles in that broth. It will give them some extra flavor and you don't have to dirty another dish or wait for a second pot of water to boil.
While you are waiting for the chicken to come to a boil and cook, prep everything else. I make my dressing first, then chop all my veggies and get them in a big bowl. This makes everything super easy to toss together when the chicken is ready.
If you like, you can toss the noodles and cabbage chicken mixture all together. I just like to be a little fancy sometimes and put a few swirls of noodles in the bottom of a bowl and put the cabbage/chicken on top.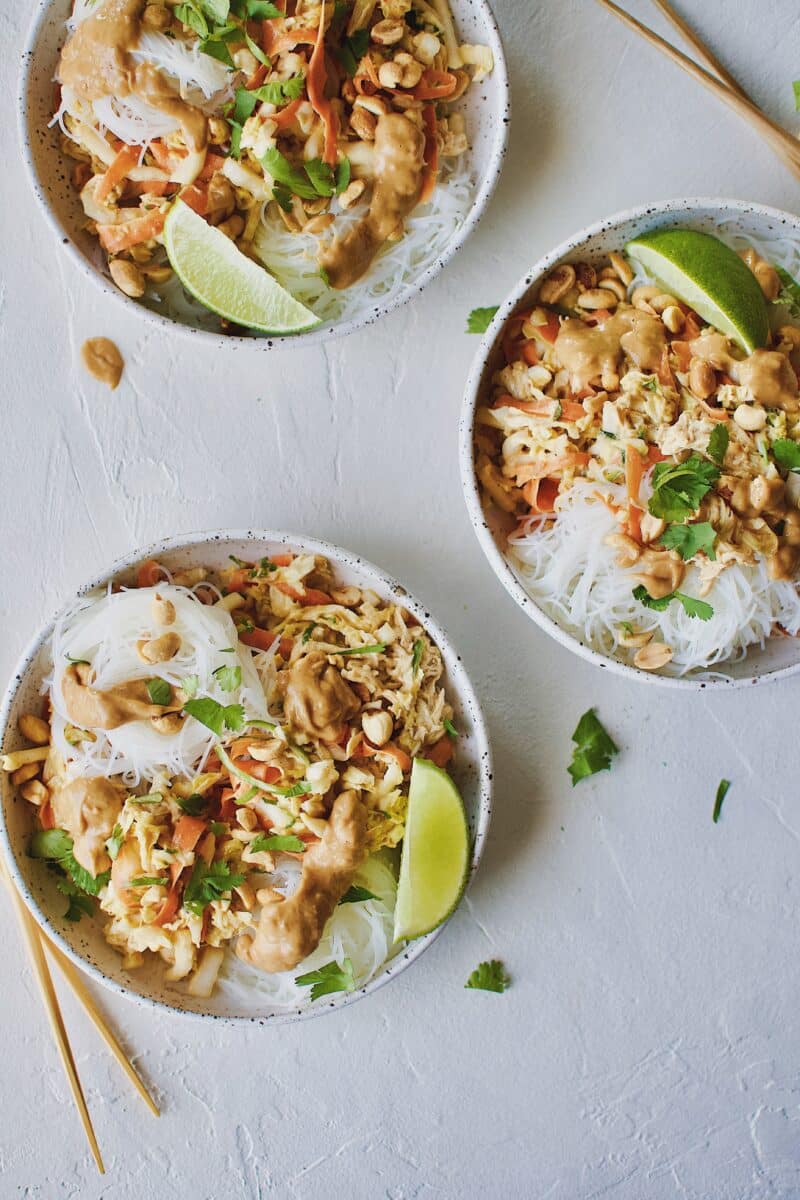 Substitutions
If you want to keep this a vegetable forward dish, the chicken can be eliminated.
The Napa cabbage can be swapped for any/your favorite green cabbage.
I like to make this with an extra fine rice noodle, but any rice noodle will suffice.
If you don't like it spicy, leave the peppers out, or serve them on the side for those who DO like them.
Keep this gluten-free by using tamari or gluten-free soy sauce.
As far as the sesame oil goes, you will find regular and toasted sesame in the store. Either will work, but the toasted has more flavor and that is usually all I keep in my pantry.
If you really don't like fish sauce, it can be replaced with more soy sauce, oyster sauce, or coconut aminos.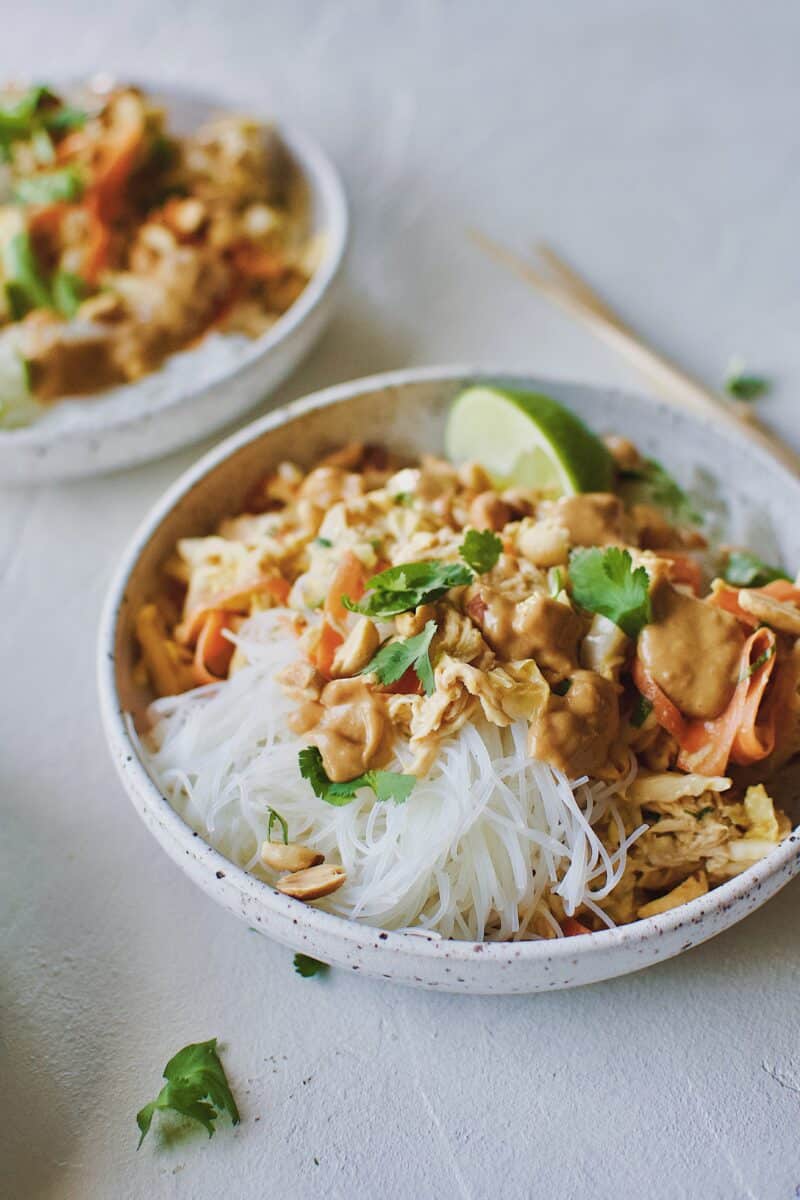 related
Did you make this recipe? Let me know by leaving a review or comment! And be sure to sign up for my newsletter, and follow along on Instagram, Pinterest, and Facebook!