I love this recipe because it is the perfect balance of nutritious and indulgent while being PACKED with so much good flavor. It begins with cooking some sweet onions, placing them on top of decadent puff pastry, and accompanied by top-quality vegetables from Stahlbush Island Farms. The sweet butternut squash, bitter greens, and succulent buttered onions make this Butternut Squash, and Caramelized Onion Tart an appetizer you will crave over and over again.
This recipe was made in partnership with Stahlbush Island Farms and features their frozen Butternut Squash and Cut Rainbow Chard.
It makes for a perfect start to your Thanksgiving or Christmas Dinner. My family even lovingly refers to it as French Onion Soup on a crust! And the lemon-honey-thyme drizzle on top launches it out of this world.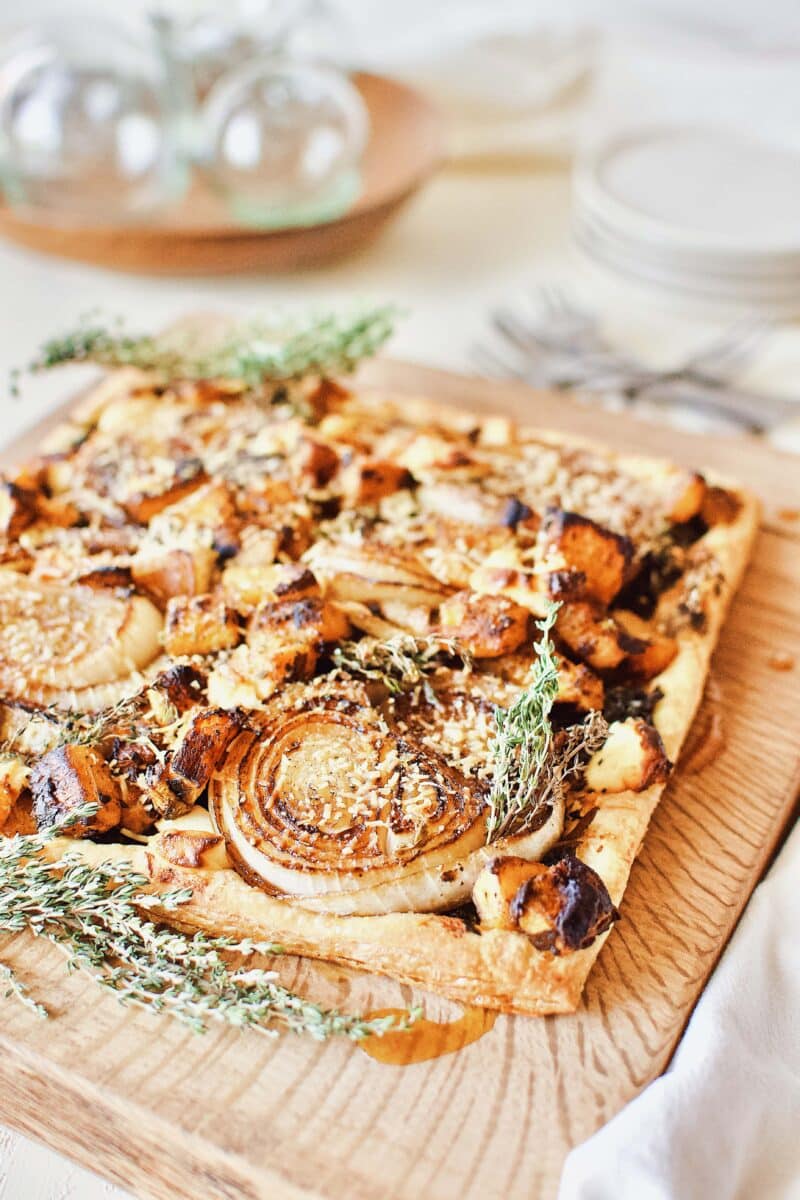 Making the Butternut Squash and Onion Tart
I love that just a few simple ingredients transform into this decadent and flavorful tart. While I am in the freezer section picking up my Stahlbush Island Farms frozen vegetables I also grab a pack of puff pastry to make prep for this recipe even easier.
After you thaw your puff pastry, I first score the outside edge, about ½ inch from the outside. This will help the puff pastry form a crust around the outside, which means you could pick this up and eat it if you wanted to. Just be sure not to cut all the way through the pastry.
Next, spread half the goat cheese log over the puff pastry while the onions are cooking.
After the onions cook, I remove them from the pan and add the chard and the white wine to the pan. Cook till all the liquid has evaporated from the pan, then place on top of the goat cheese.
Warm the butternut squash in the same pan with a little butter and season it with some salt and pepper. Layer the onions and squash on top of the chard.
Finish the tart by crumbling the remaining goat cheese over top, sprinkling the parmesan over, and a few sprigs of thyme.
Bake the tart in a HOT 425 degree oven. While it is cooking, gently warm the honey, lemon juice, zest, and some thyme leaves in a small pot, just until liquid and smooth.
When the tart comes out of the oven, drizzle the Honey-Lemon-Thyme over the top.
Slice the tart anyway you like and serve. The tart is equally great served warm or room temperature.
Stahlbush Island Farms
Stahlbush Island Farms' commitment to Quality, Sustainability, and Zero-Waste makes me proud to partner with them. Their products provide the highest quality ingredients for the meals I LOVE to serve my family.
Stahlbush Island Farms owners, Bill and Karla Chambers, started with 2 crops, about 300 acres, and a dream in 1985. Today, Stahlbush cultivates 5,000 acres in Oregon and offers the freshest individually quick frozen fruits, vegetables, grains & legumes available.
Stahlbush Frozen is SO Fresh! As the farmers and the processors, they are able to leave their products in the field or on the vine until perfectly ripe. They freeze it immediately after harvest, sealing in the perfect flavor.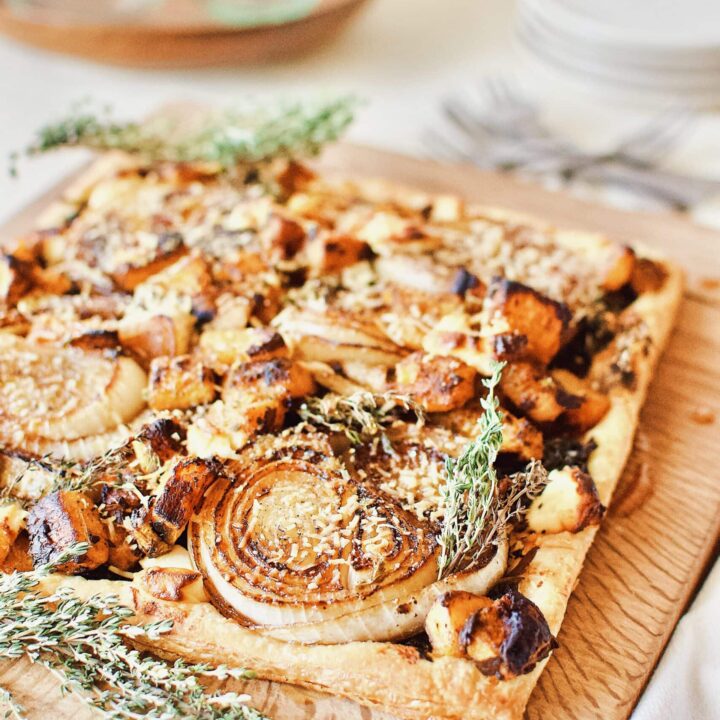 Butternut Squash and Caramelized Onion Tart
This is a bit of a fork and knife appetizer, but packed with so much great flavor and makes for the most delicious holiday starter. Warm and inviting in all the best way while skipping all the slurping of soup! I like to think of this tart as some of the best parts of a French Onion Soup on a crisp crust.
Ingredients
1 Puff Pastry Sheet
4 tablespoons Unsalted Butter
1 XLg Sweet Onion, sliced in 5 thick pieces
1 Log Honey Goat Cheese
1 bag Stahlbush Island Farms Rainbow Chard
2 tablespoons White Wine
½ bag Stahlbush Island Farms Butternut Squash
2 teaspoons Fresh Thyme Leaves
¼ cup Shredded Parmesan Cheese
3 tablespoons Honey
1 Lemon, zested and juiced
Kosher Salt and Fresh Cracked Black Pepper
Instructions
Defrost and lay a single puff pastry sheet and lay it out, floured side down (the sides you unfold and the papers are in) out on a baking sheet lined with parchment. Keep refrigerated until ready to use, this can be done up to the night before.
Preheat the oven to 425˚F.
Heat a skillet over medium heat and add 2 Tablespoons of butter to the pan. When the butter is melted, add the sliced onions to the pan and cook until heavily browned on one side. Carefully flip them over until browned the same on the other side. Do this in batches if your pan doesn't fit all the slices at once.
While your onions are caramelizing, take out the puff pastry sheet and cut a line around the outside, ½ inch from the edge. Spread ½ the log of goat cheese evenly over the puff pastry sheet inside the square you just created. Reserve the remaining half for crumbling over the top.
When the onions are caramelized, remove them from the skillet season with salt and pepper and set aside.
Heat the rainbow chard in the same skillet with 1 Tablespoon of butter and the white wine. Season with a sprinkle of salt and pepper and cook until all the liquid evaporates from the pan. Spread the chard over the goat cheese on the puff pastry sheet.
In the same skillet, warm the butternut squash over medium heat with 1 Tablespoon of butter and a sprinkle of salt and pepper. Cook until warmed through and the squash begins to caramelize on the outsides.
While the squash is cooking, place the onions on the tart, over the goat cheese and chard. Top with the squash and crumble the remaining goat cheese over the top. Finish with the parmesan cheese and a sprinkle of thyme leaves, about 1 teaspoon.
Bake in the preheated oven for 30-35 minutes, until the cheese is melted and the bottom of the puff pastry is CRISP!
While baking, warm the honey, lemon zest and juice, a pinch of salt and the remaining thyme leaves gently over low heat in a small pan. When the tart comes out of the oven, let it rest for 5 minutes, then drizzle the honey mixture over the top.
Slice the tart into 9 equal squares and enjoy!
Notes
Don't worry if some of you onion rings fall off or fall apart, just continue cooking them until the onions are soft, then spread them on the tart.
Nutrition Information:
Serving Size:

1 grams
Amount Per Serving:
Unsaturated Fat:

0g
If you make this recipe, please let me know by leaving a review at the bottom of this page!
And make sure to sign up for my newsletter and follow along on Instagram, Pinterest, and Facebook for more KendellKreations!
MY LATEST RECIPES!
Get my NEW e-Cookbook here!! ⬇️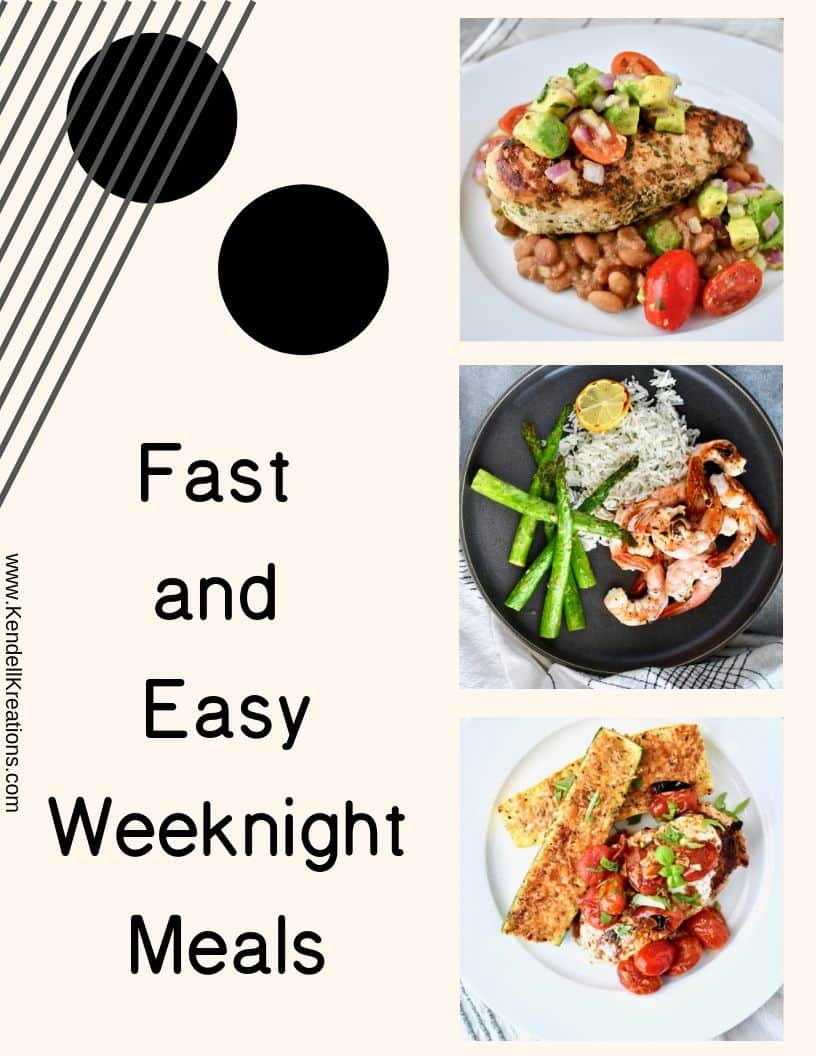 MY FAVORITE KITCHEN TOOLS!
Here are a few links to some of my favorite kitchen tools! You get a car, YOu get a car, YOU ALL GET A CAR…in my best Oprah voice
These Rösle Silicone Tongs are a little pricey but they will last you the rest of your life and are the softest in your hand. This is important for someone like m that cooks so much. It reduces strain, I have 4 sets in my kitchen!
These are my FAVE Nordic Ware Sheet Pans, every kitchen should have at least 2 sets of these! I think I have at least 4 of each of these.
This is my favorite pressure cooker, the Fagor is the same concept as the "Instant Pot" but easier to use in my opinion, if you don't have one you NEED one, it will be your best friend in the kitchen!
A sharp knife is the most important tool in the kitchen, these Japanese steel "Shun" knives are my favorite! And this is a great starter set to build on. Once you try them you will be in love so use this as a foundation you can build on for years to come.
This Scanpan 11″ skillet is just the right size for almost anything you will need to cook and my best friend and a real workhorse in my kitchen, it's also a great deal at $99. Scanpan is the best in the world for healthy cooking. It is coated with a proprietary ceramic-titanium coating that is durable while allowing you to use fewer fats and oils when cooking. It is a coating only they use. I could talk all day about my love for these pans, message me if you want more info. Here are some other sizes that are available if you are looking to outfit your kitchen with some new goodies. 8″ & 10″ Skillet set or 8″ Skillet, I still need this one for my kitchen Also, I don't really know how to cook small so the 12.5″ is my other fave!
This giant vat of olive oil is my favorite, I decant it into a smaller bottle for my counter. Or put this spigot on top of a wine bottle!
My favorite baking dish that is so easy to clean even burnt on cheese slides right off!
This Tovolo jar scraper has to be my single favorite kitchen tool, it is definitely the most used tool in my kitchen. If you are NOT a gadget person, this is the only necessity I say is a MUST beyond the wooden spoon.
A great wood spoon is essential, this Olive Wood one is my favorite, I have more than I can count. But can you really ever have too many?
A food scale can be a very important tool in your kitchen, this one is the one I use every day!
If you love Joanna Gaines as much as I do then the 'Magnolia Table Cookbook' is a must in your kitchen, get a copy HERE!