I call this Butternutscotch Custard because it is a decadent combination of butternut squash and butterscotch sauce, culminating in a silky and delicious adult pudding. Topped with wonderful whiskey caramel and a dollop of whipped cream you will crave this pudding that also makes a stunning Thanksgiving or Christmas dessert for special occasions.
I am sharing this recipe with you today in partnership with Farmers Market Foods and features their Organic Butternut Squash.
What you need:
While this recipe requires a few more ingredients than some of my other favorites, the little extra time it takes to whip up makes up for the rest time that you don't have to be working actively. Mix up the custard, then just let it set, cover it with caramel and some whipped cream, and you have a stunning dessert.
Making the Custard
First melt the brown sugar in the bottom of a pot with some water and salt, cook until caramel forms, then whisk in the eggs and cornstarch and cook until thickened.
Place the cooked custard in the serving dishes and cover them with plastic wrap. Be sure the plastic touches the top of the custard or a skin will form. You don't have to worry about it being too pretty, it will get covered with caramel when serving.
Let the custard cool overnight, then flood some caramel on top. I have a great and easy recipe HERE. It only takes a few minutes to make, but you could also use store-bought if needed.
I also love a little whipped cream, it isn't completely necessary, but it is highly desired. It just makes it a little more creamy and delicious.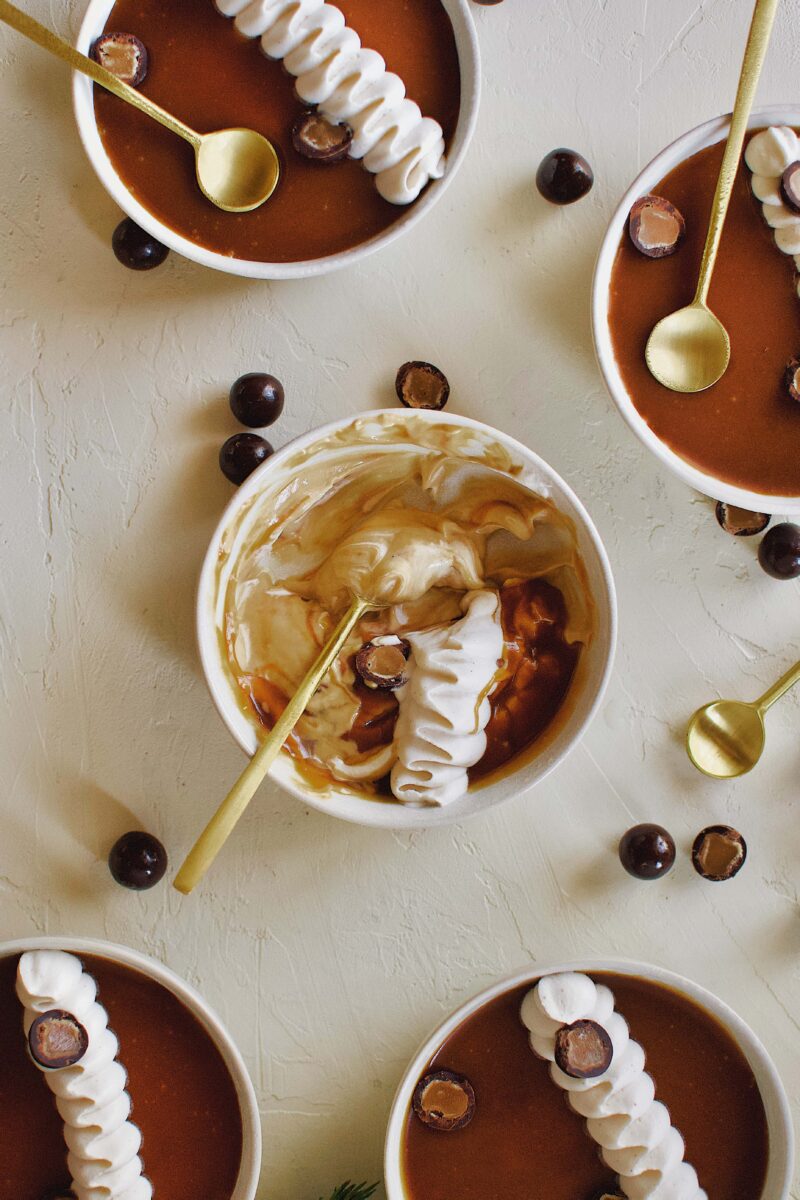 Butternutscotch Custard with Fresh Whipped Cream
Total Time:
4 hours
20 minutes
This recipe yields the most beautiful pudding-like custard with a wonderful balance of butternut squash and butterscotch. Topped with a bit of fresh caramel sauce and fluffy whipped cream, this simple dessert will stun, any day of the week.
Ingredients
½ cup Farmers Market Foods Butternut Squash
1 ½ cup Whole Milk
1 cup Heavy Cream
3 lg Egg Yolks
2 tablespoons Cornstarch
¾ cup Dark Brown Sugar
3 tablespoons Water
½ teaspoons Kosher Salt
3 tablespoons Unsalted Butter, room temp
1 teaspoon Vanilla Extract
1 cup Caramel Sauce
2 cup Heavy Cream
¼ cup Powdered Sugar
½ teaspoon Vanilla Extract
Instructions
In a blender, combine the butternut squash, milk, and cream. Pulse to combine, and blend for 30-45 seconds. Reserve for later use.
In a bowl, whisk together the egg yolks and corn starch, reserve.
In a heavy-bottomed pot, whisk together the sugar, water, and salt, and place over medium heat on the stove. Without stirring further cook the sugar mixture for 5 minutes. Slowly add the milk and cream mixture to the sugar, whisking constantly. Do the slowly as the mixture will pop and bubble as you do this. Bring the mixture to a boil.
Drip by drip, drizzle in ½ a cup of the boiling mixture into the whisked egg yolks and cornstarch. Whisking constantly so the eggs don't scramble, this is a temper of the eggs. Reduce the heat on the milk mixture to low and whisk in the eggs. Continue whisking for 1 minute as the mixture becomes thick. Remove from the heat and whisk in the butter and vanilla.
Pour the mixture into the serving glasses or bowls. Fill 6, 6oz bowls halfway and cover tightly with plastic wrap touching the top of the pudding to prevent a skin from forming. Refrigerate for 4-6 hours, or overnight until chilled and thickened.
Make the whipped cream by beating the heavy cream and powdered sugar together until thick and creamy, fold in the vanilla.
To serve, top each bowl with a couple of tablespoons of caramel sauce and a dollop of whipped cream.
Nutrition Information:
Yield:

6
Serving Size:

1
Amount Per Serving:
Calories:

769
Total Fat:

53g
Saturated Fat:

33g
Trans Fat:

1g
Unsaturated Fat:

17g
Cholesterol:

248mg
Sodium:

452mg
Carbohydrates:

70g
Fiber:

1g
Sugar:

65g
Protein:

8g
If you make this recipe, please let me know by leaving a review at the bottom of this page!
And make sure to sign up for my newsletter and follow along on Instagram, Pinterest, and Facebook for more KendellKreations!
MY LATEST RECIPES!
Get my NEW e-Cookbook here!! ⬇️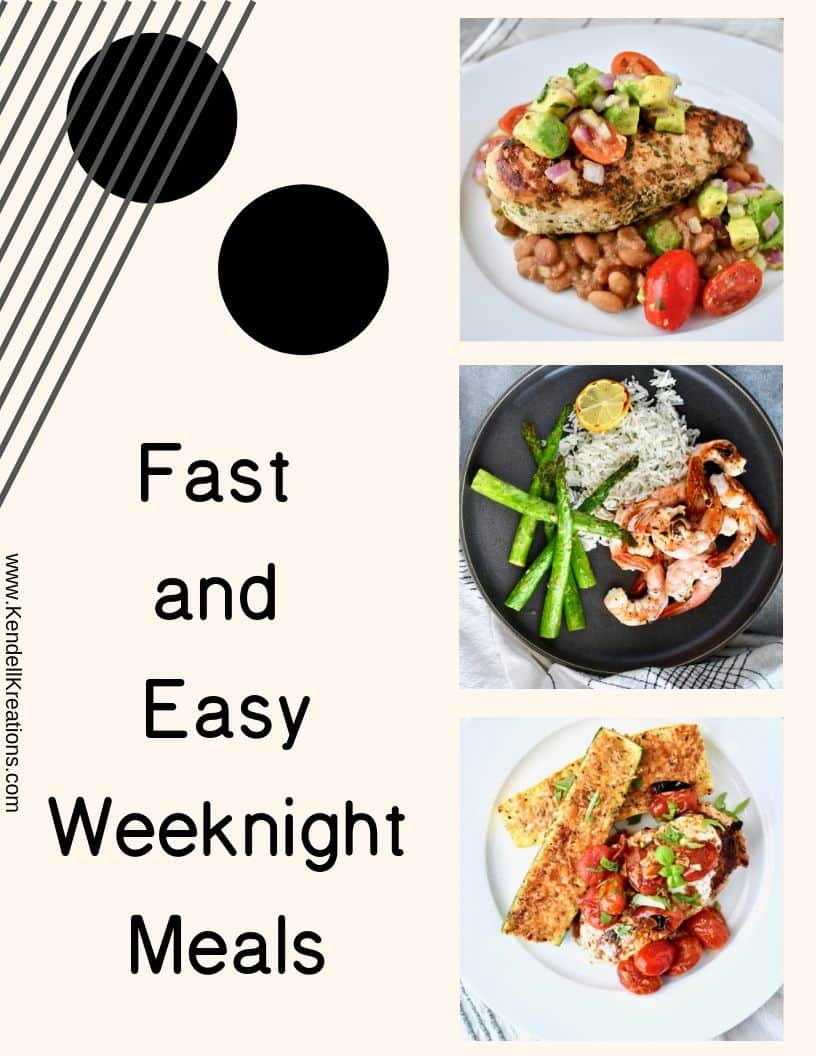 MY FAVORITE KITCHEN TOOLS!
Here are a few links to some of my favorite kitchen tools! You get a car, YOu get a car, YOU ALL GET A CAR…in my best Oprah voice
These Rösle Silicone Tongs are a little pricey but they will last you the rest of your life and are the softest in your hand. This is important for someone like m that cooks so much. It reduces strain, I have 4 sets in my kitchen!
These are my FAVE Nordic Ware Sheet Pans, every kitchen should have at least 2 sets of these! I think I have at least 4 of each of these.
This is my favorite pressure cooker, the Fagor is the same concept as the "Instant Pot" but easier to use in my opinion, if you don't have one you NEED one, it will be your best friend in the kitchen!
A sharp knife is the most important tool in the kitchen, these Japanese steel "Shun" knives are my favorite! And this is a great starter set to build on. Once you try them you will be in love so use this as a foundation you can build on for years to come.
This Scanpan 11″ skillet is just the right size for almost anything you will need to cook and my best friend and a real workhorse in my kitchen, it's also a great deal at $99. Scanpan is the best in the world for healthy cooking. It is coated with a proprietary ceramic-titanium coating that is durable while allowing you to use fewer fats and oils when cooking. It is a coating only they use. I could talk all day about my love for these pans, message me if you want more info. Here are some other sizes that are available if you are looking to outfit your kitchen with some new goodies. 8″ & 10″ Skillet set or 8″ Skillet, I still need this one for my kitchen Also, I don't really know how to cook small so the 12.5″ is my other fave!
This giant vat of olive oil is my favorite, I decant it into a smaller bottle for my counter. Or put this spigot on top of a wine bottle!
My favorite baking dish that is so easy to clean even burnt on cheese slides right off!
This Tovolo jar scraper has to be my single favorite kitchen tool, it is definitely the most used tool in my kitchen. If you are NOT a gadget person, this is the only necessity I say is a MUST beyond the wooden spoon.
A great wood spoon is essential, this Olive Wood one is my favorite, I have more than I can count. But can you really ever have too many?
A food scale can be a very important tool in your kitchen, this one is the one I use every day!
If you love Joanna Gaines as much as I do then the 'Magnolia Table Cookbook' is a must in your kitchen, get a copy HERE!