This recipe is one of my favorites to make for homemade holiday gifting and making it will fill your home with the aromas of Christmas. Its uses are broad, from simply slathering on biscuits, to rolling up inside pastry and making Rugelach cookies. Make a big batch of this Cran-Raspberry Jam, tie a ribbon around it, and you have a quick and easy gift that came directly from your kitchen.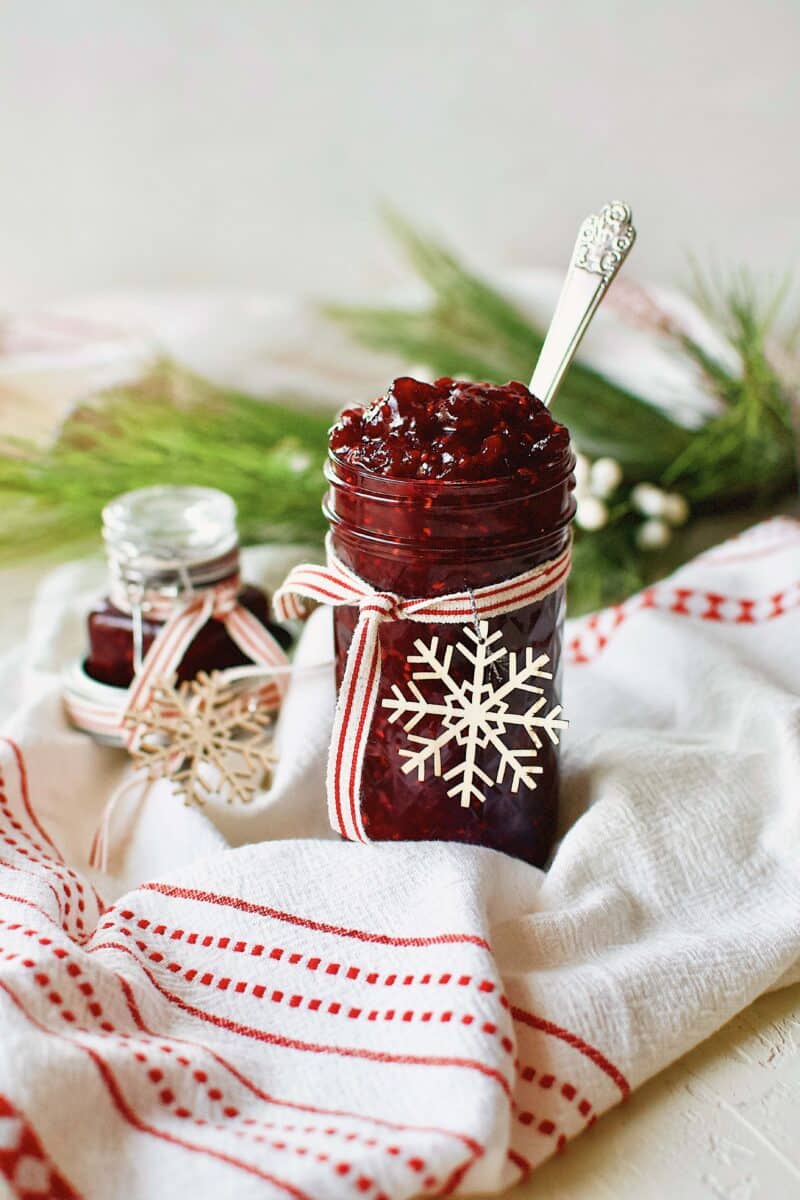 This recipe was made in partnership with Stahlbush Island Farms and features their frozen Cranberries and Red Raspberries.
Making Homemade Cran-Raspberry Jam
One of THE BEST things about this recipe is that it doesn't require any extra ingredients to make, you simply need, cranberries, raspberries, sugar, and I add the zest and juice of an orange. Because the cranberries provide all of the thickening agents we need to make this jam, the use of fruit pectin or gelatin is not needed.
You can also choose to can this in a more traditional preservation manner, or simply make it for short term storage in the fridge. Also, if you want to step up your game for Thanksgiving or Christmas this makes a great substitute for anything that might come out of a can. Serve this alongside your turkey and let the rave reviews roll in!
The method here is simple. Mix the cranberries and a little bit of sugar together and cook until they release their liquid and burst. Then add in the raspberries and the remaining sugar and cook until the mixture thickens slightly. Then add in the orange juice and zest, cook a little longer, and the jam is ready to be put into jars.
One thing I do like to do ahead of time if I remember to, is to mix the raspberries and sugar together and let them macerate. Allowing the sugar time to release all of the liquid from the berries gives you more liquid to work with when boiling your jam.
The Perfect Homemade Gift!
Turning this into the perfect homemade gift is as simple as adding a ribbon to the jar and a little snowflake dangle. I also include my recipe for Cran-Raspberry Rugelach with the jar so they can enjoy a little holiday baking with my gift.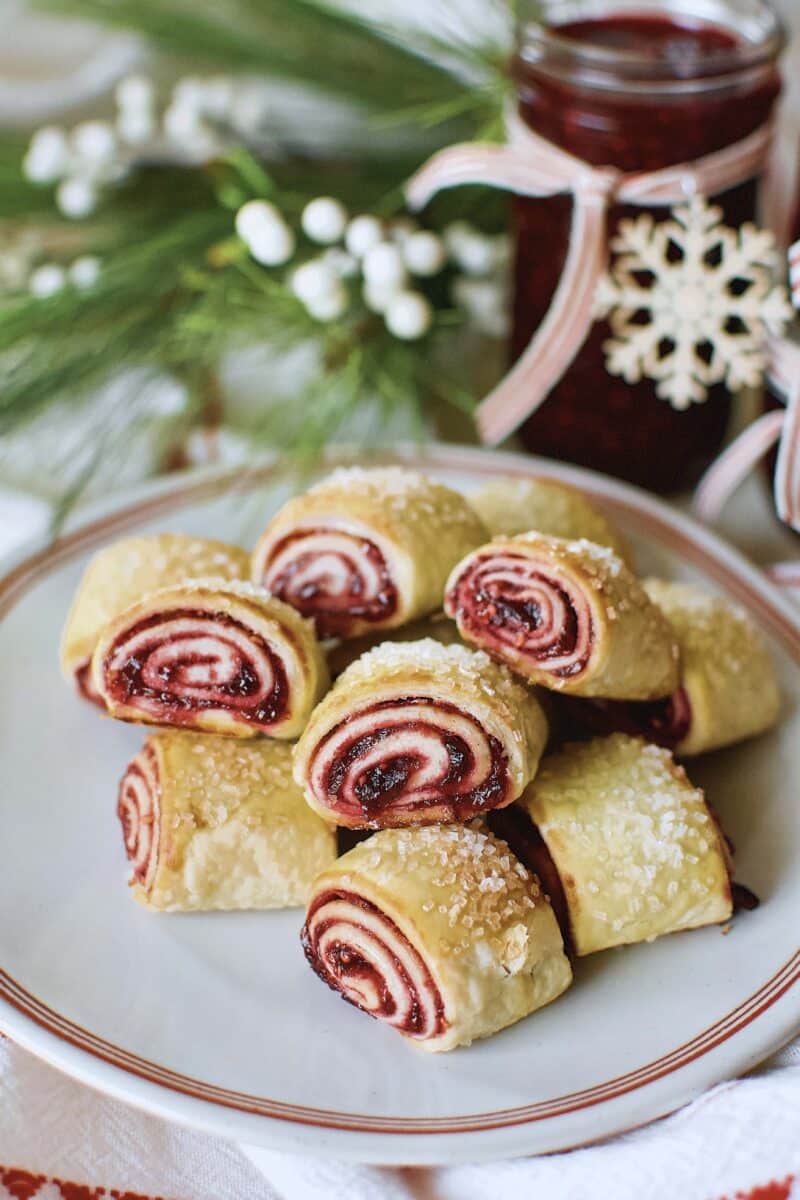 These cookies are a Jewish classic and the pastry dough that was passed down from Great Aunt Sally is the perfect vehicle for them. The super flaky cream cheese pastry is so soft and tender, a cinch to put together, and the tastiest pastry you ever did make! More on that HERE in the rugelach post.
I love to share my love of food and bringing people together through homemade gifts and even if your friends don't want to get messy in the kitchen with your gift, it even serves well on biscuits, scones, or waffles!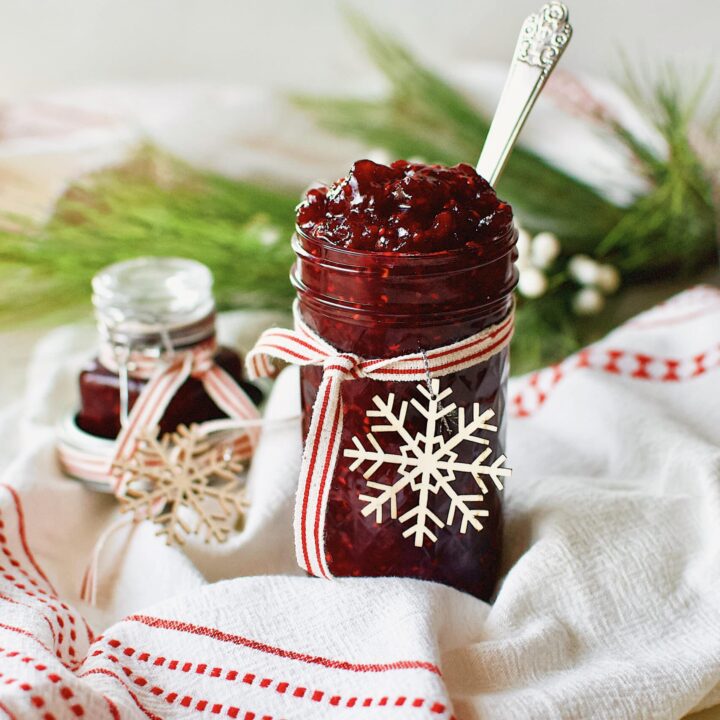 Cran-Raspberry Jam
I make this jam at the holidays to give as homemade gifts and to make rugelach with. It will fill your home with the smells of Christmas and it is a fun gift to give with my Cran-Raspberry Rugelach recipe attached.
Ingredients
1 10oz bag Stahlbush Island Farms Raspberries, frozen
1 cup Granulated Sugar
2 cups Stahlbush Island Farms Cranberries, frozen
¼ cup Granulated Sugar
1 lg Navel Orange, zested and juiced
Instructions
In a small bowl, combine the raspberries and 1 C sugar and toss to combine. Let this mixture rest on the counter for about an hour until the raspberries have thawed.
In a medium nonreactive pot, combine the cranberries and ¼ C sugar and heat over medium-low heat on the stove. Stir the mixture until the cranberries release their juices, burst, and the mixture thickens. About 5 minutes. Be sure to stir constantly during the first 5 minutes so the sugar doesn't burn on the bottom of the pot.
Add the raspberry sugar mixture to the pot and bring the mixture to a simmer. Simmer for about 10 minutes until the bubbles go from fast and watery to slow and syrupy. There will be a noticeable shift, and the mixture in the pot will look and feel thick.
Add the orange juice and zest to the pot, bring the mixture back to a simmer for 5 minutes, then remove from the heat. Let the jam cool for about 5 minutes and place in sterilized jars. Store in the refrigerator for up to 3 weeks.
Notes
This jam can be boiled in a hot water canner if you want to preserve it or it will keep in the refrigerator for up to 2 weeks.
If you make this recipe, please let me know by leaving a review at the bottom of this page!
And make sure to sign up for my newsletter and follow along on Instagram, Pinterest, and Facebook for more KendellKreations!
MY LATEST RECIPES!
Get my NEW e-Cookbook here!! ⬇️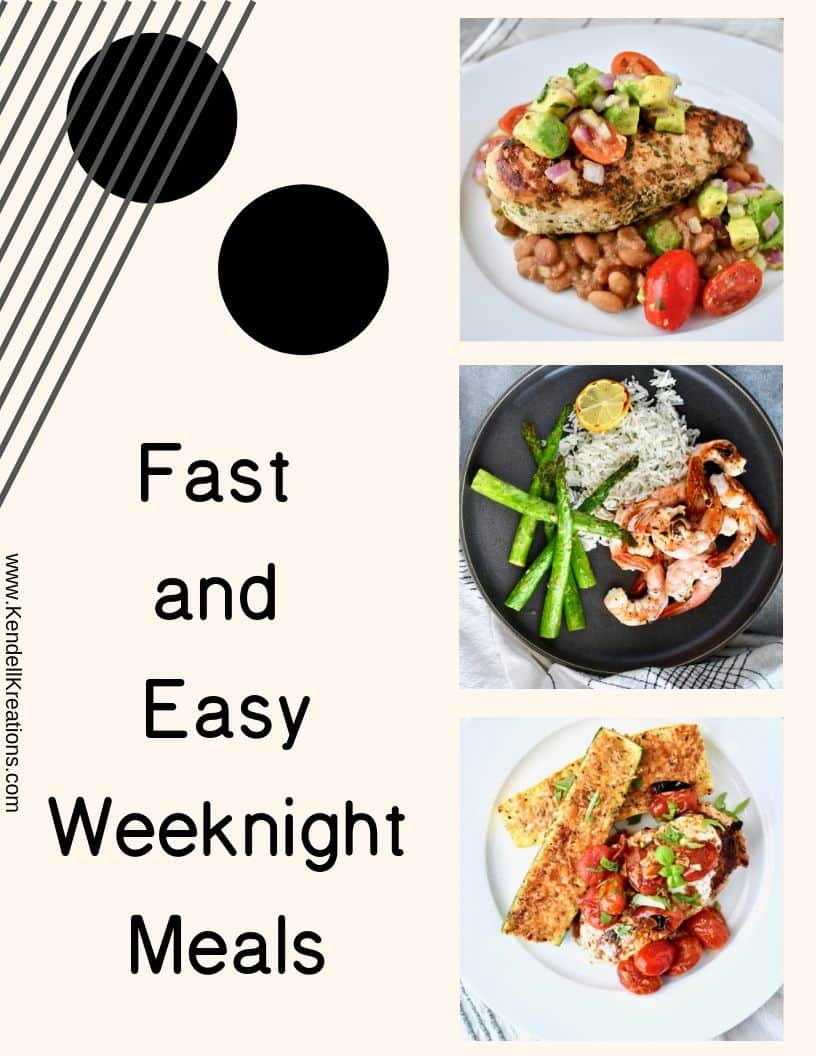 MY FAVORITE KITCHEN TOOLS!
Here are a few links to some of my favorite kitchen tools! You get a car, YOu get a car, YOU ALL GET A CAR…in my best Oprah voice
These Rösle Silicone Tongs are a little pricey but they will last you the rest of your life and are the softest in your hand. This is important for someone like m that cooks so much. It reduces strain, I have 4 sets in my kitchen!
These are my FAVE Nordic Ware Sheet Pans, every kitchen should have at least 2 sets of these! I think I have at least 4 of each of these.
This is my favorite pressure cooker, the Fagor is the same concept as the "Instant Pot" but easier to use in my opinion, if you don't have one you NEED one, it will be your best friend in the kitchen!
A sharp knife is the most important tool in the kitchen, these Japanese steel "Shun" knives are my favorite! And this is a great starter set to build on. Once you try them you will be in love so use this as a foundation you can build on for years to come.
This Scanpan 11″ skillet is just the right size for almost anything you will need to cook and my best friend and a real workhorse in my kitchen, it's also a great deal at $99. Scanpan is the best in the world for healthy cooking. It is coated with a proprietary ceramic-titanium coating that is durable while allowing you to use fewer fats and oils when cooking. It is a coating only they use. I could talk all day about my love for these pans, message me if you want more info. Here are some other sizes that are available if you are looking to outfit your kitchen with some new goodies. 8″ & 10″ Skillet set or 8″ Skillet, I still need this one for my kitchen Also, I don't really know how to cook small so the 12.5″ is my other fave!
This giant vat of olive oil is my favorite, I decant it into a smaller bottle for my counter. Or put this spigot on top of a wine bottle!
My favorite baking dish that is so easy to clean even burnt on cheese slides right off!
This Tovolo jar scraper has to be my single favorite kitchen tool, it is definitely the most used tool in my kitchen. If you are NOT a gadget person, this is the only necessity I say is a MUST beyond the wooden spoon.
A great wood spoon is essential, this Olive Wood one is my favorite, I have more than I can count. But can you really ever have too many?
A food scale can be a very important tool in your kitchen, this one is the one I use every day!
If you love Joanna Gaines as much as I do then the 'Magnolia Table Cookbook' is a must in your kitchen, get a copy HERE!