This recipe for Creamy Chicken and Mushrooms is one of THE MOST flavorful meals I make, and one that is heavily requested. My family loves this dinner. And served with a fresh baguette and some Black Truffle Butter, it's all you ever need in life. Ok, ok, maybe that thing about water, but this will sustain you too!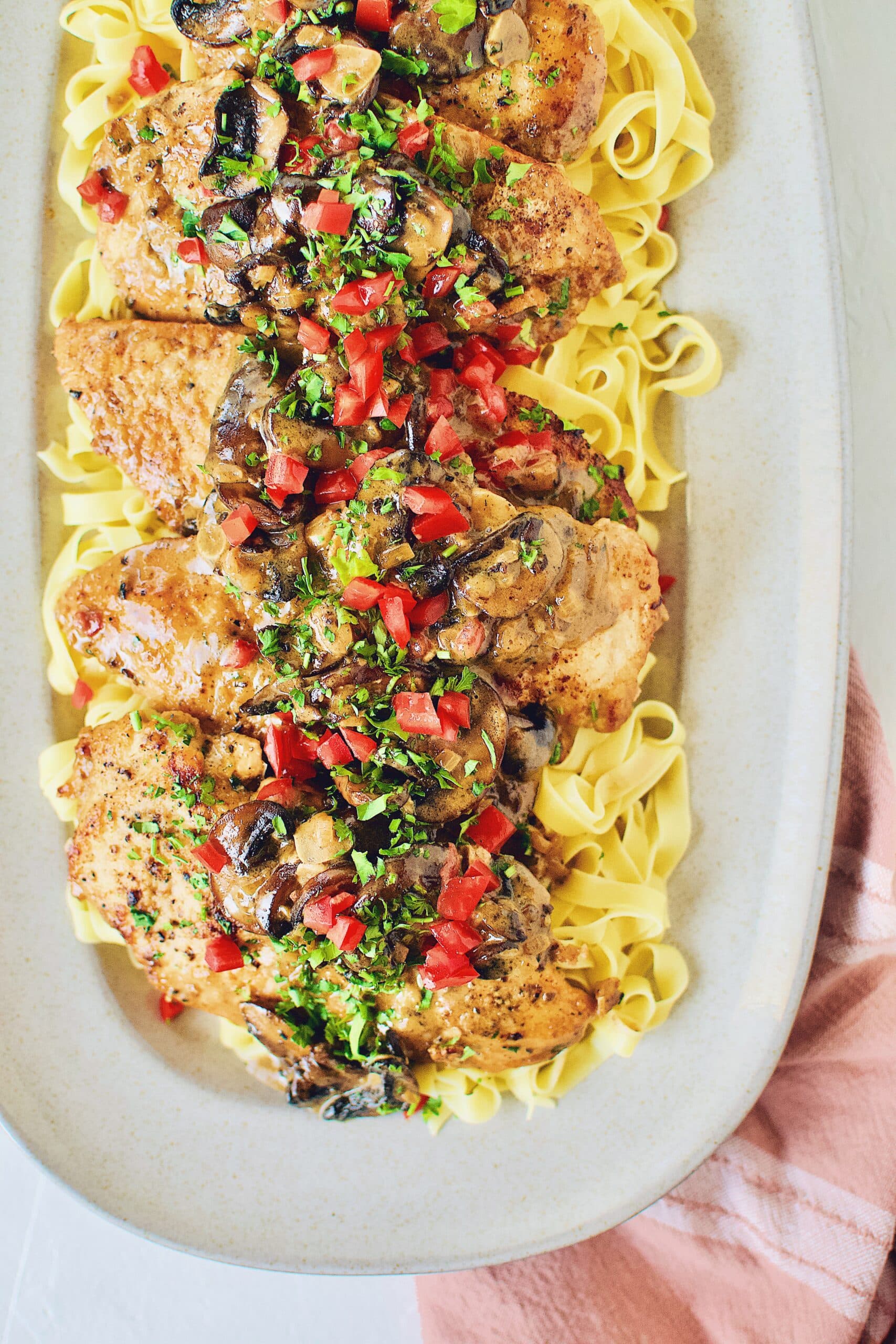 You can serve this chicken over rice or potatoes, but as you see in my photos I love to serve it over Homemade Pasta. It makes it a little extra special and really turns it into a full meal.
Jump to:
Ingredients
The ingredient list for this Creamy Chicken and Mushrooms is one that is SUPER classic. This is what I learned in my French cooking school to be a scallopini. Scallopini is essentially a thin, tenderized, in this case, chicken breast, that is seasoned and dusted with flour, then seared till crisp in a little butter and olive oil. That leads to a growing ingredient list, but don't be scared off by it, it is easy to make in the end.
The one ingredient that I enjoy adding, to make it even more special is some truffle paste. The black truffle perfumes the sauce and fills the house with a mouthwatering scent. Plus, truffle and garlic in a white wine cream sauce is a match made in heaven!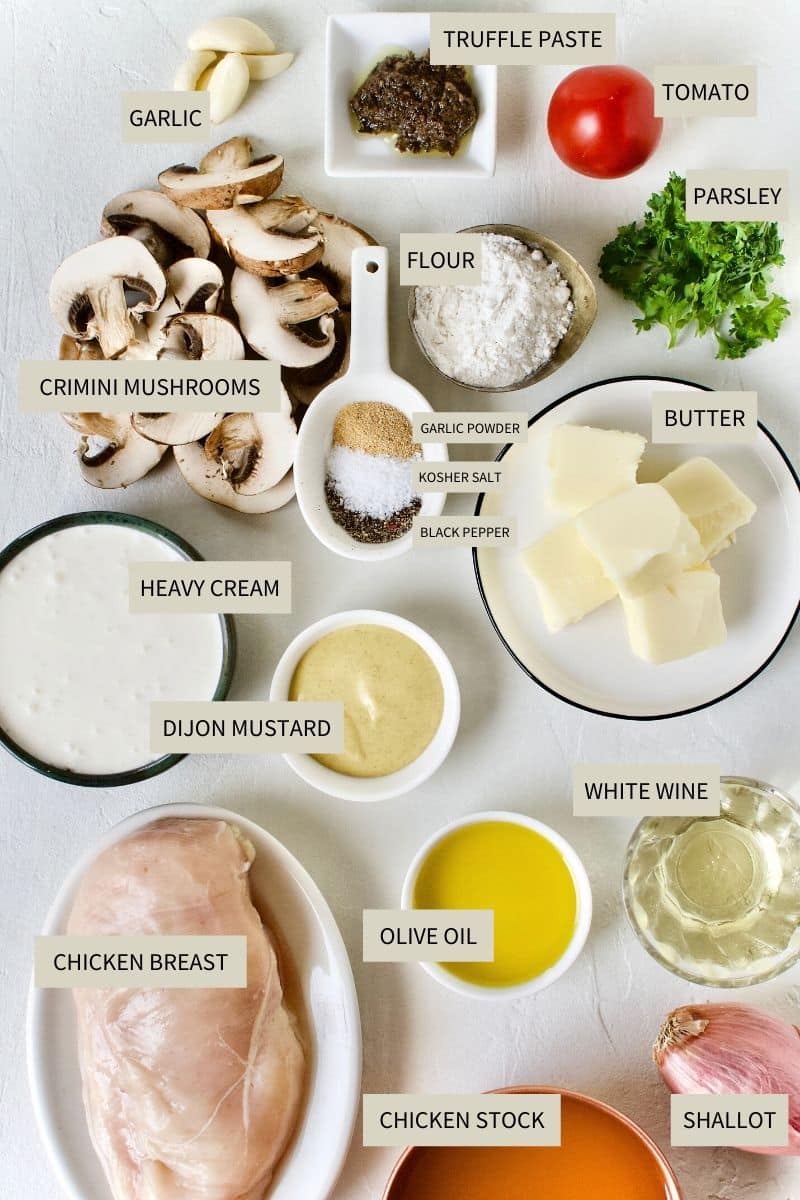 Use the JUMP TO RECIPE button at the top of the post, or scroll to the bottom of the post to see the full recipe card with ingredient measurements and instructions.
Method
This recipe begins by preparing the chicken. First, cut the breasts in half horizontally. Then gently tenderize them to get a consistent thickness. Then season the chicken on both sides and dust with flour. I use this little tool to easily dust the chicken on the board that is already dirty. One less dish to wash amIright!?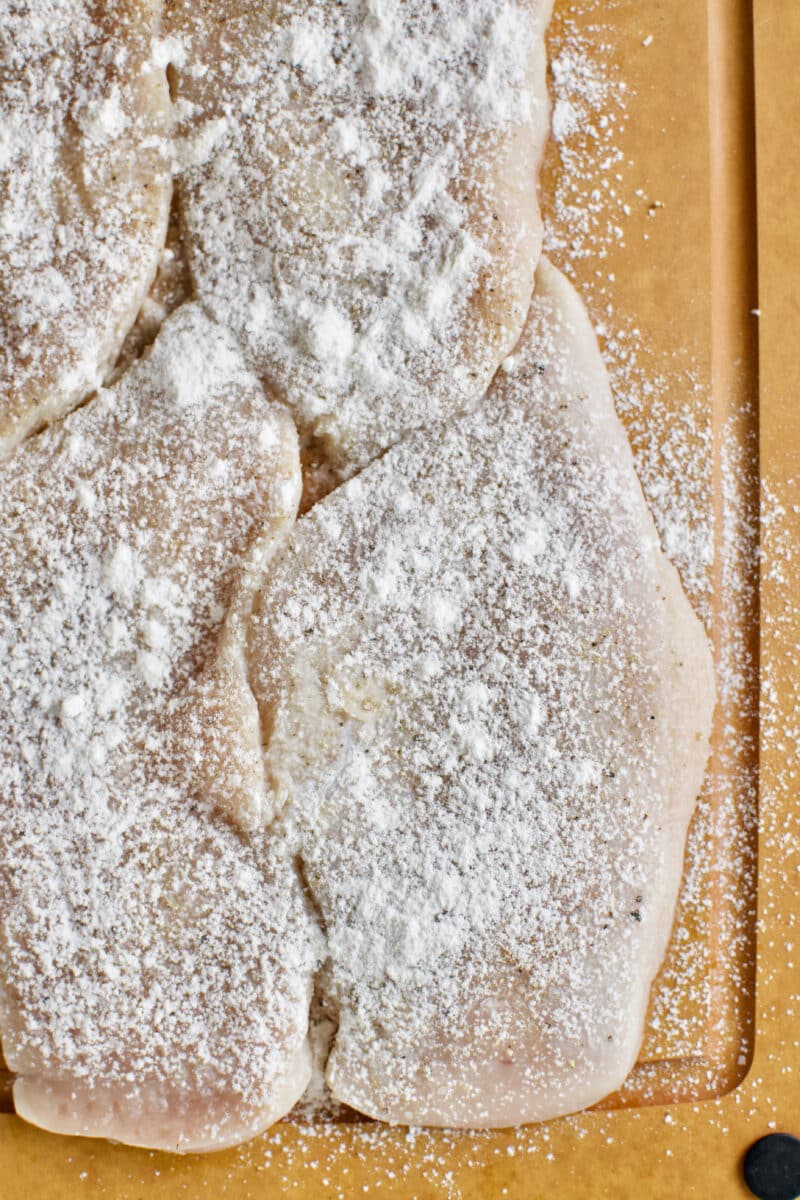 Then sear the chicken in a hot pan until crispy. Use a mix of butter and oil for flavor and color.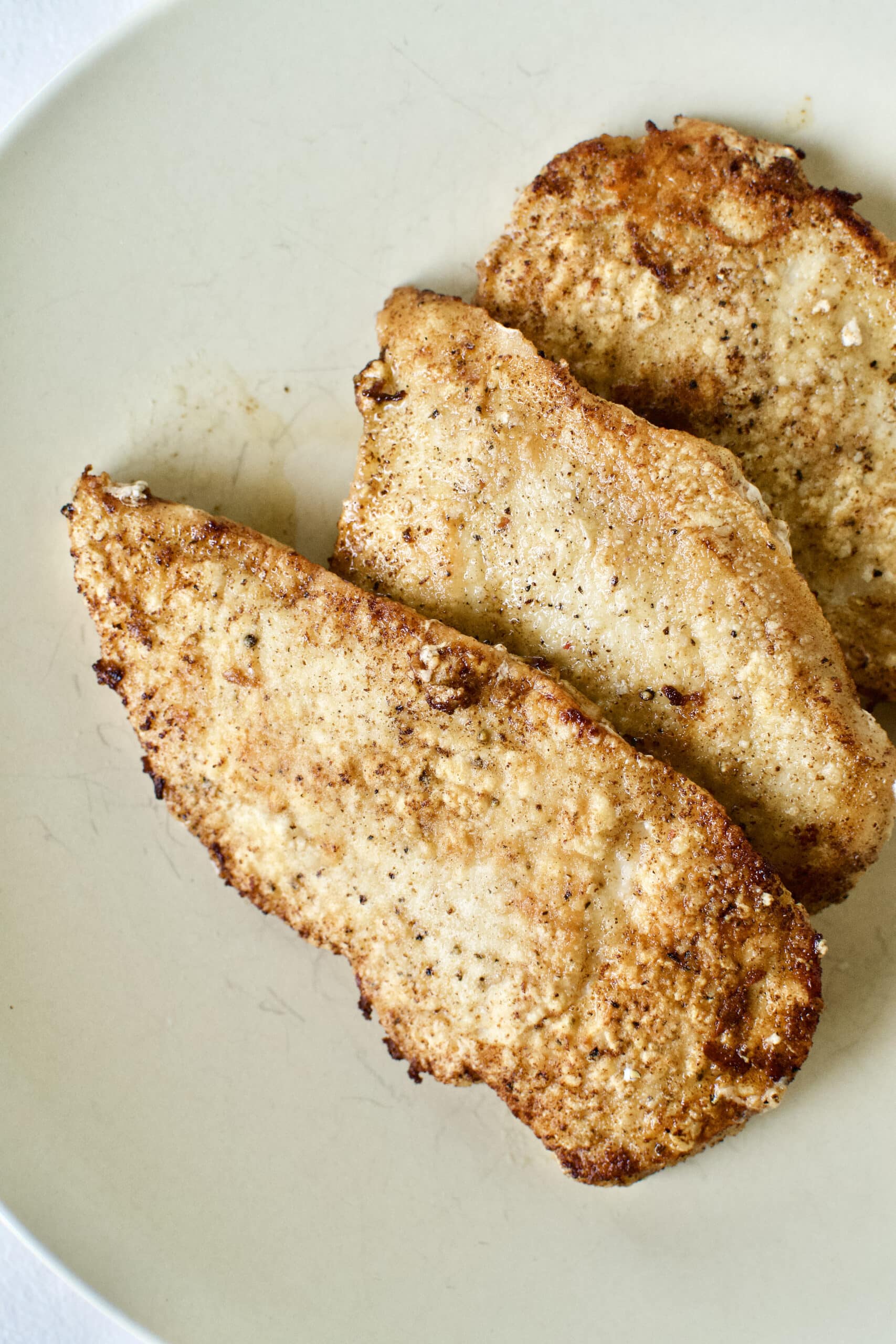 Brown the mushrooms in the same pan with a little more butter and oil in it. Cook, moving very little until browned on both sides. This will take about 8-9 minutes.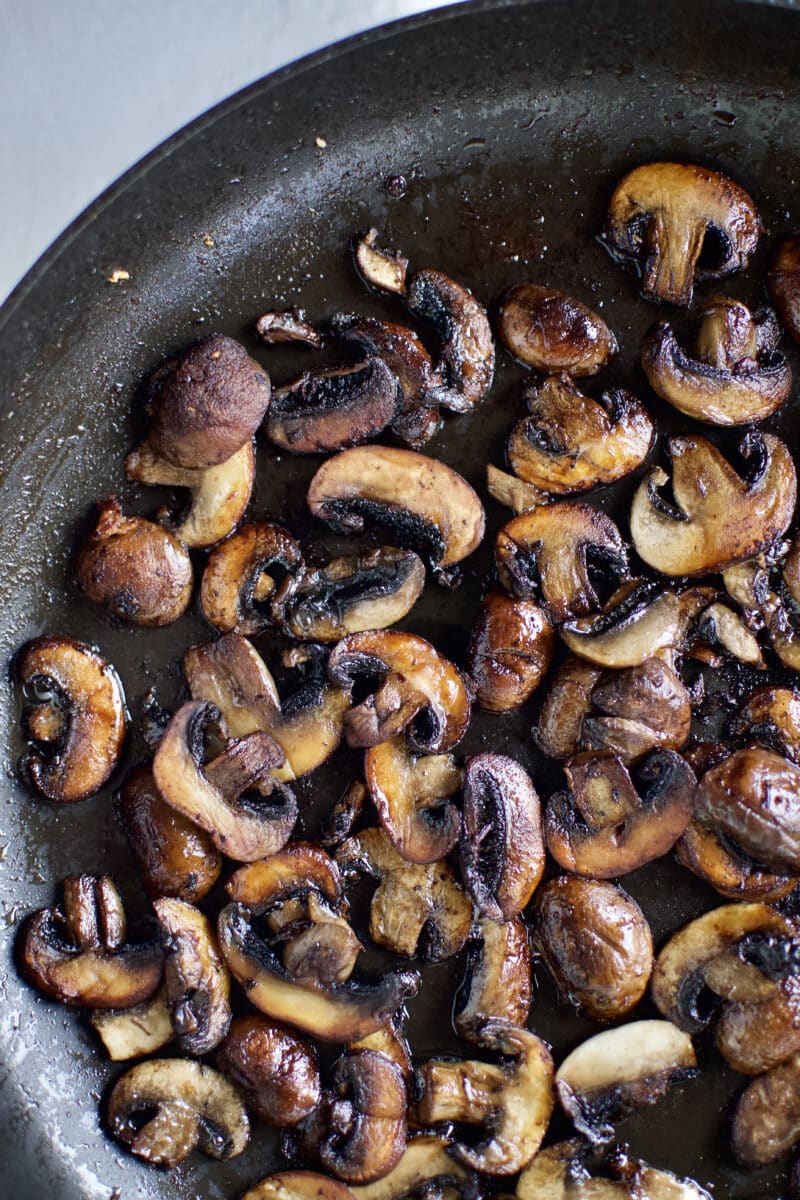 Finish the sauce by simmering together the remaining ingredients until a slightly thick sauce forms and add the chicken back to the pan, simmering till the chicken has finished cooking.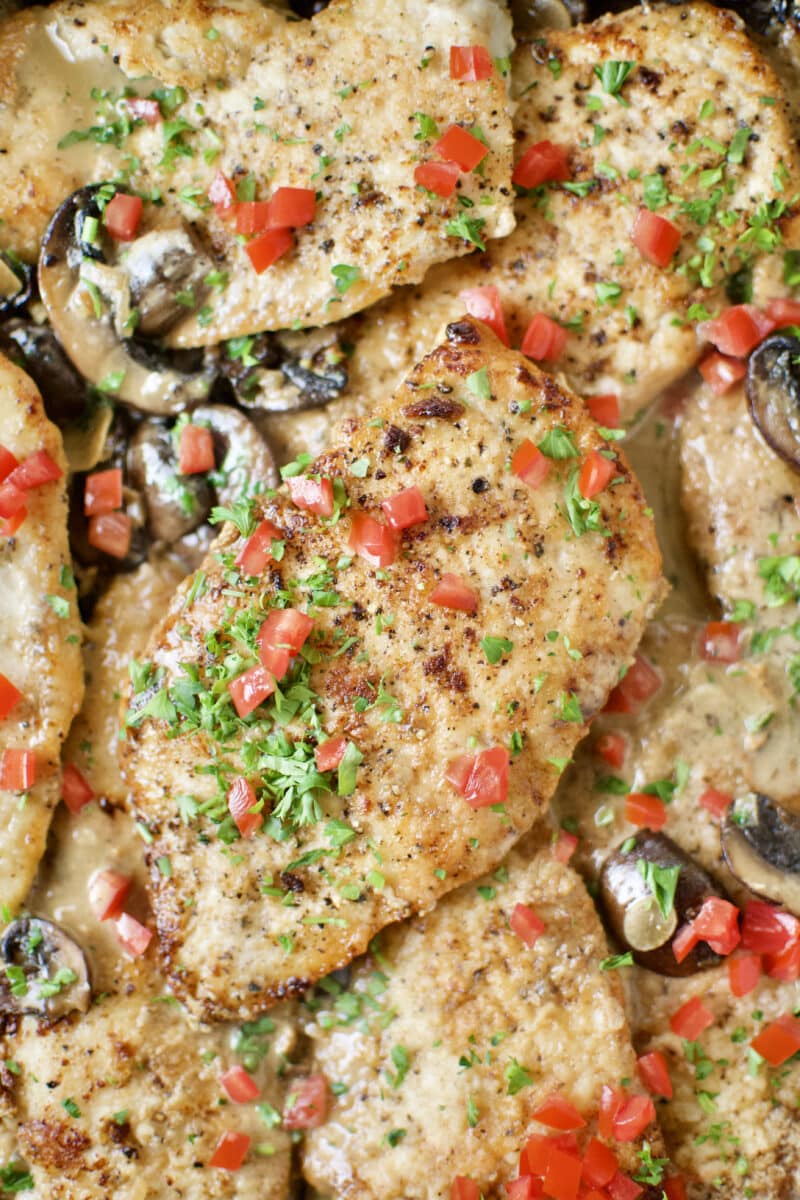 Top with parsley and diced tomatoes to garnish and serve over pasta. Well pasta in my opinion, you can also serve over rice or boiled potatoes too.
Notes & Tips
Seasoning the chicken and dusting it with a little flour helps to thicken the sauce. If you would like to keep this gluten-free you can skip the flour step, but you will need to thicken the sauce a little bit with some cornstarch.
To thicken this way, combine a tablespoon of cornstarch with 2 tablespoons of water, stir to combine, then add to the boiling sauce. It must be boiling to activate the thickening and stir constantly till thick.
To get well-browned mushrooms, not tossing them around too much is key. Let them rest in the pan until brown, then turn them over or give them a toss, and continue cooking until brown on the second side.
Be sure to place the chicken back in the sauce at the end, it finishes the cooking of the chicken, reheats it, and if you used flour will further thicken the sauce.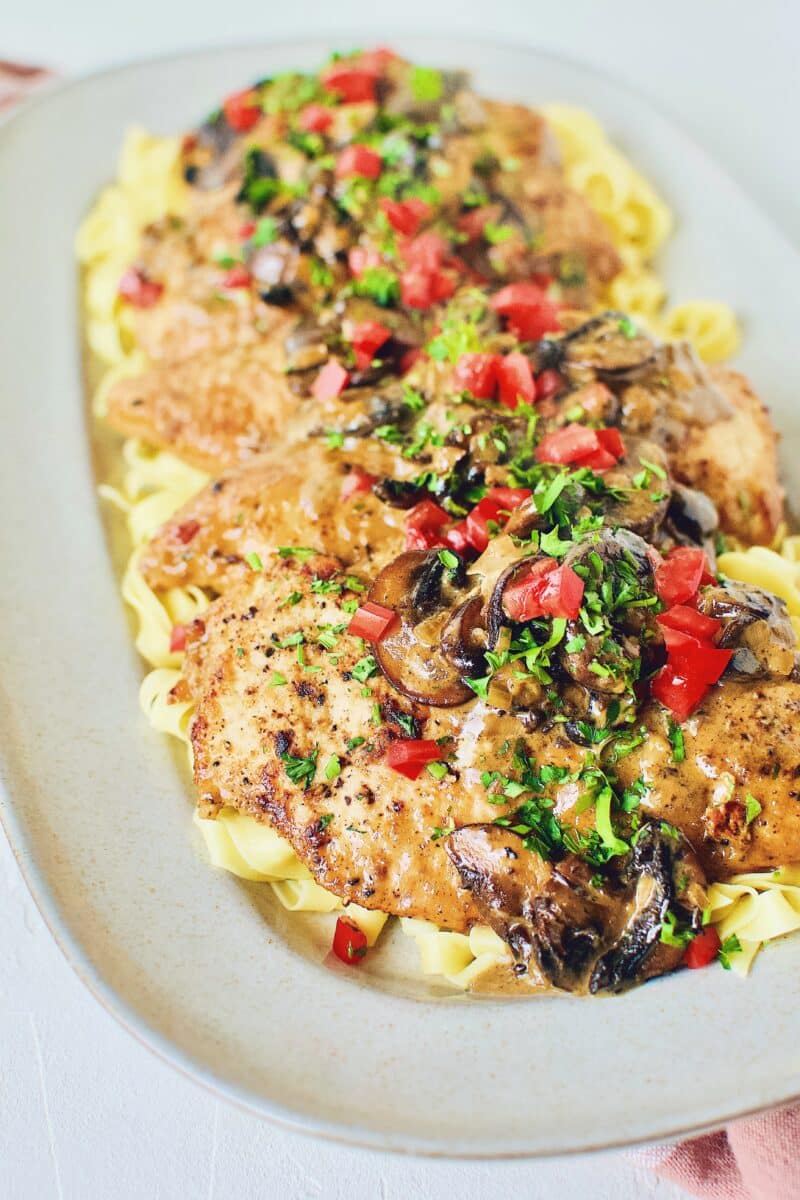 Substitutions
This recipe could easily be made with, veal, lamb, or beef cutlets in place of the chicken.
I love to use roasted garlic powder in my cooking, it just adds so much more flavor. It is all I keep in my kitchen, that said, you can replace it with regular garlic powder or garlic salt. If using garlic salt, lower the amount of kosher salt you use.
If you wanted to keep this dairy-free you could use only olive oil to replace the butter. To replace the cream, use coconut cream. It has a very neutral flavor that the mushrooms will overpower anyway.
The white wine can be replaced with more chicken stock.
The truffle paste is an addition I love, but you can leave it if you don't have it. The dish is equally great with the mushroom cream sauce on the chicken.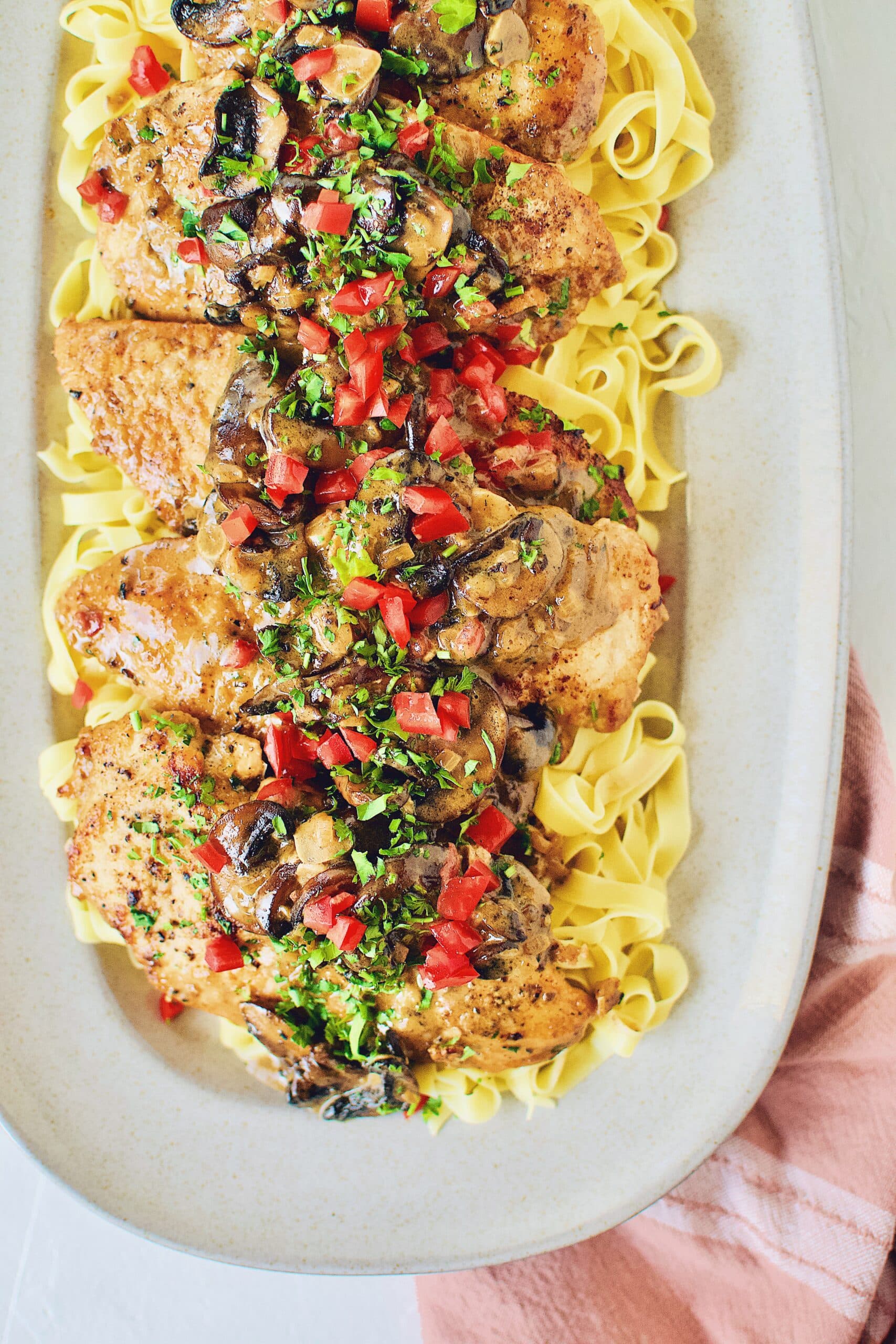 More Classic Recipes
Did you make this recipe? Let me know by leaving a review or comment! And be sure to sign up for my newsletter, and follow along on Instagram, Pinterest, and Facebook!