The beauty of layering flavors in a way that lets you make this Creamy Potato Soup, a one-pot wonder in just about an hour lay in the perfect liquid to vegetable ratios. And blending it till completely smooth! Make it dairy-free if you need to, just sub olive oil for the butter and leave the cheese off the top.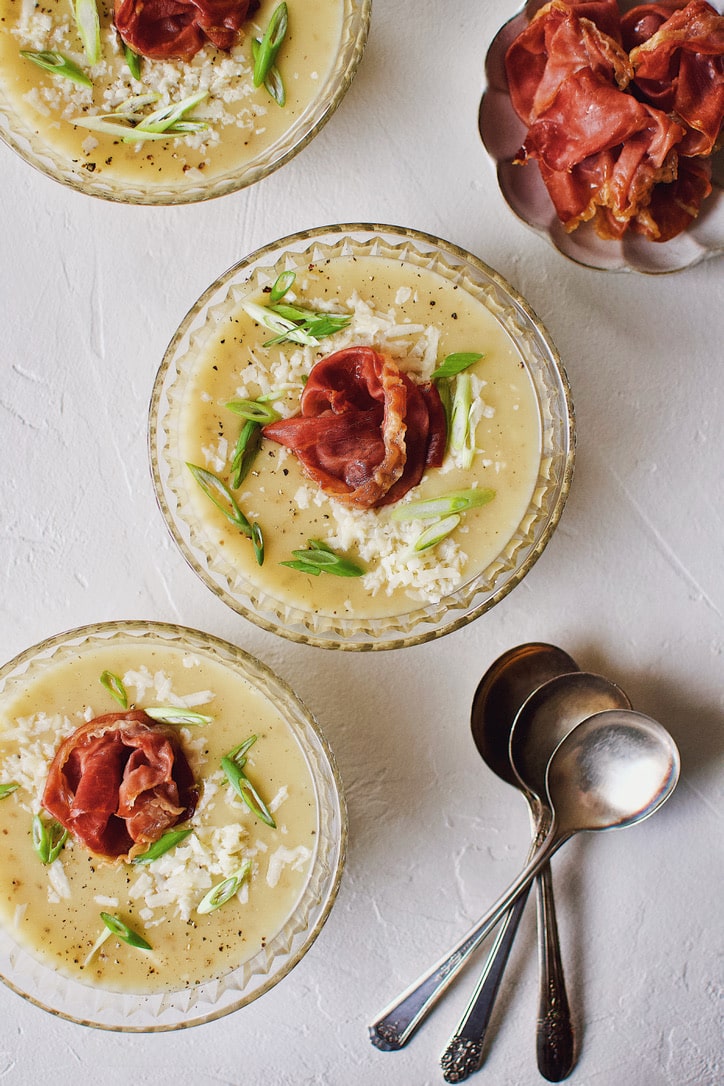 The flavor build comes from cooking your potatoes in chicken stock and topping it with fresh green onions and prosciutto roses. I mean what's better in life than a warm bowl of potato soup topped with the best version of bacon in the world!? Not much if you ask me!
Making Prosciutto Roses.
To make the prosciutto roses, line a baking sheet with parchment or a reusable silicone baking liner and lay the prosciutto out in little round piles, like roses. Bake until crisp in a 350-degree oven until firm. This takes should take about 15 minutes or so.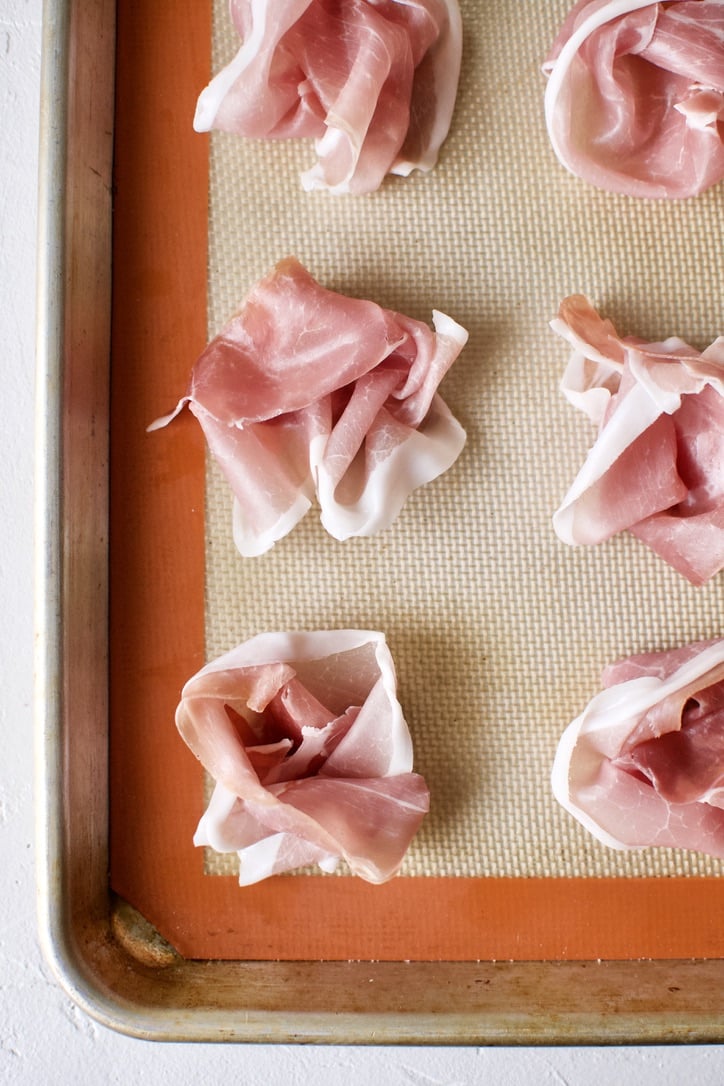 They make a beautiful little topper for your soup as well as adding TONS of flavor and a great little crunch to the bowl. Just think of it as next-level bacon on a loaded baked potato, in soup form!
Making Creamy Potato Soup, without cream!
I cook pretty much exclusively with Yukon gold potatoes in my house, so that will be the base of this soup. They have a naturally buttery texture and flavor that I prefer.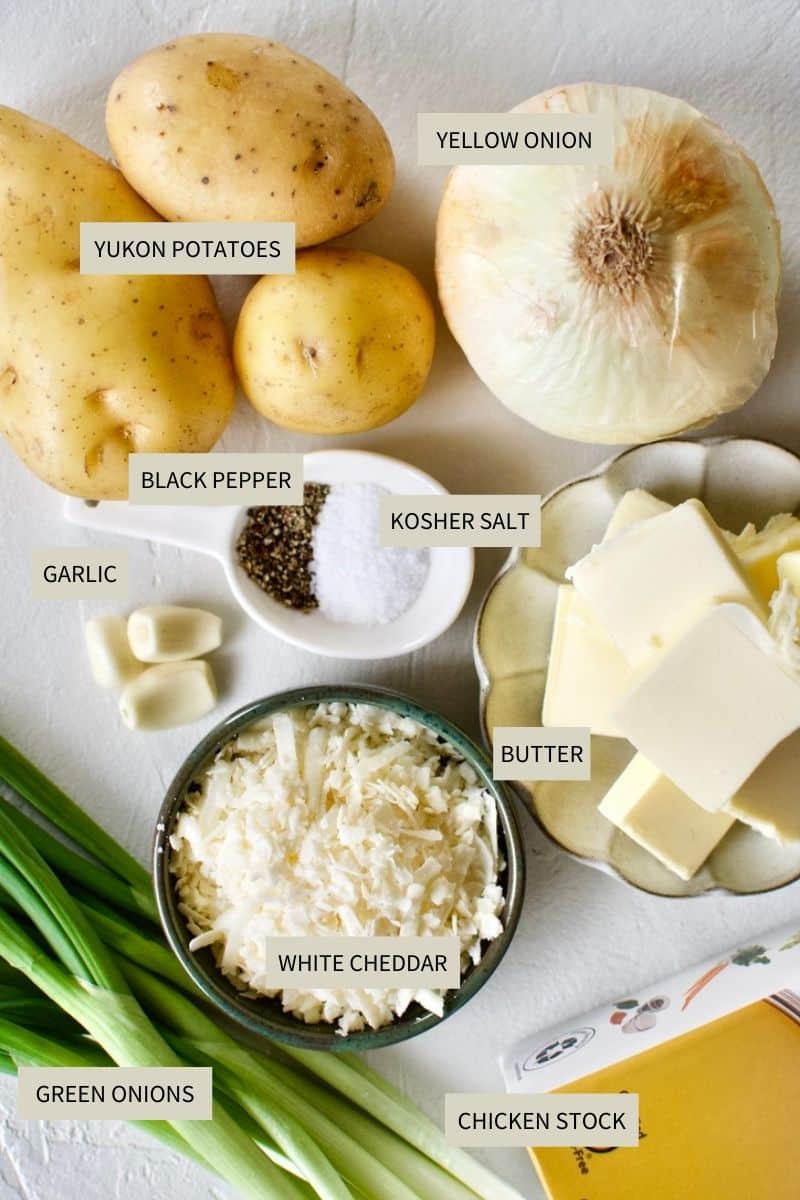 Begin by dicing up a 3lb bag of Yukon gold potatoes. The size of the dice doesn't really matter, just try to make them all the same size as you cut. Doing this will allow them to cook at an even pace so you won't have any chunks of raw potato in your soup when you blend it.
I then sweat an onion and a few cloves of garlic in the bottom of a large pot with a stick of butter. This is where our creaminess will come from without the addition of milk or cream. Again, if you want this dairy-free, simply use a good quality olive oil.
Add in the potatoes and the chicken stock and simmer until the potatoes have softened and the broth has begun to thicken from the potato starches being released. Season with salt and pepper at this point and give the broth a taste and adjust until it tastes AMAZING!
Then the soup is ready to puree. Use a handheld blender for the easiest results. You can also do this in a standard blender, just be careful not to fill the blender cup too full or the hot liquid could explode out of it.
Always cover it with a kitchen towel if you use a standard blender.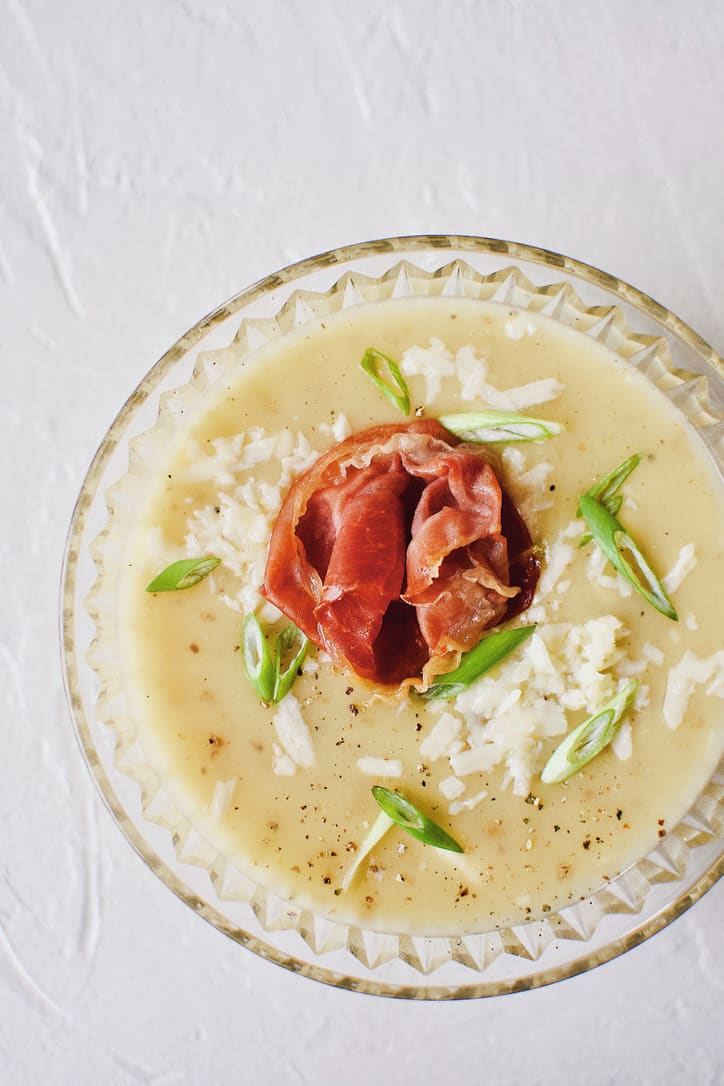 Blend until completely smooth and little to no chunks are still visible. I do sometimes like a few potato chunks in the soup, if you want to guarantee this, take a scoop of potatoes out before you blend it.
Finishing the Soup
Don't forget about the toppings. This soup really shines when topped to the max! I love lots of green onions in it and the prosciutto roses send it over the top!
I even toasted up some andouille sausage I had left from another recipe one time and threw that in it. This is highly recommended. It added a really nice spice and complimented the creamy potato soup really nicely.
But feel free to top to your heart's content. Don't have white cheddar, use gouda, gruyere, or yellow cheddar. Bacon bits and a dollop of sour cream and you have loaded baked potato soup.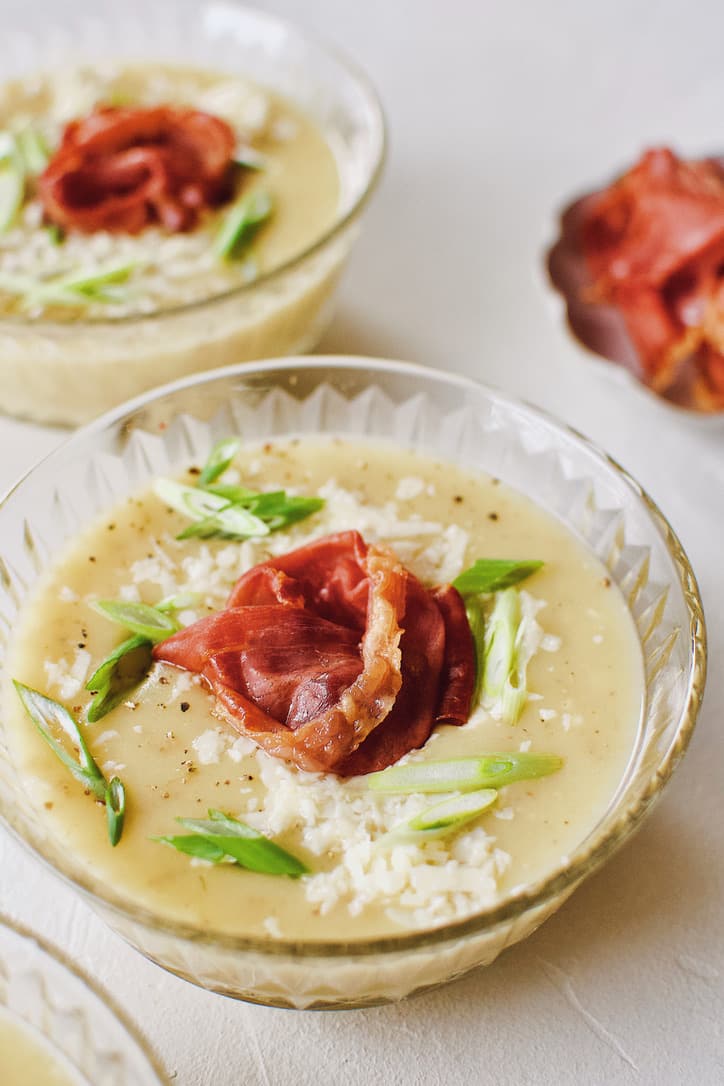 Did you make this recipe? Let me know by leaving a review or comment! And be sure to sign up for my newsletter, and follow along on Instagram, Pinterest, and Facebook!