"Danish Puff Pastry is on the blog today in honor of what would have been my mother-in-law Katie's birthday. It was the recipe my husband always requested she make.
Whether it's the flaky pastry crust, the creme puff interior or the white almond icing on top, it's perfect for long gabfests over coffee or Sunday brunch with the family. But to our family, it just spoke home."
Today is Day 12 of my Advent Calendar and the recipe comes from my friend Lori of JosieandNina.com. She is sharing a recipe that her late mother in law was famous for, in their family anyway. It was an old school classic that she has updated for our enjoyment.
It used a couple of outdated ingredients, but Lori's all-butter version got a solid 8.5 out of 10 from her husband. That's pretty amazing considering it was of his most favorite things his mother made for him. I hope you go and make it ASAP, I can't wait to give it a go myself!
Lori's Danish Puff Pastry Recipe
Get Lori's full story and recipe at JosieandNina.com. I love that this Danish Puff Pastry is a family heirloom recipe that Lori is keeping alive for her children and husband. Now it is something they can make for years to come now that she has updated it!
Take a look and let us know if you make it by tagging myself or Lori on Instagram.
Christmas Advent Calendar
A new recipe every day from December 1-24 from me or one of my friends!
Lori, from @JosieandNina. Italian Home Cook – JosieandNina.com
Sarah, from @SaltJar. Farm Fresh Food – SaltJar.com
Niki, from @CleanPlateClb. Food Photographer – CleanPlateClb.com
Kathryn, from @WornSlapOut. Recipe for the Joyfully Exhausted – WornSlapOut.com
Ruchi, from @TiffinKitchen. Plant forward food – TheTiffinKitchen.com
Kendell, from @KendellKreations. Food & Travel – KendellKreations.com
We have been working hard to bring you some great recipes that will bring the family together each night leading to Christmas Day. I hope you enjoy them and be sure to let us know if you make them by tagging any of us on Instagram through the month.
Christmas Advent Calendar Recipes
MY LATEST RECIPES!
Get my NEW e-Cookbook here!! ⬇️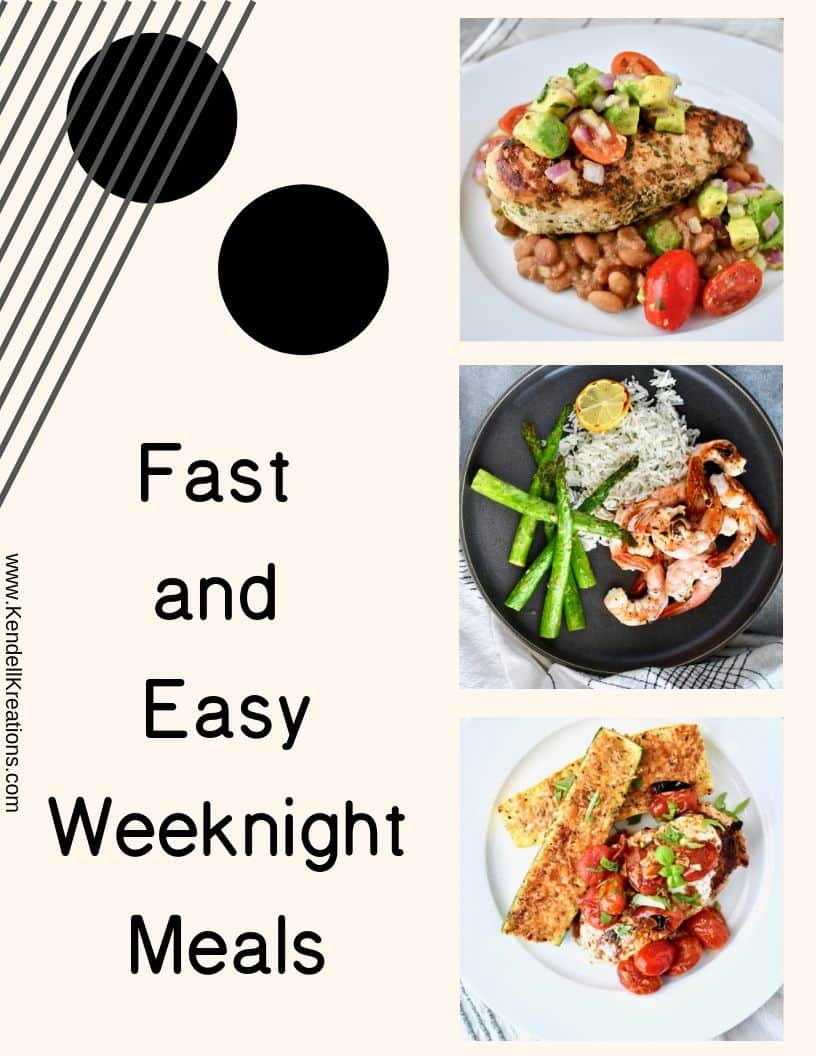 MY FAVORITE KITCHEN TOOLS!
Here are a few links to some of my favorite kitchen tools! You get a car, YOu get a car, YOU ALL GET A CAR…in my best Oprah voice
These Rösle Silicone Tongs are a little pricey but they will last you the rest of your life and are the softest in your hand. This is important for someone like m that cooks so much. It reduces strain, I have 4 sets in my kitchen!
These are my FAVE Nordic Ware Sheet Pans, every kitchen should have at least 2 sets of these! I think I have at least 4 of each of these.
This is my favorite pressure cooker, the Fagor is the same concept as the "Instant Pot" but easier to use in my opinion, if you don't have one you NEED one, it will be your best friend in the kitchen!
A sharp knife is the most important tool in the kitchen, these Japanese steel "Shun" knives are my favorite! And this is a great starter set to build on. Once you try them you will be in love so use this as a foundation you can build on for years to come.
This Scanpan 11″ skillet is just the right size for almost anything you will need to cook and my best friend and a real workhorse in my kitchen, it's also a great deal at $99. Scanpan is the best in the world for healthy cooking. It is coated with a proprietary ceramic-titanium coating that is durable while allowing you to use fewer fats and oils when cooking. It is a coating only they use. I could talk all day about my love for these pans, message me if you want more info. Here are some other sizes that are available if you are looking to outfit your kitchen with some new goodies. 8″ & 10″ Skillet set or 8″ Skillet, I still need this one for my kitchen Also, I don't really know how to cook small so the 12.5″ is my other fave!
This giant vat of olive oil is my favorite, I decant it into a smaller bottle for my counter. Or put this spigot on top of a wine bottle!
My favorite baking dish that is so easy to clean even burnt on cheese slides right off!
This Tovolo jar scraper has to be my single favorite kitchen tool, it is definitely the most used tool in my kitchen. If you are NOT a gadget person, this is the only necessity I say is a MUST beyond the wooden spoon.
A great wood spoon is essential, this Olive Wood one is my favorite, I have more than I can count. But can you really ever have too many?
A food scale can be a very important tool in your kitchen, this one is the one I use every day!
If you love Joanna Gaines as much as I do then the 'Magnolia Table Cookbook' is a must in your kitchen, get a copy HERE!