These Double Chocolate Almond Cookies were born out of my favorite chocolate chip cookie recipe. I adapted it to have cocoa powder and almonds to celebrate National Chocolate with Almonds Day which is July 8th if you want to mark your calendar. But I am sure you won't want to wait till July to make them!
Why I love these Cookies
The ratios in these cookies are great. They develop a crisp outer edge while retaining a gooey, almost brownie-like interior. You can add more or less chocolate chips and almonds, but I like this light ratio, it gives just a little hidden crunch here and there.
They crisp and crack just like something you would get from a bakery. Any time I can produce anything of that quality in my home kitchen I am beyond happy! Even as a Chef I don't always produce things of that quality.
I would be happy to sell these in a bakery. Who knows, one day I might have one. It's always been my dream to have something really small, like a coffee shop or tea house where I could make my favorite things for my customers. I will be adding these to the list of recipes I would use there.
Ingredients needed
Butter
Brown Sugar
Granulated Sugar
Eggs
Vanilla
AP Flour
Cocoa Powder
Baking Soda
Salt
Milk Chocolate Chips
Slivered Almonds
Shaping the Cookies
When you make these cookies be sure to leave them in mounds when you place them on your baking tray. They will flatten and puff as they cook, and the baking soda makes them puff and crack leaving some gooey veins running through them. I shape my cookies with a spring action ice cream scoop. I have 3 sizes in my kitchen and you can make them small or large, just keep an eye on them when cooking.
It will be hard to know when they are done because they are chocolate. Just tap the center of one and if it deflates and is very wet looking still, it needs more time. If it is firm, then it is ready. You just have to keep an eye on them.
Other Chocolate Almond Recipes
If you need some other chocolate and almond recipe inspiration take a look at some of these recipe below.
My friend Sarah from Salt Jar has a yummy Ginger Biscotti recipe that uses chocolate chips and almonds as well as some other tasty ingredients.
For an even more creative way to incorporate chocolate and almonds into a recipe check out my friend Lori and her blog Josie + Nina. She shares these Nanaimo Bars that I NEED to try ASAP.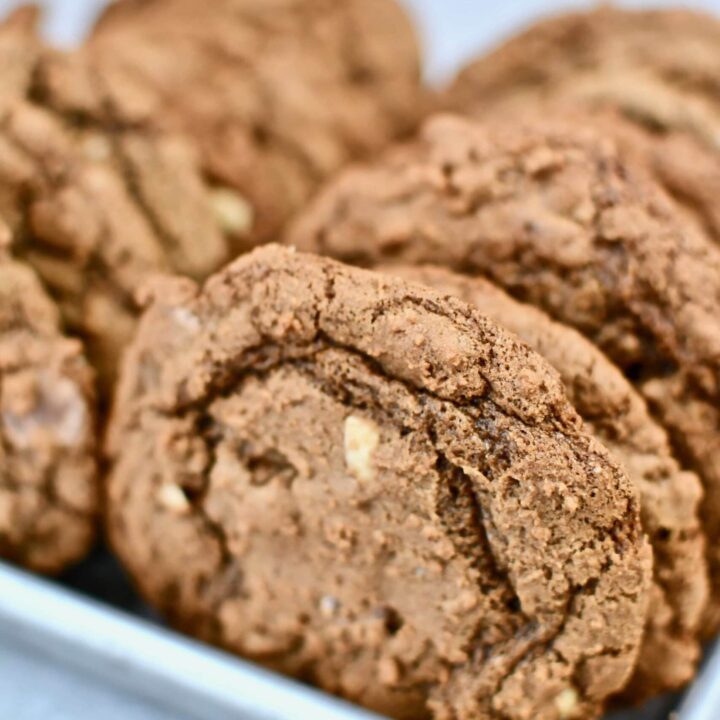 Double Chocolate Almond Cookies
Ingredients
8 tablespoons Unsalted Butter, room temp
1 ½ cup Light Brown Sugar
½ cup Granulated Sugar
2 ea Eggs, large
1 ½ teaspoon Vanilla Extract
2 ¼ cups All-Purpose Flour
¼ cup Cocoa Powder
1 teaspoon Baking Soda
½ teaspoon sea salt
1 ½ cups Milk Chocolate Chips
½ cup Slivered Almonds
Instructions
Preheat the oven to 350° and line a baking sheet with parchment paper.
In a stand mixer fitted with the paddle attachment, beat the butter and sugars on medium-high speed until light and fluffy.
Add the eggs and vanilla, beat until blended.
Turn the mixer off and add the flour, cocoa powder, baking soda and salt to the bowl. Mix on medium just until mixed in. Turn the mixer to high speed for a few seconds to pull the dough together.
Add the chocolate chips and almonds and beat on high for about 5 seconds to thoroughly and quickly mix in the chips.
Using a spring action ice cream scoop, drop rounded scoops on the lined baking sheet. Do not flatten them.
Bake until flattened and some cracks have formed. 12 to 14 minutes.
Cool on the pan for 1 minute, then transfer the cookies to a wire rack to cool completely.
Nutrition Information:
Serving Size:

1 grams
Amount Per Serving:
Unsaturated Fat:

0g
MORE OF MY RECIPES HERE!
Get my NEW e-Cookbook here!! ⬇️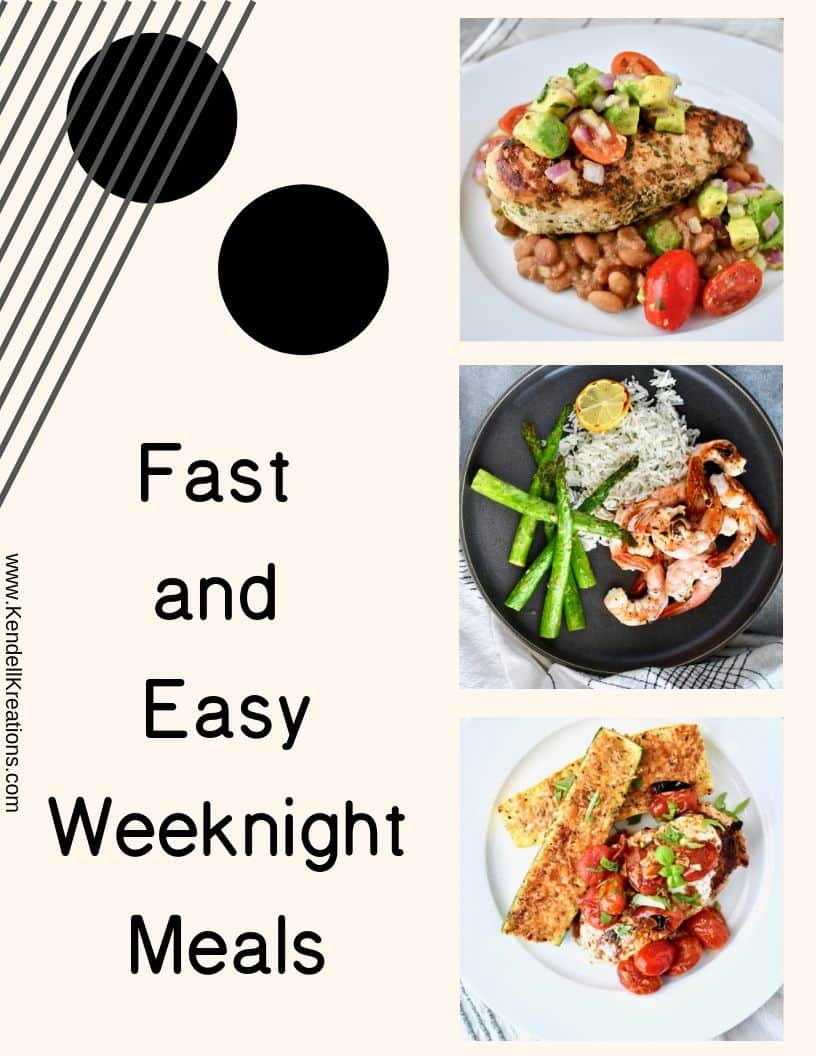 _
MY FAVORITE KITCHEN TOOLS!
Here are a few links to some of my favorite kitchen tools! You get a car, YOu get a car, YOU ALL GET A CAR…in my best Oprah voice
These Rösle Silicone Tongs are a little pricey but they will last you the rest of your life and are the softest in your hand. This is important for someone like m that cooks so much. It reduces strain, I have 4 sets in my kitchen!
These are my FAV Nordic Ware Sheet Pans, every kitchen should have at least 2 sets of these! I think I have at least 4 of each of these.
This is my favorite pressure cooker, the Fagor is the same concept as the "Instant Pot" but easier to use in my opinion, if you don't have one you NEED one, it will be your best friend in the kitchen!
A sharp knife is the most important tool in the kitchen, these Japanese steel "Shun" knives are my favorite! And this is a great starter set to build on. Once you try them you will be in love so use this as a foundation you can build on for years to come.
This Scanpan 11″ skillet is just the right size for almost anything you will need to cook and my best friend and a real workhorse in my kitchen, it's also a great deal at $99. Scanpan is the best in the world for healthy cooking. It is coated with a proprietary ceramic titanium coating that is durable while allowing you to use fewer fats and oils when cooking. It is a coating only they use. I could talk all day about my love for these pans, message me if you want more info. Here are some other sizes that are available if you are looking to outfit your kitchen with some new goodies. 8″ & 10″ Skillet setor 8″ Skillet, I still need this one for my kitchen Also, I don't really know how to cook small so the 12.5″ is my other fave!
This giant vat of olive oil is my favorite, I decant it into a smaller bottle for my counter. Or put this spigot on top of a wine bottle!
This Tovolo jar scraper has to be my single favorite kitchen tool, it is definitely the most used tool in my kitchen. If you are NOT a gadget person, this is the only necessity I say is a MUST beyond the wooden spoon.
A great wood spoon is essential, this Olive Wood one is my favorite, I have more than I can count. But can you really ever have too many?
A food scale can be a very important tool in your kitchen, this one is the one I use every day!
If you love Joanna Gaines as much as I do then the 'Magnolia Table Cookbook' is a must in your kitchen, get a copy HERE!
Check out this great product for your mason jar, the Ergo Spout lets you turn any jar into a pourable pitcher. Get yours here! I love making my homemade salad dressing and keeping them this way in the refrigerator.