The roots of this recipe rest in the utilization of ingredients that some may say were beyond use. But wasting food is one of my biggest pet peeves. So this Fast Chicken Tortilla Soup was born!
Building a foundation of flavor
I had a package of grape tomatoes that had shriveled up and my family wanted to throw away. As I caught them from going into the trash, I threw the tomatoes, an onion, and a few cloves of garlic in a pot, not knowing what might come out of it and this soup was born.
I found a jalapeno in the fridge that also needed to be utilized and had a couple of cans of chicken stock in the pantry. I stewed down the vegetables and deglazed the pot with the chicken stock. The addition of a few spices and the meat of a rotisserie chicken and dinner was ready to be enjoyed.
Instead of throwing away some tomatoes that were no longer fit for salads, but perfectly ok for eating still I was able to create an entirely new meal in the form of this Chicken Tortilla Soup. Utilizing what you have on hand is a major part of what KendellKreations is all about. Often times I jump into the kitchen, grab whatever is around and being cooking.
If you have an avocado lying around, throw some pieces on top when serving. Almost any cheese goes with tortilla soup, I happened to have some extra queso fresco from another dish around, but mozzarella or even cheddar work equally well. I also love a squeeze of lime, but maybe you have a lemon, cilantro is great, but I had green onions.
Don't get boxed in by a recipe, use what you have to create something great! Learn to use ingredients that may be past their prime, but that can still be utilized to create a delicious meal. I hope to continue being less wasteful in the future and that recipes like this can help you make use of what you have on hand.
Fast Chicken Tortilla Soup
This recipe was born out of the utilization of dying ingredients. Just because some tomatoes have shriveled up doesn't mean the cant still have a life as nourishing food.
Ingredients
2

T

Olive Oil

2

C

Grape Tomates

1

medium Onion

diced

3-4

cloves

Garlic

crushed

1

Jalapeno

seeded and diced

3

t

Chili Powder

2

t

Chili Lime Salt

1

t

Corriander

1/2

t

White Pepper

Salt as needed

to taste

64

oz

Chicken Stock

4

C

Chicken

shredded or from a rotisserie chicken
for serving, optional:
Avocado

Cilantro

Green Onion

Lime Wedges

Queso Fresco

Cheddar Cheese

Tortilla Chips
Instructions
In a heavy bottom stock pot heat the olive oil over medium heat. Stew the tomatoes, onions, and garlic over medium heat until all of the tomatoes have popped open, 5-7 minutes. Give them a squish with the back of your spoon to break them apart. Add the jalapeno and cook 2-3 minutes longer.

Add the chili powder, chili lime salt, coriander, white pepper, and a pinch of salt. Cook 1 minute to wake up the spices. Deglaze the bottom of the pot with the chicken stock. Bring the soup to a boil and reduce to a simmer. Add in the chicken and simmer about 5 minutes to bring all the flavors together.

Serve with the optional toppings or enjoy as it stands.
If you make this recipe, please let me know by leaving a review at the bottom of this page!
And make sure to sign up for my newsletter and follow along on Instagram, Pinterest, and Facebook for more KendellKreations!
MY LATEST RECIPES!
Get my NEW e-Cookbook here!! ⬇️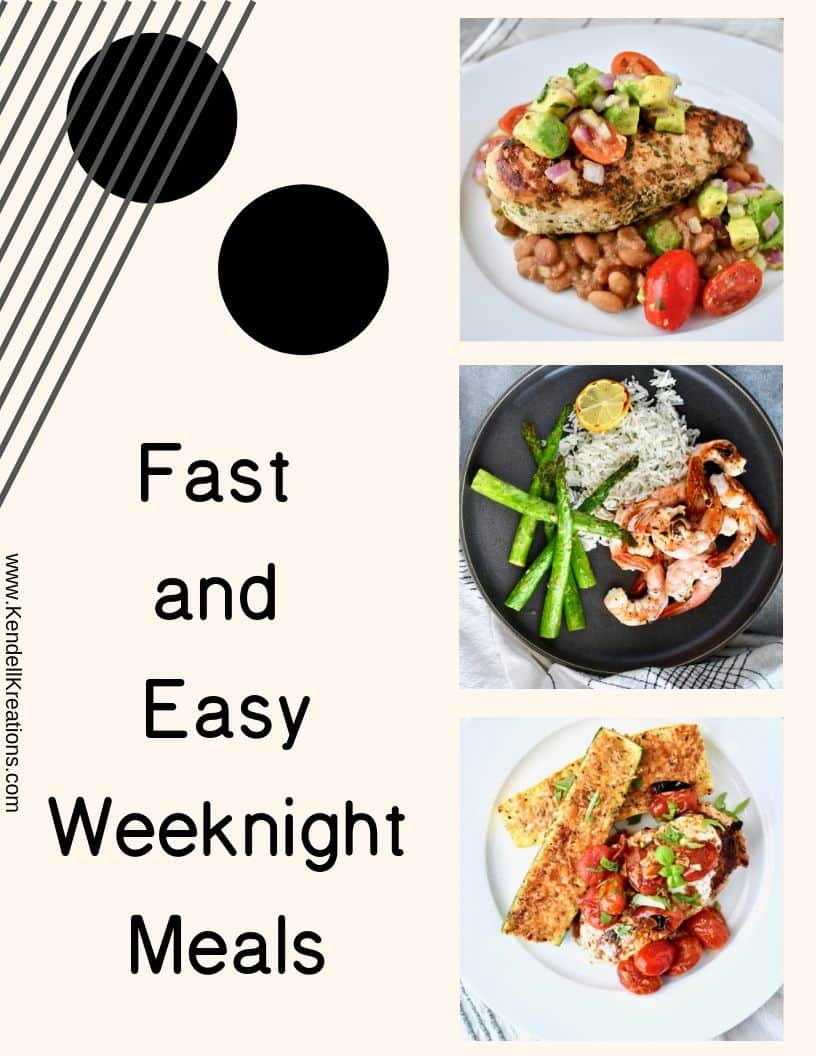 MY FAVORITE KITCHEN TOOLS!
Here are a few links to some of my favorite kitchen tools! You get a car, YOu get a car, YOU ALL GET A CAR…in my best Oprah voice
These Rösle Silicone Tongs are a little pricey but they will last you the rest of your life and are the softest in your hand. This is important for someone like m that cooks so much. It reduces strain, I have 4 sets in my kitchen!
These are my FAVE Nordic Ware Sheet Pans, every kitchen should have at least 2 sets of these! I think I have at least 4 of each of these.
This is my favorite pressure cooker, the Fagor is the same concept as the "Instant Pot" but easier to use in my opinion, if you don't have one you NEED one, it will be your best friend in the kitchen!
A sharp knife is the most important tool in the kitchen, these Japanese steel "Shun" knives are my favorite! And this is a great starter set to build on. Once you try them you will be in love so use this as a foundation you can build on for years to come.
This Scanpan 11″ skillet is just the right size for almost anything you will need to cook and my best friend and a real workhorse in my kitchen, it's also a great deal at $99. Scanpan is the best in the world for healthy cooking. It is coated with a proprietary ceramic-titanium coating that is durable while allowing you to use fewer fats and oils when cooking. It is a coating only they use. I could talk all day about my love for these pans, message me if you want more info. Here are some other sizes that are available if you are looking to outfit your kitchen with some new goodies. 8″ & 10″ Skillet set or 8″ Skillet, I still need this one for my kitchen Also, I don't really know how to cook small so the 12.5″ is my other fave!
This giant vat of olive oil is my favorite, I decant it into a smaller bottle for my counter. Or put this spigot on top of a wine bottle!
My favorite baking dish that is so easy to clean even burnt on cheese slides right off!
This Tovolo jar scraper has to be my single favorite kitchen tool, it is definitely the most used tool in my kitchen. If you are NOT a gadget person, this is the only necessity I say is a MUST beyond the wooden spoon.
A great wood spoon is essential, this Olive Wood one is my favorite, I have more than I can count. But can you really ever have too many?
A food scale can be a very important tool in your kitchen, this one is the one I use every day!
If you love Joanna Gaines as much as I do then the 'Magnolia Table Cookbook' is a must in your kitchen, get a copy HERE!