Creating this take-out General Tso Chicken "at home" recipe came at the request of my dad. It is his favorite to order, but I thought I would clean it up and make it something the whole family can enjoy. Even my diabetic mother.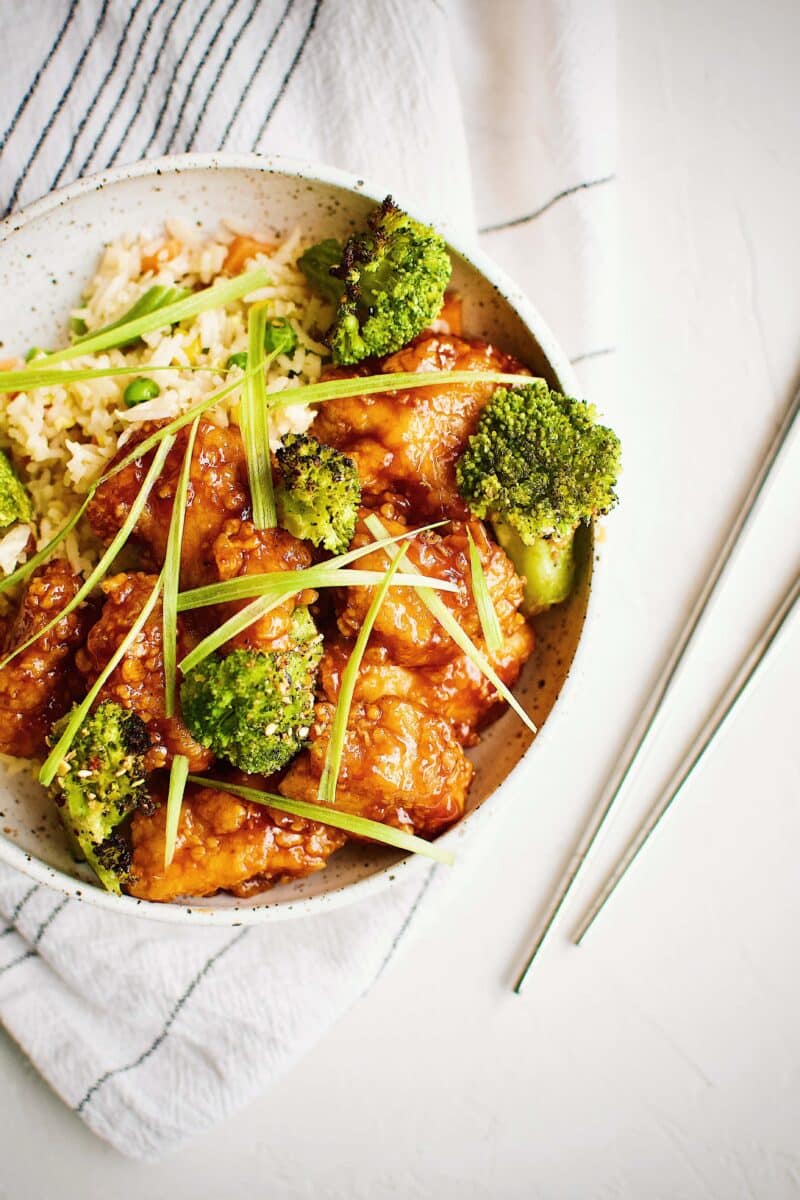 This recipe is naturally gluten-free and I thought I would remove the chicken breading so we could lose some calories, and carbs so it could still be enjoyed with a side of rice.
Cleaned-Up General Tso Chicken
I love to sometimes take a recipe and totally clean it up. Or at least that's what I call it when I reduce the calories and try to remove as many preservatives as possible. I figure that means I can enjoy more of it guilt-free.
Not that I count calories, that time has come and gone for me, but I try to give a little balance to some favorite recipes. Like I said above, my dad asked me to make this and I cleaned it up so my mom could enjoy it, even more!
I also substituted soy sauce for liquid aminos. This keeps the sauce gluten-free, but that is just a happy accident. This sauce also lowers the sodium levels, but I personally think it has a stronger salty flavor. So use it sparingly and taste and adjust as needed.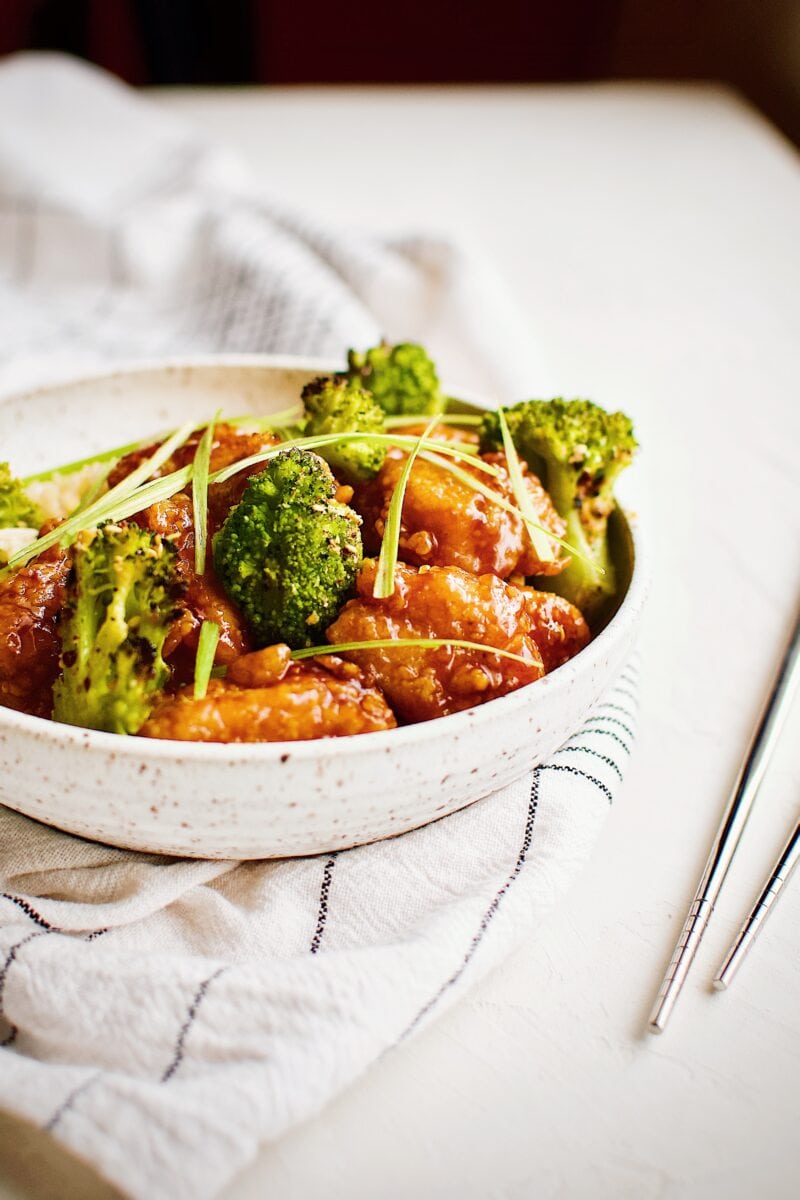 Preparing the Broccolini
Broccolini is a smaller, more tender version of broccoli. If you can't find it, do fret, just use regular broccoli instead and maybe cut it into steaks before cooking. I like the broccolini because it cooks a little quicker before I fry the chicken.
It also just takes a little bit of basic seasoning to make it delicious. A little salt and pepper are all you need and then I throw on a pinch of red pepper flakes to enhance the flavors that will be coming from the chicken. General Tso Chicken is known for being a spicy dish, that is another advantage to making it at home, you can control the heat
Once you clean the greens, just fry them up quickly in a little bit of oil in the bottom of the pan, when you turn them over, season with salt and pepper and a pinch of red pepper and they are good to go. I like cooking them quickly just till they brown a little bit so they keep a crunch to them.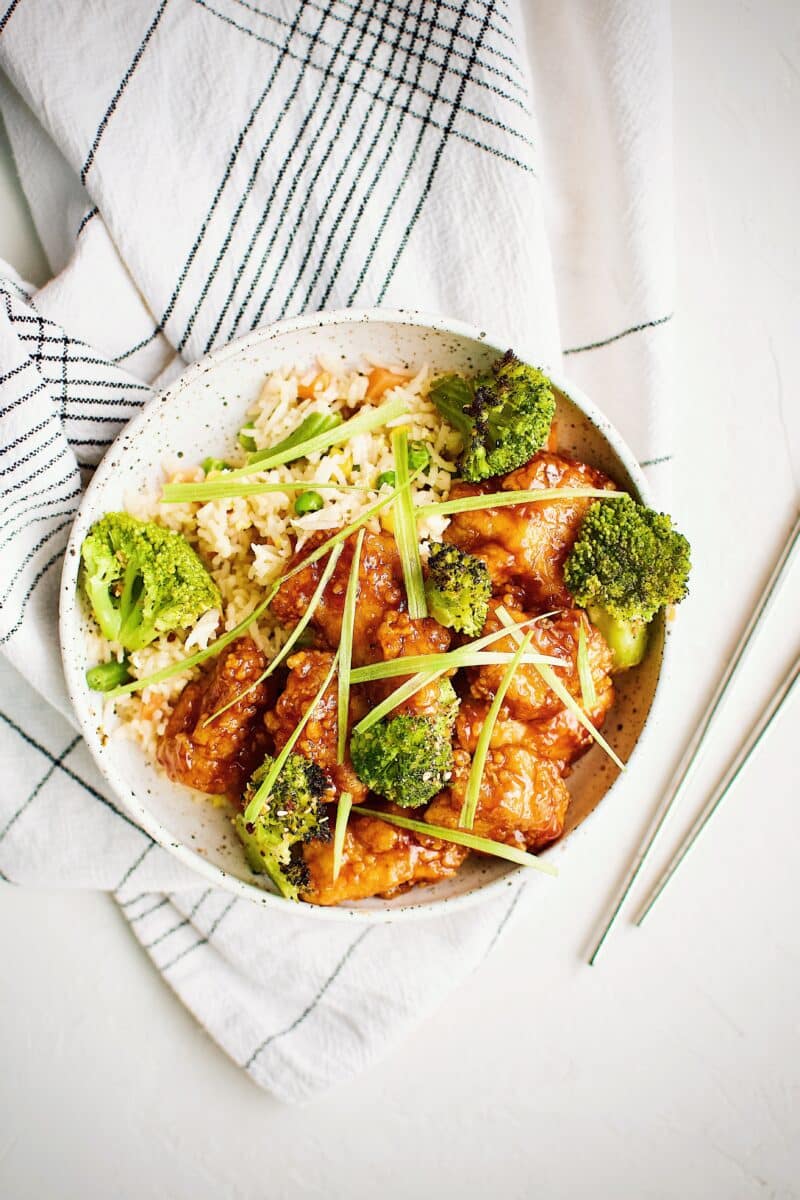 Making the Sauce
The ingredient list may look a little daunting, but most of them are for the sauce. If you want to sub those ingredients for a premade sauce you love, feel free. This is just the place that you can ensure that the dish comes out gluten-free if you need that.
Many sauces will include soy sauce that has gluten in it, where I swapped that out for Coconut Aminos that is a gluten-free soy sauce substitute. You could also use liquid amnios if you have them, I personally prefer the coconut aminos. But that's just me.
If you have these little Asian chili's around or if you pick some up for this dish, USE THEM! I made this one KendellKreations style and used what I had in my kitchen. I stock a pretty good Asian pantry because I like to experiment with Asian flavors a lot.
I was out of those when I made this or I would have sauteed a few with the chicken when I cooked it. But red pepper flakes are a good fall back and no matter how much I use them the canister never seems to empty so I always have some laying around.
If you do use the chilis, heat the oil on low at the beginning and let them cook first. Allowing them to permeate the oil will give the whole dish a little extra spice. You could even throw them in before you cook the broccolini to give them some more flavor too!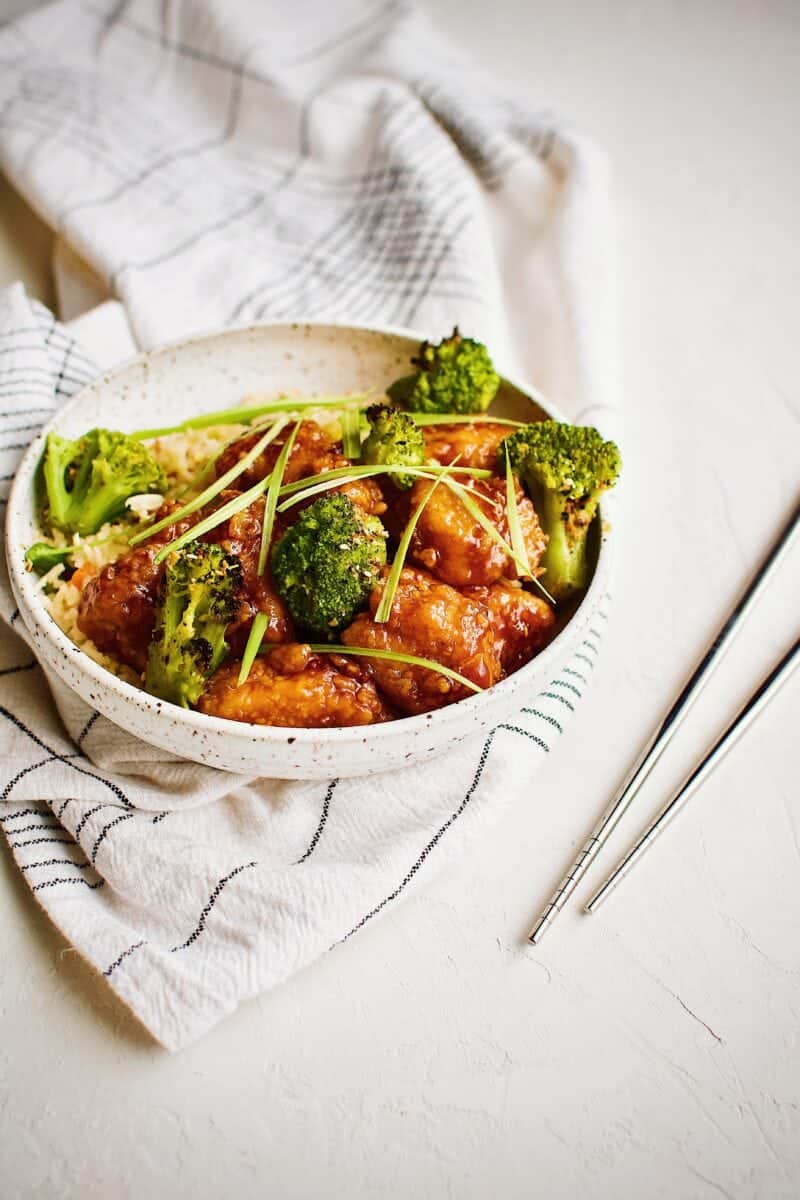 Let's talk Rice!
Now I have shared in a few other posts about my love for Basmati Rice. When I did a little research I learned that all rice has a certain level or arsenic in it, but basmati has the least. I also love the way it cooks and how for the most part it doesn't cake up.
You want to give it a couple of rinses before cooking, but then add it and the water to a pot, bring to a boil for 5 minutes, and then turn off the heat, cover, and let stand 10 minutes. It is done at this point and PERFECTLY cooked! So easy and so good, it is my favorite for this reason.
It is all I stock in my kitchen anymore. Go grab some and make this dish for your family this summer. I hope you enjoy it as much as mine does, Happy Cooking!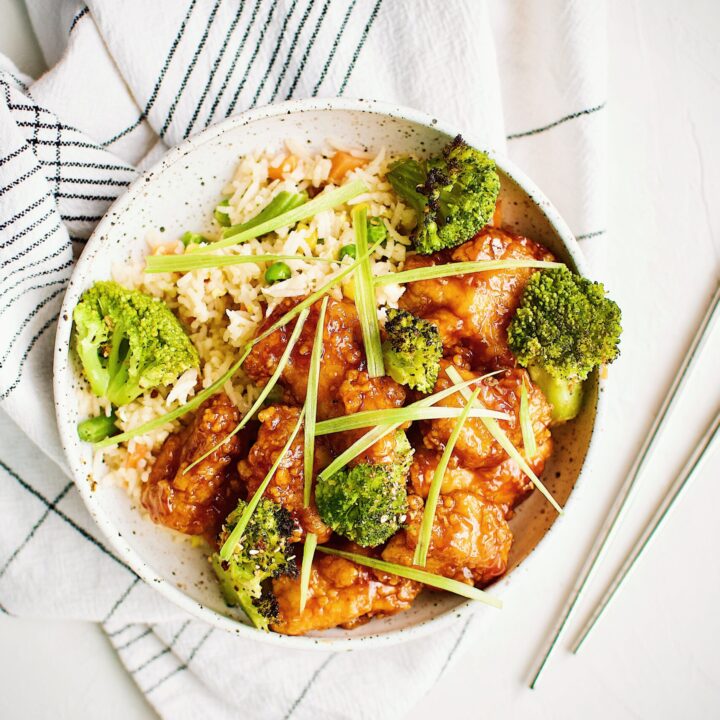 General Tso Chicken
I call this my "lighter" General Tso's because I don't bread the chicken saving more calories for the sauce and the rice.
Ingredients
4 Chicken Breasts, boneless and skinless, cut into 1-inch cubes
3 cloves Garlic, minced
1 tablespoon Vegetable Oil
½ cup Hoisin Sauce
1 tablespoon Coconut Aminos
½ cup Brown Sugar
3 tablespoon Rice Wine Vinegar
1 teaspoon Sesame Oil
½ cup Sweet Chili Sauce
½ teaspoon Ground Ginger
½ teaspoon Red Pepper Flakes
2 cup Basmati Rice
3 cup Water
2 bunches Broccolini
Kosher Salt and Fresh Cracked 
Black Pepper
Green Onions
Toasted Sesame Seeds
Instructions
Prepare the chicken breasts by dicing them into small bite-sized pieces. Season them with salt and pepper and set aside.
Dice the garlic and reserve for later use.
In a small saucepan heated over medium-low heat add the hoisin, aminos, brown sugar, vinegar, sesame oil, ginger, and pepper flakes and stir to combine. Bring the mixture to a low simmer for about 5 minutes, stirring often. Remove from the heat and reserve for finishing the chicken.
Cook your basmati rice by combining the rice and water in a small pot. Bring the water to a boil and then reduce the heat and simmer for 5 minutes. Turn off the heat and place a lid on top of the pot. Let sit undisturbed for 10 minutes. Fluff the rice with a fork and serve under the chicken.
Heat a large skillet or wok over medium heat on the stove. Add half the vegetable oil to the pan and cook the broccolini, turning until lightly browned all around. Remove from the pan a sprinkle with salt, pepper, and red pepper flakes.
Add the remaining vegetable oil to the pan and cook the chicken until lightly browned and cooked through. Do this in batches if necessary so the chicken can brown slightly. When the chicken is cooked through, add it all to the pan with the garlic and cook 1-2 minutes until fragrant. Add in the reserved sauce and bring to a boil. Simmer the chicken in the sauce until it thickens slightly and sticks to the chicken.
Serve the chicken over the rice top with green onions, sesame seeds, and more red pepper flakes if desired. Add a side of broccolini and enjoy!
Notes
If you like it extra spicy add a squeeze of Sriracha to the sauce or top with a generous helping to kick it up!
Nutrition Information:
Serving Size:

1 grams
Amount Per Serving:
Unsaturated Fat:

0g
If you make this recipe, please let me know by leaving a review at the bottom of this page!
And make sure to sign up for my newsletter and follow along on Instagram, Pinterest, and Facebook for more KendellKreations!
MY LATEST RECIPES!
Get my NEW e-Cookbook here!! ⬇️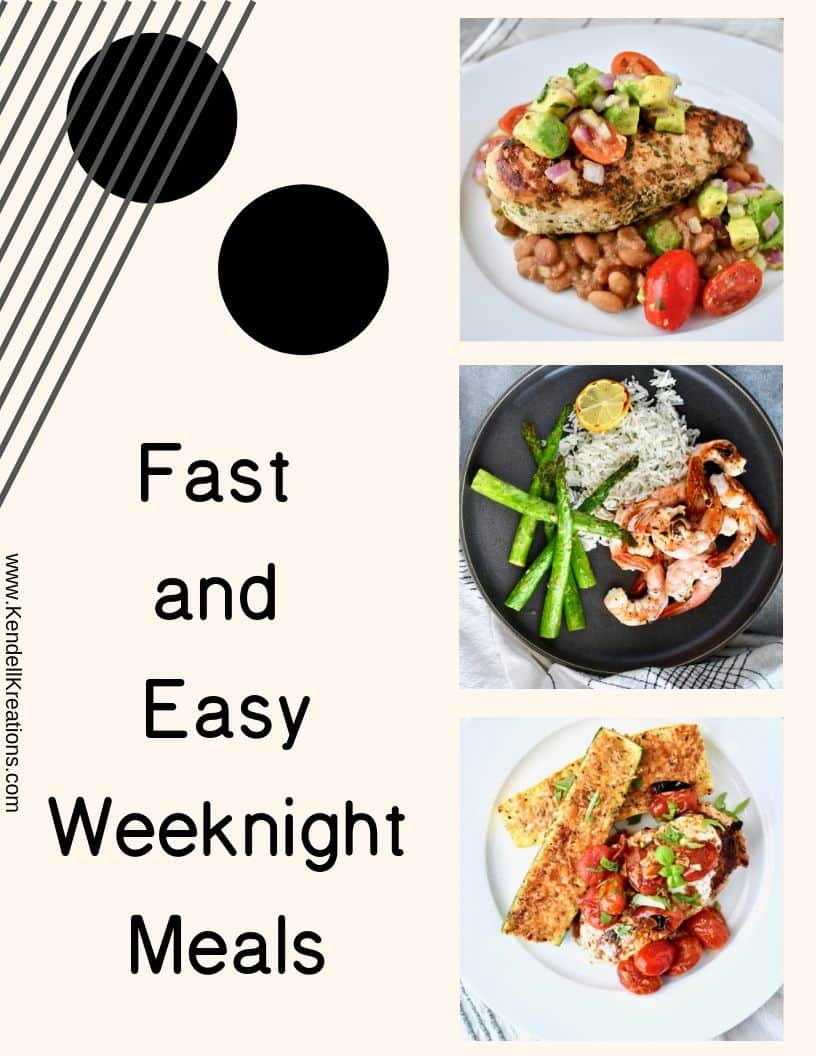 MY FAVORITE KITCHEN TOOLS!
Here are a few links to some of my favorite kitchen tools! You get a car, YOu get a car, YOU ALL GET A CAR…in my best Oprah voice
These Rösle Silicone Tongs are a little pricey but they will last you the rest of your life and are the softest in your hand. This is important for someone like m that cooks so much. It reduces strain, I have 4 sets in my kitchen!
These are my FAVE Nordic Ware Sheet Pans, every kitchen should have at least 2 sets of these! I think I have at least 4 of each of these.
This is my favorite pressure cooker, the Fagor is the same concept as the "Instant Pot" but easier to use in my opinion, if you don't have one you NEED one, it will be your best friend in the kitchen!
A sharp knife is the most important tool in the kitchen, these Japanese steel "Shun" knives are my favorite! And this is a great starter set to build on. Once you try them you will be in love so use this as a foundation you can build on for years to come.
This Scanpan 11″ skillet is just the right size for almost anything you will need to cook and my best friend and a real workhorse in my kitchen, it's also a great deal at $99. Scanpan is the best in the world for healthy cooking. It is coated with a proprietary ceramic-titanium coating that is durable while allowing you to use fewer fats and oils when cooking. It is a coating only they use. I could talk all day about my love for these pans, message me if you want more info. Here are some other sizes that are available if you are looking to outfit your kitchen with some new goodies. 8″ & 10″ Skillet set or 8″ Skillet, I still need this one for my kitchen Also, I don't really know how to cook small so the 12.5″ is my other fave!
This giant vat of olive oil is my favorite, I decant it into a smaller bottle for my counter. Or put this spigot on top of a wine bottle!
My favorite baking dish that is so easy to clean even burnt on cheese slides right off!
This Tovolo jar scraper has to be my single favorite kitchen tool, it is definitely the most used tool in my kitchen. If you are NOT a gadget person, this is the only necessity I say is a MUST beyond the wooden spoon.
A great wood spoon is essential, this Olive Wood one is my favorite, I have more than I can count. But can you really ever have too many?
A food scale can be a very important tool in your kitchen, this one is the one I use every day!
If you love Joanna Gaines as much as I do then the 'Magnolia Table Cookbook' is a must in your kitchen, get a copy HERE!