I love a spicy red curry and these Ground Chicken Meatballs are perfect for simmering in this sweet, tart, and spicy sauce. This recipe brings a restaurant favorite home. But in a simple way, you could make it any night of the week.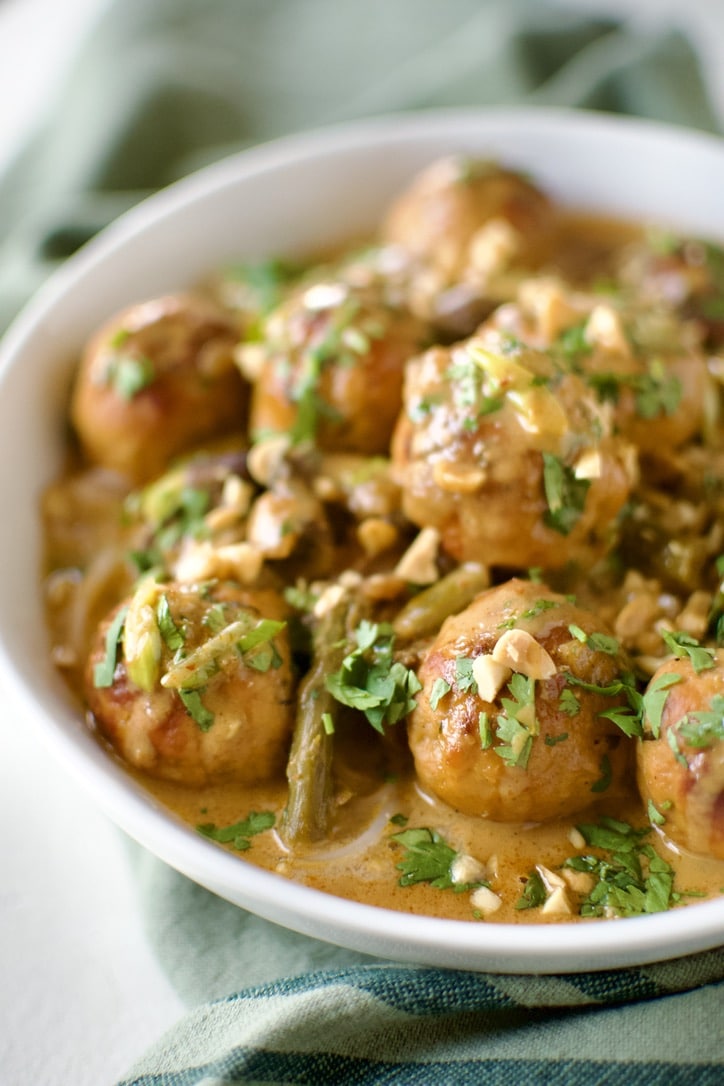 Jump to:
Ingredients
This ingredient list comes in two parts and it is a little longer than most I share. But it takes a few more items to build the layers of flavor that make this recipe great.
The first batch of ingredients is for making the meatballs. But the good news is many of them you will use again to make the sauce, so they are good investments for your pantry.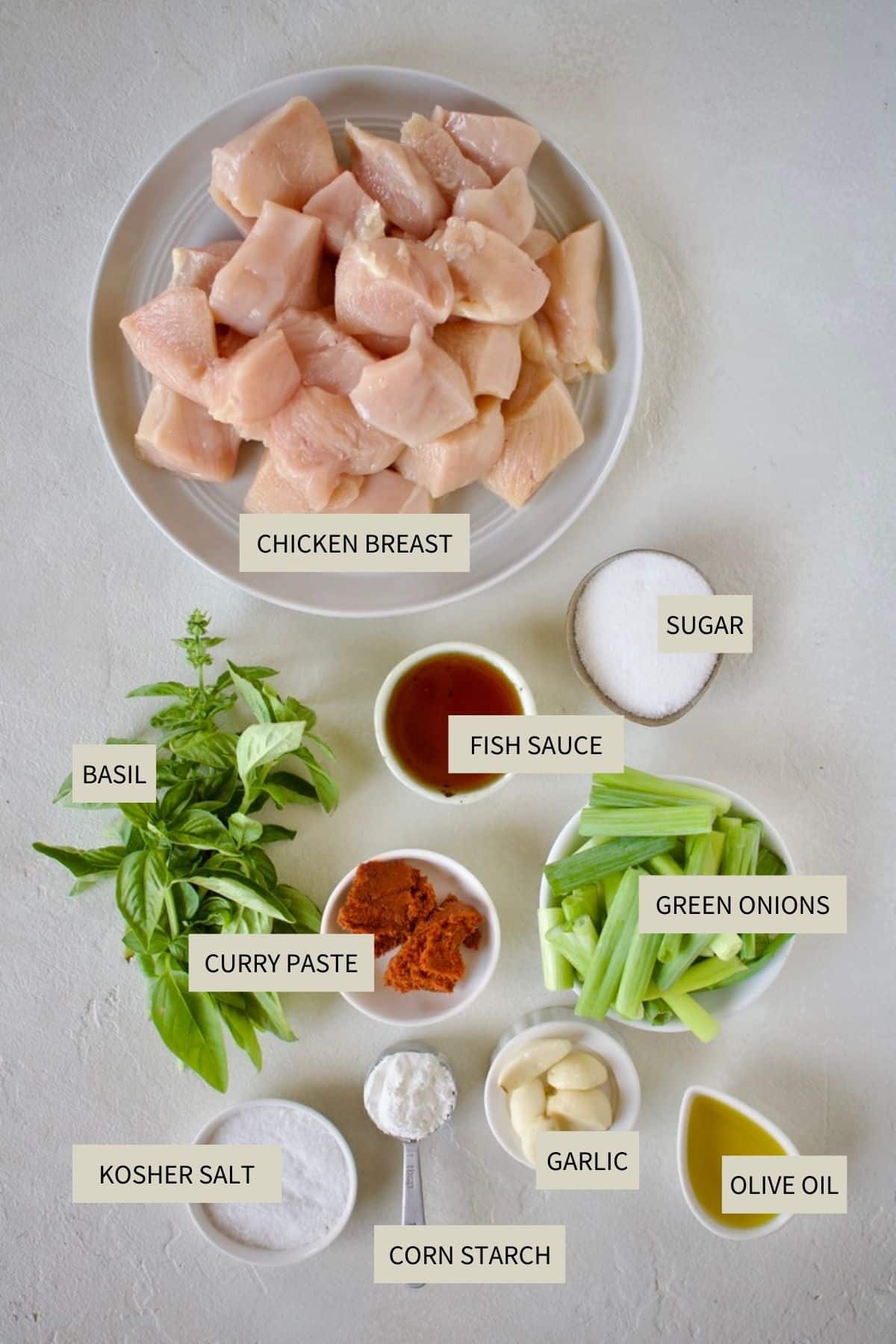 The one thing I always have to hunt down and end up ordering on amazon is the red curry paste. But it is inexpensive and a little goes a long way. So just buy the little tub.
When it comes to the sauce, as mentioned before, you will see some repeat ingredients. With the addition of some veggies and coconut milk to enhance the sauce.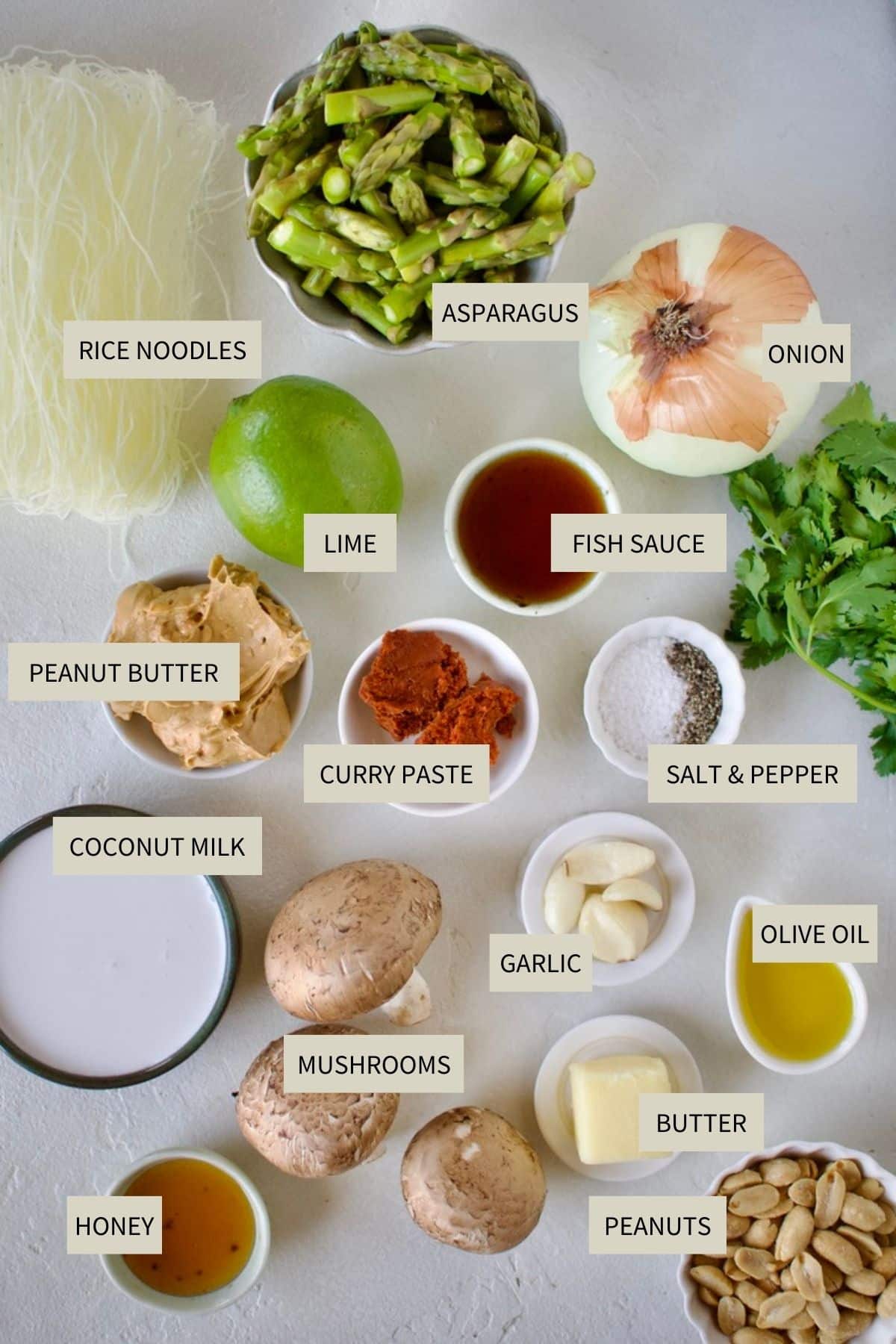 Use the JUMP TO RECIPE button at the top of the post, or scroll to the bottom of the post to see the full recipe card with ingredient measurements and instructions.
Method
I start by making the meatballs. Place all the ingredients for them into the bowl of a food processor and pulse until a smooth mixture forms.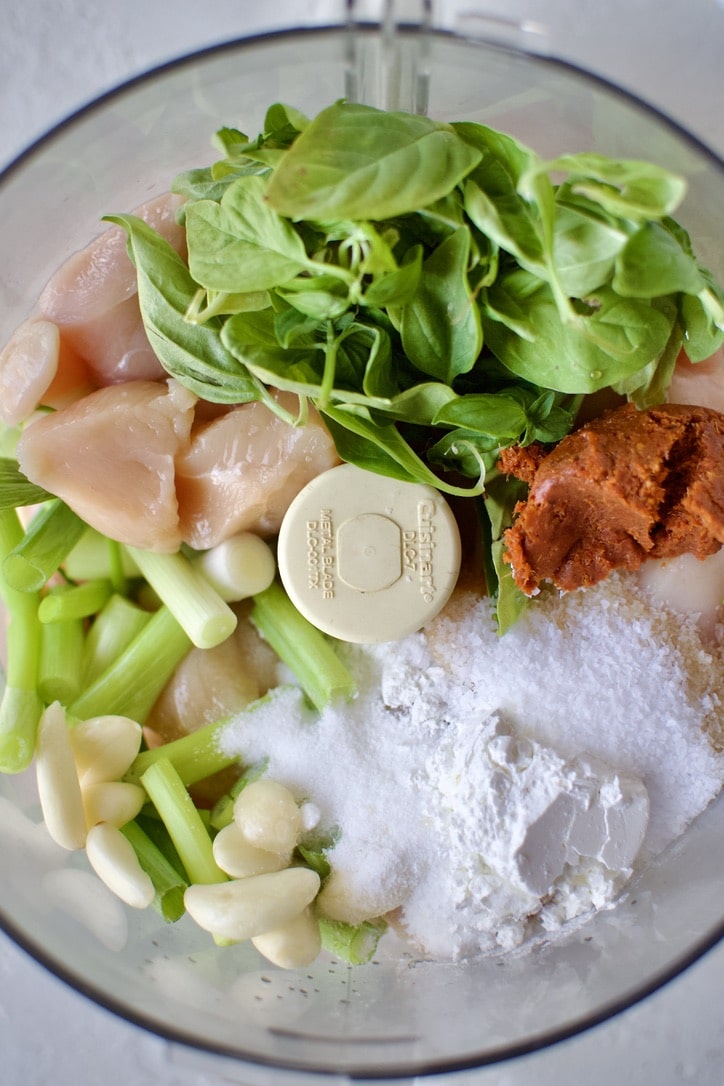 Then scoop out the meatballs onto a parchment-lined baking sheet and form them into perfect meatballs between oiled hands. Bake until browned lightly.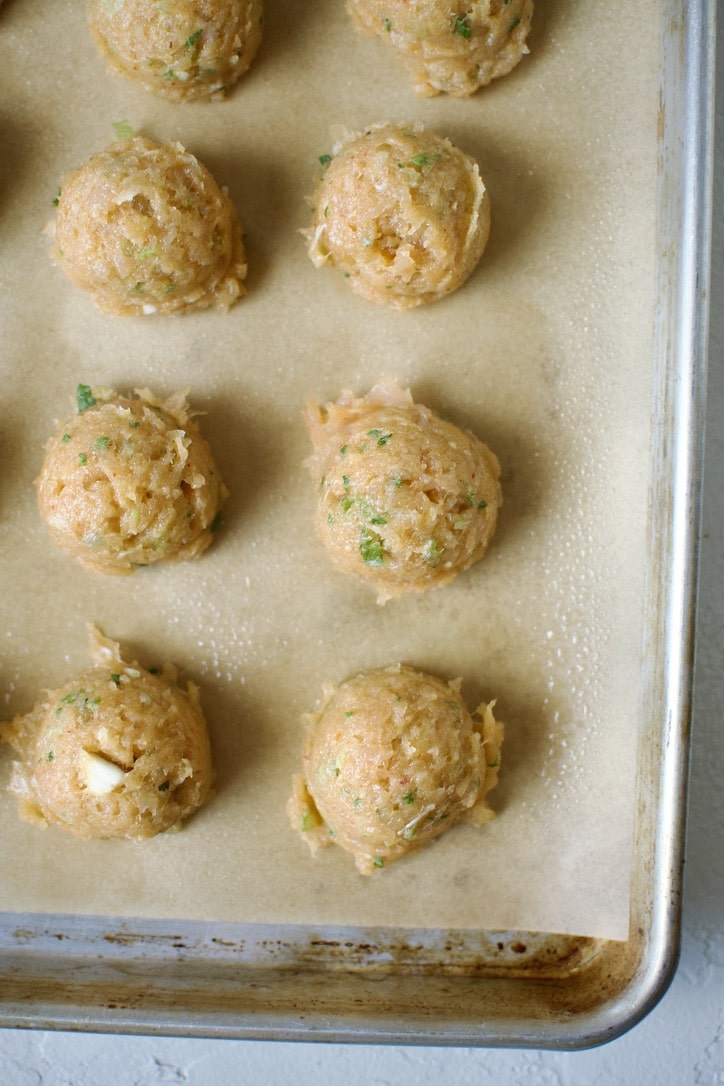 Make the sauce while the meatballs bake. Start by cooking the onions and mushrooms in the bottom of a large pot until browned. Then add in the asparagus and curry paste and cook until the curry is fragrant. Add in the liquid ingredients and bring to a boil, then add the cooked meatballs to the pot.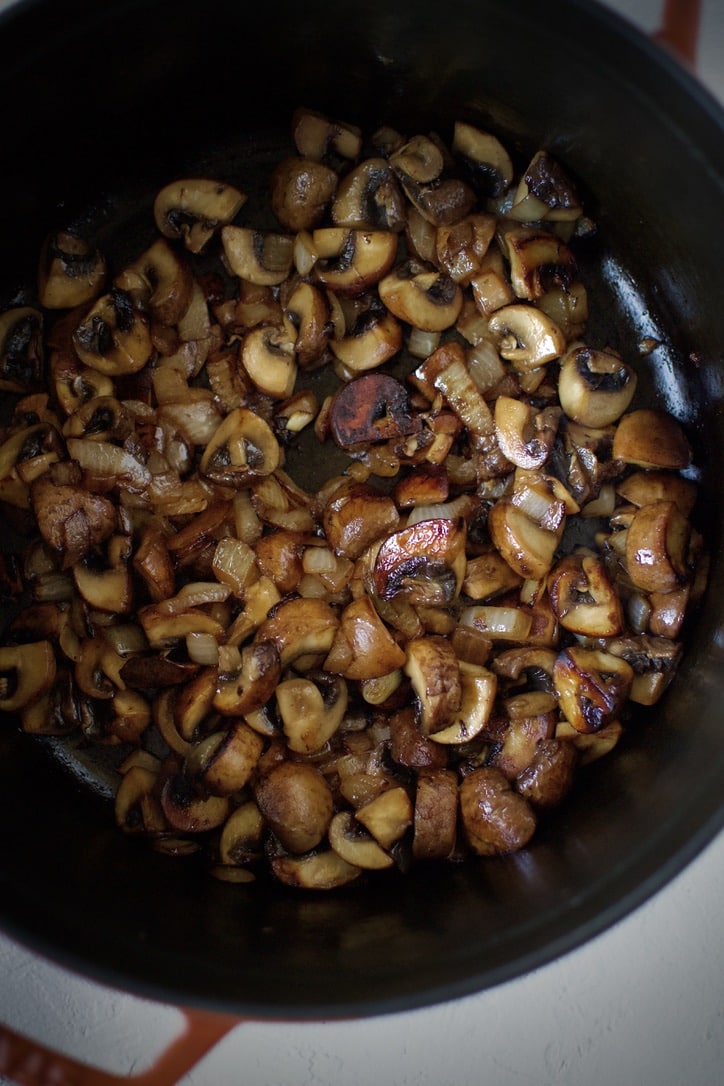 Serve the meatballs with a healthy ladle of the sauce over some rice noodles, or rice if you prefer. Top with green onions, cilantro, and some chopped peanuts.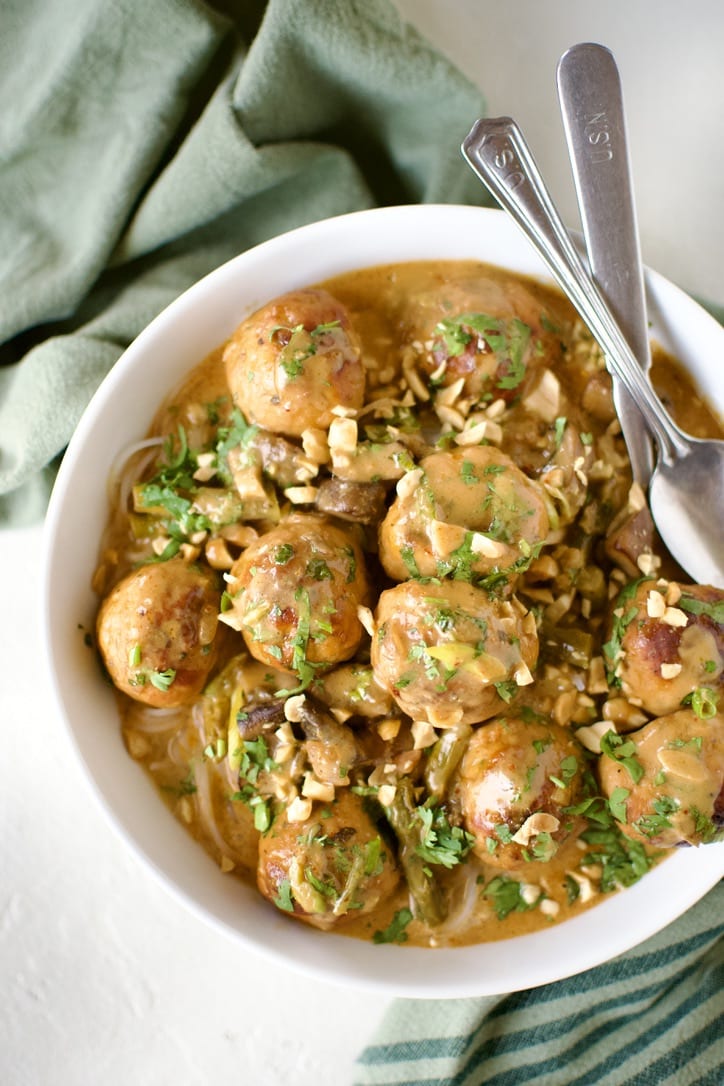 Notes & Tips
Depending on how spicy you like your curry, you can use more or less curry paste. Start with a small amount, because it can get really spicy, FAST! Taste the sauce after it simmers for a few minutes and add more if you can take more heat.
The meatballs can be made ahead of time and kept in the freezer or fridge till needed. To get ahead, you could always make the meatballs the night before you plan on eating them. If you want to keep them longer than a day, freeze them until needed. Then fully thaw and bake per directions.
When you portion out the meatballs, rolling them between oiled hands serves two purposes, so don't skip it. First, it keeps the meat from sticking to your hands, second, it adds a layer of oil to the outside of them to help brown them when cooking.
I find it important to use coconut cream for this sauce. Not just coconut milk. You want the sauce to get thick quickly, and using just milk means it needs to simmer too long. The asparagus will turn to mush by the time the sauce gets thick, so be sure to use cream.
Substitutions
If you don't have fish sauce on hand or don't like it, a great swap for it is Worchestershire sauce.
If you are not a mushroom lover, feel free to leave them out, no swap, just omit if they aren't your thing.
Also, if you have a peanut allergy, you can omit the peanut butter and leave off the chopped peanuts at the end. That is a personal addition for me, I like my curry with a hint of peanut.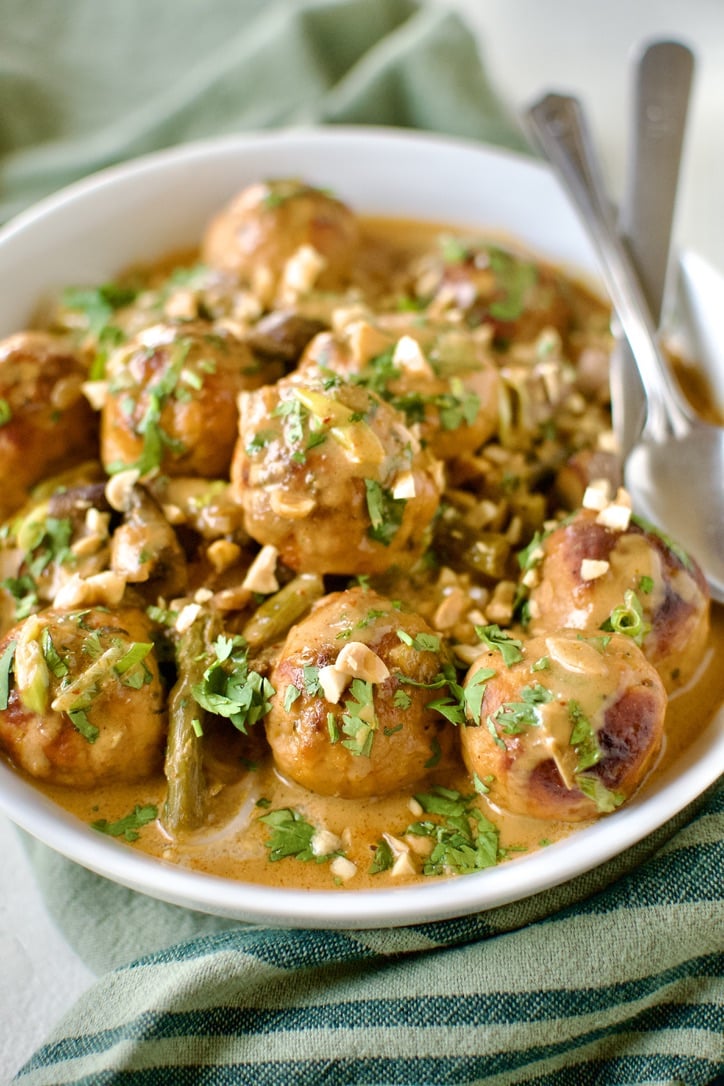 Did you make this recipe? Let me know by leaving a review or comment! And be sure to sign up for my newsletter, and follow along on Instagram, Pinterest, and Facebook!