This recipe was inspired by all the freezer meals of my childhood. But now that I am a Chef I had to take it to the next level. These Individual Chicken Pot Pie are so easy to make and layered with buttery flakey puff pastry, they will become a dinner you will crave over and over again!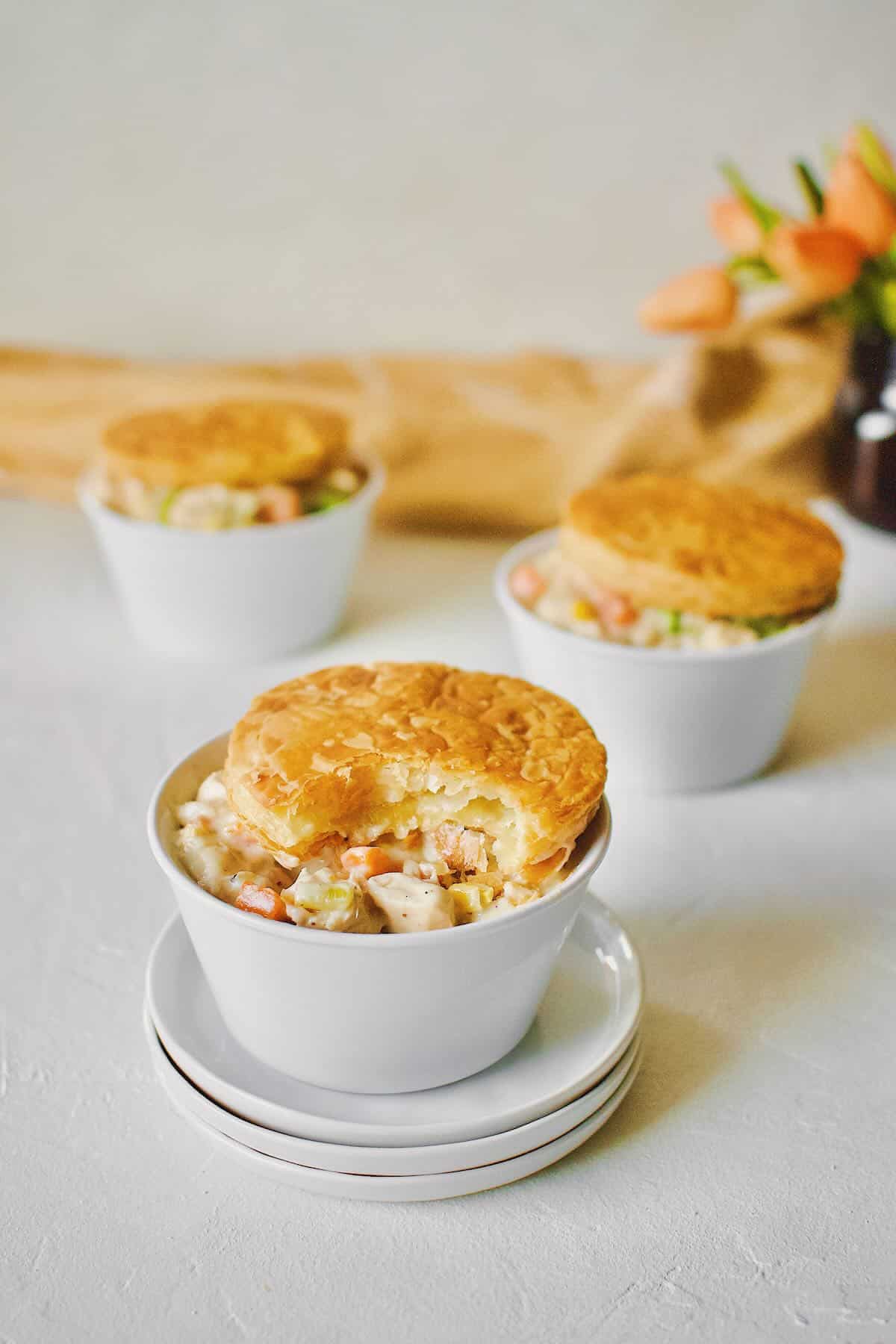 DIY these Individual Chicken Pot Pie for an easy dinner without fail. I have slightly deconstructed the components, but that lends itself to the best final product you could hope for. By baking off the puff pastry crust, you have a guaranteed NO soggy bottom and you get even more crisp flaky layers.
Creating perfect flaky layers!
The secret to getting perfectly flaky puff pastry layers is to cook them outside the pie filling. Puff pastry LIVES to be crisp, but lining the cooking vessel with it can cause shrinking, soggy, and sludgy pastry, and that is just a damn shame that puff pastry would end up that way. BUT, the remedy is simple, and you are going to love it!
After defrosting your pastry, open it up and select the round cutters needed to fit your serving dish or ramekin. My ramekin is fluted so I used 3 different cutter sizes to fill my dish with. Cut the pastry, lay it on a lined baking tray, spray it with some cooking spray, and top it with a piece of parchment and another baking tray.
You are going to bake your pastry off with this baking tray on top of it. This will ensure that the puff pastry "puffs" evenly, and gets super crisp! And don't throw away the scraps that are left from cutting out your circles.
There will inevitably be some leftover pot pie filling, so bake those scraps off too and use them to toss in the extra filling or make a wonky extra pot pie with. It might not be as pretty, but it will still taste GREAT!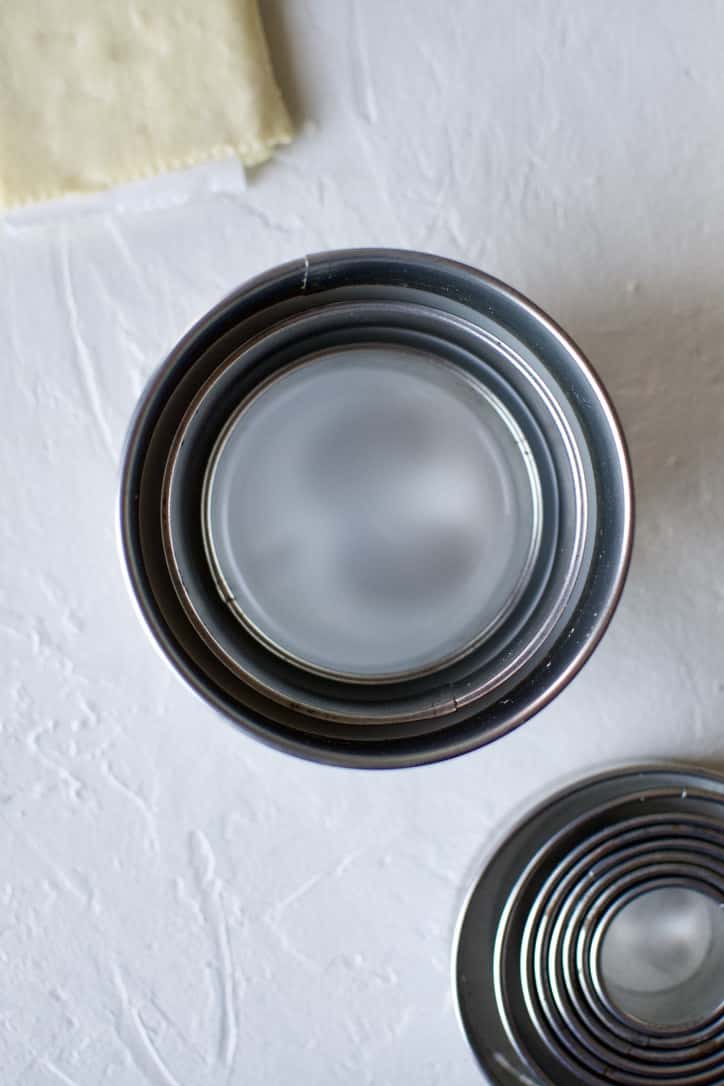 Making the pot pie filling
The filling for this recipe really couldn't be easier to make. If I am making this purposefully and only making this, I use the meat of a rotisserie chicken. But this recipe is great for using leftover turkey at thanksgiving, or extra chicken if you have leftovers. It is a great way to ensure you don't waste anything, you can even throw just about any vegetables you like or need to use up in it.
The recipe starts with a good amount of fat. I use butter so that I can form a roux using flour later in the recipe, this will thicken the sauce and give you a rich filling. If you wanted to make this a Dairy-Free Chicken Pot Pie, you could use olive oil, and make a dairy-free pie crust, cut and bake the crust in the same way I bake the puff pastry.
But to continue with the filling, cook the veggies, also known as Mire a Poix, down in the bottom of the pot first. Then add the flour and cook the roux. Add the chicken stock, AND THE JUICES OF THE ROTISSERIE CHICKEN, and the cream to the pot and cook until the liquids have thickened.
I then add the shredded chicken and a bag of frozen veggies to the pot. YES, more veggies. I like to add a "fancy" bag as I call it, one that has corn and asparagus is my favorite, but even a bag of peas and carrots works too!
Cook until completely warmed through, simmering for about 5 minutes. And your pot pie filling is done. Taste and adjust the seasonings, I always need a little more salt, and it is time to assemble.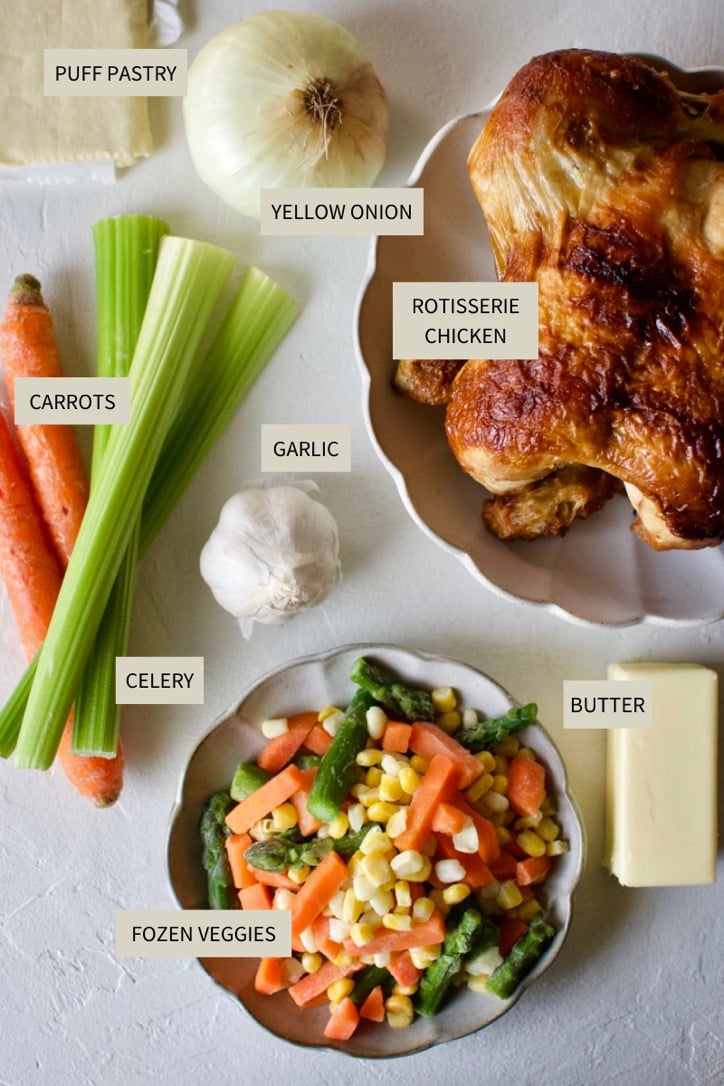 Assembling your Chicken Pot Pie
Once you have made your puff pastry discs and your filling the assembly is a breeze. I make the filling in the time it takes for the pastry to bake too, so when I turn the oven off I put the assembled pies in the warm oven till the family is ready to eat.
This can really be a meal that hits the table in 30-45 minutes from start to finish.
Layer the crisp pastry and the warm filling in a ramekin or bowl. I start with pastry on the bottom, filling, a pastry center, more filling, and top with a little puff pastry hat! Everything is cooked so you can eat it straight away, or set them in the oven to stay warm if you want to prepare them up to 30 minutes early.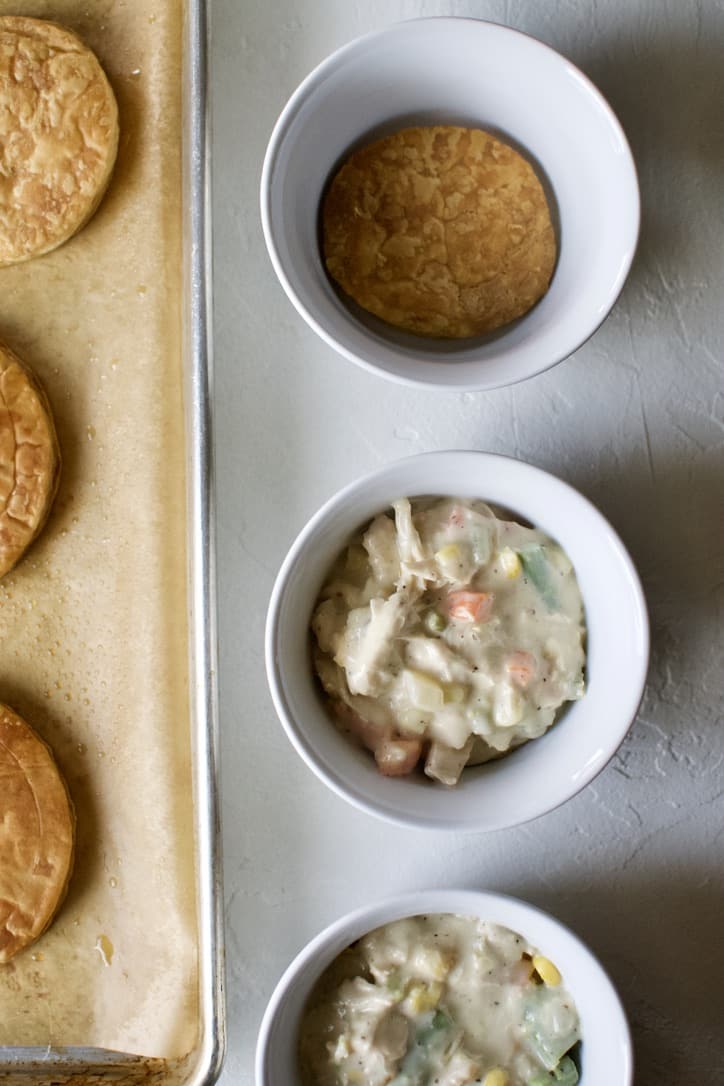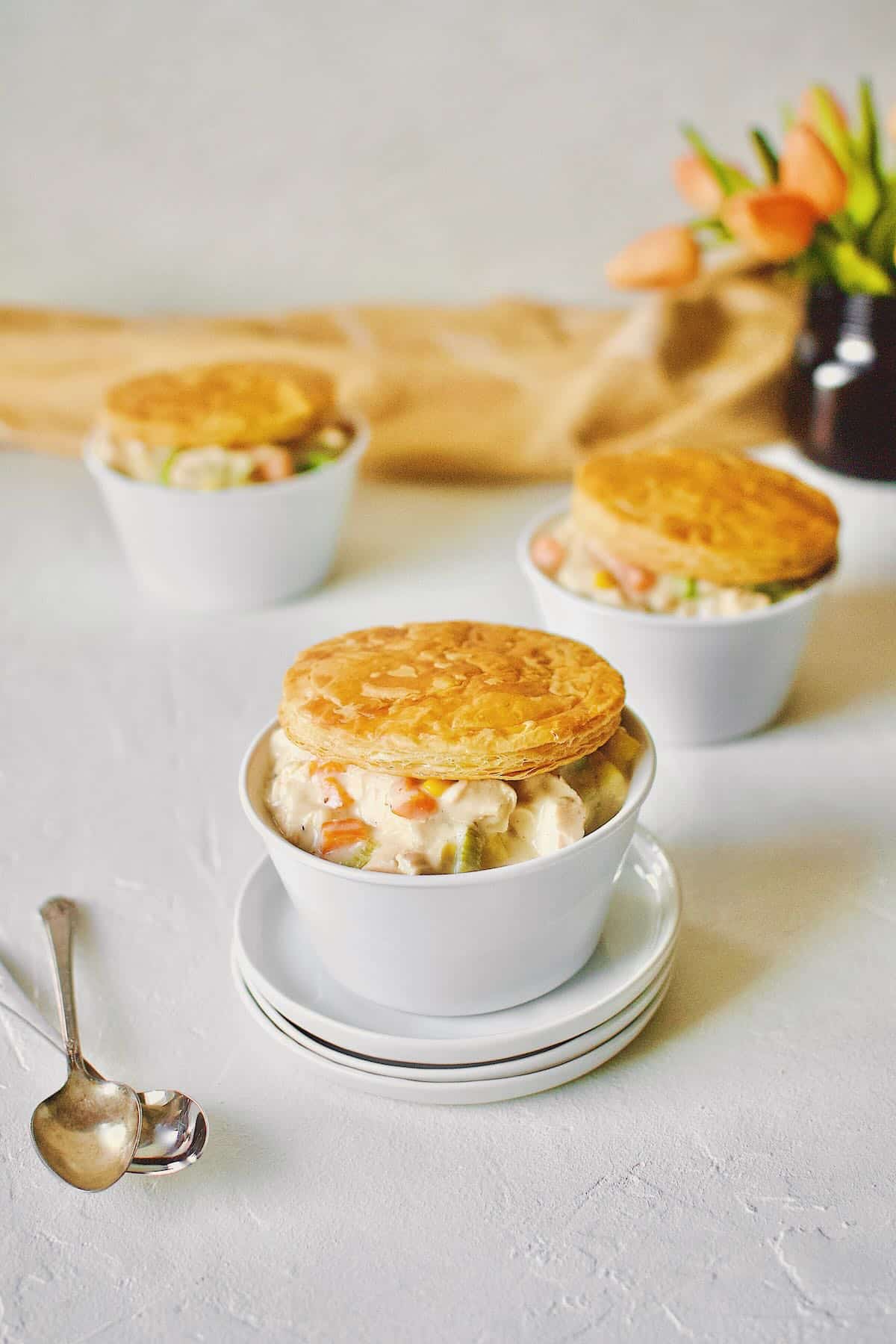 Can these be frozen?
I would say for the tastiest results you don't want to freeze the assembled Individual Chicken Pot Pie. Instead, I would freeze the filling if you wanted to double the batch. Then when you want to make them again simply defrost the filling, warm it, and bake off some fresh pastry. Then you have dinner in just the time it takes for the pastry to bake.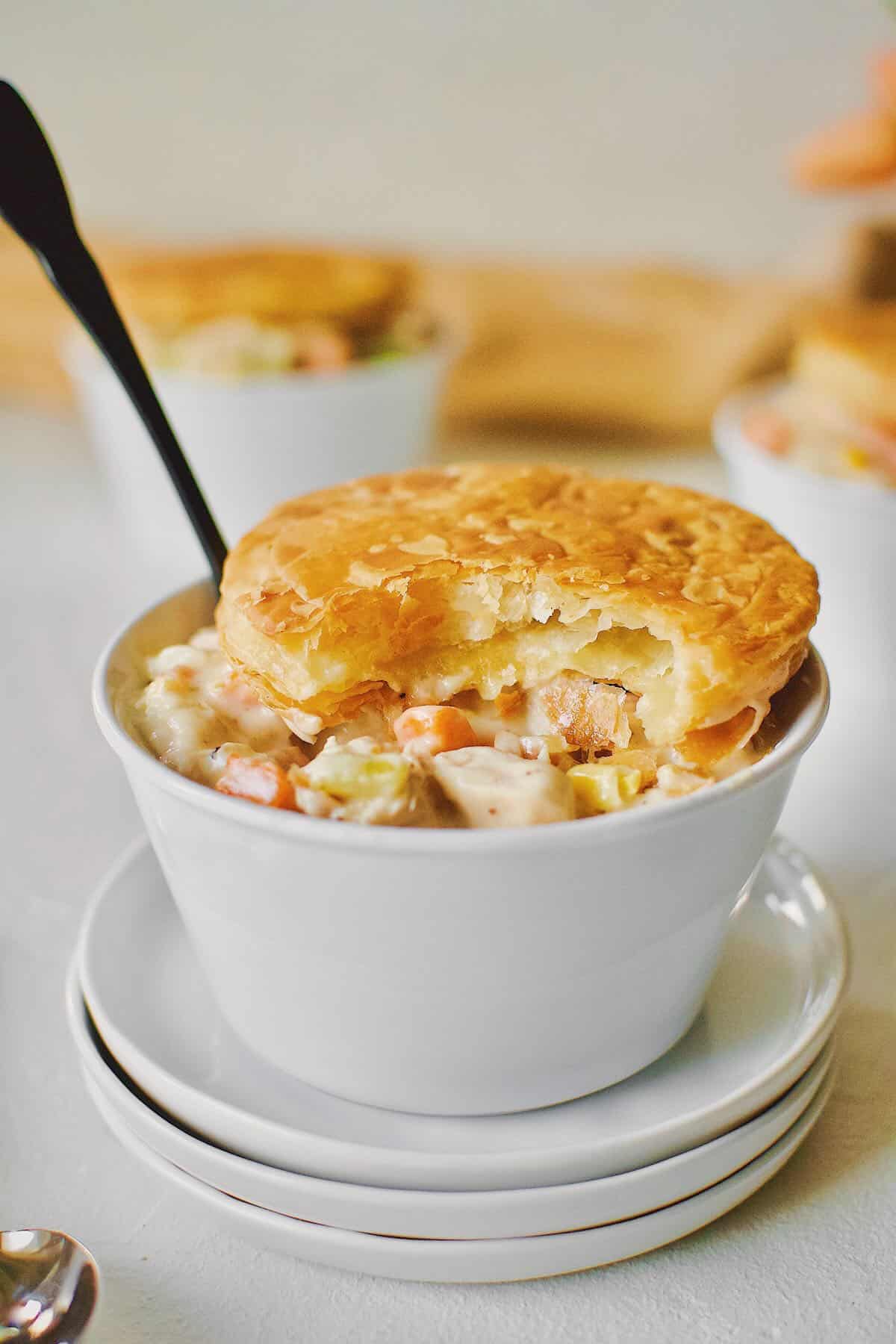 Did you make this recipe? Let me know by leaving a review or comment! And be sure to sign up for my newsletter, and follow along on Instagram, Pinterest, and Facebook!