This is one of my favorite ways to prepare a pasta salad while getting some greens in as well. This fairs well as a dinner salad or a side for your next BBQ or shindig. Hitting the pasta with a bit of dressing just after it cooks deepens the flavor and is the key to success with the Kale Caesar Pasta Salad.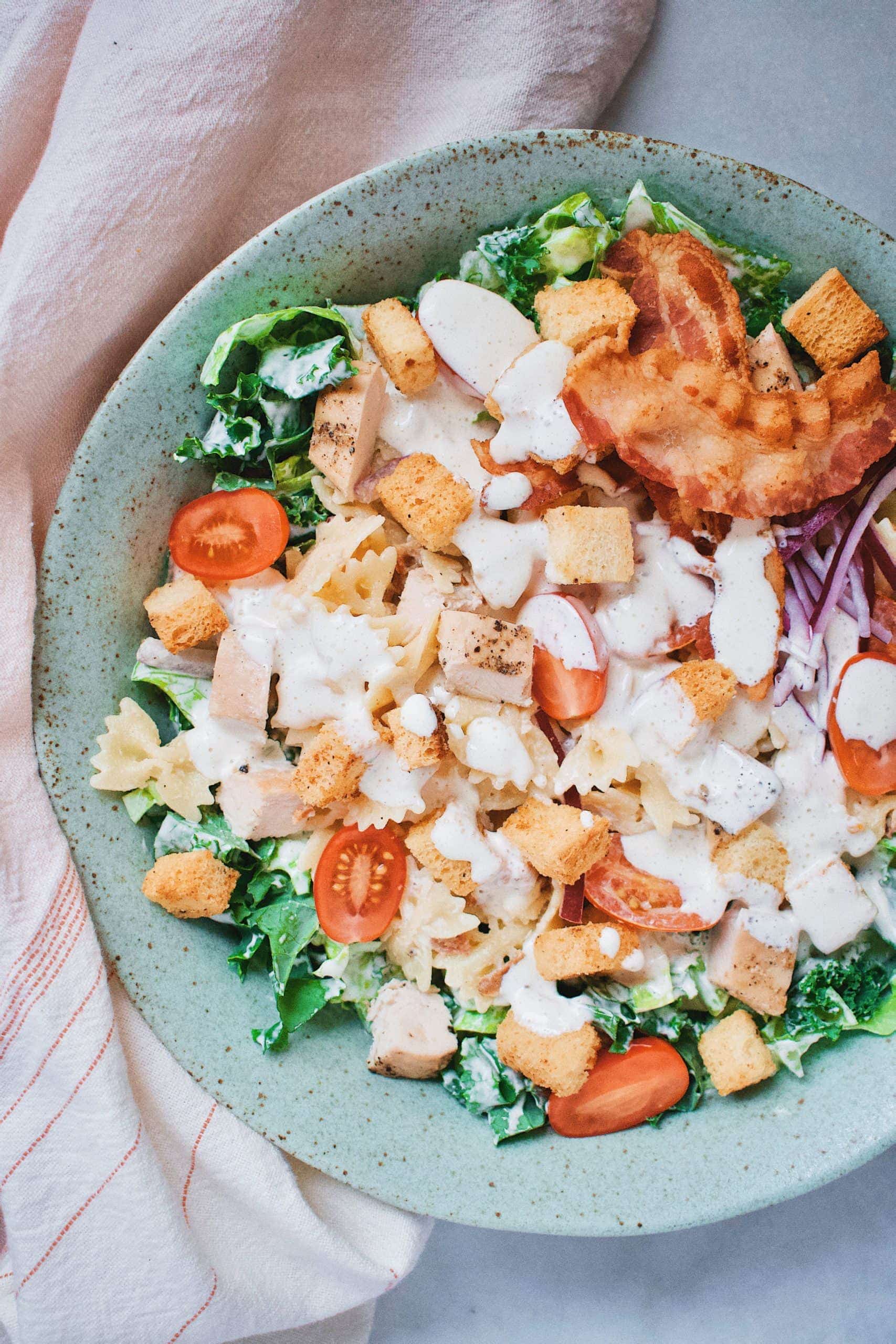 I like to make this salad a little extra special with the addition of some homemade croutons and some crispy bacon. I mean, what salad doesn't instantly get an upgrade when you add those ingredients to them?
All that said, the real winner here is this Caesar dressing! It is one I learned to make when I worked in my first fine dining restaurant and I still dream about it. I recently met with an old friend from the restaurant and pulled the recipe from the depths of our memories and wrote it down so I can share it with you all now!
Grab the Caesar Dressing recipe HERE!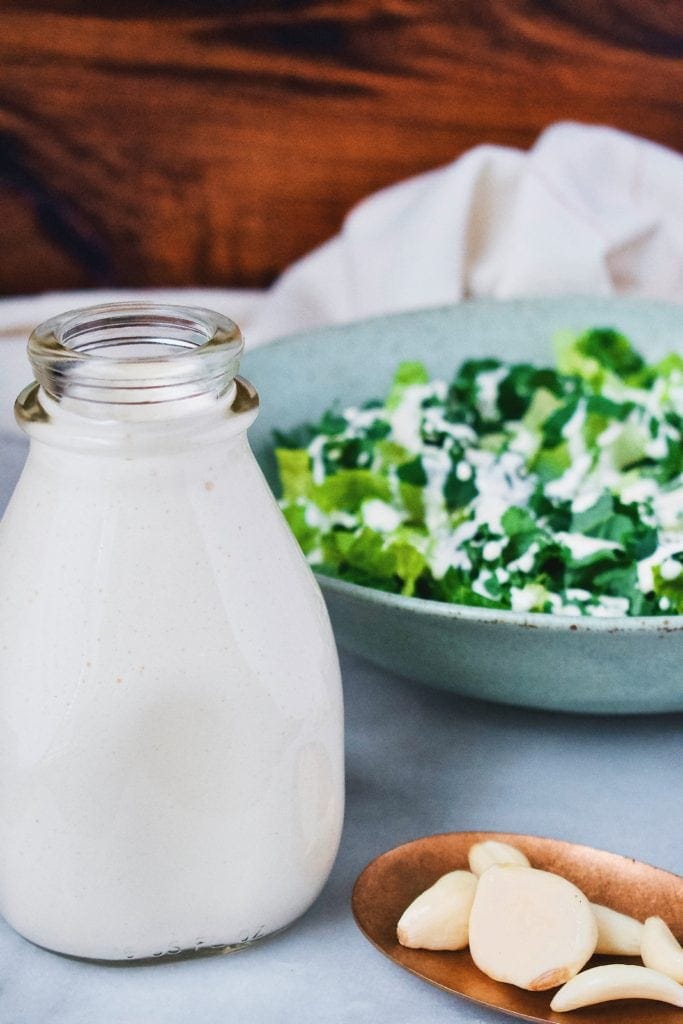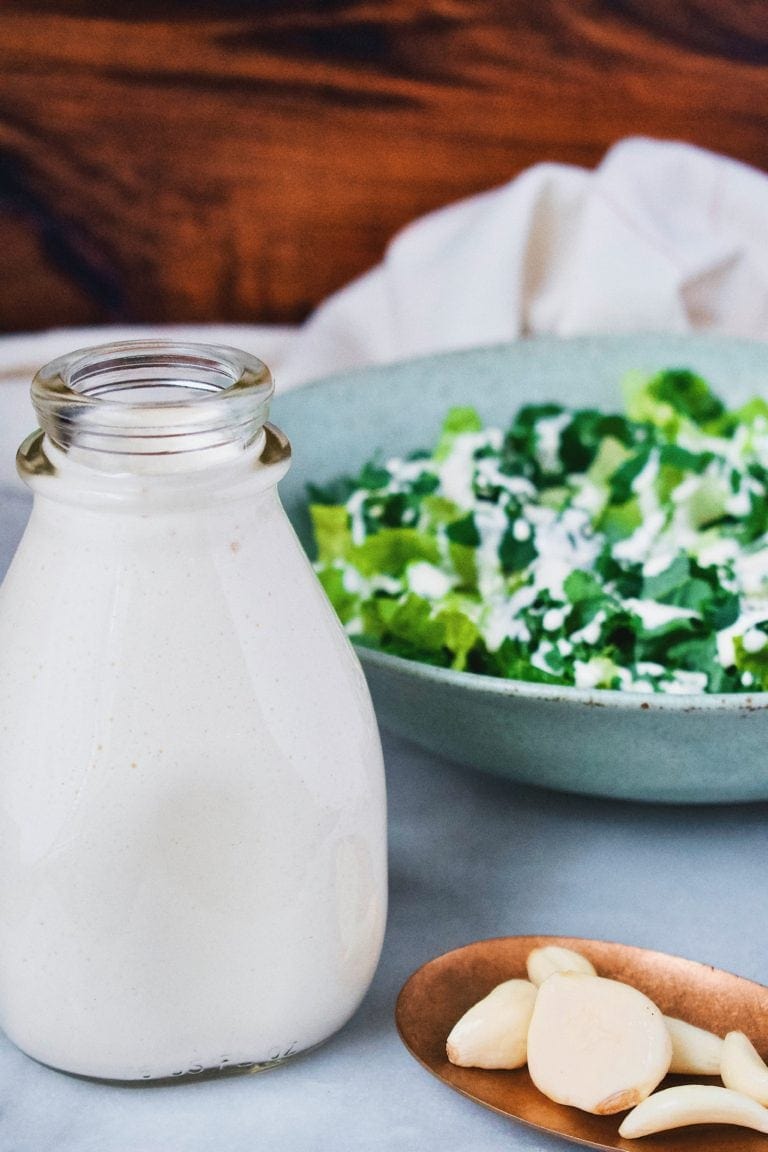 Preparing the salad components…
Now I realize that for a salad this one takes a little bit of planning and preparation, but some of it can be done ahead of time and then tossed together when you are ready to eat or are on the way out the door to your BBQ.
The bacon is the first thing that can be taken care of ahead of time. Toss it on a sheet pan that is lined with tin foil and bake at 425˚F for 20 minutes for a perfect crisp. I do this all the time in my toaster oven, it is quick, easy and there is little to no clean up required.
Then I prepare my croutons while my bacon is cooking. You can use a stale sandwich loaf or a nice french bread. Anything really goes here, use what you have or what you like.
I even sometimes use a little bit of the bacon grease to the pan when I am browning them up for even more goodness. More on that below in the recipe.
Another thing you can get ready ahead of time is the greens. Wash and chop the kale and romaine, them place it in a lidded container covered with a damp paper towel to keep the greens crisp and prevent browning. The greens will hold up to 5 days like this!
The dressing also is something that can be made ahead and holds for about 2 weeks. The one I linked above is garlicky and amazing. It's pretty easy to make too, which is a good thing because once you make it you will want to eat it all the time!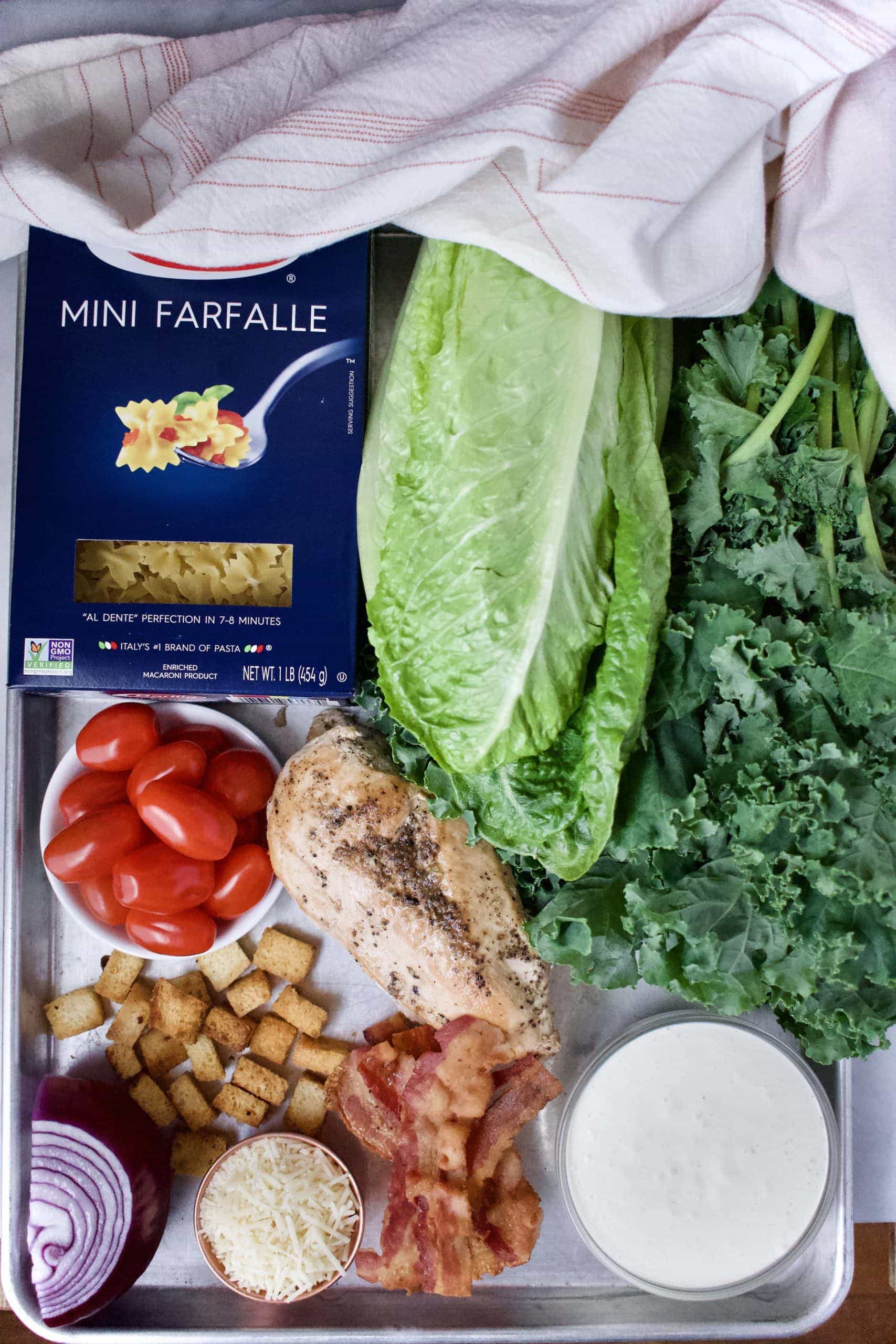 Layer the prepared ingredients together in a bowl or on a platter and top it all off with a generous pour of the homemade caesar dressing. Mix it all together and enjoy! I love this flavor combo of this salad, if you want to enjoy it for lunches or dinners for the week just prepare the separate parts and keep them in the fridge and prepare a salad to order.
I hope you enjoy this recipe as much as I do. It is one of my go-to salads during the summer, and everything keeps so well in the fridge that I can make a big batch and toss a fresh salad together daily for a quick lunch. Be sure to leave me a review and let me know how you like it.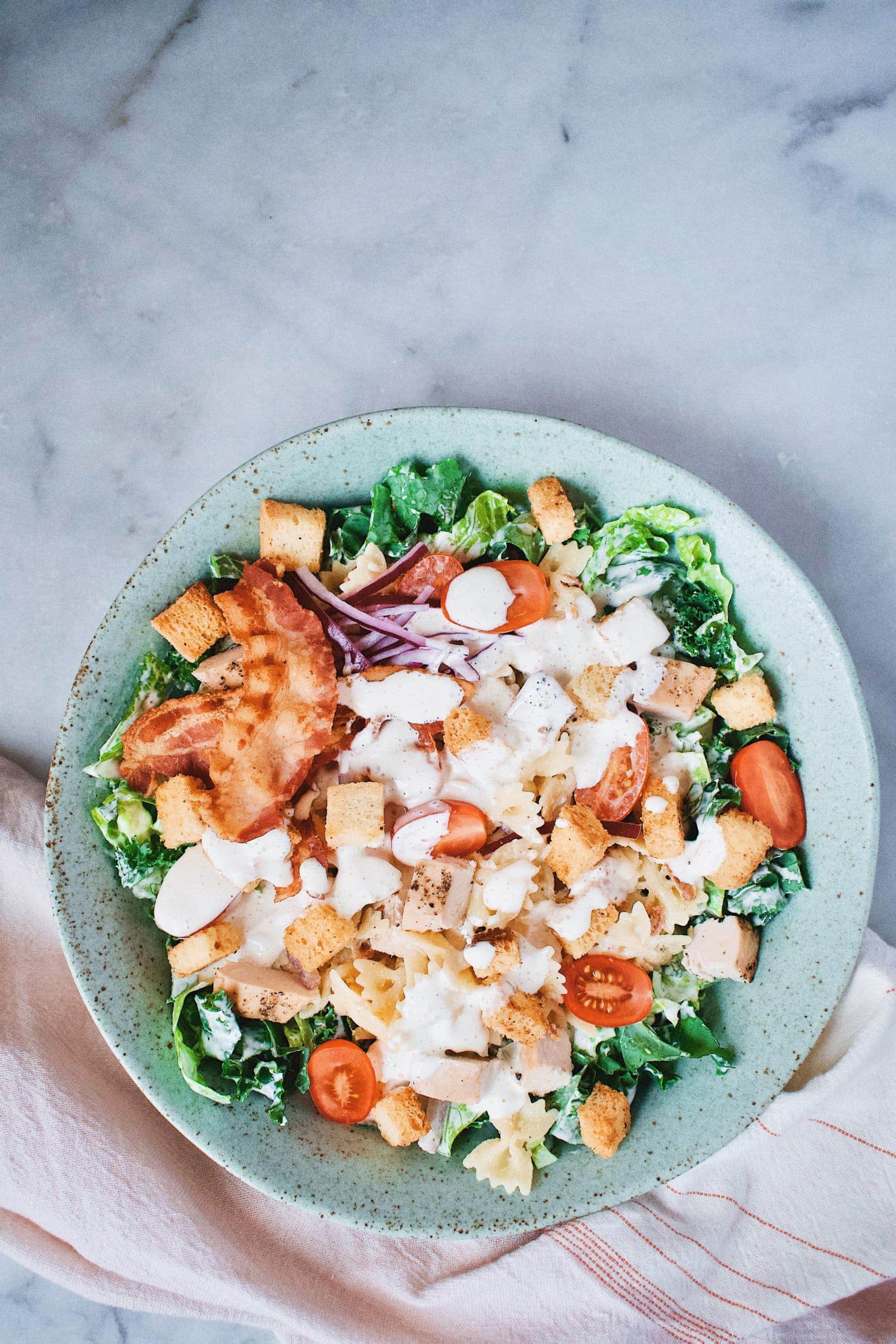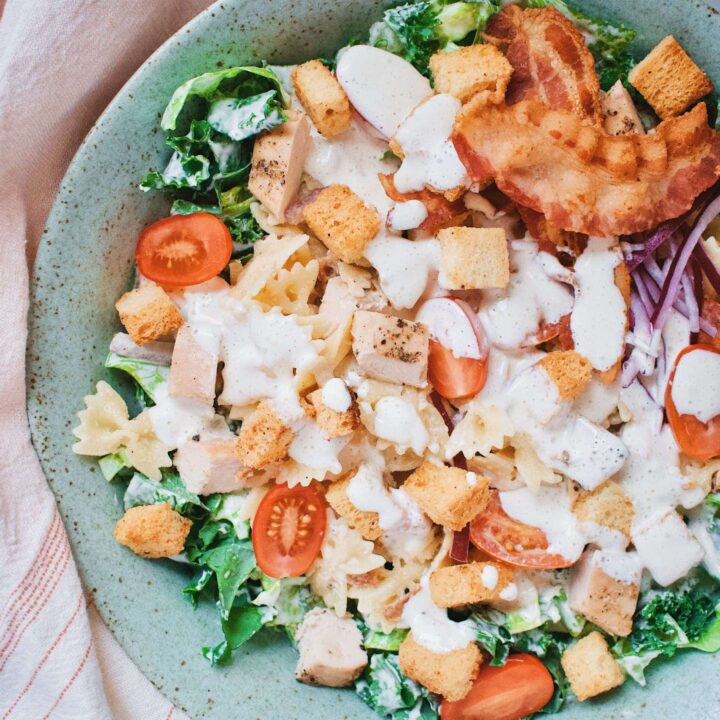 Kale Caesar Pasta Salad
I love this salad as an entree salad for dinner or packed up for a picnic or BBQ. You can add or subtract to the ingredient list as you like, this is just the way I enjoy it!
Ingredients
for the croutons:
1 loaf Sandwich Bread, diced and toasted
2 T Butter
2-3 cloves Garlic, minced
Kosher Salt
Black Pepper
Red Pepper Flakes
for the pasta salad:
1 box Mini Farfalle Pasta, cooked and cooled
1/4 C White Balsamic Vinegar
1 bunch Curly Kale
1 head Romaine Lettuce
6 slices Bacon, cooked
2 C Grilled Chicken, diced
1/2 C Grape Tomatoes, halved
1/2 Red Onion, thinly sliced
1/4 C Parmesan Cheese, shredded
1 recipe homemade Caesar Dressing
Instructions
for the croutons:
In a large skillet melt the butter over medium-low heat. Add the garlic and cook until fragrant. Add the bread and stir to combine, season with salt, pepper, and a pinch of red pepper flakes. Continue cooking and stirring until the bread is evenly browned. Remove from the heat and let cool. Set aside for later use.
for the pasta salad:
Cook the pasta according to package directions, drain and rinse in cool water to stop the cooking. Place the cooled pasta in a large bowl and mix in a drizzle of white balsamic vinegar, about 1/4 C, and a couple of turns of the bowl of the caesar dressing. Set aside or refrigerate for future use. This will hold dressed for 3-4 days.
Prepare the greens by washing and chopping them into thin shreds. If you want to do this ahead of time, clean and cut them, place them in a lidded bowl covered in a wet paper towel, place the lid on top and store in the refrigerator. It will hold for 5-6 days like this.
Cook the bacon on a foil-lined baking sheet in the oven or toaster oven at 425˚F for 20 minutes until crisp. Remove and drain on a paper towel.
If using the chicken, season with salt and pepper on both side and cook on the grill or in a cast iron skillet until it reaches and internal temp of 165˚F. Let rest until cooled and dice.
When ready to eat, halve the grape tomatoes and slice the onion.
On a platter, plate or large bowl, lay a bed of greens on the bottom and top with the dressed pasta. Layer on the bacon, chicken, tomatoes, onion, parmesan, croutons, and caesar dressing.
Toss to combine and Enjoy!
Notes
Feel free to add or subtract to this ingredient list, I made this with leftover chicken and bacon, so feel free to use them or leave them off.
Grab the recipe for my homemade Caesar Dressing HERE!
Nutrition Information:
Serving Size:

1 grams
Amount Per Serving:
Unsaturated Fat:

0g
If you make this recipe, please let me know by leaving a review at the bottom of this page!
And make sure to sign up for my newsletter and follow along on Instagram, Pinterest, and Facebook for more KendellKreations!
MY LATEST RECIPES!
Get my NEW e-Cookbook here!! ⬇️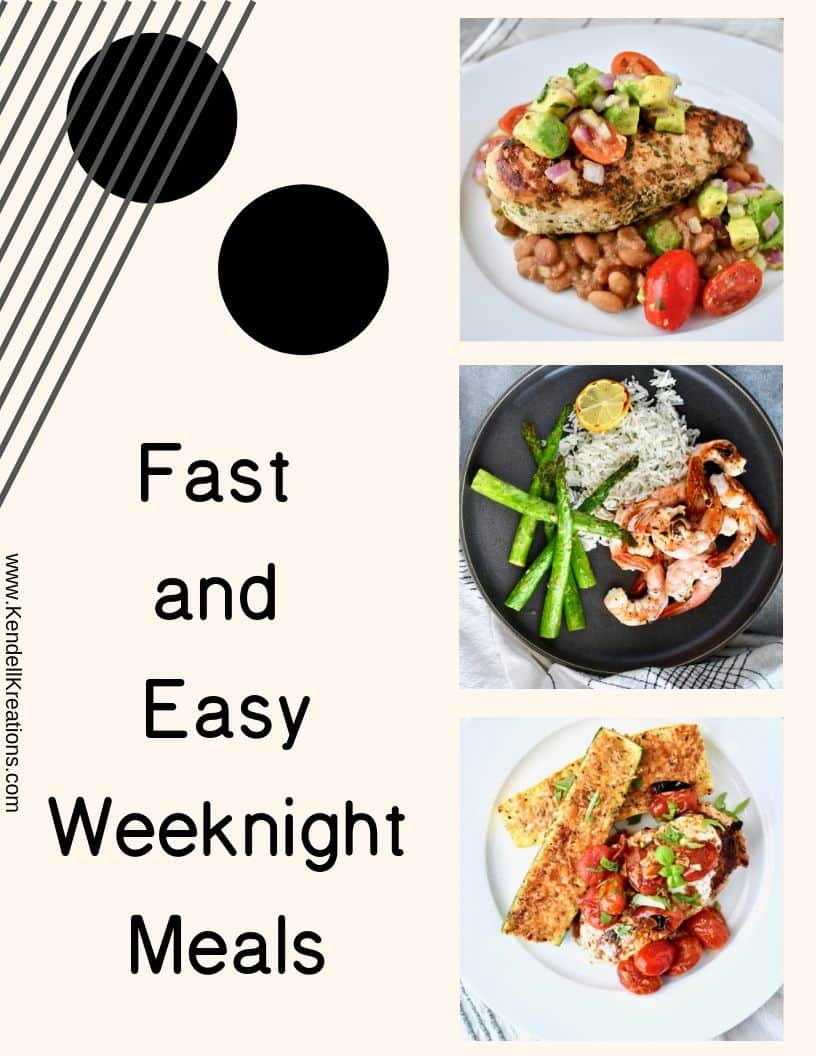 MY FAVORITE KITCHEN TOOLS!
Here are a few links to some of my favorite kitchen tools! You get a car, YOu get a car, YOU ALL GET A CAR…in my best Oprah voice
These Rösle Silicone Tongs are a little pricey but they will last you the rest of your life and are the softest in your hand. This is important for someone like m that cooks so much. It reduces strain, I have 4 sets in my kitchen!
These are my FAVE Nordic Ware Sheet Pans, every kitchen should have at least 2 sets of these! I think I have at least 4 of each of these.
This is my favorite pressure cooker, the Fagor is the same concept as the "Instant Pot" but easier to use in my opinion, if you don't have one you NEED one, it will be your best friend in the kitchen!
A sharp knife is the most important tool in the kitchen, these Japanese steel "Shun" knives are my favorite! And this is a great starter set to build on. Once you try them you will be in love so use this as a foundation you can build on for years to come.
This Scanpan 11″ skillet is just the right size for almost anything you will need to cook and my best friend and a real workhorse in my kitchen, it's also a great deal at $99. Scanpan is the best in the world for healthy cooking. It is coated with a proprietary ceramic-titanium coating that is durable while allowing you to use fewer fats and oils when cooking. It is a coating only they use. I could talk all day about my love for these pans, message me if you want more info. Here are some other sizes that are available if you are looking to outfit your kitchen with some new goodies. 8″ & 10″ Skillet set or 8″ Skillet, I still need this one for my kitchen Also, I don't really know how to cook small so the 12.5″ is my other fave!
This giant vat of olive oil is my favorite, I decant it into a smaller bottle for my counter. Or put this spigot on top of a wine bottle!
My favorite baking dish that is so easy to clean even burnt on cheese slides right off!
This Tovolo jar scraper has to be my single favorite kitchen tool, it is definitely the most used tool in my kitchen. If you are NOT a gadget person, this is the only necessity I say is a MUST beyond the wooden spoon.
A great wood spoon is essential, this Olive Wood one is my favorite, I have more than I can count. But can you really ever have too many?
A food scale can be a very important tool in your kitchen, this one is the one I use every day!
If you love Joanna Gaines as much as I do then the 'Magnolia Table Cookbook' is a must in your kitchen, get a copy HERE!