This recipe is one that my Mexican Grandmother (we call her "Weta") taught me to make. I grew up eating her Mexican Rice and beans as a child and it brings back so many memories of visits to her house.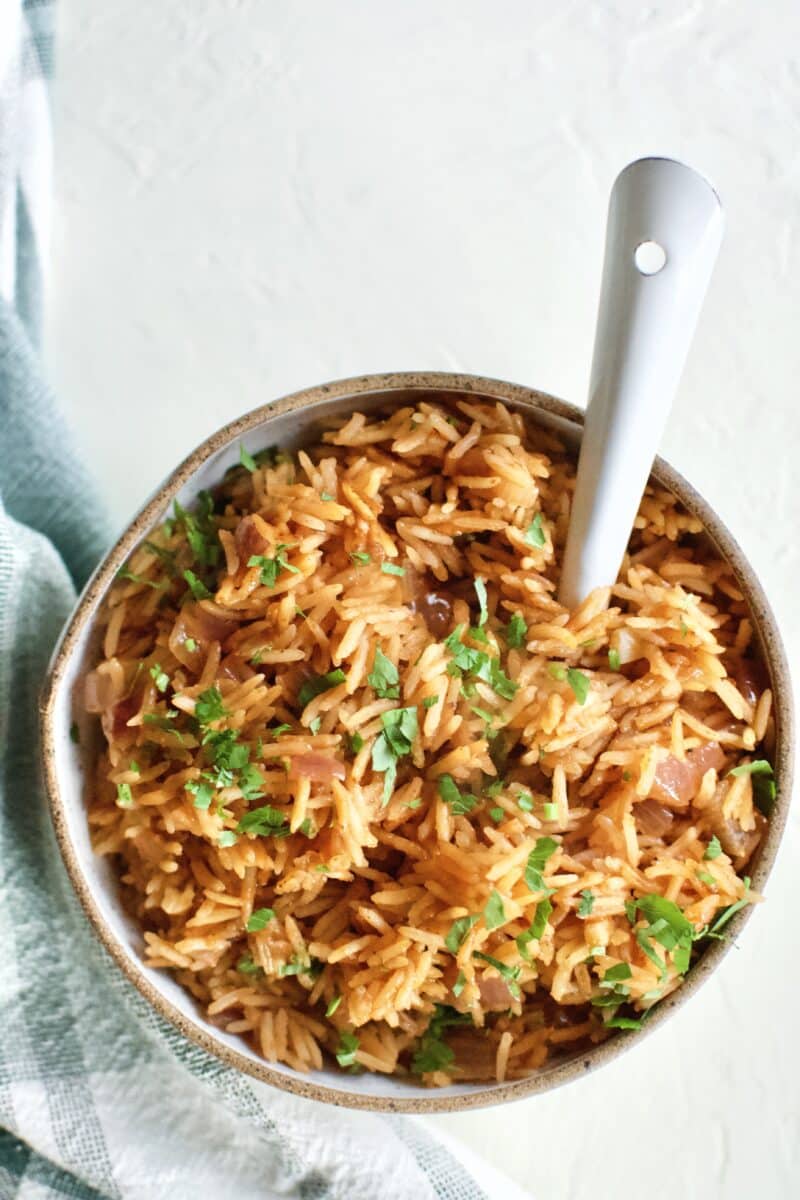 She came to stay with my family while having to evacuate Florida from a hurricane and I made her teach me to make her rice. I wrote it down and even taught the rest of my family to make it over a Zoom call in 2020 as a Christmas gift, now you too can make it just like "Weta" used to!
Jump to:
Ingredients
This recipe only requires a few simple ingredients. Just the way a recipe that someone has been making for 80+ years should be. But I do want to highlight one in particular.
The most important ingredient in this recipe is...you guessed it, the RICE! And choosing just the right one is KEY to having this recipe turn out successfully. I tried for years to make a version of Weta's rice from watching her and what I know as a Chef, but I could never get it quite right.
Then she told me it was all in the rice. A quality long grain rice is what you need for Mexican Rice. One that doesn't clump and gets too mushy with cooked so the grains can stay separate in the pot. The perfect rice is also my favorite rice to cook with, Basmati. It is slightly floral and toasts beautifully, and it just THE perfect rice for this recipe.
She also likes to use the hot tomato sauce sometimes, depending on how spicy you like your food. I typically use regular when I make it for my family as most don't like their food super spicy. But more on that later.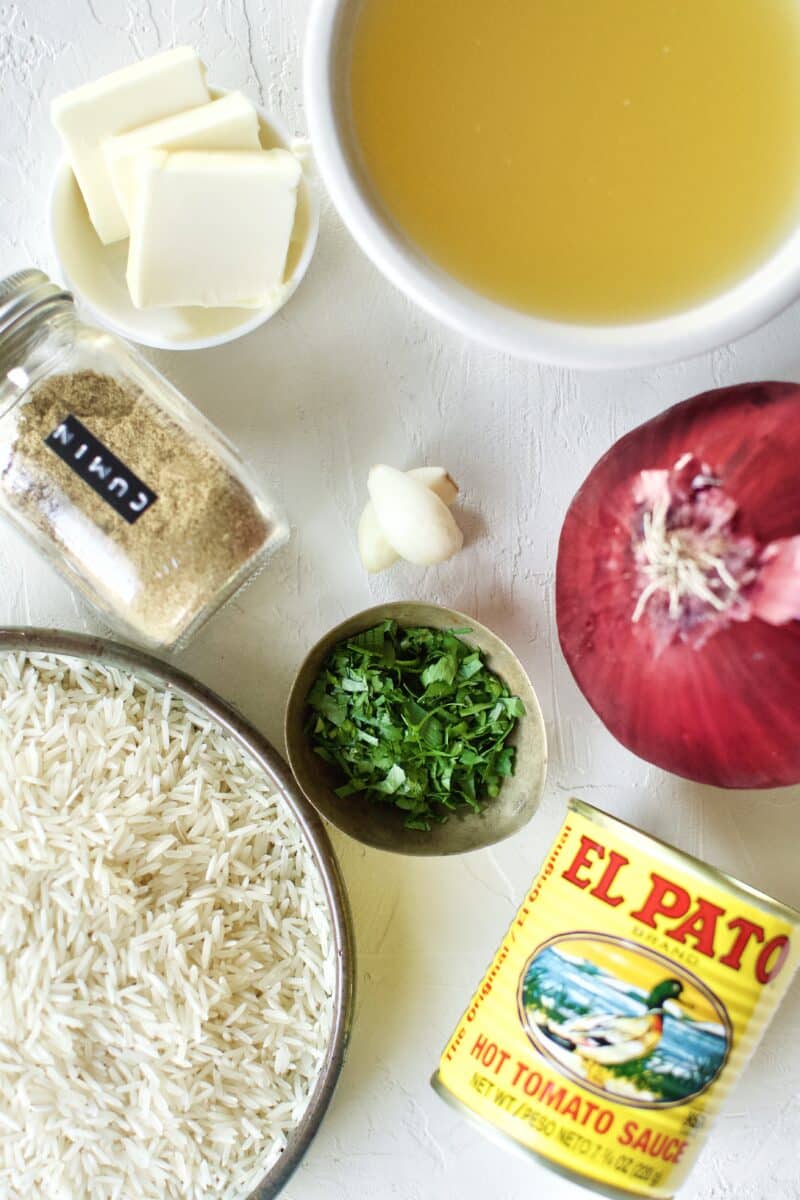 Use the JUMP TO RECIPE button at the top of the post, or scroll to the bottom of the post to see the full recipe card with ingredient measurements and instructions.
Method
What takes this rice from being good to being GREAT is the building up of flavor. You start by toasting the rice in some butter, then adding the aromatic onion and garlic to the pan. You cook the rice like this for few minutes until every ounce of flavor is extracted.
Next, add in the spices and toss them around in the pot until your whole house smells delicious. Then the liquids go in and you get to walk away for a few minutes. The active time in making this Mexican rice is minimal for how great it tastes in the end.
I then follow my method for letting the rice rest off the heat, covered for 10 minutes to steam. This results in perfect rice that isn't sticky. You get super fluffy rice that is very enjoyable to eat. This is my little pro tip.
Notes & Tips
Buy a really good quality Indian basmati rice. This brand is my favorite and it cooks up perfectly EVERY time. And, one cup fluffs to about 3 cups which is a GREAT yield.
My biggest tip for PERFECT rice EVERY time is after you let it simmer for its initial cooking time, put the lid on and DO NOT CHECK on it. Whatever you do, don't open that lid! It is just my little trick and it keeps you from overcooking the rice and it's pretty much foolproof.
I use red onion in my version of her rice. I think it just gives a little extra flavor and contrast to a dish we all know and could pass by. This makes it just a little more special and it is what I used one day when it was all I had and it was the first time my dad asked if "Weta" was hiding around the corner and she made this rice! What a win!!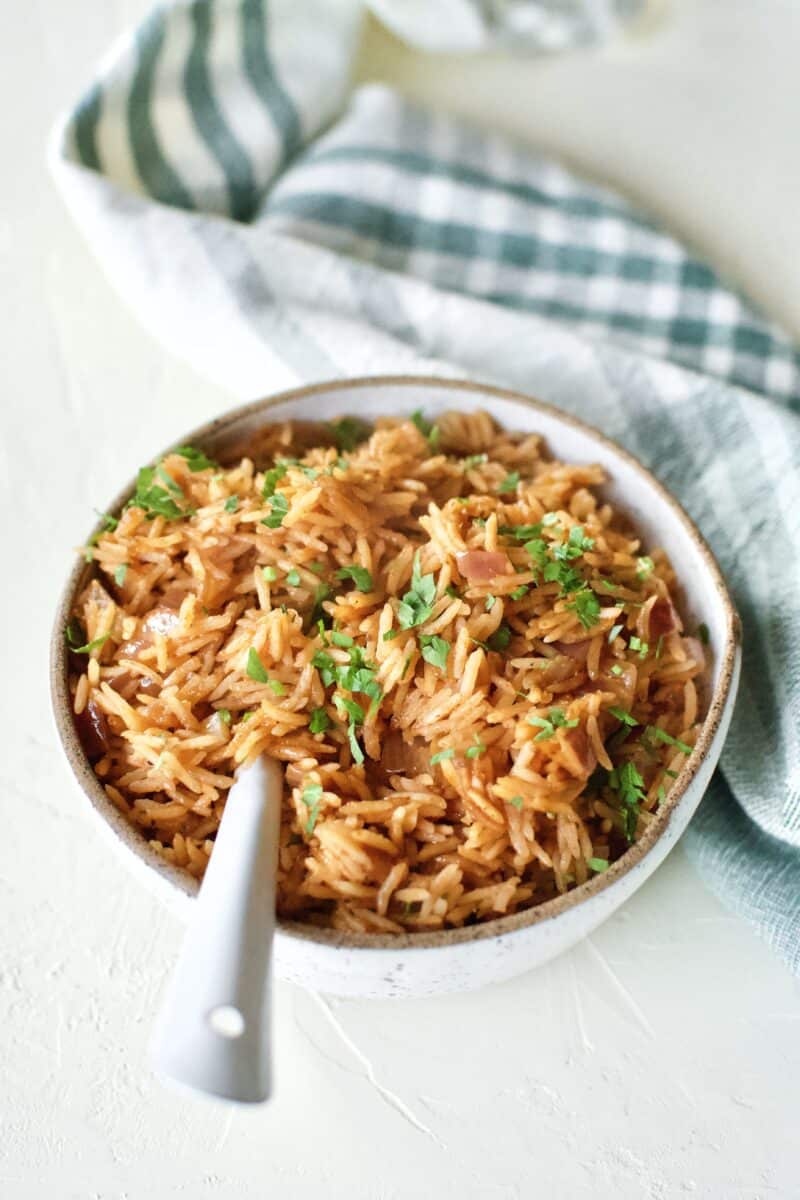 Substitutions
To make this dairy-free Mexican Rice, you can swap the butter for olive oil or vegetable oil. Any oil will really do in a pinch.
If you don't have any cumin on hand, it can be substituted for coriander, chili powder, or taco seasoning in a pinch.
If you wanted to swap the red onion for white onion or only have white or yellow onion on hand, you can easily swap those out.
When it comes to the tomato sauce, you can use the brand of spicy (HOT) tomato sauce you see in my images, but I usually use regular, no salt, tomato sauce.
The chicken stock can be swapped for vegetable stock or water if needed. The chicken stock gives it the best flavor in my opinion.
Fresh or dried Cilantro can be used. You can also omit it completely if you don't care for it.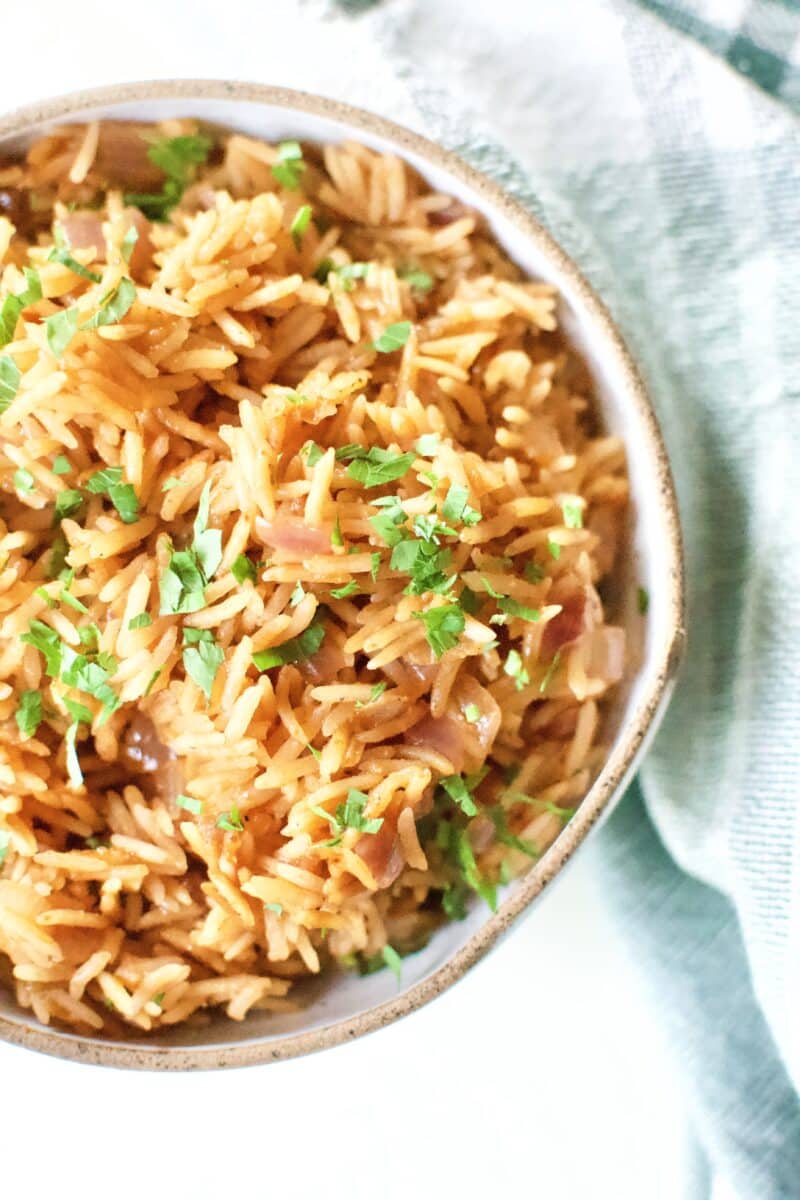 More Mexican Favorites
Carne Asada for Beef Fajita Tacos
Mexican Street Corn Chicken Salad
Creamy Chicken Enchilada Casserole with Mexican Street Corn Topper
Did you make this recipe? Let me know by leaving a review or comment! And be sure to sign up for my newsletter, and follow along on Instagram, Pinterest, and Facebook!