It has been a hot summer full of salads in Texas, and this Orzo Pasta Salad fits right in! Full of bright fresh flavors that you'll be craving year-round. I have partnered with my fellow blogger and friend Lori, from JosieandNina.com to pair this salad with her Lemon and Roasted Garlic Sous Vide Chicken.
I start with a base of a beautiful, roasted tomato vinaigrette, toss with some of summers best veggies and your good to go. A little roasted asparagus, perfectly ripe tomatoes, and some red onion. All on a bed of arugula with a sprinkle of feta and its ready to eat!
The real star is the Roasted Tomato Vinaigrette. It is food in it's most simplistic form, absolutely delicious and mouthwatering. I always love how a few simple ingredients can make my most favorite things!
Just look at this beautiful shot Lori got of it for me! So delish!
It is a simple dressing that packs tons of flavor punches! Get the recipe here, make a double batch to keep in the fridge for later use. And as always let me know what you think in the comments below.
Assembling the Orzo Pasta Salad
I love this freshness of this salad in the summer. Vegetables are at their peak and this is a great way to use them. You can interchange with your favorites, I like the Italian twist it takes with the colors of the flag.
Tomatoes provide the red, asparagus brings the green and the feta gives the white. I add in a little red onion for crunch and serve it on top of a peppery bed of arugula. Simple perfection at its best!
When you cook your pasta, as soon as it comes out of the water, throw it in a bowl and toss a little of the vinaigrette. This will help to flavor the pasta instantly. It will absorb all the fantastic flavors from the vinaigrette.
Roast some asparagus and throw that in. Add a little bit of diced fresh tomatoes and red onion and mix it all together. Serve on a bed of arugula and it's complete.
Orzo Pasta Salad
Simple ingredients produce the best summery salad. Best served with Lori's Italian Lemon Chicken from JosieandNina.com
Ingredients
16

oz

Orzo Pasta

1

bunch Asparagus

1-2

t

Olive Oil

2

lg

Vine Ripened Tomatoes

1

small Red Onion

2-4

oz

Feta Cheese

5

z pkg Baby Arugula

1

recipe Roasted Tomato Vinaigrette

Salt and Pepper as needed
Instructions
Boil orzo to package directions minus 1 minute. When cooked, drain and toss with half of the Roasted Tomato Vinaigrette.

While your pasta is cooking prepare the remaining ingredients.

Preheat oven to 400 degrees.

Trim the asparagus ends off and cut the tops into roughly 2-inch pieces.

On a sheet pan, toss asparagus pieces, olive oil, salt, and pepper; roast in the preheated oven for 8-10 minutes until softened but not mushy. (This will vary based on the thickness of your asparagus)

Remove asparagus and let cool.

To prepare your tomatoes, cut them into 8 wedges and cut those wedges in 3 pieces each.

Prepare the red onion by dicing into 1/2 inch pieces, a medium dice.

When all of the ingredients are prepared, add the asparagus, tomatoes, red onion, half your feta cheese, and a small handful of arugula to the cooked orzo. Toss to combine.

On a platter or plate, place the remaining arugula on the bottom and top with the orzo mixture. Garnish with more feta cheese.

Serve immediately, leftovers can be stored in the refrigerator up to 2 days.
Be sure to serve it with Lori's Lemon and Roasted Garlic Sous Vide Chicken recipe. And take a look at this beautiful shot of the Roasted Tomato Vinaigrette she got. So delish!
This is my Orzo Pasta Salad with Roasted Tomato Vinaigrette. It's topped with Lori's Lemon and Roasted Garlic Sous Vide Chicken. It makes a perfect entree salad.
MORE OF MY RECIPES HERE!
Get my NEW e-Cookbook here!! ⬇️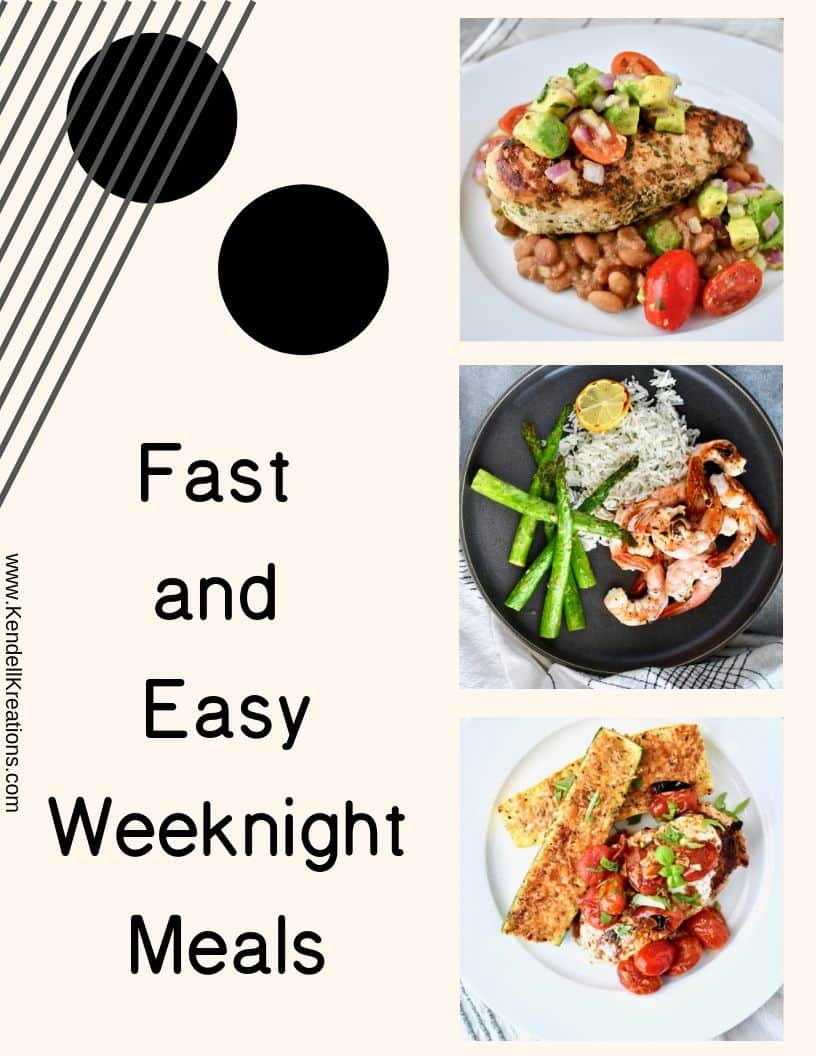 _
MY FAVORITE KITCHEN TOOLS!
Here are a few links to some of my favorite kitchen tools! You get a car, YOu get a car, YOU ALL GET A CAR…in my best Oprah voice
These Rösle Silicone Tongs are a little pricey but they will last you the rest of your life and are the softest in your hand. This is important for someone like m that cooks so much. It reduces strain, I have 4 sets in my kitchen!
These are my FAV Nordic Ware Sheet Pans, every kitchen should have at least 2 sets of these! I think I have at least 4 of each of these.
This is my favorite pressure cooker, the Fagor is the same concept as the "Instant Pot" but easier to use in my opinion, if you don't have one you NEED one, it will be your best friend in the kitchen!
A sharp knife is the most important tool in the kitchen, these Japanese steel "Shun" knives are my favorite! And this is a great starter set to build on. Once you try them you will be in love so use this as a foundation you can build on for years to come.
This Scanpan 11″ skillet is just the right size for almost anything you will need to cook and my best friend and a real workhorse in my kitchen, it's also a great deal at $99. Scanpan is the best in the world for healthy cooking. It is coated with a proprietary ceramic titanium coating that is durable while allowing you to use fewer fats and oils when cooking. It is a coating only they use. I could talk all day about my love for these pans, message me if you want more info. Here are some other sizes that are available if you are looking to outfit your kitchen with some new goodies. 8″ & 10″ Skillet setor 8″ Skillet, I still need this one for my kitchen Also, I don't really know how to cook small so the 12.5″ is my other fave!
This giant vat of olive oil is my favorite, I decant it into a smaller bottle for my counter. Or put this spigot on top of a wine bottle!
This Tovolo jar scraper has to be my single favorite kitchen tool, it is definitely the most used tool in my kitchen. If you are NOT a gadget person, this is the only necessity I say is a MUST beyond the wooden spoon.
A great wood spoon is essential, this Olive Wood one is my favorite, I have more than I can count. But can you really ever have too many?
A food scale can be a very important tool in your kitchen, this one is the one I use every day!
If you love Joanna Gaines as much as I do then the 'Magnolia Table Cookbook' is a must in your kitchen, get a copy HERE!
Check out this great product for your mason jar, the Ergo Spout lets you turn any jar into a pourable pitcher. Get yours here! I love making my homemade salad dressing and keeping them this way in the refrigerator.