I recently had my first opportunity to try Shishito Peppers in a restaurant, and now all I can do is think of them. When I ran across this bag of them at Trader Joes I picked them up not knowing exactly what to do with them. But just reading the back of the bag had all the info I needed.
They are so simple to make, they simply require a little bit of oil and a hot pan. Cook them until they are blistered and season with a little salt. That is honestly all you need.
Are Shishito Peppers Spicy?
I found them to be the perfect accompaniment to my Greek Chicken Tacos. They brought all the extra flavor I wanted and since only 1 in 10 of them are said to be HOT, you just got a little bit of spice here and there. Just what I was looking for!
They offer mostly a sweet-hot flavor, with grassy and citrus notes. They are overall mild, but like I said 1 in 10 are said to be spicy, so you can get some heat out of them once in a while. Most places pair them with a cream-based sauce or aioli, but I honestly love them dipped in a little ranch dressing.
Where are Shishito Peppers from?
Originally they are from Japan. The Shishito pepper is believed to have gotten its name from its tip end which to some resembles the head of a lion or in Japanese, shishi. When green they are the under-ripe version of themselves, fully ripe they will turn red and are still great to eat and cook.
The shishito chile pepper, also known as Kkwarigochu in Korea, botanically is a part of Capsicum annuum and is a Japanese variety pepper. Similar in shape, form, and flavor to the Spanish Padron.
They are the immature version of the Shishito pepper and will ripen to a vivid red hue if allowed to, though, they are most commonly found commercially in their green form. They have long been a popular snack food item in Japan and in recent years have become more of a mainstream pepper in the United States, popping up in farmers markets when in season and appearing on menus at restaurants.
How to cook Shishito Peppers
There are many ways you can cook shishitos. They can be simply sautéed in a hot pan on the stove, or coated in oil and broiled in the oven. The major goal is to soften the flesh and add a bit of a char to them.
Doing this brings out the flavor and adds a deepened profile to them. Eaten raw they are slightly bitter and grassy tasting. But cooking brings out a deeper flavor and more of the citrus notes that they possess.
These would be a great side to Lori's Completly Steak Chili, or Sarah's Pork Carnitas with Zesty Avocado Cream. Or take a look at Kathryn's Fish Tacos!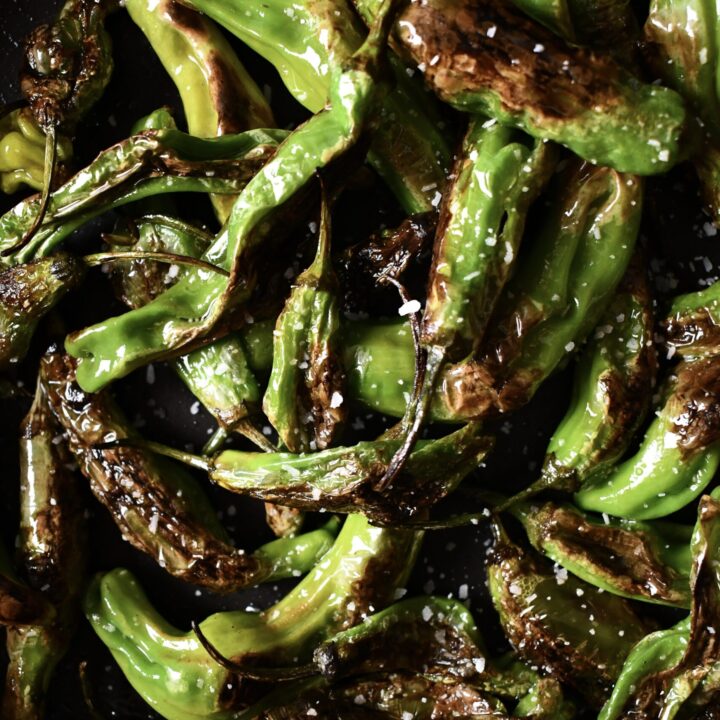 Blistered Shishito Peppers
This quick and easy side dish comes together in no time. Subtle heat adds a deeper flavor to any dish it is served with, but I would suggest serving them alongside my Greek Chicken Tacos topped with my signature, Greek Pico.
Ingredients
6 oz Shishito Peppers
1-2 tablespoons Olive Oil
Kosher Salt
Instructions
In a large skillet heated over medium-high heat, add in the olive oil and warm until you see it begin to move quickly in the pan or small wisps of smoke begin to rise.
Place the peppers into the pan with the heated oil, working carefully, if there is any moisture on the pepper they will pop a bit at the beginning.
Toss the peppers in the pan to coat them with the olive oil and allow them to rest 1-2 minutes on each side until they begin to blister and crackle.
Toss the peppers while they cook, letting them rest for periods of time so they can crisp.
When the peppers have cooked for about 6-8 minutes and have blistered and blackened to your liking, sprinkle them with a generous toss of salt, and they are ready to serve.
Serve alongside your favorite dipping sauce.
Nutrition Information:
Serving Size:

1 grams
Amount Per Serving:
Unsaturated Fat:

0g
MY LATEST RECIPES!
Get my NEW e-Cookbook here!! ⬇️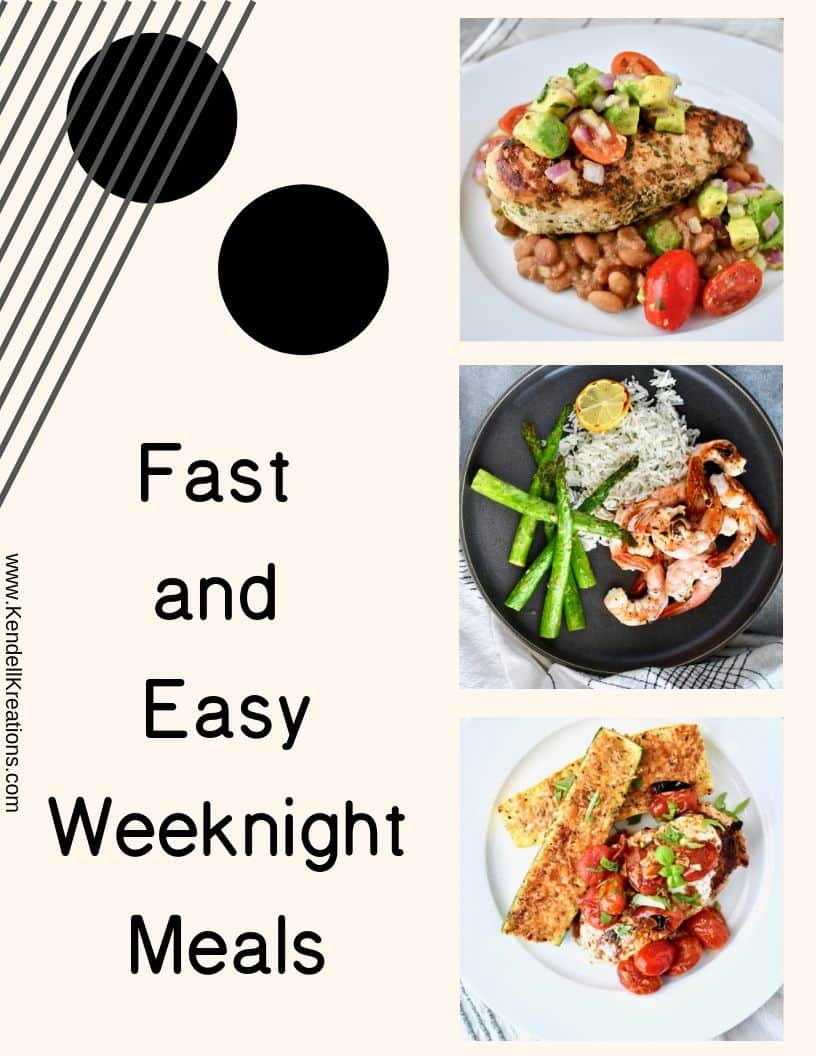 _
MY FAVORITE KITCHEN TOOLS!
Here are a few links to some of my favorite kitchen tools! You get a car, YOu get a car, YOU ALL GET A CAR…in my best Oprah voice
These Rösle Silicone Tongs are a little pricey but they will last you the rest of your life and are the softest in your hand. This is important for someone like m that cooks so much. It reduces strain, I have 4 sets in my kitchen!
These are my FAVE Nordic Ware Sheet Pans, every kitchen should have at least 2 sets of these! I think I have at least 4 of each of these.
This is my favorite pressure cooker, the Fagor is the same concept as the "Instant Pot" but easier to use in my opinion, if you don't have one you NEED one, it will be your best friend in the kitchen!
A sharp knife is the most important tool in the kitchen, these Japanese steel "Shun" knives are my favorite! And this is a great starter set to build on. Once you try them you will be in love so use this as a foundation you can build on for years to come.
This Scanpan 11″ skillet is just the right size for almost anything you will need to cook and my best friend and a real workhorse in my kitchen, it's also a great deal at $99. Scanpan is the best in the world for healthy cooking. It is coated with a proprietary ceramic-titanium coating that is durable while allowing you to use fewer fats and oils when cooking. It is a coating only they use. I could talk all day about my love for these pans, message me if you want more info. Here are some other sizes that are available if you are looking to outfit your kitchen with some new goodies. 8″ & 10″ Skillet set or 8″ Skillet, I still need this one for my kitchen Also, I don't really know how to cook small so the 12.5″ is my other fave!
This giant vat of olive oil is my favorite, I decant it into a smaller bottle for my counter. Or put this spigot on top of a wine bottle!
My favorite baking dish that is so easy to clean even burnt on cheese slides right off!
This Tovolo jar scraper has to be my single favorite kitchen tool, it is definitely the most used tool in my kitchen. If you are NOT a gadget person, this is the only necessity I say is a MUST beyond the wooden spoon.
A great wood spoon is essential, this Olive Wood one is my favorite, I have more than I can count. But can you really ever have too many?
A food scale can be a very important tool in your kitchen, this one is the one I use every day!
If you love Joanna Gaines as much as I do then the 'Magnolia Table Cookbook' is a must in your kitchen, get a copy HERE!