This Steak Butter recipe hails from my restaurant days. Every piece of meat I cooked at that high-end steak house was slathered in this butter before it left the kitchen. The sweet butter, tart Worcestershire sauce, and fresh garlic leave each steak mouthwateringly delectable!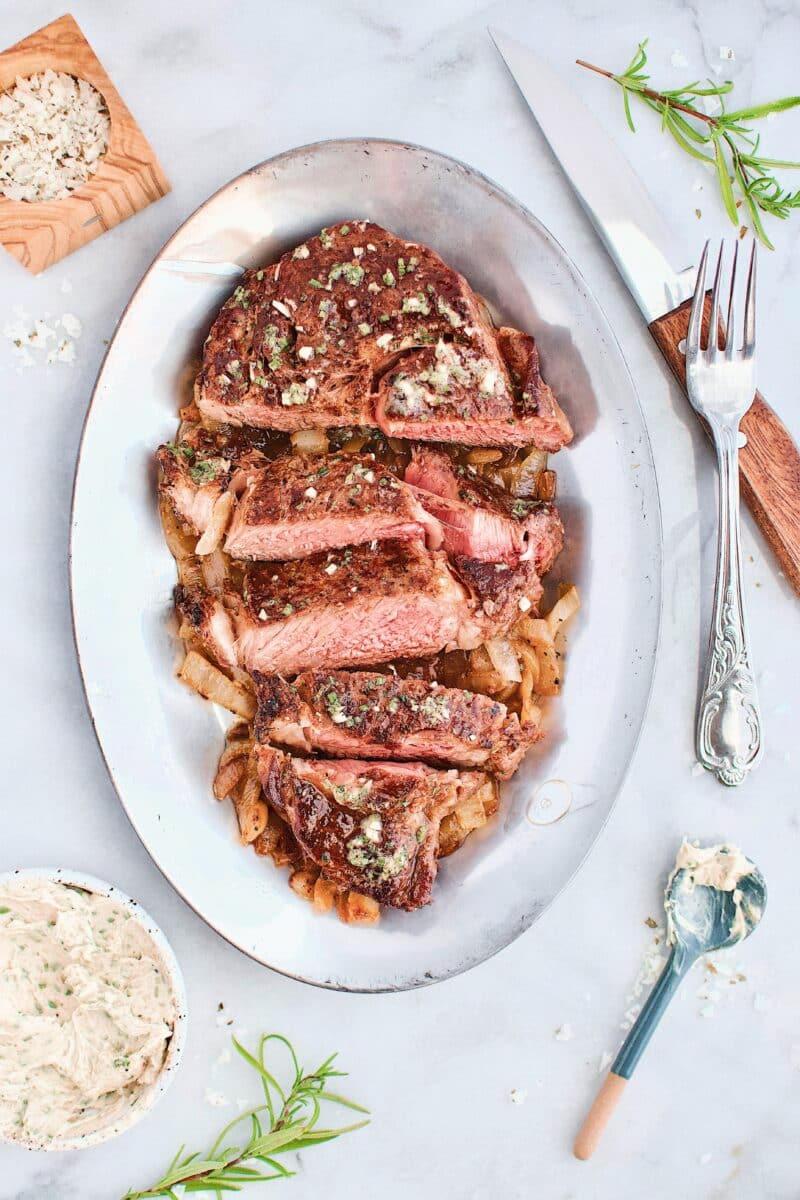 This Steak Butter spices up just about any protein you love. It adds a little finish of flavor and shine that makes people go "hmmm" when they eat it. Baste your grilled pork chops, ribs, or chicken with it for tons of extra flavor!
Use the JUMP TO RECIPE button at the top of the post, or scroll to the bottom of the post to see the full recipe card with ingredient measurements and instructions.
Ingredients
Steak Butter is known as compound butter in the culinary world. Compound butter is made by adding flavorful ingredients to softened butter. Fat carries flavor, so whatever flavors you add to the butter will permeate it and carry through.
Here we are adding garlic, salt, white pepper, Worcestershire sauce, and chives. Each of these ingredients has a unique flavor and they will be heightened by being spread through the butter.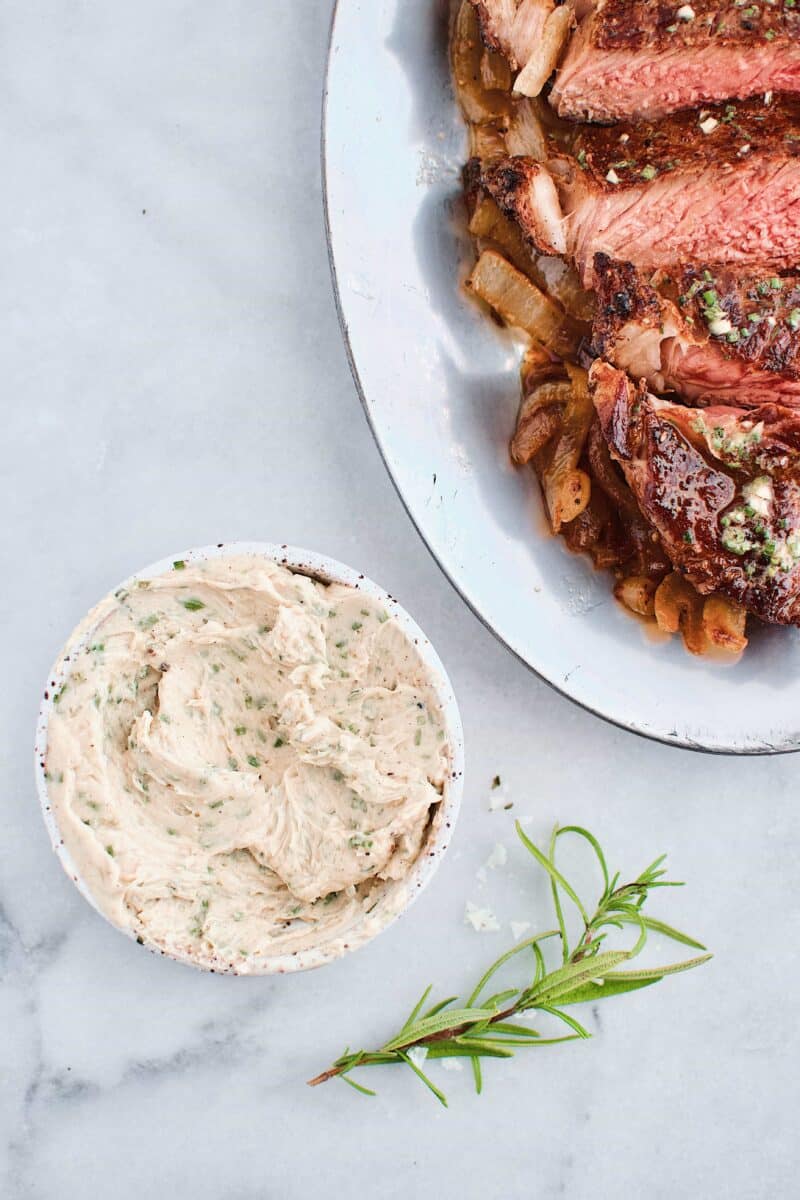 Method
What makes this recipe so great is the flavor explosion that is infused into each bite.
To make this compound Steak Butter, begin with a very soft, but not melted butter. I usually leave my butter out overnight, and still, give it about 20 seconds in the microwave just before whipping this recipe up.
To combine the ingredients, I like to whip the butter in the bowl of a stand mixer fitted with the paddle attachment for about 2 minutes until it gets fluffy. Getting a little air into the butter will carry the flavors even further.
Alternatively, you can blend everything into the butter in a bowl with a wooden spoon. The stand mixer just makes it a little easier and faster. And I usually make a double batch to keep some extra on hand.
After you blend all the ingredients into the butter, allow it to rest on the counter for 1 hour so all the mix-ins can perfume the butter. Brush soft butter over your steak just after it comes off the grill, or rest a pat on top and let it melt over your steak.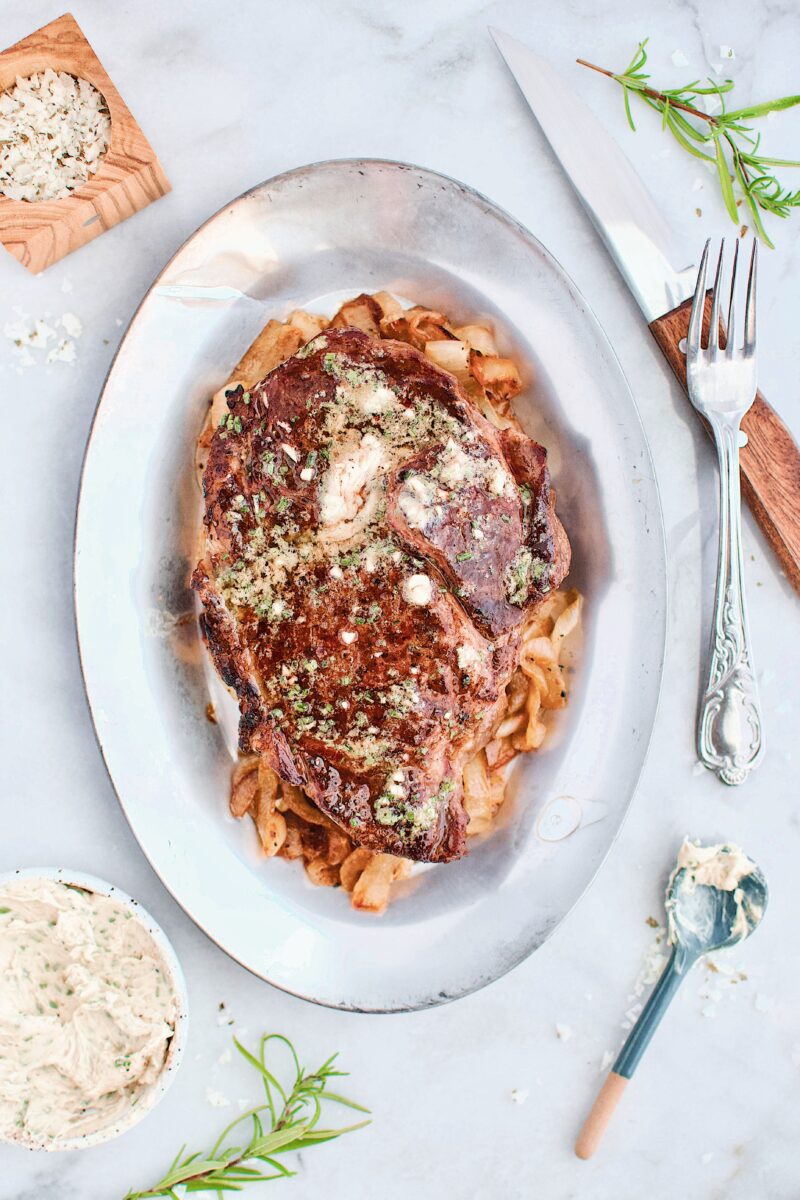 Notes & Tips
The first thing you want is super soft butter. It should be so soft that you can press your finger right into it without any effort!
The easiest way to get the garlic really fine is to grate it. Use the small side of a box grater or Microplane.
To make things quick and easy, whip the butter up in a stand mixer fitted with the paddle attachment. This is the best way to incorporate all the flavor additions quickly and easily.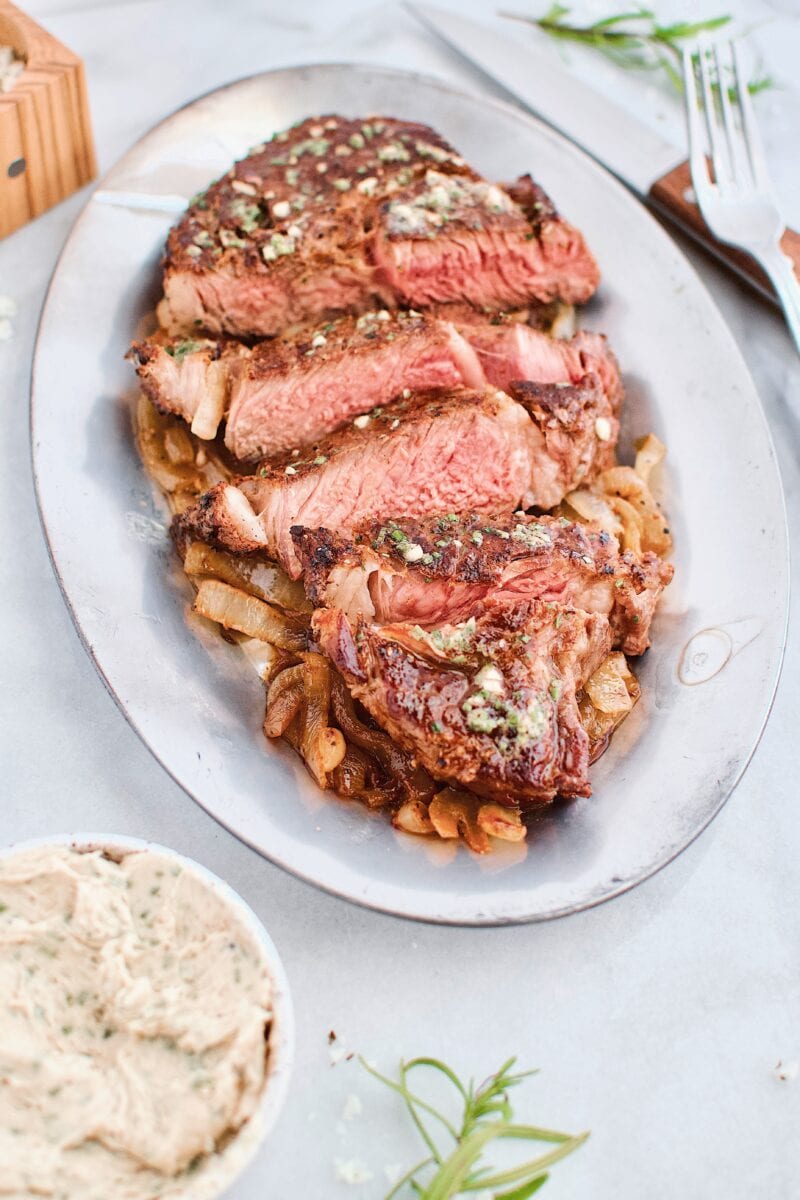 Substitutions
If you would like to make this recipe dairy-free, you could use this Vegan Butter as a substitute. There are also a handful of ready-made options in the grocery store that perform like real butter you could also use.
You can swap the fresh garlic for a teaspoon of my favorite Roasted Garlic Powder or Garlic Flakes.
If white pepper isn't in your spice drawer you can swap it for fresh cracked black pepper. It is an easy trade.
A great alternative for Worchestershire sauce is balsamic vinegar or equal parts soy sauce and rice wine vinegar.
I enjoy adding chives to my Steak Butter because they play well with the garlic. But you could easily use, rosemary or oregano to give your Steak Butter more of a Mediterranean flair. Or shallots and green onions for a little more of an Italian edge.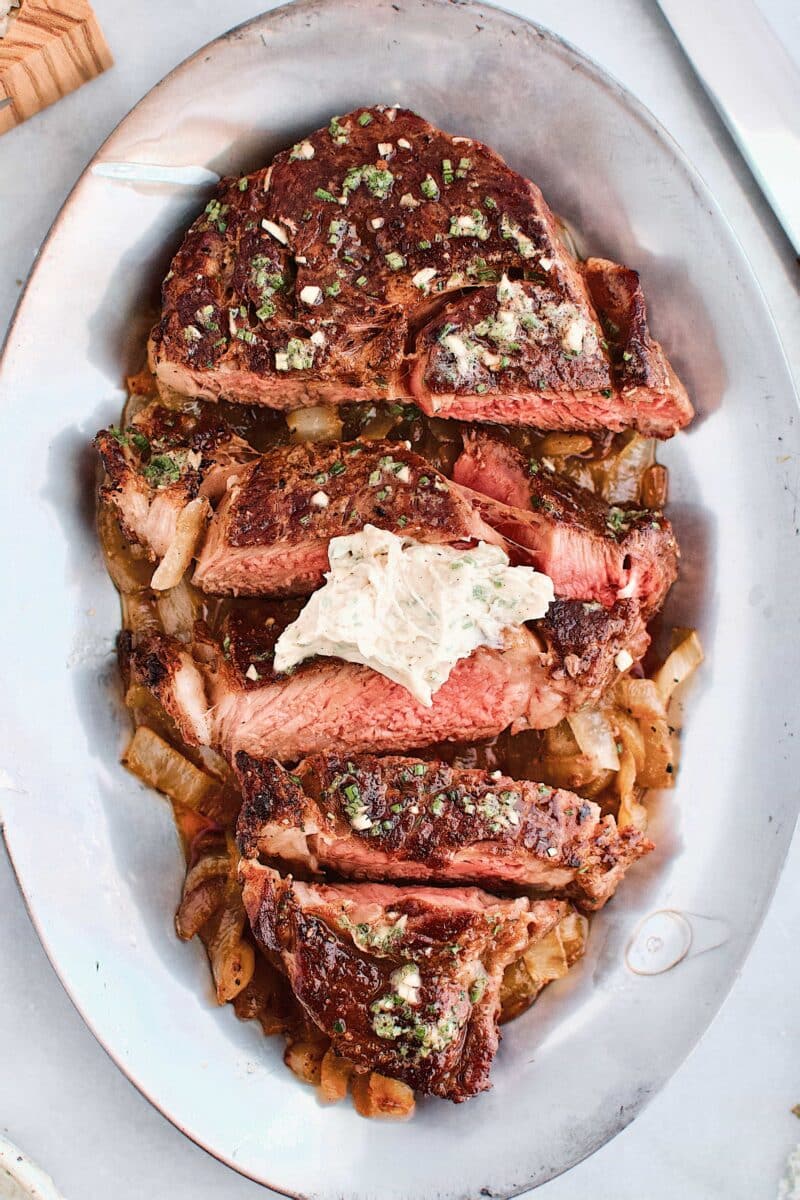 Perfect Steak Pairings
Did you make this recipe? Let me know by leaving a review or comment! And be sure to sign up for my newsletter, and follow along on Instagram, Pinterest, and Facebook!