I have been reminiscing about my visit to Ireland, and this Victoria Sandwich from the last day keeps coming up as a highlight. I enjoyed a slice on the island of Inis Mór at a little thatched roof cafe with a cup of tea. It was quite literally the icing on the cake and the perfect ending to a picturesque trip!
The essence of a Victoria Sandwich is a butter sponge cake, raspberry jam, and whipped cream. You layer them all together and top with a generous dusting of powdered sugar! It is a beautiful and quintessential English cake.
This is the Victoria Sandwich I enjoyed in Ireland
I have been missing Ireland like crazy lately so I recreated this cake to satisfy my longing. I seriously left a piece of my heart there. If anyone knows how I can move there please let me know, I'm ready to go ASAP!!
My take on a classic Victoria Sandwich
Traditionally a Victoria Sponge is layered with Cake, Raspberry Jam, Whipped Cream, repeat and repeat. As you can see in the picture above. But I wanted to make it my own.
The raspberries were super fresh and looked amazing so I decided to keep them fresh. I decided on a layer of lemon curd on top of the cake, followed by fresh whipped cream and then a layer of halved raspberries.
The Great British Baking Show also gave me some incentive to give it a try. You can see it as part of the final challenges in Season 4 Ep. 10 if you want to see what the contestants do with it. Mary Berry gives it as the technical challenge.
While she asks for it to be made with buttercream, just a slight variation from the most traditional. I still loved seeing it as a challenge. So I decided to give it to myself as well.
I used the cake from The Great British Bake Off website. And I made the recipe 1 and 1/2 times and baked it in a 9-inch cake pan. I did this so I could cut my cake and get 3 layers.
You could bake the cake in 3 separate pans if you have them. I don't have that many matching pans. So I baked mine in one pan and then cut it in 3 layers after it baked and cooled.
Note that the baking time will change dramatically if you choose this route. Just keep an eye on it and test with a cake tester or toothpick to know that it is cooked. They should come out clean and not wet when it is done.
You can take the more traditional route if you like, I will share my raspberry jam recipe with you below. If you like my take you can add a layer of lemon curd. I used a pre-made curd I picked up at Trader Joes.
A basic and classic raspberry jam has just 2 ingredients. Mix equal parts of raspberries and sugar and cook until the sugar has fully dissolved. This takes about 5 minutes.
You can then cool the jam and use immediately or can it for future use.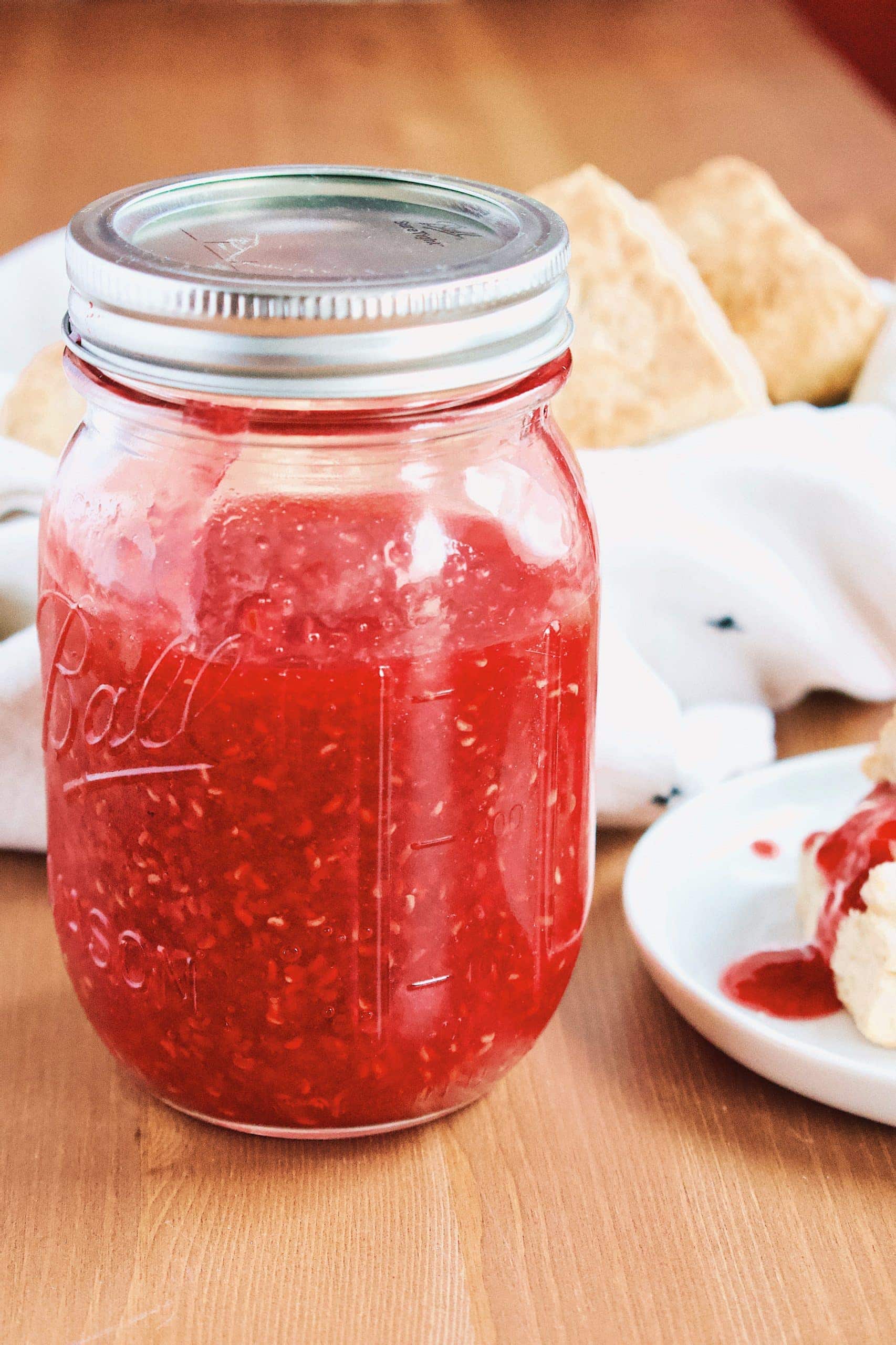 Classic Raspberry Jam
This jam is quintessential and basic, but there is nothing better!
Ingredients
3 C Raspberries, fresh
3 C Sugar
Instructions
In a saucepan over medium heat add the berries and sugar to the pan.
Using a potato masher until the berries are completely macerated and have released their juice.
Bring the mixture to a boil and simmer for about 5 minutes until the sugar has completely dissolved. Use a spoon to test that it has cooked enough. Dip it in and the jam should stick slightly and drip of the spoon slowly.
Cool completely in a shallow dish or add to a canning jar with a lid. Store in the refrigerator. You can follow a full canning process to preserve it in the pantry for later use.
Nutrition Information:
Serving Size:

1 grams
Amount Per Serving:
Unsaturated Fat:

0g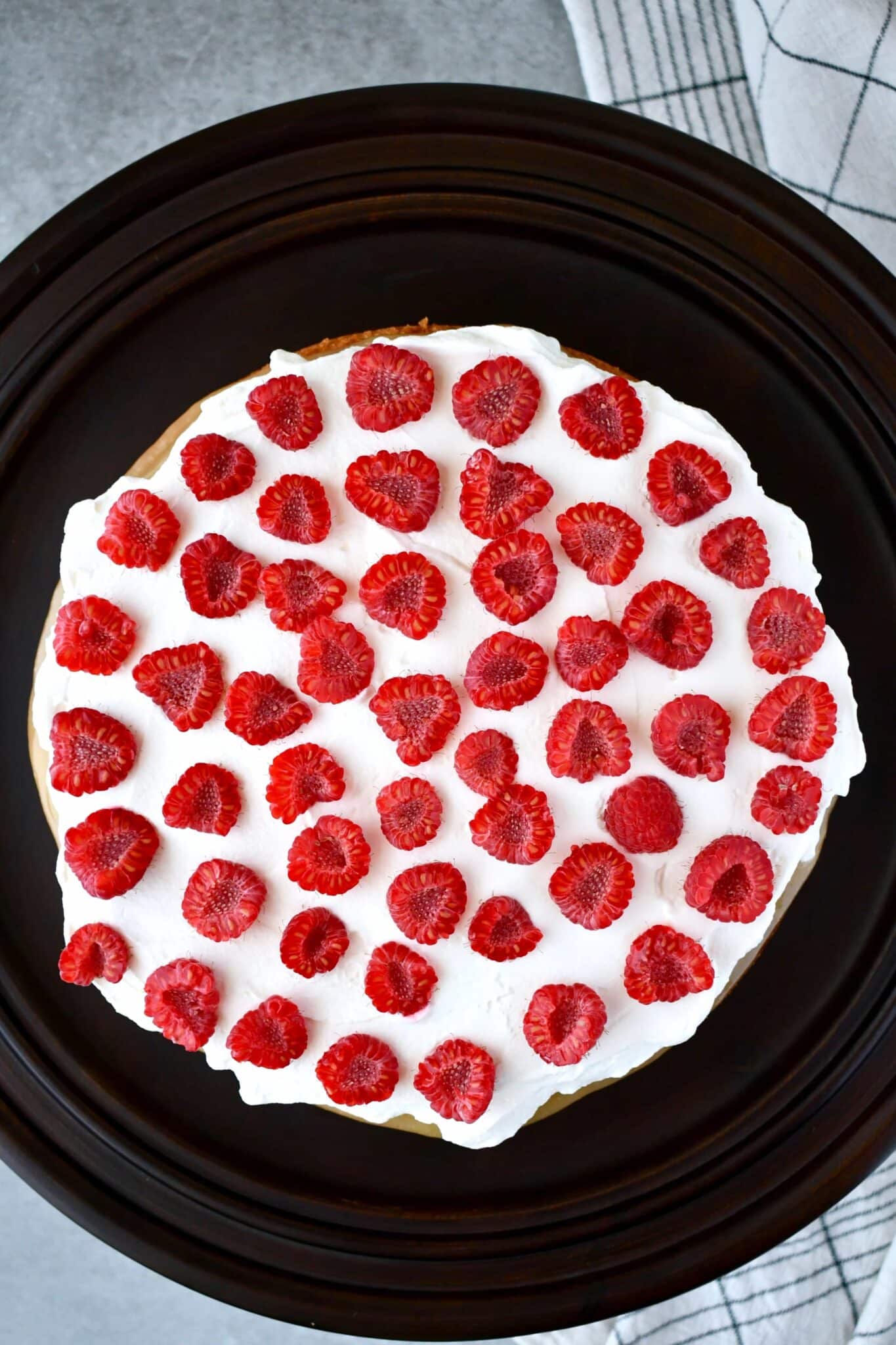 Fresh Whipped Cream
Ingredients
2 C Heavy Cream
1/2 C Powdered Sugar
Instructions
In a stand mixer fitted with the whisk attachment whip the cream on medium speed until the cream begins to thicken slightly. It will begin to hold a line from the whisk. Do not whip on a higher speed. Whisking on medium speed will help the cream to stabilize and prevent it from getting loose.
When the cream has thickened slightly add the powdered sugar and continue whipping until the cream holds soft peaks. Sometimes the cream stays a little soft on the bottom of the bowl, give it a stir and whip gently for about 30 seconds more. If you prefer stiffer cream beat till desired thickness.
Nutrition Information:
Serving Size:

1 grams
Amount Per Serving:
Unsaturated Fat:

0g
MORE OF MY RECIPES HERE!
Raspberry Lemon Cream Pie in a Cup
Get my NEW e-Cookbook here!! ⬇️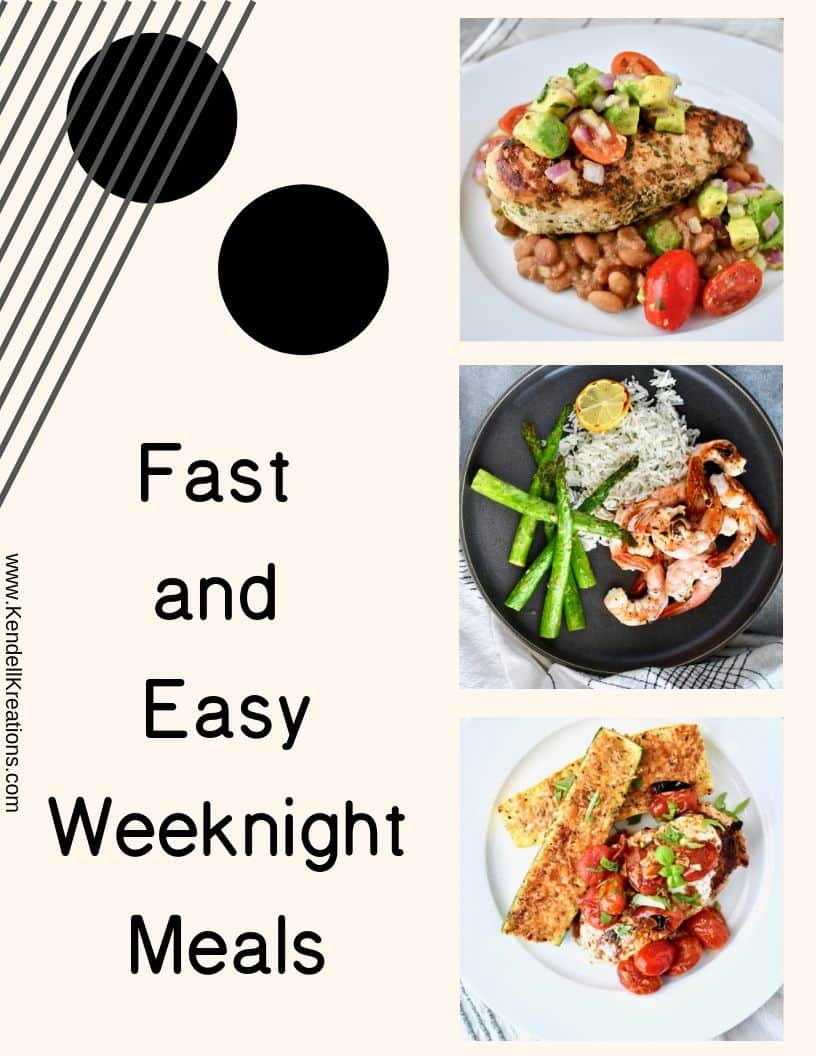 _
MY FAVORITE KITCHEN TOOLS!
Here are a few links to some of my favorite kitchen tools! You get a car, YOu get a car, YOU ALL GET A CAR…in my best Oprah voice
These Rösle Silicone Tongs are a little pricey but they will last you the rest of your life and are the softest in your hand. This is important for someone like m that cooks so much. It reduces strain, I have 4 sets in my kitchen!
These are my FAV Nordic Ware Sheet Pans, every kitchen should have at least 2 sets of these! I think I have at least 4 of each of these.
This is my favorite pressure cooker, the Fagor is the same concept as the "Instant Pot" but easier to use in my opinion, if you don't have one you NEED one, it will be your best friend in the kitchen!
A sharp knife is the most important tool in the kitchen, these Japanese steel "Shun" knives are my favorite! And this is a great starter set to build on. Once you try them you will be in love so use this as a foundation you can build on for years to come.
This Scanpan 11″ skillet is just the right size for almost anything you will need to cook and my best friend and a real workhorse in my kitchen, it's also a great deal at $99. Scanpan is the best in the world for healthy cooking. It is coated with a proprietary ceramic titanium coating that is durable while allowing you to use fewer fats and oils when cooking. It is a coating only they use. I could talk all day about my love for these pans, message me if you want more info. Here are some other sizes that are available if you are looking to outfit your kitchen with some new goodies. 8″ & 10″ Skillet setor 8″ Skillet, I still need this one for my kitchen Also, I don't really know how to cook small so the 12.5″ is my other fave!
This giant vat of olive oil is my favorite, I decant it into a smaller bottle for my counter. Or put this spigot on top of a wine bottle!
This Tovolo jar scraper has to be my single favorite kitchen tool, it is definitely the most used tool in my kitchen. If you are NOT a gadget person, this is the only necessity I say is a MUST beyond the wooden spoon.
A great wood spoon is essential, this Olive Wood one is my favorite, I have more than I can count. But can you really ever have too many?
A food scale can be a very important tool in your kitchen, this one is the one I use every day!
If you love Joanna Gaines as much as I do then the 'Magnolia Table Cookbook' is a must in your kitchen, get a copy HERE!
Check out this great product for your mason jar, the Ergo Spout lets you turn any jar into a pourable pitcher. Get yours here! I love making my homemade salad dressing and keeping them this way in the refrigerator.