Ok yall, I have to admit, I really don't have a whole lot of interest in chocolate unless it is covering peanut butter. That's where these Peanut Butter Blondies come in. They offer all of my favorites wrapped into the PERFECT bar, in my opinion anyway.
Jump to:
What is a Peanut Butter Blondie?
Well, a blondie is basically a brownie without the cocoa added in, making it a bit like a cookie that you bake in bar form. Why leave the cocoa out, well because for this recipe we are going to add it in, in a different form. In the form of peanut butter cups!
I have to say, the peanut butter eggs that come out at Easter time are 100% my weakness! And now that they make them for pretty much any and every occasion, I can't stay on a diet to save my life! But I just tell myself they are peanut butter and that's basically protein, and that's good for me, right?
Anyway, these blondies are packed full of peanut butter cups and that couldn't make my heart any happier! So go grab you a couple of bags and let's get to work.
Use the JUMP TO RECIPE button at the top of the post, or scroll to the bottom of the post to see the full recipe card with ingredient measurements and instructions.
A few notes:
These peanut butter blondies can't be made without, butter, brown sugar, or baking powder...those are all the things that make them great!
You can change up the nut you use in them, but in my opinion, you need at least one! Salted Peanuts would even be great! But Pecans would work too!
These blondies rely on the Reeses Peanut Butter Cups, so just get the good ones and enjoy the ride!
Peanut Butter Blondies can be frozen, because that means they last longer and you can have just one any time you have a hankering!
I like to bake them as a bar, but you could cook this recipe in a cast-iron skillet or cake pan for a pazookie style cookie.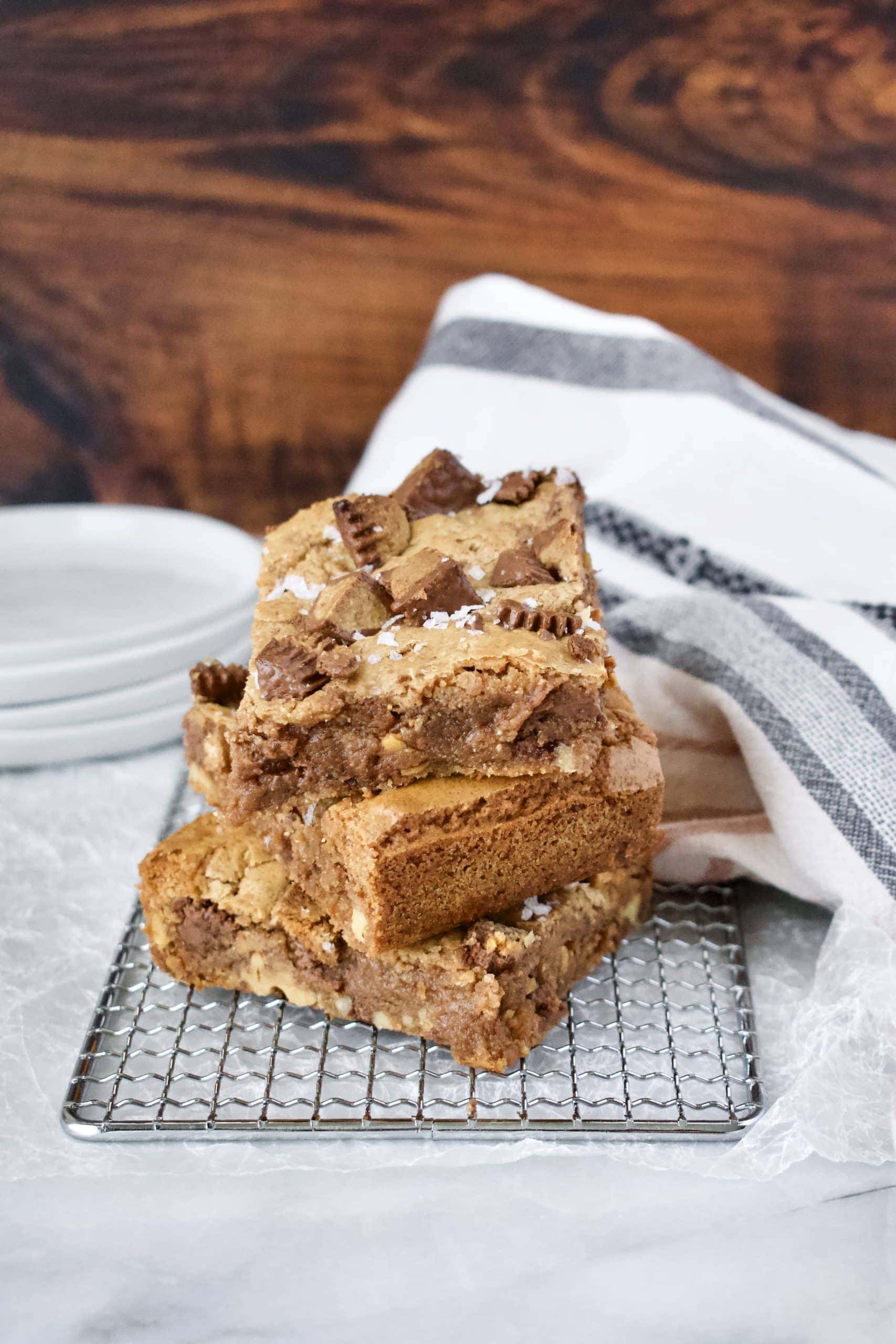 I dropped these in a pan for Super Bowl Sunday, but they were just the thing I needed in my life that day! Make them for something special or just because. Whatever you do, make them soon and let me know if you do!
Did you make this recipe? Let me know by leaving a review or comment! And be sure to sign up for my newsletter, and follow along on Instagram, Pinterest, and Facebook!