I have watched the Baked Feta Pasta recipe (originally shared by @grilledcheesesocial in the US) become a viral TicTok and social media sensation, as I am sure you have also. But I kept wondering, what do I serve it with for dinner. Being who I am, and knowing my family would need it protein-style to make it a dinner, I thought, why not add chicken to the cooking process and have Baked Feta Pasta with Chicken!?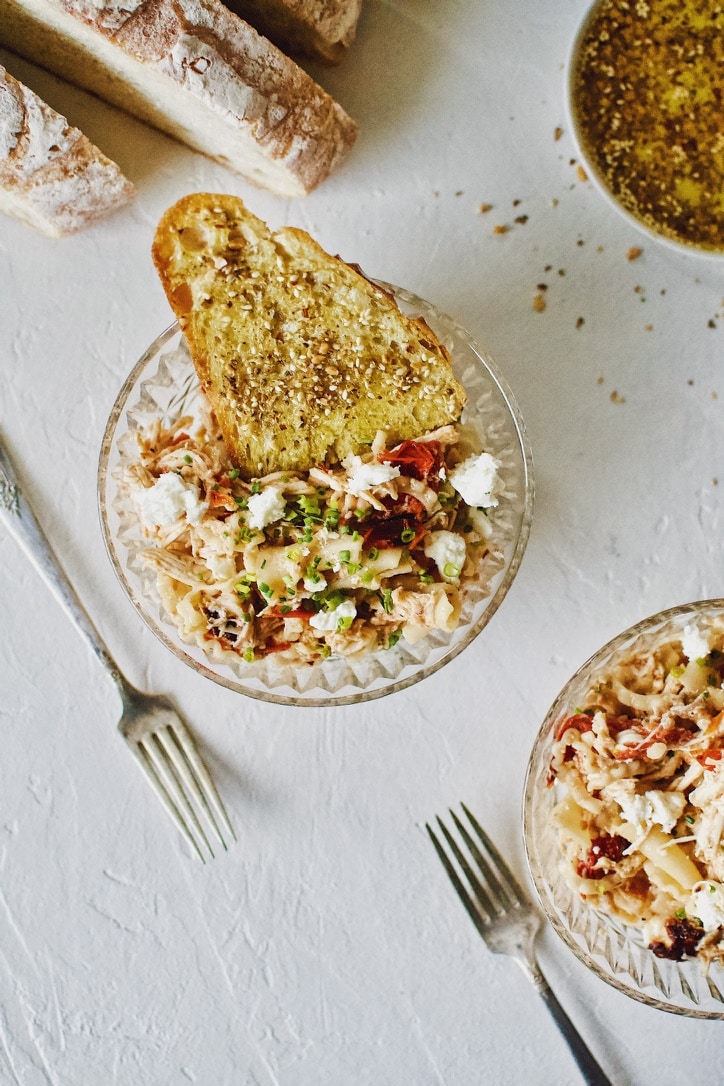 Jump to:
Sometimes I am a little wary of trying super trendy stuff, but this one has taken off so hard that I knew I wanted to give it a go. And I have to say, the end result is REALLY GOOD! I'm literally eating it as I type!
I have always loved warm feta, but cooking it in this way is something I had never actually done. I have tried to grill it and fry it, but I am now convinced that this is the best way to cook feta!
Use the JUMP TO RECIPE button at the top of the post, or scroll to the bottom of the post to see the full recipe card with ingredient measurements and instructions.
Baked Feta Pasta but make it PROTEIN-STYLE
My twist on this viral Baked Feta Pasta is by making it what I call "protein style" and adding some chicken breasts to the roasting pan. I love it when recipes like this one take simple ingredients and produce something insanely delicious.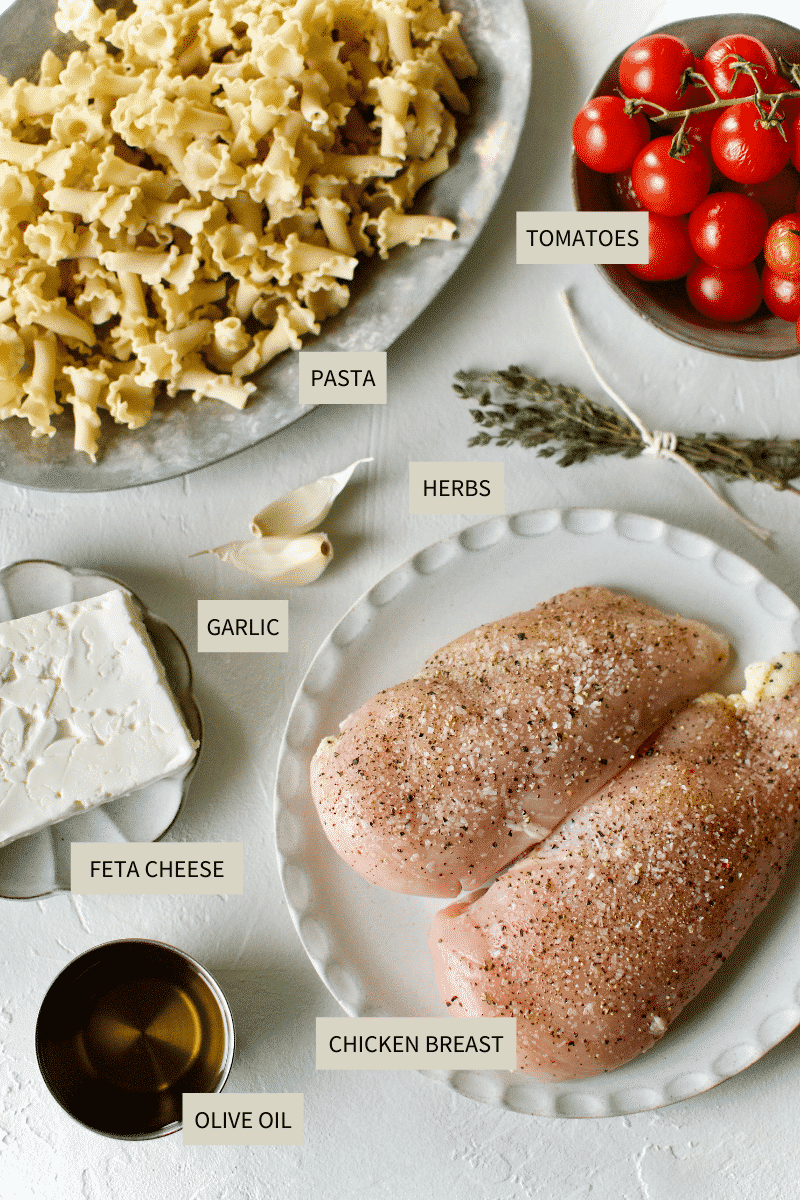 What you need:
Pasta - Any pasta will do, a small tight pasta performs best.
Feta Cheese - Full-Fat blocks of feta work best, but crumbled ones will also work, be sure to form it into a mound in the middle of the pan.
Cherry Tomatoes - This size is preferred, and if they are starting to go bad, that is even better. It is a great way to utilize produce that is on its way out and it will also add sweetness to the end dish.
Olive Oil - Any olive oil will do, just be sure to use plenty of it!
Garlic - Use fresh, whole cloves. And I bake mine with the feta and tomatoes for a roasted garlic flavor. I then add it in with the chicken when I shred it so it gets well dispersed throughout the pasta.
Herbs - Basil was used in the original dish, but I always kill mine. I had thyme in the fridge so that I tied it into a bundle and tossed it in to add lots of flavor and make this house smell good too!
Salt and Pepper - Kosher salt is all I use in my kitchen, be sure to get some on the tomatoes and crack fresh black pepper over the feta before cooking.
Red Pepper Flakes - The use of these really rounds out the dish and livens up all the other flavors. Use them as gently or strongly as you like.
Chicken - I used a couple of chicken breasts in my version and shredded them in the KitchenAid with the roasted garlic as I mentioned above.
Layer, upon Layer, of flavor!
This recipe is quite literally a one-pot (or one dish) wonder. What you are doing with it is building up layers of flavor, and that is why it is SO GOOD! With my addition of chicken, I add another layer of flavor as well as some bulk to make this a full dinner by the time it is done cooking.
Start by seasoning the chicken breasts with salt and pepper. Place the tomatoes, feta, and chicken in the bottom of a pan. Be sure the pan isn't too big, everything should be touching and packed in fairly tight.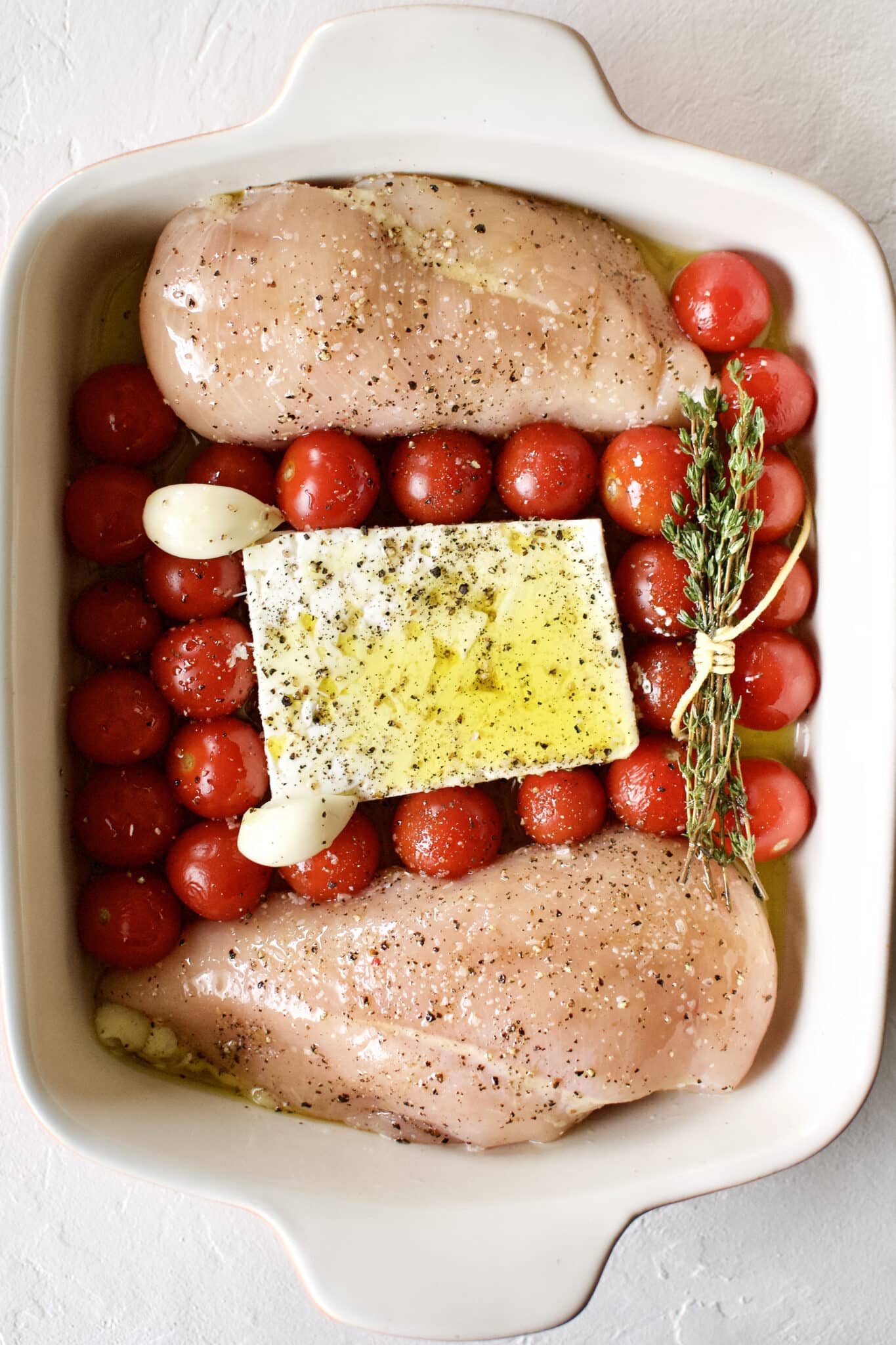 Toss this in the oven and bake. There will be a few layers of flavor that develop here. The tomatoes will caramelize and darken in spots, as will the feta. The chicken will release its juices that will be soaked up by the pasta when it is added, and the herbs and garlic will perfume it all.
Each ingredient plays a vital role in what the final dish will taste like. And the seasoning is KEY. If you forget to season it, it will just taste blah, and no one has time for blah dinner.
Bake the feta, tomatoes, and chicken until they are browned evenly all around. If your oven doesn't get it as brown as you like you can finish it under the broiler for 3-5 minutes.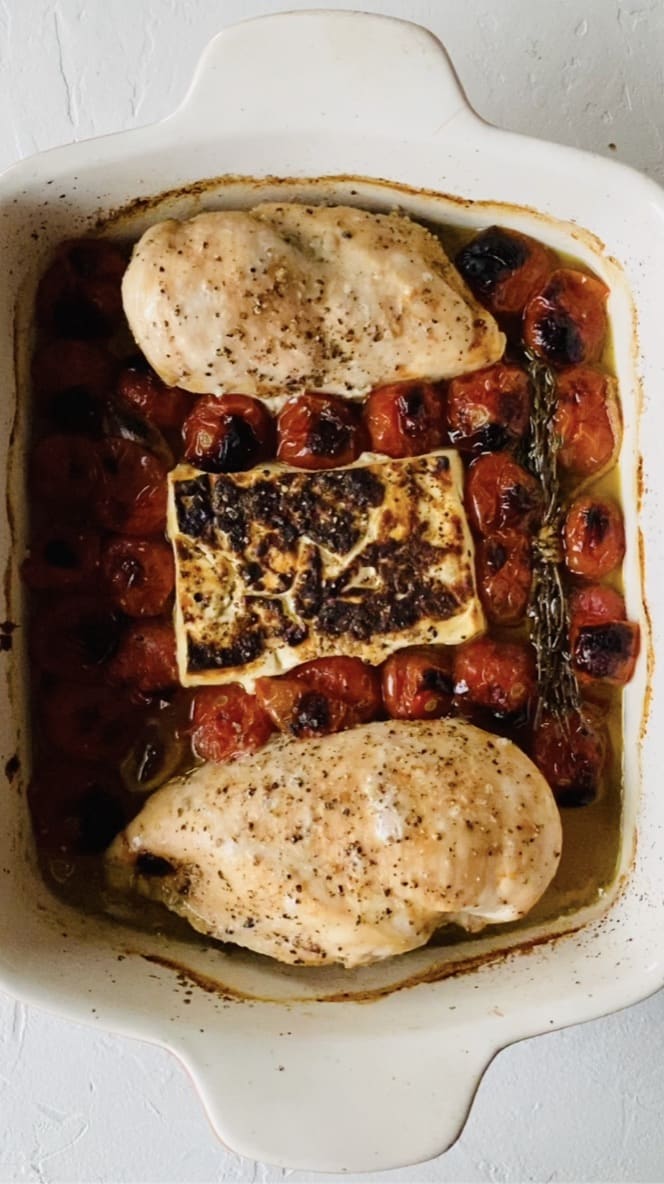 Time to eat!
I then pull out the chicken and garlic and shred it in the KitchenAid by beating it in the bowl with the paddle attachment. Beat for about 60 seconds until it is all broken up and well shredded. Add the chicken back to the pan with the baked feta, tomatoes, and pastas and stir until well combined.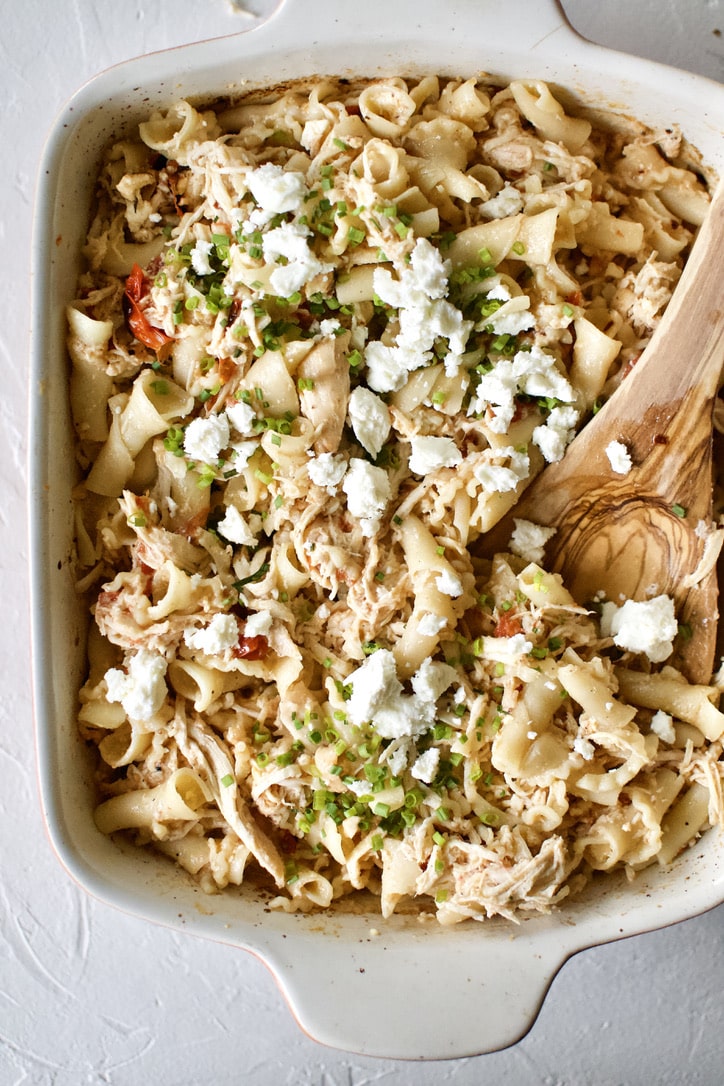 And that's it, you are ready to eat. I like to serve it Italian restaurant-style with a big loaf of crusty bread and some olive oil. But do what makes you happy!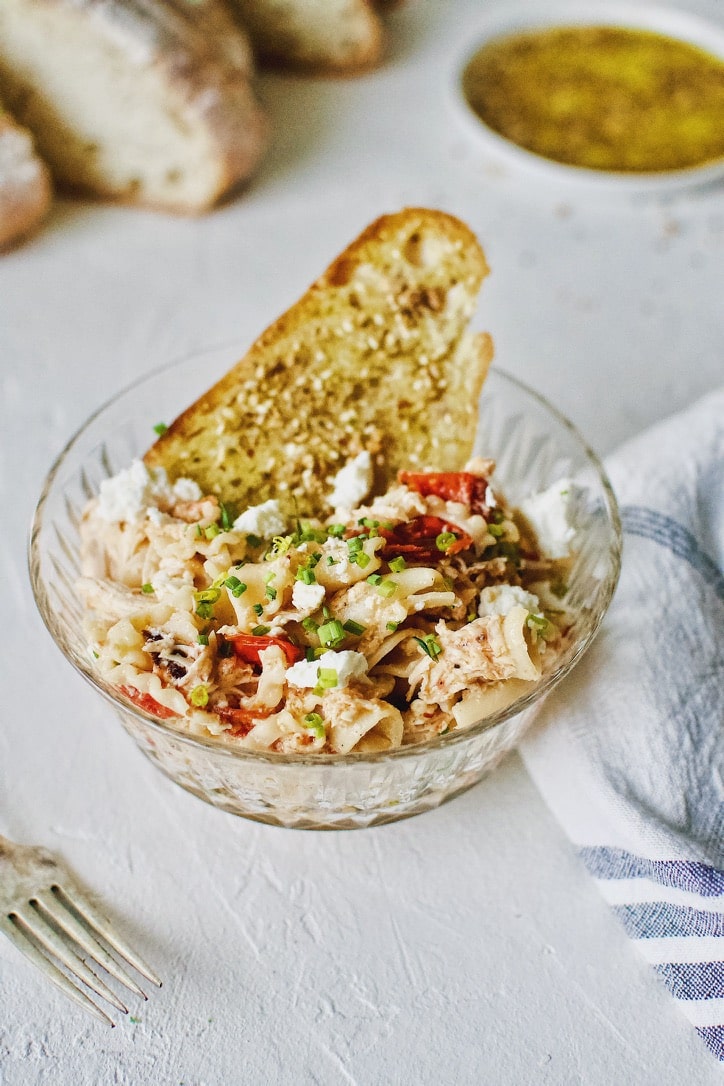 Make it KETO!
To make this Keto Baked Feta Pasta, serve it over baked spaghetti squash. Simply cut the squash in half and bake it cut side down on a baking tray for about 45 minutes or until soft.
Season the squash with a drizzle of olive oil and salt and pepper before baking. When it is soft when pressed with a spoon or tongs it is done cooking.
Follow the remaining directions for the baked feta, adding the chicken or not, and serve it over the spaghetti squash.
Did you make this recipe? Let me know by leaving a review or comment! And be sure to sign up for my newsletter, and follow along on Instagram, Pinterest, and Facebook!