This recipe for Sausage, Egg, and Cheese Biscuits gives them a whole new meaning. A biscuit packed with cheese and sausage that has an egg baked in the middle!? What could be better? Let me just tell you they are beyond delicious!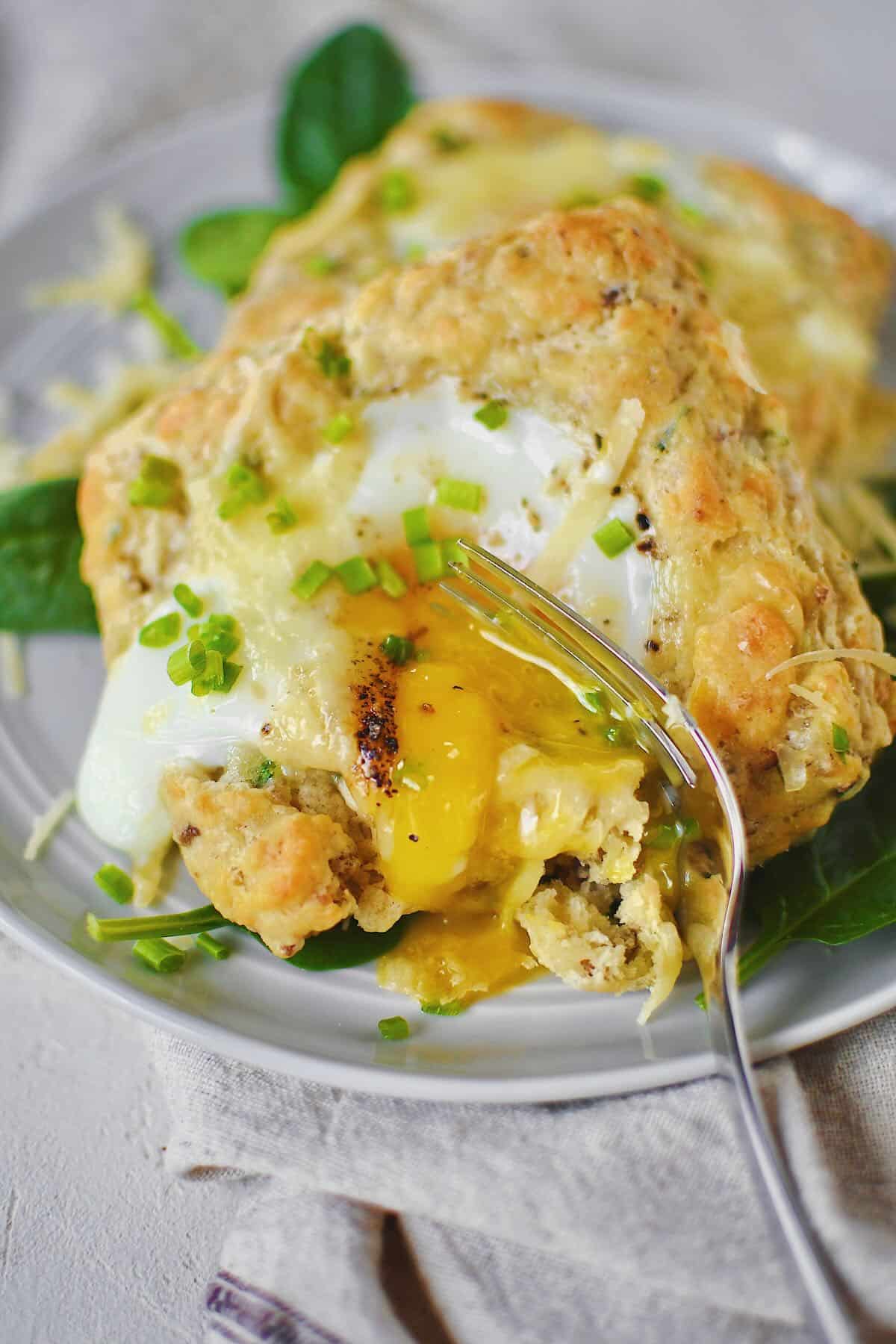 The next time you want to make a showstopping brunch, add this recipe to your menu. They taste like they took all day to make, but they really on take a few minutes to mix together.
Jump to:
Ingredients
Butter, Flour, Levaner, Eggs, and Buttermilk make a perfect basic biscuit. I then like to add some Irish White Cheddar and breakfast sausage right into the biscuit dough. This is a great opportunity to use some leftover sausage or even bacon.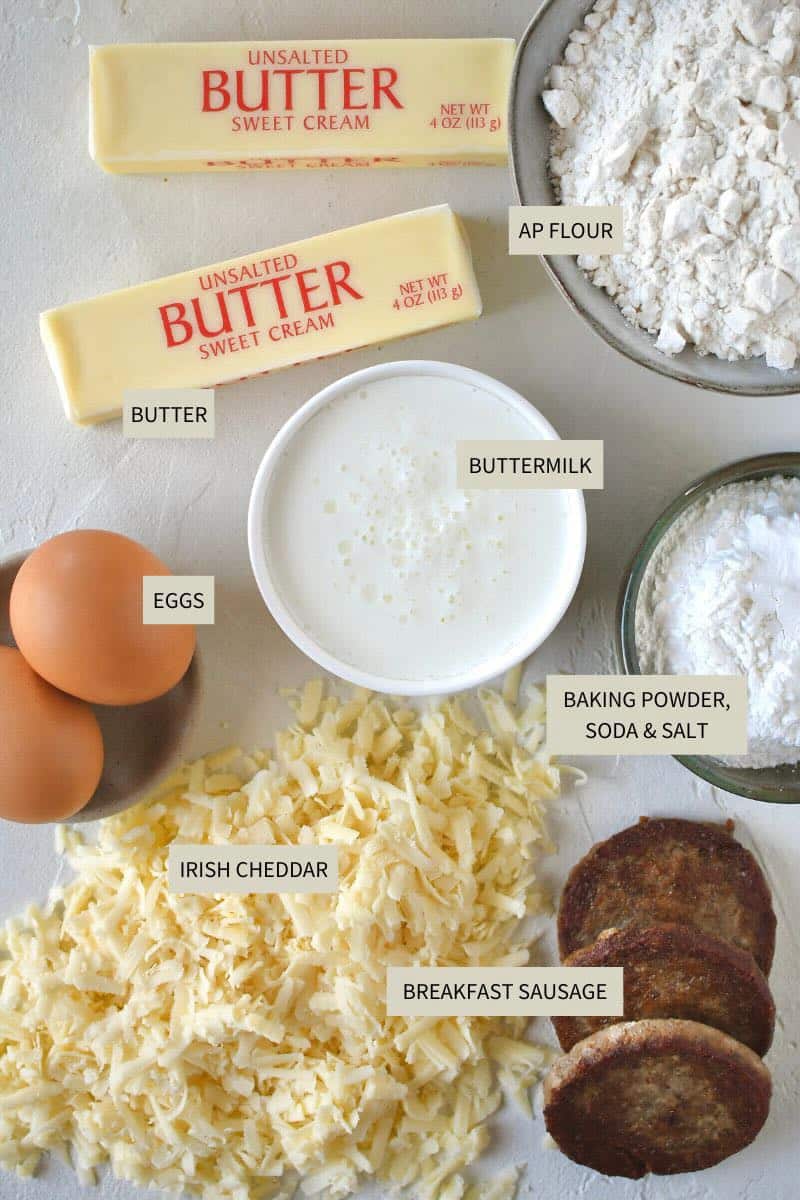 And while the type of cheese may be interchangeable and you could use any sausage or bacon you like, one constant remains, this biscuit is amazing!
Use the JUMP TO RECIPE button at the top of the post, or scroll to the bottom of the post to see the full recipe card with ingredient measurements and instructions.
Method
If you are making this recipe intentionally, first cook the sausage so it can cool then chop it up into small pieces. It should be cool, and I often times use some leftovers from weekend breakfasts when making this recipe. Then start making the biscuit dough by cutting the butter into the dry ingredients.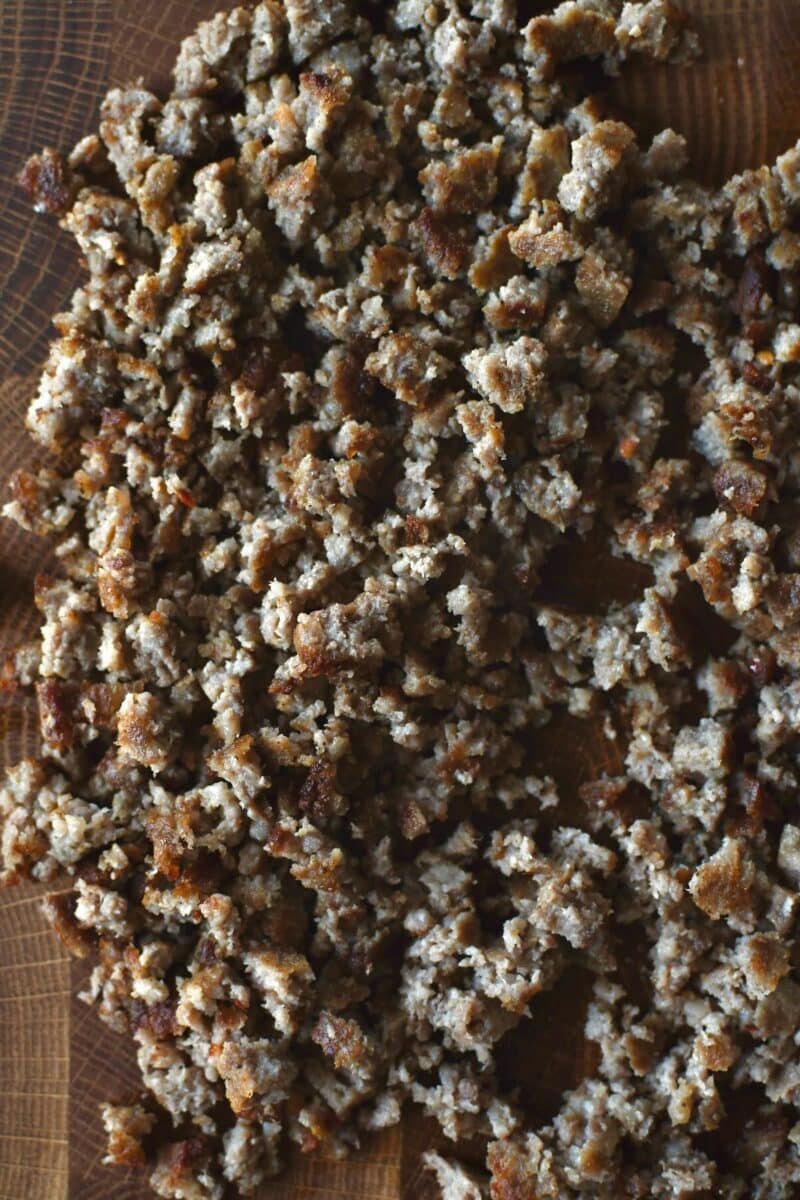 Then add the cheese and cooled sausage to the bowl, and mix with the wet ingredients until a uniformed mixture forms. Then turn the dough out onto a well-floured surface and press it flat.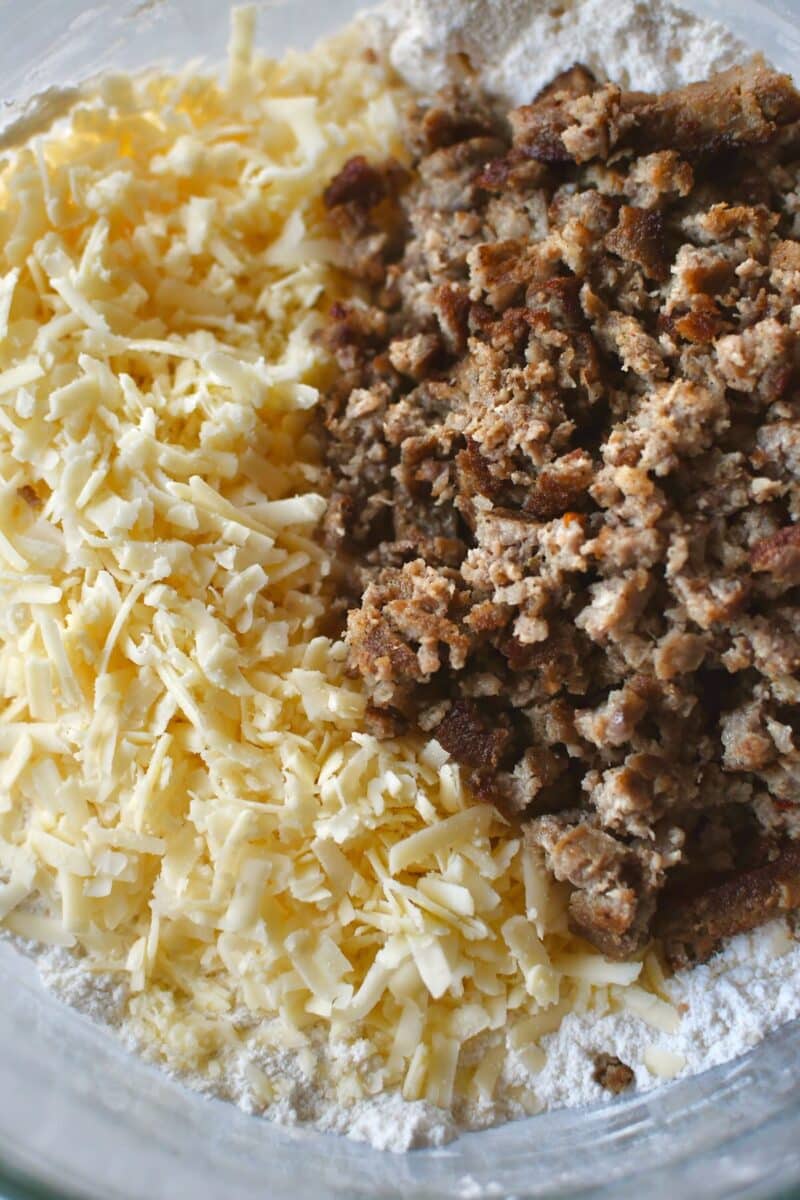 Do a letter fold to the dough, then repeat the process unit it has been folded twice. Then press the dough out to about 1 inch thick and cut it into 3-inch squares.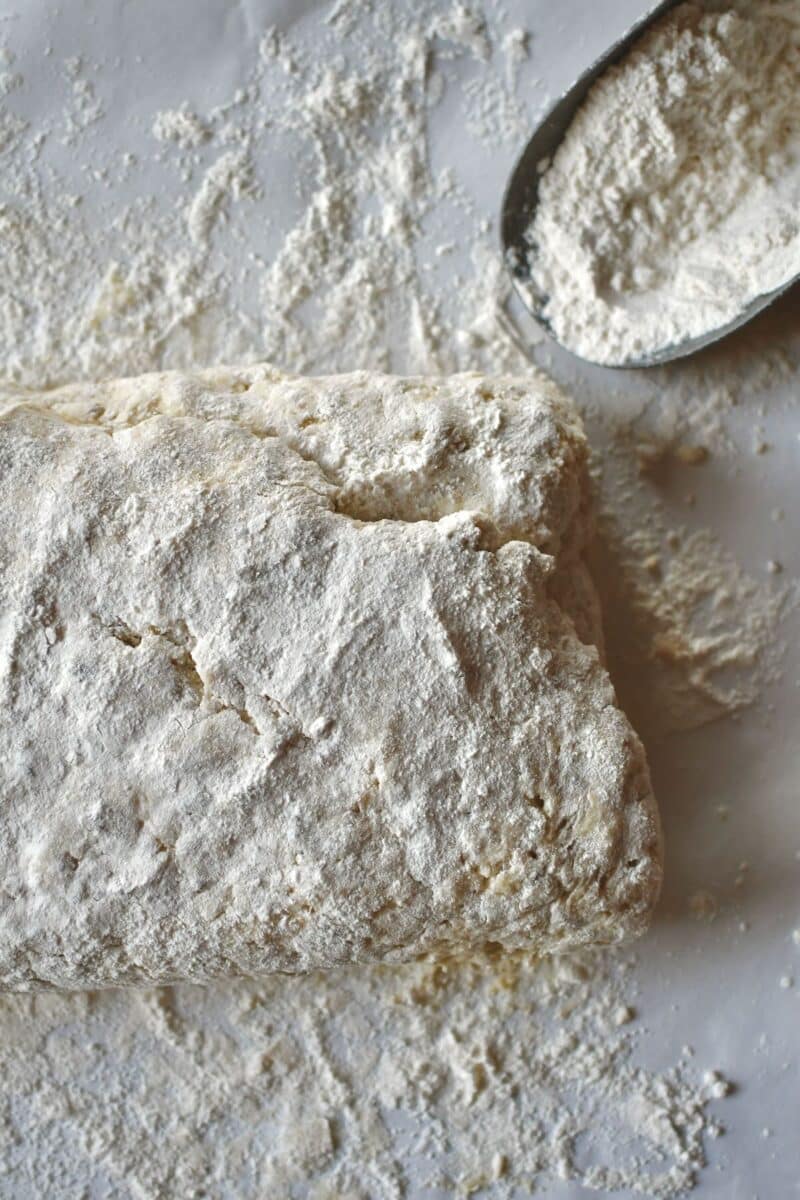 Then cut a circle out of the middle using a biscuit cutter and chill the dough for 30 minutes. When ready, bake the biscuits for about 15 minutes. Then quickly crack one room-temperature egg into each biscuit. Season each with salt and pepper and some extra cheese and continue baking for 7-8 minutes till the egg is just set.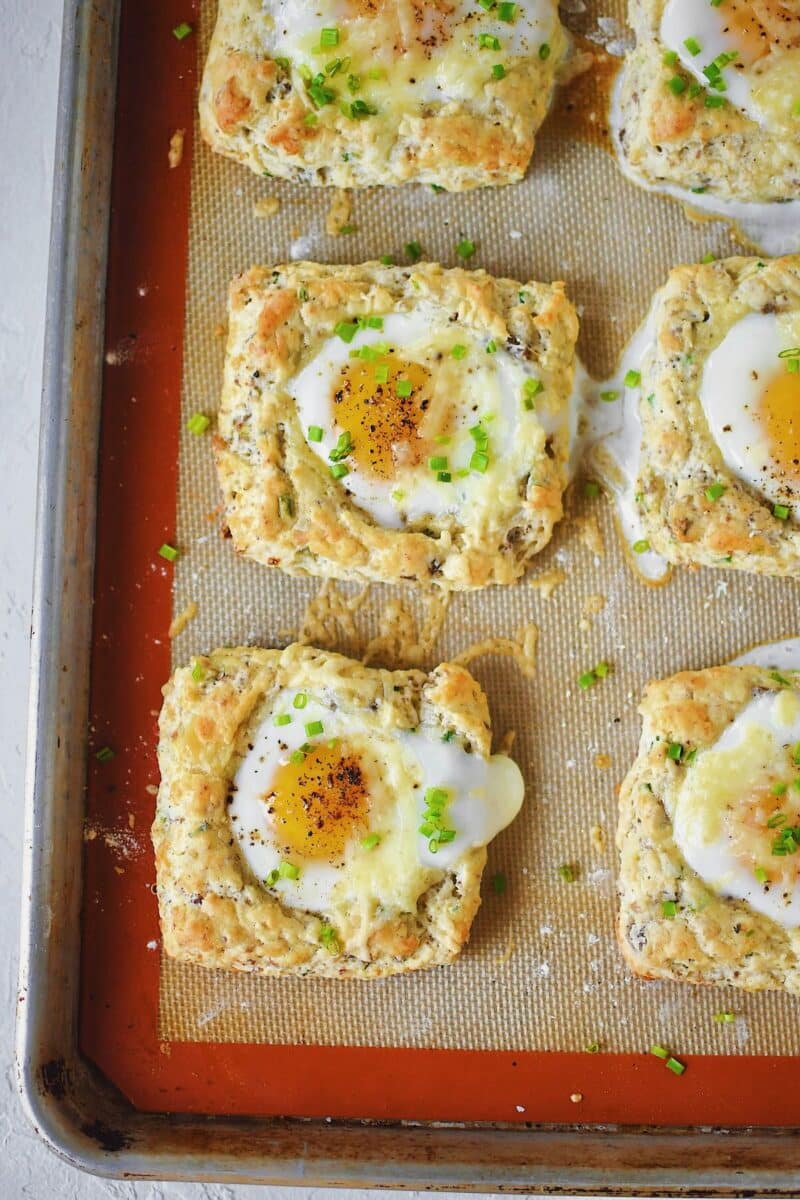 I like to top them with some chives just when they come out of the oven, they get really fragrant and add a little extra flavor to the biscuits. Of course, more cheese is always welcome too, and make it brunch by serving them with a light salad.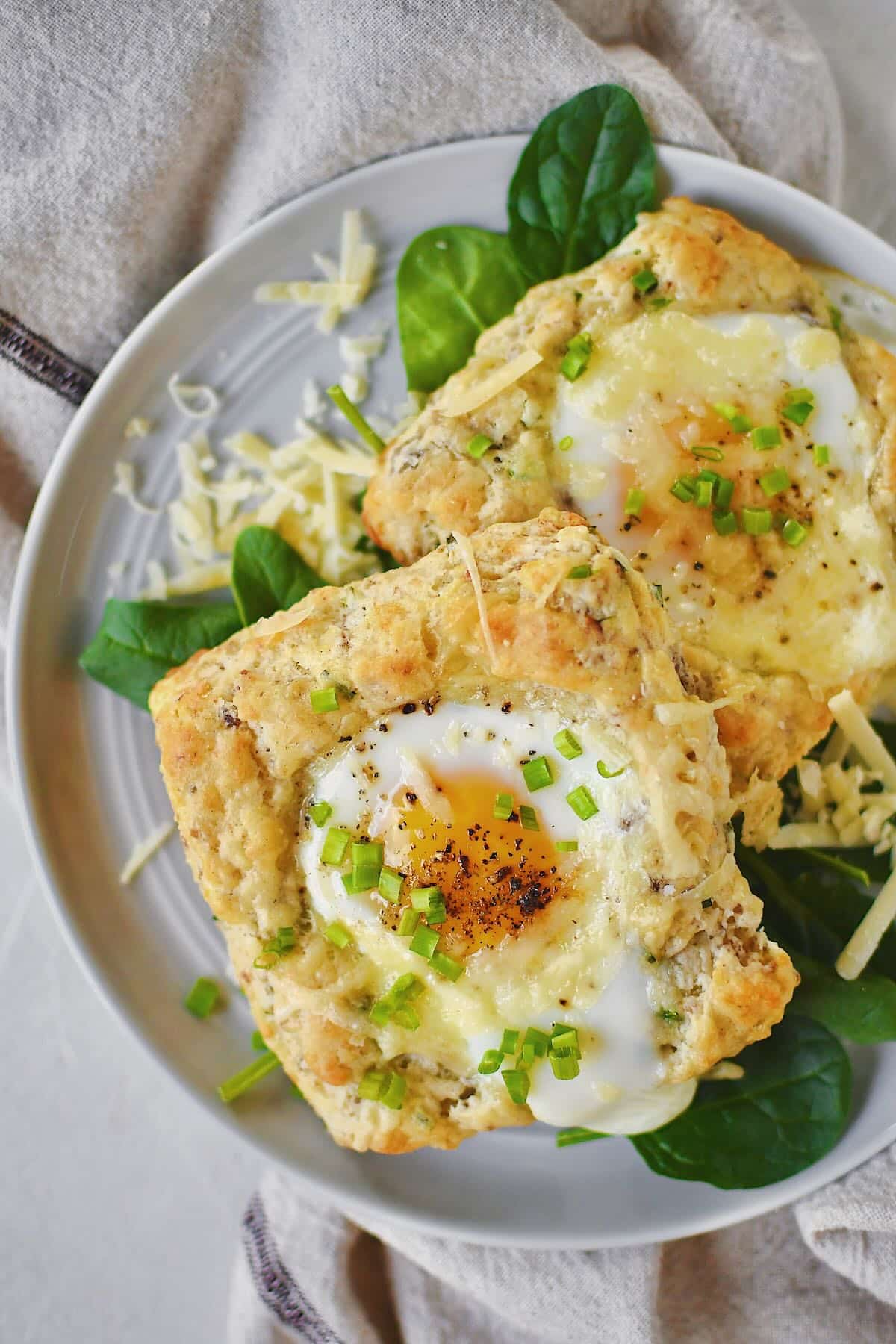 Notes & Tips
I typically use leftover sausage patties to make this recipe. If you make them specifically to use for this recipe, make sure they cool completely before adding the biscuit dough. If not they will melt the butter and your biscuits won't turn out properly.
Giving the biscuit dough a couple of letter folds helps to give the biscuits some flaky layers. Doing it twice will give you all the layers you need.
In an effort to not overwork the cutoffs of squaring up the biscuits, stack them together, then press them out to 1 inch thick. I get 6 squares out of my first press, then a perfect two additional squares out of the cut-offs.
Work quickly and make sure the eggs are at room temperature when adding them to the half-baked biscuits. Drop them in quickly and get the biscuits back in the oven. Have the salt, pepper, and cheese in close reach when the time comes.
Substitutions
Breakfast sausage patties are what I prefer to use. You could also use bacon in its place.
I like to use Irish white cheddar cheese when I make biscuits. But you could easily swap it for sharp cheddar, gouda, or even mozzarella. Something semi-soft and melty is best.
If you do not have buttermilk on hand, combine 1 cup of whole milk and 1 tablespoon of white vinegar, stir, and let sit for 10 minutes and you have a great buttermilk alternative.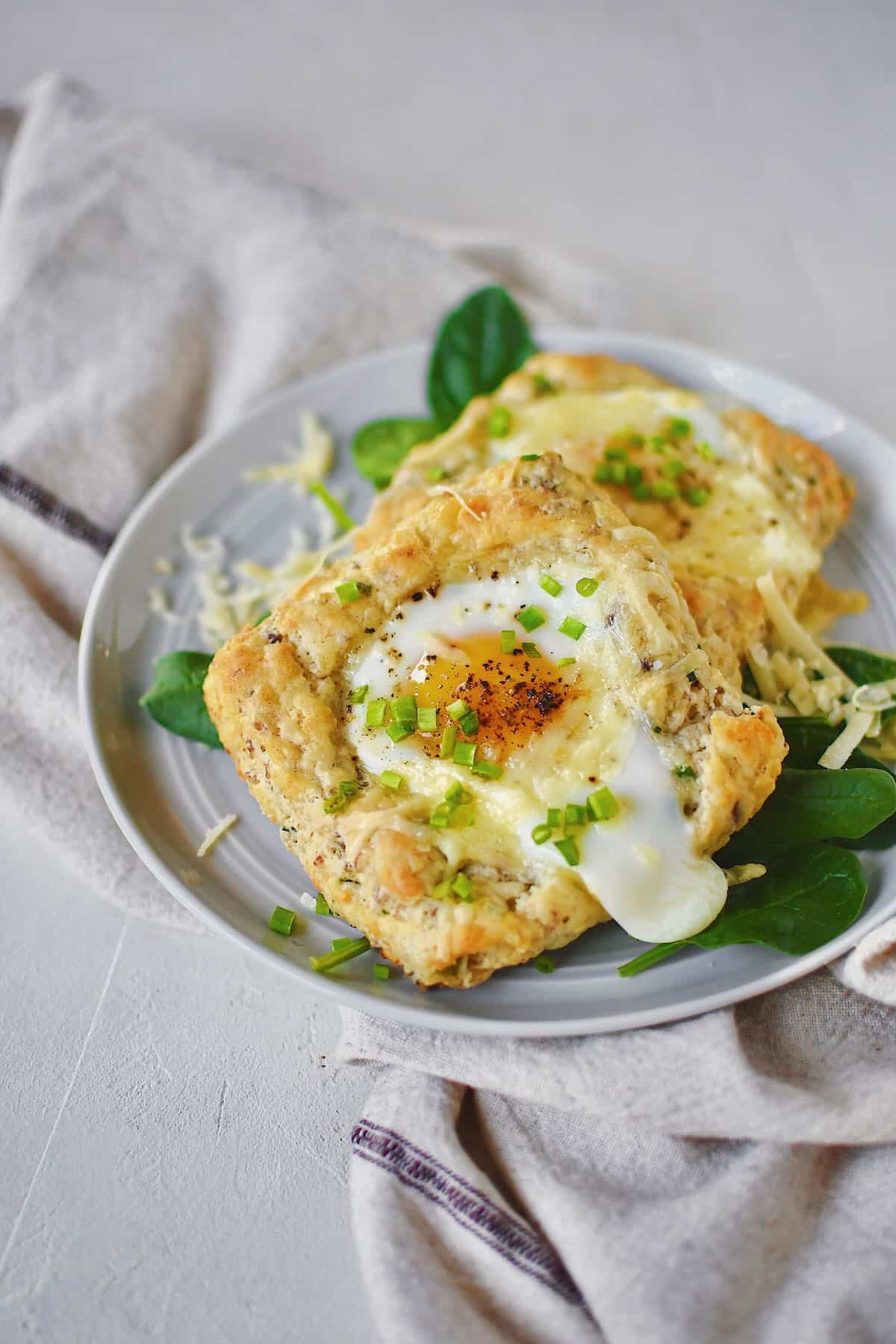 More Over the Top Brunch Favorites
Did you make this recipe? Let me know by leaving a review or comment! And be sure to sign up for my newsletter, and follow along on Instagram, Pinterest, and Facebook!