Ok, I am going to be totally honest with you here, I am 100%, not a pie baker! BUT, the slab pie is where it's at for me. This method has become my go-to and with my Honeycrisp Apple Slab Pie recipe, you can learn to perfect apple pie too. The crisp bottom and sweet crumble topping make this a texturally perfect pie you'll be dreaming about all night long!
What I love about a slab pie is that it offers a more shallow even layer of fruit that cooks more evenly ensuring the crust fully flakes and crisps. I imagine that would keep Mary Berry happy. No soggy bottoms here!
BRINGING IT ALL TOGETHER
One key technique that I learned while cooking my way through the Magnolia Table Cookbook in 2018/19 was to cook the apple filling first. This method guarantees the fruit will cook evenly and controls the texture of the liquid, thickening it as it cooks.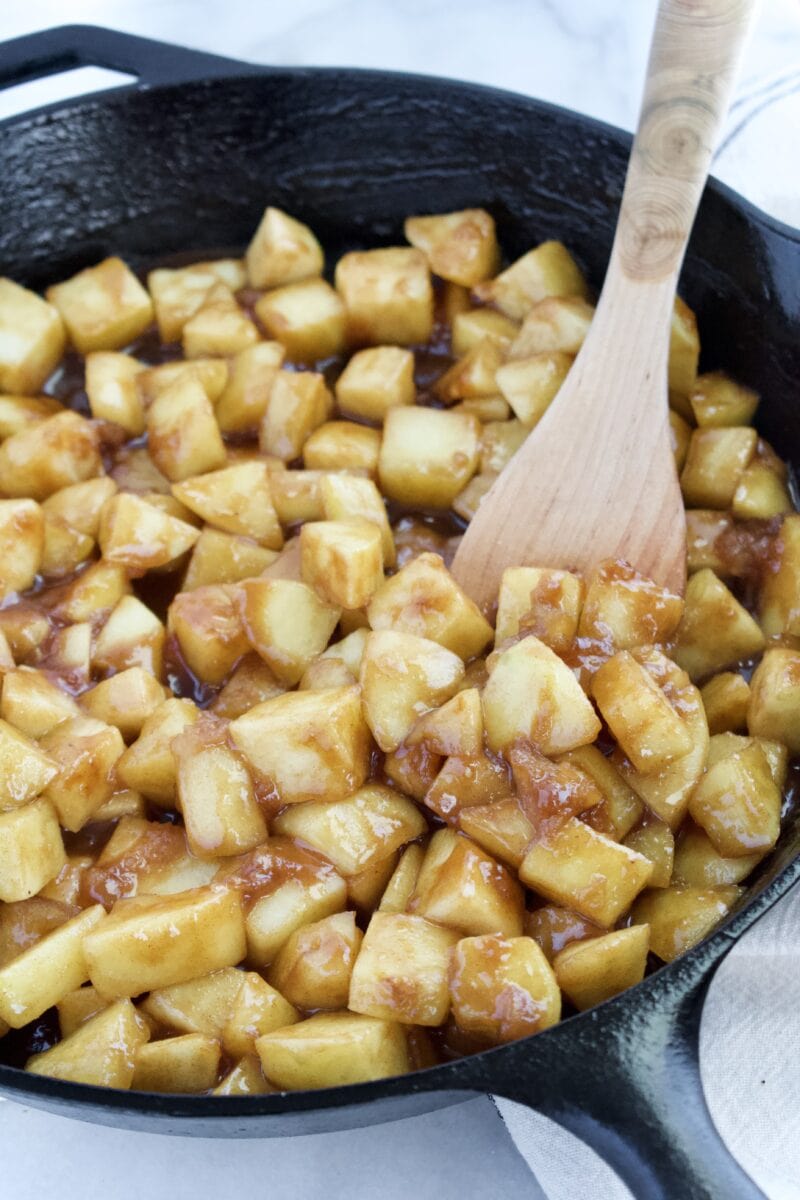 Working the pie filling this way has helped me, who admittedly is the worst traditional pie baker, perfect this pie over and over again. The next best thing about this pie is the crumble topping! It was my first time making an apple pie that wasn't topped with another crust, and I have to say I am SOLD!
It is the perfect combo of apple pie and apple crumble and the combo is totally dreamy!
THE PERFECT PIE CRUST
The best tip I can give you for making pie dough at home is to take it to your Kitchenaid. I add all the dry ingredients to the bowl with the butter and using the paddle attachment, let it run until it forms a sandy texture.
Add in the water and let it mix until a rough dough comes together. The biggest benefit to this method is that you haven't warmed the dough and it is ready to work as soon as you remove it from the mixing bowl. Just give it a few presses to warm it a little bit and bring it together and it is ready to roll.
Roll the dough out into a rectangle a couple of times and giving it a letter fold each time to create flaky, buttery layers. Do this 2-3 times and then let the dough rest for at least 30 minutes in the refrigerator. I typically double or triple a batch of pie dough, follow this procedure, and then split the final turn of the dough in three and freeze 1 or 2 discs of pie crust for later use.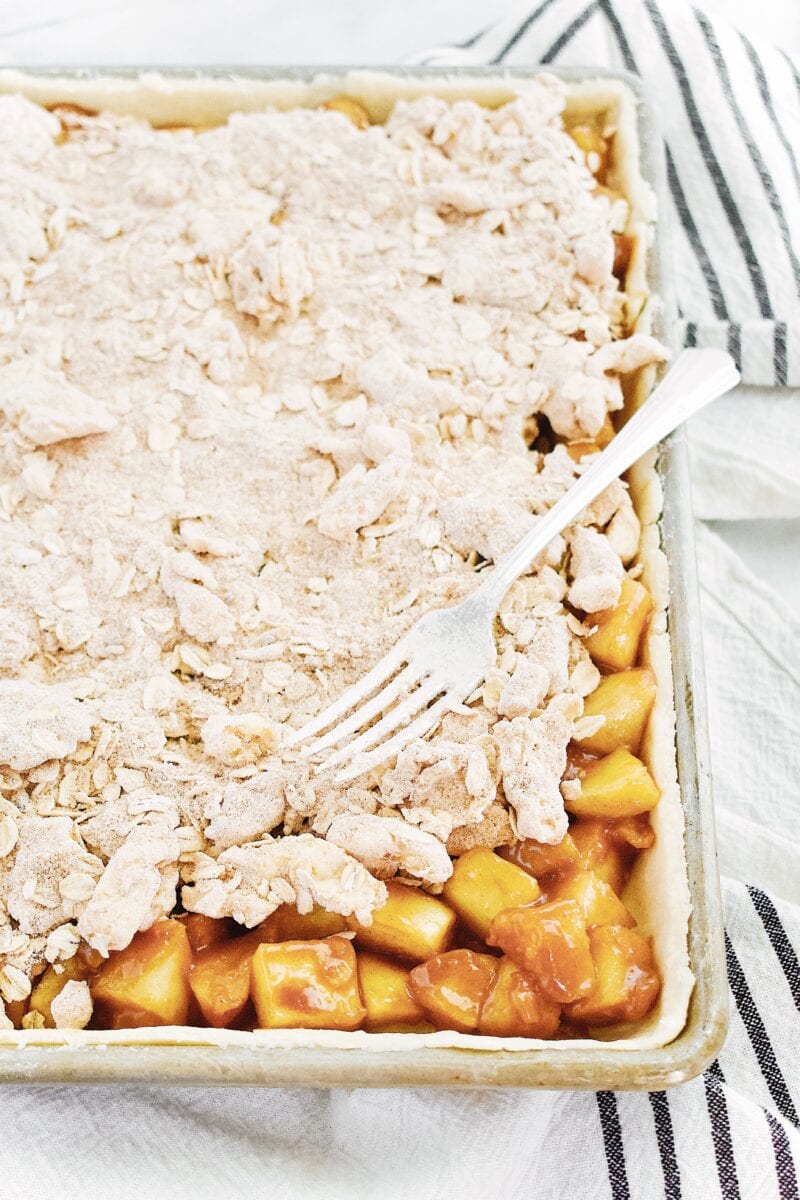 This Honeycrisp Apple Slab Pie cooks up so perfectly and beautifully. All it needs is a big ole scoop of vanilla ice cream on top and a drizzle of caramel to finish it off. Put the beautiful bounty of fall apples to work with this recipe today! It just might be my favorite pie of all time.
Honeycrisp Apple Slab Pie
I created this pie with a friend while visiting Washington State at the height of apple season. I picked up the most perfect apples from a roadside stand and they gave this pie over the top flavor!
Ingredients
for the crust:
1½

C

AP Flour

1

t

Kosher Salt

1/2

C

Butter

cubed and chilled

1/4

C

Cold Water
for the topping:
1/3

C

Granulated Sugar

1/3

C

Light Brown Sugar

1

C

Quick Oats

1/2

C

AP Flour

1/4

t

Salt

1/2

C

Butter

diced, cold
for the filling:
1/3

C

Granulated Sugar

1/3

C

Light Brown Sugar

3

T

AP Flour

1

t

Cinnamon

1/4

t

Nutmeg

1/4

t

Salt

4

T

Butter

5

LG Honeycrisp Apples

peeled and diced

Vanilla Ice Cream to serve

Caramel Sauce to serve
Instructions
for the crust:
In the bowl of your electric stand mixer, fitted with the paddle attachment, combine the flour, salt, and butter and mix on speed 1 until a fine meal had formed. Add in the water when you no longer see large pieces of butter and the dough holds together when pressed in your hand. Mix on low speed just until it comes together. Turn the dough out onto a well-floured surface if you are ready to roll it immediately, or onto a piece of plastic wrap if you are making for future use. Press together a few times to warm slightly and bring the dough together fully. Roll out the dough and place it in the bottom of a 1/4 sheet pan. This can be done ahead of time, covered and held in the fridge or freezer until you are ready to use.
for the topping:
In a bowl, mix together the granulated sugar, brown sugar, quick oats, salt, and flour to combine.

Add the diced butter and press the butter into the flour mixture by pressing it between your fingers until a shaggy crumble forms. Hold the topping in the refrigerator until you are ready to bake.
for the filling:
Preheat the oven to 425 degrees.

In a small mixing bowl whisk together granulated sugar, brown sugar, flour, salt, cinnamon, and nutmeg.

In a deep saute pan or small stockpot, warm over medium heat on the stove, melt the butter in the bottom and add in the apples. Stir the apples to coat. Add the sugar mixture and cook until the apples release some liquid and the sugar has completely melted. This is a short cook, maybe 10 minutes max. When the caramel has thickened it is done. Add the filling to the pie crust and top with the crumble.

Bake in preheated oven about 40 minutes until the filling just begins to bubble around the edges. Remove the pie from the oven and let cool completely before cutting. Cut the pie into 9 equal pieces and serve with a generous scoop of vanilla ice cream and a drizzle of caramel sauce if desired.
If you make this recipe, please let me know by leaving a review at the bottom of this page!
And make sure to sign up for my newsletter and follow along on Instagram, Pinterest, and Facebook for more KendellKreations!
MY LATEST RECIPES!
Get my NEW e-Cookbook here!! ⬇️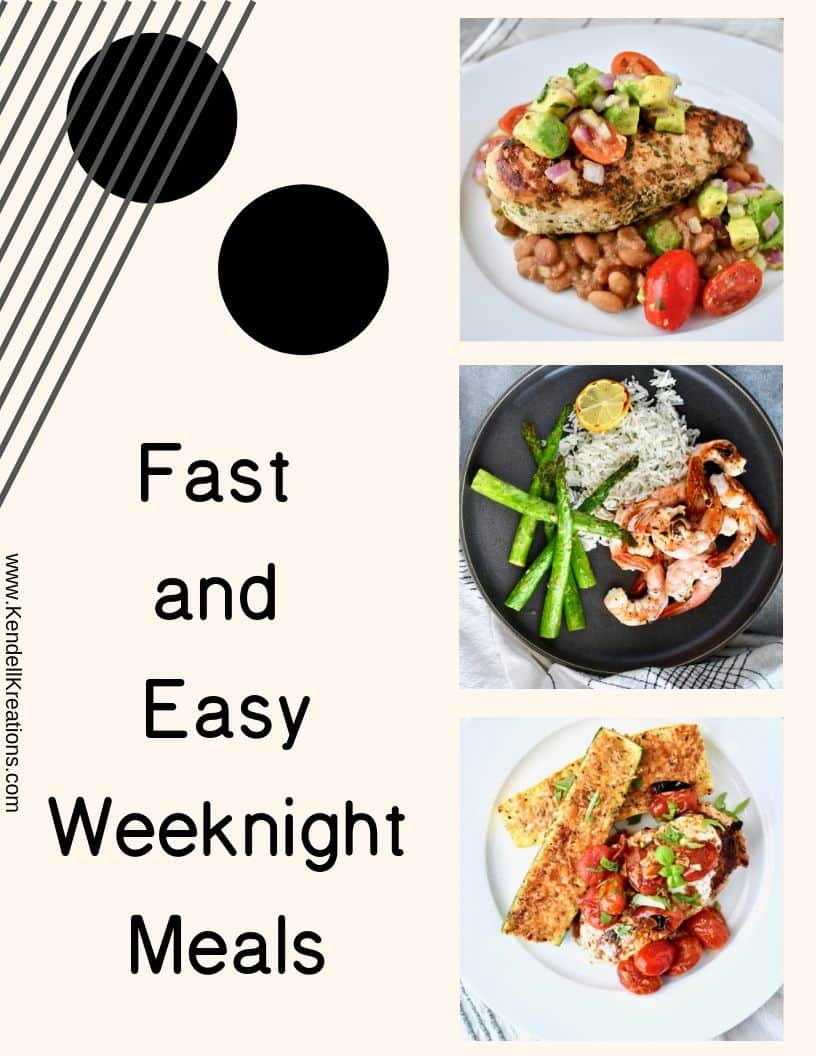 MY FAVORITE KITCHEN TOOLS!
Here are a few links to some of my favorite kitchen tools! You get a car, YOu get a car, YOU ALL GET A CAR…in my best Oprah voice
These Rösle Silicone Tongs are a little pricey but they will last you the rest of your life and are the softest in your hand. This is important for someone like m that cooks so much. It reduces strain, I have 4 sets in my kitchen!
These are my FAVE Nordic Ware Sheet Pans, every kitchen should have at least 2 sets of these! I think I have at least 4 of each of these.
This is my favorite pressure cooker, the Fagor is the same concept as the "Instant Pot" but easier to use in my opinion, if you don't have one you NEED one, it will be your best friend in the kitchen!
A sharp knife is the most important tool in the kitchen, these Japanese steel "Shun" knives are my favorite! And this is a great starter set to build on. Once you try them you will be in love so use this as a foundation you can build on for years to come.
This Scanpan 11″ skillet is just the right size for almost anything you will need to cook and my best friend and a real workhorse in my kitchen, it's also a great deal at $99. Scanpan is the best in the world for healthy cooking. It is coated with a proprietary ceramic-titanium coating that is durable while allowing you to use fewer fats and oils when cooking. It is a coating only they use. I could talk all day about my love for these pans, message me if you want more info. Here are some other sizes that are available if you are looking to outfit your kitchen with some new goodies. 8″ & 10″ Skillet set or 8″ Skillet, I still need this one for my kitchen Also, I don't really know how to cook small so the 12.5″ is my other fave!
This giant vat of olive oil is my favorite, I decant it into a smaller bottle for my counter. Or put this spigot on top of a wine bottle!
My favorite baking dish that is so easy to clean even burnt on cheese slides right off!
This Tovolo jar scraper has to be my single favorite kitchen tool, it is definitely the most used tool in my kitchen. If you are NOT a gadget person, this is the only necessity I say is a MUST beyond the wooden spoon.
A great wood spoon is essential, this Olive Wood one is my favorite, I have more than I can count. But can you really ever have too many?
A food scale can be a very important tool in your kitchen, this one is the one I use every day!
If you love Joanna Gaines as much as I do then the 'Magnolia Table Cookbook' is a must in your kitchen, get a copy HERE!