This Chicken Corn Chowder is next-level delicious and so easy to make. It takes no time to whip up and warms you right up on a cold day! It is like the most luscious potato soup you have ever eaten, but with chicken and bacon.
When soup season hits, this is one of my very favorites to make. It is one of those stick-to-your-ribs meals that does not leave you hungry.
Jump to:
Ingredients
You will notice a hefty amount of butter in addition to the heavy cream in this recipe. Chowder should be rich and those are the things that make it that way. When you are eating it and you go, "why is this so good?" that is why!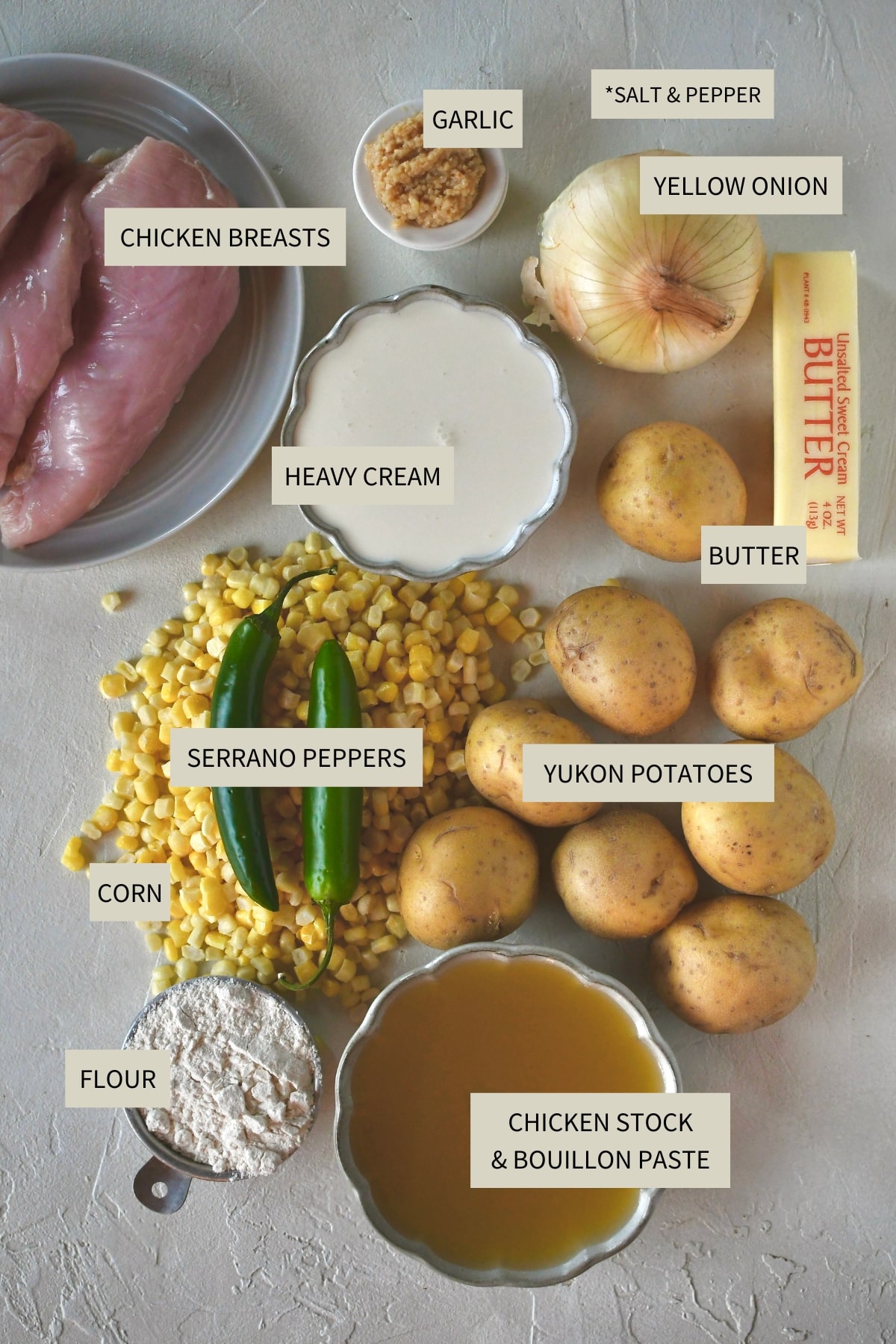 The peppers can be removed if you don't like much spice, even though they really bring more flavor than spice. I like them for some color and just a touch of heat.
Use the JUMP TO RECIPE button at the top of the post, or scroll to the bottom of the post to see the full recipe card with ingredient measurements and instructions.
Method
First, heat the pan and melt the butter in it. Add the onion and cook until they begin to brown. Stir in the garlic and seeded chili and cook just 1 minute longer.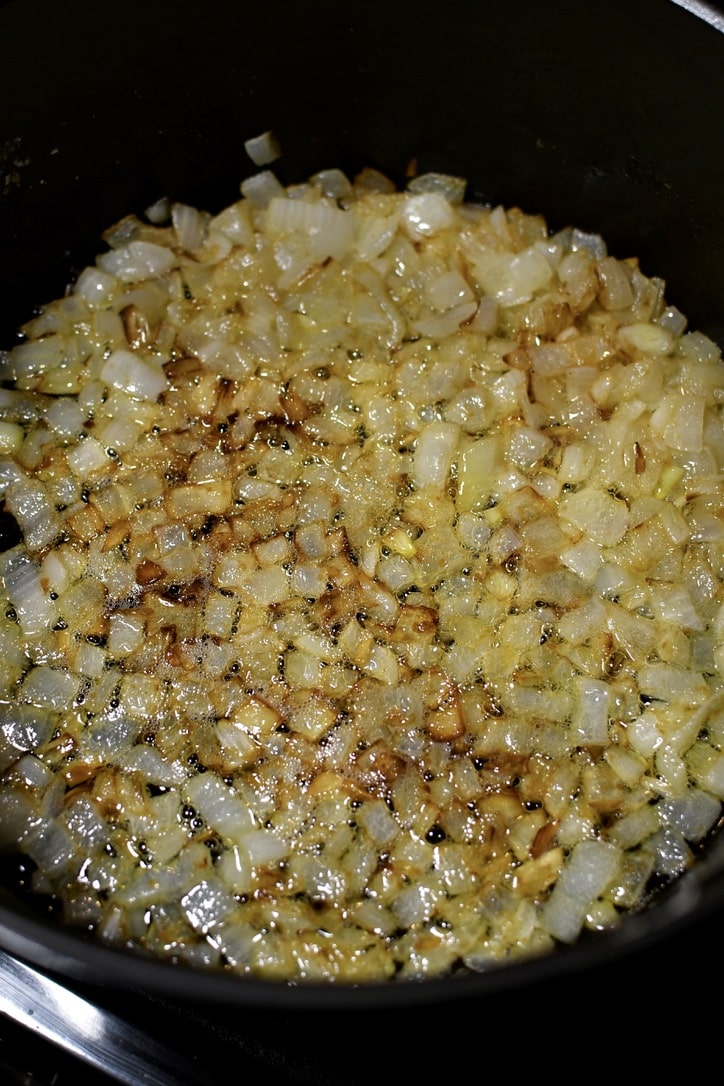 I like to pound my chicken out really thin with a meat mallet then dice it up nice and fine. It is almost like ground chicken in the end, but more chunky. Add it to the pot and cook till it begins to brown slightly. Then add in the flour and cook it for 2-3 minutes to form a roux.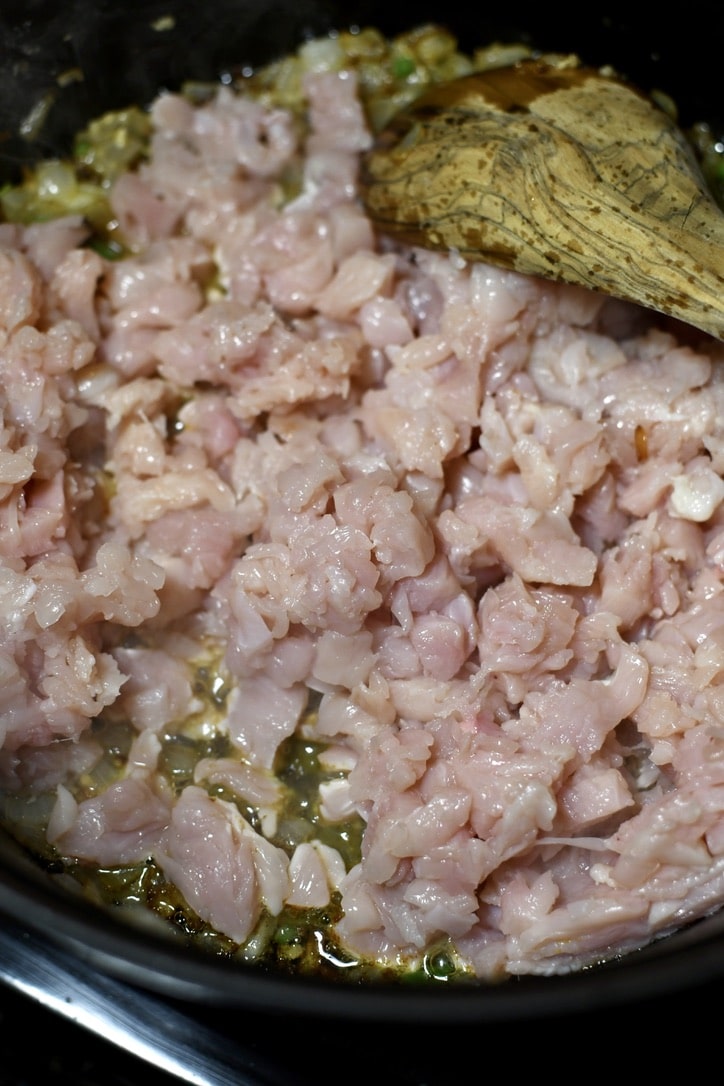 Add the chicken stock and bouillon to the pot, along with the potatoes, and bring the mixture to a boil. If you like a little spice, season the soup with some cajun seasoning and simmer the soup till the potatoes are tender. Then add the cream and simmer a few minutes longer, and the soup is ready to eat.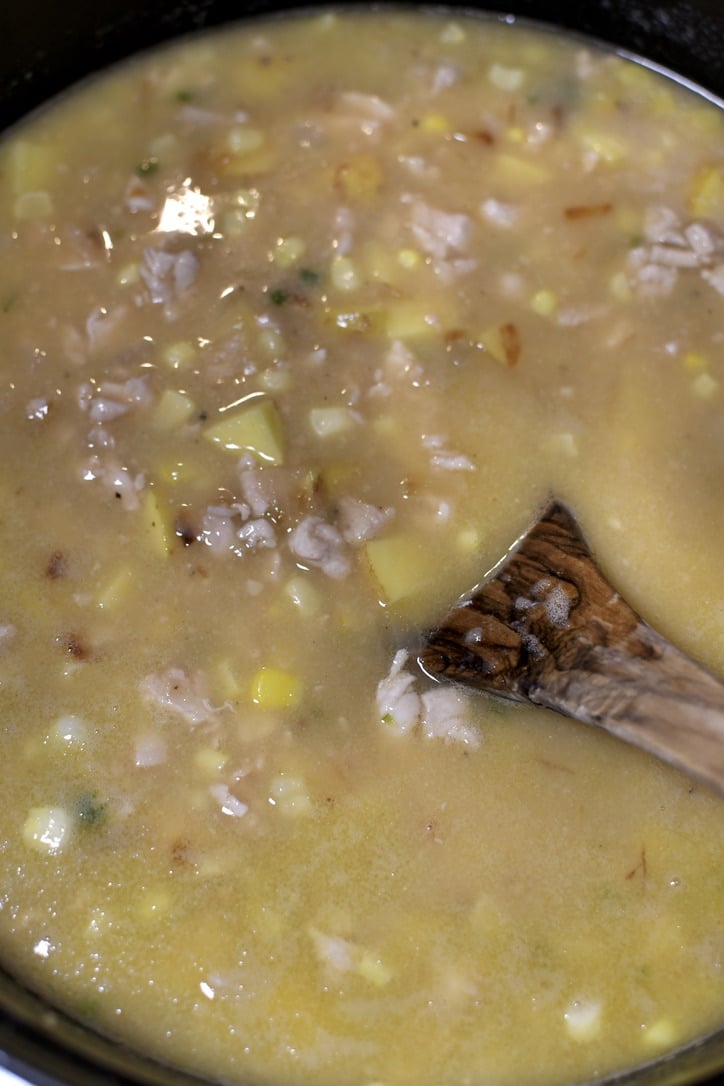 Serve the soup in large bowls with bacon, cheddar, and some sliced chilis on top if you like. It is best enjoyed on a nice cold day, it will warm you right up!
Notes & Tips
Don't skimp on the butter, it is what makes a chowder, a chowder. There should be lots. It helps make it super luscious and creamy.
To prepare the chicken, pound it super thin with a meat mallet, then dice it up finely. Leave some bits in bigger chunks. It should be like chunky ground chicken when adding it to the pot.
This soup ends up nice and chunky, and a chunky soup needs toppings. I like bacon and cheddar to start. But croutons or crusty bread would be great too, put whatever you like on top.
Substitutions
If you are not a fan of spice, you can leave the chilis out altogether. If you take all the seeds out and don't put slices on top, they really only offer some flavor with just a tiny bit of spice. But if you can't handle it, omit them.
Any potato can really be used in this recipe. I like Yukon Gold Potatoes because they are super buttery and creamy, which matches the theme of this soup.
I add just a touch of cajun seasoning to the soup for the tiniest kick and some great flavor. This is just to taste. Add it if you like, till it tastes as you like it. Leave it out if you prefer no spice.
Did you make this recipe? Let me know by leaving a review or comment! And be sure to sign up for my newsletter, and follow along on Instagram, Pinterest, and Facebook!