This recipe for Beer Cheese Soup gives off all of the Oktoberfest vibes and served up with my Homemade Pretzel Bites it's everything you need to celebrate! Make it a meal by browning up some Kielbasa to enjoy with it, and of course a crisp cold beer to go with it too.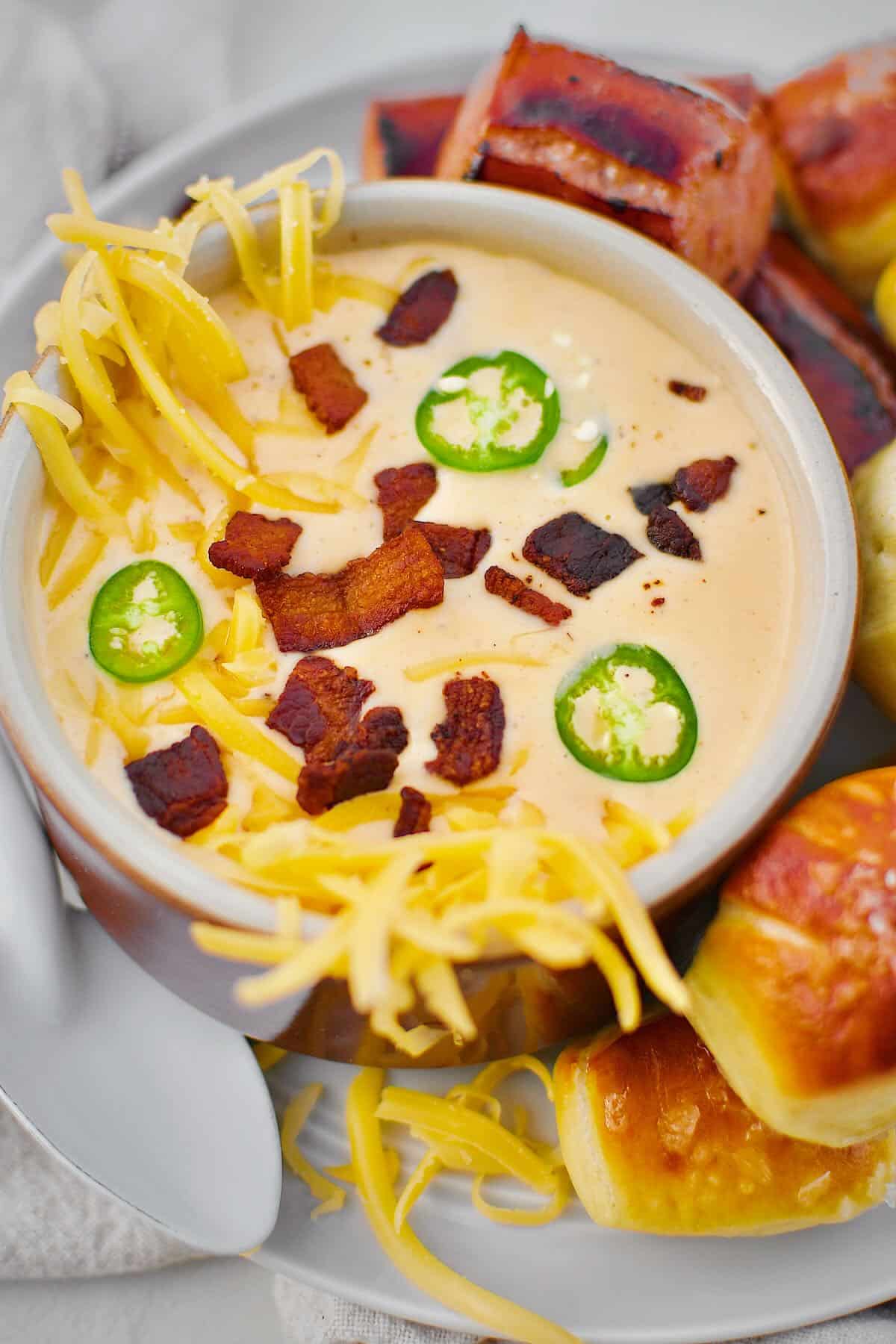 There is a couple if secrets to making this super cheesy soup smooth and flavorful, and let's dive right into those!
Jump to:
Ingredients
The first thing that might stick out to you is the use of American cheese. I know I have some recipes on this website that talk a lot of trash about American cheese, but I am reformed. I also want to note that not all are created equal, so buy the good stuff from the deli counter. It is the secret ingredient for this soup, it keeps it from being grainy!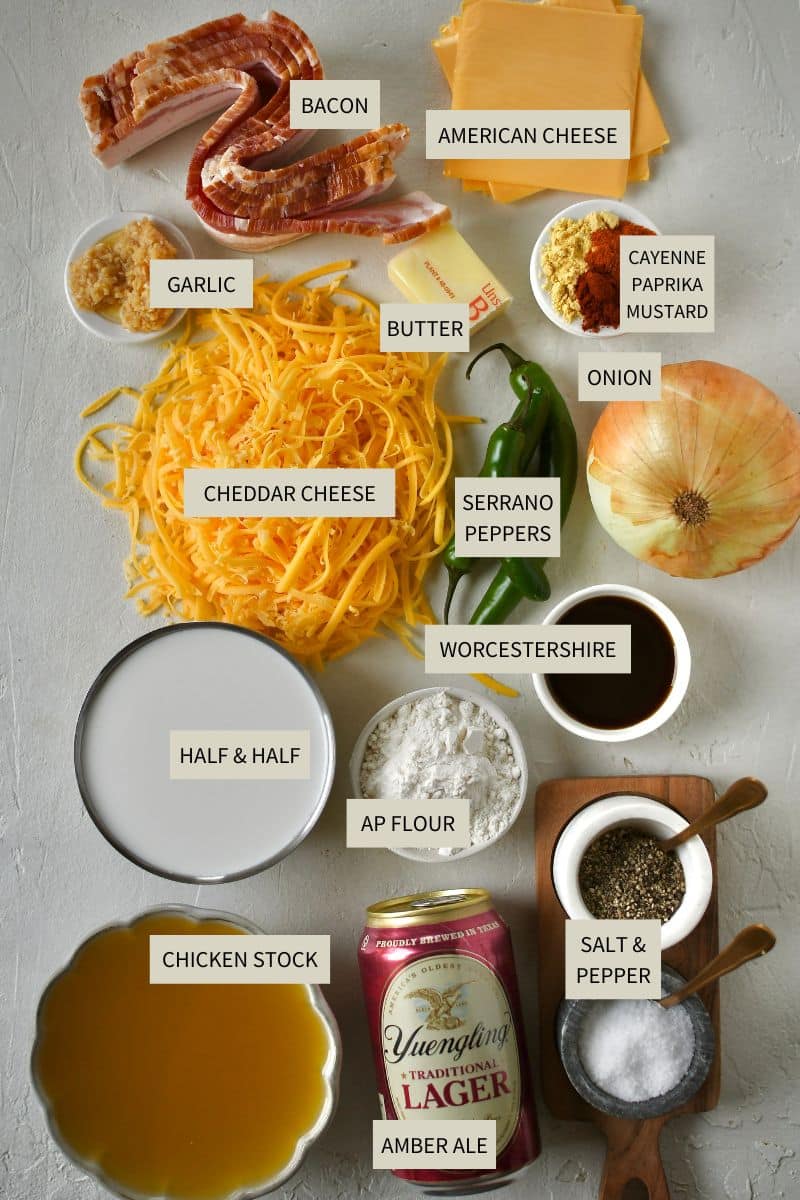 Past the processed cheese, and you only need a couple of slices, you need lots of great flavor builders. Bacon, onion, garlic, and some peppers if you like a little heat. And of course the beer, I like to you a nice middle of the road amber ale, but you can use anything from bud-heavy to light, just stay away from anything too strong, I don't like an IPA for this recipe personally.
Use the JUMP TO RECIPE button at the top of the post, or scroll to the bottom of the post to see the full recipe card with ingredient measurements and instructions.
Method
To make the soup, start by building lots of flavor. Crisp up the bacon, then remove it and cook the onion and serranos in some of the fat and butter. Add some seasonings and cook till you have perfumed the kitchen with amazing aromas.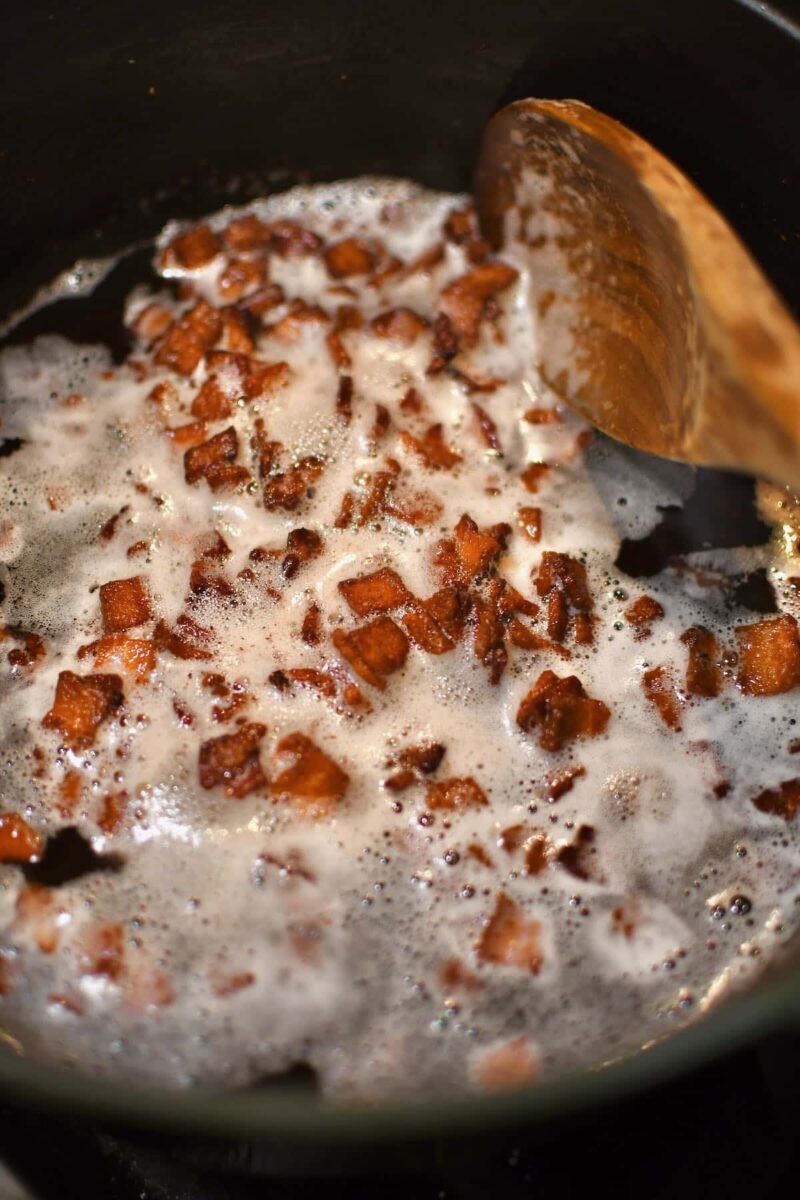 Then develop the soup base, make a quick roux, then deglaze with the can of beer, and thicken up the stock.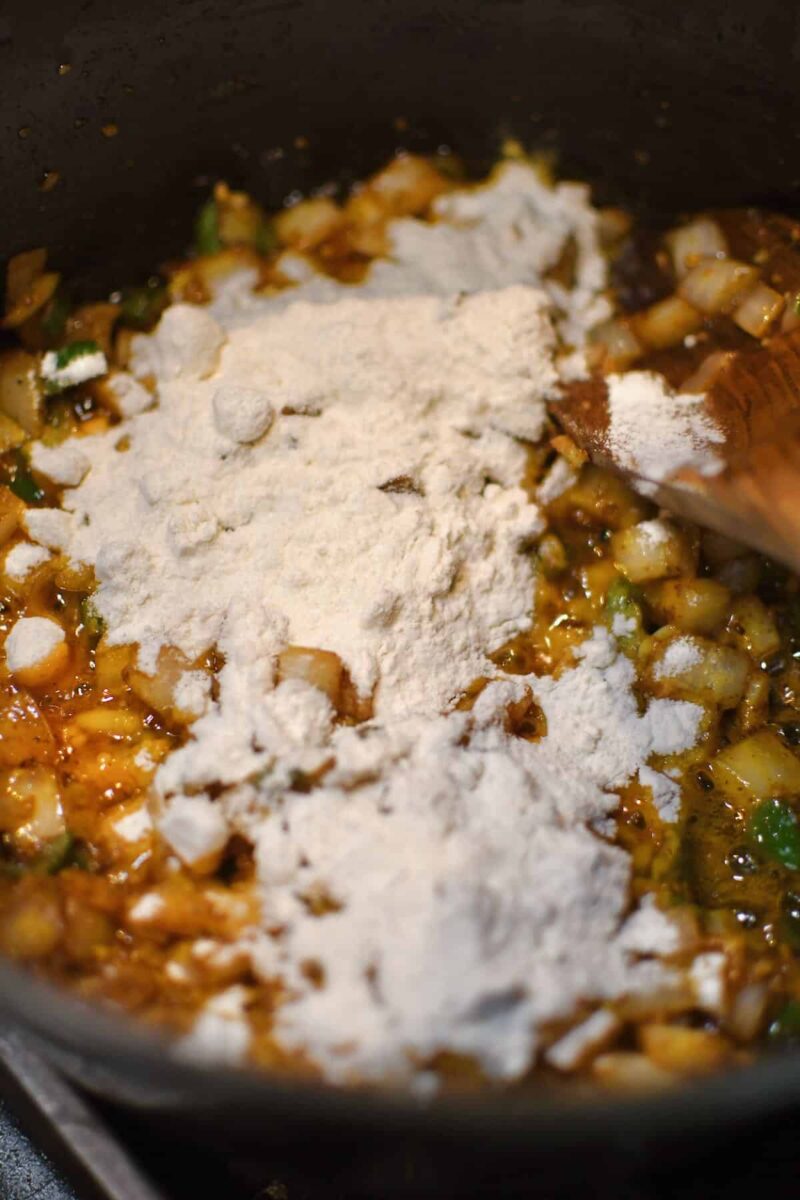 Once you have added the half and half and simmered everything together for a few minutes, blend in the cheeses. I like to do this with a handheld immersion blender. It makes the soup super smooth by blending up the onion and peppers, but also helps the cheese get fully incorporated and creamy.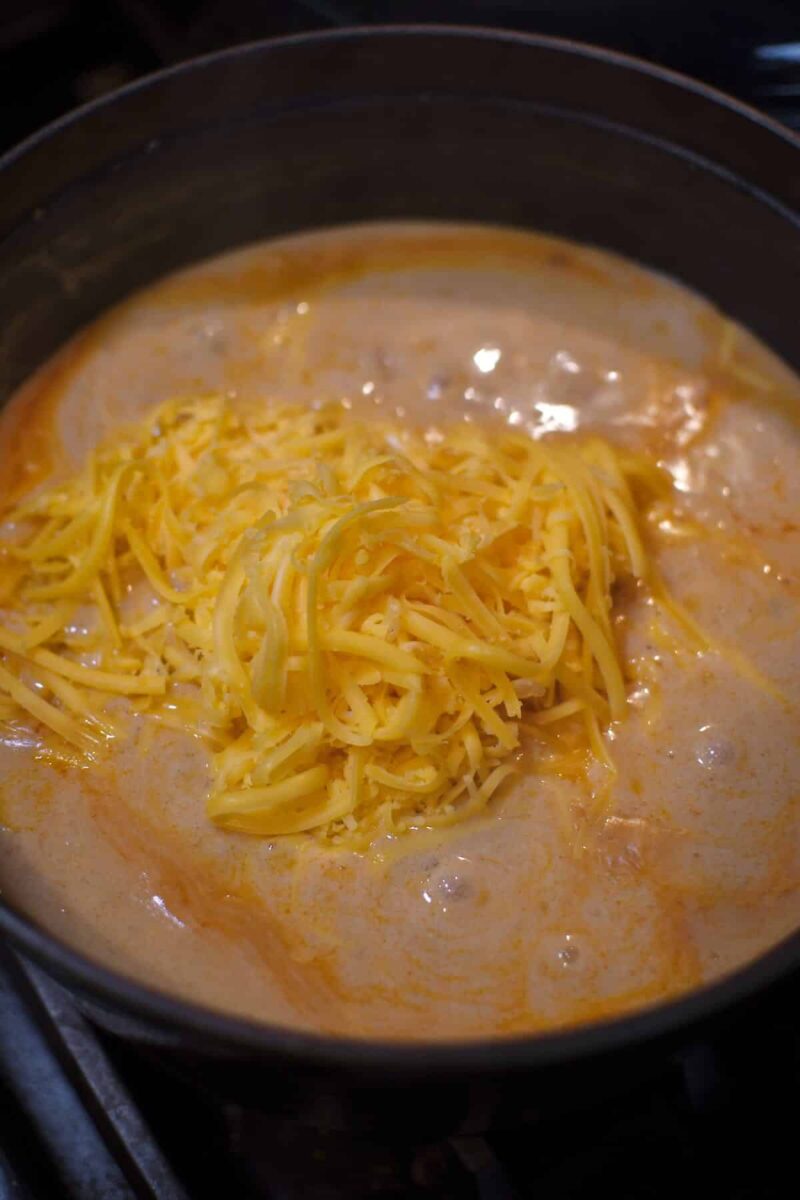 Then the soup is ready to eat. Serve it with some of the crisped bacon that you made in step one on top, and more cheese never hurts. If you like spice, add some pepper slices too for some extra kick.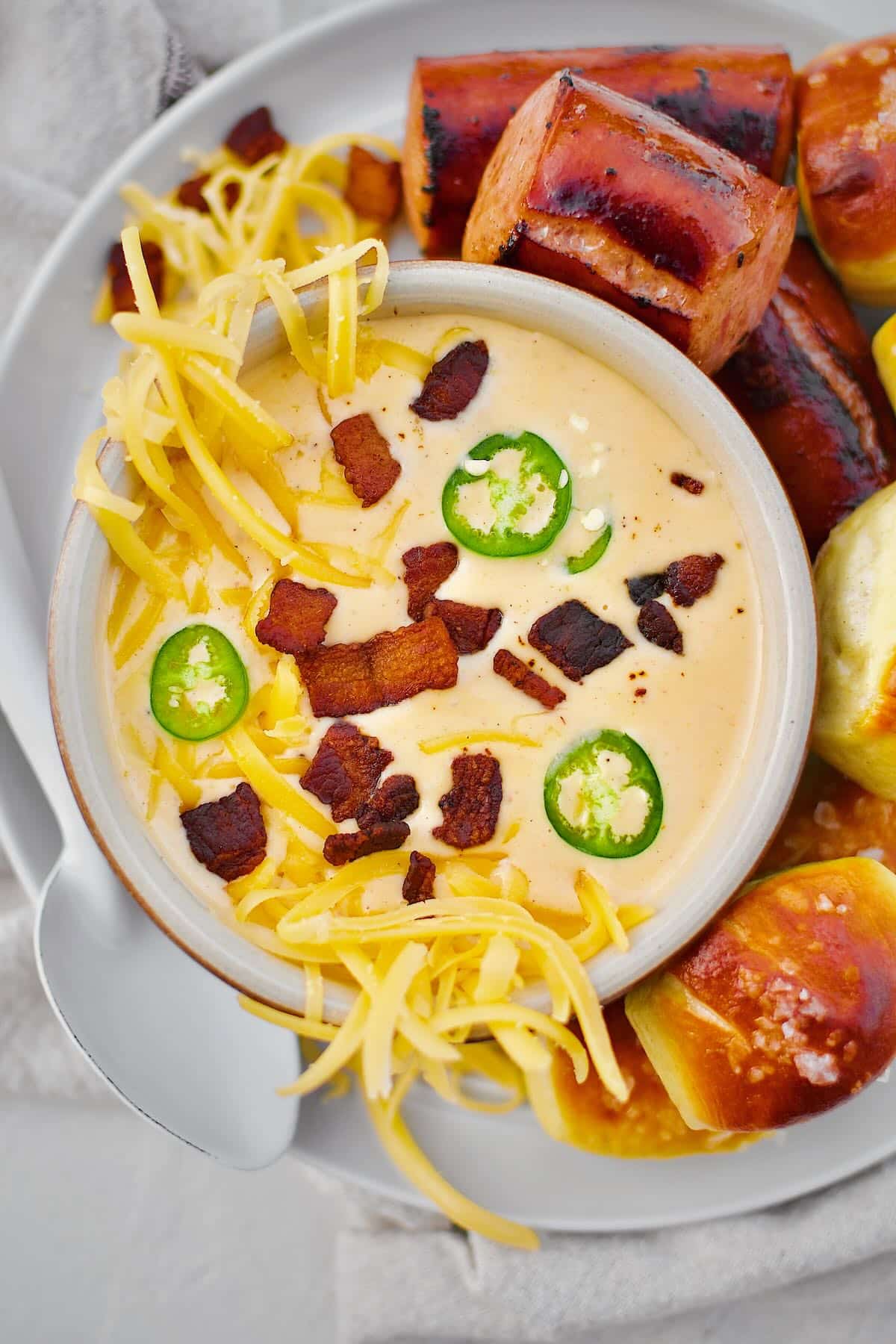 Notes & Tips
If you are not a fan of anything too spicy, or you want to make this more family-friendly, I would suggest leaving the peppers out. After blending they give the soup some real kick, which I like, but the spice level can be a bit unpredictable depending on your peppers.
The use of American cheese is there on purpose. You NEED it to get a perfectly creamy soup. Using only cheddar will give you a good soup, but it may split or have some grain to it. The American cheese is a MAJOR key to the success of this soup, even if I don't want to admit it.
I like to blend the soup to bring all the flavors together. The onion and peppers keep the soup from being bland or flat-tasting, and from being just a cheese sauce. This can be done with a handheld blender or a traditional blender. Just take care to start on a low speed and place a kitchen towel over the lid and cup in case any hot liquid tries to escape. I would add the thickened broth/cream mixture to the soup and blend in the cheeses, then return to the pot and keep it warm over low heat stirring often.
Substitutions
If you would like to keep this recipe vegetarian, you can leave the bacon out and start at the step when you add the butter.
I prefer a yellow onion for this recipe, but you can literally use anything, even shallots or the whites of green onions if needed in a pinch.
I used Serrano peppers because I like their heat level and flavor. If you are not a huge fan of spicy food I would leave them out. You could also use a jalapeno in their place, or any other pepper you like to your heat tolerance.
I prefer to use a middle-of-the-road amber ale. I think it has just a little more flavor for this application. But you can use anything from bud-heavy to light, just stay away from anything too strong, I don't like an IPA for this recipe personally.
Half and Half is just right for this recipe. If you do not have that use half heavy cream and half whole milk for a similar result.
Be sure that your cheddar cheese is freshly shredded. You DO NOT want to use pre-shredded cheese in this recipe. It will leave your soup lumpy and grainy and that is not present. You can however use anything from white cheddar to pepper jack. Really any creamy cheese can be adapted to this recipe, it just needs to be freshly grated.
And again, there is no sub for the American cheese, you can use white or yellow, or if you have some Velveeta around you could use that. You just need about 2 ounces to homogenize your soup beautifully!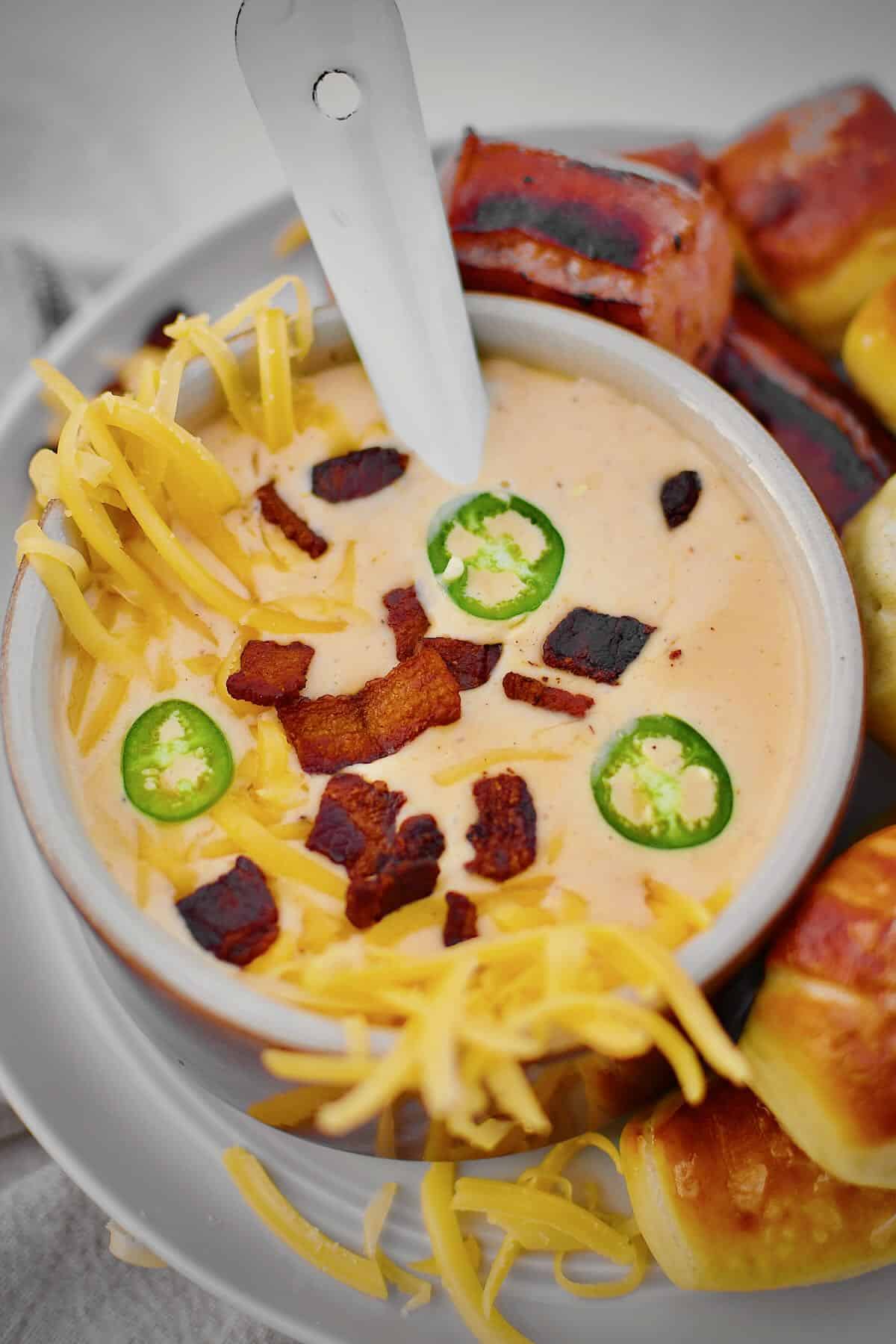 Did you make this recipe? Let me know by leaving a review or comment! And be sure to sign up for my newsletter, and follow along on Instagram, Pinterest, and Facebook!