This recipe for Homemade Spaghettios evokes all of the childhood emotions in a craveable dish any adult would love to eat over and over again. And whether or not your mom even let you have the canned version, mine RARELY did, you'll WANT to add this recipe to your weekly meal rotation.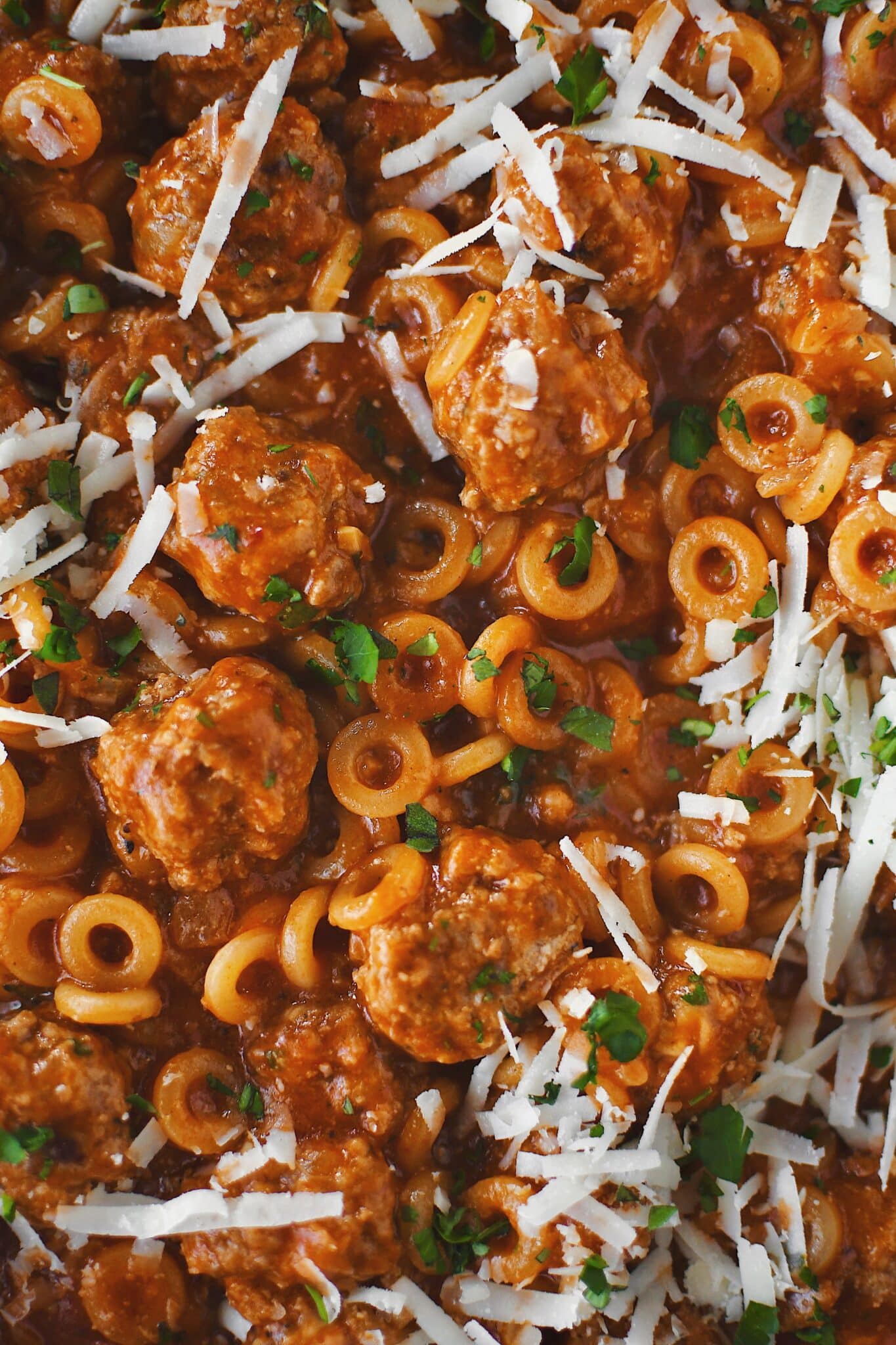 One of my favorite things to do is to take something that is super well-known as packaged food and remake it from scratch. This recreation ups the flavor by about a million percent while still keeping those classic flavors in mind.
Jump to:
Ingredients
Ok, so when it comes to the ingredient list, it is a bit extensive. I know, this is an imitation of a recipe that comes out of a can, so why so many ingredients? Well, you are really getting two recipes in one here.
The first is for THE most AMAZING beef meatballs ever, they turn out like little clouds. So pillowy and soft, you'll just want to snack on those all day! They are packed with flavor too, but don't skimp on the ricotta, that is the secret.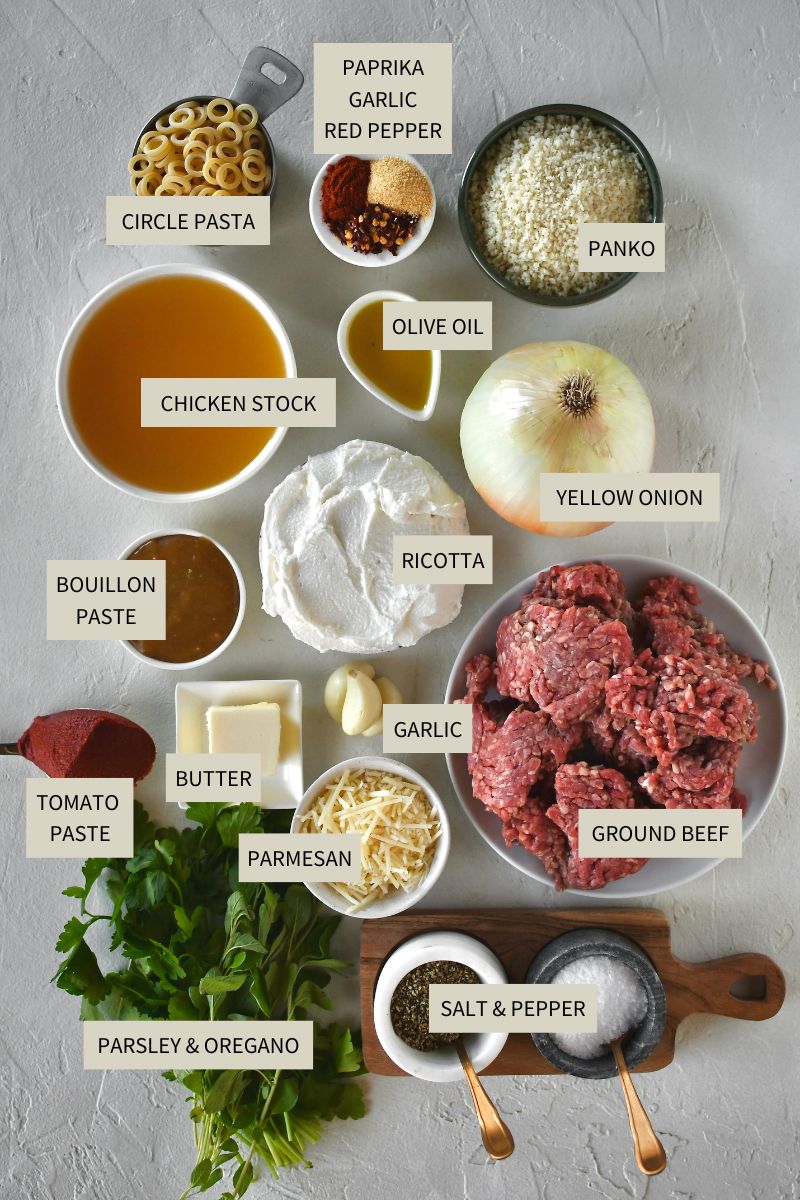 The second recipe is the actual sauce and pasta, and if you don't want to add the meatballs and just make the pasta like the original canned variety, do that. But I like to add meatballs to make this a meal for the family. And I am proud to say, my family LOVED this version and asked me to make it often.
Use the JUMP TO RECIPE button at the top of the post, or scroll to the bottom of the post to see the full recipe card with ingredient measurements and instructions.
Method
The first step is to mix up the meatballs. To do so, I first saute some onions in olive oil and let them cool a bit, then simply mix all the ingredients together to form a uniform mixture.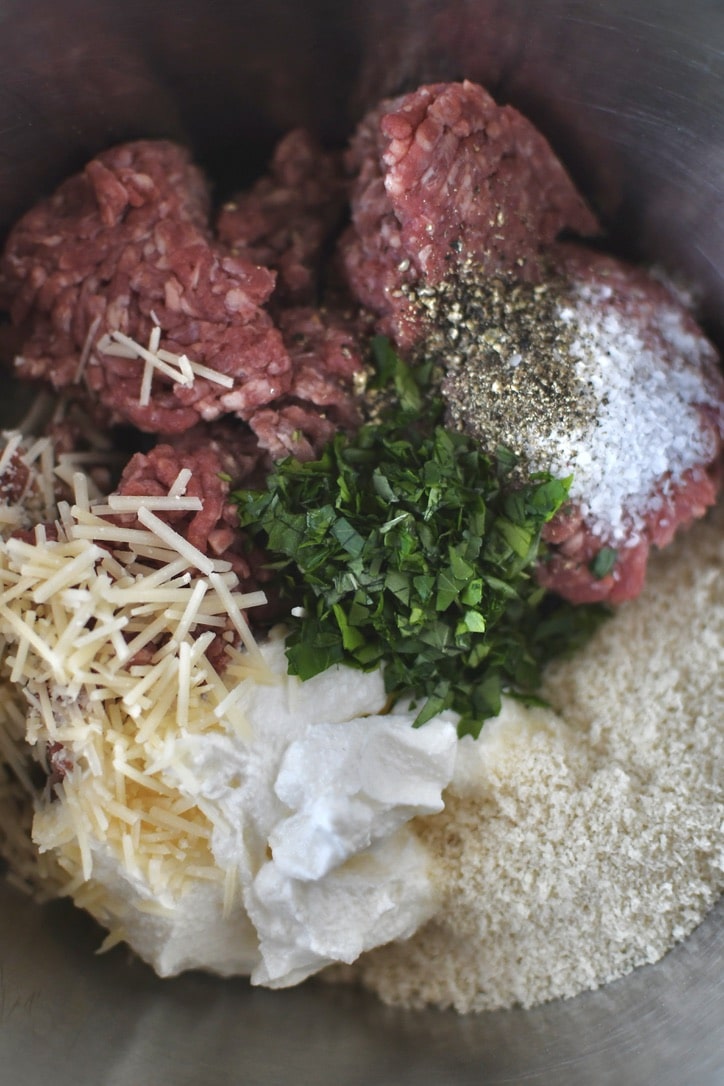 Next, use this tiny scoop to make the meatballs totally evocative of what you'd find in the canned version. I think it's super fun to make these tiny meatballs, plus if you have kids they love them too. I scoop all of them, then roll them in my hands to make them smooth, and bake just till set.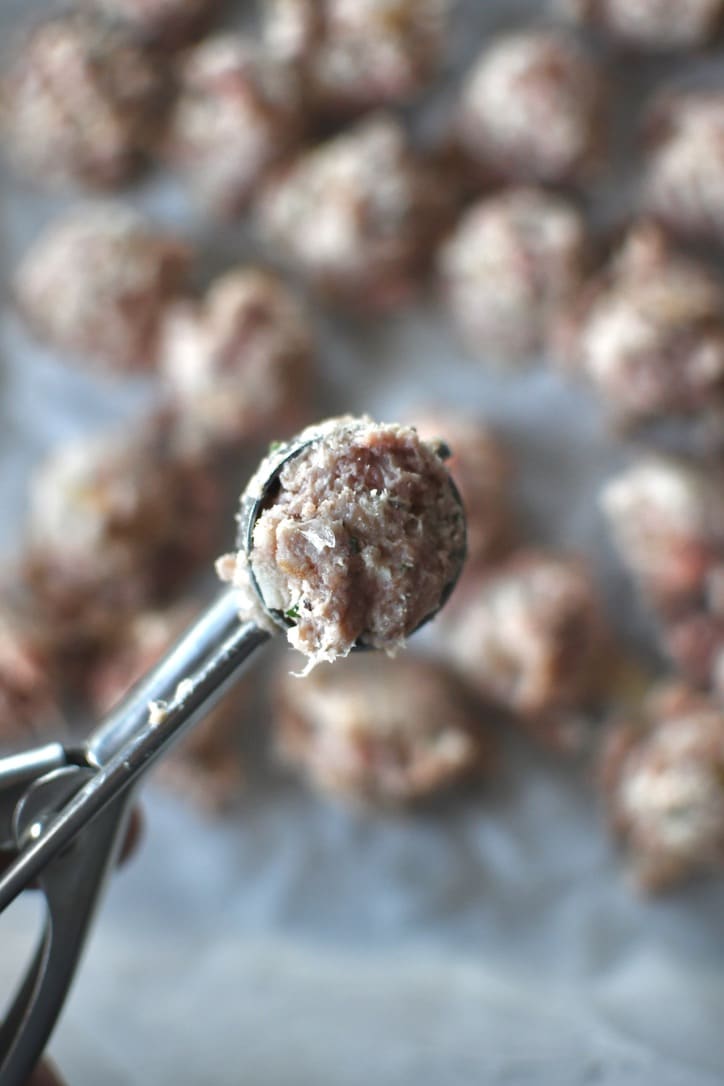 While the meatballs bake, make the sauce. Cook the garlic and red pepper flakes in some butter till it begins to brown a little. Then add the tomato and bouillon pastes and stir them in till warmed through. Stir in the liquids and bring to boil.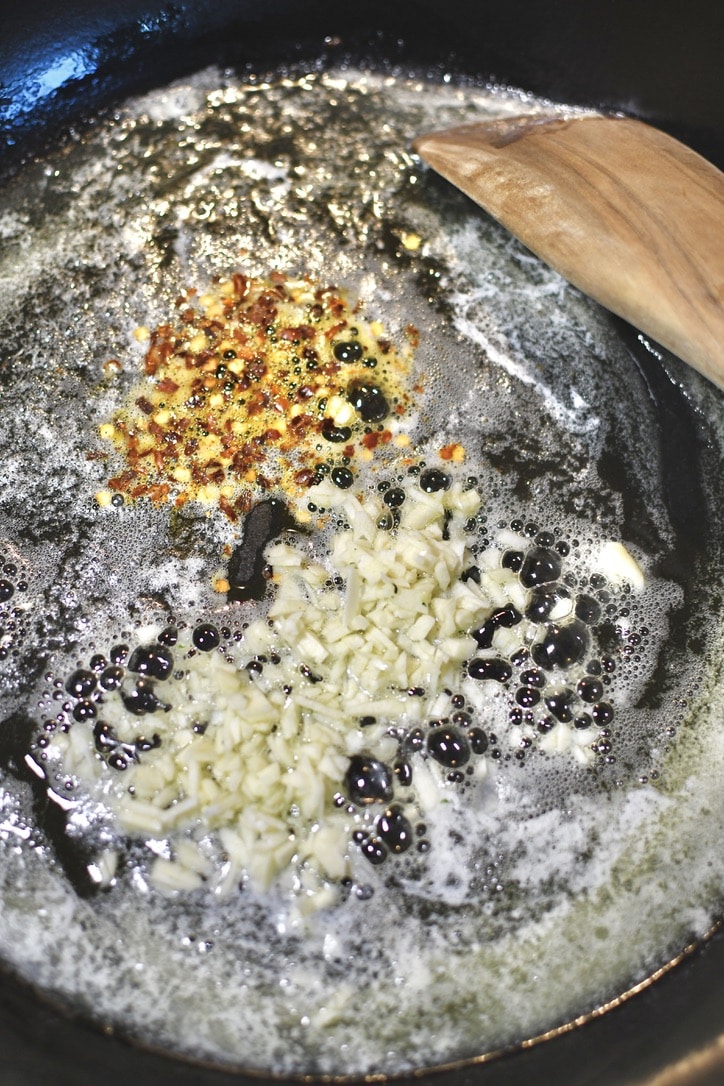 Simmer the sauce for a couple of minutes till the pastes are well combined, then add the pasta and cook till soft. Stir in the cheese and gently fold in the meatballs when they are done. Add a little herbs on top and more cheese and you are ready to eat.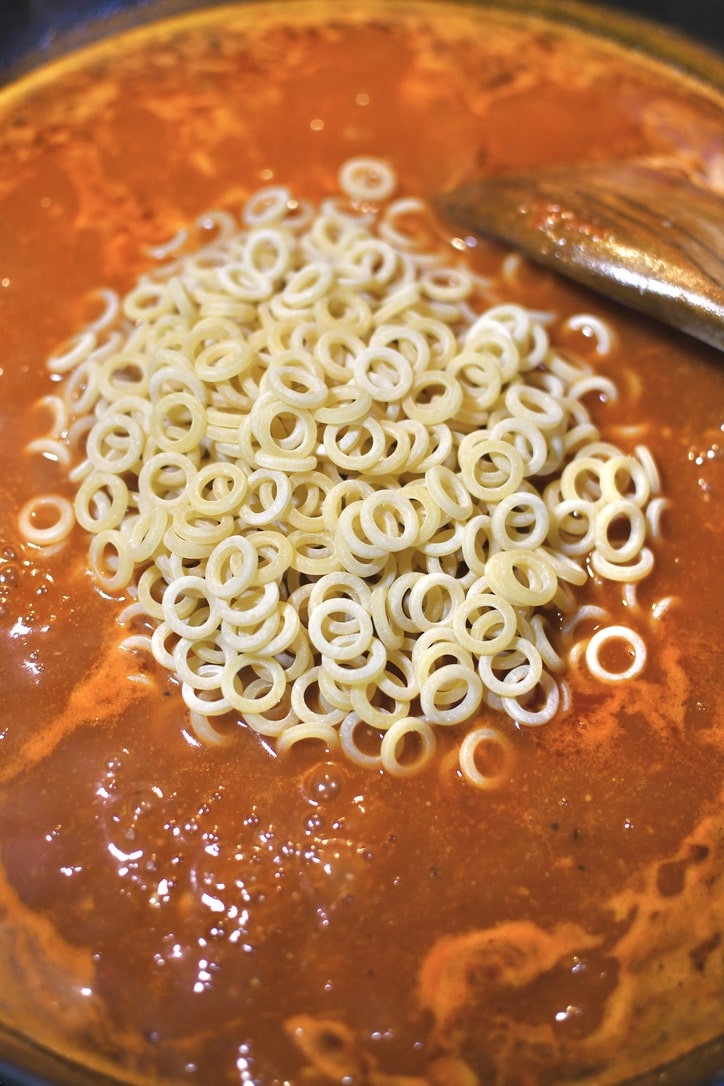 So while this has a longer ingredient list than, "open can, heat, and eat", it is totally worth it. I would honestly be happy to eat this ANY night of the week, and the meatballs just might be THE BEST part. They are SO GOOD!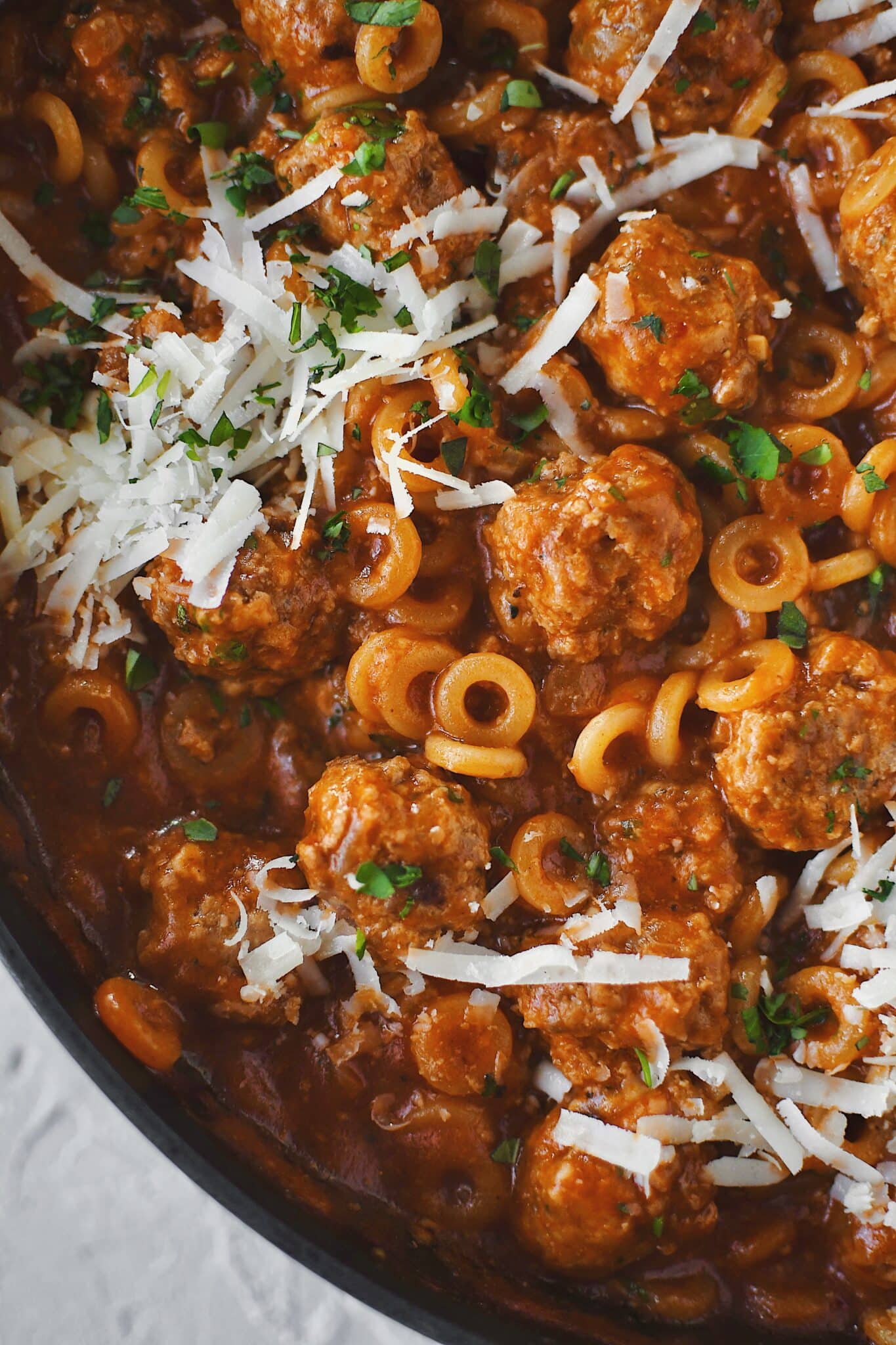 Notes & Tips
The ricotta cheese is the secret to the most deliciously light, pillowy soft meatballs, don't skimp on it. Buy a good quality one, and there is no substitute.
To make quick work of the whole recipe, stir up the meatball mixture, portion all of it out, then roll them in your hands and bake. Work in sequence, not one meatball at a time, this is also a fun place to involve the kids.
Also, you should be able to whip up the sauce and get the pasta added before the meatballs come out of the oven, it is that quick to make. Take care when adding them, and GENTLY fold them in or they will just break up and just turn into a meat sauce.
The sauce may be a bit loose at the end of the pasta cooking time, but as it rests the sauce will thicken. Any leftovers will resemble exactly what comes from a can. If you like a looser sauce, add a cup or two more of water.
Substitutions
I typically use ground beef for this recipe because I usually have some on hand or in the freezer. But you could get more traditional and use veal or a mix of pork, beef, and veal if you like. I think they would also work great with turkey or chicken.
I tend to only keep panko bread crumbs in my pantry, so that is what I use for the meatballs. You could also use Italian style or even dry white bread.
In place of the parmesan in the meatballs and sauce, you could also use all pecorino or romano, grana Padano, or any other hard Italian cheese you enjoy.
If you would like to make the sauce dairy-free, maybe you have one person in the family that needs that, use only olive oil, and reserve the cheese for only on top when serving.
Roasted Garlic Powder is my secret to making everything I use it in amazing. You can also use granulated garlic in its place or regular garlic powder. You can also substitute the hot paprika for sweet or regular if you don't like too much spice.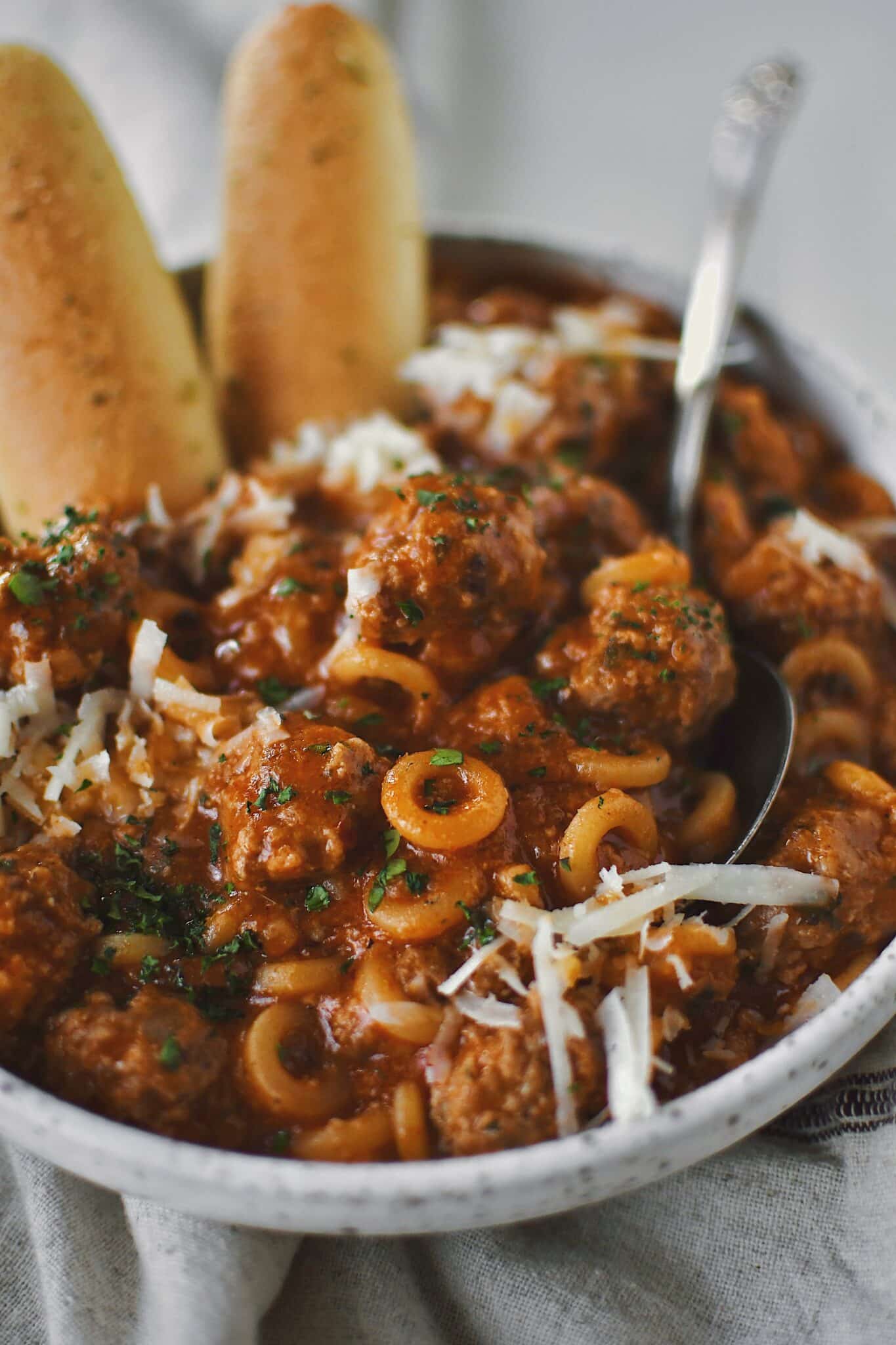 Did you make this recipe? Let me know by leaving a review or comment! And be sure to sign up for my newsletter, and follow along on Instagram, Pinterest, and Facebook!