Originally a food of farmers and laborers, paella has come a long way from its humble beginnings. It is a dish that can be inspired by whatever you have on hand at the moment, and will always satisfy! My Chicken, Shrimp & Chorizo Paella recipe is just my own, fun interpretation, half the fun is making it your own, no go have some fun!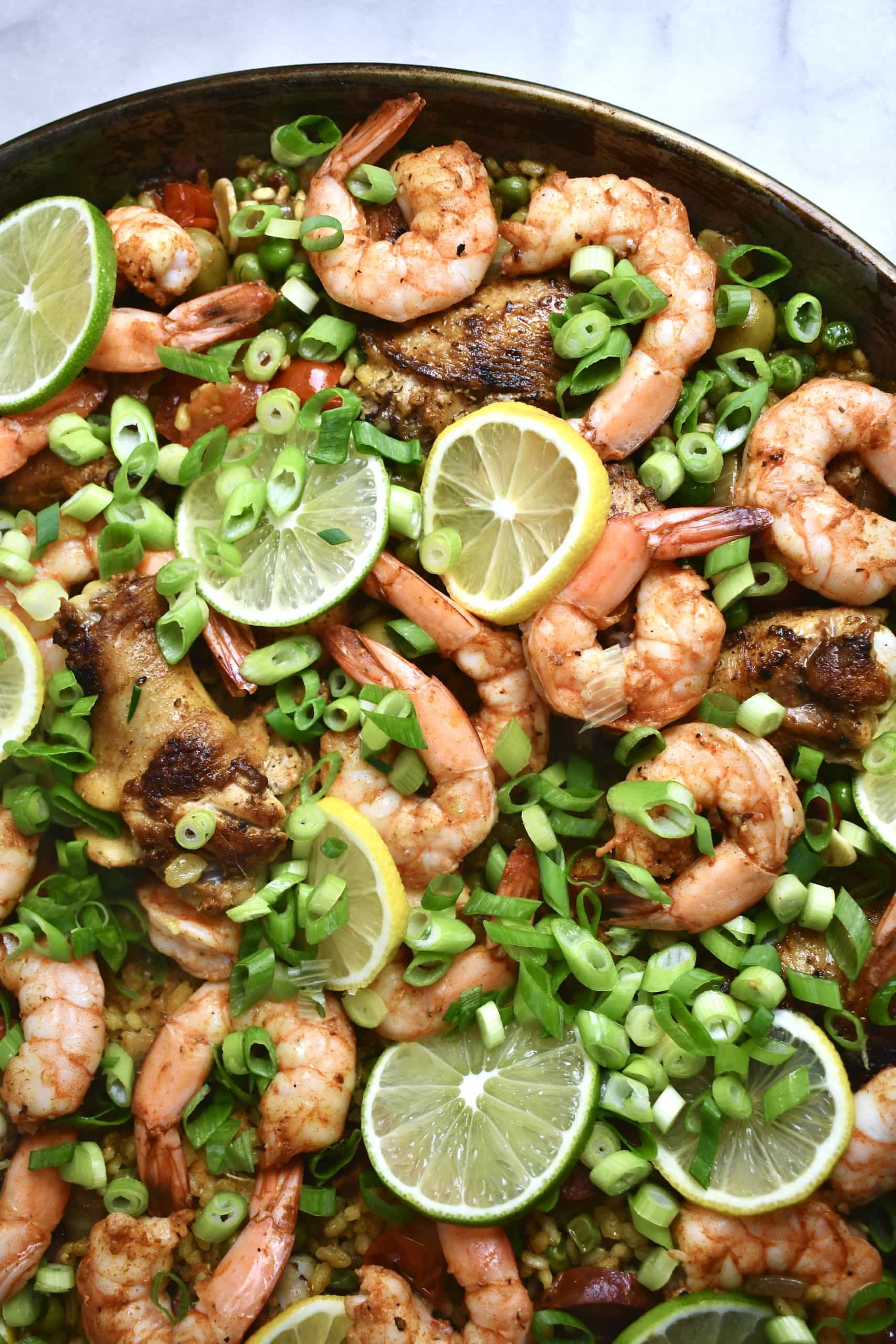 a little history of the dish
Paella got its start by being the lunchtime meal that fed the farmers in the middle of the field where they worked. It was usually made over a wood-burning fire and was filled with whatever was growing around the rice fields.
Tomatoes, onions, and snails, with a few beans, added for flavor and texture. Rabbit or duck might also have been added, and for special occasions, chicken plus a touch of saffron for extra special color and flavor.
Paella was also traditionally eaten straight from the pan in which it was cooked with each person using his own wooden spoon. This is truly a dish that brings people together and that is what it is intended for!
If you are really in love with knowing more about where paella got its start and how it got its name, click HERE for more history!
Making Paella at Home
Where you can find the most joy in creating your own personal paella is in applying a few basic techniques, then switching up the ingredient list to fit your style. The #1 tip I can share is when it comes to your proteins know when to add them.
If you are adding chicken on the bone to the recipe, I would suggest searing it off at the bottom of the pan first, then adding in the veggies and rice to toast them. The chicken will take the longest to cook out of everything, so you want to start it first. But the seafood will cook much quicker, so you want to season it, but add it at the end just so it steams to perfection.
Now, paella gets its name from the actual cooking vessel itself, (paella means pan) but don't let that stop you from making it at home. I have a pan that I don't use nearly enough, so if you have a big frying pan, put that to work and enjoy it! Carbon steel pans also require a bit of upkeep like a cast iron, so be sure to take good care of it or it will rust.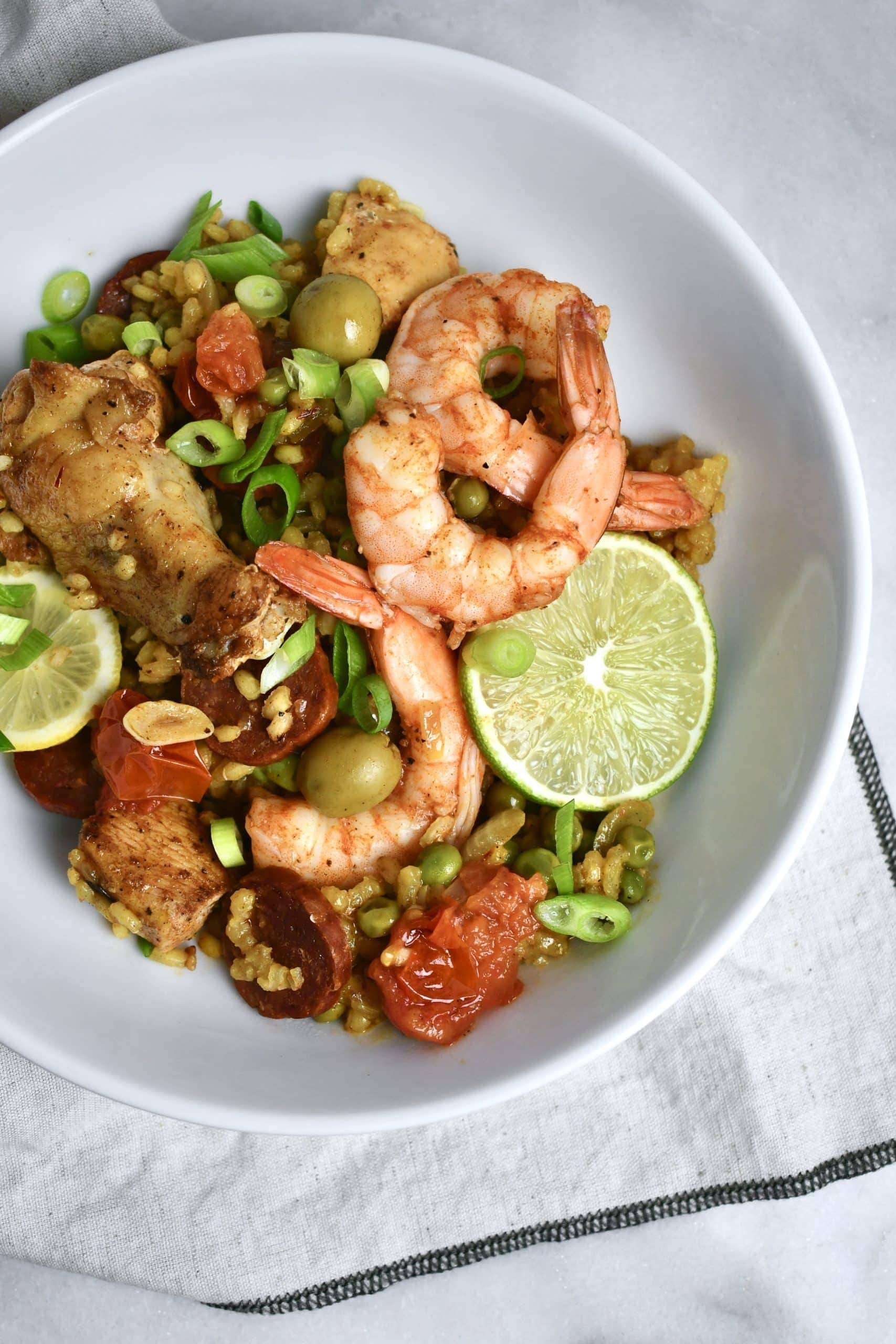 What gives Paella it's color?
Paella gets its classic yellowish color from Saffron. While buying a TON of saffron can be quite expensive, it is becoming more and more available in smaller quantities that are more attainable. You will only need a small amount to make a big impact so don't fear.
This is a great option, while it will up your per-person cost of the dish. It is an indulgence that I only make once in a while so I feel ok getting it when I need it.
You can also boost that color by using turmeric, or pimenton and other spices if you don't want to purchase saffron. Just know what you miss by not using it is the floral notes and tones the saffron provides. I like to use a mix of the sweet and hot pimenton even with my saffron when I make paella.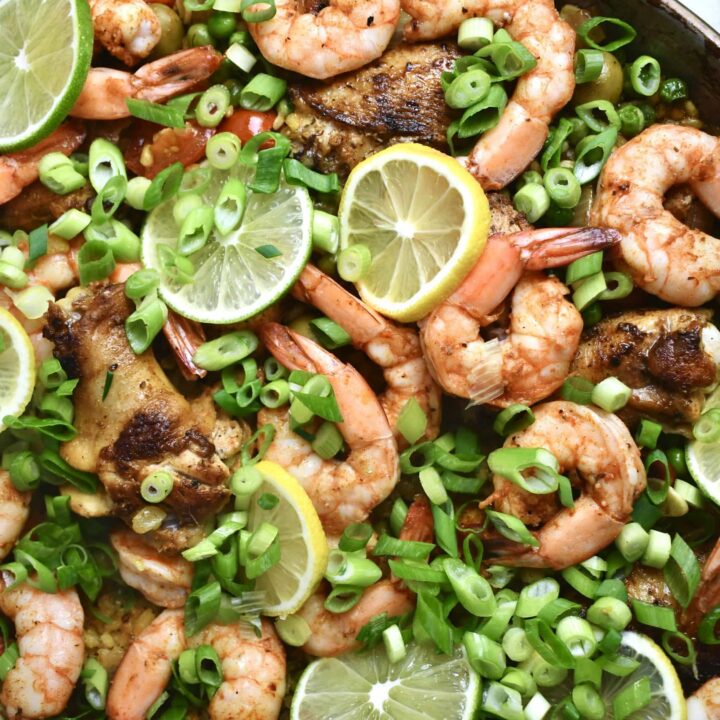 Chicken, Shrimp & Chorizo Paella
This is my version of paella. What is beautiful about this dish is that its roots lie in the farmland using what was in the ground at the moment. Use this as a guide and make it your own with your favorite ingredients.
Ingredients
1 lb Chicken Legs, or wing pieces
1 lb Shrimp, peeled, deveined, tails on
1 T Olive Oil
1 lg Yellow Onion, diced
4 cloves Garlic, sliced
2.2 lb Paella Rice
3 oz Chorizo, diced. Use hard Spanish chorizo, not Mexican chorizo.
10 bag Sweet Peas, frozen
½ C Spanish Olives, with some juice
1 C Grape Tomatoes, halved
3 14.5 oz cans Chicken Stock
1 gram Saffron
1 t Hot Pimenton Paprika
1 t Sweet Pimenton Paprika
2 Lemons
2 Limes
Salt, as needed
Pepper, as needed
1 bunch Parsley or Green Onions, chopped
Instructions
In separate bowls, season the chicken and shrimp with salt, pepper, and a couple of dashes of each paprika. Set aside.
In a large skillet or paella pan, 12-inch or larger, heat the olive oil and sear off the chicken pieces. Rotate until crisp on all sides and remove from the pan. Set aside.
Add the onion to the pan and cook until translucent, about 3 minutes. Add the garlic and cook 2 minutes longer. Add the rice to the onions and garlic and cook for about 5 minutes until the rice begins to brown. Deglaze the pan with 1 can of chicken stock and bring to a boil for 3-5 minutes. Add the chorizo and stir to combine.
Add the peas, olives, and tomatoes and cook until heated through. Add another can of chicken stock and boil, 5 minutes.
Season the mixture with salt, pepper, saffron, and 1 teaspoon each of the paprikas. Stir to combine and taste the liquid, adjust the seasonings if needed.
Add the remaining can of chicken stock and the juice of one lemon and one lime. Place the seared chicken pieces on top, pressing them into the rice.
Tightly cover the pan with a layer of parchment paper and tin foil. Cook over medium heat for 20 minutes.
Carefully remove the cover and gently stir the rice mixture. Place the seasoned shrimp and the slices of 1 lemon and 1 lime on top of the rice and recover. Simmer 8-10 minutes more until the shrimp have fully cooked.
Top with parsley or green onions and serve.
Nutrition Information:
Serving Size:

1 grams
Amount Per Serving:
Unsaturated Fat:

0g
If you make this recipe, please let me know by leaving a review at the bottom of this page!
And make sure to sign up for my newsletter and follow along on Instagram, Pinterest, and Facebook for more KendellKreations!
Christmas Advent Calendar
A new recipe every day from December 1-24 from me or one of my friends!
Lori, from @JosieandNina. Italian Home Cook - JosieandNina.com
Sarah, from @SaltJar. Farm Fresh Food - SaltJar.com
Niki, from @CleanPlateClb. Food Photographer - CleanPlateClb.com
Kathryn, from @WornSlapOut. Recipe for the Joyfully Exhausted - WornSlapOut.com
Ruchi, from @TiffinKitchen. Plant forward food - TheTiffinKitchen.com
Kendell, from @KendellKreations. Food & Travel - KendellKreations.com
We have been working hard to bring you some great recipes that will bring the family together each night leading to Christmas Day. I hope you enjoy them and be sure to let us know if you make them by tagging any of us on Instagram through the month.
Christmas Advent Calendar Recipes
MY LATEST RECIPES!
Get my NEW e-Cookbook here!! ⬇️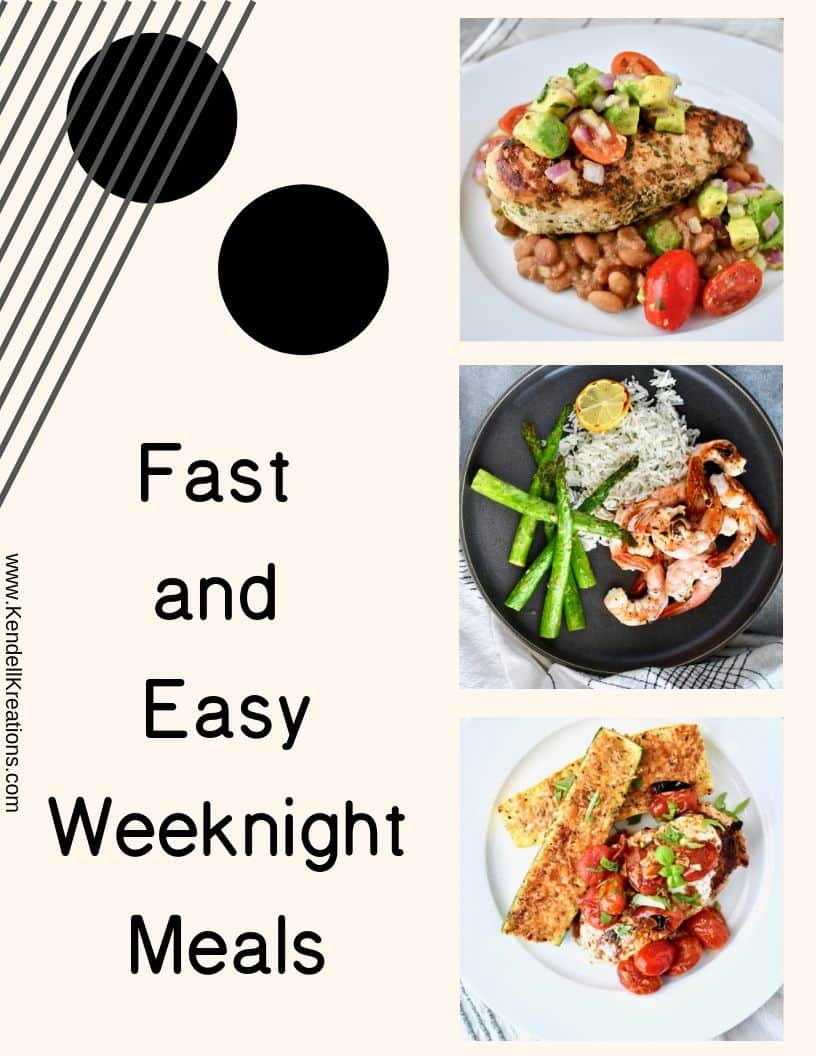 MY FAVORITE KITCHEN TOOLS!
Here are a few links to some of my favorite kitchen tools! You get a car, YOu get a car, YOU ALL GET A CAR…in my best Oprah voice
These Rösle Silicone Tongs are a little pricey but they will last you the rest of your life and are the softest in your hand. This is important for someone like m that cooks so much. It reduces strain, I have 4 sets in my kitchen!
These are my FAVE Nordic Ware Sheet Pans, every kitchen should have at least 2 sets of these! I think I have at least 4 of each of these.
This is my favorite pressure cooker, the Fagor is the same concept as the "Instant Pot" but easier to use in my opinion, if you don't have one you NEED one, it will be your best friend in the kitchen!
A sharp knife is the most important tool in the kitchen, these Japanese steel "Shun" knives are my favorite! And this is a great starter set to build on. Once you try them you will be in love so use this as a foundation you can build on for years to come.
This Scanpan 11″ skillet is just the right size for almost anything you will need to cook and my best friend and a real workhorse in my kitchen, it's also a great deal at $99. Scanpan is the best in the world for healthy cooking. It is coated with a proprietary ceramic-titanium coating that is durable while allowing you to use fewer fats and oils when cooking. It is a coating only they use. I could talk all day about my love for these pans, message me if you want more info. Here are some other sizes that are available if you are looking to outfit your kitchen with some new goodies. 8″ & 10″ Skillet set or 8″ Skillet, I still need this one for my kitchen Also, I don't really know how to cook small so the 12.5″ is my other fave!
This giant vat of olive oil is my favorite, I decant it into a smaller bottle for my counter. Or put this spigot on top of a wine bottle!
My favorite baking dish that is so easy to clean even burnt on cheese slides right off!
This Tovolo jar scraper has to be my single favorite kitchen tool, it is definitely the most used tool in my kitchen. If you are NOT a gadget person, this is the only necessity I say is a MUST beyond the wooden spoon.
A great wood spoon is essential, this Olive Wood one is my favorite, I have more than I can count. But can you really ever have too many?
A food scale can be a very important tool in your kitchen, this one is the one I use every day!
If you love Joanna Gaines as much as I do then the 'Magnolia Table Cookbook' is a must in your kitchen, get a copy HERE!