My family originates from the Chicagoland area and this Italian Beef Sandwiches Recipe transports me right back. Packed with flavor, it's the best homemade interpretation I've ever made!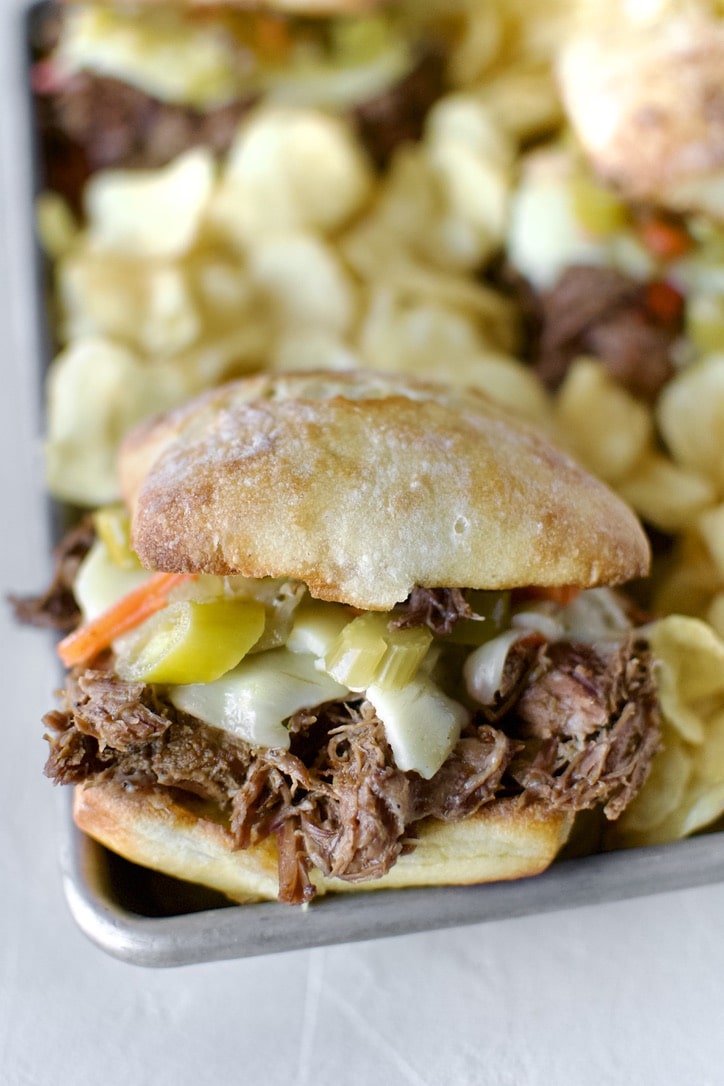 The secret to the perfect sandwich, in my opinion, is getting the bread crispy and then soaking it with some of the juices from stewing the meat. Let's dive into this delicious recipe!
Jump to:
Ingredients
The success of this recipe hinges largely on the use of herbs and spices. You want to be sure to really coat the beef well in salt and pepper before searing it on all sides.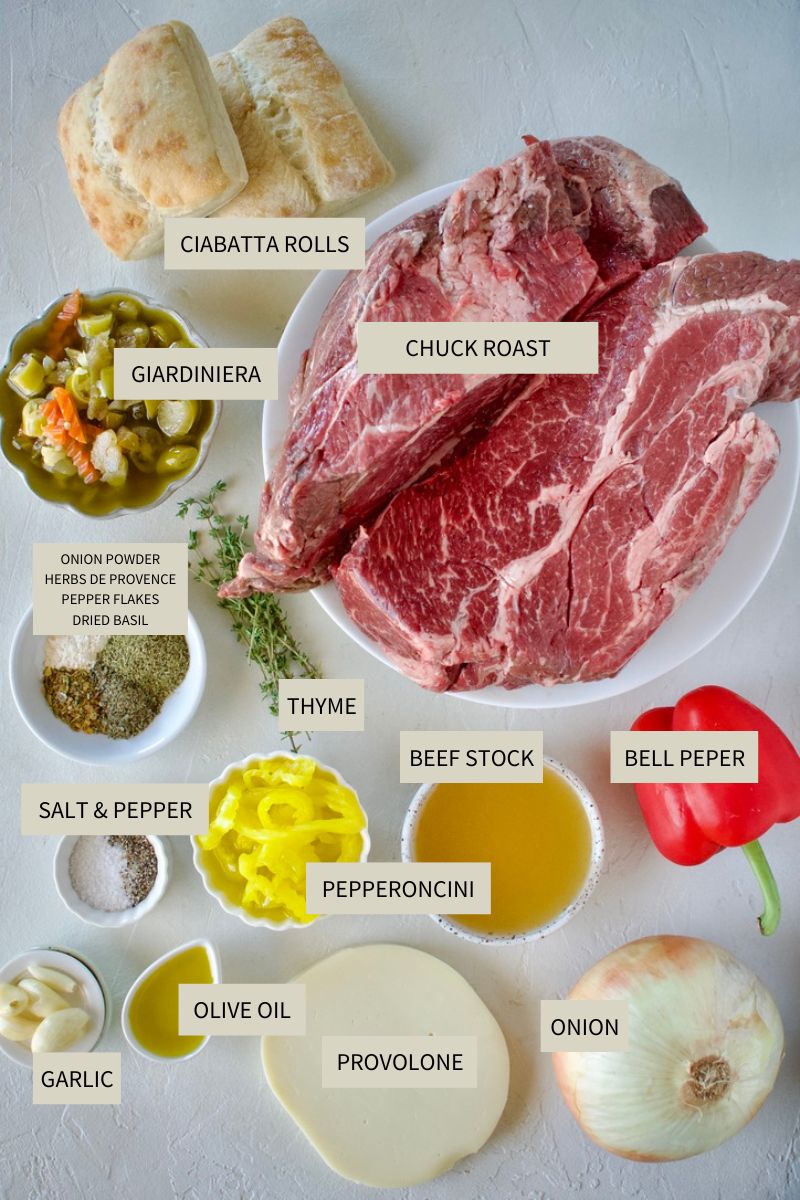 And my secret ingredient, that I honestly think makes the whole thing, is using herbs de Provence. It is a blend of herbs, that really brings out a rich flavor in the beef. Don't skimp on it, and my pro tip on using it, grind it in a spice grinder for a finer powder and more even flavor distribution.
Use the JUMP TO RECIPE button at the top of the post, or scroll to the bottom of the post to see the full recipe card with ingredient measurements and instructions.
Method
To make the beef, heavily season the beef with salt and pepper on all sides and sear till browned in a large pot. Add the liquids, onion, bell pepper, pepperoncini, and seasonings, and let it stew for 4-5 hours till tender.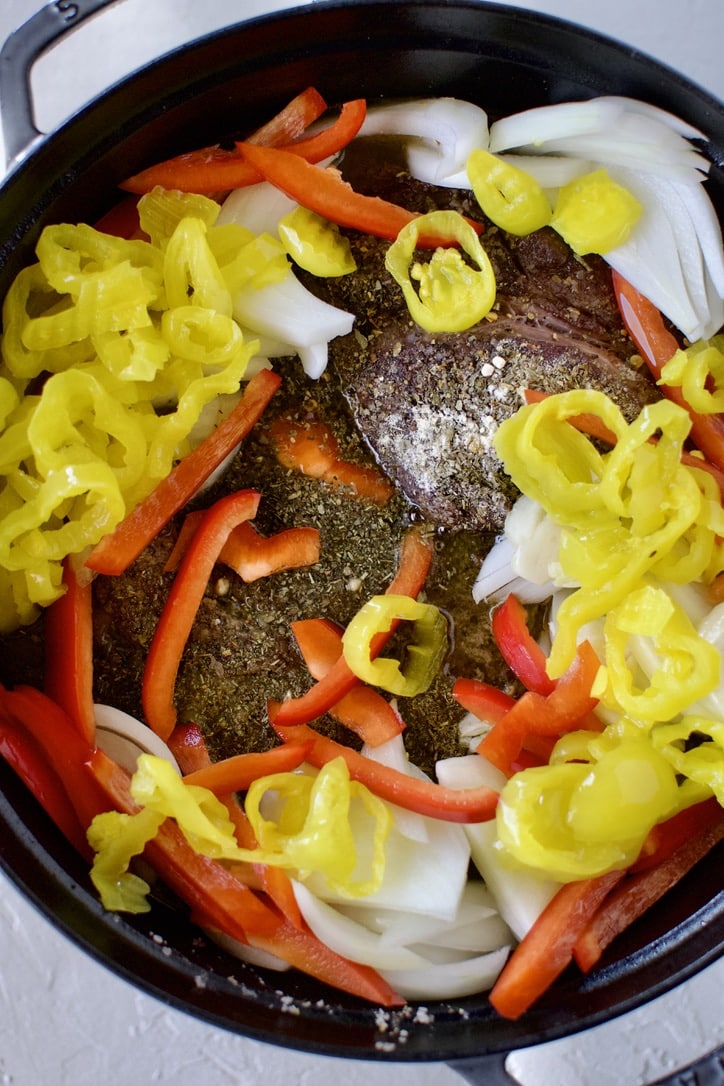 When the meat is super tender, remove it from the pot and shred it with some forks. Then place it back in the juices in the pot.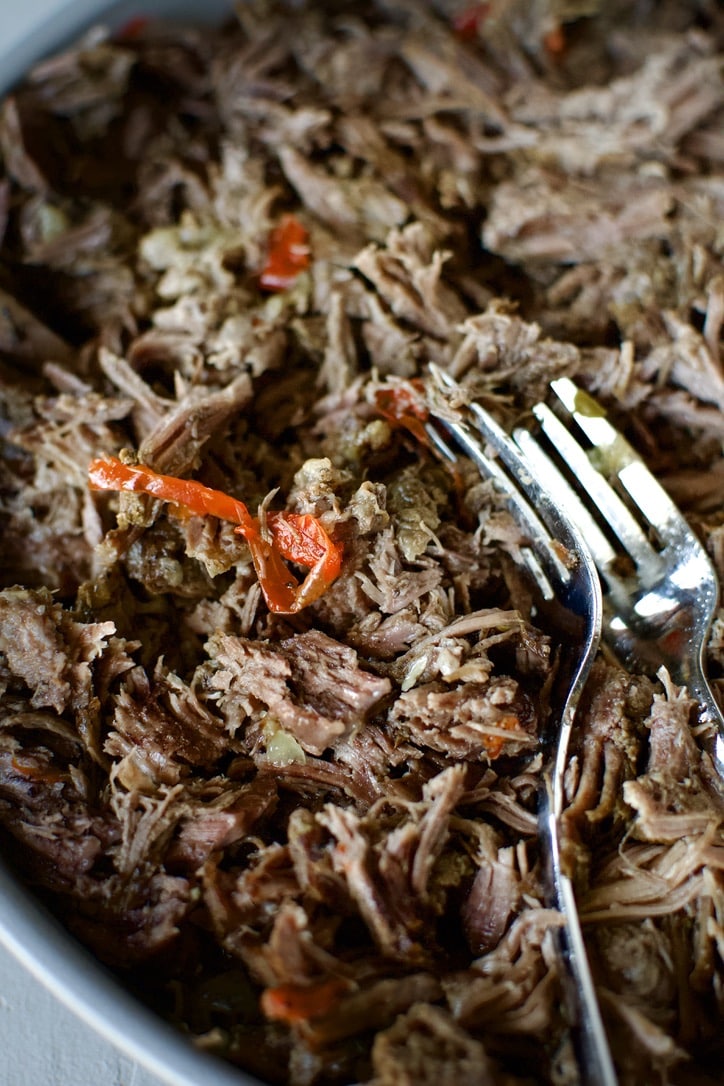 Build a sandwich by toasting some rolls until crisp, then top with lots of beef, and use a spoon to add some juice to the top of the buns. Finish with provolone cheese and spicy pepper giardiniera. I like to serve with chips for some contrasting crunch, but french fries would be great too!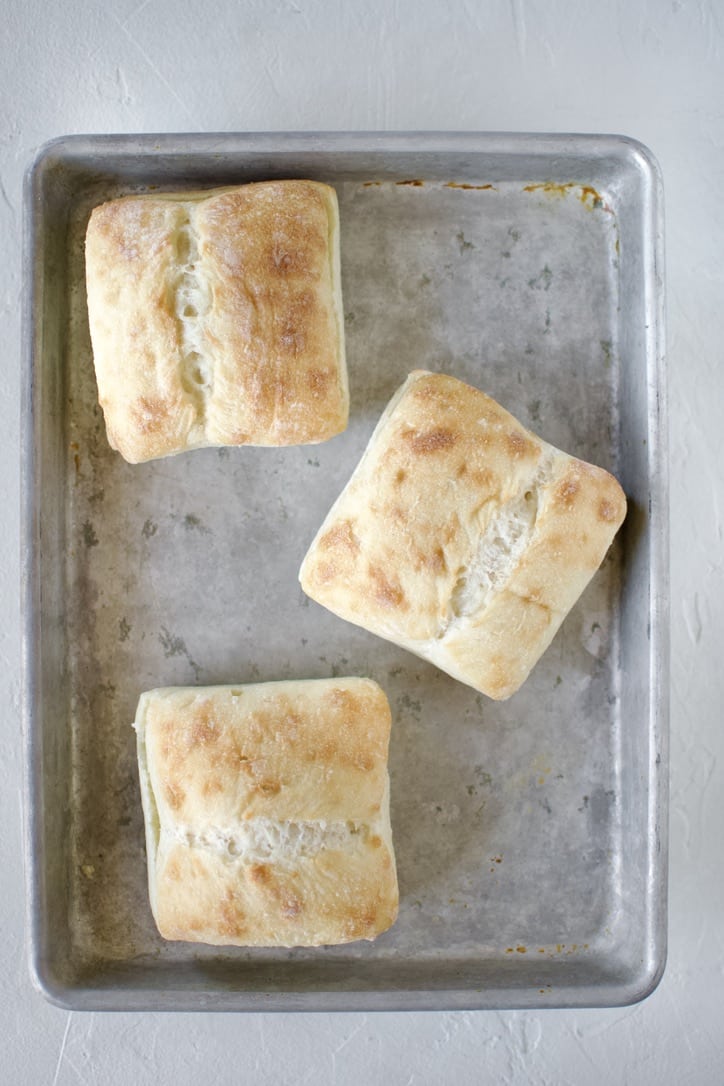 Notes & Tips
Be sure to heavily season the beef before searing with salt and pepper. It is a big piece of meat and you really can't overdo it. Use a nice chunky kosher salt and lots of fresh cracked black pepper. It also will season the broth and the final dish, don't be shy.
I cook this recipe entirely on the stove. You could also brown the meat in a skillet until crisp and then finish the recipe as written, in a crock pot, cooking on high for 4-6 hours.
It would also work in an instant pot, on slow cook HIGH for 4-5 hours.
If there is a lot of fat on the top of the pot after cooking, use a ladle and remove it into a bowl. Place it in the trash after it cools and solidifies.
For a richer sauce, after you remove the tender meat, turn the heat up to medium and simmer for 10-15 minutes to reduce it a bit.
Substitutions
In place of chuck roast, and to possibly speed things up a little, you could also use stew meat.
In place of the herbs de Provence, if needed, replace with a teaspoon each of oregano, rosemary, and parsley. Or Italian herb mix.
Don't let an onion or bell pepper color stop you from making this recipe, any will work, and it will still taste great.
The cheese is optional and preferential in Italian Beef Sandwiches. You can leave it off if you'd like to keep the recipe dairy-free, or if you prefer not to have it. Mozzarella is also a good option in place of provolone.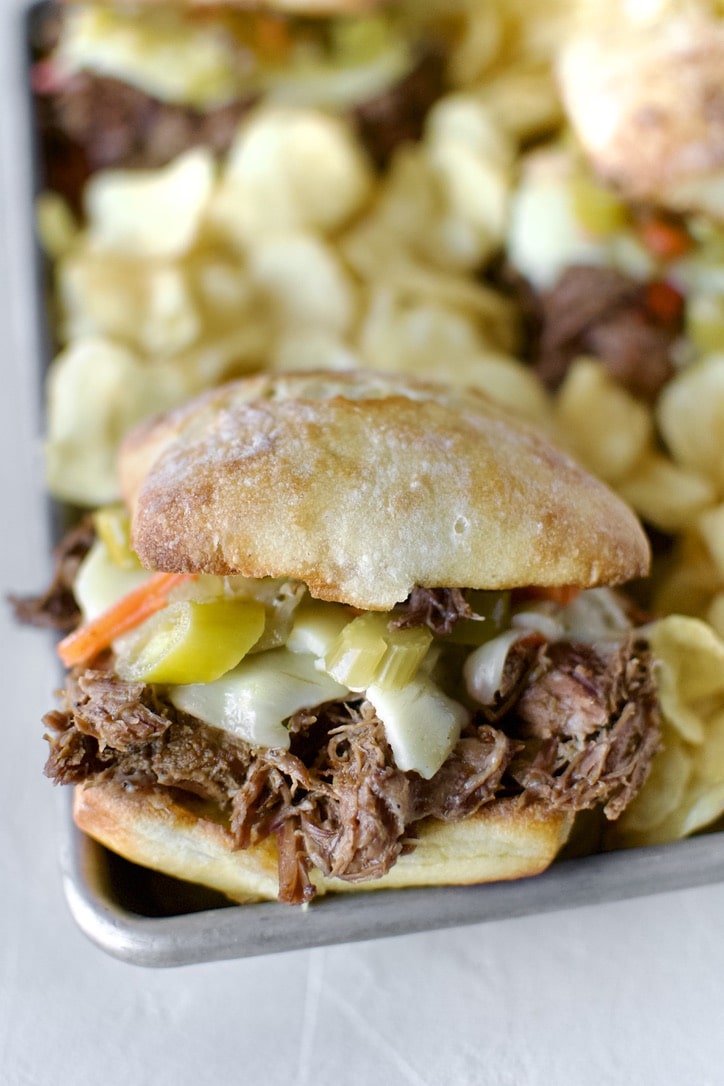 Did you make this recipe? Let me know by leaving a review or comment! And be sure to sign up for my newsletter, and follow along on Instagram, Pinterest, and Facebook!