I love homemade croissants! They make your house smell amazing and the dough is such a soft supple and satisfying texture to work with. They take a little time and planning but the effort level is minimal, you just have to carve out the time to make them right!
Homemade vs Store made Croissants
I have been through a few different variations of recipes and some have not worked quite as well as this one has for me. I had a little bit of a misconception in my head that croissants were just a piece of puff pastry rolled up and baked, when in fact they are a yeasted dough that has butter folded in like puff pastry.
Now if you knew that and I didn't, forgive me. In culinary school, I was in the Culinary program, not the Baking one, and even though I was in the bread club, our efforts were not focused on croissants. That said they have been something that I have been learning about and playing with on my own recently.
All that said, I think many of the pastries that we find in America that are called croissants are indeed rolled puff pastry. I have found that as light and beautiful as a real croissant dough, it just doesn't live up to what is mass-produced in grocery store bakeries. On top of the fact that those croissants are most likely made with shortening or margarine, so just know going in you won't achieve quite that pillowiness if you are using real butter.
But that is OK! I am ok with that fact knowing that I am using the best product that I can get my hands on instead of something that is one molecule away from being plastic.
Producing a GREAT homemade Croissant
The dough of these croissants starts in your stand mixer. I am already a fan because I love it when I can take the guesswork out of a recipe and "mix the dough until smooth". It means that I can recreate this time and time again and have similar results!
The yeasted dough then ferments in a warm place until doubled in size for about an hour. It is then rolled out and chilled before adding the butter. This step is important because we don't want the butter to begin to melt and be absorbed by the dough. The soft butter is then worked in before the dough is folded and chilled many times before it is rested overnight to allow it to relax and to let the yeast work its magic.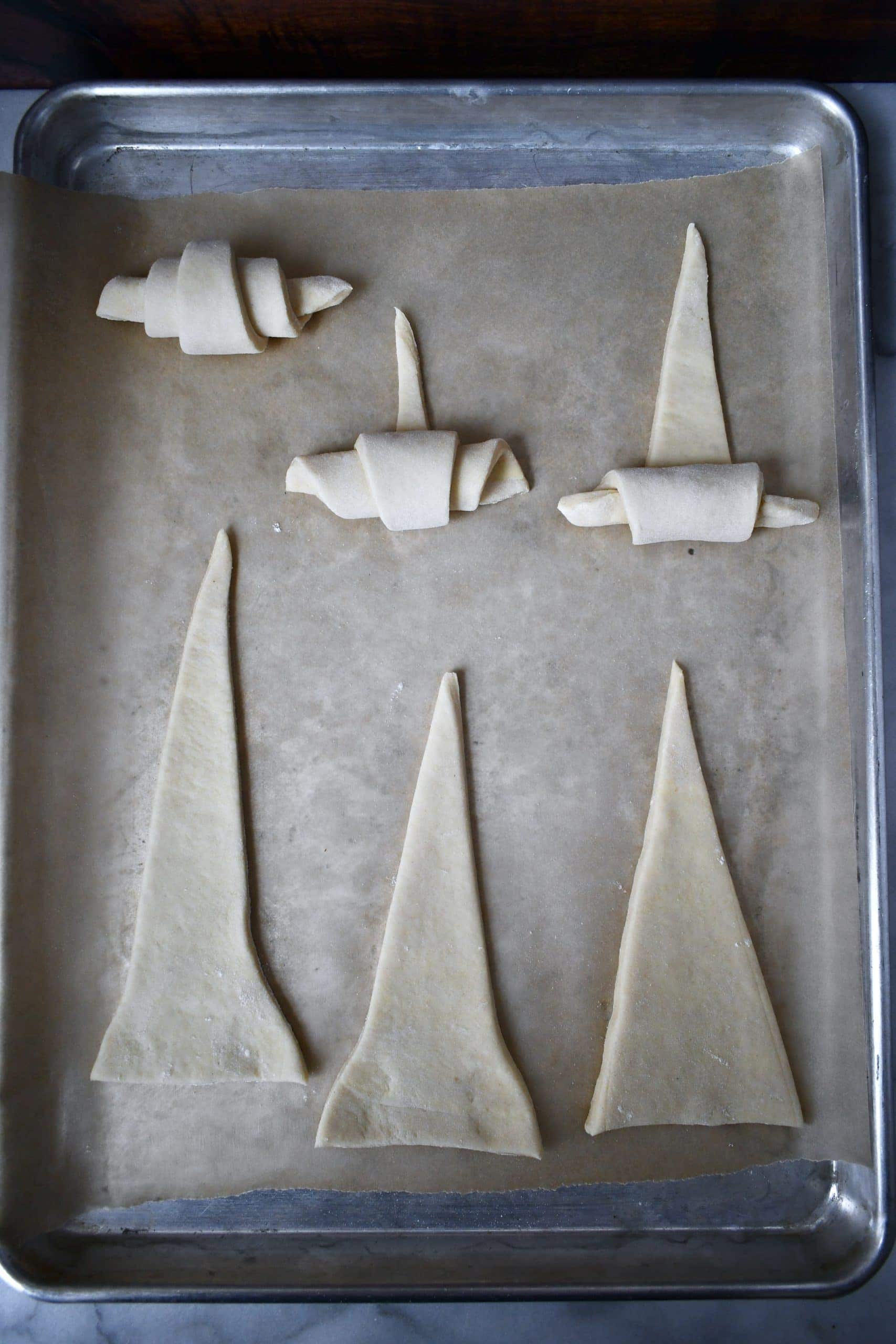 After the dough is rested it is ready to be stretched, cut, and formed. And because we are working with a yeasted dough it will be fermented a second time and proofed before baking allowing more air to rise the dough making it fluffier and flakier.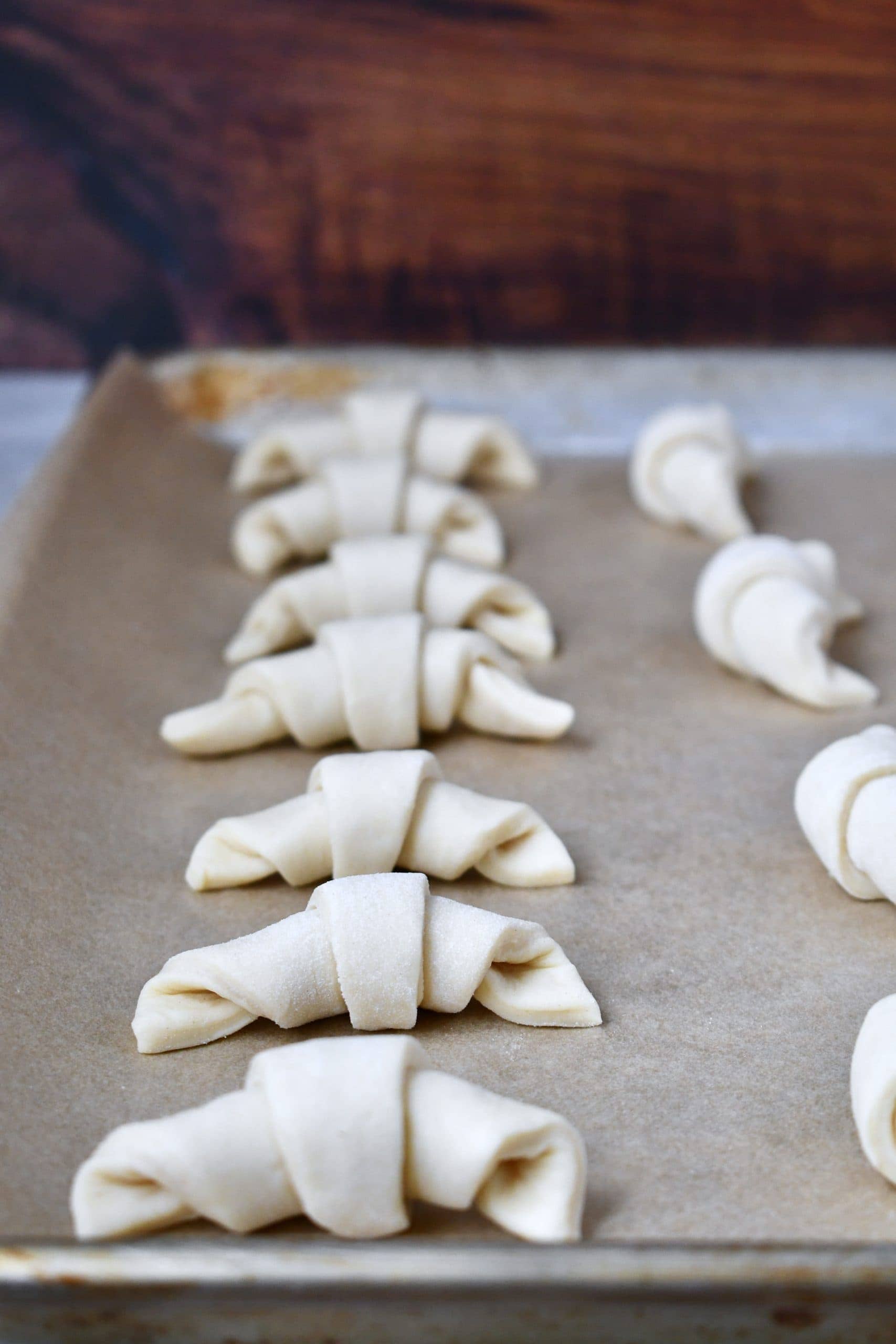 Then we are ready to egg wash and bake. This is the best part because your house is about to become filled with the sweet aroma of butter and yeast. It is one of the best smells ever, your gonna think you live inside a french bakery for a while!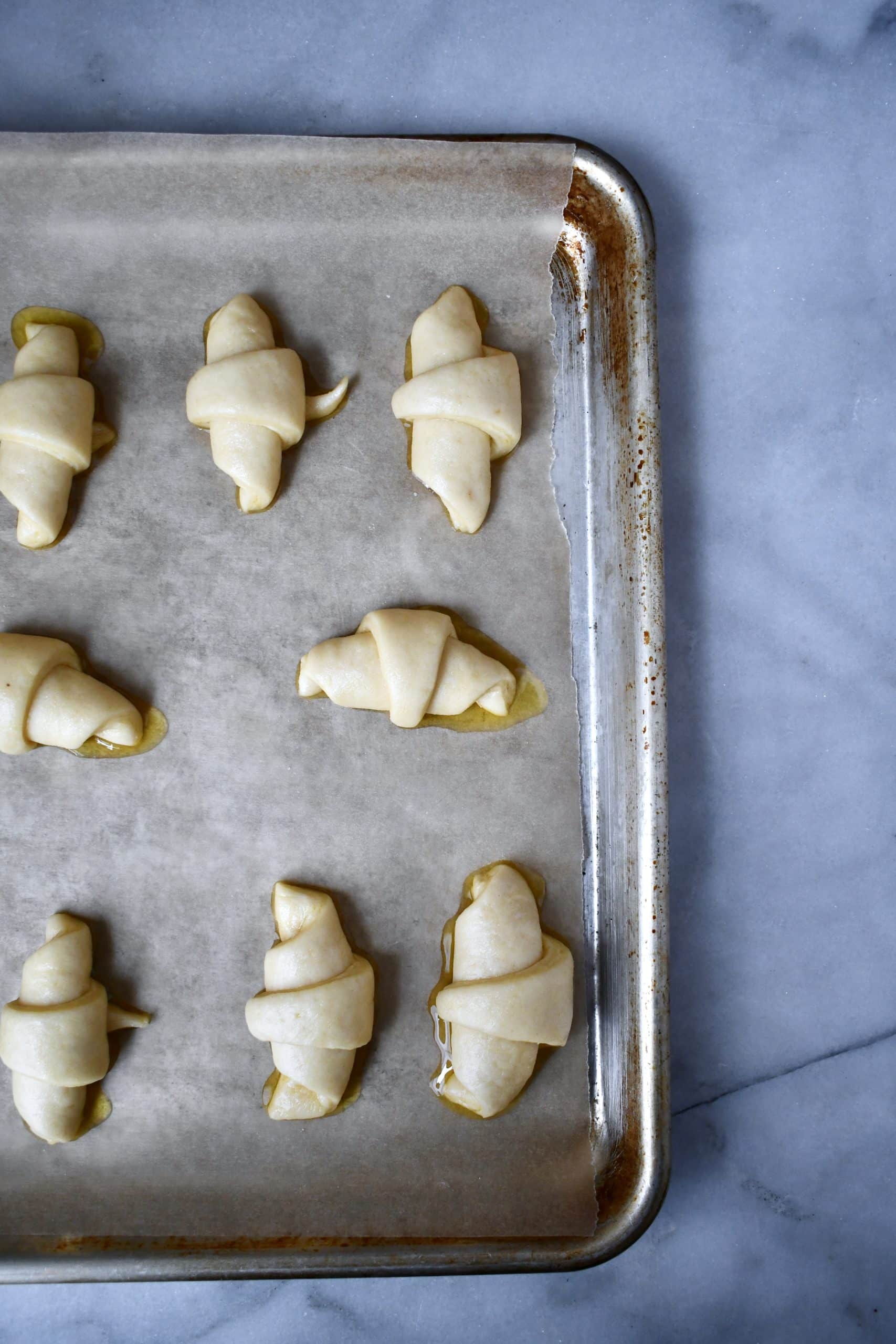 There isn't much that is better than a freshly baked croissant. They are crisp, crunchy and flaky in all the best ways!
Make them Mardi Gras King Cake Croissants by drizzling a little powdered sugar glaze over them and dusting with festive sugar colors. Combine ½ C powdered sugar and 1 tablespoon of water in a bowl and to create a glaze. Add more water if needed, the glaze should be thick but pourable.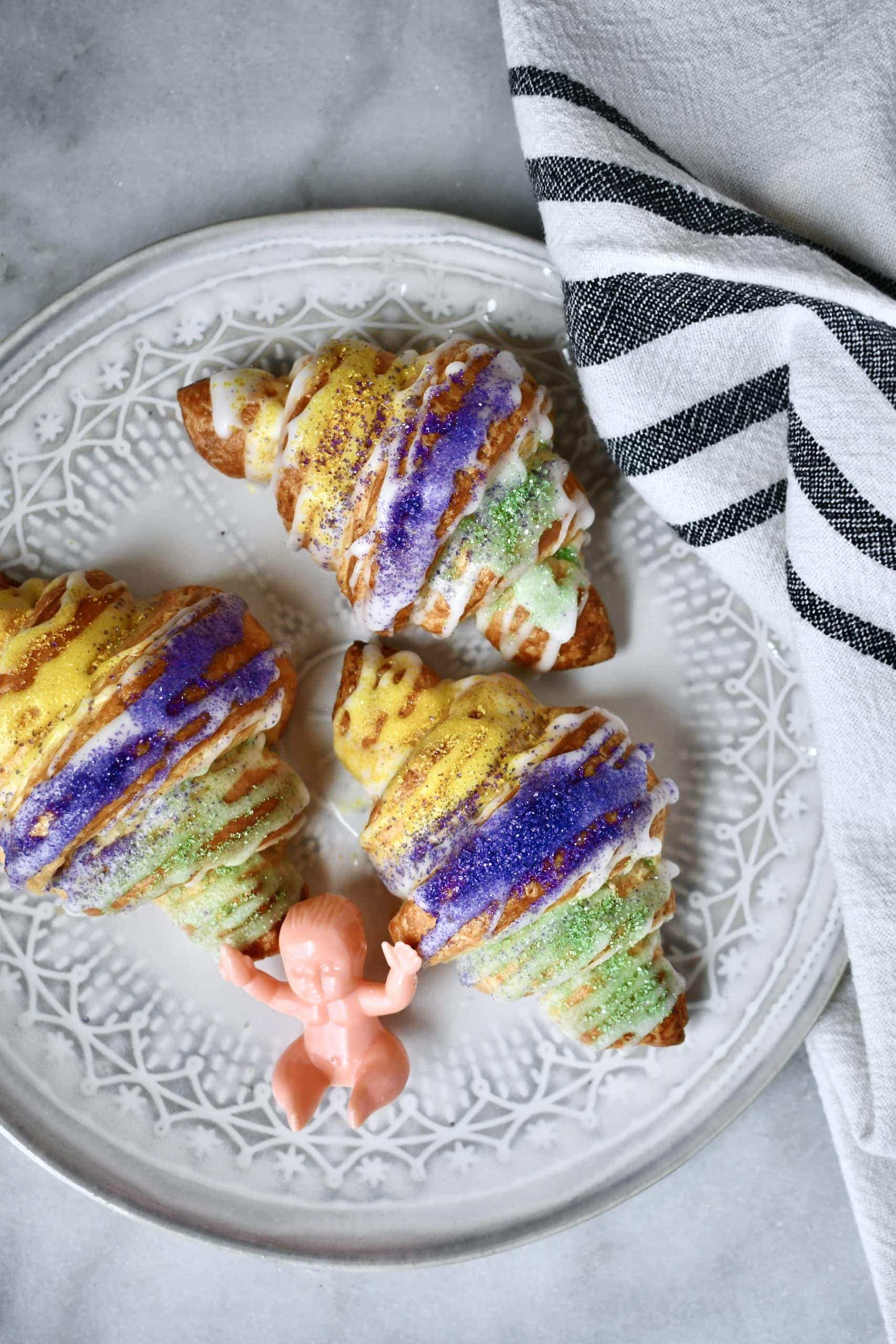 Did you make this recipe? Let me know by leaving a review or comment! And be sure to sign up for my newsletter, and follow along on Instagram, Pinterest, and Facebook!
Did you make this recipe? Let me know by leaving a review or comment! And be sure to sign up for my newsletter, and follow along on Instagram, Pinterest, and Facebook!
[wprm-recipe-roundup-item id="13280"]