I like to really beef this recipe up by adding a hearty helping of Italian sausage bolognese to the bottom of the pan and placing the Eggplant Parmesan Rollatini on top. It makes for a great contrast of flavor and texture and really makes this a meal, even for your hungriest eater! It takes a little time and planning to make, but once you get to assembly it's easy breezy from there.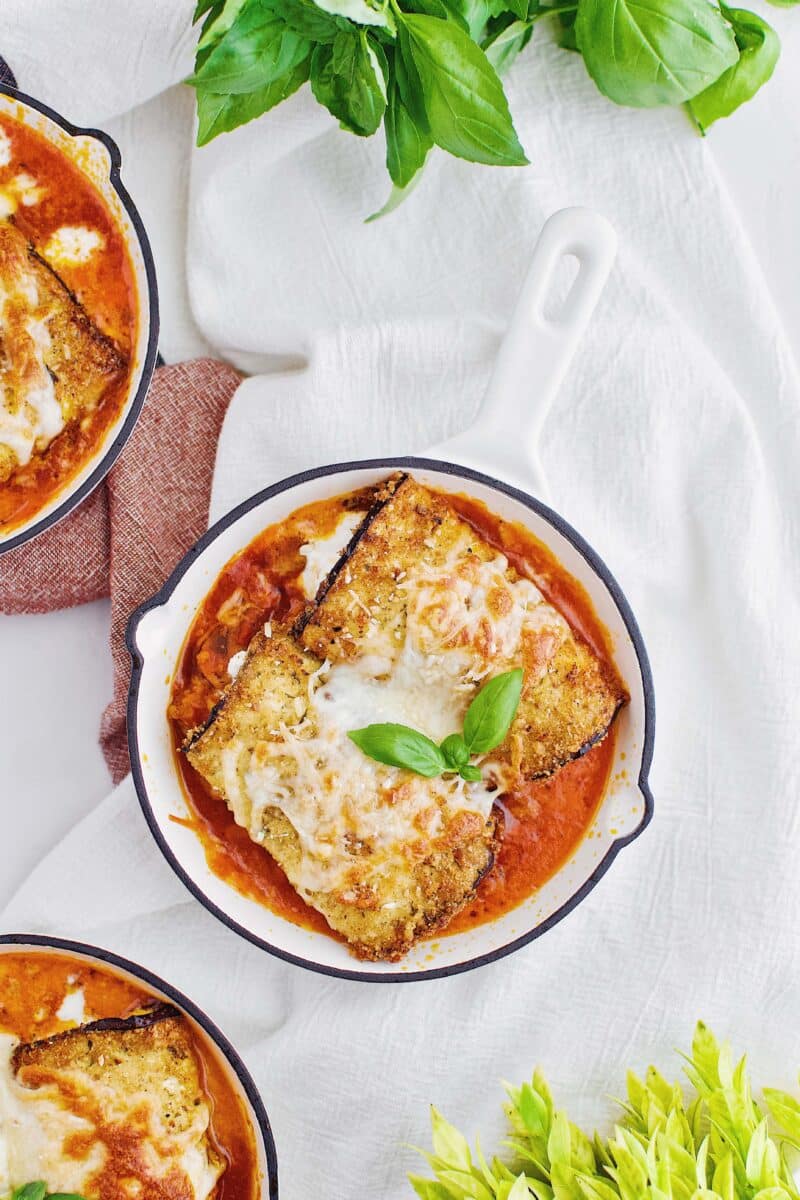 Preparing your ingredients
This recipe has a few components to it that I like to get a jump start on and prepare ahead of time if possible. The sauce is always better when I start it early in the day and let it simmer on the stove for a while, and the eggplant need a little attention before it is time to roll.
I begin by slicing and salting my eggplants. You will be slicing them pretty thin, so one really big one or two small to medium ones will do. I just usually try to find ones that are thin and long so I can make good rolls with them.
Once they are sliced I lay them out on a sheet pan that is lined with some paper towels and salt them. This process helps remove excess water from the eggplant and the bitterness that eggplants have. This can be done up to the night before if you want to get ahead, they need at minimum 30 minutes but I usually give them about 2 hours to sit with the salt on them.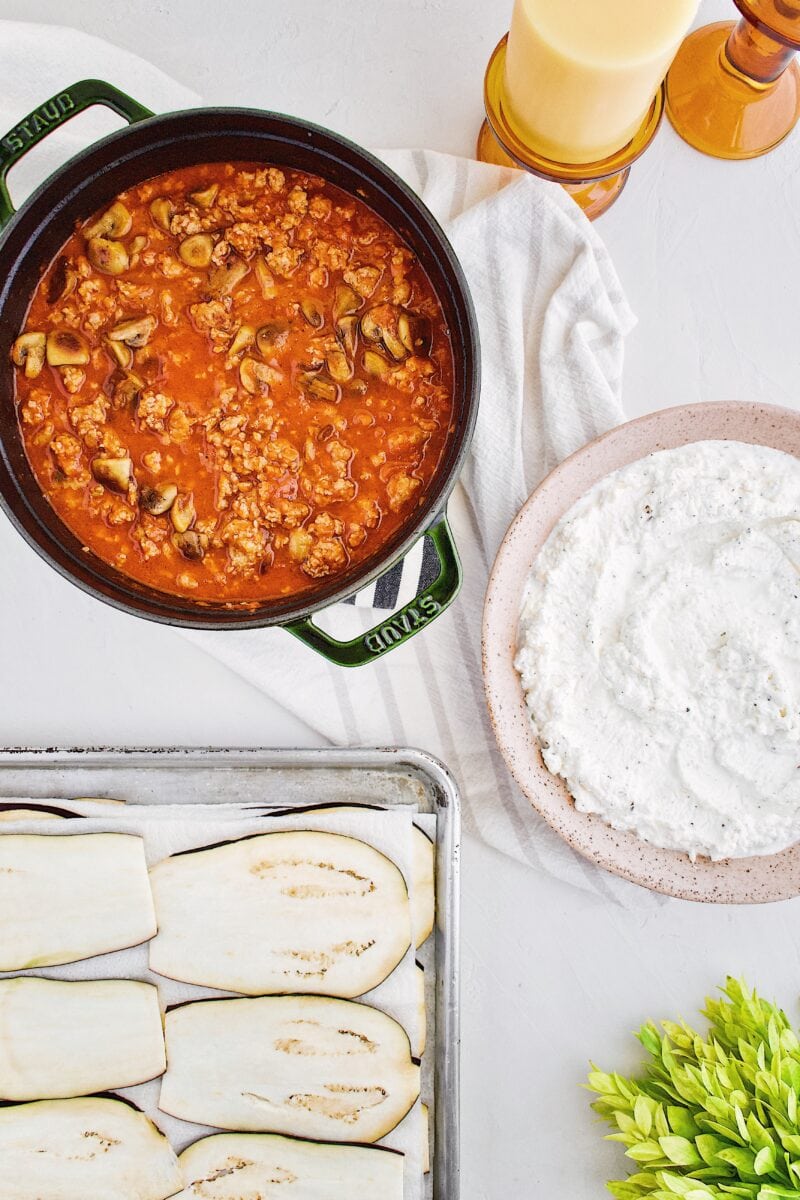 I then make my sauce, as I said above, I like to let it sit on the stove for a while. I cook the mushrooms in the bottom of the pan first, remove them and brown the Italian sausage and the tomato sauce, then add it all back in and simmer until I need it.
When it comes to preparing the ricotta, I use a whole milk ricotta because it has the best flavor and we aren't going for healthy here. Full fat just tastes better and once it is all seasoned up you will know why. I could eat the ricotta right out of the bowl with a spoon in you let me!
Once I have prepared all of this my eggplant has usually had all the time it really needs to sit with the salt on it. I then make a breading station and get the slices breaded and fried. This goes pretty quick because the slices are so thin they only really need 30 seconds on each side to fry.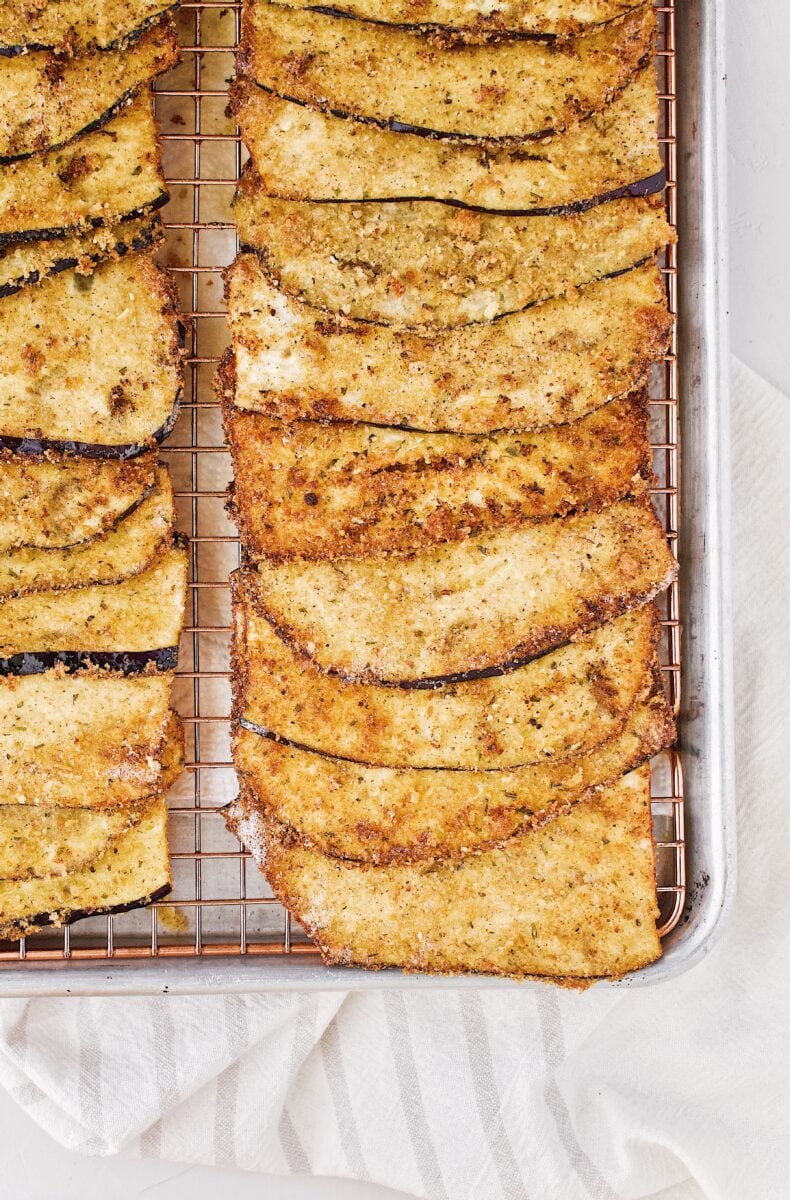 Bringing it all together
When all of the ingredients are ready it is time to ROLL! Lay out a piece of the fried eggplant and fill it with about 2 tablespoons of the ricotta and place it on a baking dish that has the sauce layered in the bottom.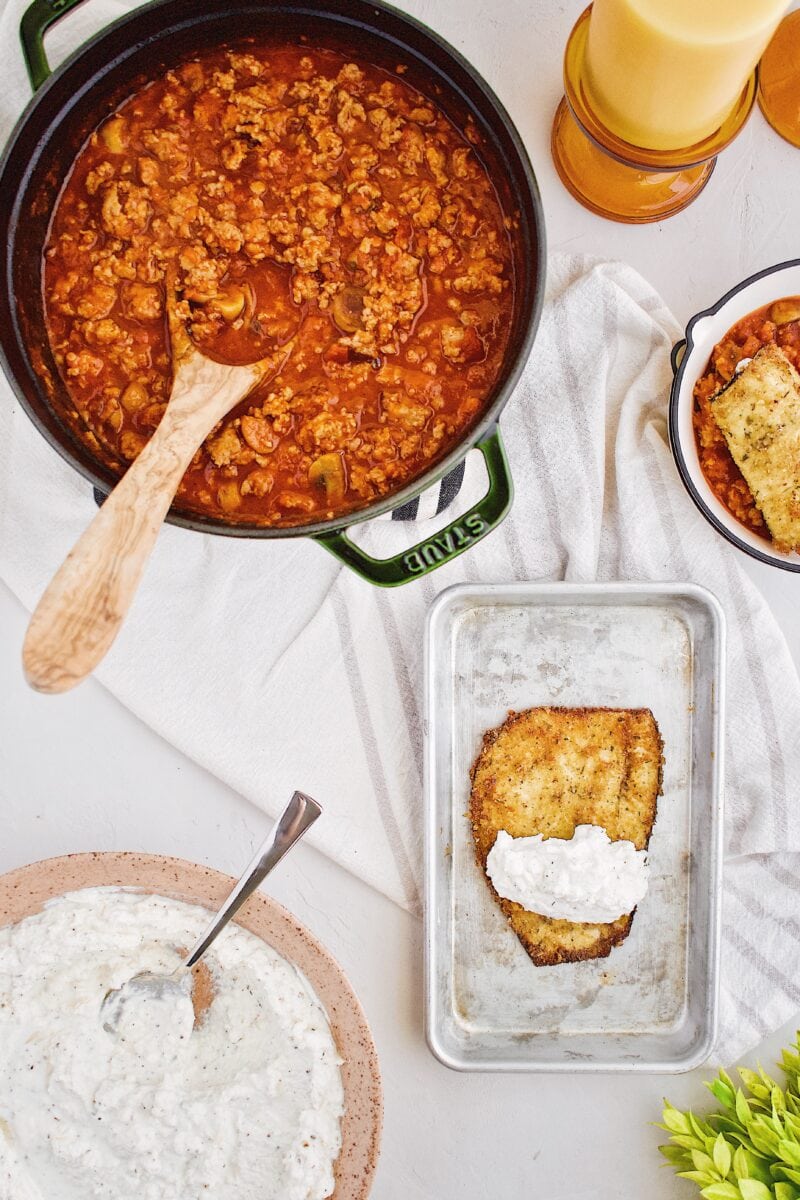 Do this until all you have used up all of your ingredients. Then top the rolls with some mozzarella and parmesan.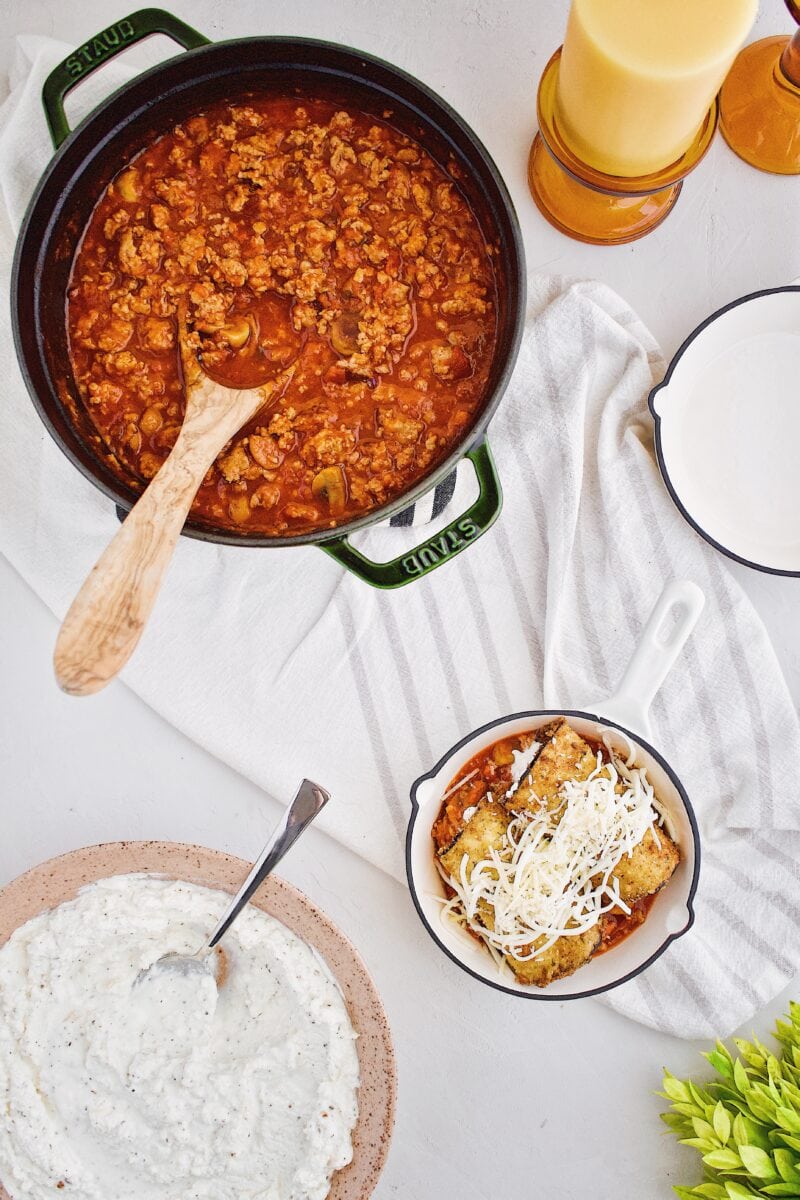 Because I usually do all of this so everything is relatively warm or room temp, once it is assembled it just needs about 15 minutes in the oven to melt and brown the cheese.
Another option that is great is making a big double batch and freezing a tray of these. If I am making the mess I sometimes just make a bunch. It is worth the effort, you only have to clean up once and get to enjoy Eggplant Parmesan Rollatini twice!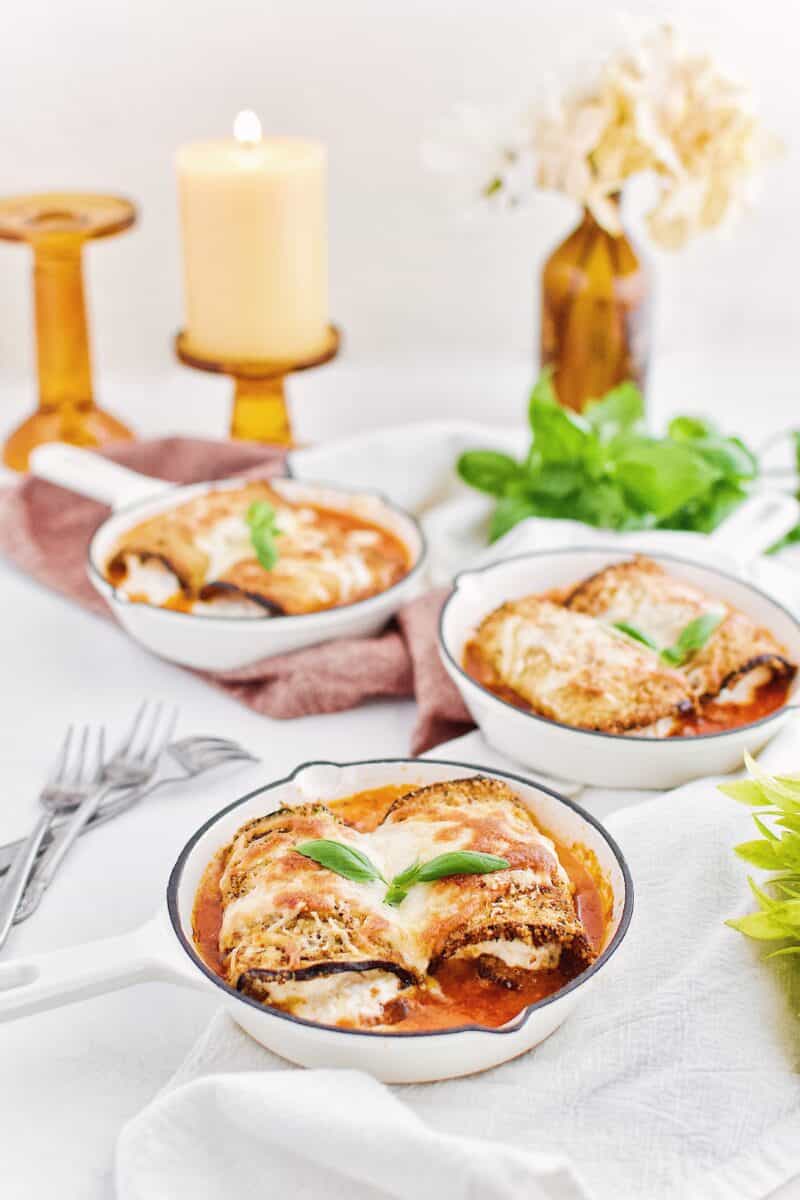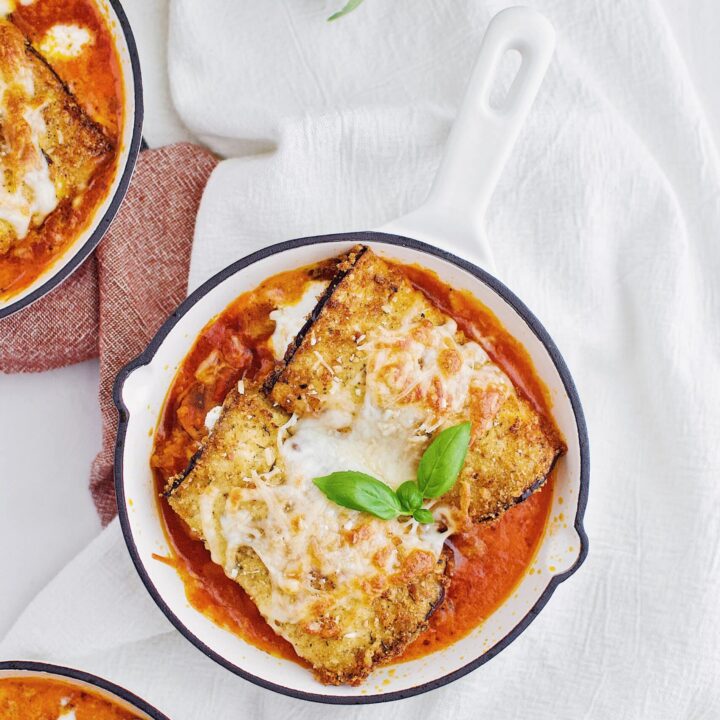 Eggplant Parmesan Rollatini
While this recipe isn't a quick 30 minute meal or anything, it takes just a little extra effort, but it's totally worth it in the end. It is so delicious and one of those meals that just makes me happy!
Ingredients
for the eggplant:
2 medium Egg Plants, or one large
Kosher Salt, for letting the eggplant
3 lg Eggs
¼ cup Water
2 cups Italian Bread Crumbs
½ cup Parmesan Cheese
¼ teaspoon Tarragon
½ teaspoon Kosher Salt
½ teaspoon Black Pepper
2 teaspoons Olive Oil
Corn Oil, for frying
1 cup Mozzarella Cheese, shredded
½ cup Parmesan Cheese, shredded
for the sauce:
1 tablespoon Olive Oil
2 cup Button Mushrooms, quartered
5 Italian Sausage Links, casing removed
1, 24oz jar Red Pasta Sauce, Victoria Sauces are my favorite
Kosher Salt and Fresh Cracked Black Pepper, to taste
for the filling:
2, 15oz containers Whole Milk Ricotta
1 teaspoon Italian Seasoning
1 ½ teaspoon Kosher Salt
1 teaspoon Fresh Cracked Black Pepper
½ cup Parmesan Cheese
Instructions
for the eggplant:
First, using a mandolin or a sharp knife, slice the eggplant into ⅛th inch thick slices. If using a knife just slice them as think as you can get it, I usually toss the first 2-3 slices that are really small. Lay the eggplant slices out on a sheet pan lined with paper towels and salt them, laying towels between them as they stack up. Salting the eggplant removes the excess water from the eggplant as well as the bitterness they can carry. This can be done as early as the night before and stored in the refrigerator. I let mine sit for a minimum of 30 minutes but usually about 2 hours. This also lets the eggplant become more pliable in the end for rolling and filling.
While the eggplant is letting, make an egg wash by combining the eggs and water in a shallow dish. Also prepare the breadcrumbs by combining the breadcrumbs, parmesan, tarragon, salt, pepper, and olive oil in and stir to combine.
Heat the corn oil in a 10-inch skillet over medium heat. Dip the eggplant slices in the egg wash, then into the breadcrumbs and press them on. Fry them 2 at a time for 30 seconds per side, until browned and crisp. Cool on a wire rack, I leave my bottom piece of paper towel on the tray the eggplant were on and let them cool there. Set aside until needed.
for the sauce:
In the bottom of a heavy bottomed sauce pan, heat the olive oil over medium heat. Add in the mushrooms when hot, season with salt and pepper, and cook until browned. Remove the mushrooms and cook the sausage until browned. Add the sauce and the mushrooms back to the pan and bring to a simmer over medium-low heat. Taste and season with salt and pepper if needed.
for the filling:
In a bowl mix the ricotta, Italian seasoning, salt, pepper, and parmesan and stir to combine.
forming the rolls:
Preheat the oven to 425˚F.
Coat the bottom of a deep 9x13 inch baking sheet with the sauce. Use it all if you like it saucy and to make this a one dish main course.
To form the rolls, lay one fried eggplant piece in front of you and place about 2 tablespoons of the filling in the center and roll the eggplant up around it. Place the rolls seam side down into the baking dish. Continue rolling until the pan is full and top with mozzarella and parmesan and bake in the preheated oven for 15-20 minutes until warmed through, longer if all of your ingredients were made ahead and are cold.
Notes
This recipe can be made up to a day ahead or frozen up to 3 months. If you freeze, thaw in the refrigerator completely, and let it come to room temp about 2 hours before baking.
Nutrition Information:
Serving Size:

1 grams
Amount Per Serving:
Unsaturated Fat:

0g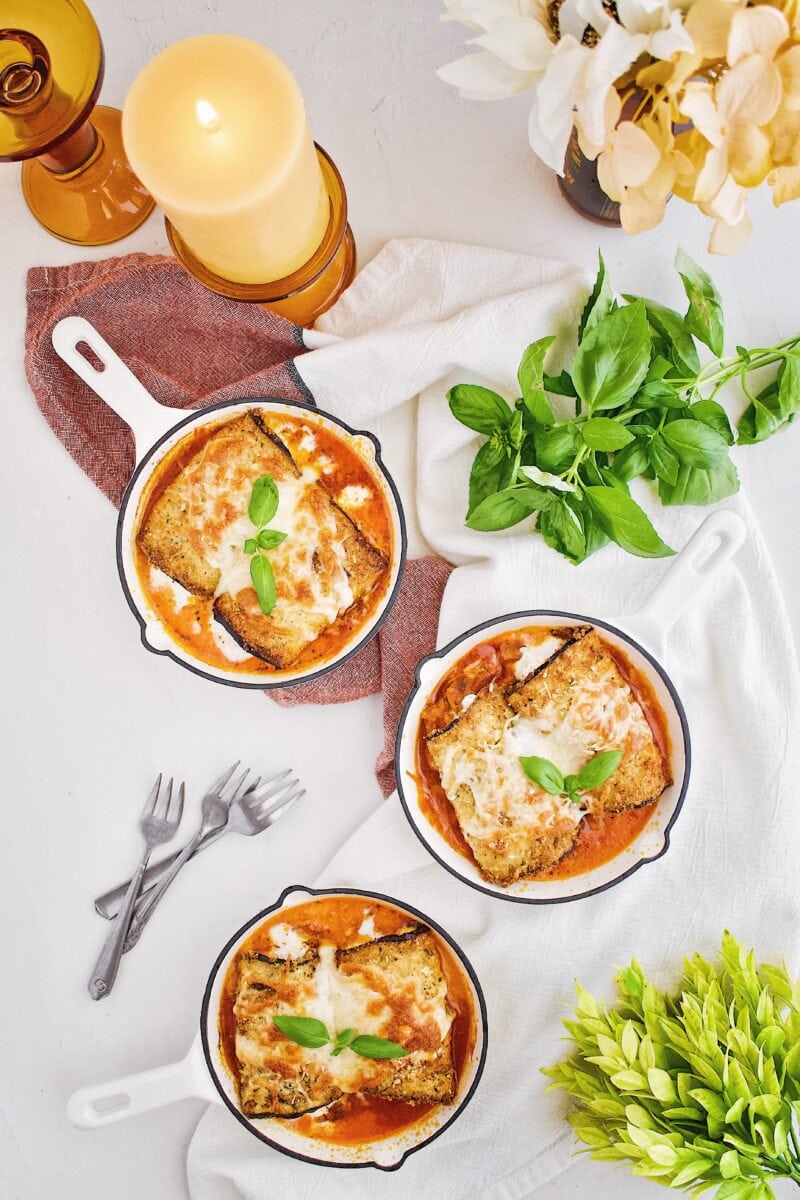 If you make this recipe, please let me know by leaving a review at the bottom of this page!
And make sure to sign up for my newsletter and follow along on Instagram, Pinterest, and Facebook for more KendellKreations!
MY LATEST RECIPES!
Get my NEW e-Cookbook here!! ⬇️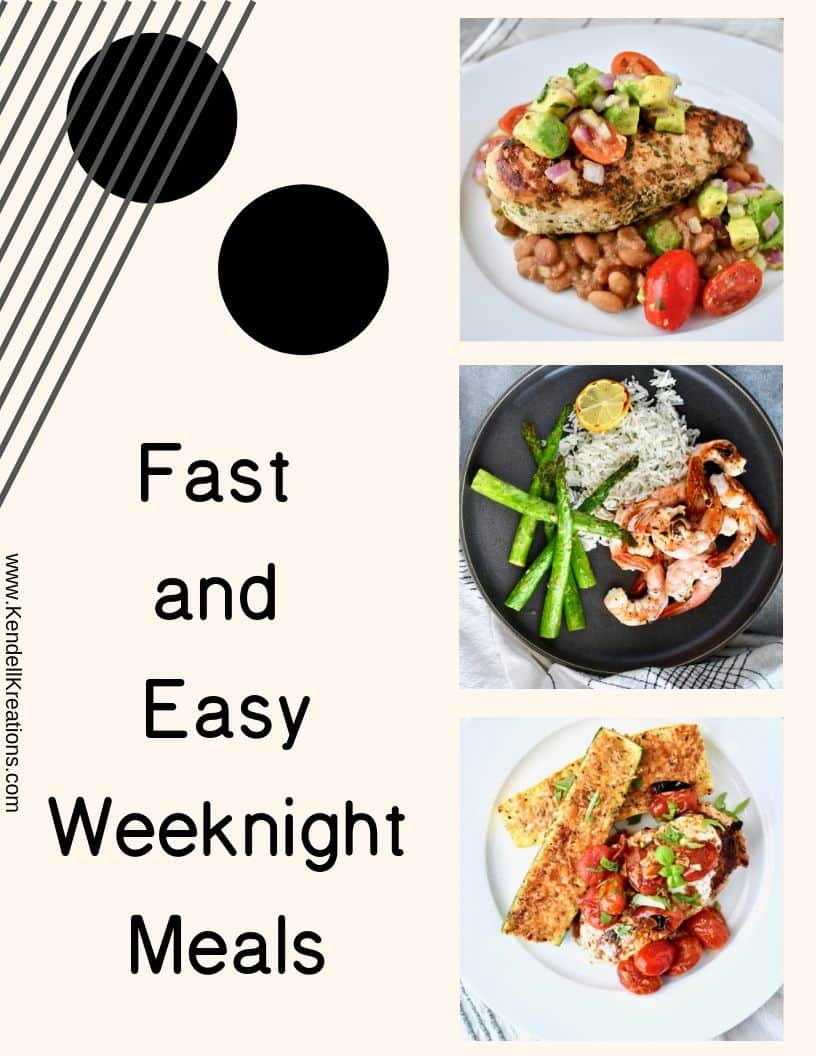 MY FAVORITE KITCHEN TOOLS!
Here are a few links to some of my favorite kitchen tools! You get a car, YOu get a car, YOU ALL GET A CAR…in my best Oprah voice
These Rösle Silicone Tongs are a little pricey but they will last you the rest of your life and are the softest in your hand. This is important for someone like m that cooks so much. It reduces strain, I have 4 sets in my kitchen!
These are my FAVE Nordic Ware Sheet Pans, every kitchen should have at least 2 sets of these! I think I have at least 4 of each of these.
This is my favorite pressure cooker, the Fagor is the same concept as the "Instant Pot" but easier to use in my opinion, if you don't have one you NEED one, it will be your best friend in the kitchen!
A sharp knife is the most important tool in the kitchen, these Japanese steel "Shun" knives are my favorite! And this is a great starter set to build on. Once you try them you will be in love so use this as a foundation you can build on for years to come.
This Scanpan 11″ skillet is just the right size for almost anything you will need to cook and my best friend and a real workhorse in my kitchen, it's also a great deal at $99. Scanpan is the best in the world for healthy cooking. It is coated with a proprietary ceramic-titanium coating that is durable while allowing you to use fewer fats and oils when cooking. It is a coating only they use. I could talk all day about my love for these pans, message me if you want more info. Here are some other sizes that are available if you are looking to outfit your kitchen with some new goodies. 8″ & 10″ Skillet set or 8″ Skillet, I still need this one for my kitchen Also, I don't really know how to cook small so the 12.5″ is my other fave!
This giant vat of olive oil is my favorite, I decant it into a smaller bottle for my counter. Or put this spigot on top of a wine bottle!
My favorite baking dish that is so easy to clean even burnt on cheese slides right off!
This Tovolo jar scraper has to be my single favorite kitchen tool, it is definitely the most used tool in my kitchen. If you are NOT a gadget person, this is the only necessity I say is a MUST beyond the wooden spoon.
A great wood spoon is essential, this Olive Wood one is my favorite, I have more than I can count. But can you really ever have too many?
A food scale can be a very important tool in your kitchen, this one is the one I use every day!
If you love Joanna Gaines as much as I do then the 'Magnolia Table Cookbook' is a must in your kitchen, get a copy HERE!