This recipe is one that my sister started making and is now a family staple on our cookie trays. She MUST make them at Christmas time or my dad is very disappointed. I have convinced her to share the recipe for her now Famous Peppermint Cookies with all of us here!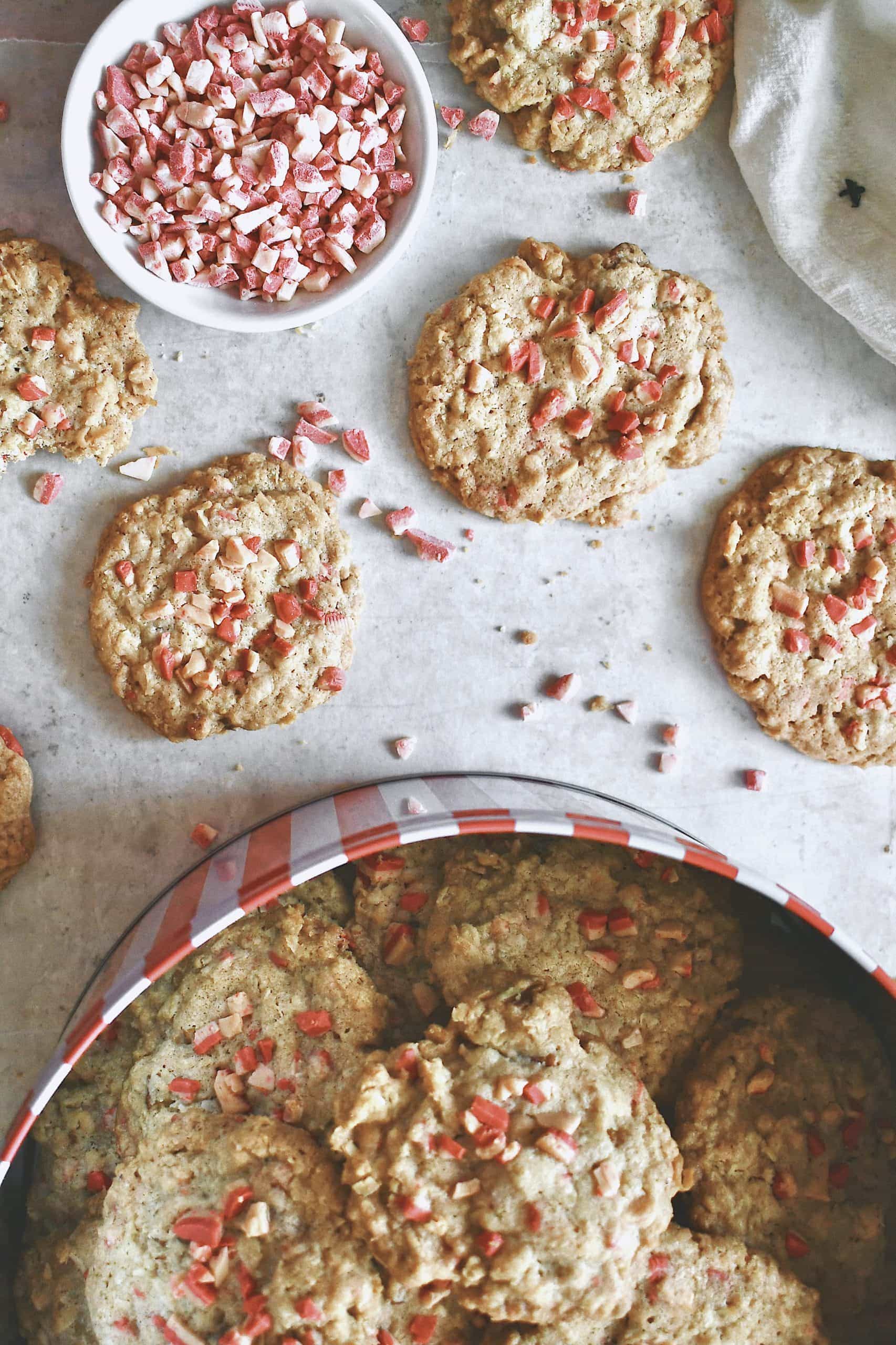 Today is day 10 of my Christmas Advent Calendar. Tomorrow's recipe is another one from myself. It's was a favorite of my Grandfathers at Christmas time, check back tomorrow for the recipe.
A secret about these cookies…
You will notice that these cookies are baked at a much lower temperature than most. That is because the end result is a bit like a macaroon. They puff up slightly in the middle and get a bit of a crunchy outer crust.
The slow and low baking of these cookies helps retain that desireable texture. They only need to be baked until the outer edges begin to brown. If you cook them until browned all the way to the center they will need a big cup of coffee or cocoa to be dunked in.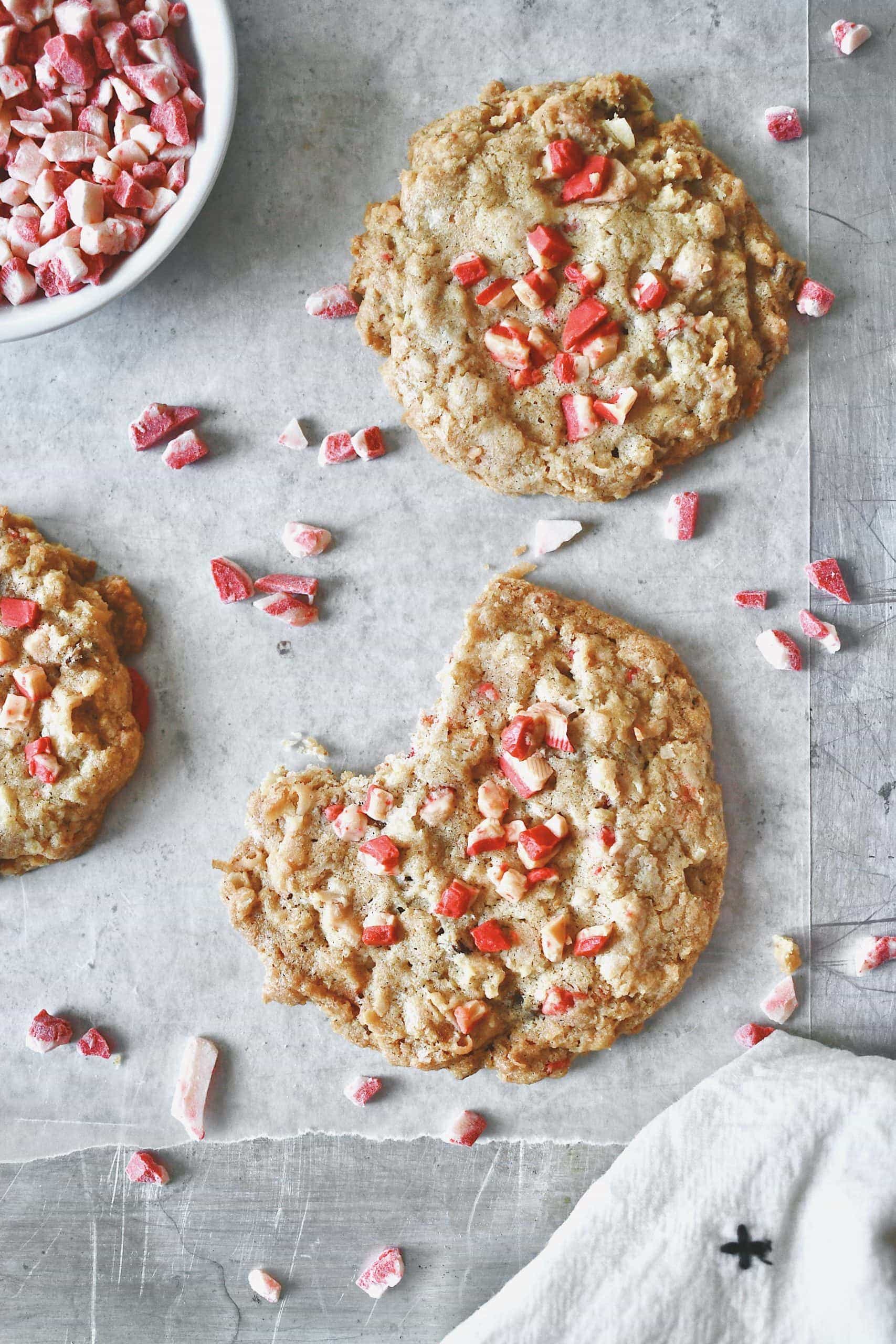 I rely heavily on ice cream or portion scoops in my kitchen. If you use THIS SCOOP you will get a perfect 3 dozen cookies out of this batch.
After you scoop your cookies and line them out on your baking sheet, press them down with 3 fingers to create a flat top. Then sprinkle the tops with some of the remaining peppermint baking chips. This gives the cookies and even bigger peppermint punch.
This cookie is always a hit on cookie trays or at parties. They pack a big punch that just makes it feel like Christmas! Olivia has become famous for the girl with the Peppermint Cookies and I think she likes it that way.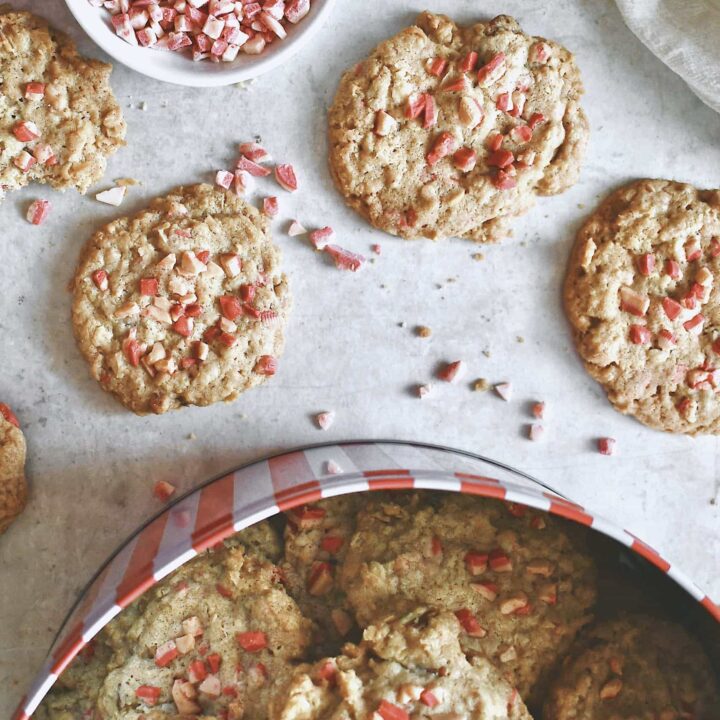 Olivia's Famous Peppermint Cookies
This recipe has become a newer family favorite at my house at Christmas time. My sister MUST make them or my dad just won't have a happy holiday.
Ingredients
2 stick Unsalted Butter
1 C Golden Brown Sugar
1/3 C Granulated Sugar
1 lg Egg
2 t Vanilla Extract
1/2 t Baking Soda
3/4 t Salt
1 3/4 C AP Flour
1 C Quick Oats
1 C Angel Flake Coconut, sweetened
1 1/4 C Chopped Pecans
1 1/2 C Andes Peppermint Crunch Baking Chips
Instructions
Preheat oven to 300F.
In the bowl of an electric stand mixer, cream the butter and sugars together until fluffy, about 3 minutes.
Beat in the egg and vanilla and beat until combined and fluffy, 2 minutes more.
On low speed add the baking soda, salt, and flour, mix just until the mix begins to come together. Stop the mixer when some streaks of flour are still visible. Add the oats, coconut, pecans, and baking chips. Mix just to combine and evenly disburse the flavorings.
Place 1-inch dough rounds on a greased cookie sheet 2 inches apart. Press the tops lightly with 3 fingers and sprinkle the remaining chips on top of each cookie.
Bake 12-15 minutes. Be careful not to over bake them, the edges will get lightly crisp while the middle stays soft. Let them cook about 5 minutes on the baking tray, then transfer to a wire rack to cool.
Recipe makes a perfect 3 dozen 1-inch cookies.
Nutrition Information:
Serving Size:

1 grams
Amount Per Serving:
Unsaturated Fat:

0g
As always, if you make this or any recipe that I have shared, tag me on Instagram. I LOVE seeing what you make and sharing it with my friends.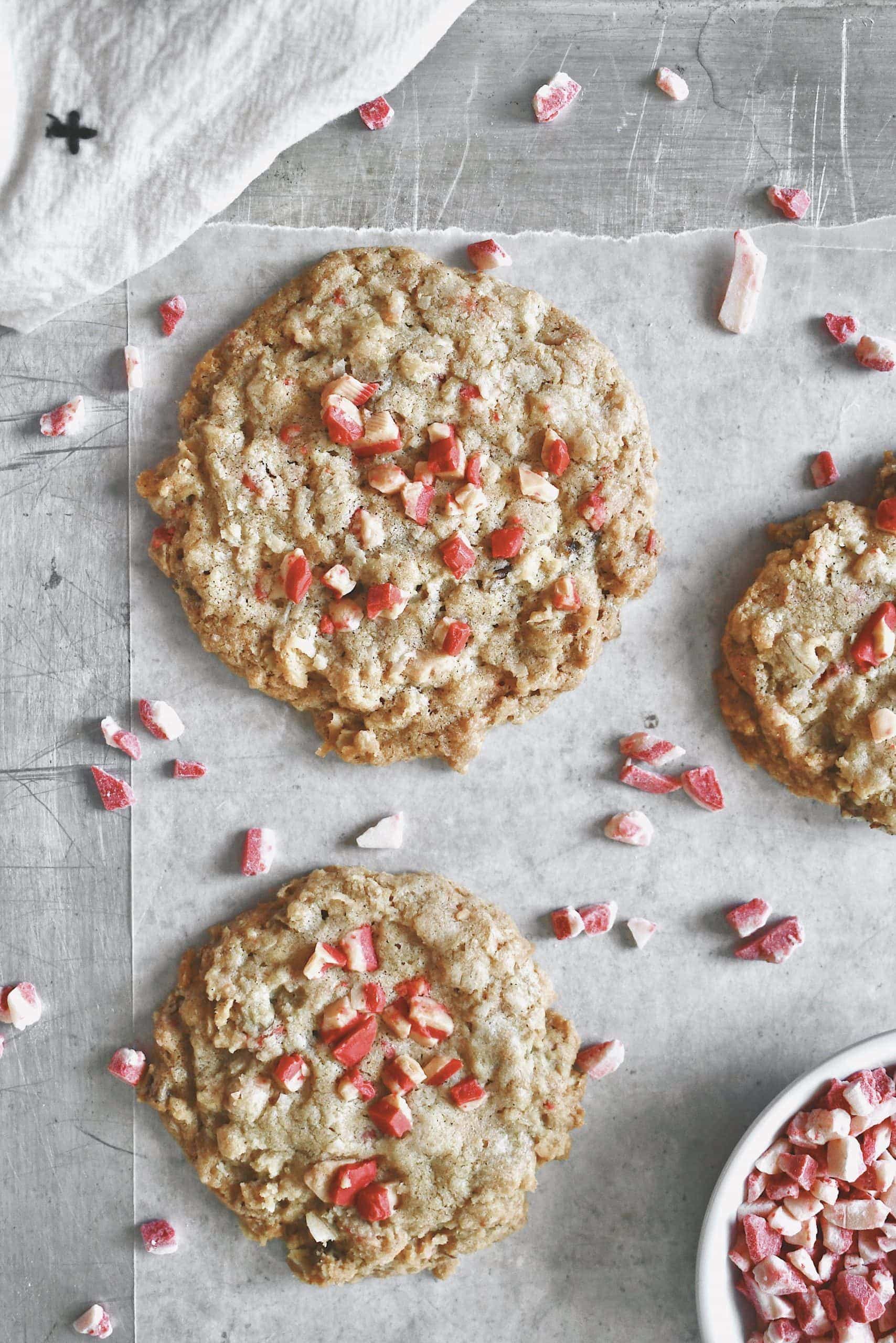 Christmas Advent Calendar
A new recipe every day from December 1-24 from me or one of my friends!
Lori, from @JosieandNina. Italian Home Cook – JosieandNina.com
Sarah, from @SaltJar. Farm Fresh Food – SaltJar.com
Niki, from @CleanPlateClb. Food Photographer – CleanPlateClb.com
Kathryn, from @WornSlapOut. Recipe for the Joyfully Exhausted – WornSlapOut.com
Ruchi, from @TiffinKitchen. Plant forward food – TheTiffinKitchen.com
Kendell, from @KendellKreations. Food & Travel – KendellKreations.com
We have been working hard to bring you some great recipes that will bring the family together each night leading to Christmas Day. I hope you enjoy them and be sure to let us know if you make them by tagging any of us on Instagram through the month.
Christmas Advent Calendar Recipes
MY LATEST RECIPES!
Get my NEW e-Cookbook here!! ⬇️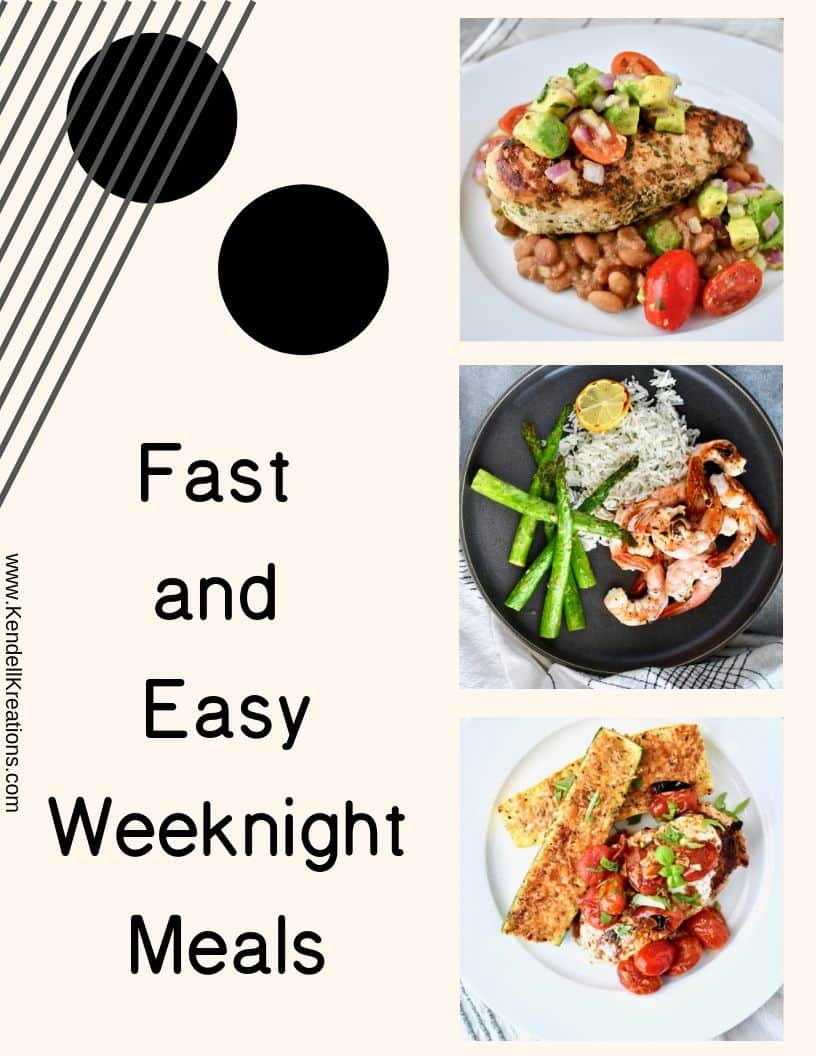 MY FAVORITE KITCHEN TOOLS!
Here are a few links to some of my favorite kitchen tools! You get a car, YOu get a car, YOU ALL GET A CAR…in my best Oprah voice
These Rösle Silicone Tongs are a little pricey but they will last you the rest of your life and are the softest in your hand. This is important for someone like m that cooks so much. It reduces strain, I have 4 sets in my kitchen!
These are my FAVE Nordic Ware Sheet Pans, every kitchen should have at least 2 sets of these! I think I have at least 4 of each of these.
This is my favorite pressure cooker, the Fagor is the same concept as the "Instant Pot" but easier to use in my opinion, if you don't have one you NEED one, it will be your best friend in the kitchen!
A sharp knife is the most important tool in the kitchen, these Japanese steel "Shun" knives are my favorite! And this is a great starter set to build on. Once you try them you will be in love so use this as a foundation you can build on for years to come.
This Scanpan 11″ skillet is just the right size for almost anything you will need to cook and my best friend and a real workhorse in my kitchen, it's also a great deal at $99. Scanpan is the best in the world for healthy cooking. It is coated with a proprietary ceramic-titanium coating that is durable while allowing you to use fewer fats and oils when cooking. It is a coating only they use. I could talk all day about my love for these pans, message me if you want more info. Here are some other sizes that are available if you are looking to outfit your kitchen with some new goodies. 8″ & 10″ Skillet set or 8″ Skillet, I still need this one for my kitchen Also, I don't really know how to cook small so the 12.5″ is my other fave!
This giant vat of olive oil is my favorite, I decant it into a smaller bottle for my counter. Or put this spigot on top of a wine bottle!
My favorite baking dish that is so easy to clean even burnt on cheese slides right off!
This Tovolo jar scraper has to be my single favorite kitchen tool, it is definitely the most used tool in my kitchen. If you are NOT a gadget person, this is the only necessity I say is a MUST beyond the wooden spoon.
A great wood spoon is essential, this Olive Wood one is my favorite, I have more than I can count. But can you really ever have too many?
A food scale can be a very important tool in your kitchen, this one is the one I use every day!
If you love Joanna Gaines as much as I do then the 'Magnolia Table Cookbook' is a must in your kitchen, get a copy HERE!