Ok yall, this recipe isn't like any of the others you might find out there. This Hot Buttered Rum is an heirloom from my GREAT friend Kristi. She asked me to note that she got it from her long-time friend Stacy Mohs years ago and it has been a family staple ever since.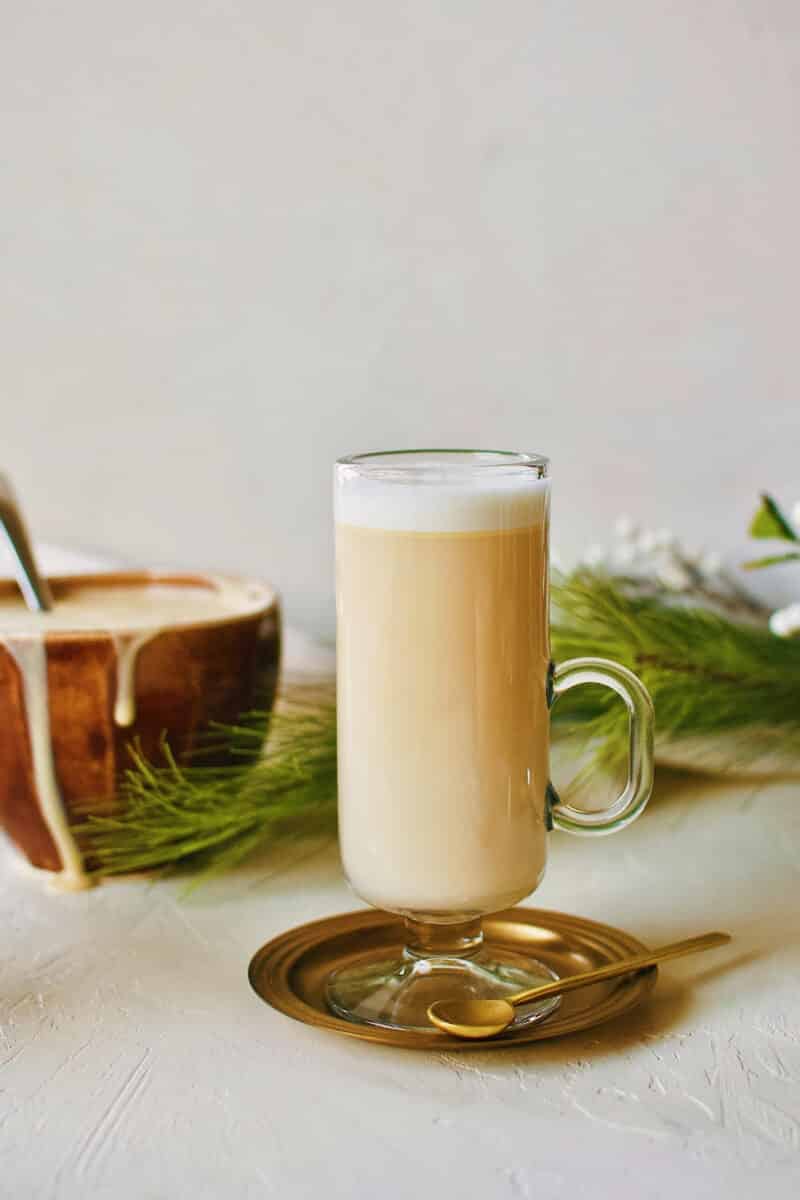 I have to say, Thank You so much for sharing this recipe with Kristi so many years ago because I got to enjoy it for the first time this year. AND...I am in LOVE! It is so simple and delicious, isn't that the way it usually goes?
The simplest things are just the best!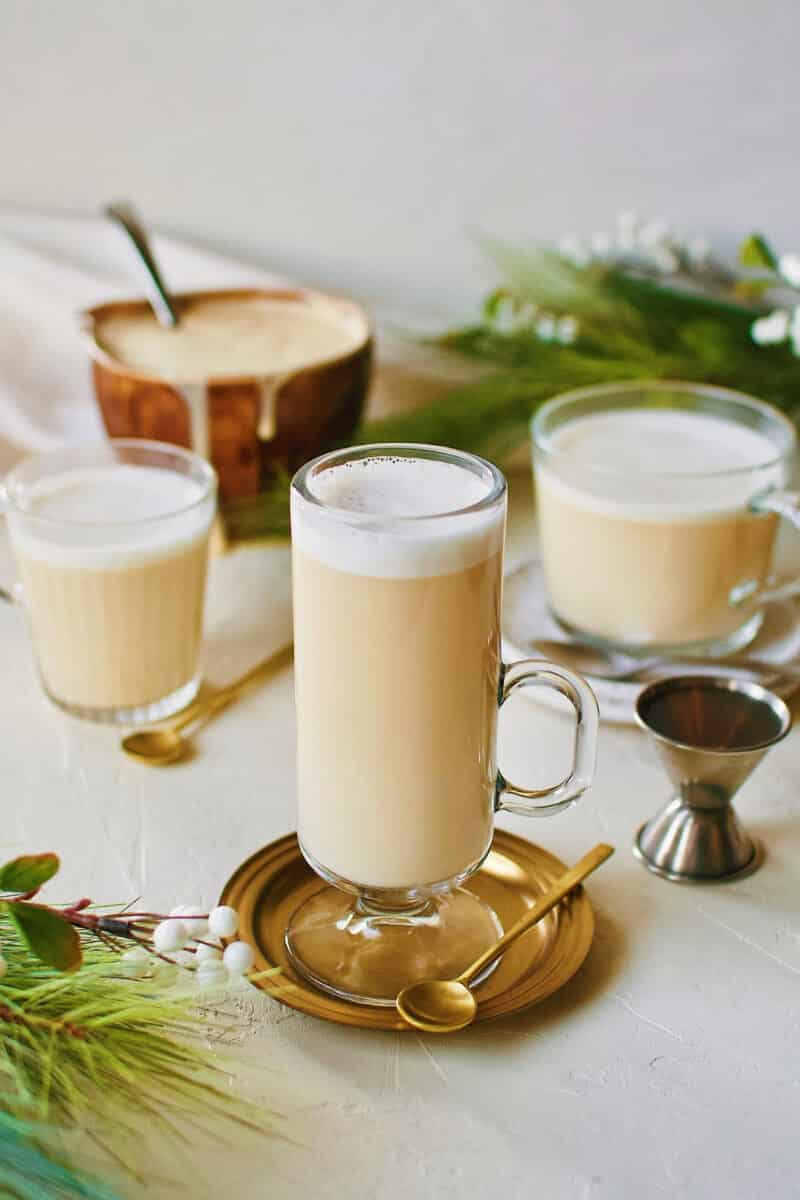 Creating a Hot Buttered Rum base
A hot buttered rum starts with a base of sugared, buttered, whipped cream. I mean I think I could stop there. Is there anything else you need in life?
The other key component is having a FROZEN mixing bowl and whip. The bowl MUST be cold so when you add the warm butter/sugar mixture it doesn't split and separate. I know it sounds a little crazy to add a warm mixture to fresh whipped cream, but if you follow the instructions it WORKS!
The base mix is a simple mixture of freshly whipped heavy cream, melted butter, and brown sugar. You blend these things together and refrigerate it for use any time you want it. The mixture firms up as it chills and will hold for a week to 10 days, if it lasts that long.
I have been instructed that you just have to "just leave this recipe ALONE!" Do not add spices or other flavoring or you will break the mixture. And nobody wants a split whipped cream.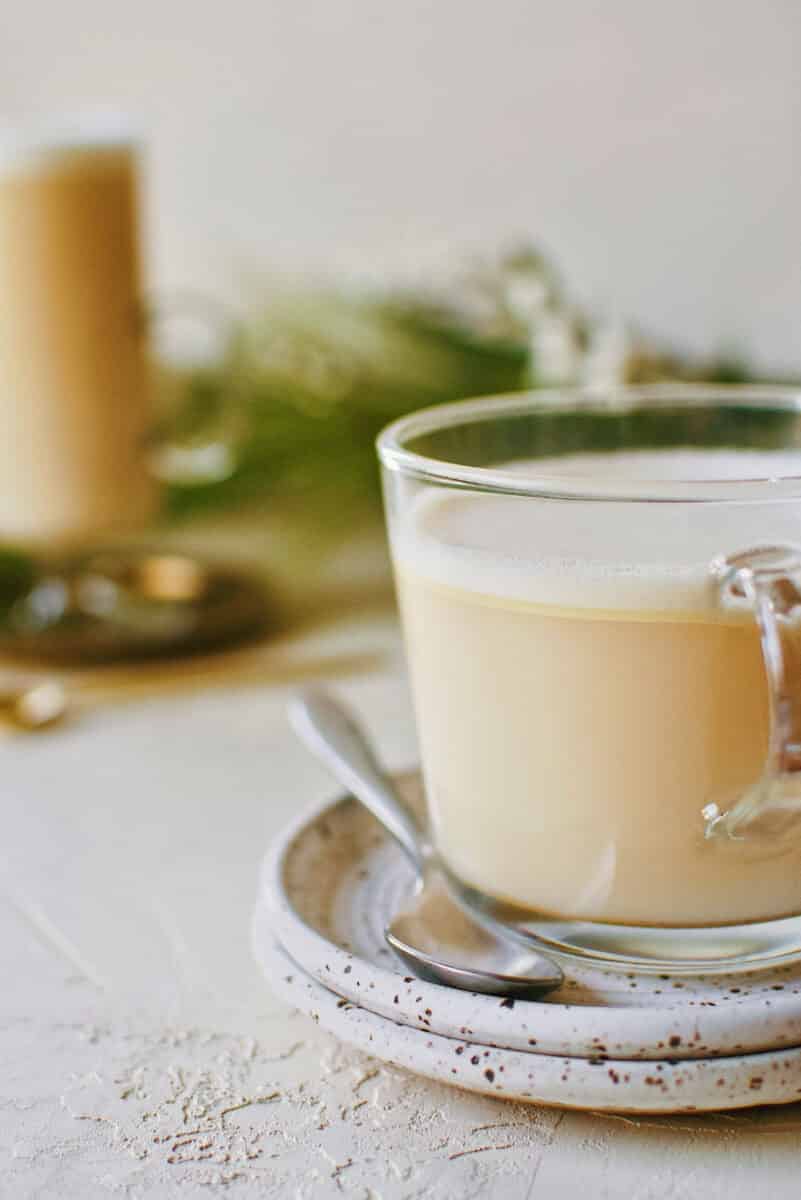 My favorite part of the drink is when you add the hot water, the mixture naturally foams and froths. It makes it a little bit latte like! I also found a gingerbread spiced rum that I used and that just made it feel a little more Christmasy!
This is my new favorite cold-weather drink. I hope you enjoy it as much as I have and I send out a big THANK YOU to Kristi for sharing it with me and allowing me to share it with you. She also noted that you can put a small scoop of the whipped cream mixture in some cocoa for the kids, leaving the rum out, so they can feel like they are joining you in a Christmas nightcap.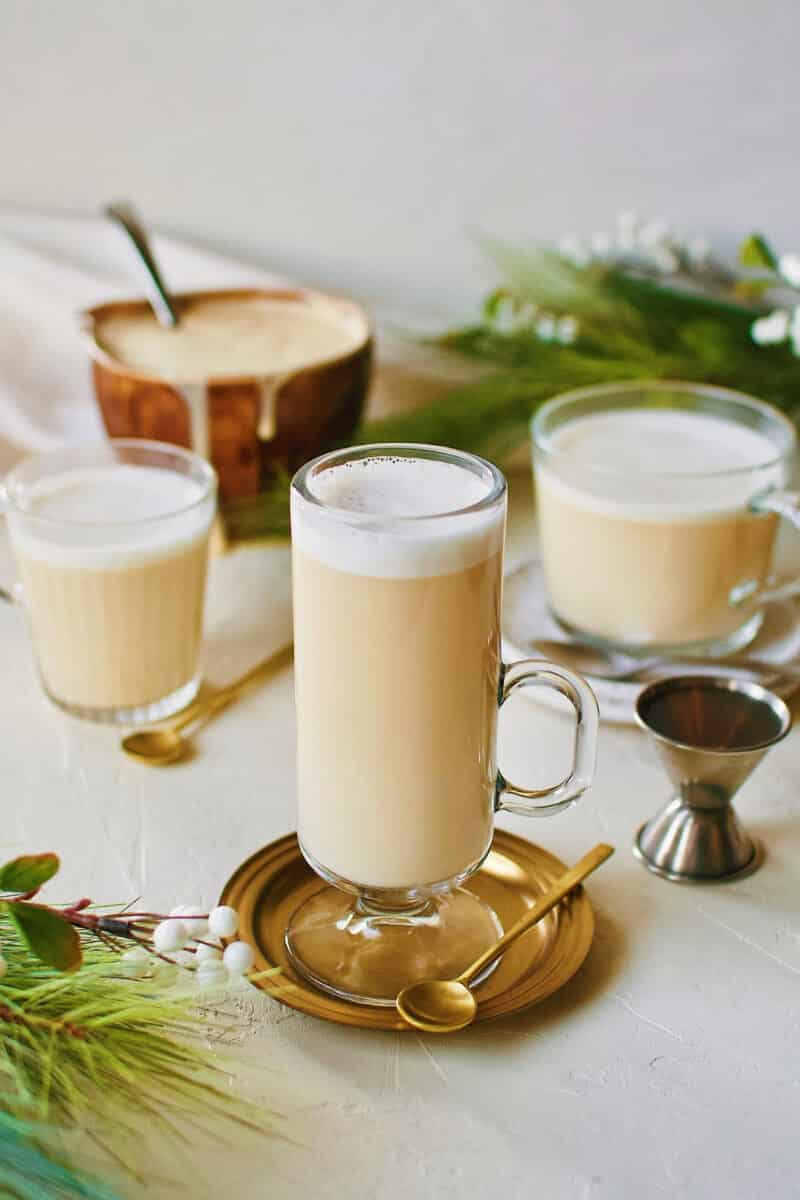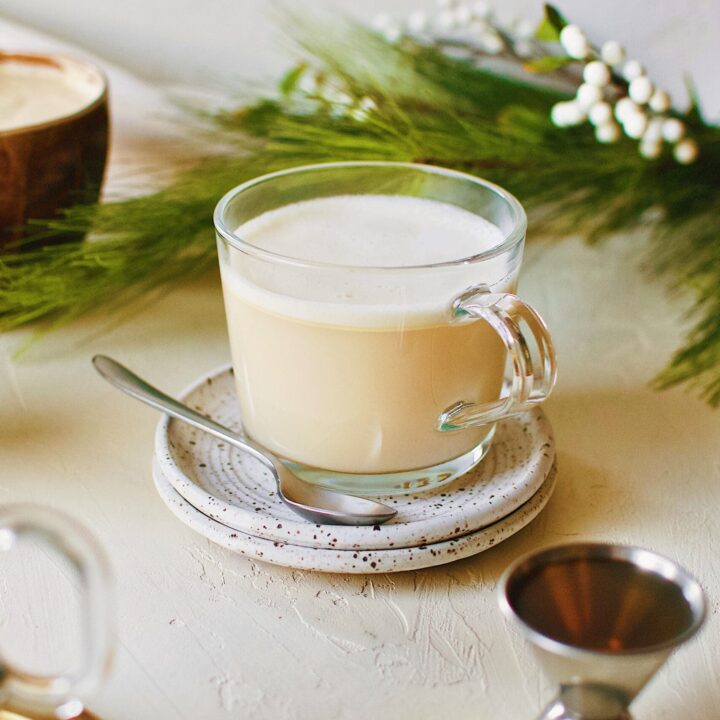 Stacy's Hot Buttered Rum
This recipe was shared with me by Kristi Thigpen who received it from Stacy Mohs. She has been making it for YEARS and I was fortunate to receive it in 2019 and I am in LOVE! It sends you right off into dreamland as you admire your Christmas trees.
Ingredients
½ cup Unsalted Butter, salted
2 cups Light Brown Sugar
2 cups Heavy Whipping Cream, whipped to soft peaks
Instructions
Place the bowl of your stand mixer and the whip in the freezer at least 45 minutes before whipping your cream.
Melt the butter and sugar slowly over very low heat. Melt until liquidy. DO NOT BOIL THE MIXTURE! The sugar will remain grainy. Stir as needed.
Cool slightly while the cream whips.
Using a FROZEN mixing bowl and whip, whip the cream at medium speed in a stand mixer to medium-soft peaks, just before how you would like it for topping a pie.
Incorporate the sugar mixture a heaping tablespoon at a time while the mixer is running on low. Do this at a swift, yet gentle pace. Give the mixer one last whack up to high and then right back off to evenly incorporate the sugar/butter mixture.
Place the mixture in a lidded bowl and refrigerate until firm. 2-3 hours minimum.
To make a Hot Buttered Rum:
Place 2-3 heaping tablespoons of the butter mixture in a mug with 1-2 shots of your favorite spiced rum.
Fill the mug with boiling water and stir until well combined.
Enjoy!
Nutrition Information:
Serving Size:

1 grams
Amount Per Serving:
Unsaturated Fat:

0g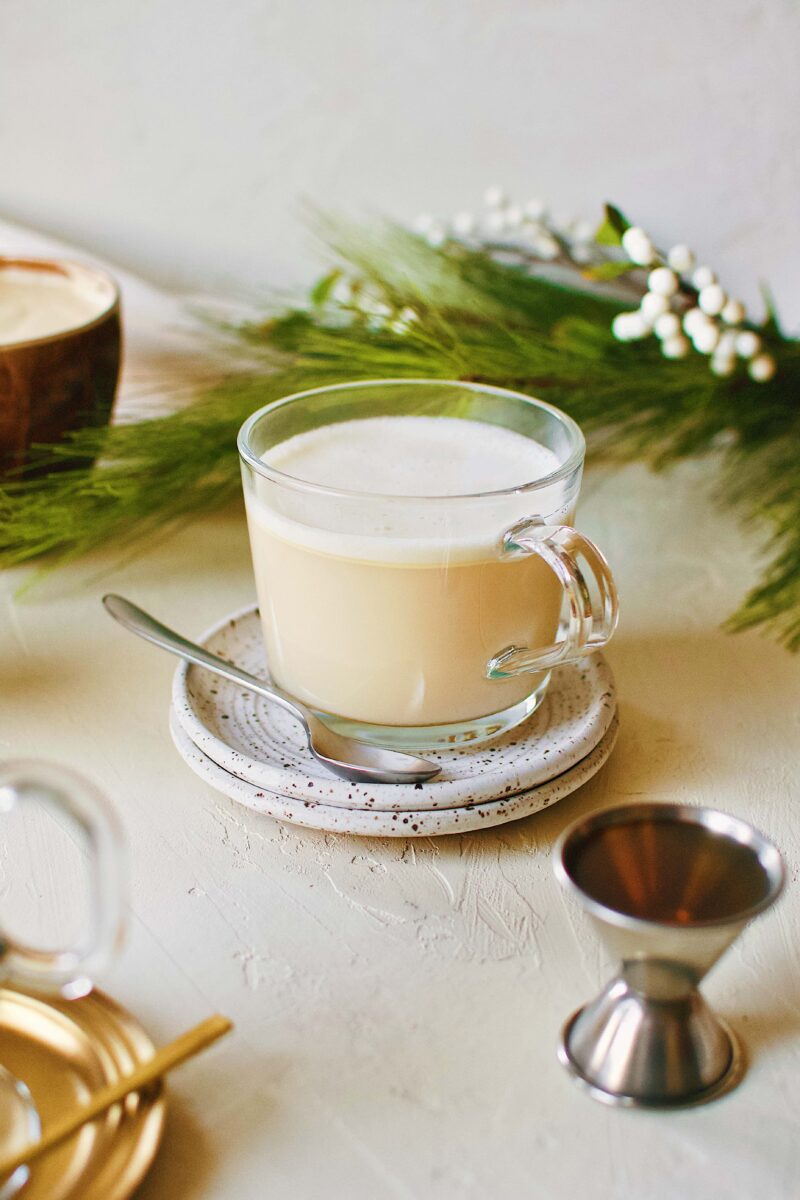 If you make this recipe, please let me know by leaving a review at the bottom of this page!
And make sure to sign up for my newsletter and follow along on Instagram, Pinterest, and Facebook for more KendellKreations!
Christmas Advent Calendar
A new recipe every day from December 1-24 from me or one of my friends!
Lori, from @JosieandNina. Italian Home Cook - JosieandNina.com
Sarah, from @SaltJar. Farm Fresh Food - SaltJar.com
Niki, from @CleanPlateClb. Food Photographer - CleanPlateClb.com
Kathryn, from @WornSlapOut. Recipe for the Joyfully Exhausted - WornSlapOut.com
Ruchi, from @TiffinKitchen. Plant forward food - TheTiffinKitchen.com
Kendell, from @KendellKreations. Food & Travel - KendellKreations.com
We have been working hard to bring you some great recipes that will bring the family together each night leading to Christmas Day. I hope you enjoy them and be sure to let us know if you make them by tagging any of us on Instagram through the month.
Christmas Advent Calendar Recipes
MY LATEST RECIPES!
Get my NEW e-Cookbook here!! ⬇️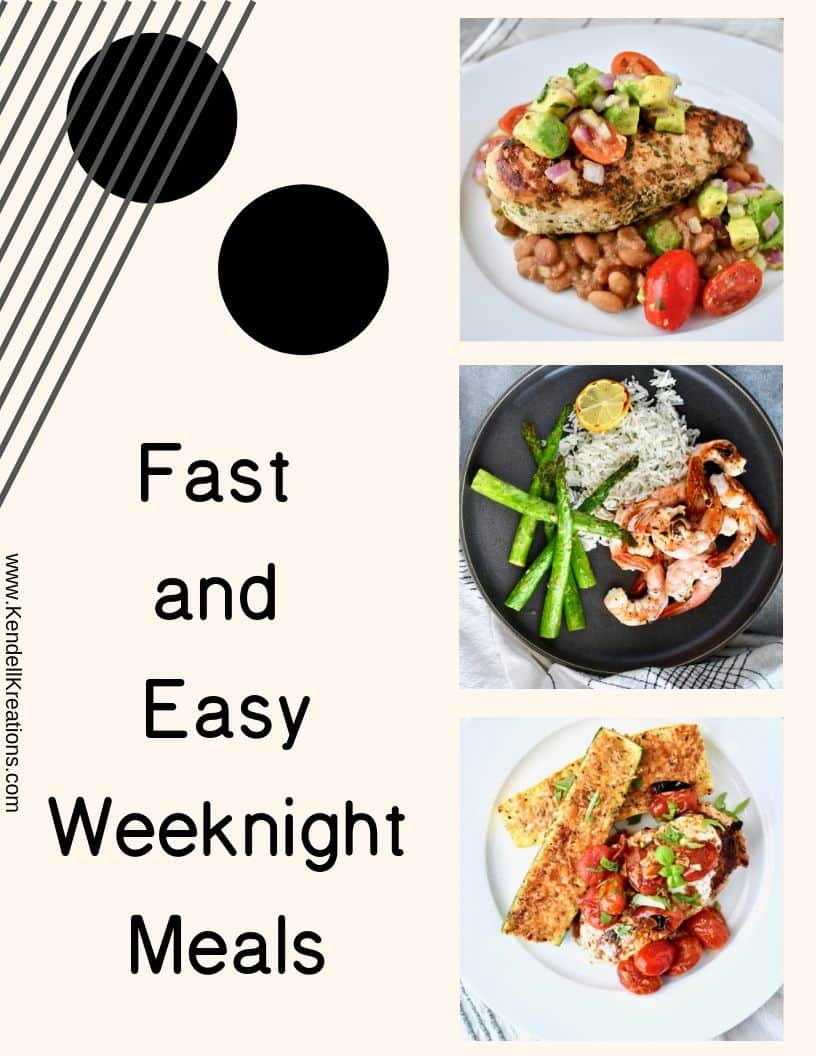 MY FAVORITE KITCHEN TOOLS!
Here are a few links to some of my favorite kitchen tools! You get a car, YOu get a car, YOU ALL GET A CAR…in my best Oprah voice
These Rösle Silicone Tongs are a little pricey but they will last you the rest of your life and are the softest in your hand. This is important for someone like m that cooks so much. It reduces strain, I have 4 sets in my kitchen!
These are my FAVE Nordic Ware Sheet Pans, every kitchen should have at least 2 sets of these! I think I have at least 4 of each of these.
This is my favorite pressure cooker, the Fagor is the same concept as the "Instant Pot" but easier to use in my opinion, if you don't have one you NEED one, it will be your best friend in the kitchen!
A sharp knife is the most important tool in the kitchen, these Japanese steel "Shun" knives are my favorite! And this is a great starter set to build on. Once you try them you will be in love so use this as a foundation you can build on for years to come.
This Scanpan 11″ skillet is just the right size for almost anything you will need to cook and my best friend and a real workhorse in my kitchen, it's also a great deal at $99. Scanpan is the best in the world for healthy cooking. It is coated with a proprietary ceramic-titanium coating that is durable while allowing you to use fewer fats and oils when cooking. It is a coating only they use. I could talk all day about my love for these pans, message me if you want more info. Here are some other sizes that are available if you are looking to outfit your kitchen with some new goodies. 8″ & 10″ Skillet set or 8″ Skillet, I still need this one for my kitchen Also, I don't really know how to cook small so the 12.5″ is my other fave!
This giant vat of olive oil is my favorite, I decant it into a smaller bottle for my counter. Or put this spigot on top of a wine bottle!
My favorite baking dish that is so easy to clean even burnt on cheese slides right off!
This Tovolo jar scraper has to be my single favorite kitchen tool, it is definitely the most used tool in my kitchen. If you are NOT a gadget person, this is the only necessity I say is a MUST beyond the wooden spoon.
A great wood spoon is essential, this Olive Wood one is my favorite, I have more than I can count. But can you really ever have too many?
A food scale can be a very important tool in your kitchen, this one is the one I use every day!
If you love Joanna Gaines as much as I do then the 'Magnolia Table Cookbook' is a must in your kitchen, get a copy HERE!