Growing up this Strawberry Lemonade was my dad's first choice of drink, just about any time of year. He was pretty much obsessed with it as I recall.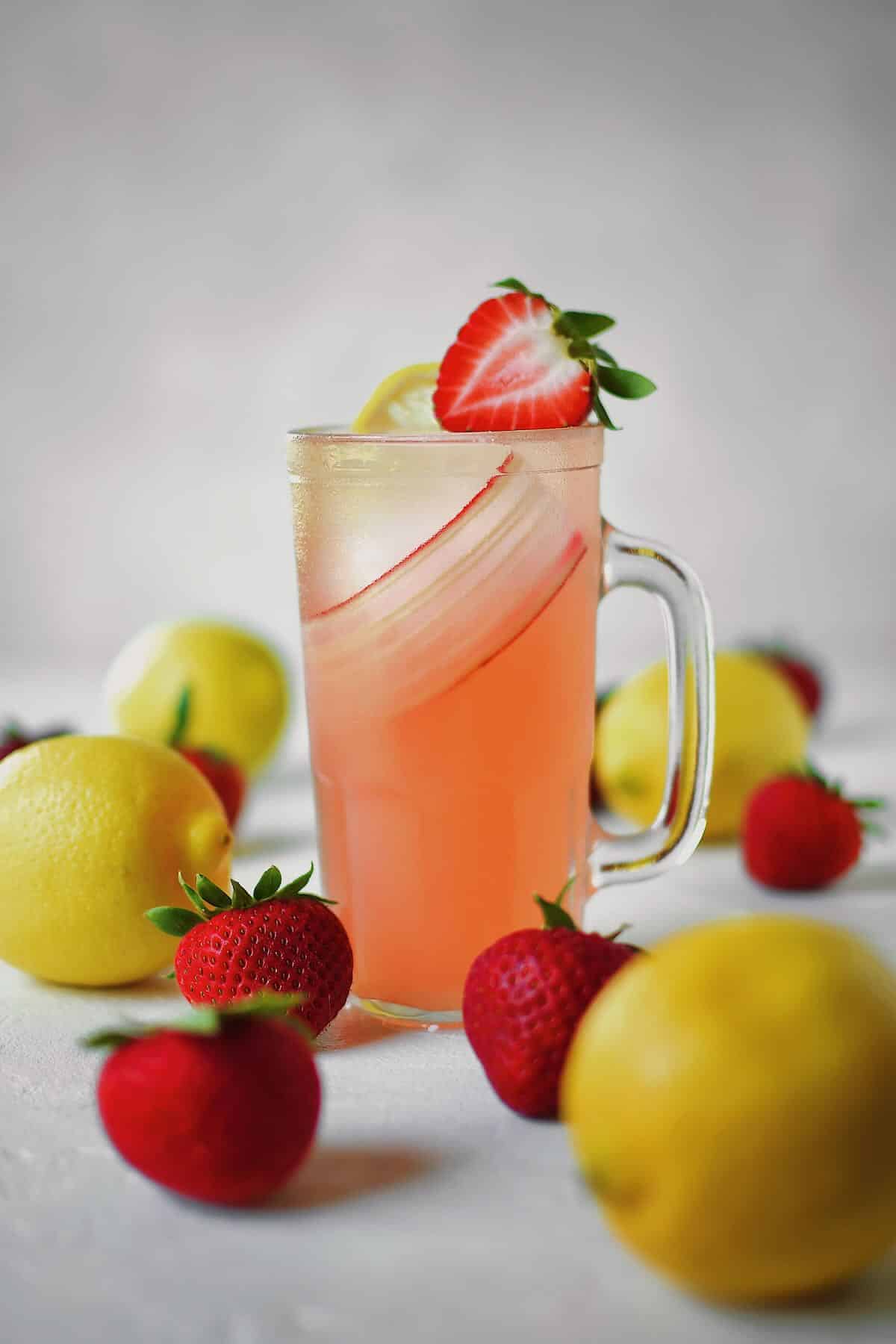 This is my Cheffy updated version, but I think I got it equally, if not more delicious than I remember. Plus it is another great excuse to use some of my extra tasty Strawberry Rhubarb Jam, which gives some extra tartness with a hint of vanilla. YUM!
Jump to:
Ingredients
And while you could use any strawberry jam you have, make, or purchase from the store as the base, my homemade version just gives it a little something extra. Beyond that the ingredient list is super short, just the way a good lemonade should be.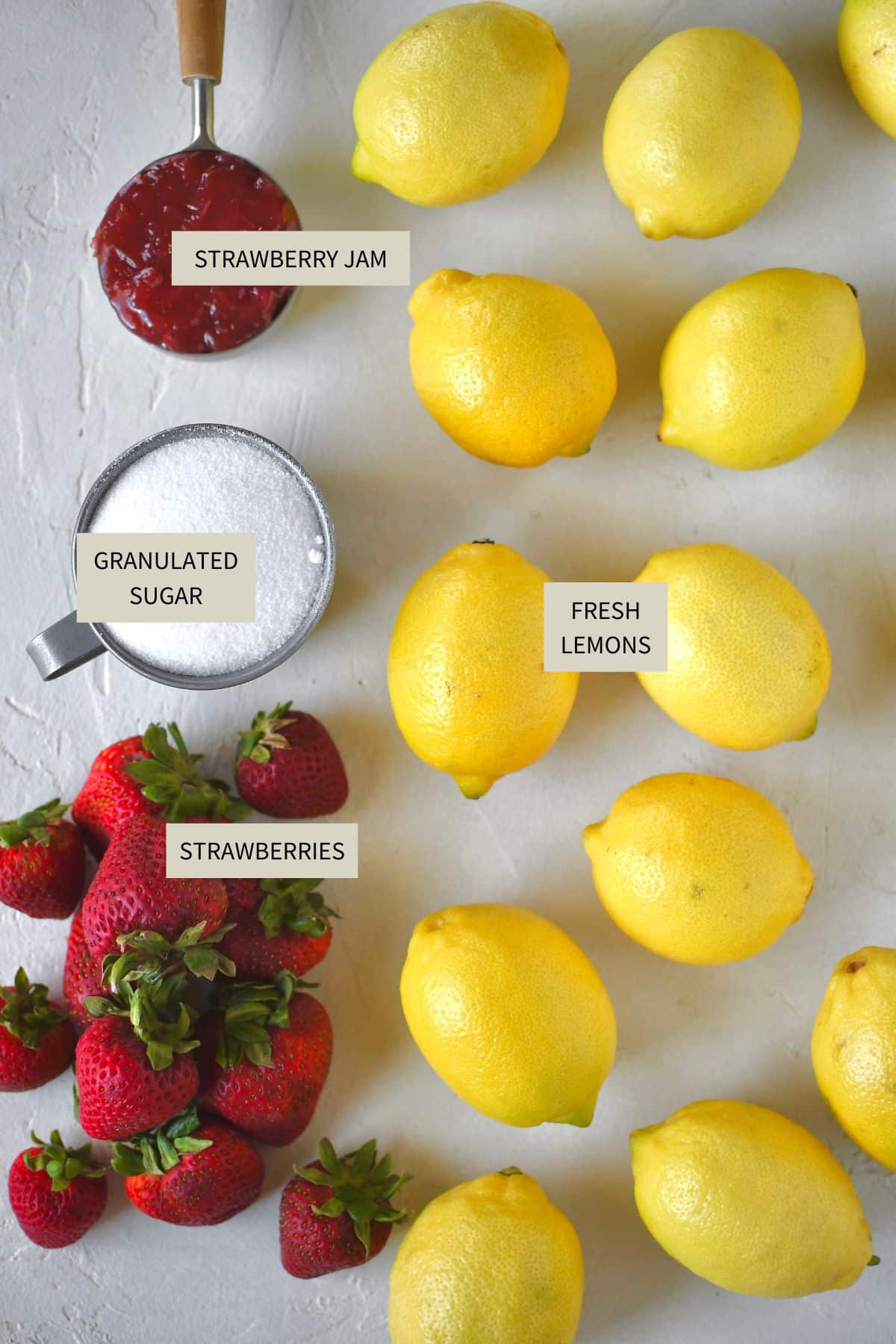 Water, sugar, lemons, and the addition of some strawberry jam and you have a perfect lemonade, this is just a guide to the perfect ratios for a great, and tart lemonade.
Use the JUMP TO RECIPE button at the top of the post, or scroll to the bottom of the post to see the full recipe card with ingredient measurements and instructions.
Method
Start by making a simple syrup, combine the sugar and some water together in a saucepan, and warm it on the stove till the sugar is fully dissolved. Then add in the lemon juice and the jam to create your lemonade base.
Add the base and the remaining water to a large pitcher with some extra lemon and strawberry slices and you have a great Strawberry Lemonade.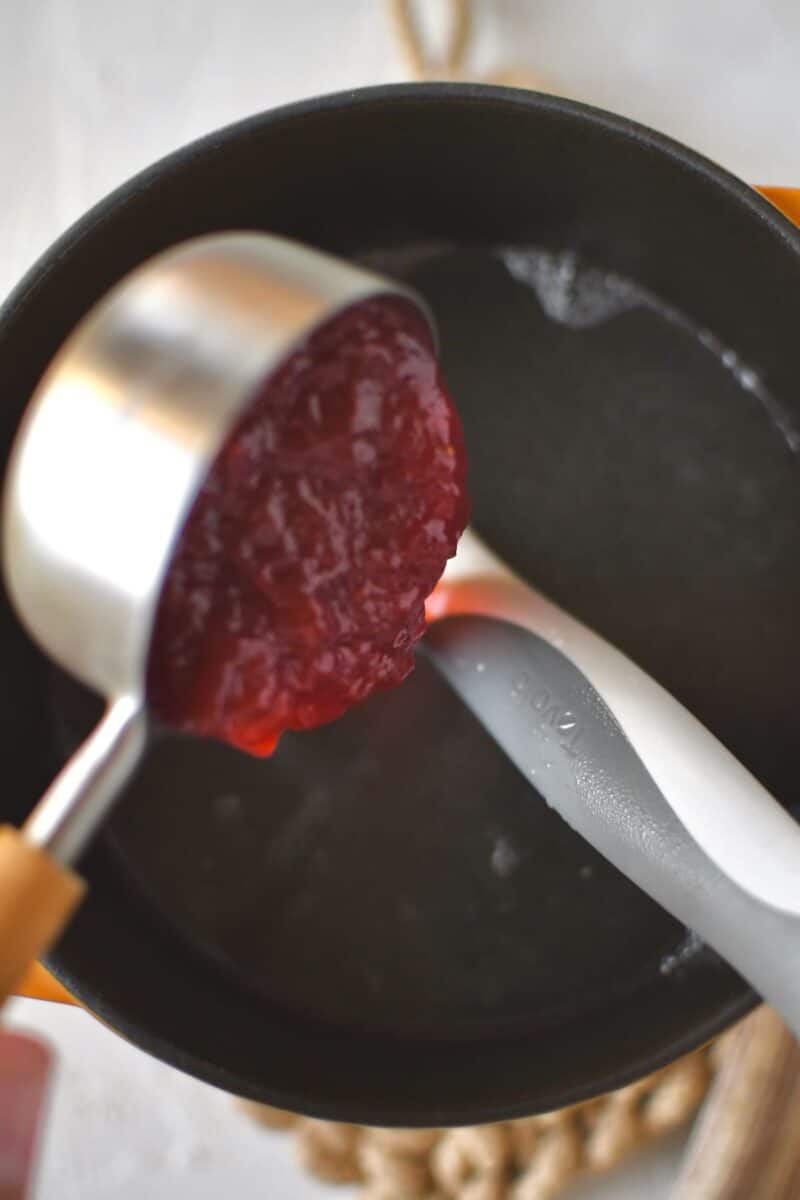 If you like to get a little fancy, make some rhubarb curls but cutting a large stalk in half and using a vegetable peeler, peel a long thin slice. This harkens back to the rhubarb in the jam I used. Curl it around a glass, add ice, and top with a lemon slice and halved strawberry for an easy and stunningly refreshing drink.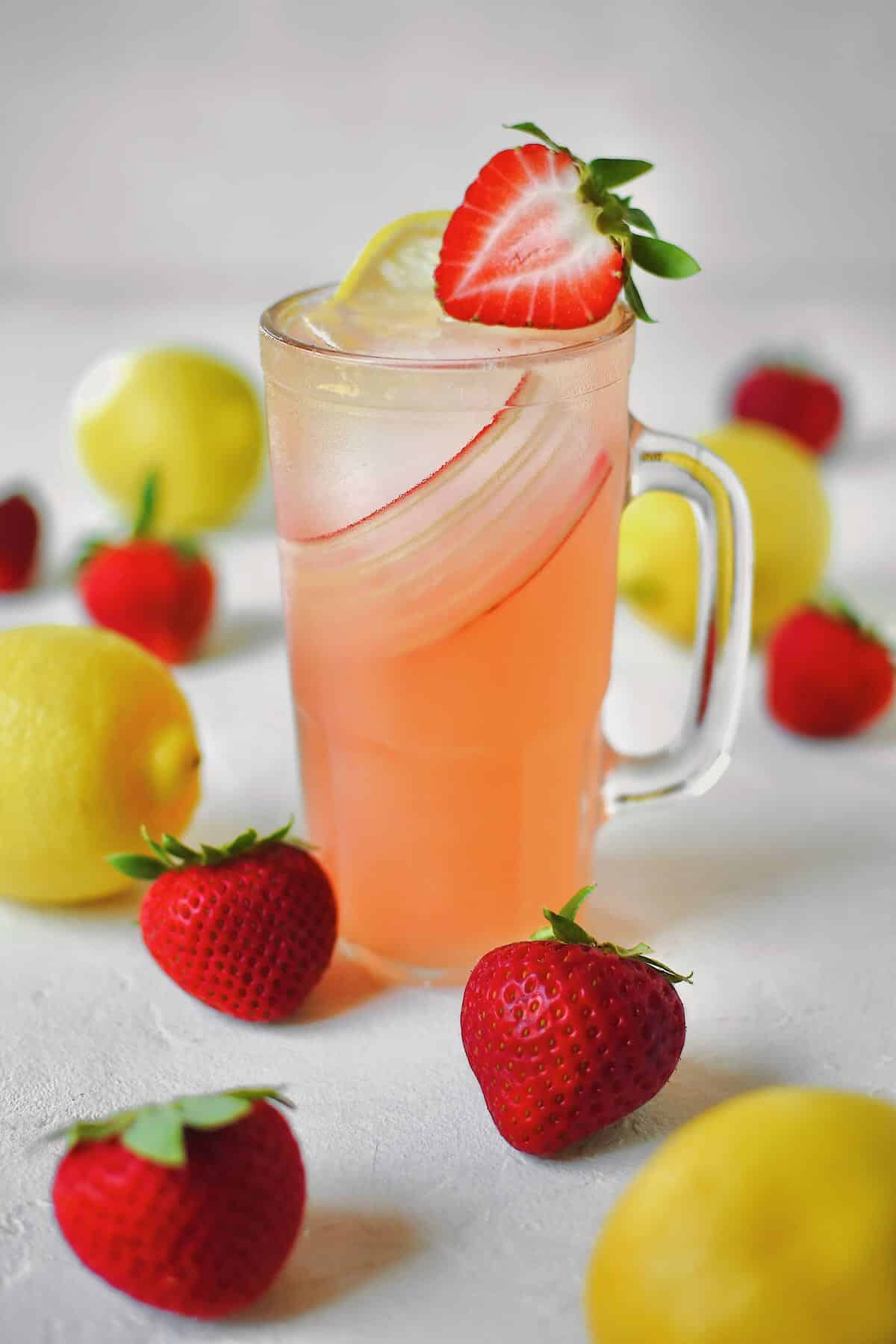 Notes & Tips
My jam held a little pulp from the strawberries and rhubarb. If you want a super smooth lemonade, you can strain it out. The lemon usually has some too. I didn't mind it too much, but just want to share that it is there, do what works for you.
I like to make my base on the stove and then mix it with cool filtered water from the fridge after it cools. I try to use all the best ingredients since there are so few.
To make a pretty pitcher like you see in the photo below, fill it with ice, I use giant square cubes, then press lemon and berry slices down the side for a beautiful presentation.
I like to serve this slightly warm still, or just freshly mixed up over a full cup of ice. It helps make the lemonade go further and dilutes it a little bit, which I think it needs since it is pretty tart, but a welcome tartness, just open to being diluted naturally a bit.
Substitutions
If you would like to keep this sugar-free, swap the sugar for ⅔ the amount of stevia. I often make it this way for my diabetic family members so they can still enjoy it.
I used my homemade strawberry rhubarb jam for this recipe, but even a storebought jam will work. The point of using it is that the flavor is concentrated and will flavor the lemonade really well.
I will say I am a stickler for fresh lemon juice for this recipe, it only has a few ingredients anyway, and you only need like 5 or 6 lemons to get a cup. But in a pinch, you could use storebought if you have to.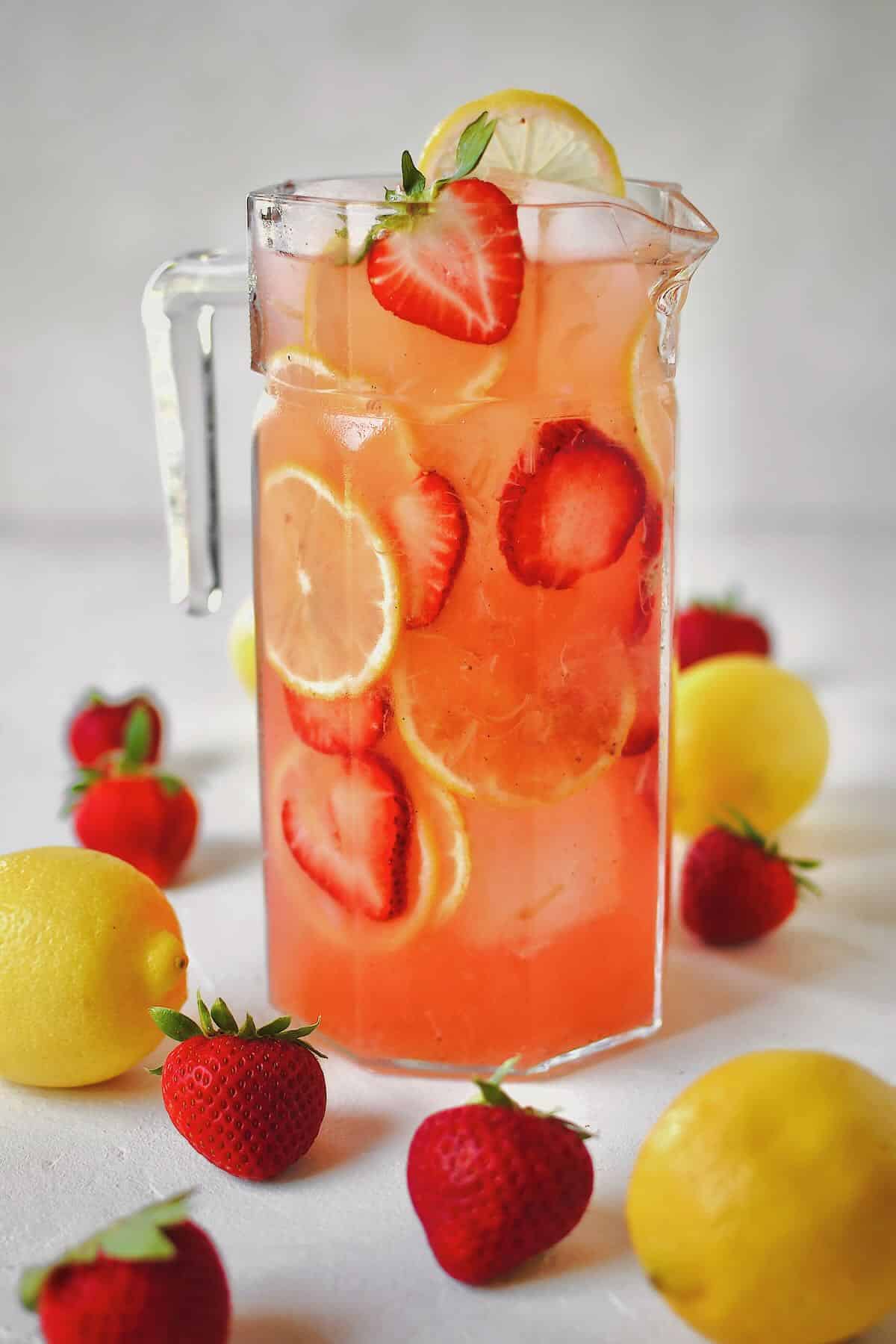 Did you make this recipe? Let me know by leaving a review or comment! And be sure to sign up for my newsletter, and follow along on Instagram, Pinterest, and Facebook!