During quarantine, I had such a craving for french fries, but in an effort to stay sheltered, and due to the fact that I had all the ingredients I needed, I decided to give these Easy Homemade French Fries a go at home. They are simpler to make than you might think and tastier than anything you can get out in the world! Homemade is always best, and that goes for this recipe too!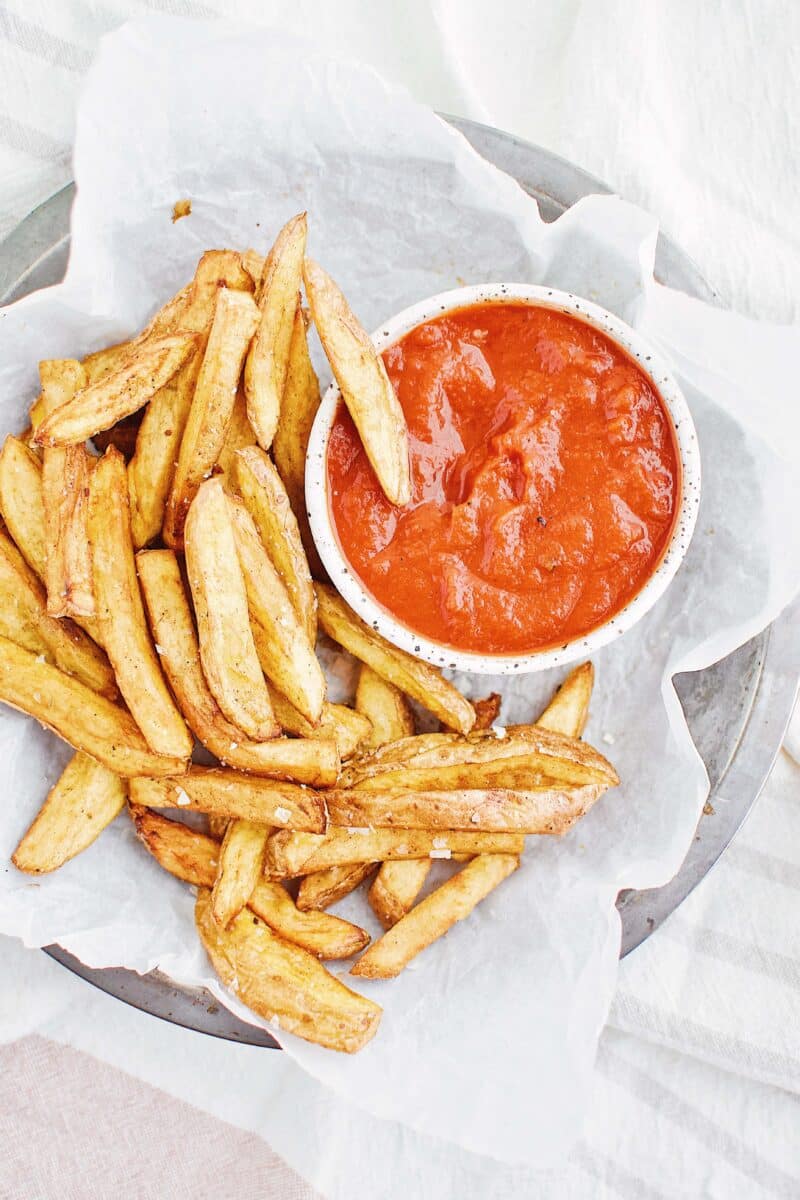 Do you need to soak potatoes before frying?
Honestly, you can but you don't really need to. Soaking releases some of the starches from the potatoes but it is just a couple of extra steps that I don't think you really need. Plus you have to dry the potatoes and risk having water on them that will cool the oil quicker when you fry the potatoes and make it splatter.
I also skip this step because I like to use Yukon Gold Potatoes for my fries and they are a little less starchy to start with than russet potatoes. They also don't tend to stick together while frying like russets would.
The two step process that I will explain here will also help with the elimination of soaking the potatoes.
How to make French Fries from scratch
I start by washing and drying my potatoes. Just a quick wash to get all the excess dirt off of them. I usually just wash all my potatoes when I bring them home from the store so they are always clean and dry when I am ready to use them.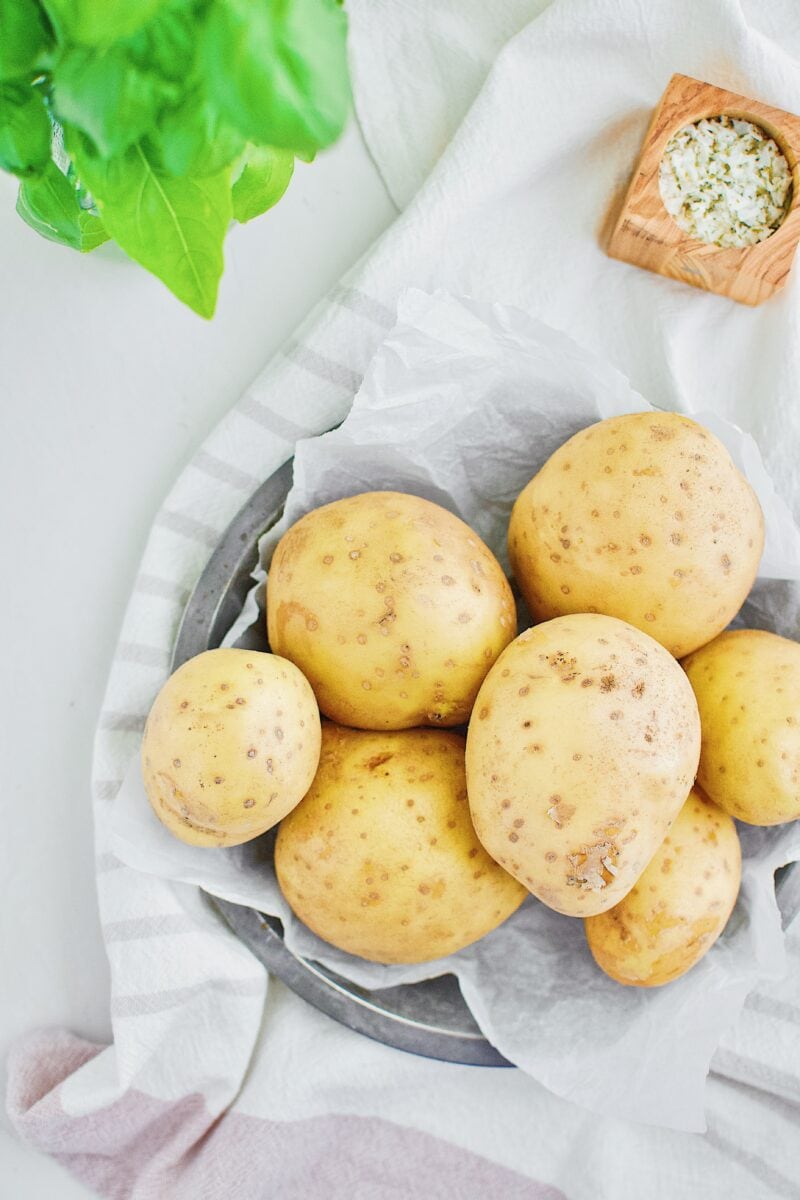 Next slice the potatoes into fries. Slice the potato into ½ inch slabs and then into ½ inch sticks. You can cut them thinner if you want, the thinner you cut them the longer they will stay crisp after cooking but the more susceptible to breakage, this size works great and makes the potatoes easy to work with.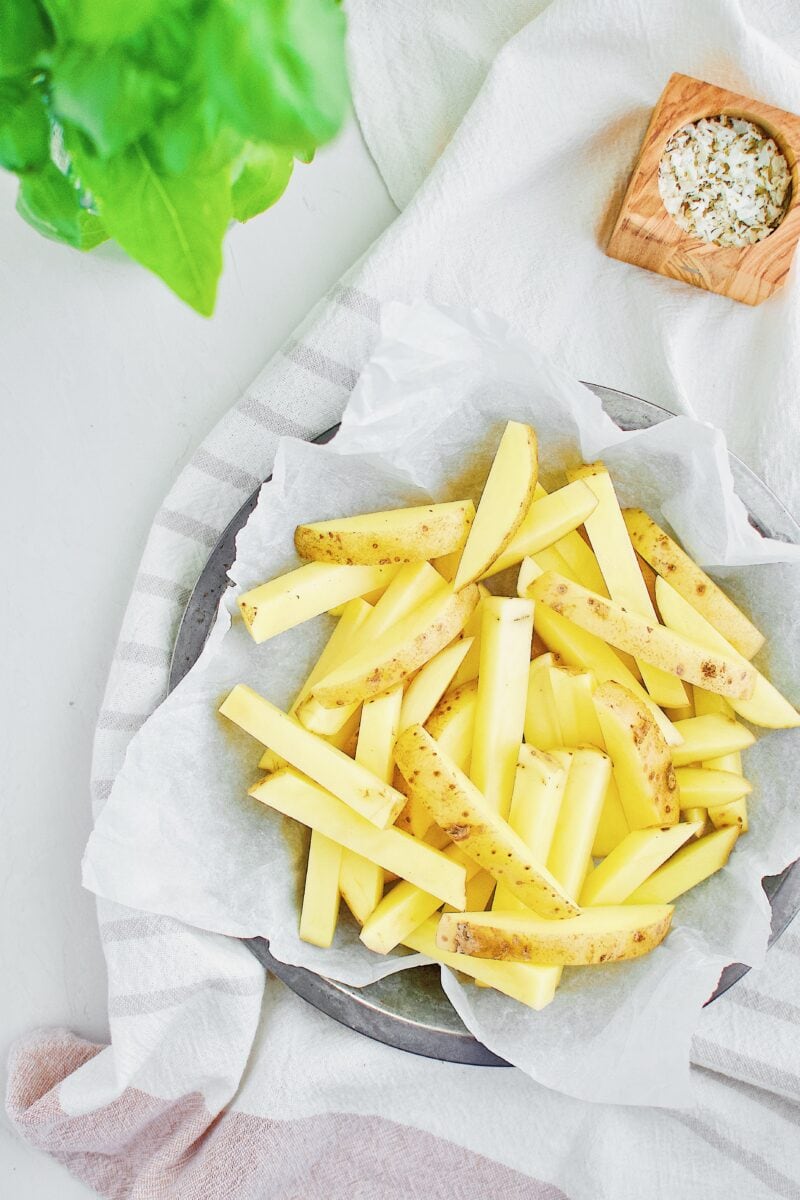 The next step it to heat the oil and and do the first cook of the french fries. They cook for 5-6 minutes in cool oil just to get the potatoes cooked. Then remove them to a paper lined tray to cool and drain.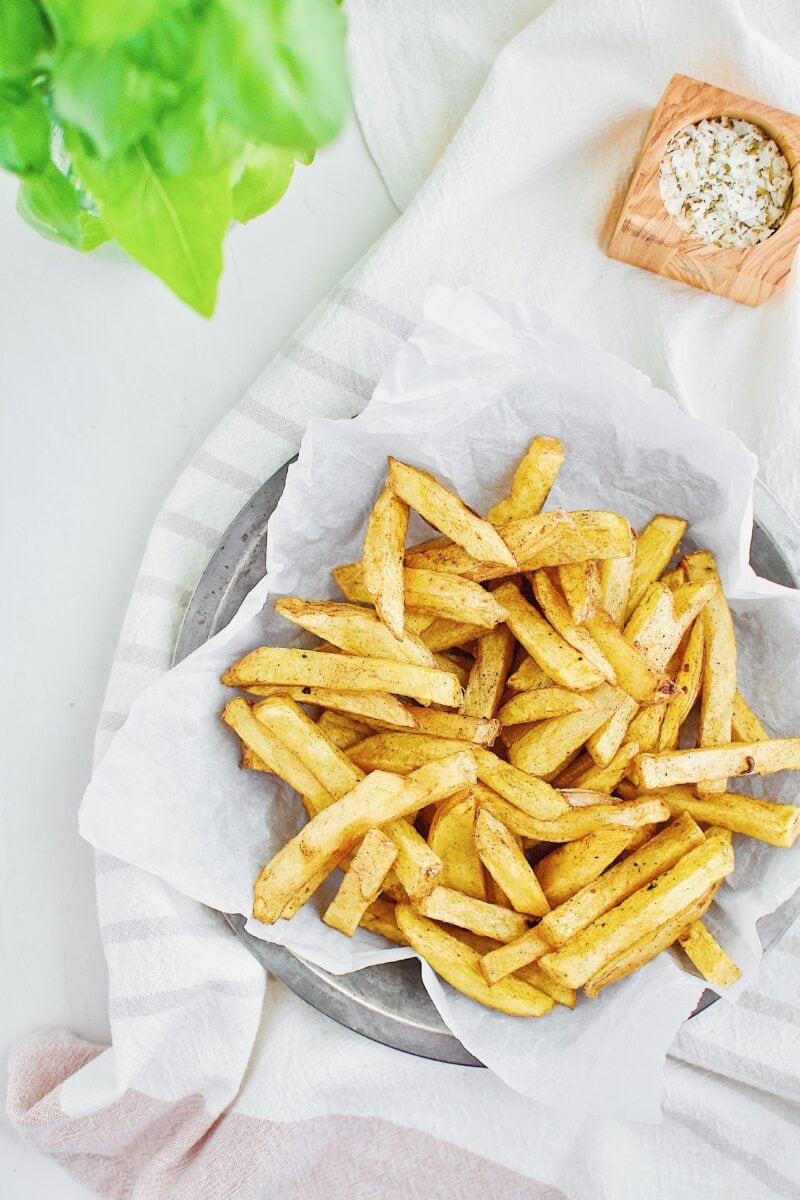 Once you have cooked the fries, next heat the oil to 400 degrees and deep fry the potatoes until they are crisp 4-5 more minutes or so. Do this in a few batches to keep the oil hot and give the fries time and space to crisp.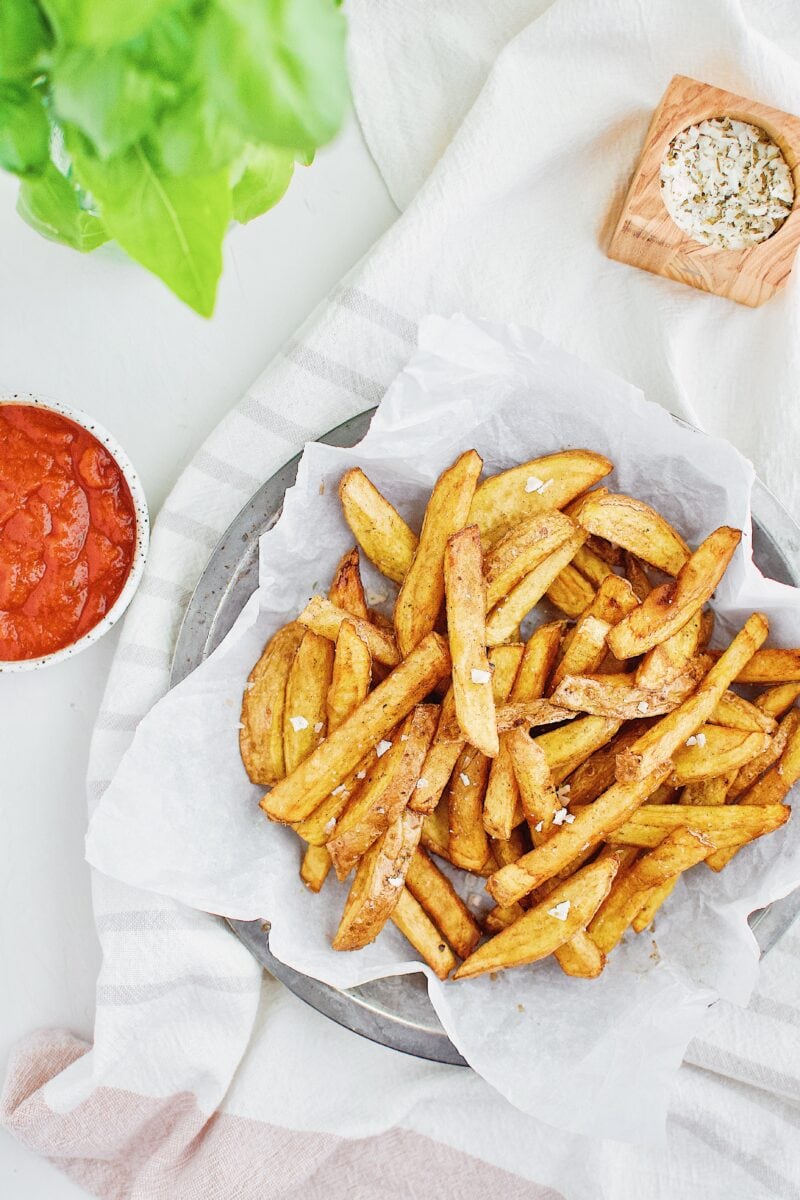 I like to salt the fries with a little kosher salt as soon as they come out of the fryer and then with some flakey salt when I serve them. And if you can find it in stores (cause it is too expensive online) grab some truffle ketchup to serve these fries with, they pair so well with it. And they make a fantastic side to pretty much anything!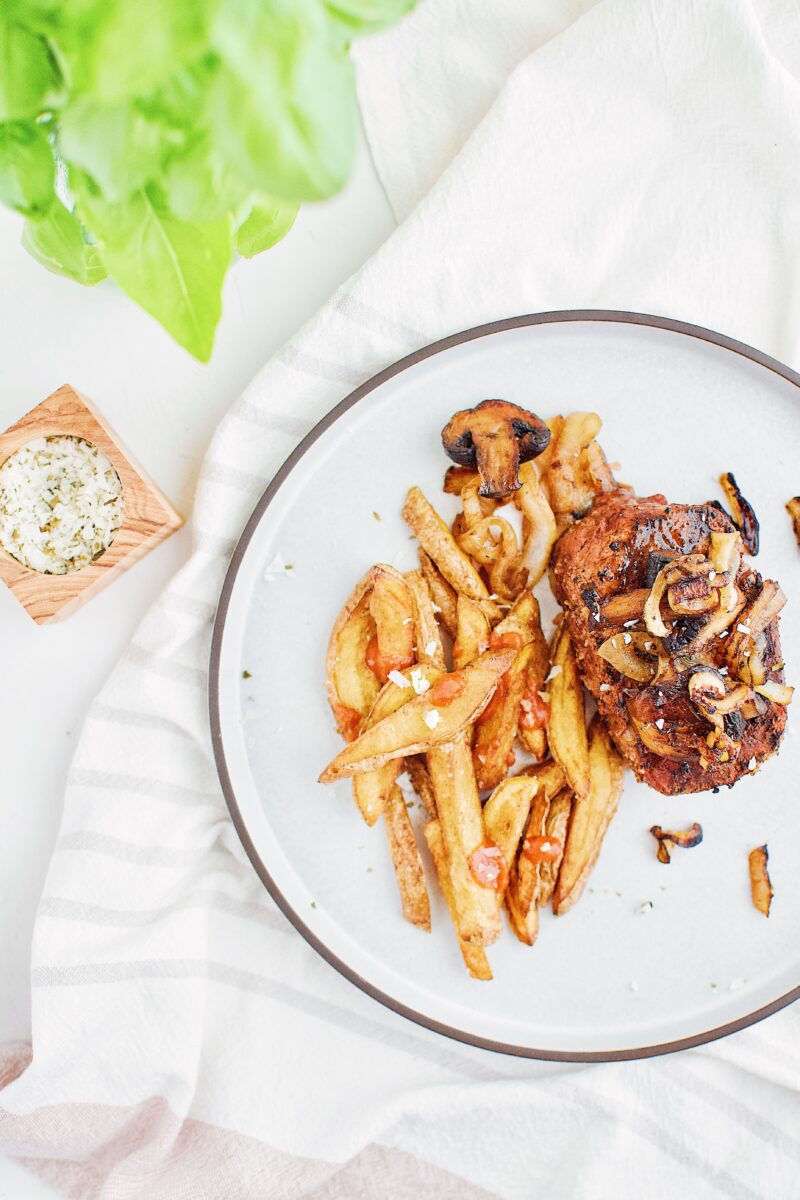 Keeping the fries crispy
If you want to make these a little bit ahead of time and hold them for a bit while the rest of dinner is coming together you can remove them from the oil onto a cooling rack over a baking sheet. This will help them stay crisp longer. You can then place them in a warm oven, about 200 degrees, to keep warm and crisp.
These fries actually hold up really well. I have even made them ahead of time and re-crisped them both in an air fryer and in a convection toaster oven. A device that circulates the air is best for getting the fries to crisp again.
If you wanted, you could even toss the raw potatoes in a little bit of oil and salt and do this same process in an air fryer. You want to follow the same procedure of cooking twice, but you should get an equally great result.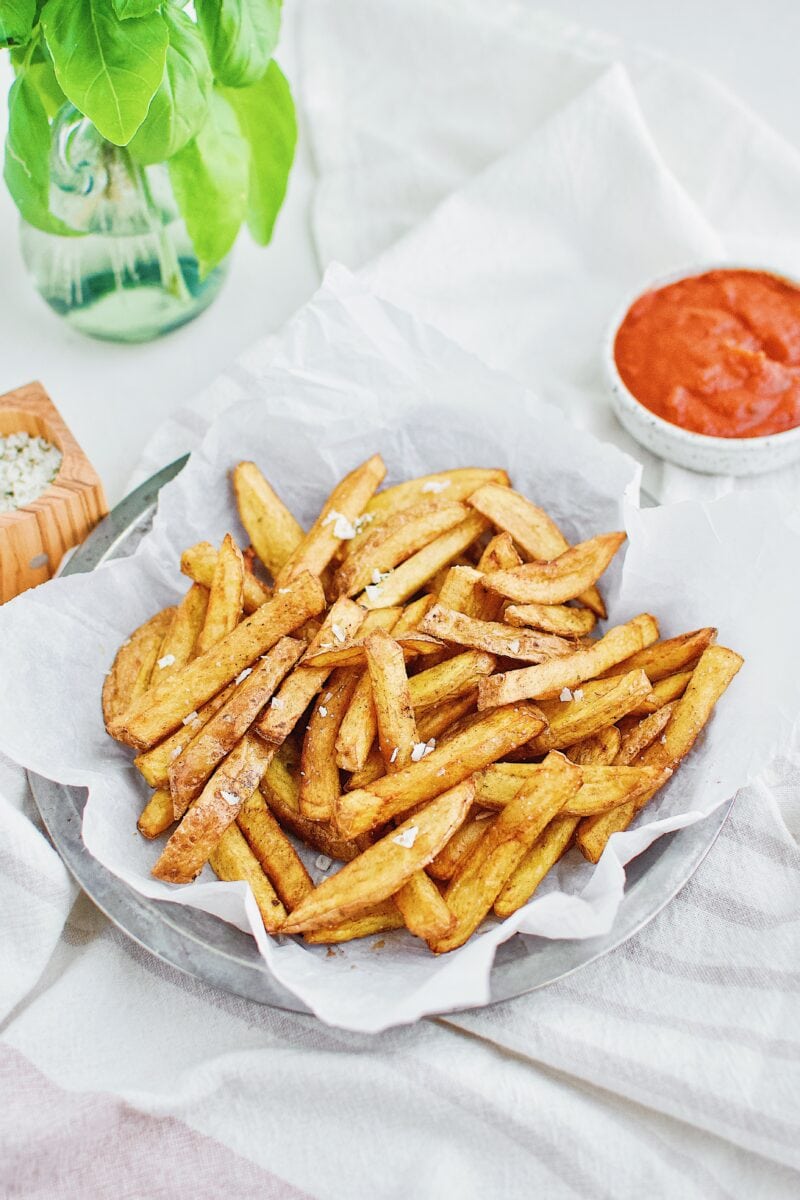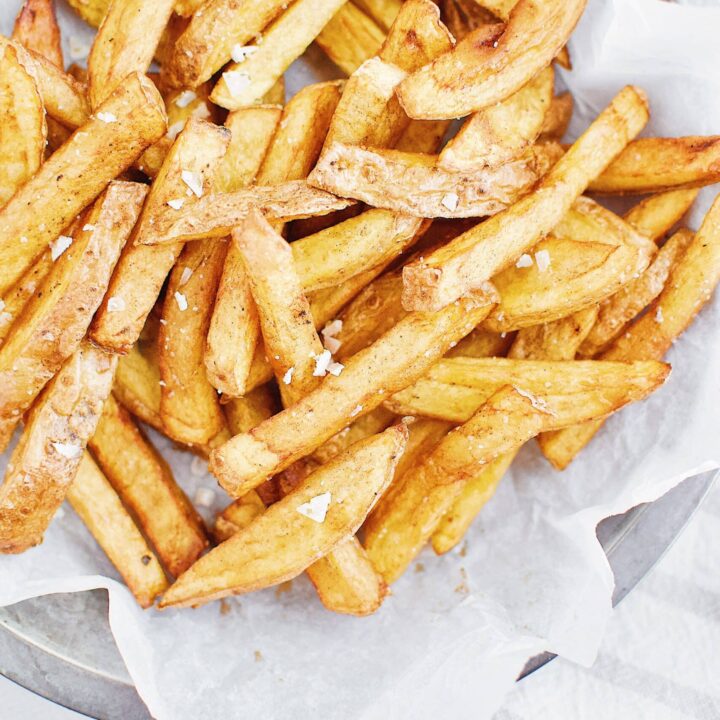 Easy Homemade French Fries
Fries at home are easier than you might think to make and in my opinion, there is nothing better than homemade.
Ingredients
2 lb Yukon Gold Potatoes
Corn Oil, for frying
Kosher Salt
Flakey Sea Salt
Instructions
In a 12 inch cast iron skillet or deep heavy-bottomed pot heat the corn oil to 325˚F.
Cut the potatoes into long slabs and then into sticks, about ½ inch thick.
Gently place the fries in the heated oil and cook for 6 minutes. Do this in 2-3 batches. Remove the fries to a paper towel-lined sheet pan and let them cool.
Heat the oil again, this time to 400˚F.
Gently place the fries back in the hot oil in batches and cook until browned and crisped.
Remove the fries from the oil and let them drain off. Place in a bowl and toss with kosher salt. Taste and adjust as needed.
Serve topped with some flake salt and your favorite dipping sauce.
Notes
I prefer the Yukon gold to the russet for this recipe, they are more buttery and flavorful. I try to buy the biggest and longest ones I can find for fries. For extra crispy fries, repeat the frying process a third time before salting.
Nutrition Information:
Serving Size:

1 grams
Amount Per Serving:
Unsaturated Fat:

0g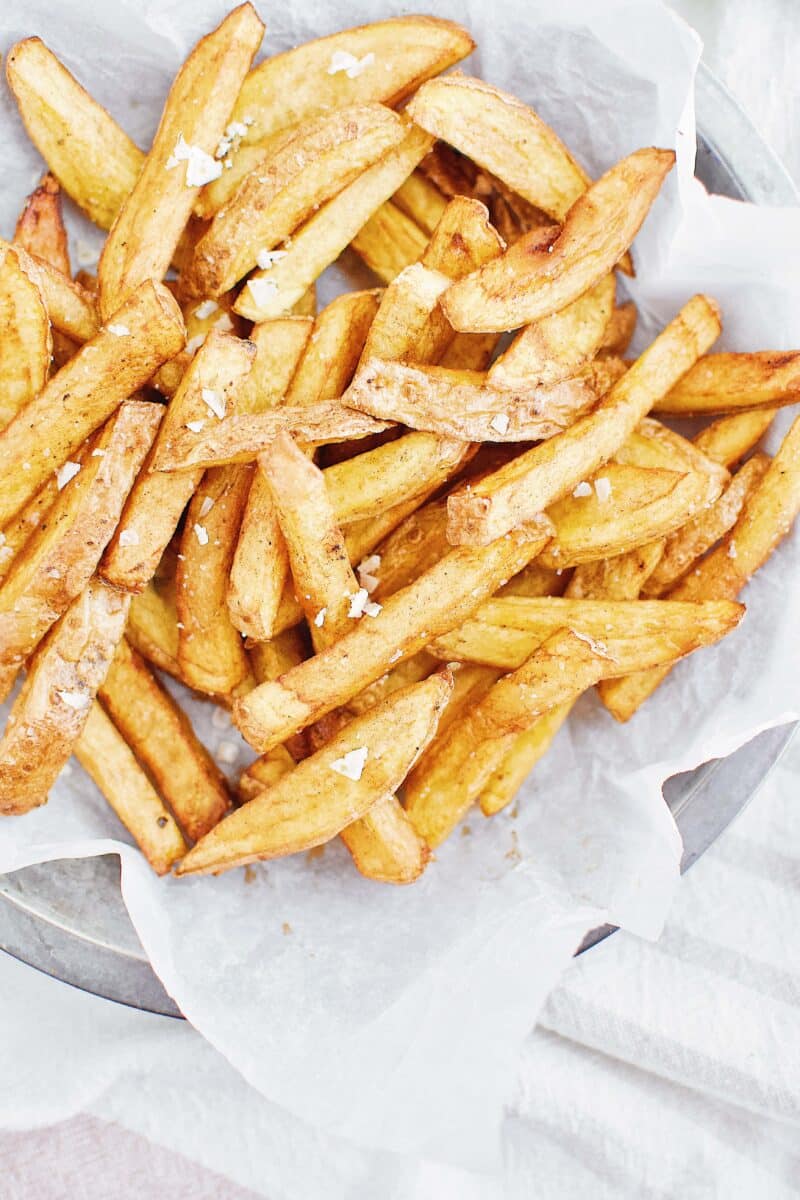 If you make this recipe, please let me know by leaving a review at the bottom of this page!
And make sure to sign up for my newsletter and follow along on Instagram, Pinterest, and Facebook for more KendellKreations!
MY LATEST RECIPES!
Get my NEW e-Cookbook here!! ⬇️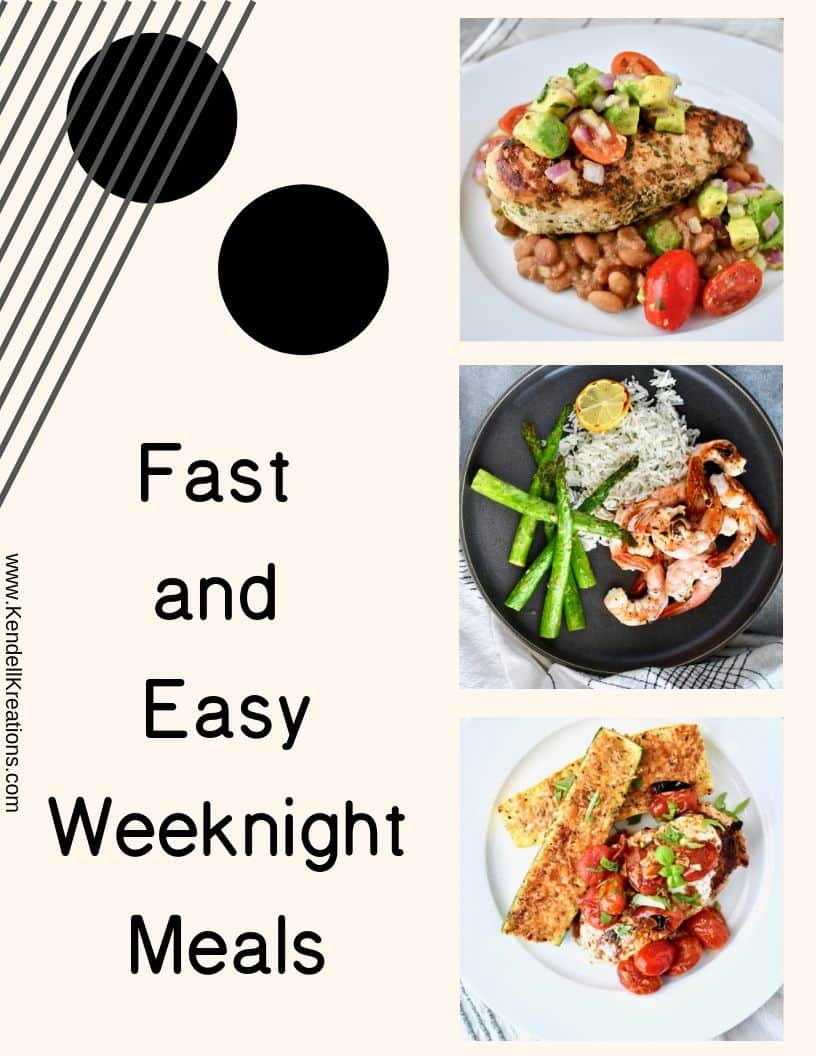 MY FAVORITE KITCHEN TOOLS!
Here are a few links to some of my favorite kitchen tools! You get a car, YOu get a car, YOU ALL GET A CAR…in my best Oprah voice
These Rösle Silicone Tongs are a little pricey but they will last you the rest of your life and are the softest in your hand. This is important for someone like m that cooks so much. It reduces strain, I have 4 sets in my kitchen!
These are my FAVE Nordic Ware Sheet Pans, every kitchen should have at least 2 sets of these! I think I have at least 4 of each of these.
This is my favorite pressure cooker, the Fagor is the same concept as the "Instant Pot" but easier to use in my opinion, if you don't have one you NEED one, it will be your best friend in the kitchen!
A sharp knife is the most important tool in the kitchen, these Japanese steel "Shun" knives are my favorite! And this is a great starter set to build on. Once you try them you will be in love so use this as a foundation you can build on for years to come.
This Scanpan 11″ skillet is just the right size for almost anything you will need to cook and my best friend and a real workhorse in my kitchen, it's also a great deal at $99. Scanpan is the best in the world for healthy cooking. It is coated with a proprietary ceramic-titanium coating that is durable while allowing you to use fewer fats and oils when cooking. It is a coating only they use. I could talk all day about my love for these pans, message me if you want more info. Here are some other sizes that are available if you are looking to outfit your kitchen with some new goodies. 8″ & 10″ Skillet set or 8″ Skillet, I still need this one for my kitchen Also, I don't really know how to cook small so the 12.5″ is my other fave!
This giant vat of olive oil is my favorite, I decant it into a smaller bottle for my counter. Or put this spigot on top of a wine bottle!
My favorite baking dish that is so easy to clean even burnt on cheese slides right off!
This Tovolo jar scraper has to be my single favorite kitchen tool, it is definitely the most used tool in my kitchen. If you are NOT a gadget person, this is the only necessity I say is a MUST beyond the wooden spoon.
A great wood spoon is essential, this Olive Wood one is my favorite, I have more than I can count. But can you really ever have too many?
A food scale can be a very important tool in your kitchen, this one is the one I use every day!
If you love Joanna Gaines as much as I do then the 'Magnolia Table Cookbook' is a must in your kitchen, get a copy HERE!