During quarantine, I had such a craving for french fries, but in an effort to stay sheltered, and due to the fact that I had all the ingredients I needed, I decided to give these Easy Homemade French Fries a go at home. They are simpler to make than you might think and tastier than anything you can get out in the world! Homemade is always best, and that goes for this recipe too!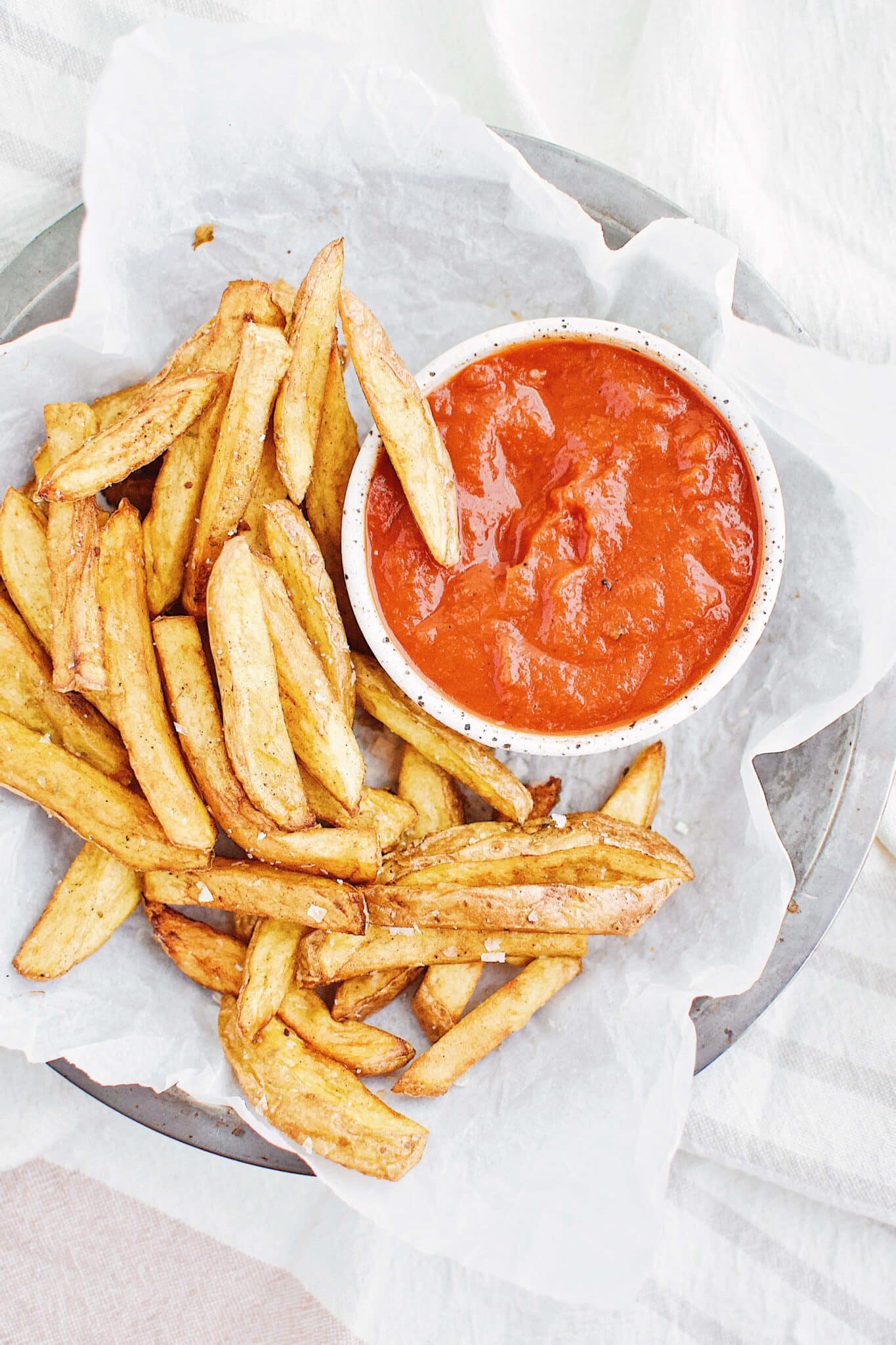 Jump to:
Do you need to soak potatoes before frying?
Honestly, you can but you don't really need to. Soaking releases some of the starches from the potatoes but it is just a couple of extra steps that I don't think you really need. Plus you have to dry the potatoes and risk having water on them that will cool the oil quicker when you fry the potatoes and make it splatter.
I also skip this step because I like to use Yukon Gold Potatoes for my fries and they are a little less starchy to start with than russet potatoes. They also don't tend to stick together while frying like russets would.
The two step process that I will explain here will also help with the elimination of soaking the potatoes.
Use the JUMP TO RECIPE button at the top of the post, or scroll to the bottom of the post to see the full recipe card with ingredient measurements and instructions.
How to make French Fries from scratch
I start by washing and drying my potatoes. Just a quick wash to get all the excess dirt off of them. I usually just wash all my potatoes when I bring them home from the store so they are always clean and dry when I am ready to use them.
Next slice the potatoes into fries. Slice the potato into ½ inch slabs and then into ½ inch sticks. You can cut them thinner if you want, the thinner you cut them the longer they will stay crisp after cooking but the more susceptible to breakage, this size works great and makes the potatoes easy to work with.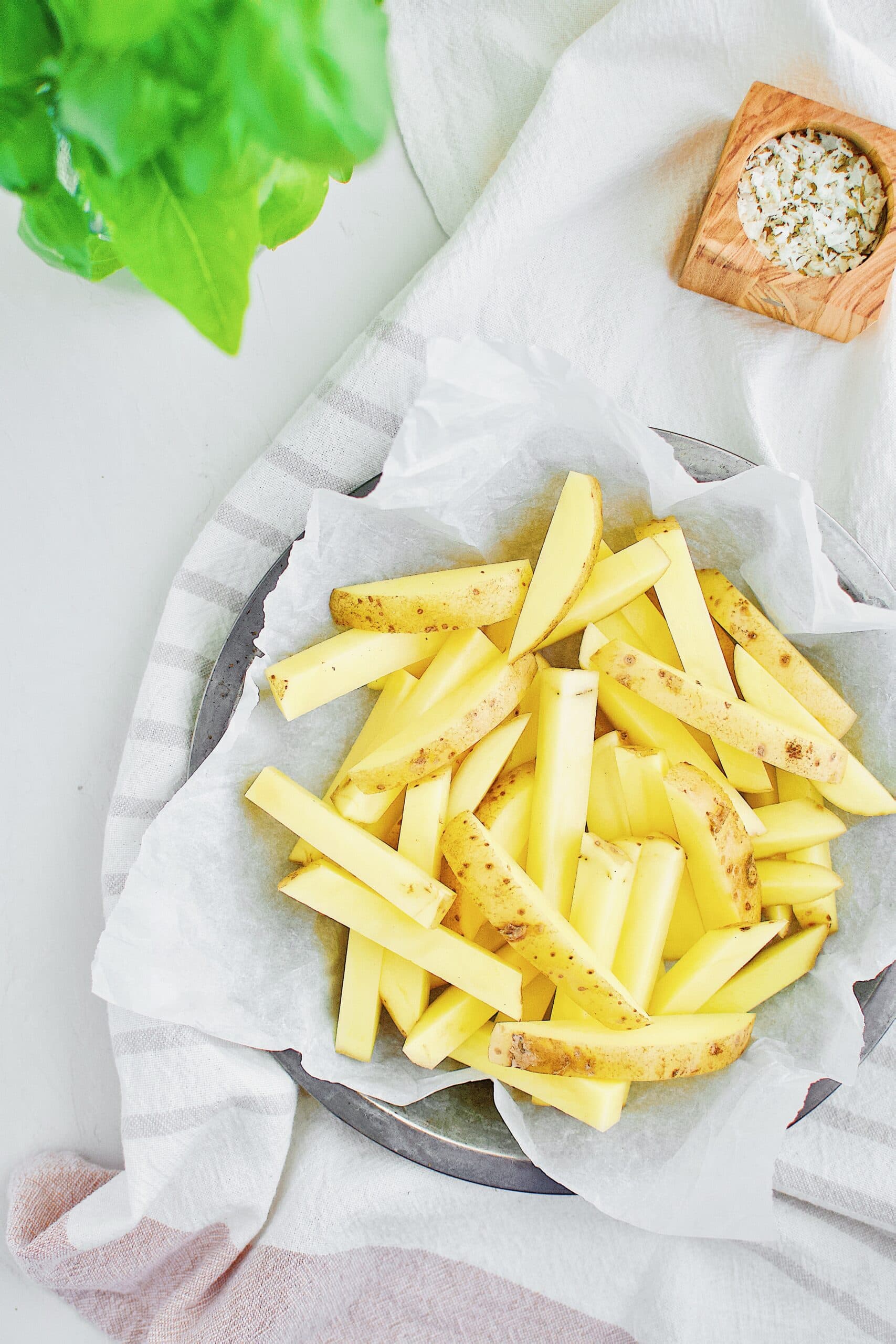 The next step it to heat the oil and and do the first cook of the french fries. They cook for 5-6 minutes in cool oil just to get the potatoes cooked. Then remove them to a paper lined tray to cool and drain.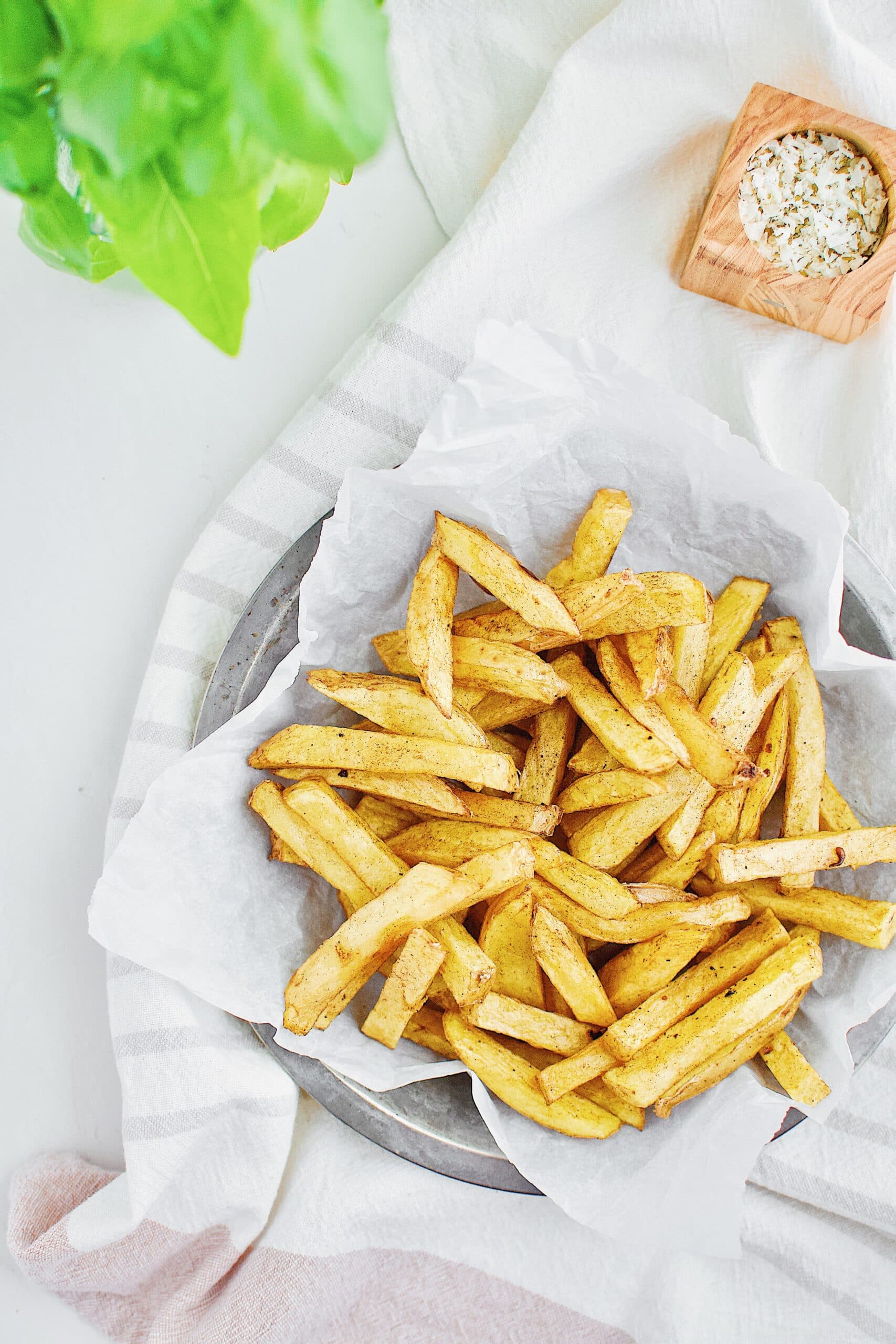 Once you have cooked the fries, next heat the oil to 400 degrees and deep fry the potatoes until they are crisp 4-5 more minutes or so. Do this in a few batches to keep the oil hot and give the fries time and space to crisp.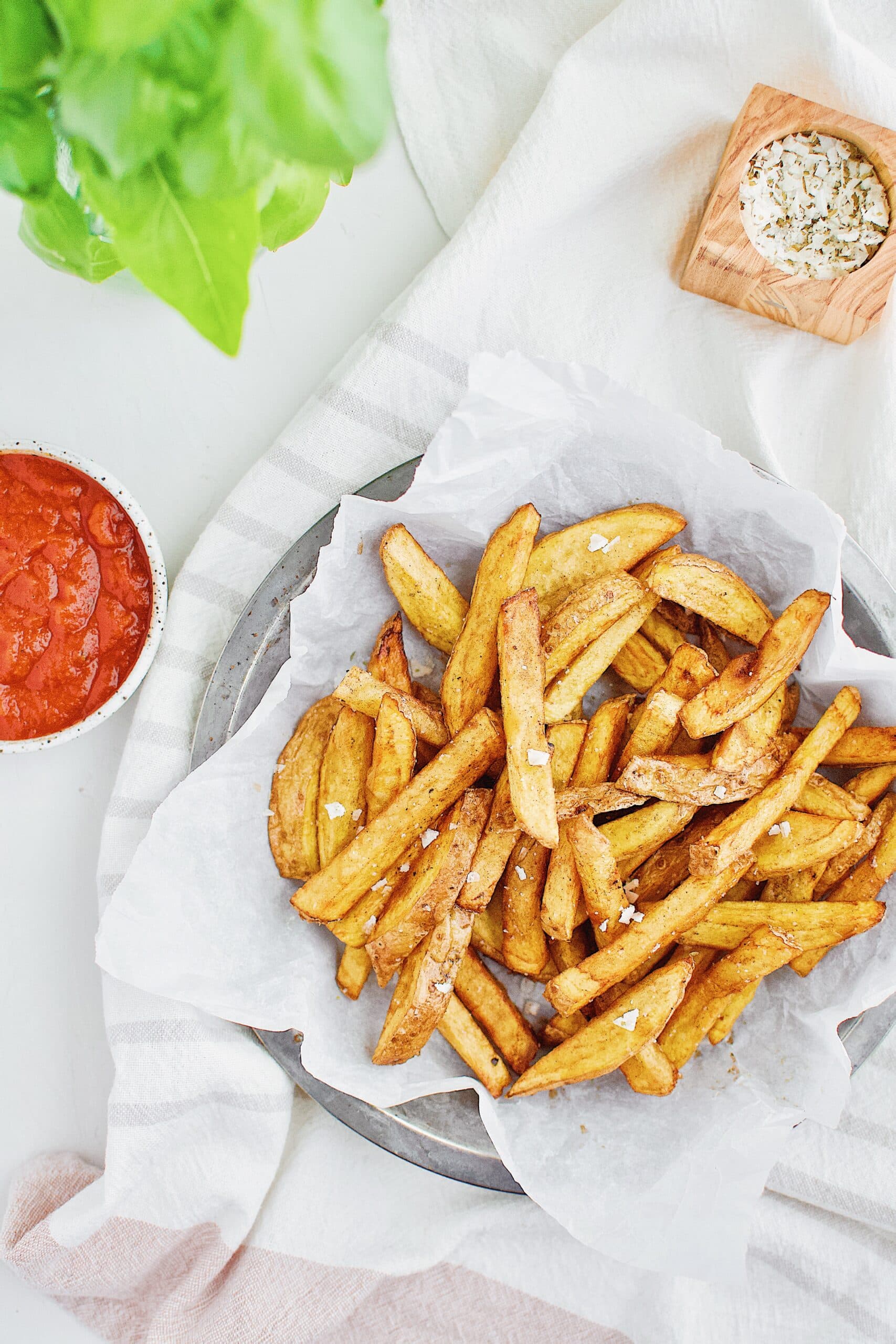 I like to salt the fries with a little kosher salt as soon as they come out of the fryer and then with some flakey salt when I serve them. And if you can find it in stores (cause it is too expensive online) grab some truffle ketchup to serve these fries with, they pair so well with it. And they make a fantastic side to pretty much anything!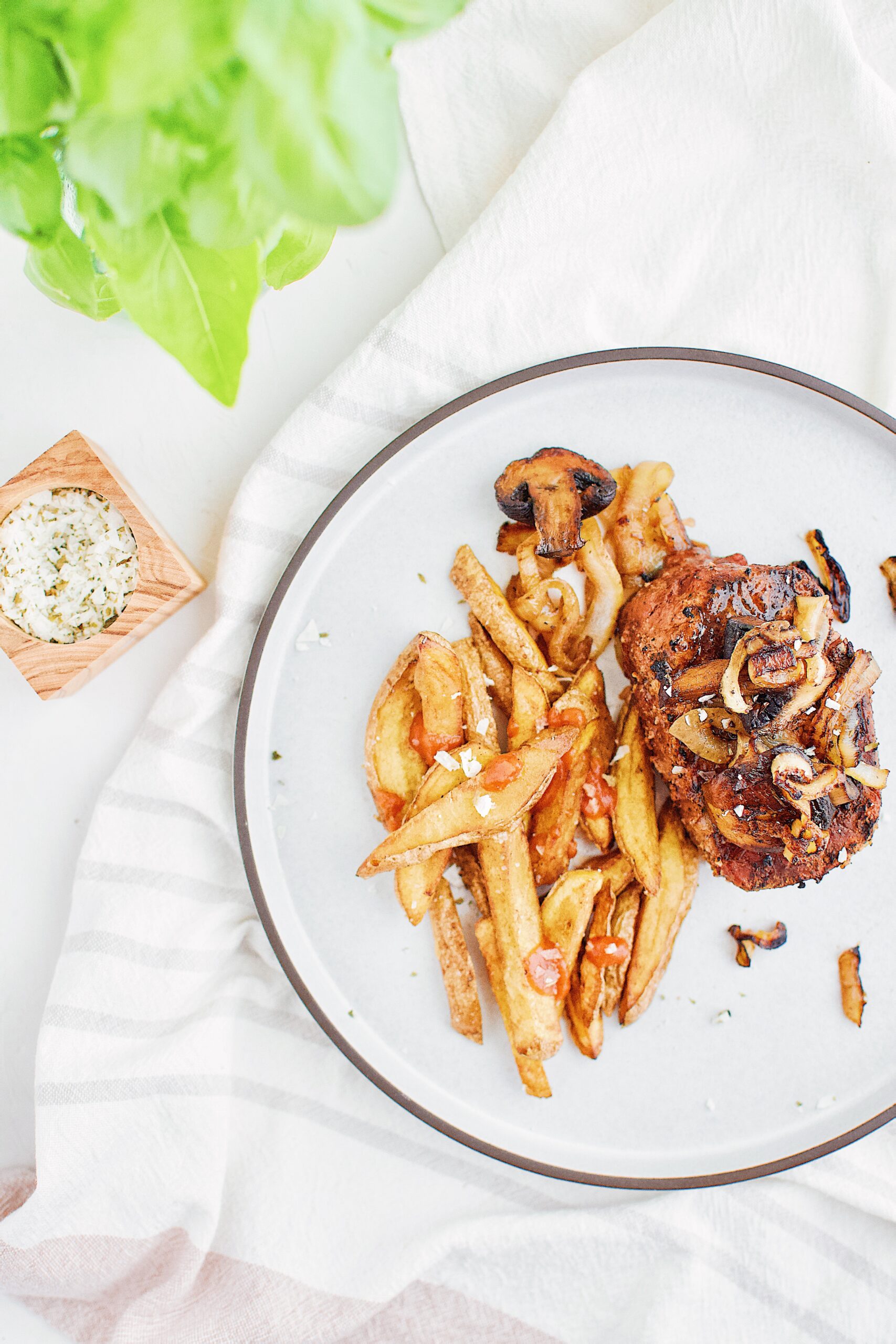 Keeping the fries crispy
If you want to make these a little bit ahead of time and hold them for a bit while the rest of dinner is coming together you can remove them from the oil onto a cooling rack over a baking sheet. This will help them stay crisp longer. You can then place them in a warm oven, about 200 degrees, to keep them warm and crisp.
These fries actually hold up really well. I have even made them ahead of time and re-crisped them both in an air fryer and in a convection toaster oven. A device that circulates the air is best for getting the fries to crisp again.
If you wanted, you could even toss the raw potatoes in a little bit of oil and salt and do this same process in an air fryer. You want to follow the same procedure of cooking twice, but you should get an equally great result.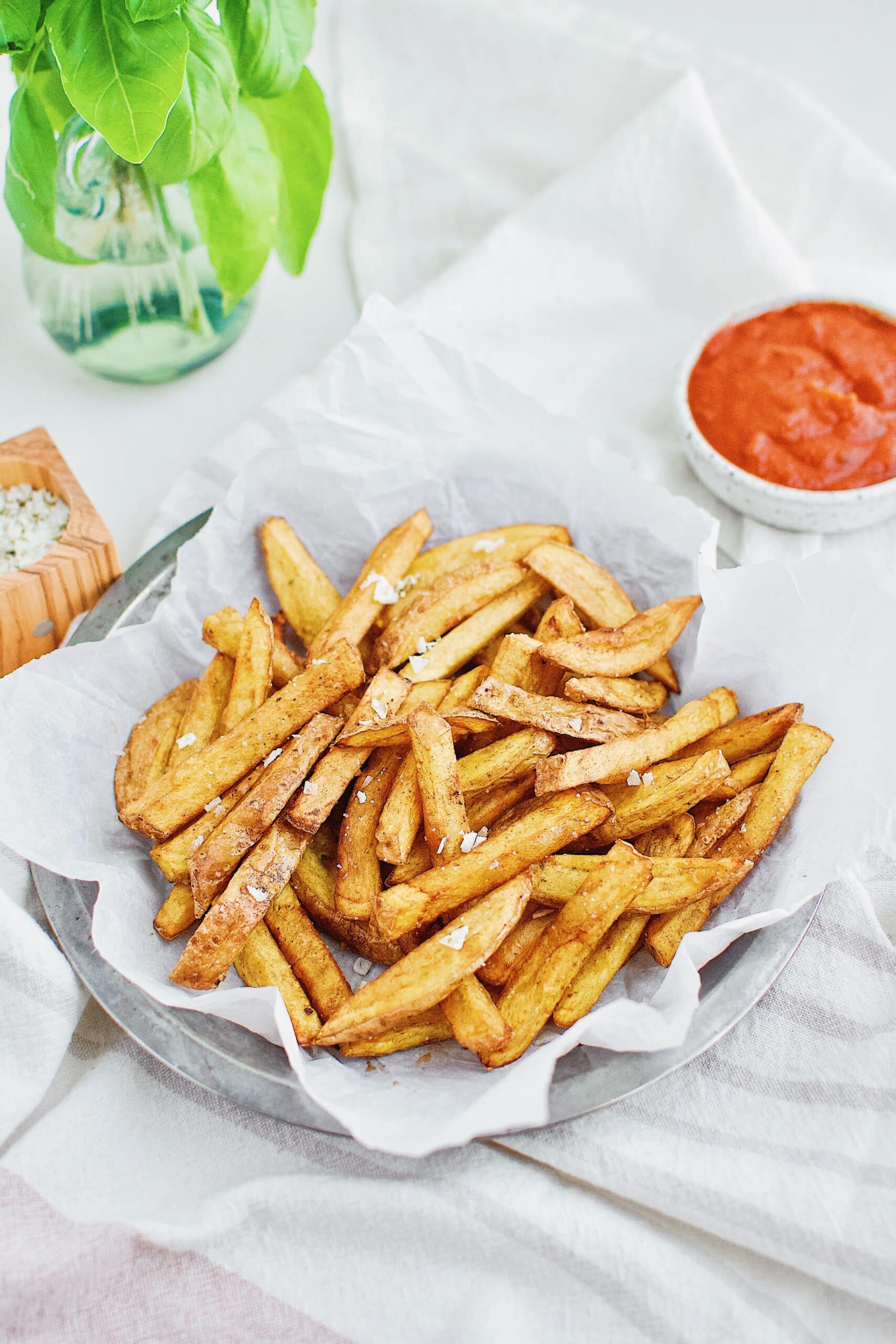 More Tasty Potatoes
Did you make this recipe? Let me know by leaving a review or comment! And be sure to sign up for my newsletter, and follow along on Instagram, Pinterest, and Facebook!