Roasting the perfect rack of lamb has just a few tricks to it, but overall it is nothing to be afraid of. The process is simple, it just takes some careful planning and preparedness. This would also make the perfect Easter Lamb recipe or any special occasion that you want to kick up a notch!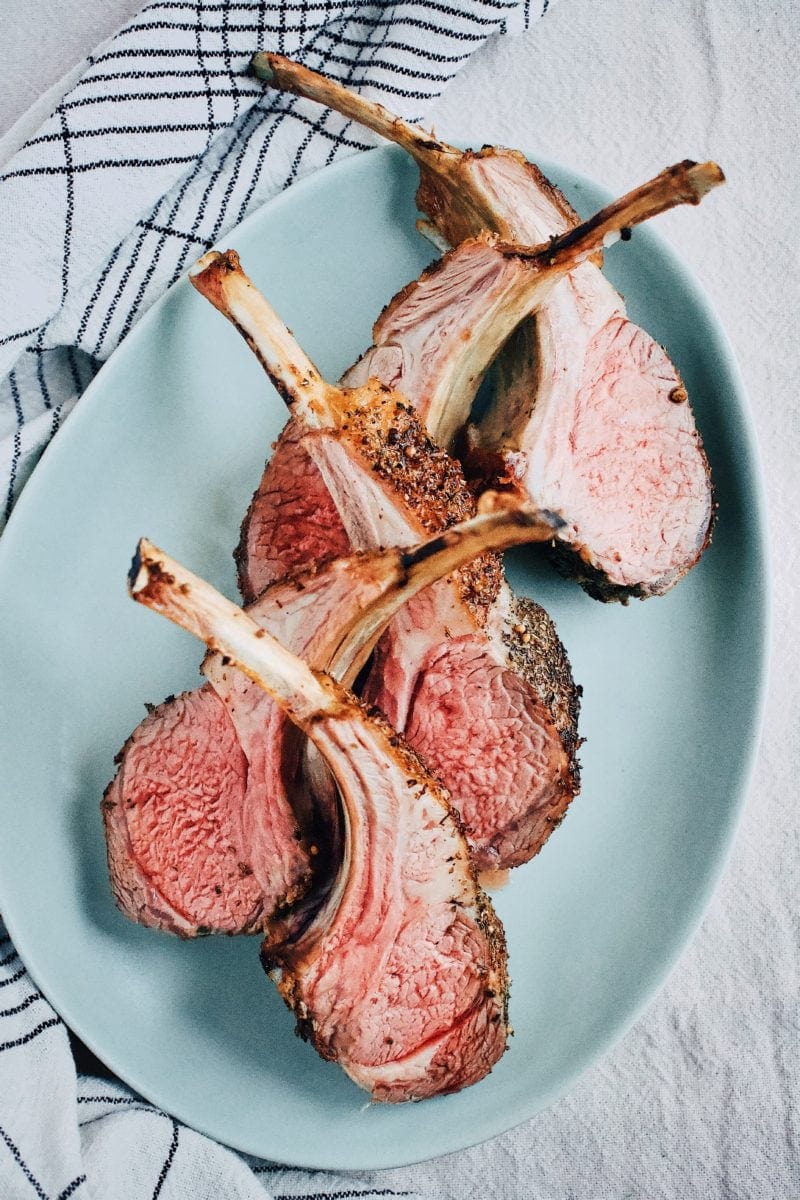 Because of the cost, lamb is usually something that I reserve for special occasions or holidays. It is also a dish that you want to be sure to cook just right or it can become gamey and tough. Now whether you want to make this for your special someone, just because, or for Easter or Christmas, I have a few tips I am sharing below that will help ensure it comes out perfectly!
Where do I buy Lamb?
Lamb is readily available in most specialty grocery stores these days. I personally purchase all of my meats at Costco. As a Chef, they carry meats that are closest to what I am used to handling in a restaurant and the quality is high!
The lamb you will find at Costco is Australian, but you might find American lamb at your local butcher or healthy grocery. They are equally high quality and I would recommend either of them for use in the instance. For more info on American-raised lamb, take a look at AmericanLamb.com.
How do I season my Lamb?
Seasoning your lamb is a very important step and something you want to think about carefully. Lamb can be a very gamey piece of meat, but that simply means that you can season it heavily and with robust flavors.
It holds up well to pungent herbs like rosemary and mint, and other strong flavors like garlic and mustard. You can use them generously to help balance the flavor of the meat itself while enhancing the eating experience.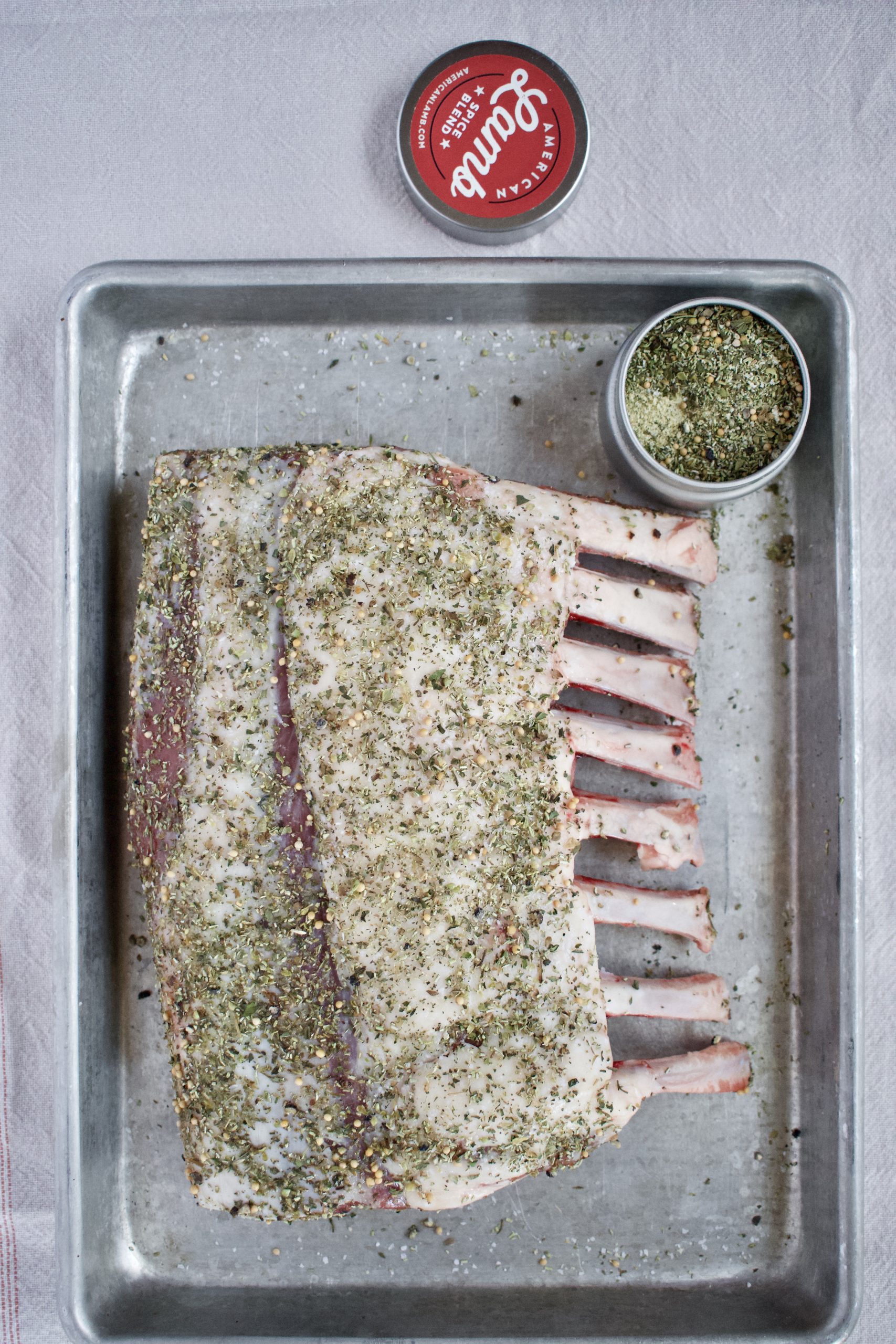 One of the biggest keys is to season it well before it is to be cooked. You want to give time for all of the flavors to marinate to the core of the meat. I usually take my rack of lamb out of the fridge and season it a good 2-3 hours before I cook it. Let it rest in the fridge for a few hours then make sure that it is room temperature before it goes in the oven! That means taking it out about an hour before cooking.
Roasting a whole rack!
I like this way of doing it, roasting a whole rack makes it easy for me to make sure that the roast cooks evenly and consistently through every piece. If you wanted to you could slice the rack into lamb chops before cooking and grill each piece individually if you know you have one person that likes it well done and one that likes is rarer.
This requires a bit more attention, but if you have the time, go for it. If you are putting this on the table for Easter dinner and you have a lot of other dished in the works, roast the whole thing and make it easier on yourself.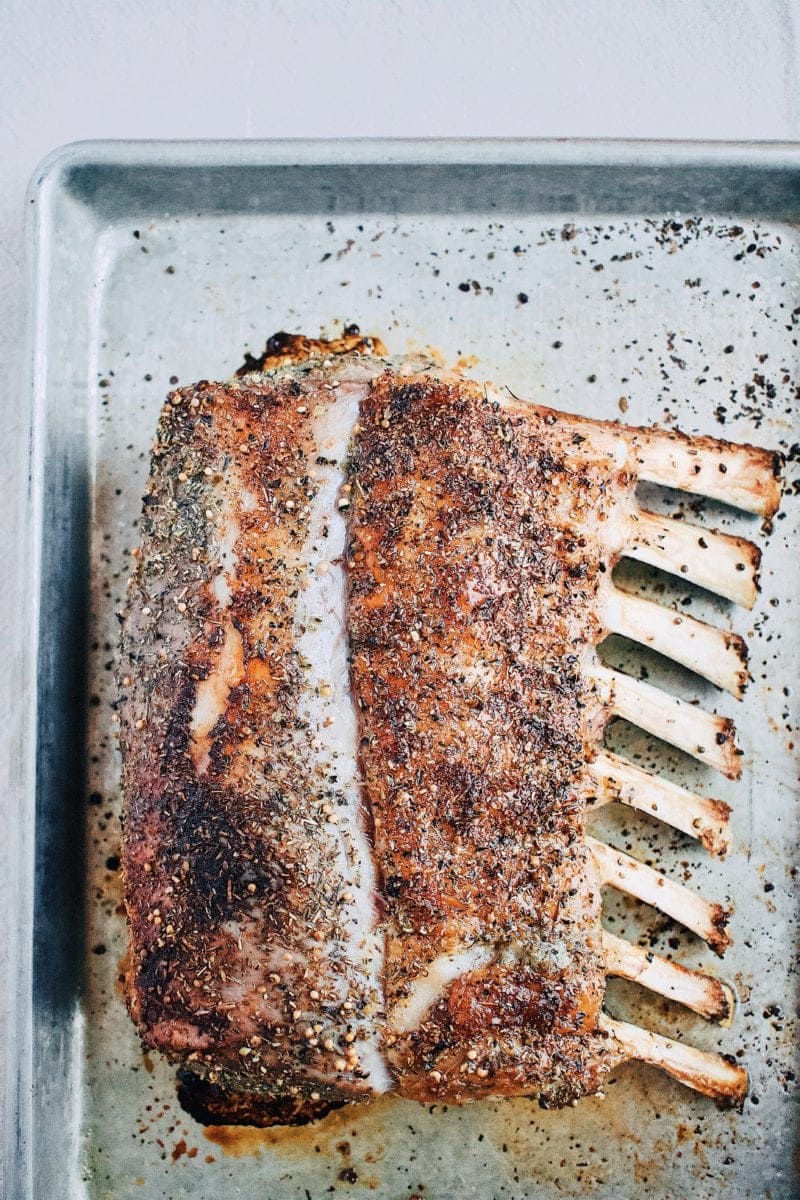 I like to make sure that the lamb only cooks to about 145˚ F or Medium-Rare. If you cook lamb to med-well or well, it gets tough and gamey. Now I know that you may have someone that objects to eating it med-rare, and that is their loss, just know that best eating temp is med-rare.
I also cook my lamb in a HOT oven so that the outer fat cap can crisp in the short amount of time that it will spend in the oven. Because lamb is so small it will reach an internal temperature of 145˚F fairly quickly. This is another reason you want to ensure it is a room temp before cooking and the oven is hot.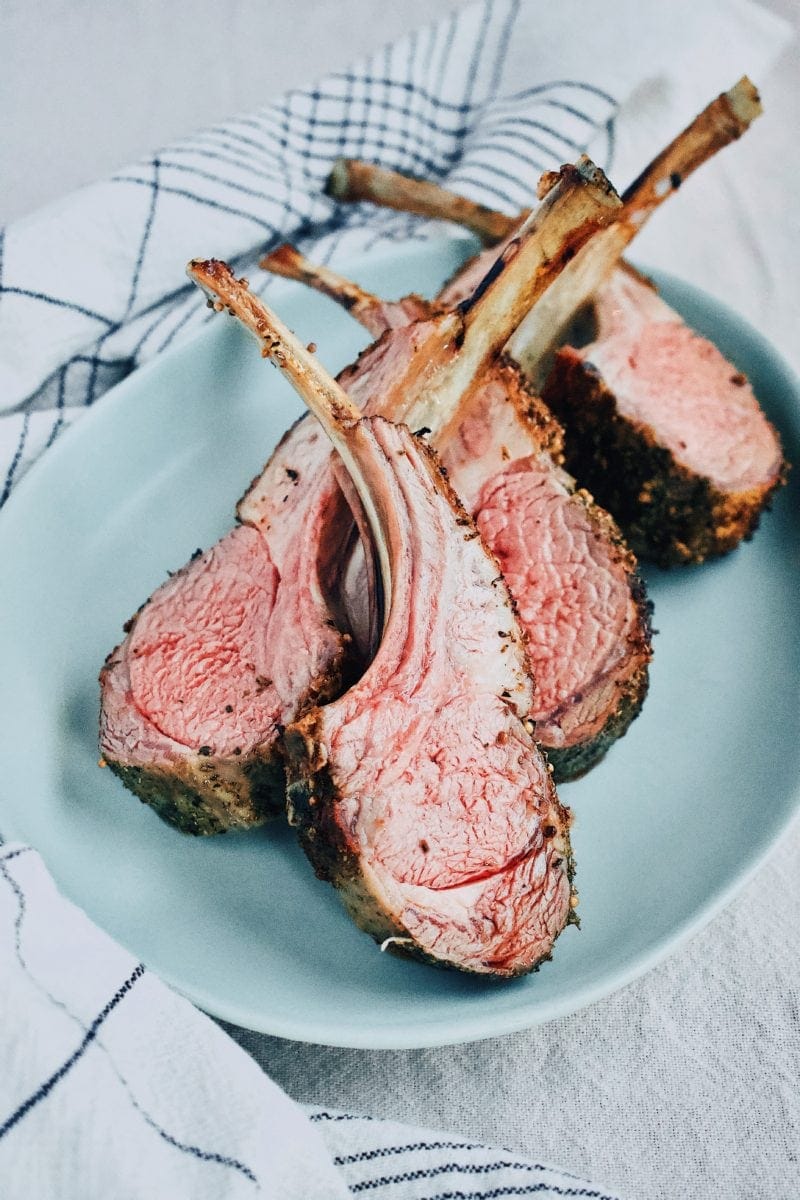 This recipe pairs absolutely perfectly with my Roasted Potato Salad and the two together would be beautiful on your Easter table!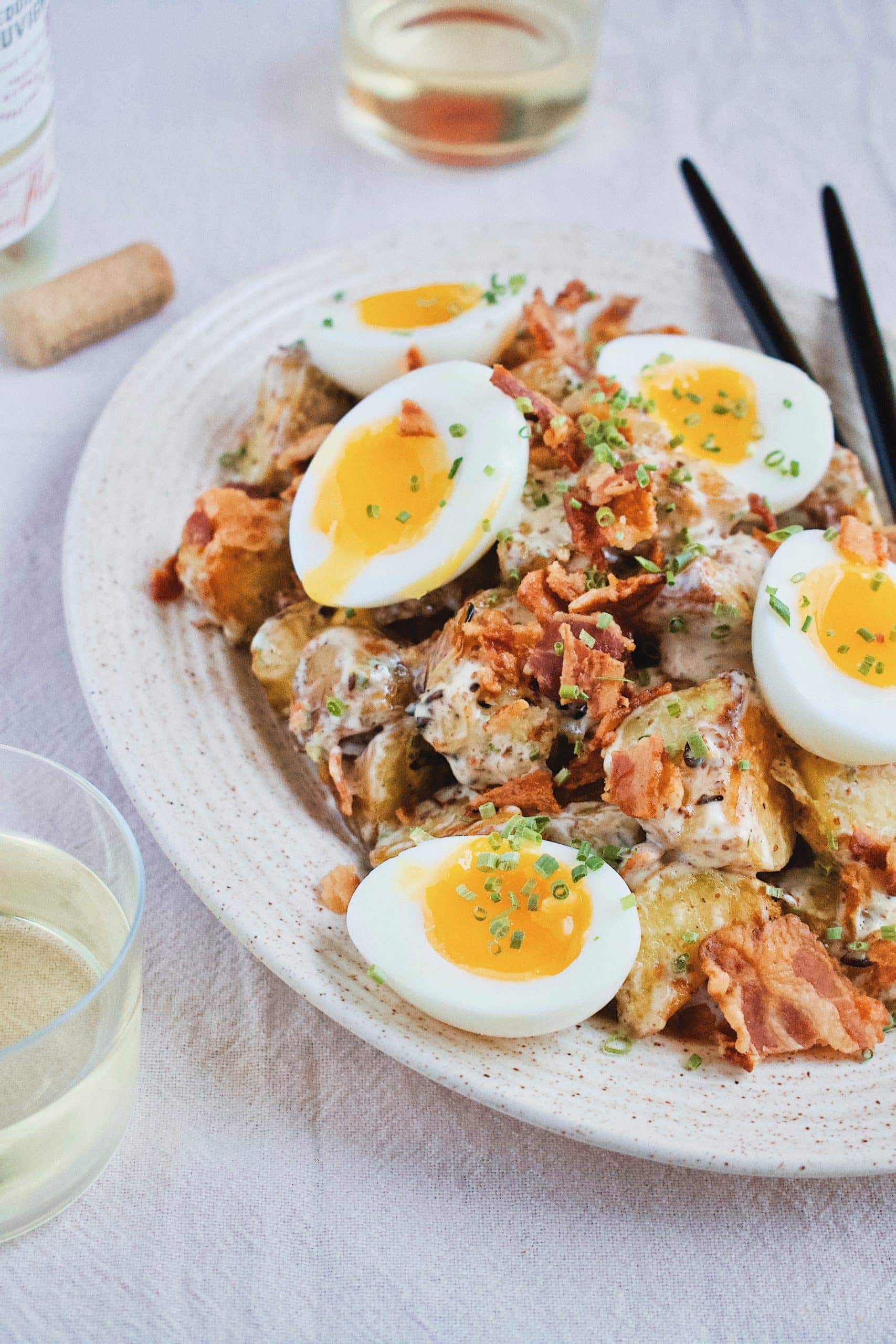 Did you make this recipe? Let me know by leaving a review or comment! And be sure to sign up for my newsletter, and follow along on Instagram, Pinterest, and Facebook!