This recipe I am sharing today is one I whipped up on a day I just really wanted something a little different for dinner. I had some salmon fillets in the freezer and extra head of cabbage laying around, I stopped at the store for the corn, but other than that I had everything on hand to make this delightfully delicious dinner! This is one of those TRUE KendellKreations, an idea and a flow in the kitchen resulted in this Seared Salmon with Roasted Cabbage and Corn Salad.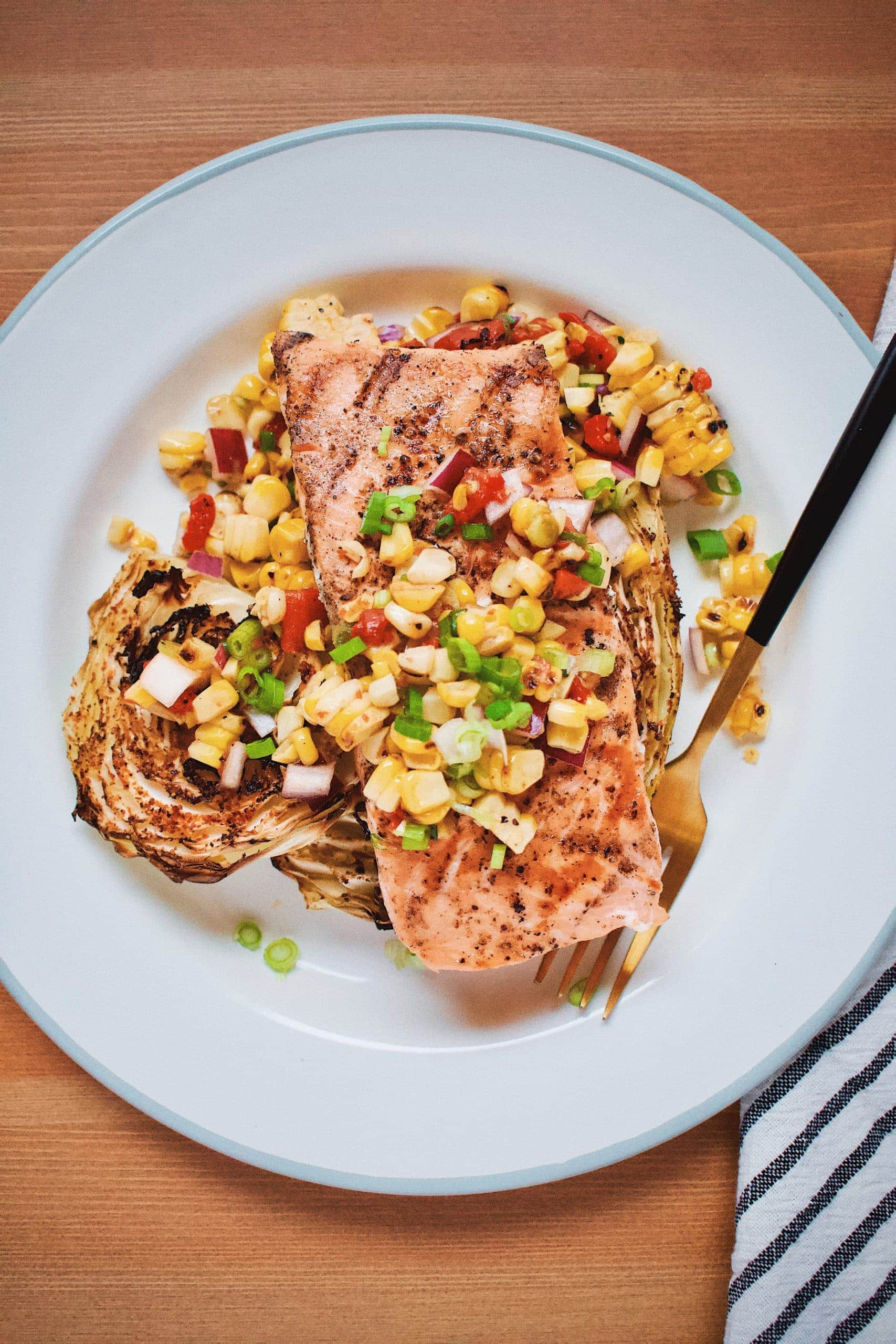 Ok, so lets jump right into this one! The first thing I want to talk about is cooking the Salmon. So many people tell me that they don't cook fish at home because they don't feel comfortable doing it, so let's walk through it now!
How do I cook Salmon?
Salmon is one of my favorite fish to eat, and though some may want to lash back at this statement, Farmed Atlantic Salmon is my go-to version of the fish. It has a mild flavor while still packing the health benefits you want to reap from salmon.
Now that I have gotten that off my chest, let's talk cooking method. A well-seasoned cast-iron or heavy-bottomed skillet is all you need. The ONE thing that I can't stress enough is that you MUST preheat your skillet. A hot skillet is your #1 key to success!
For a fish like Atlantic salmon, seasoning it with kosher salt and fresh cracked black pepper, and placing it in a hot pan so a crust forms on the top, yields a fantastically delicate texture that literally flakes apart. Because salmon is such a fatty fish, you also don't need any oil in your pan.
So let's recap the steps to success. Season your salmon with salt and pepper, place it in a HOT pan, and only flip it when it naturally releases from the pan. Feel confident in yourself and know you can do it at home now too!
Oh, and grab you one of these fish spatulas, it will help make sure cooking fish comes out great, and it's my favorite cookie spatula too! Oh, and grilled cheese, it the best for that too!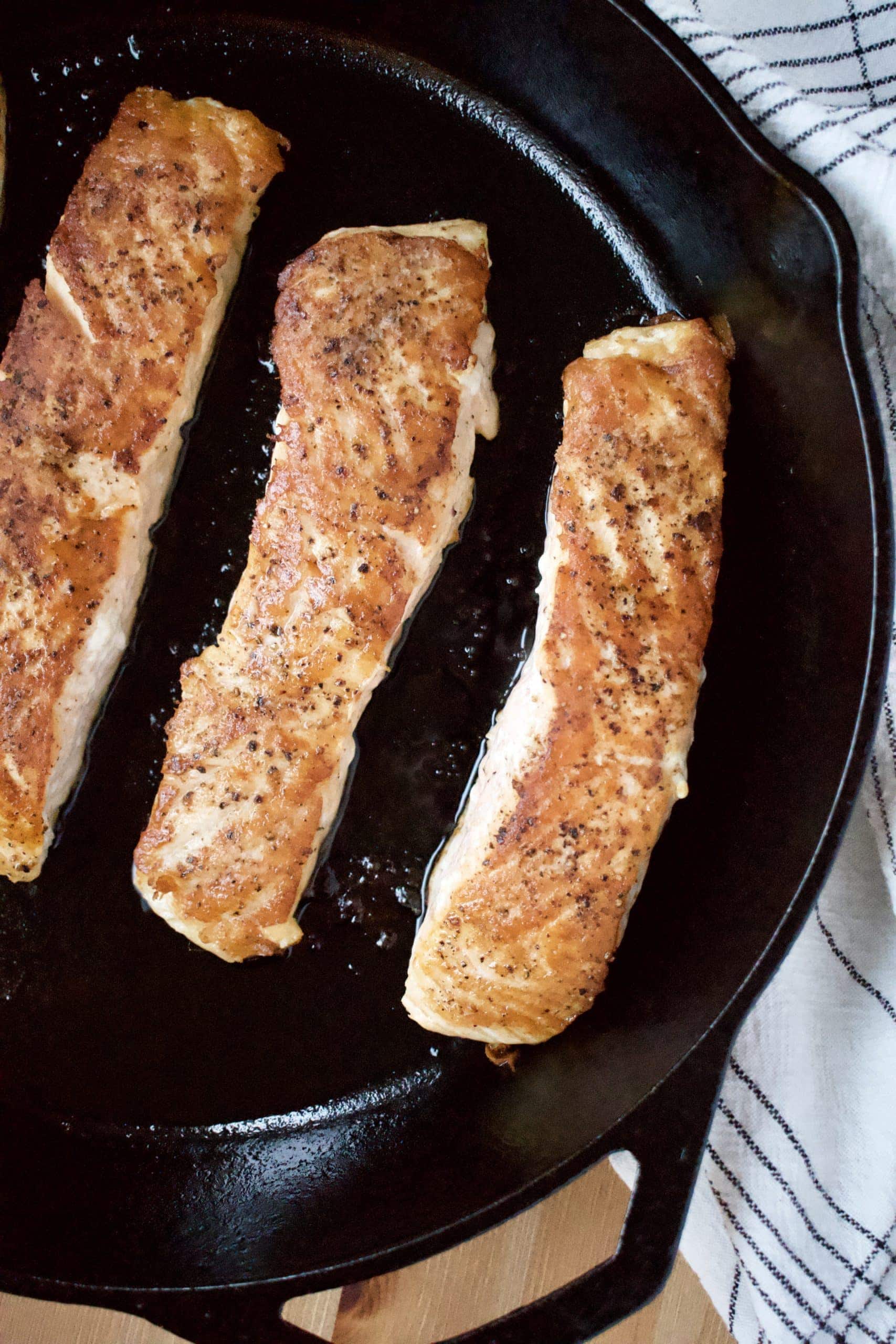 Let's make cabbage GREAT!
Ok, so I had an extra head of cabbage, I can't tell you what I was thinking when I bought two heads of it. But I wanted to make sure I didn't waste it, all while making it GREAT and different, not just mundane cabbage.
I sliced the cabbage into large steaks, threw them onto a sheet pan and started rummaging through my spice cabinet to see how I wanted to season it!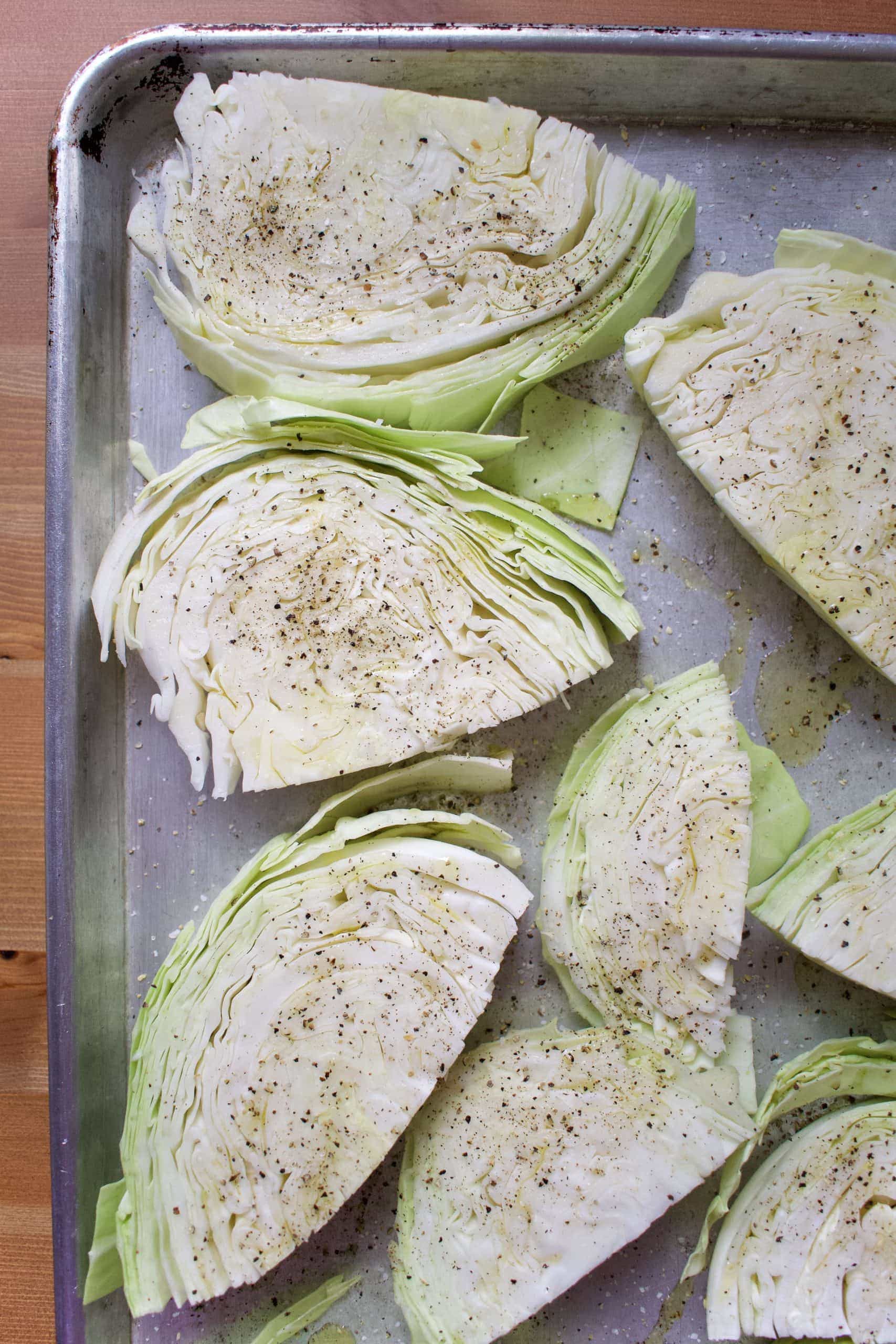 I hit it with some olive oil, salt, and pepper and then grabbed the chili lime seasoning that was staring at me and gave it a generous dusting. It was honestly THE best decision. I may always cook my cabbage this way from now on!
Rounding out the dish!
So after giving the cabbage a Latin flair I knew I was headed down that path and decided a nice corn salad was what I NEEDED in my life that day. The cool days are behind us and some grilled corn was calling my name!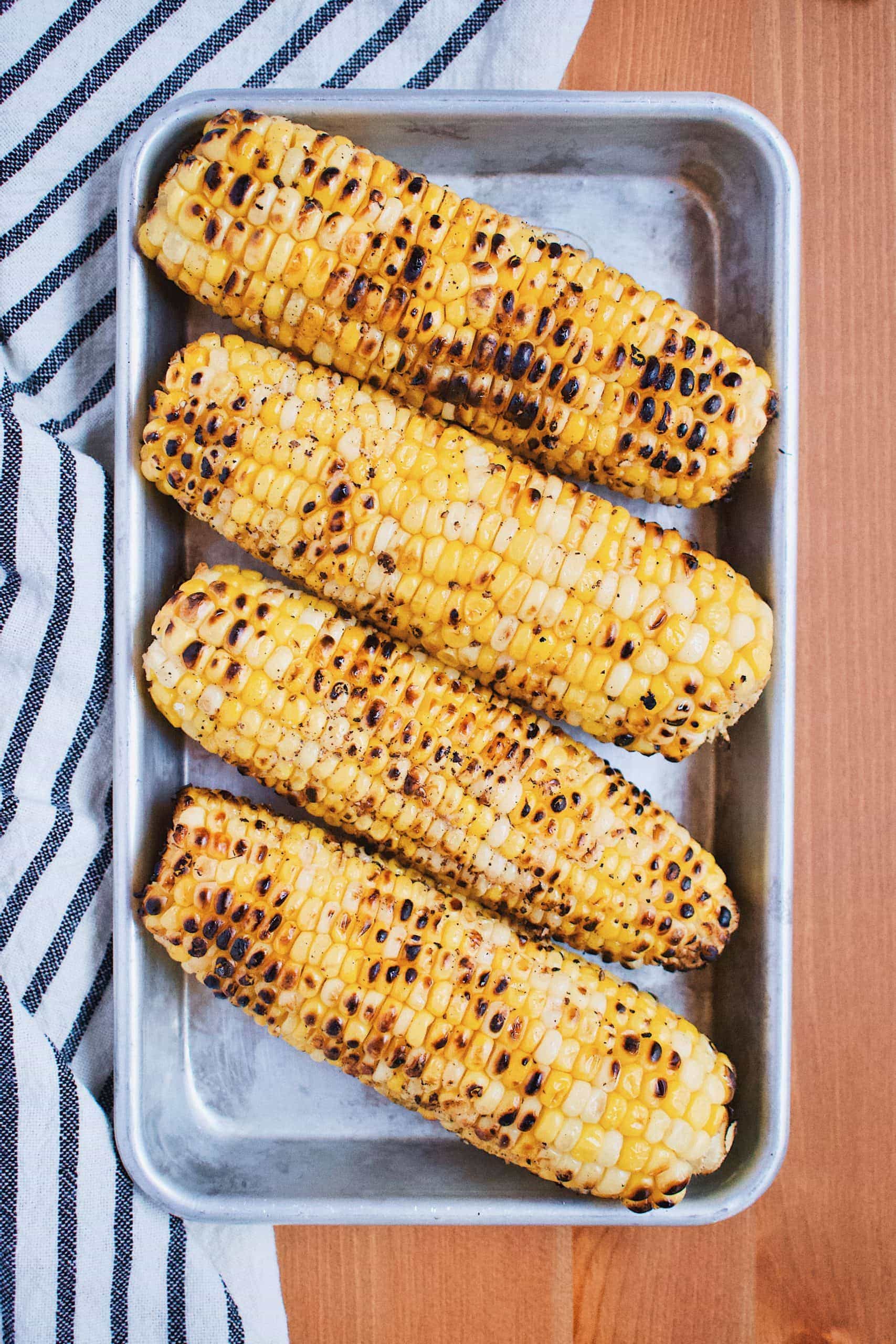 A beautiful sweet corn that's been lightly charred on the grill is one of the best things about the summer months. So starting here I built a tex-mex style corn salad with the addition of some jarred red bell peppers, some spicy banana peppers, red onions, and some chopped green onions. Again, this was all pulled from what I already had on hand, so feel free to add or subtract to this list.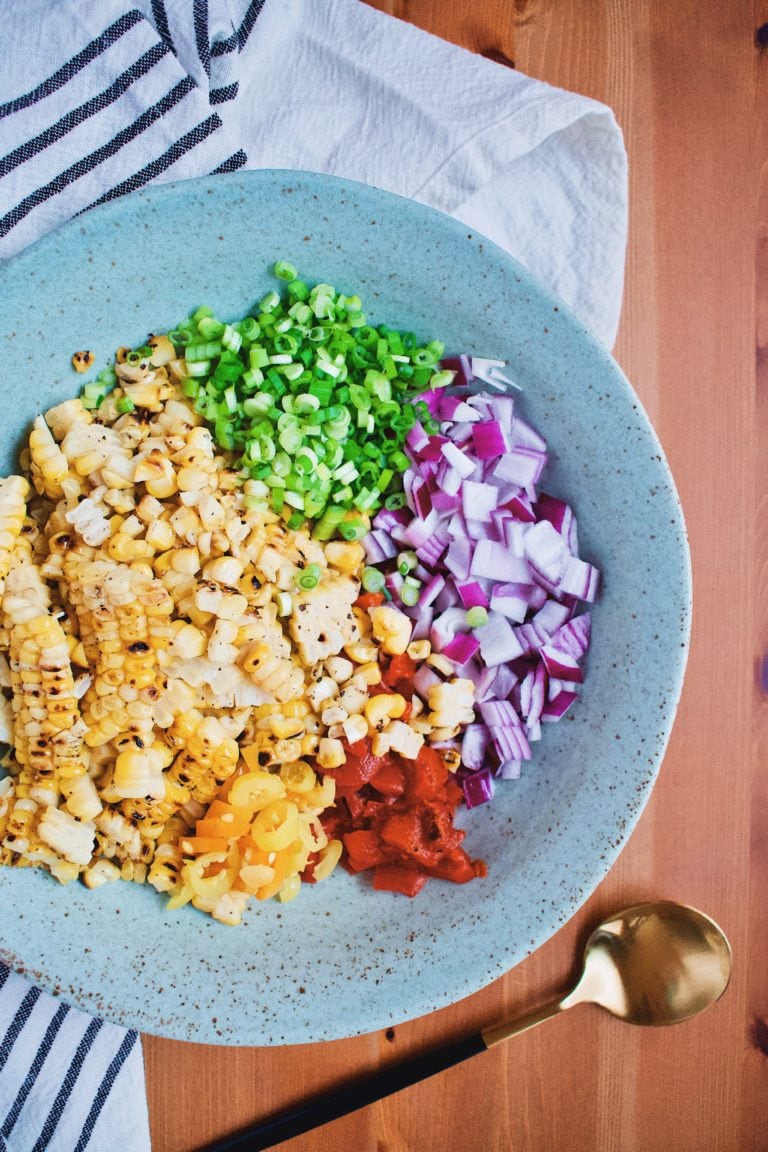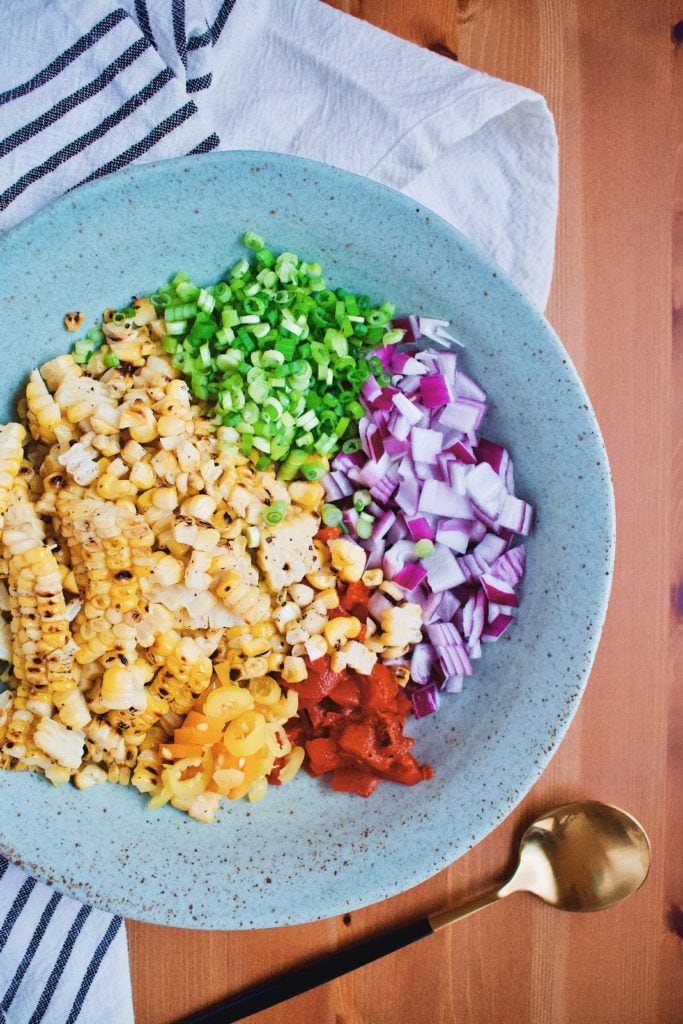 Tossed together with a drizzle of olive oil and a little lime juice, a hit of salt and pepper and it was everything that it needed. It has a nice fresh crunch from the red onion and the spice from the hot banana peppers, it was just such a great balance of flavor and spice, just try it, you'll know what I mean!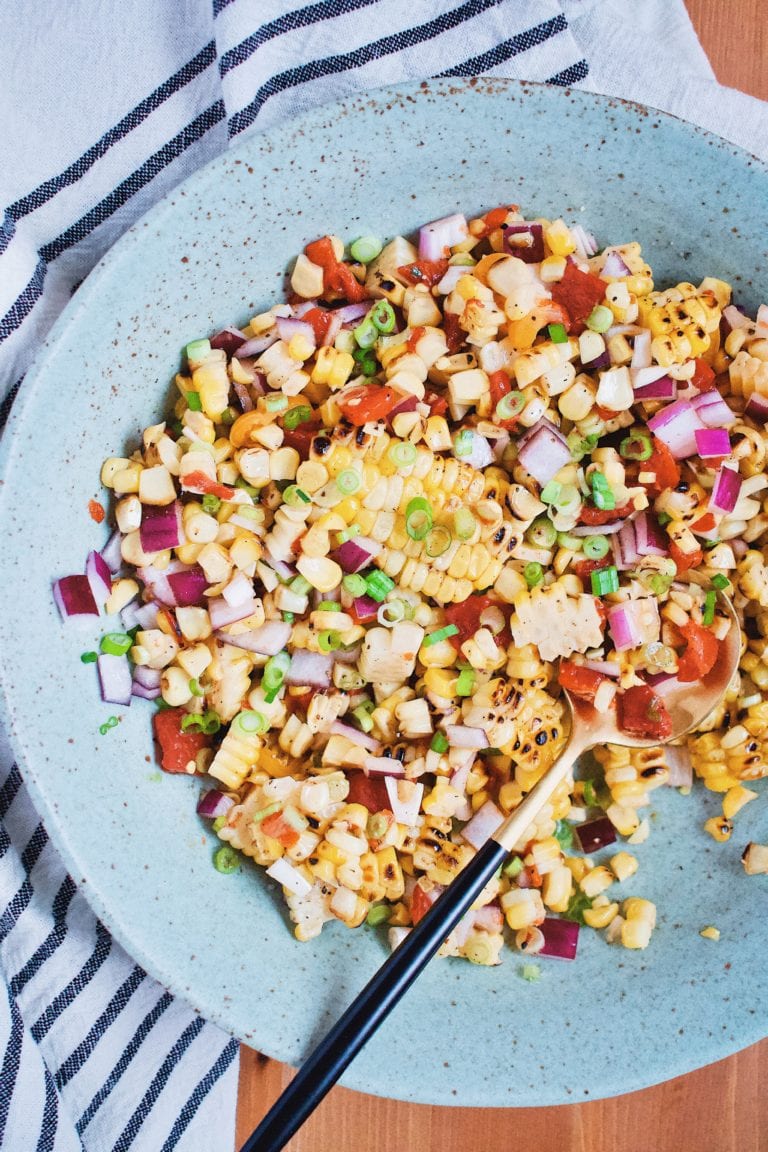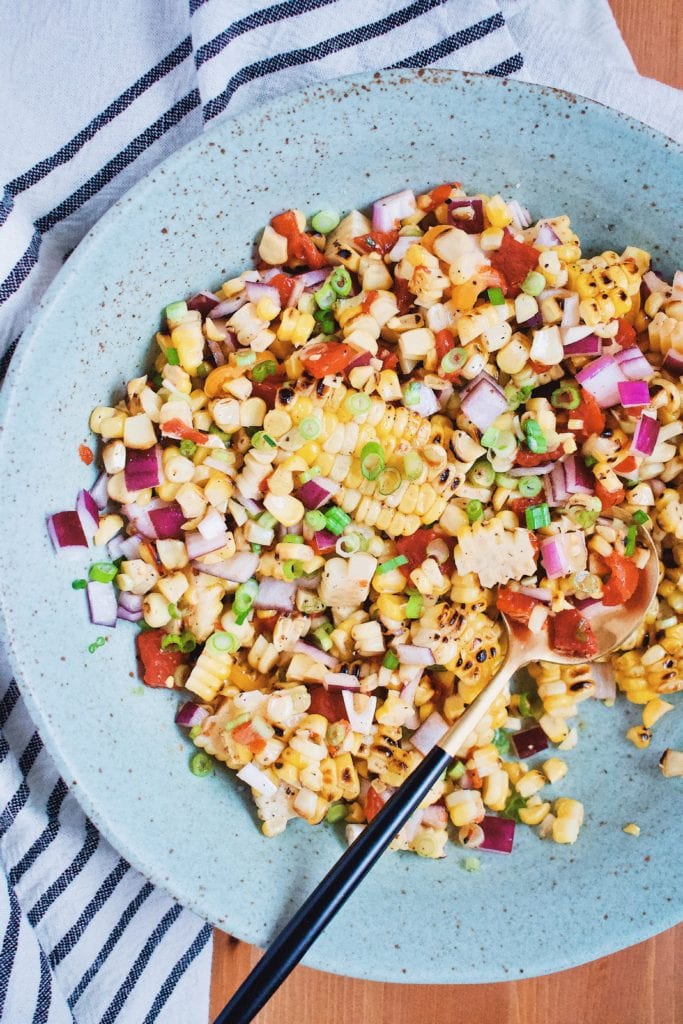 Bringing dinner together!
Serve dinner with 1-2 cabbage steaks on the bottom of the plate, top with a salmon fillet, and a generous scoop of corn salad on top. This is a completely rounded dish that will have everyone begging for seconds. I could even see this served at a dinner party with a whole side of salmon topped with this beautiful corn salad sprawled across the top!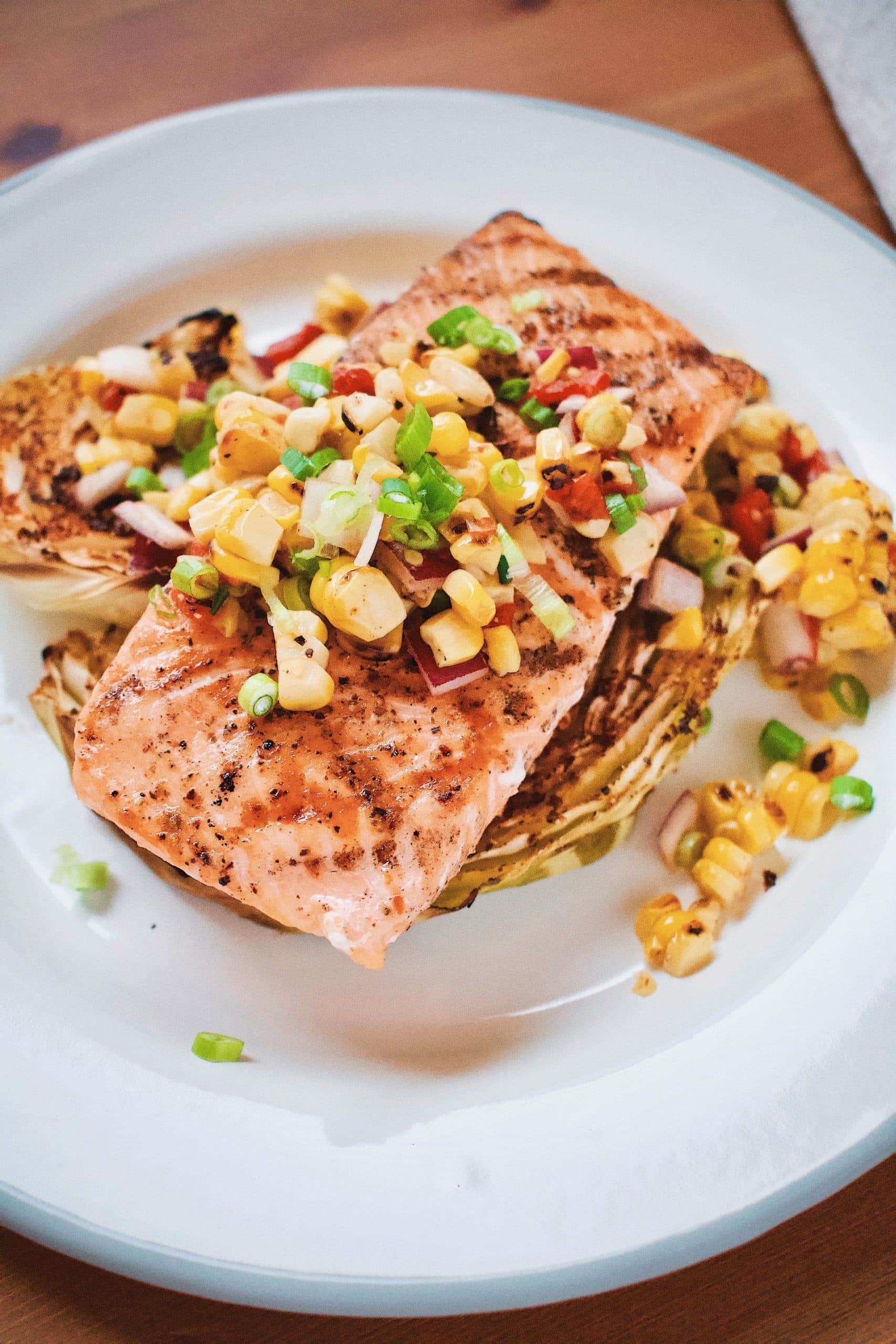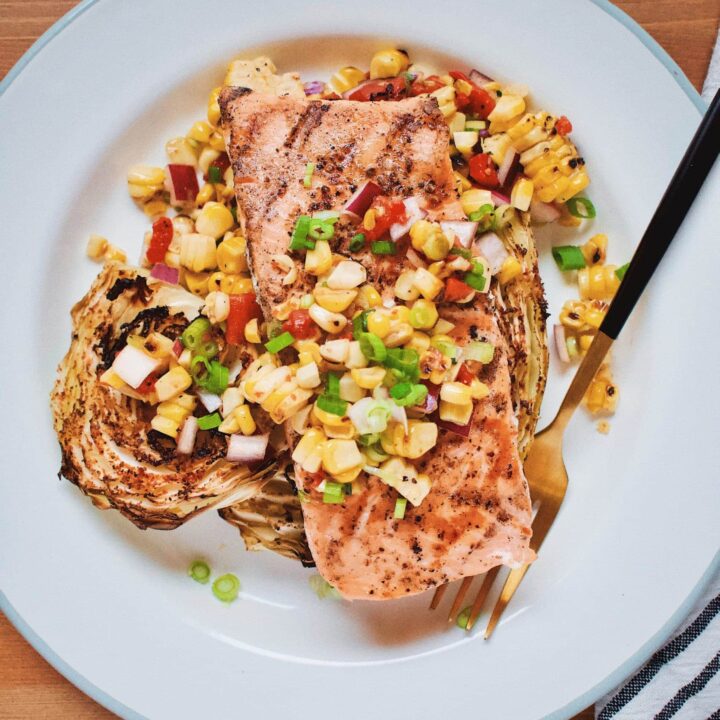 Salmon, Cabbage and Corn Salad
This recipe was a true KendellKreations, it is all about feel, so feel free to add or subtract from this list of ingredients or follow it to the same experience I had. Whatever you do, make it and enjoy it!
Ingredients
For the salmon:
1, 6 oz Salmon fillet per person
Kosher Salt
Fresh Cracked Black Pepper
For the cabbage:
1 head Green Cabbage
Olive Oil
Kosher Salt
Fresh Cracked Black Pepper
Chili Lime Seasoning, trader joes or tajin
For the corn salad:
4 ears Sweet Corn on the Cob
Olive Oil
Kosher Salt
Fresh Cracked Black Pepper
½ Red Onion, diced
½ cup Roasted Red Bell Pepper, diced
¼ cup Hot Banana Peppers, minced
½ cup Green Onions, sliced
1 Lime, juiced
Instructions
For the salmon:
30 minutes before cooking, season each salmon fillet on the top with a generous pinch of salt and pepper.
Heat a cast-iron skillet over medium heat until HOT, when the pan begins to smoke or a drop of water sizzles and dissipates quickly.
Place the salmon seasoned side down in the hot pan and cook until it naturally releases from the pan, about 4-5 minutes on that side.
When browned evenly on the first side, gently flip the salmon and cook 2-3 more minutes depending on thickness and you see the sides of the fish turn opaque.
Remove from the pan and rest until ready to serve.
For the cabbage:
Preheat the oven or toaster oven to 425˚F.
After you season the salmon, slice the cabbage into steaks and lay out on a sheet pan. Drizzle with olive oil and season generously with salt, pepper, and chili lime seasoning.
Roast in the hot oven until browned and caramelized, about 25 minutes.
For the corn salad:
Set a 4qt pot of water to boil on the stove. When it reaches a boil, salt the water with about 2 T of salt, add the corn to the pot and boil for 5 minutes.
Remove the corn from the water and drizzle a little olive oil over them and season with salt and pepper.
Preheat your grill and place the corn on the grill, rotating until lightly blackened in spots all around. Remove and let cool until they can be handled.
While the corn is grilling, dice the onion's, bell and banana peppers, and add them to a bowl.
Using a serrated knife, strip the corn from the cob and add it to the bowl.
Squeeze the lime over the ingredients with a drizzle of olive oil and some salt and pepper. Taste and adjust the seasoning as needed.
Serve the meal with 1-2 cabbage steaks on the bottom of the plate, top with a salmon fillet, and serve the corn salad spread across the top. Enjoy!
Notes
This recipe also meal preps well, make a couple extra servings and pack them up for lunches for the work week.
Nutrition Information:
Serving Size:

1 grams
Amount Per Serving:
Unsaturated Fat:

0g
If you make this recipe, please let me know by leaving a review at the bottom of this page!
And make sure to sign up for my newsletter and follow along on Instagram, Pinterest, and Facebook for more KendellKreations!
MY LATEST RECIPES!
Get my NEW e-Cookbook here!! ⬇️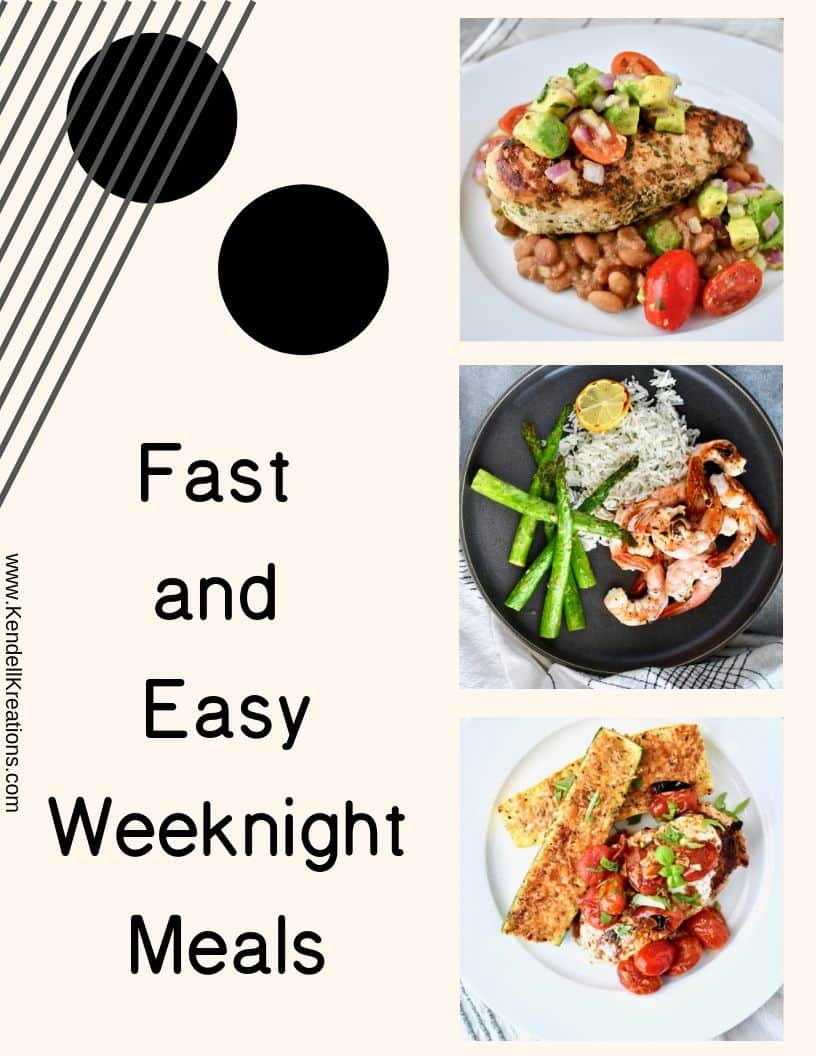 MY FAVORITE KITCHEN TOOLS!
Here are a few links to some of my favorite kitchen tools! You get a car, YOu get a car, YOU ALL GET A CAR…in my best Oprah voice
These Rösle Silicone Tongs are a little pricey but they will last you the rest of your life and are the softest in your hand. This is important for someone like m that cooks so much. It reduces strain, I have 4 sets in my kitchen!
These are my FAVE Nordic Ware Sheet Pans, every kitchen should have at least 2 sets of these! I think I have at least 4 of each of these.
This is my favorite pressure cooker, the Fagor is the same concept as the "Instant Pot" but easier to use in my opinion, if you don't have one you NEED one, it will be your best friend in the kitchen!
A sharp knife is the most important tool in the kitchen, these Japanese steel "Shun" knives are my favorite! And this is a great starter set to build on. Once you try them you will be in love so use this as a foundation you can build on for years to come.
This Scanpan 11″ skillet is just the right size for almost anything you will need to cook and my best friend and a real workhorse in my kitchen, it's also a great deal at $99. Scanpan is the best in the world for healthy cooking. It is coated with a proprietary ceramic-titanium coating that is durable while allowing you to use fewer fats and oils when cooking. It is a coating only they use. I could talk all day about my love for these pans, message me if you want more info. Here are some other sizes that are available if you are looking to outfit your kitchen with some new goodies. 8″ & 10″ Skillet set or 8″ Skillet, I still need this one for my kitchen Also, I don't really know how to cook small so the 12.5″ is my other fave!
This giant vat of olive oil is my favorite, I decant it into a smaller bottle for my counter. Or put this spigot on top of a wine bottle!
My favorite baking dish that is so easy to clean even burnt on cheese slides right off!
This Tovolo jar scraper has to be my single favorite kitchen tool, it is definitely the most used tool in my kitchen. If you are NOT a gadget person, this is the only necessity I say is a MUST beyond the wooden spoon.
A great wood spoon is essential, this Olive Wood one is my favorite, I have more than I can count. But can you really ever have too many?
A food scale can be a very important tool in your kitchen, this one is the one I use every day!
If you love Joanna Gaines as much as I do then the 'Magnolia Table Cookbook' is a must in your kitchen, get a copy HERE!