This recipe I am sharing today is one I whipped up on a day I just really wanted something a little different for dinner. I had some salmon fillets in the freezer and extra head of cabbage laying around, I stopped at the store for the corn, but other than that I had everything on hand to make this delightfully delicious dinner! This is one of those TRUE KendellKreations, an idea and a flow in the kitchen resulted in this Seared Salmon with Roasted Cabbage and Corn Salad.
Ok, so lets jump right into this one! The first thing I want to talk about is cooking the Salmon. So many people tell me that they don't cook fish at home because they don't feel comfortable doing it, so let's walk through it now!
How do I cook Salmon?
Salmon is one of my favorite fish to eat, and though some may want to lash back at this statement, Farmed Atlantic Salmon is my go-to version of the fish. It has a mild flavor while still packing the health benefits you want to reap from salmon.
Now that I have gotten that off my chest, let's talk cooking method. A well-seasoned cast-iron or heavy-bottomed skillet is all you need. The ONE thing that I can't stress enough is that you MUST preheat your skillet. A hot skillet is your #1 key to success!
For a fish like Atlantic salmon, seasoning it with kosher salt and fresh cracked black pepper, and placing it in a hot pan so a crust forms on the top, yields a fantastically delicate texture that literally flakes apart. Because salmon is such a fatty fish, you also don't need any oil in your pan.
So let's recap the steps to success. Season your salmon with salt and pepper, place it in a HOT pan, and only flip it when it naturally releases from the pan. Feel confident in yourself and know you can do it at home now too!
Oh, and grab you one of these fish spatulas, it will help make sure cooking fish comes out great, and it's my favorite cookie spatula too! Oh, and grilled cheese, it the best for that too!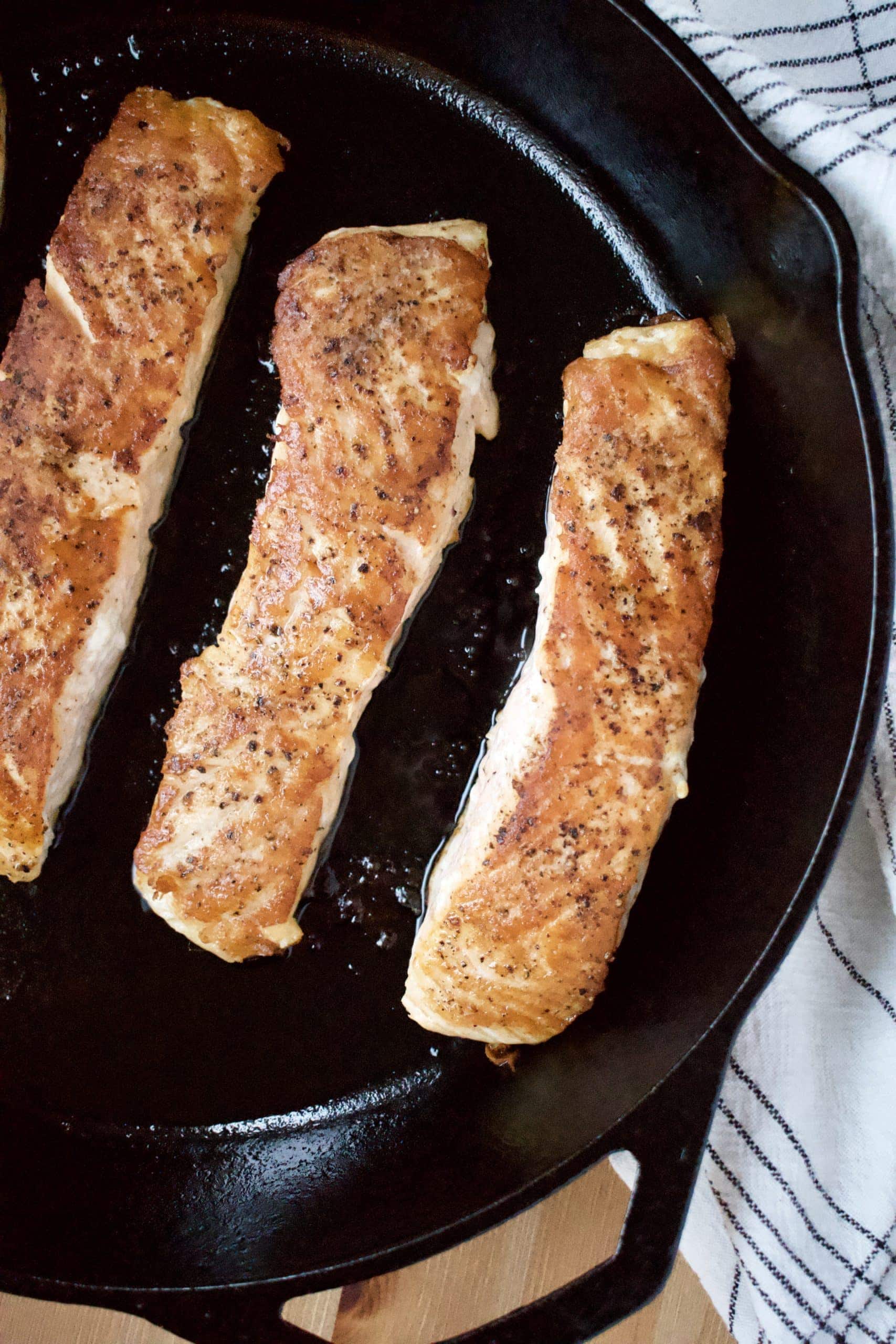 Let's make cabbage GREAT!
Ok, so I had an extra head of cabbage, I can't tell you what I was thinking when I bought two heads of it. But I wanted to make sure I didn't waste it, all while making it GREAT and different, not just mundane cabbage.
I sliced the cabbage into large steaks, threw them onto a sheet pan and started rummaging through my spice cabinet to see how I wanted to season it!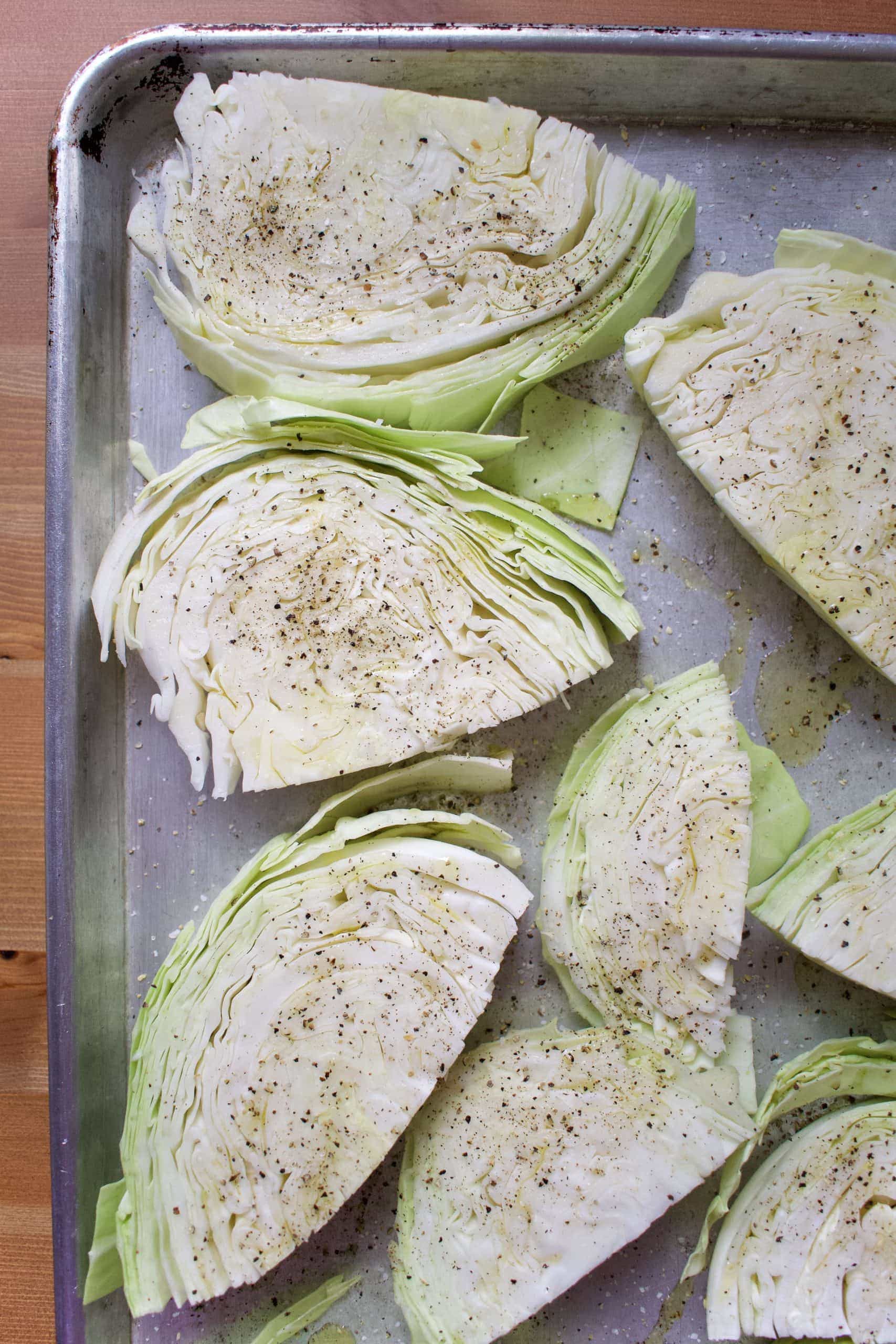 I hit it with some olive oil, salt, and pepper and then grabbed the chili lime seasoning that was staring at me and gave it a generous dusting. It was honestly THE best decision. I may always cook my cabbage this way from now on!
Rounding out the dish!
So after giving the cabbage a Latin flair I knew I was headed down that path and decided a nice corn salad was what I NEEDED in my life that day. The cool days are behind us and some grilled corn was calling my name!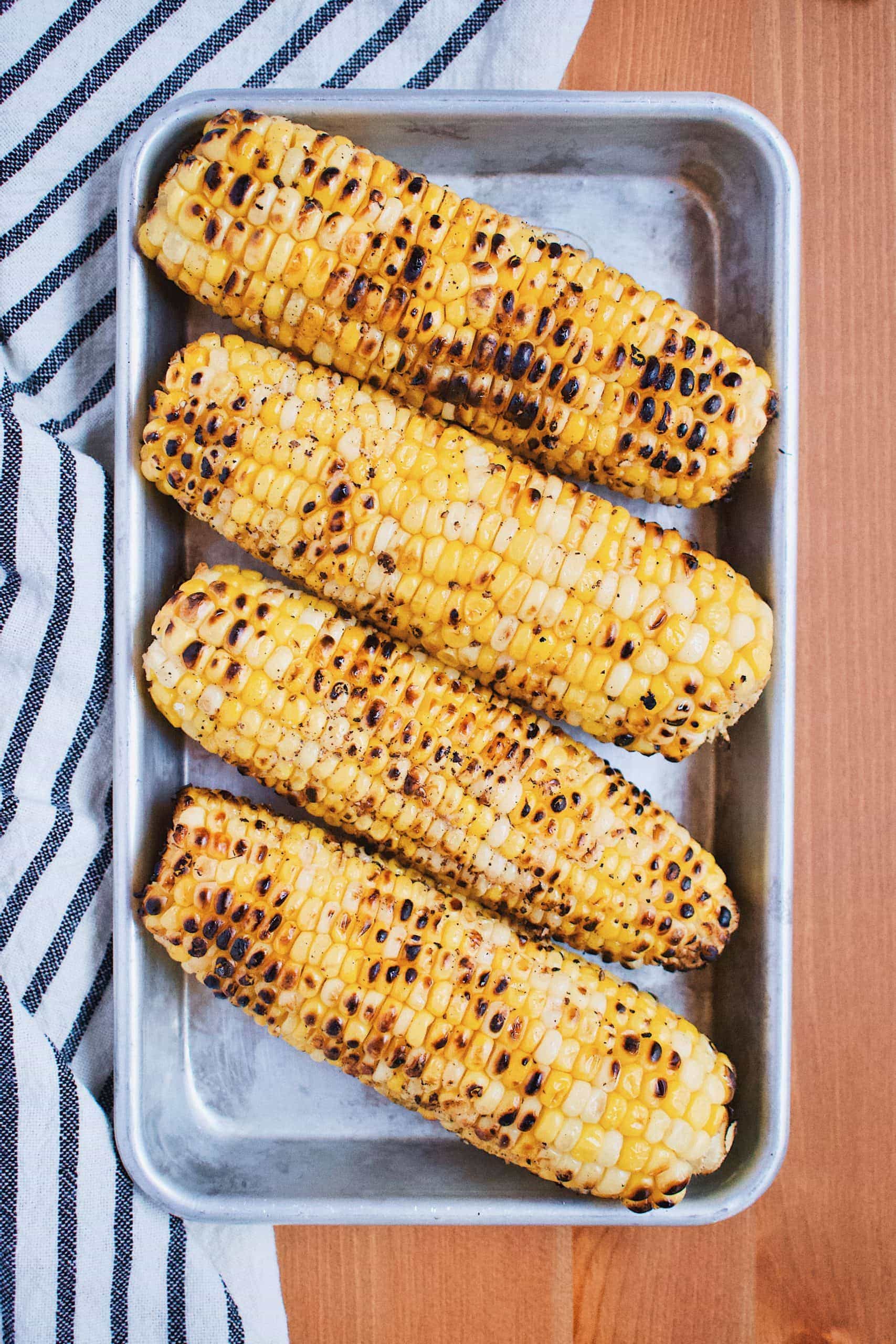 A beautiful sweet corn that's been lightly charred on the grill is one of the best things about the summer months. So starting here I built a tex-mex style corn salad with the addition of some jarred red bell peppers, some spicy banana peppers, red onions, and some chopped green onions. Again, this was all pulled from what I already had on hand, so feel free to add or subtract to this list.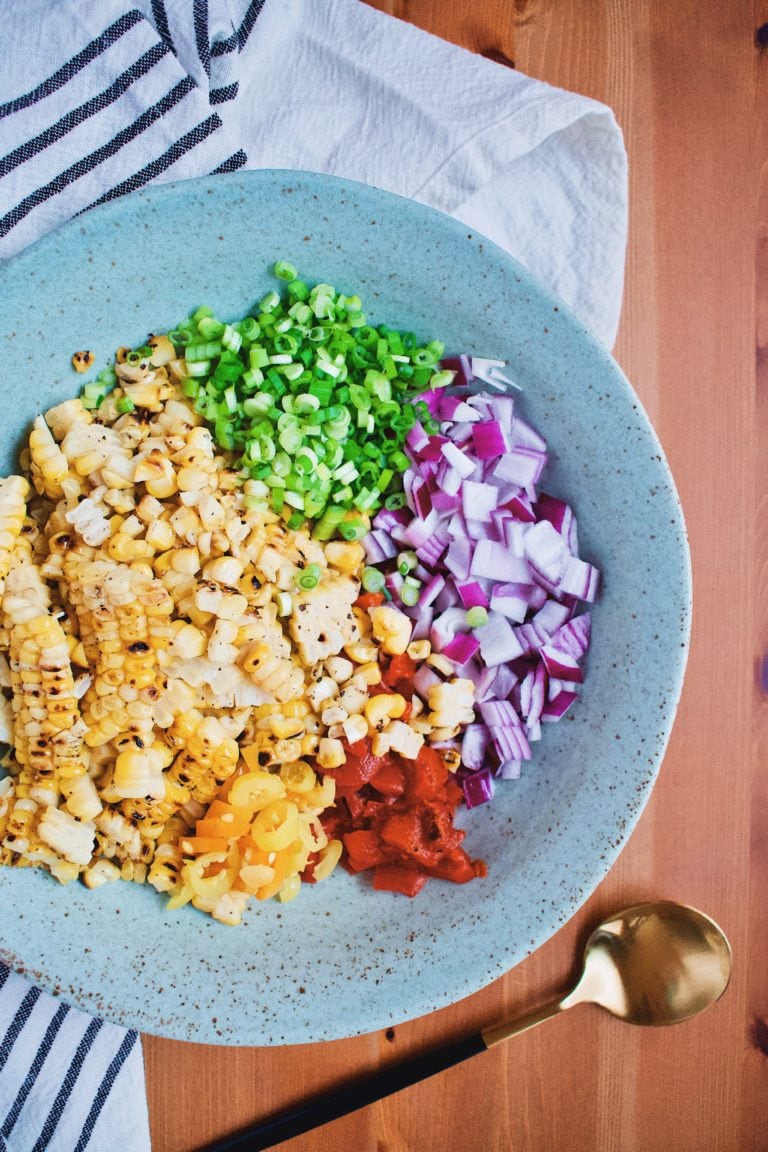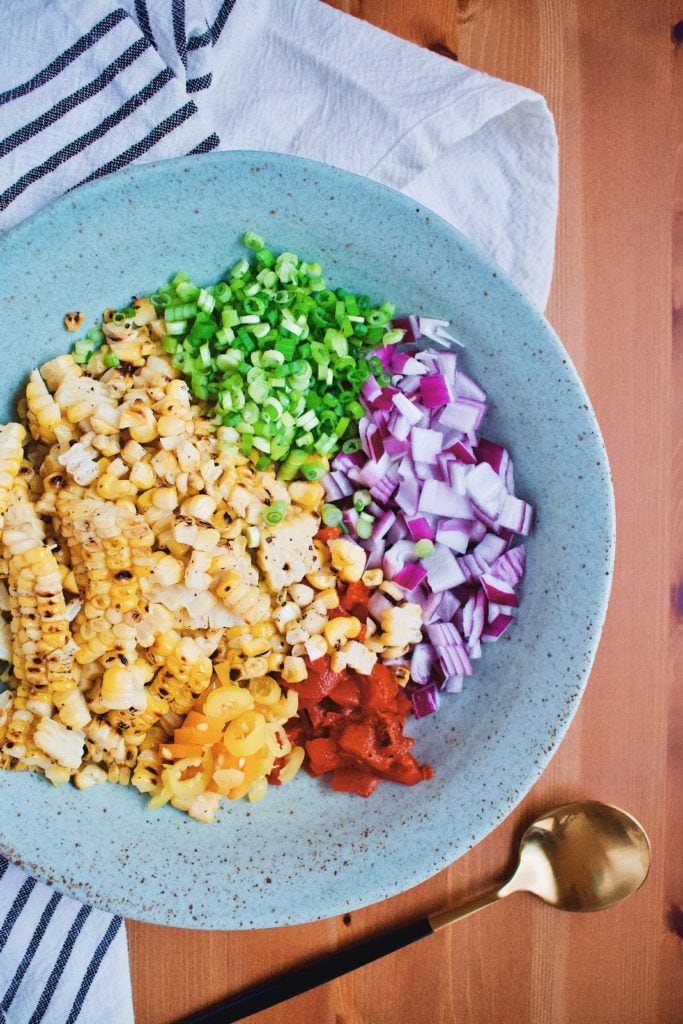 Tossed together with a drizzle of olive oil and a little lime juice, a hit of salt and pepper and it was everything that it needed. It has a nice fresh crunch from the red onion and the spice from the hot banana peppers, it was just such a great balance of flavor and spice, just try it, you'll know what I mean!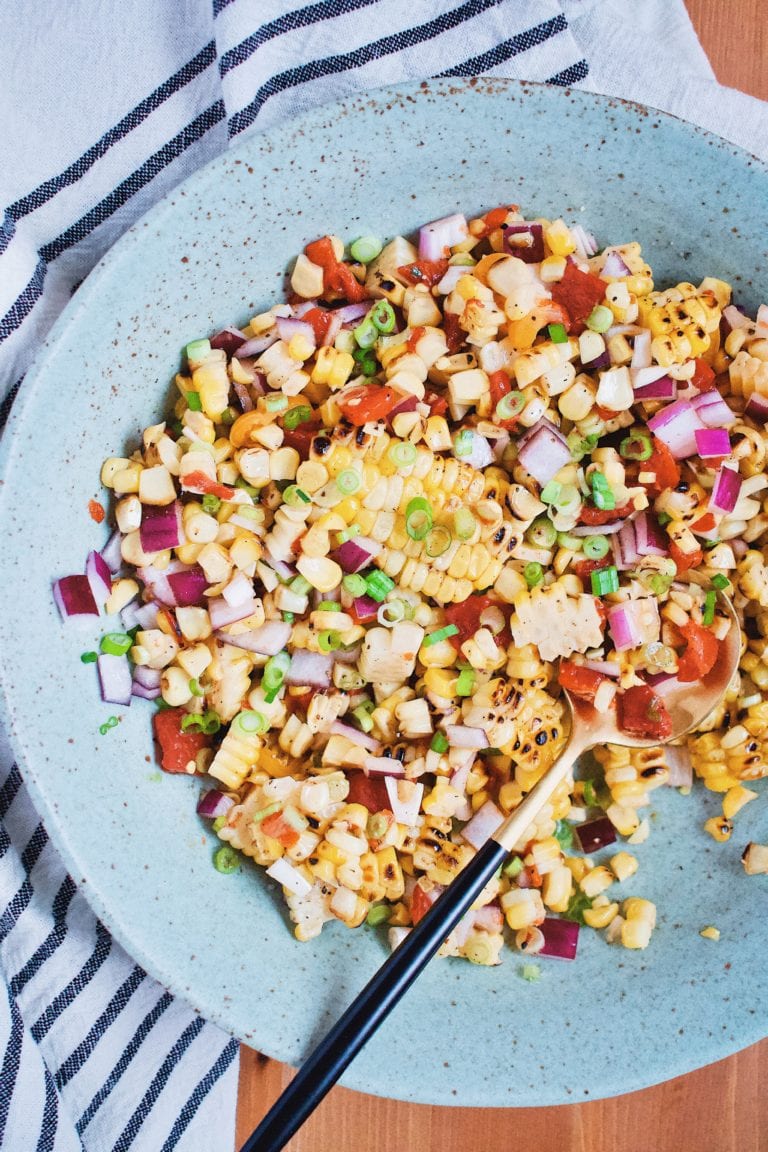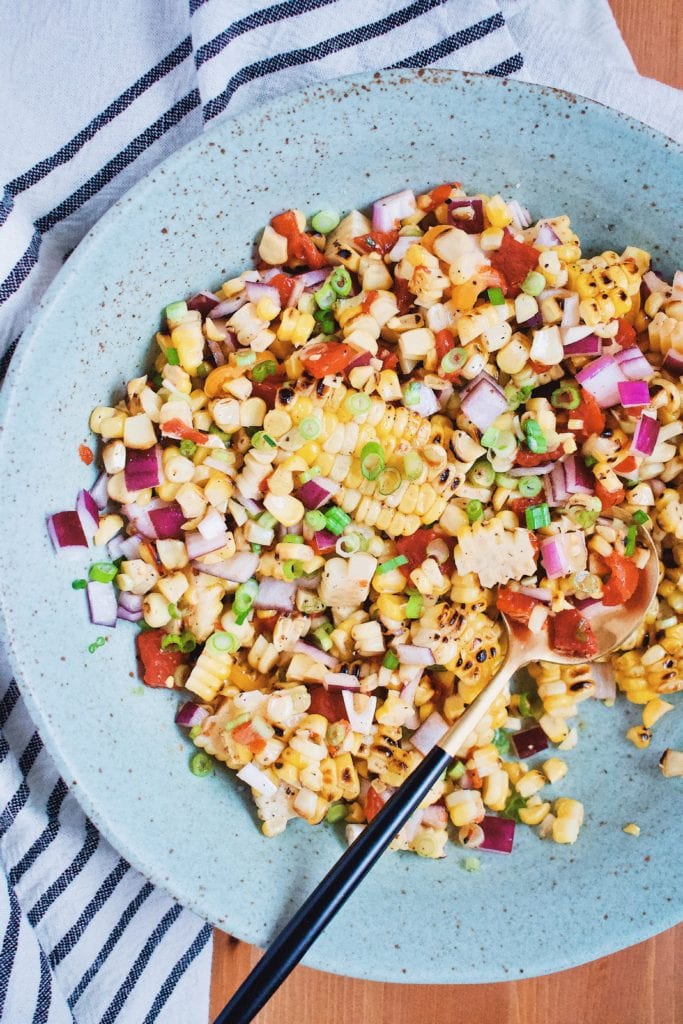 Bringing dinner together!
Serve dinner with 1-2 cabbage steaks on the bottom of the plate, top with a salmon fillet, and a generous scoop of corn salad on top. This is a completely rounded dish that will have everyone begging for seconds. I could even see this served at a dinner party with a whole side of salmon topped with this beautiful corn salad sprawled across the top!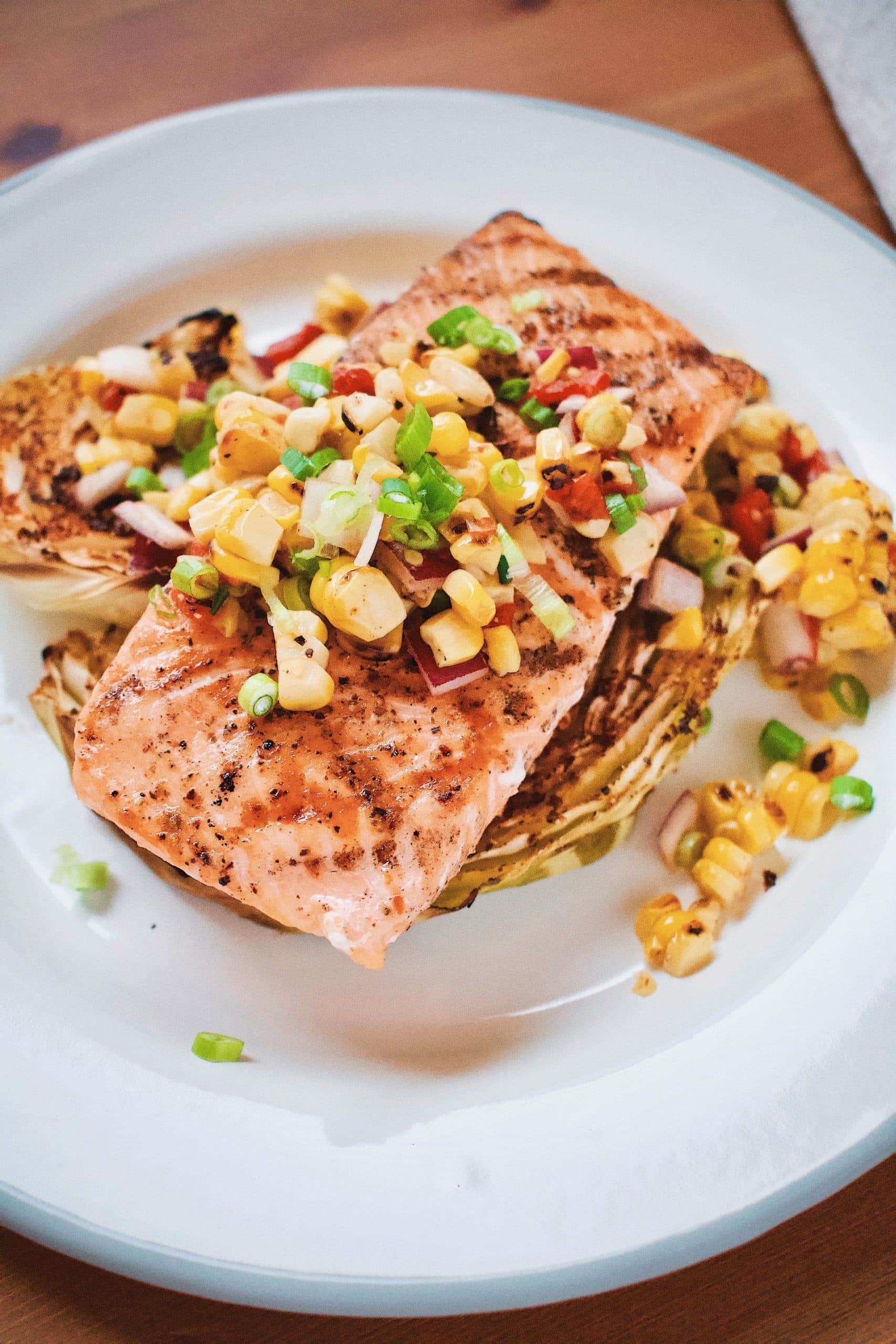 Did you make this recipe? Let me know by leaving a review or comment! And be sure to sign up for my newsletter, and follow along on Instagram, Pinterest, and Facebook!
Did you make this recipe? Let me know by leaving a review or comment! And be sure to sign up for my newsletter, and follow along on Instagram, Pinterest, and Facebook!