My recipe for buttery Whipped Yukon Gold Potatoes with Garlic Herb Cheese has become one that I am kind of known for. My family REQUIRES them at Thanksgiving and Christmas and sprinkled in whenever the mood strike throughout the year. So light and fluffy, get ready to meet your new favorite mashed potatoes in this Whipped Potatoes recipe!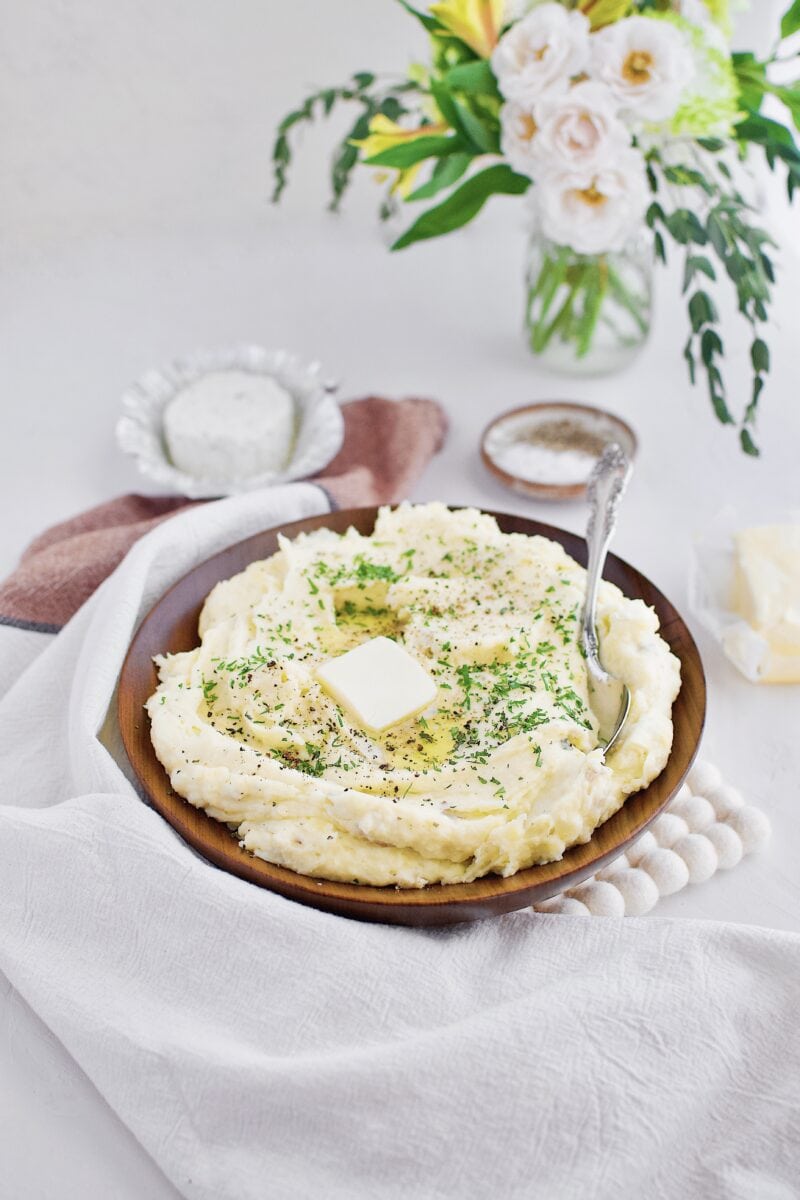 This recipe brings me back to why I love the basics. Just a couple of ingredients make for the best dishes, ALWAYS! If you have been around here for a while you will know that a short ingredient list is always my favorite!
Whipping up the Potatoes!
This recipe is great because when you have a bunch of stuff going on, on Thanksgiving or Christmas Day, this one takes all of 15 minutes to toss together. I start by peeling the potatoes by going around the outer, longest edge with the peeler just taking off a little bit of the peel. I also use Yukon Golds so that I can leave all or some of the peel on with no issue.
The potatoes then need to boil for 10 minutes then they are ready to whip. The key to really great whipped potatoes is placing the hot potatoes and butter in the mixing bowl together with the salt and whip until the mixture smells like popcorn. When the smell of buttery popcorn is rising from your stand mixer you know they are going to be FANTASTIC!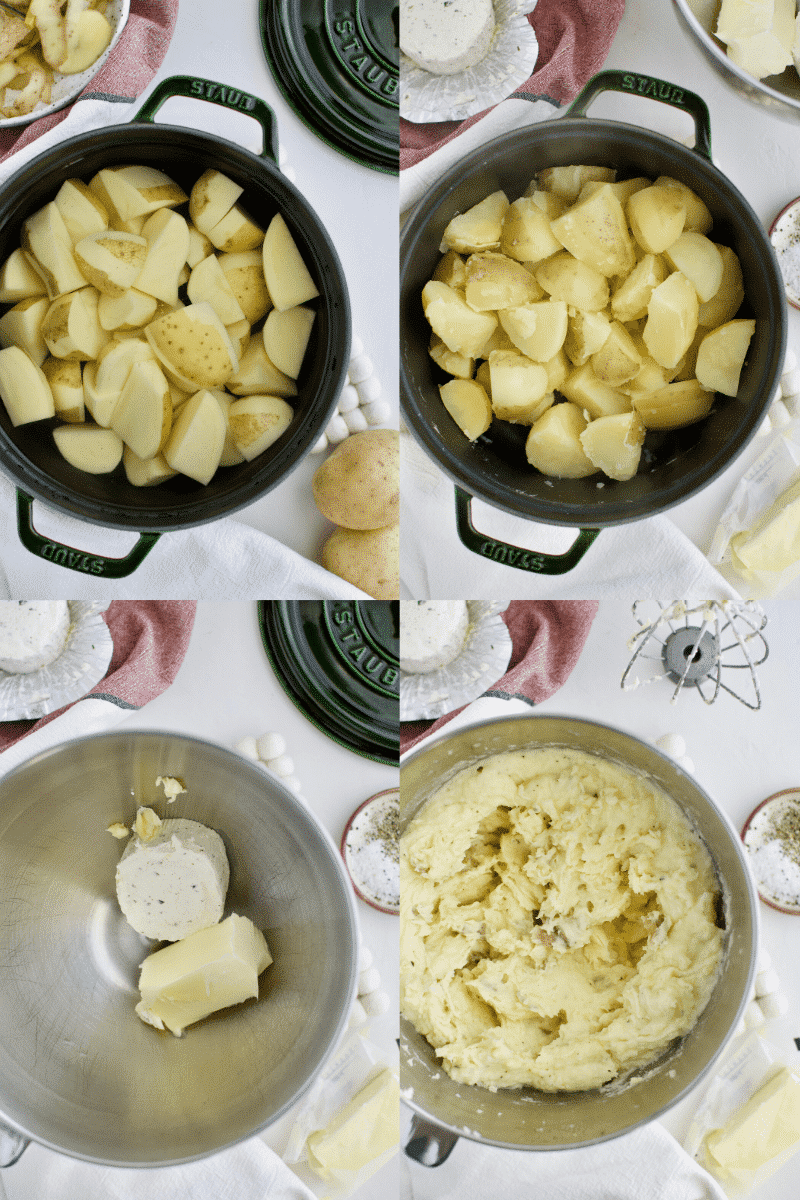 You then add the pepper and herbs and a little more salt if needed. Taste and adjust the seasoning to your liking, that's the whole point of cooking, making it taste great! Then add in just enough milk to thin the potatoes and keep them light. I then whack the mixer up to high for about 10 seconds, turn it off, and the whipped potatoes are ready to eat!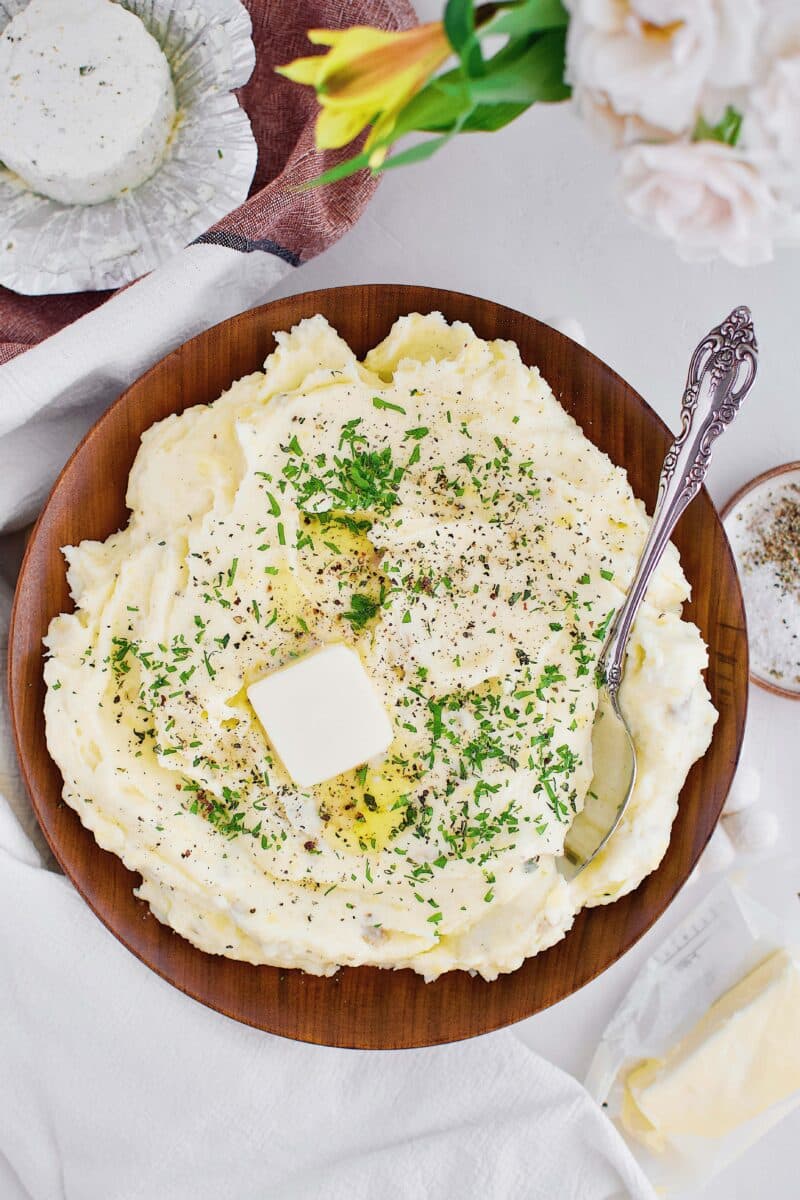 If you are serving this recipe for a holiday where you want to make it look great as well as taste amazing, be sure to garnish the top the whipped potatoes with a few cracks of black pepper and some herbs. This gives them a great presentation like you see above!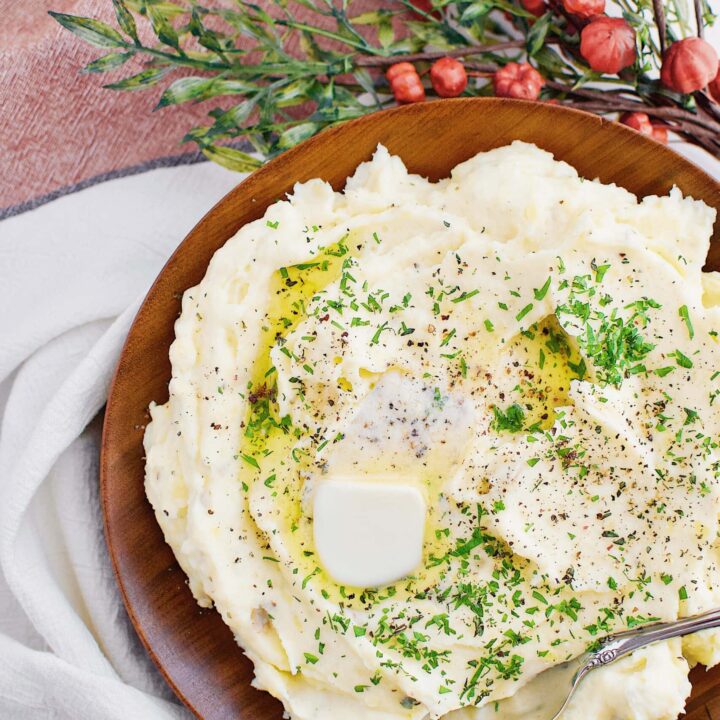 Whipped Potatoes
These are my famous Whipped Potatoes that I make for Thanksgiving and Christmas and a few other times throughout the year, but they are mainly reserved for those special holiday meals.
Ingredients
2.5 lb Yukon Gold Potatoes
8 tablespoons Unsalted Butter
1 round Garlic Herb Cheese, like Boursin
1 ½ teaspoon Kosher Salt
½ teaspoon Fresh Cracked Black Pepper, fresh ground
½ teaspoon Thyme, fresh, chopped
1 teaspoon Parsley, fresh, chopped
¼-1/2 cup Whole Milk
Instructions
Using a potato peeler, peel a halo off around the widest part of the potato, leaving the remaining peel intact. Dice each potato into 4-6 pieces depending on the size, the goal here is to have ALL the pieces close to the same size so they cook evenly. Place the potatoes in a stockpot and cover with cool water. Place the pot on the stove and heat over medium heat. When the pot comes to a boil, stir the potatoes and give the water a pinch of salt. Boil for 10 minutes, then drain the potatoes.
In the bowl of a stand mixer, add the butter and cheese, place the hot potatoes on top and sprinkle the salt over the top. Whip the potatoes with the whisk attachment until the mixture is a uniform texture, about 60-90 seconds. Do not over mix the potatoes or they will become gummy. Taste the salt level, add more if needed, and add in the pepper and herbs. Turn the mixer back on low and drizzle in the milk. When the milk has worked its way in, whack the mixer up to high, then turn it off and the potatoes should be done!
Serve garnished with a few cracks of black pepper, some herbs, and a pat of butter.
Nutrition Information:
Serving Size:

1 grams
Amount Per Serving:
Unsaturated Fat:

0g
If you make this recipe, please let me know by leaving a review at the bottom of this page!
And make sure to sign up for my newsletter and follow along on Instagram, Pinterest, and Facebook for more KendellKreations!
MY LATEST RECIPES!
Get my NEW e-Cookbook here!! ⬇️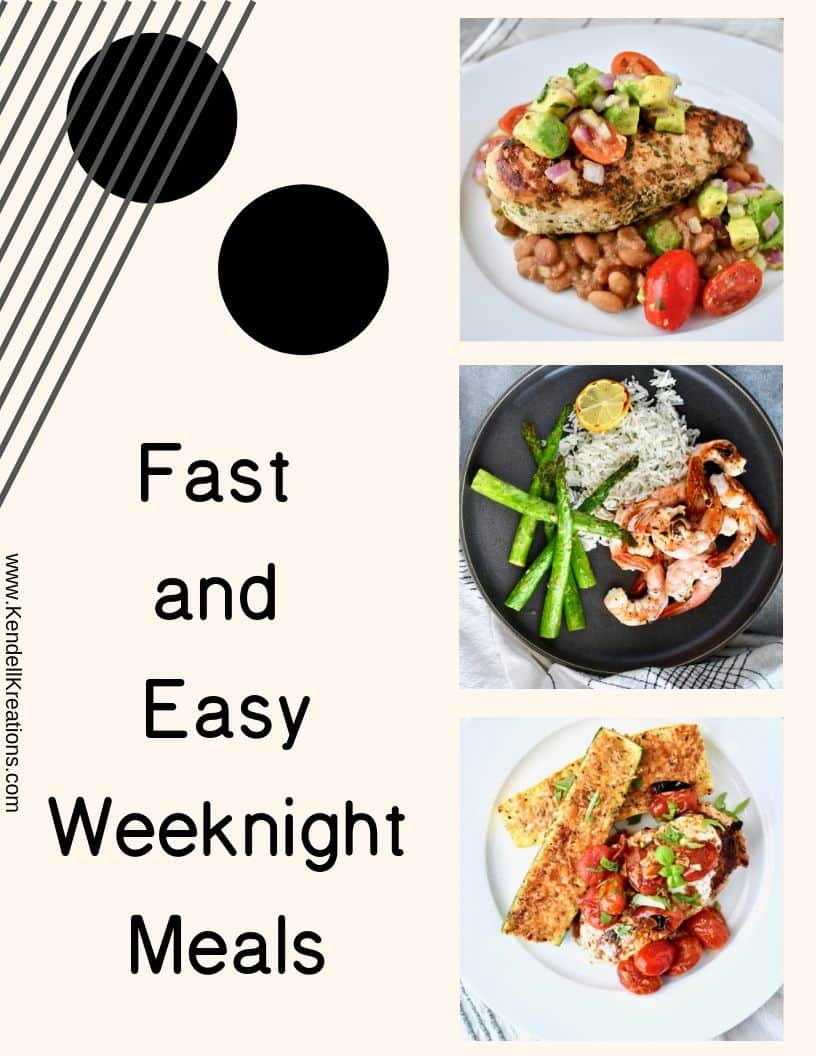 MY FAVORITE KITCHEN TOOLS!
Here are a few links to some of my favorite kitchen tools! You get a car, YOu get a car, YOU ALL GET A CAR…in my best Oprah voice
These Rösle Silicone Tongs are a little pricey but they will last you the rest of your life and are the softest in your hand. This is important for someone like m that cooks so much. It reduces strain, I have 4 sets in my kitchen!
These are my FAVE Nordic Ware Sheet Pans, every kitchen should have at least 2 sets of these! I think I have at least 4 of each of these.
This is my favorite pressure cooker, the Fagor is the same concept as the "Instant Pot" but easier to use in my opinion, if you don't have one you NEED one, it will be your best friend in the kitchen!
A sharp knife is the most important tool in the kitchen, these Japanese steel "Shun" knives are my favorite! And this is a great starter set to build on. Once you try them you will be in love so use this as a foundation you can build on for years to come.
This Scanpan 11″ skillet is just the right size for almost anything you will need to cook and my best friend and a real workhorse in my kitchen, it's also a great deal at $99. Scanpan is the best in the world for healthy cooking. It is coated with a proprietary ceramic-titanium coating that is durable while allowing you to use fewer fats and oils when cooking. It is a coating only they use. I could talk all day about my love for these pans, message me if you want more info. Here are some other sizes that are available if you are looking to outfit your kitchen with some new goodies. 8″ & 10″ Skillet set or 8″ Skillet, I still need this one for my kitchen Also, I don't really know how to cook small so the 12.5″ is my other fave!
This giant vat of olive oil is my favorite, I decant it into a smaller bottle for my counter. Or put this spigot on top of a wine bottle!
My favorite baking dish that is so easy to clean even burnt on cheese slides right off!
This Tovolo jar scraper has to be my single favorite kitchen tool, it is definitely the most used tool in my kitchen. If you are NOT a gadget person, this is the only necessity I say is a MUST beyond the wooden spoon.
A great wood spoon is essential, this Olive Wood one is my favorite, I have more than I can count. But can you really ever have too many?
A food scale can be a very important tool in your kitchen, this one is the one I use every day!
If you love Joanna Gaines as much as I do then the 'Magnolia Table Cookbook' is a must in your kitchen, get a copy HERE!