This recipe that Joanna Gaines shares in the Magnolia Table Cookbook is absolutely fantastic y'all! It has a beautiful simplicity about it and is packed with great flavor.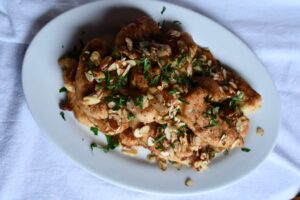 She hits it out of the park again with this quick and easy recipe, all while taking it up a notch as we have seen throughout the entire book. She has really taken great basic recipe and added her own twist to them and they all work, really well. On the surface this is a basic almond crusted chicken tenderloin that is pan fried with a little butter and oil and topped with some toasted almond slices. But the big surprise comes from the addition of the lemon juice. It's just a little unexpected but it turns the whole dish on its head.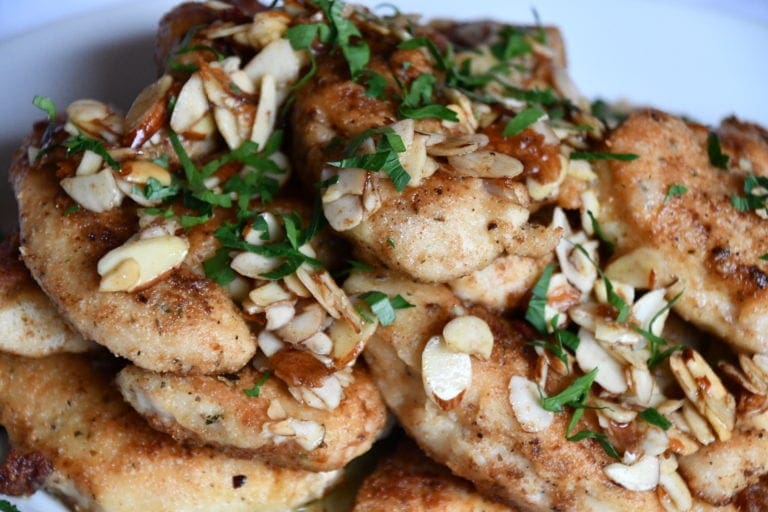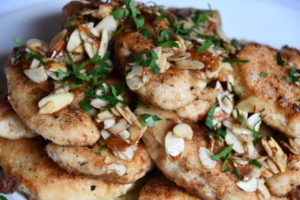 The almonds, lemon and parsley all add their own individual elements, you get the fantastic nutty flavor from the almonds that you are toasting in butter and a perfect brightness from the lemon with a earthy roundness from the parsley that brings it all together. You can't leave any of them out, they complete the dish just so.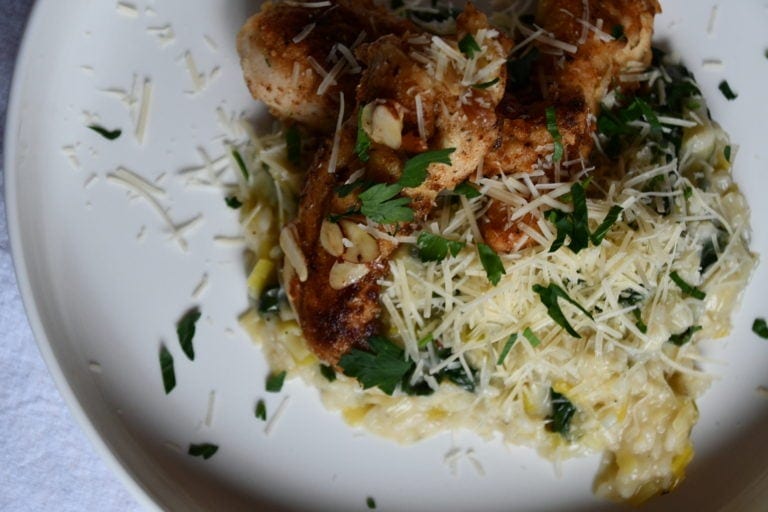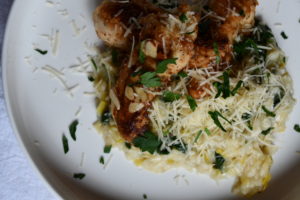 I served mine with the Fresh Spinach and Leek Risotto and let me just tell ya, they are the perfect paring. They have complementary flavors and if you looking for the right side dish to either of these dinner recipes in the book these are it. The only real note I can give you is that I went a little heavy with my lemon on my chicken, it gave it a little bit of a sour note, just a bit to much, so I will go a little lighter next time I make this. But the good news is that there will be a next time. Maybe just serve it with some lemon wedges and let everyone add to their taste.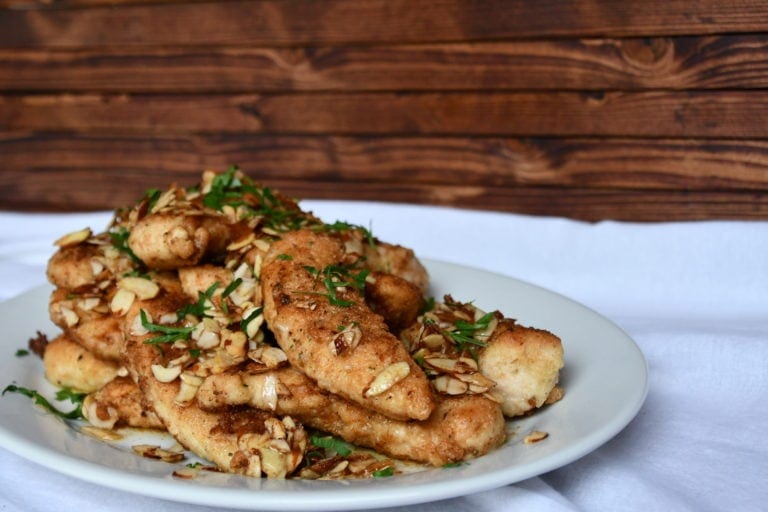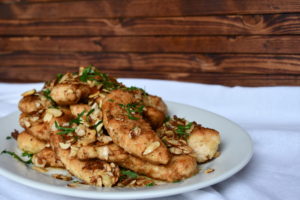 My family really enjoyed this dish, leave me a comment below and let me know what you thought of it, I would love to hear from you.
Until next time, happy cooking!
Kendell
Here are a few links to some of my favorite kitchen tools!
My FAV Silicone Tongs, I have 4 sets in my kitchen! ?
My FAV Sheet Pans, every kitchen should have at least 2 sets of these!
This is my favorite pressure cooker, the same as an "Instant Pot" but easier to use in my opinion, if you don't have one you need one, it will be your best friend in the kitchen!
A sharp knife is the most important tool in the kitchen, these are my favorite!
This 11" skillet is just the right size for almost anything you will need to cook and my best friend in the kitchen, it's also a great deal. Scanpan is the best in the world for healthy cooking. It is coated with a ceramic titanium coating that is durable while allowing you to use less fats and oils when cooking. It is a proprietary coating only they use. I could talk all day about my love for these pans, message me if you want more info.
8" & 10" Skillet set or 8" Skillet, I still need this one for my kitchen ?
This giant vat of olive oil is my favorite, I decant it into a smaller bottle for my counter. Or put this spigot on top of a wine bottle!
This jar scraper has to be my single favorite kitchen tool, it is definitely the most used tool in my kitchen.
A great wood spoon is essential, the Olive Wood one is the best, I have more than I can count ?
A food scale can be a very important tool in your kitchen, this one is the one I use every day!