This delicious recipe Joanna shares in the Magnolia Table Cookbook takes me right back to the summer I spent with my grandparents in Atlanta, Georgia.
I spent about 2 months just after my 15th birthday chilling with the Grands. We slept late (well I did anyway), played some tennis, and hung out by the pool. Grandpa worked from home and Grandma worked out. I learned about a whole wealth of different topics while hanging around Grandpa and even got a glimpse into his extensive gun collection. With Grandma out of the house during the day, she would meal plan with me on the weekend and we would do the grocery shopping for the week. We would go through her lifetime of recipes and even explore a few new things that we would find in magazines and on the back of product boxes. Do you know all those "great" ? casseroles you used to find on the back of the cracker boxes or rice bags. ? We would get everything planned for the week and I would cook dinner each night and have it ready for when she would come home from work.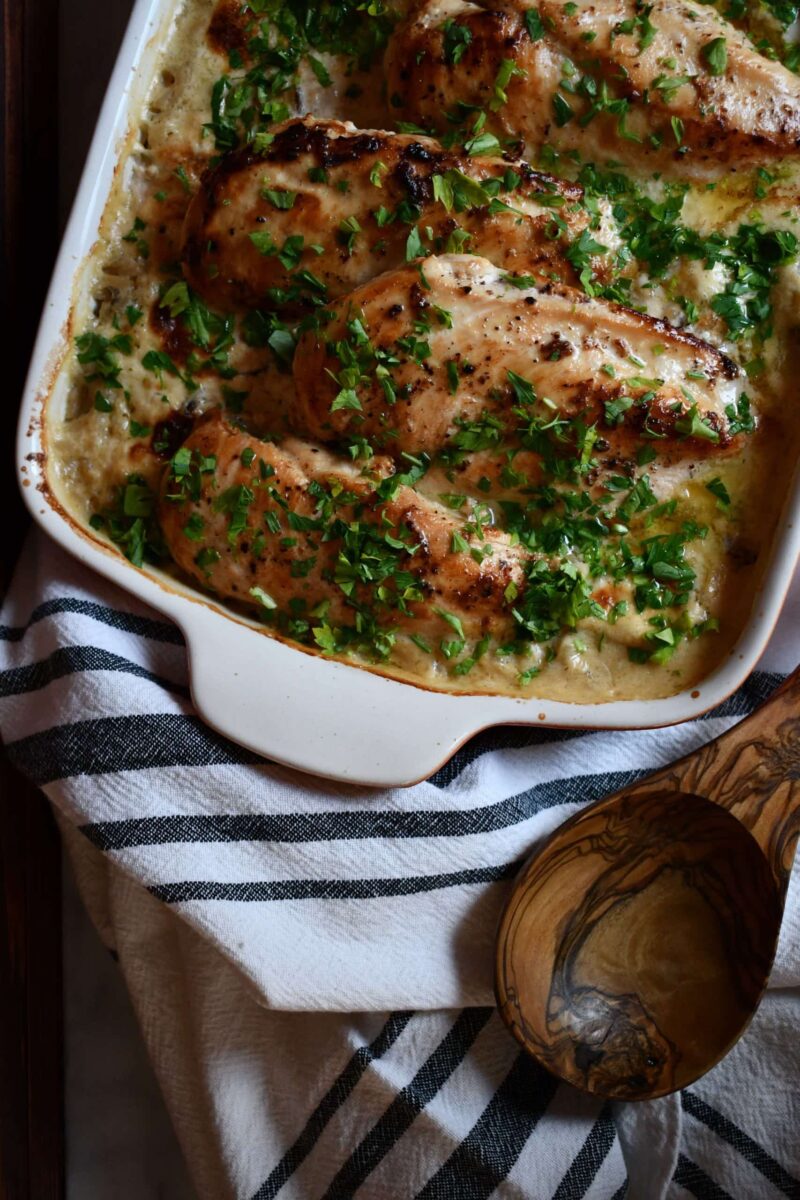 This one-pan wonder transported me right back to those days. I have no clue if it is or was, but it seems right off the back of a rice bag! And straight out of the '80s or '90s...not a second thought about fat content or carb intake, and I loved every bite! ??? LOL!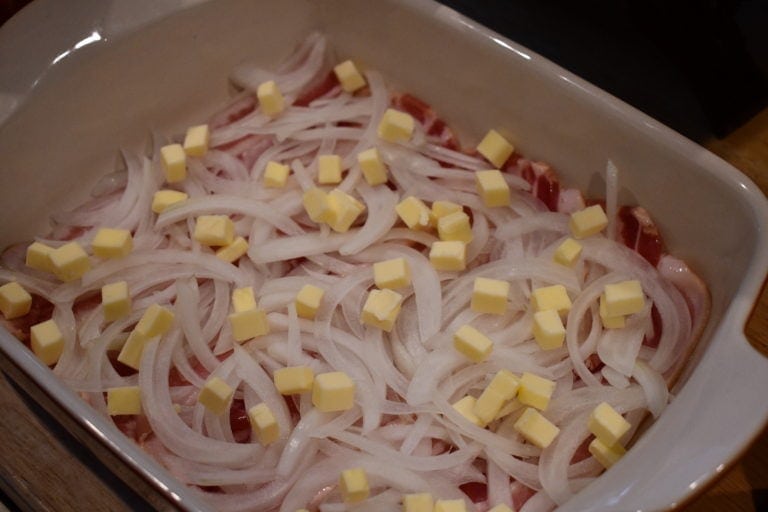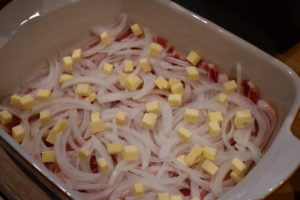 The assembly of the dish is very simple, lay your bacon on the bottom, sprinkle your onions and cubed butter on top, mix the rice and condensed soups together, and put that on top.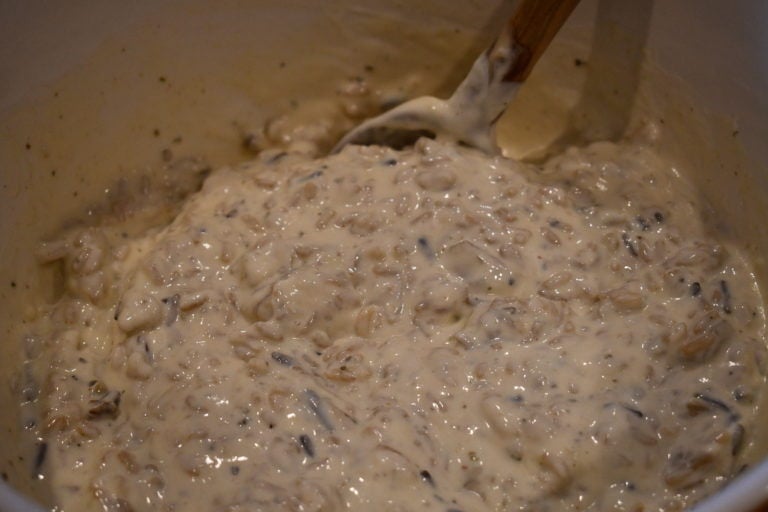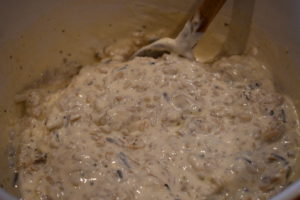 The only thing that I did that varied from this recipe was to sear off my seasoned chicken breast before placing those on top of the layers of bacon, onion, butter, and rice.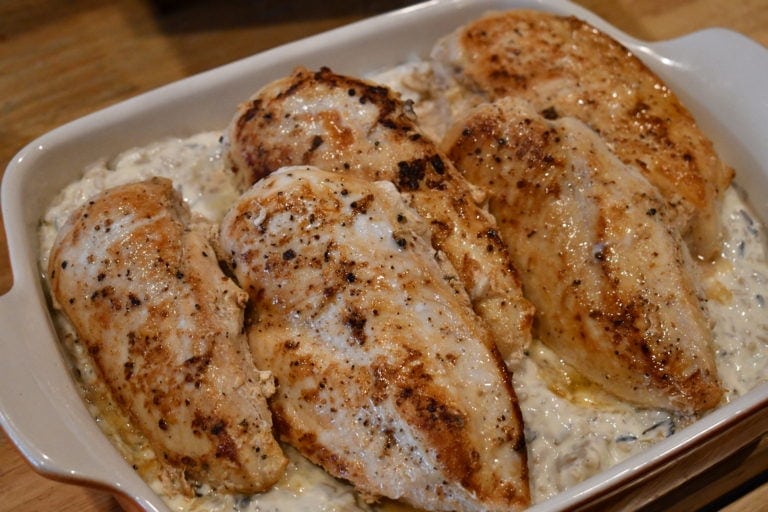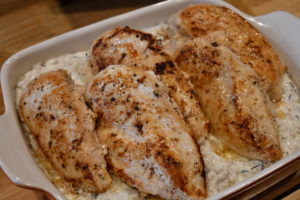 After reading through the entire recipe I decided that the recipe was going to turn out fairly beige and if I know anything from being a chef all these years is that you eat with your eyes. So I wanted to take this to the next level, add just a little finesse to it, and make it something you'd want to see on your dinner table again. This was one of those recipes from the book that didn't have a picture and now we all know why.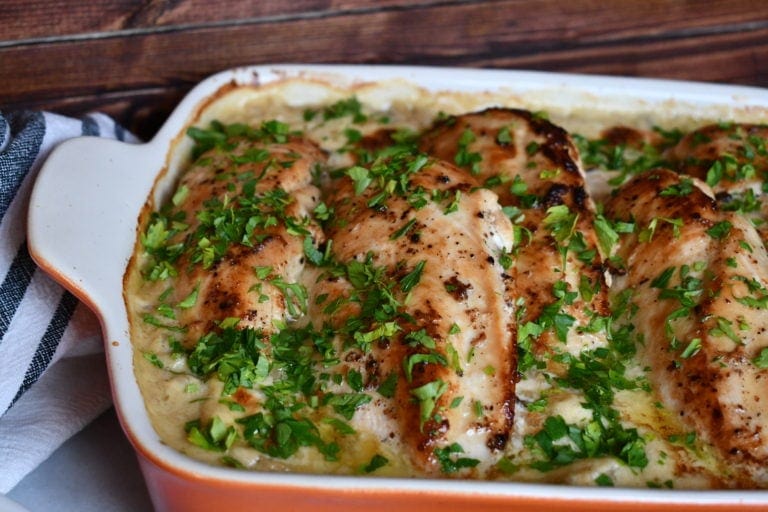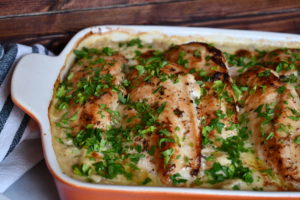 If you choose to take this route and decide to sear your chicken first, you will need to reduce your cooking time in the oven by about 15 minutes, then remove the foil and allow some of the excess liquid to cook-off.
It has been so long since I have had or made something like this that I really didn't know what to expect out of the finished product, but it was extremely well received by the family, especially my dad who would literally eat bacon topped cardboard if you put it in front of him. It's his solution to pretty much everything.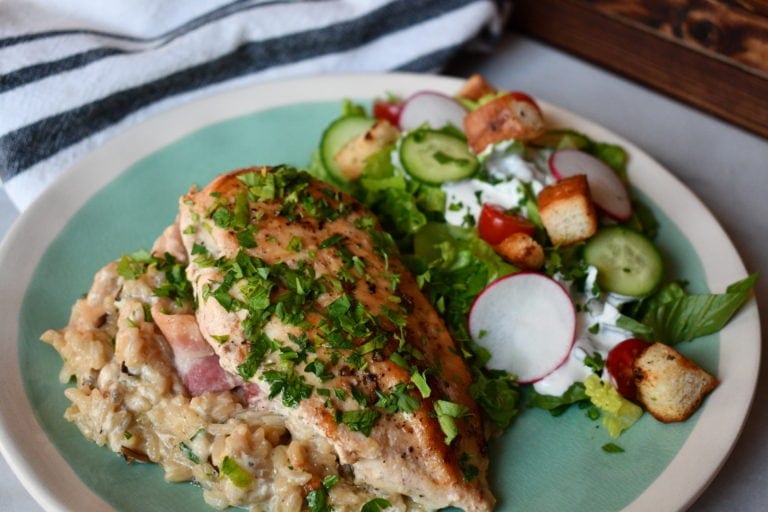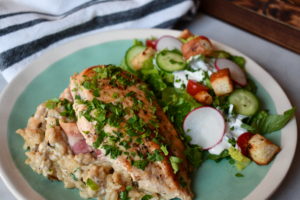 I honestly think I will make this again even though it absolutely falls into the cheat meal category. I might ease up on the butter by a tablespoon or two, the leftovers were a little greasy, other than that it will stay on the menu rotation once every other month or so when I finish the journey of cooking my way through this cookbook.
I'd love to know what you think of this recipe and if you have made it yet. Leave me a comment below 🙂
Until next time, happy cooking!
Kendell
Did you make this recipe? Let me know by leaving a review or comment! And be sure to sign up for my newsletter, and follow along on Instagram, Pinterest, and Facebook!