I recently tasted a bourbon peach jam out in the wild and I knew that I would need to try my hand at it with the peaches I picked up this summer. Bourbon, Brown Sugar and Butter are the keys to making this Bourbon & Brown Sugar Peach Jam a success. Now let's get ready for a delicious jam sesh!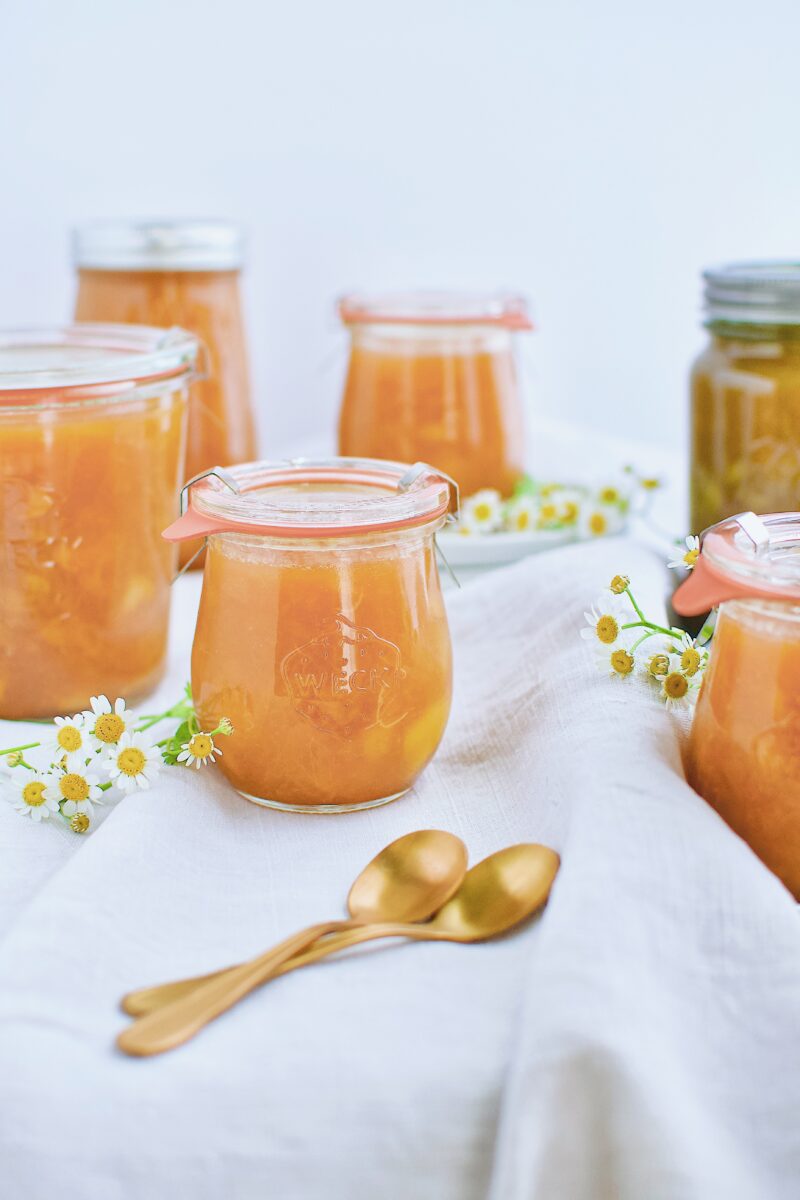 The Canning Process
The preserving and canning process is one that has stood the test of time. It takes a little planning and time, but it is a moment of work that allows you to enjoy it for months to come. I usually take one day 2-3 times a year depending on what bulk fruits I can get my hands on and do a little preserving.
The process begins with preparing the fruit. In this instance and making a jam we cook the fruit down with an acid, a sweetener, and a jelling agent. All of these things will aid in the preservation of the summer gem that peaches are!
The acid is an important part because providing the correct alkalinity will keep the fruit from molding. The sugar preserves and sweetness, making it more enjoyable and balancing the flavor. The pectin solidifies the jam and gives it the perfect texture as well as helps preserve it for an extended period of time.
You cook down the fruit and bring it to a boil to activate the setting agents and pull the natural pectin out of the fruit. Then the cooked jam is placed in jars that have been boiled to sterilize them ensuring no bacteria will live in the jar once sealed. It is then finished by boiling the jars under water to fully seal the jar, making them shelf stable.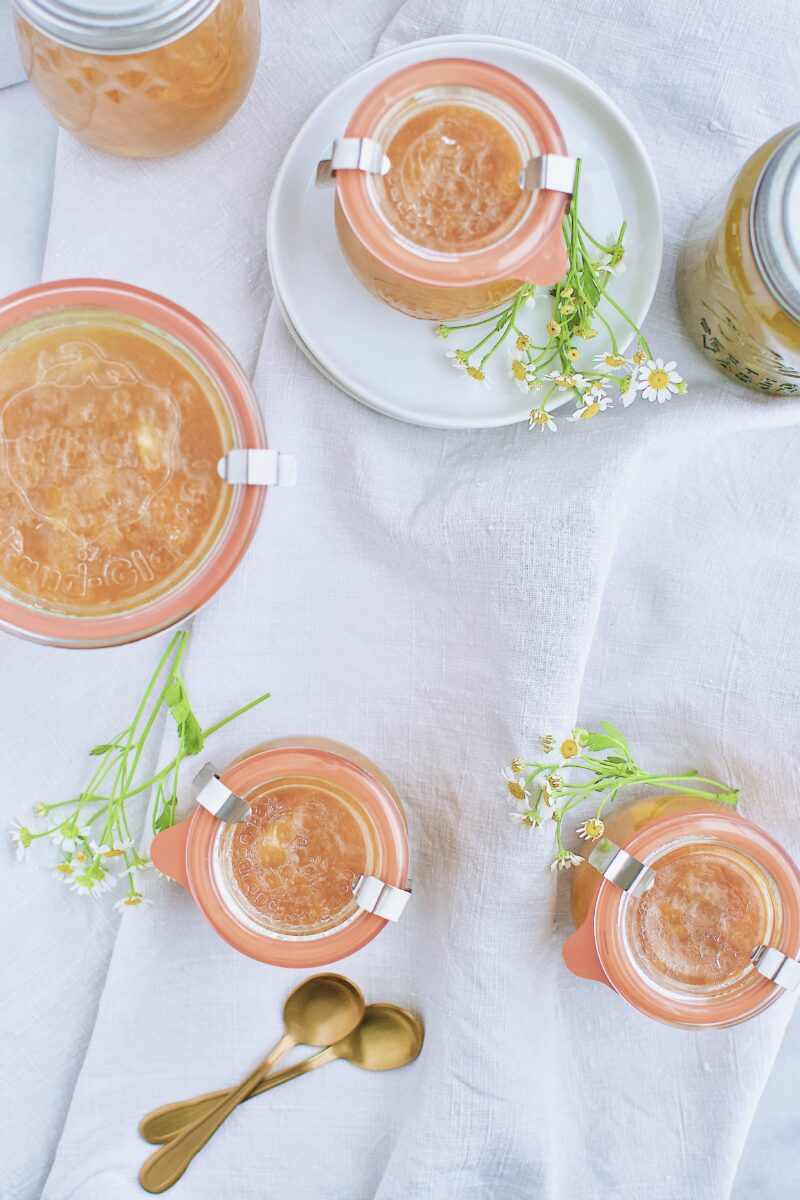 Peach LOVE!
Like I said at the top, I tried this jam out and about and it was love at first bite. I have always been a big time lover of peaches and I knew I had to get home and recreate it so I could enjoy it year round.
There is just something so much more satisfying about making something homemade that I enjoy. I love supporting businesses, but you just can't beat homemade!
I hope you make Bourbon Brown Sugar Peach Jam and enjoy it as much as I do. Be sure to leave me a review at the bottom of the page with you thoughts if you do. I love hearing from you!
Tools to make canning easier!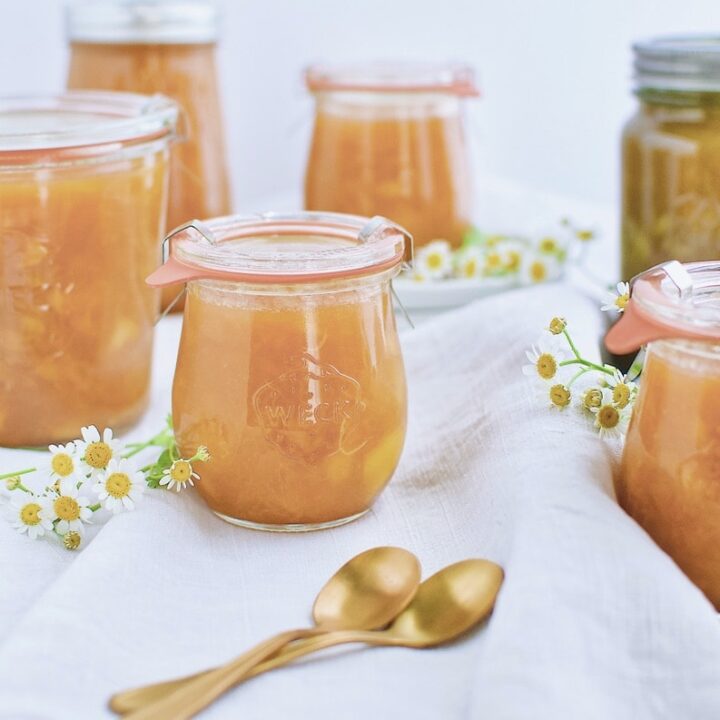 Bourbon & Brown Sugar Peach Jam
After trying a jam like this out in the wild I knew I had to go home and create my own version to share on my blog. I hope you enjoy, put it on EVERYTHING!!
Ingredients
5 cups Light Brown Sugar
1 cup Granulated Sugar
6 lb Peches, diced
2 boxes No Sugar Pectin - SureJell
½ cup Lemon Juice
½ cup Bourbon Whiskey
8 tablespoons Unsalted Butter
Instructions
Set a large pot or canning pot full of water on the stove over high heat and bring it to a boil.
Combine the sugars in a bowl and stir to evenly distribute.
In a small bowl, mix ½ cup of the sugar mixture, the pectin, and the lemon juice. Set aside.
In a large stockpot or dutch oven, warmed over medium heat, add the diced peaches, the sugar, pectin, and lemon juice mixture and cook, stirring constantly until the mixture comes to a boil that can not be stirred down, boil for 1 minute. This can take anywhere from 10-20 minutes to achieve. Keep stirring so the mixture does not burn. During this time, mash the peaches from time to time with a potato masher or puree with an emersion blender for a smoother jam. At this point, add the remaining sugar mixture and the bourbon. Return the mixture to a boil that can not be stirred down and boil for another minute. Turn off the heat add the stick of butter and stir until fully melted and mixed in. Let the mixture cool for 10 minutes.
After the jam has cooled, fill 12 half-pint mason jars with the jam and place the lids on top screwing on til hand tight. Place the closed jars in the boiling water of the canning pot and boil for 10 minutes to set the jam and seal the jars. Remove the jars to a kitchen towel on the counter and allow them to rest until completely cooled. Do not touch or move the jars until they have completely cooled. 8hrs or overnight. The jars should "pop" as they cool signifying that a seal has been made and that the jam can be stored at room temperature in a cool dark place for up to a year.
Notes
I do not take the time to blanch and peel my peaches, just remove the pit and dice them up. I like my jam rustic, just use a potato masher to smash them as they cook and you will be left with some larger bits in your finished jam. If you like a finer jam you can blend the peaches to a puree with an emersion blender or in a Vitamix.
Nutrition Information:
Serving Size:

1 grams
Amount Per Serving:
Unsaturated Fat:

0g
If you make this recipe, please let me know by leaving a review at the bottom of this page!
And make sure to sign up for my newsletter and follow along on Instagram, Pinterest, and Facebook for more KendellKreations!
MY LATEST RECIPES!
Get my NEW e-Cookbook here!! ⬇️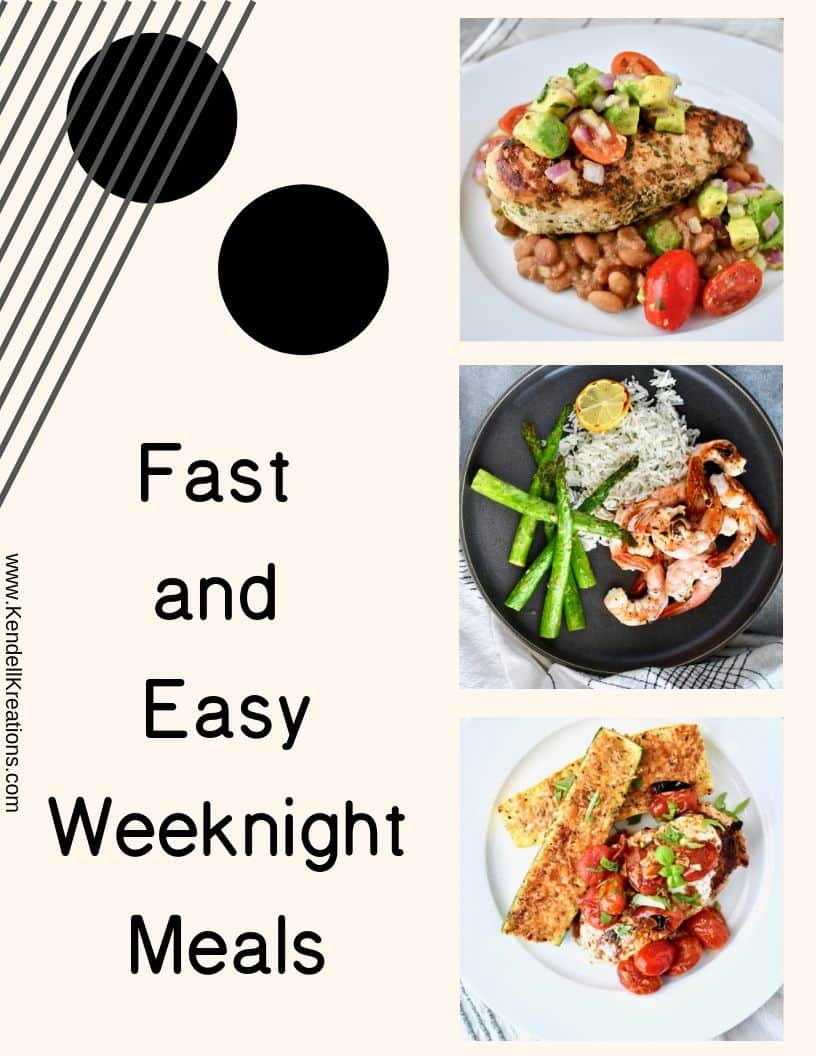 MY FAVORITE KITCHEN TOOLS!
Here are a few links to some of my favorite kitchen tools! You get a car, YOu get a car, YOU ALL GET A CAR…in my best Oprah voice
These Rösle Silicone Tongs are a little pricey but they will last you the rest of your life and are the softest in your hand. This is important for someone like m that cooks so much. It reduces strain, I have 4 sets in my kitchen!
These are my FAVE Nordic Ware Sheet Pans, every kitchen should have at least 2 sets of these! I think I have at least 4 of each of these.
This is my favorite pressure cooker, the Fagor is the same concept as the "Instant Pot" but easier to use in my opinion, if you don't have one you NEED one, it will be your best friend in the kitchen!
A sharp knife is the most important tool in the kitchen, these Japanese steel "Shun" knives are my favorite! And this is a great starter set to build on. Once you try them you will be in love so use this as a foundation you can build on for years to come.
This Scanpan 11″ skillet is just the right size for almost anything you will need to cook and my best friend and a real workhorse in my kitchen, it's also a great deal at $99. Scanpan is the best in the world for healthy cooking. It is coated with a proprietary ceramic-titanium coating that is durable while allowing you to use fewer fats and oils when cooking. It is a coating only they use. I could talk all day about my love for these pans, message me if you want more info. Here are some other sizes that are available if you are looking to outfit your kitchen with some new goodies. 8″ & 10″ Skillet set or 8″ Skillet, I still need this one for my kitchen Also, I don't really know how to cook small so the 12.5″ is my other fave!
This giant vat of olive oil is my favorite, I decant it into a smaller bottle for my counter. Or put this spigot on top of a wine bottle!
My favorite baking dish that is so easy to clean even burnt on cheese slides right off!
This Tovolo jar scraper has to be my single favorite kitchen tool, it is definitely the most used tool in my kitchen. If you are NOT a gadget person, this is the only necessity I say is a MUST beyond the wooden spoon.
A great wood spoon is essential, this Olive Wood one is my favorite, I have more than I can count. But can you really ever have too many?
A food scale can be a very important tool in your kitchen, this one is the one I use every day!
If you love Joanna Gaines as much as I do then the 'Magnolia Table Cookbook' is a must in your kitchen, get a copy HERE!