This quick and easy Peach Jam Recipe comes together in just a few minutes and makes a perfect refrigerator jam. We won't be processing this one for long-term storage, but I don't find that an issue because it is yummy I use it up before it goes bad.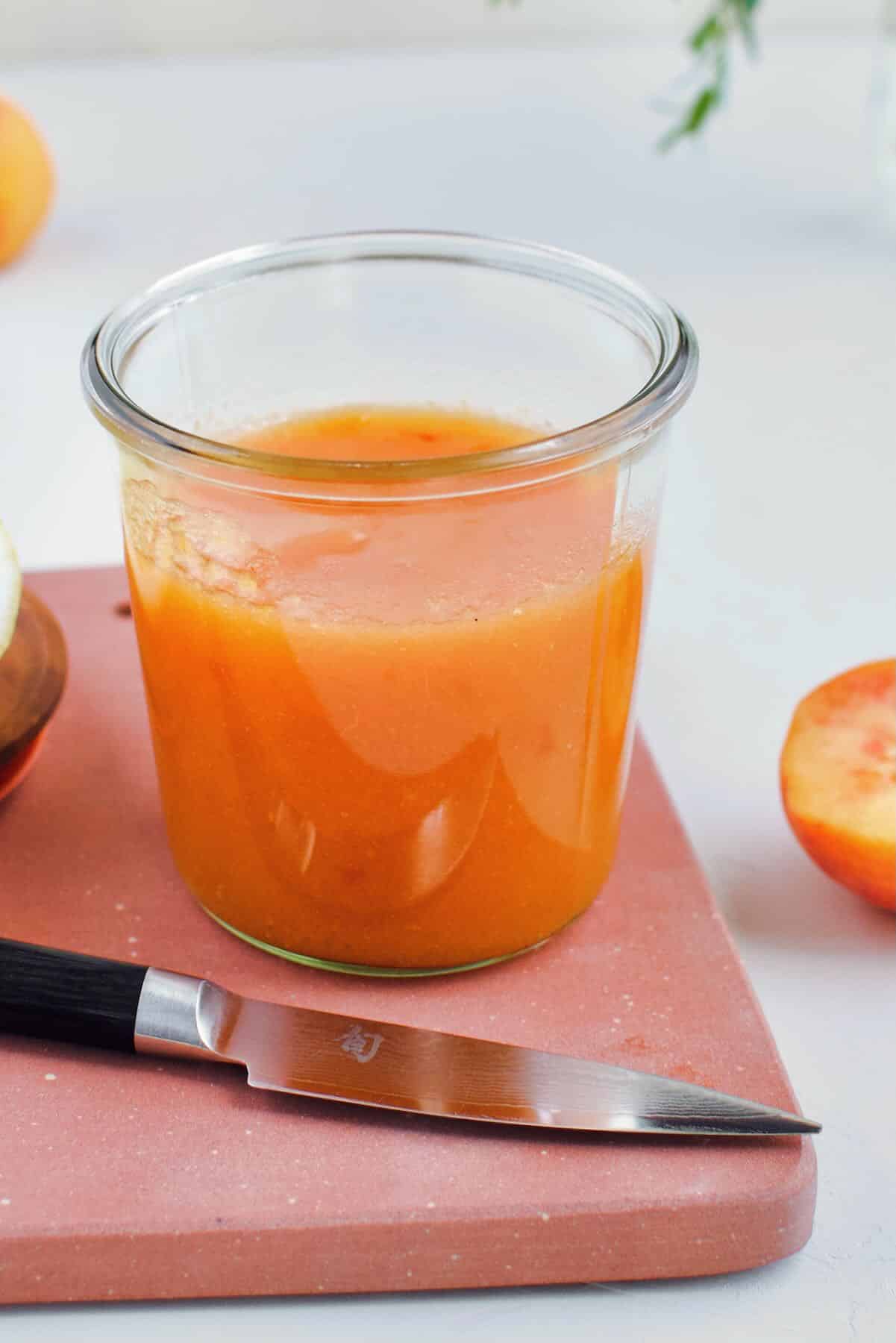 This post was first published June 5, 2019, and was last updated July 26, 2023.
I love to use this peach jam recipe to swirl into ice cream or cheesecake making them feel extra special. It is also fantastic used on your morning toast or swirled in yogurt. A couple of peaches, some sugar, and the juice of a lemon are all you need to make this impressive peach jam recipe.
Jump to:
Ingredients
This is a quick refrigerator Peach Jam Recipe. You only need 3 ingredients for success. It is a bit like peach butter in the sense that it is just cooked till it thickens and does not use pectin to gel. Peaches have some of their own pectin in them, and that is just enough for them to set up in a slightly loose jam, that is still perfect in my book.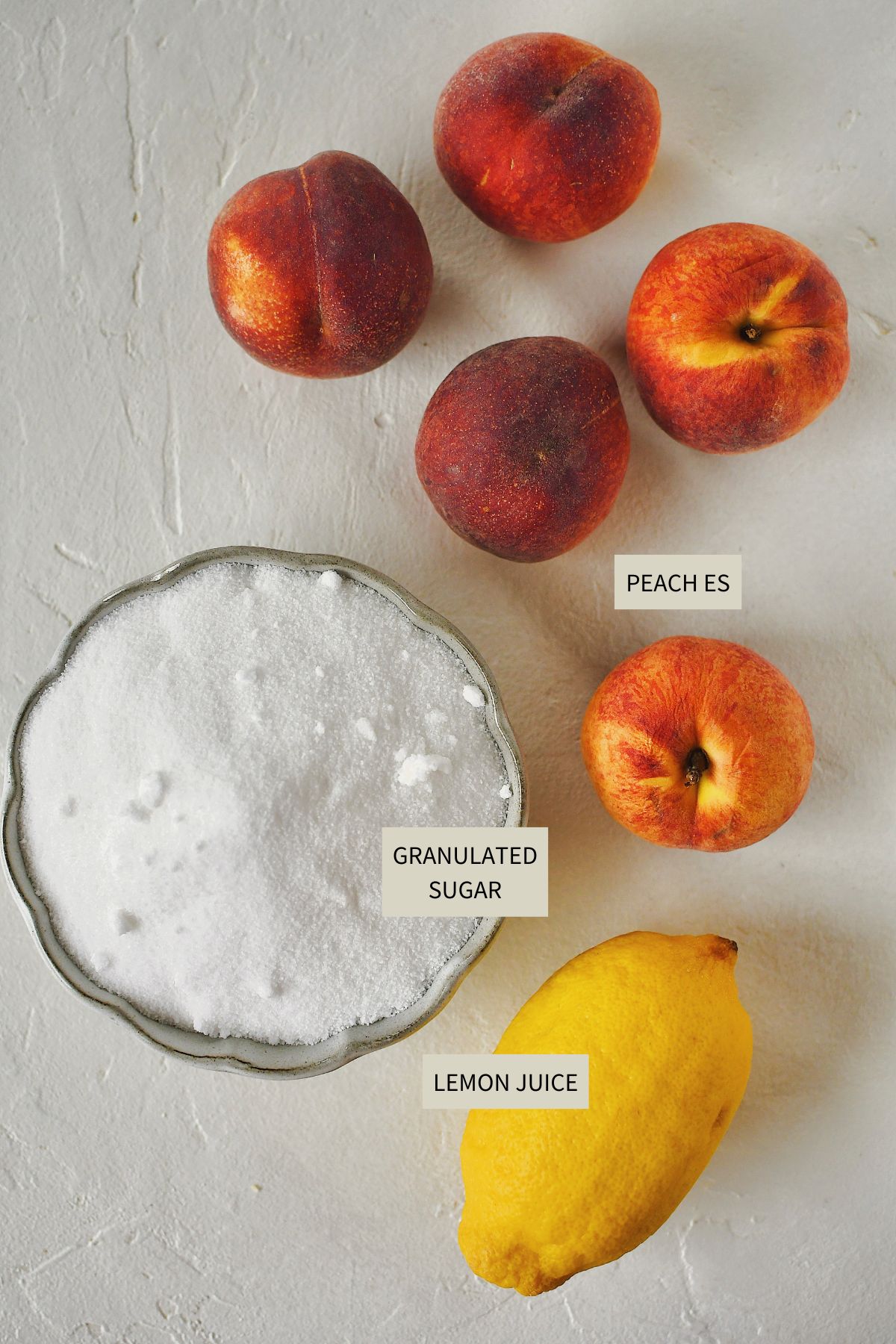 You need peaches, sugar, and the juice of one fresh lemon. It could not be simpler and the sugar and lemon just amplify the delicious peach flavor, making this peach jam recipe drool-worthy.
Use the JUMP TO RECIPE button at the top of the post, or scroll to the bottom of the post to see the full recipe card with ingredient measurements and instructions.
Method
First, place a small pot of water on the stove and bring it to a boil. Then you will score the bottom of your peaches with a knife to make an X. Slice small cuts just deep enough to break the skin.
When the water comes to a boil, gently lower the peaches into it and cook for 15-20 seconds. Remove the peaches to a bowl of ice water, cool, dry, and peel the skin off. If your peaches were very ripe the skin will essentially fall off, just give it a gentle rub to remove. I typically blend my jam too, so if some bits of skin remain, that is ok.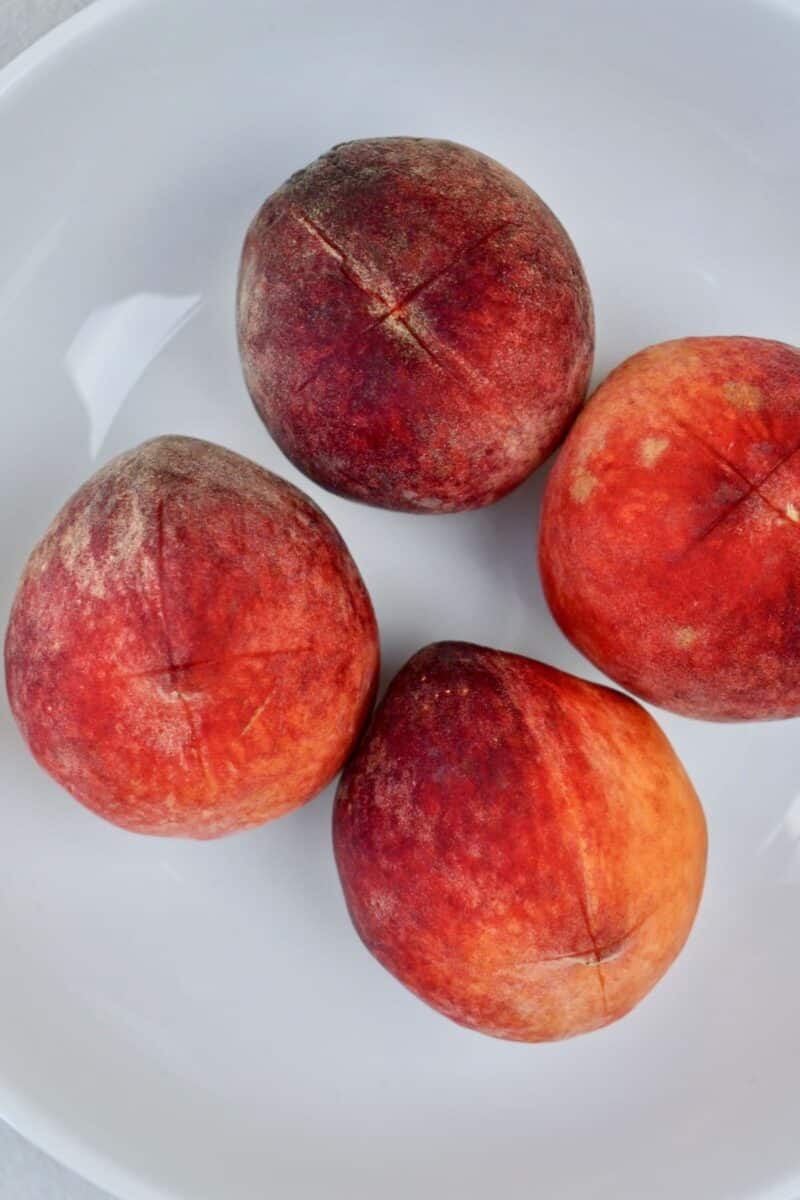 Cut the peaches in half and remove the pit. Place the halves in a blender or a small food processor and blend until completely smooth. Add the pureé, sugar, and lemon juice to a small saucepan and cook over medium heat.
Bring the mixture to a boil and cook stirring often for 7-8 minutes. You will know it has cooked enough when the foam subsides and the color deepens. It will also thicken slightly when it reaches this stage. Remove the pan from the heat and transfer to a sterile container that has a lid.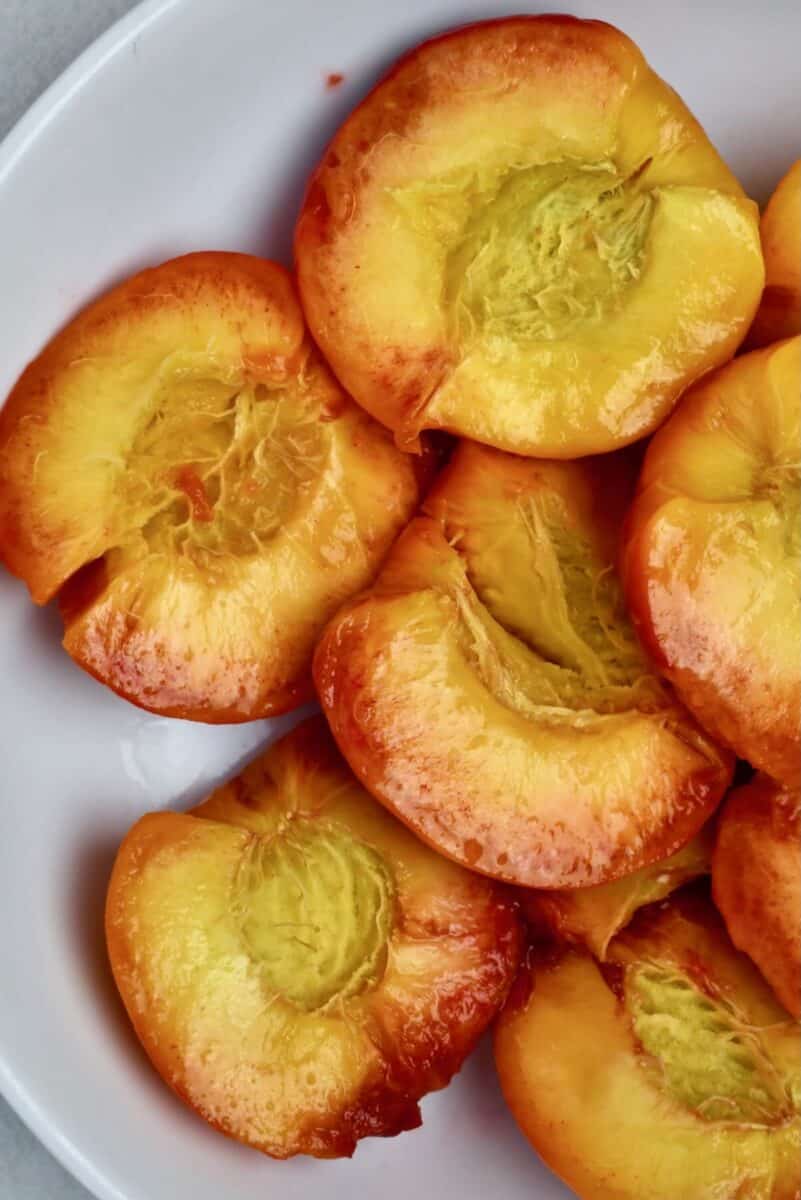 I used 4 medium-sized peaches and it filled a 16oz canning jar perfectly. When cool this will be a slightly thin jam, if you want it thicker when cooled you can add 1 packet of bloomed gelatin before you jar it.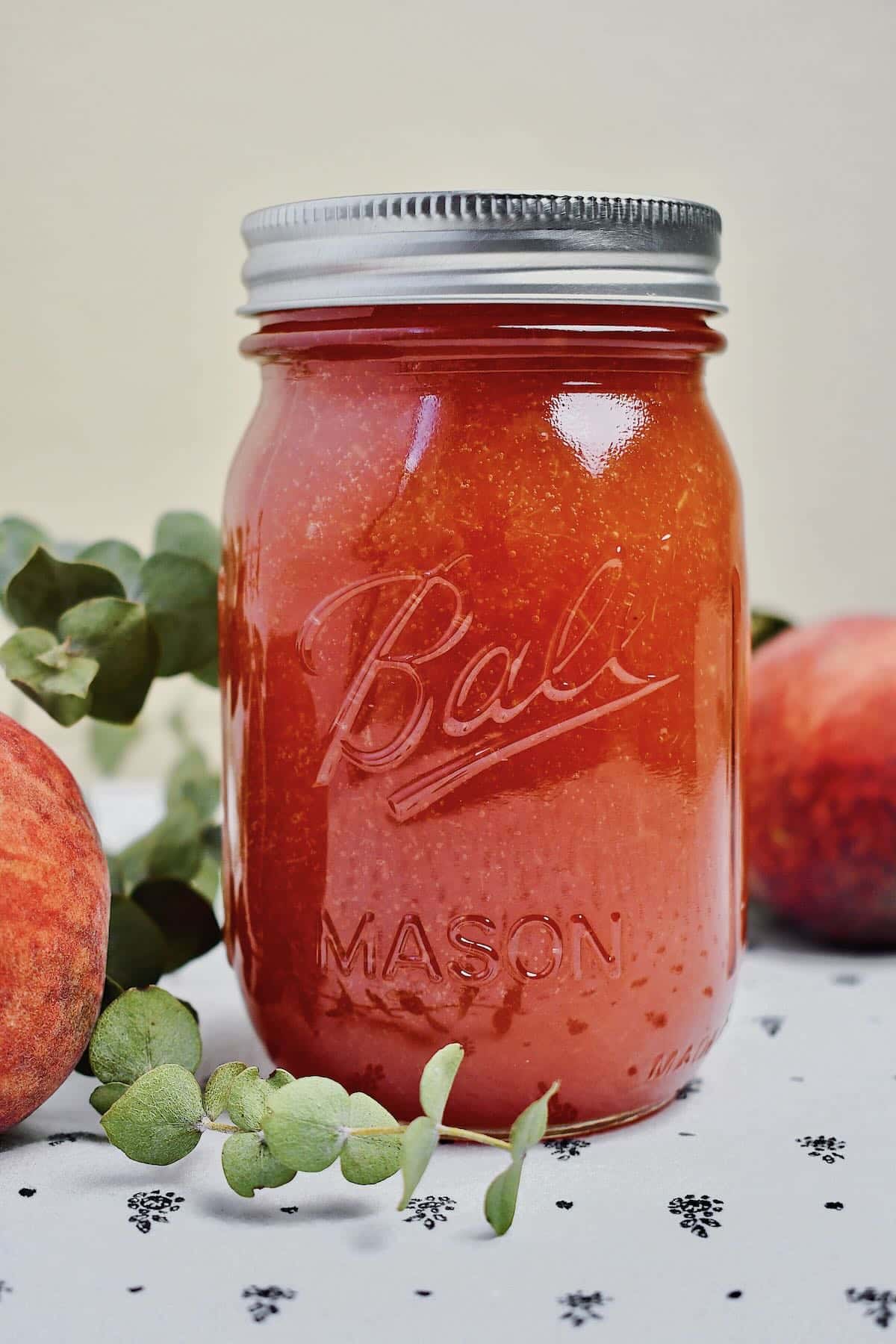 Notes & Tips
I sometimes get a little lazy and do not go through the process of blanching and peeling my peaches. It is totally ok to do. I just remove the pit, slice them up, cook in the sugar and lemon, then puree after. The skin gives the jam the pretty dark pink, red hue you see in the image above. The orange color you see in the other photos comes from peeling them.
Please note, this is not a recipe for preserving jam. This will keep in the fridge for up to 3 weeks, but it will not store in a jar that can be boiled to become shelf stable.
This quick Peach Jam Recipe is best used in things like my decadent Peach Ice Cream, or Peaches n' Cream Cheesecake
Substitutions
There are only 3 ingredients here, there really is nothing to substitute, you need each of them to get a set jam.
The only thing you could do here is to add to it. Maybe you want a spiced peach jam, toss in a cinnamon stick. You could also throw in a split vanilla bean if you want to perfume your jam with that flavor.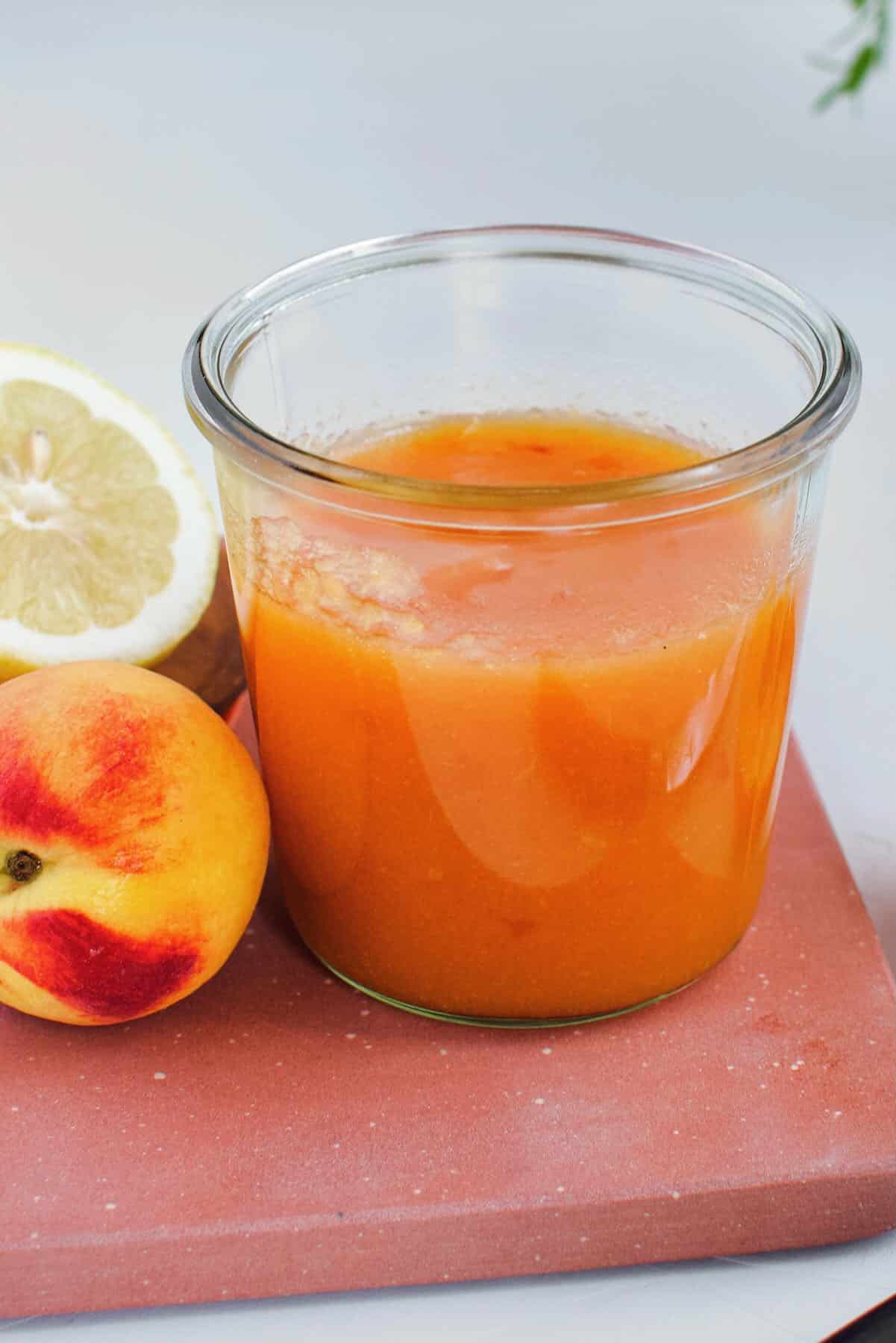 Did you make this recipe? Let me know by leaving a review or comment! And be sure to sign up for my newsletter, and follow along on Instagram, Pinterest, and Facebook!