Beware! If you make this Peach Ice Cream, it will most likely, and quite literally ruin any other ice cream for you, FOREVER! It is so rich and creamy and beyond delicious, you'll want to make it again and again.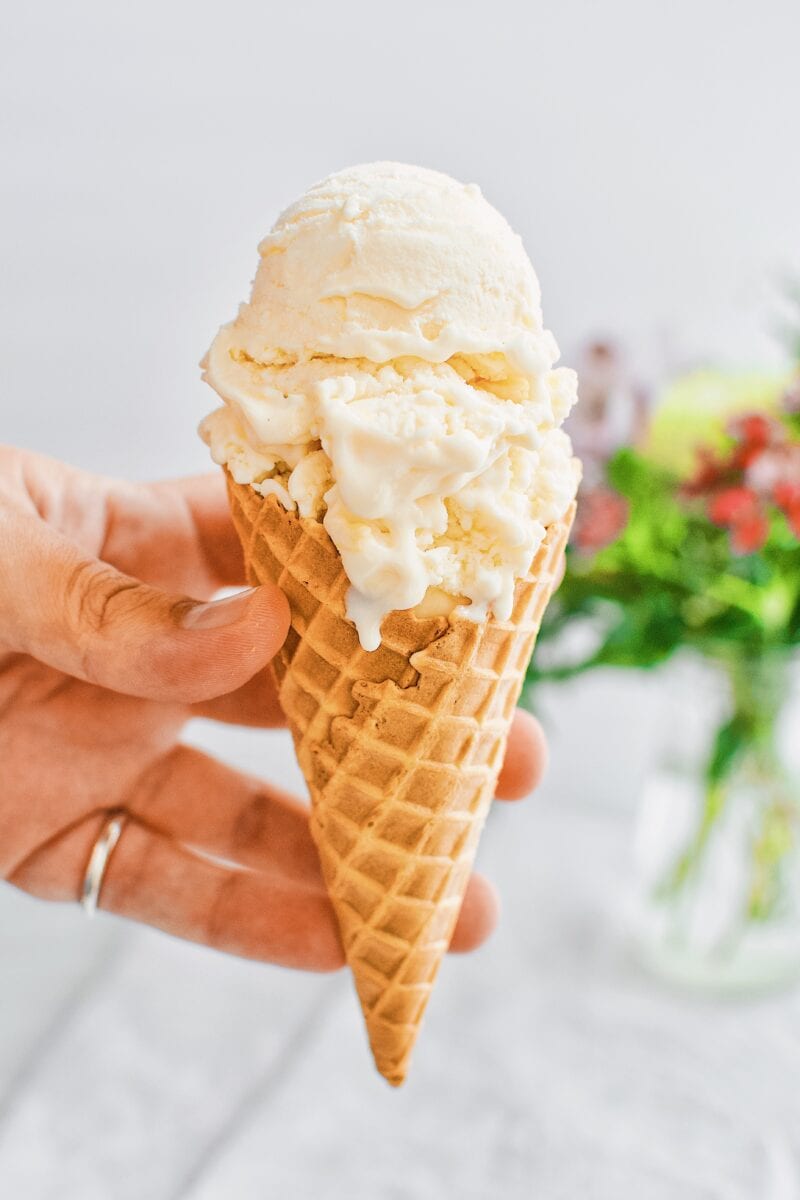 This post was first published June 29, 2020, and was last updated July 26, 2023.
This ice cream is best when you use my Quick Peach Jam, to make it. I am honestly at a loss for words at how good this is. I am in love with this ice cream and I simply won't be buying ice cream ever again!
Jump to:
Ingredients
The mixture of milk, cream, and cream cheese makes this the most luscious ice cream you will ever eat. The high ratios of fat keep it soft, and scoopable even in a super cold freezer. Rich and delicious are words you'll continue to use when enjoying this peach ice cream.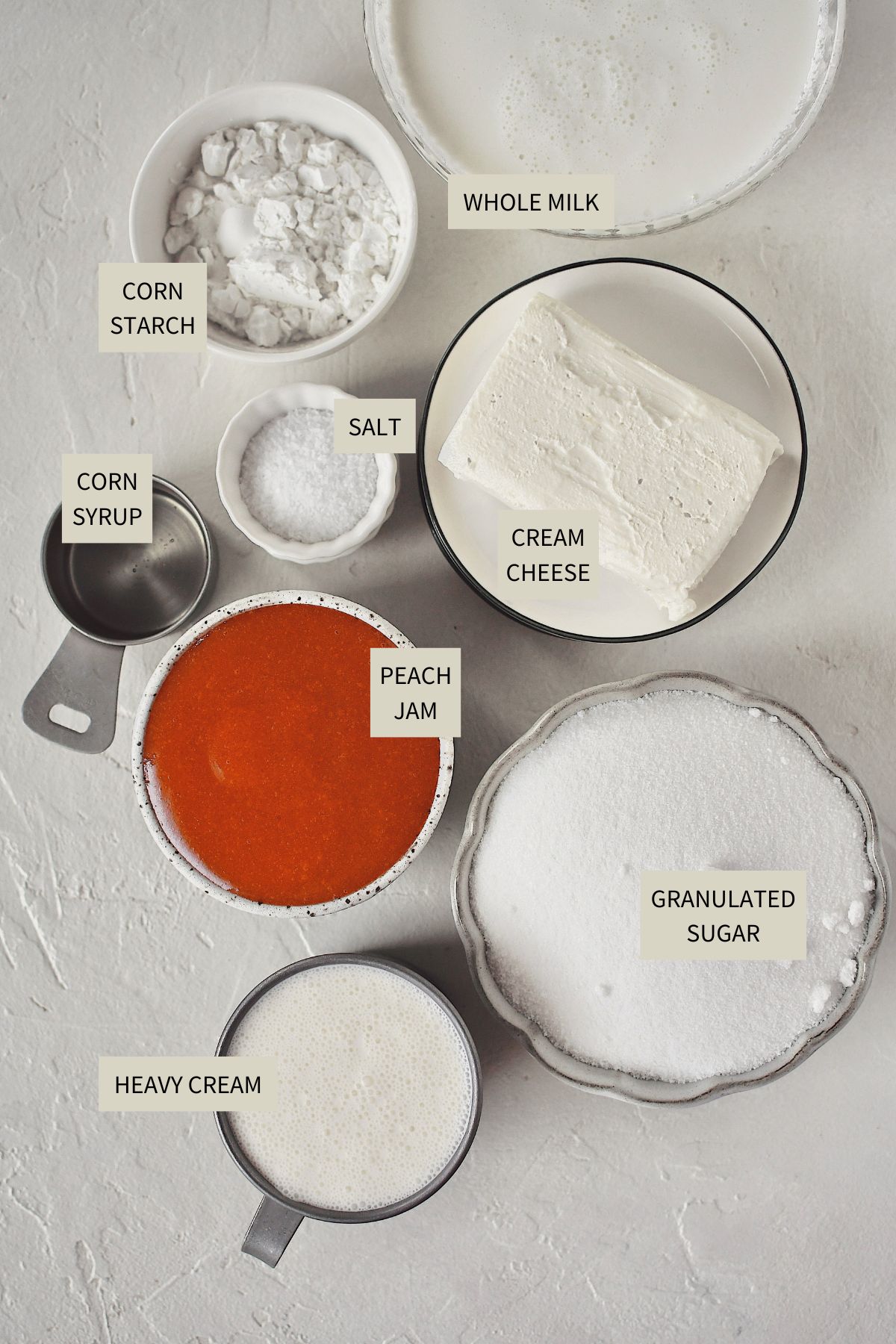 The sugar and corn syrup sweetens everything up, and my homemade peach jam brings a massive punch of flavor. My recipe for quick jam is so easy, it is 100% worth making it for this recipe, plus I love swirling in some extra jam into the ice cream after it churns.
Use the JUMP TO RECIPE button at the top of the post, or scroll to the bottom of the post to see the full recipe card with ingredient measurements and instructions.
Method
To start, mix some of the cream and cornstarch to make a slurry. Then warm the remaining cream, sugar, and corn syrup together till it comes to a boil. Whisk in the cornstarch till thick, then add the mixture to a blender with the cream cheese and salt.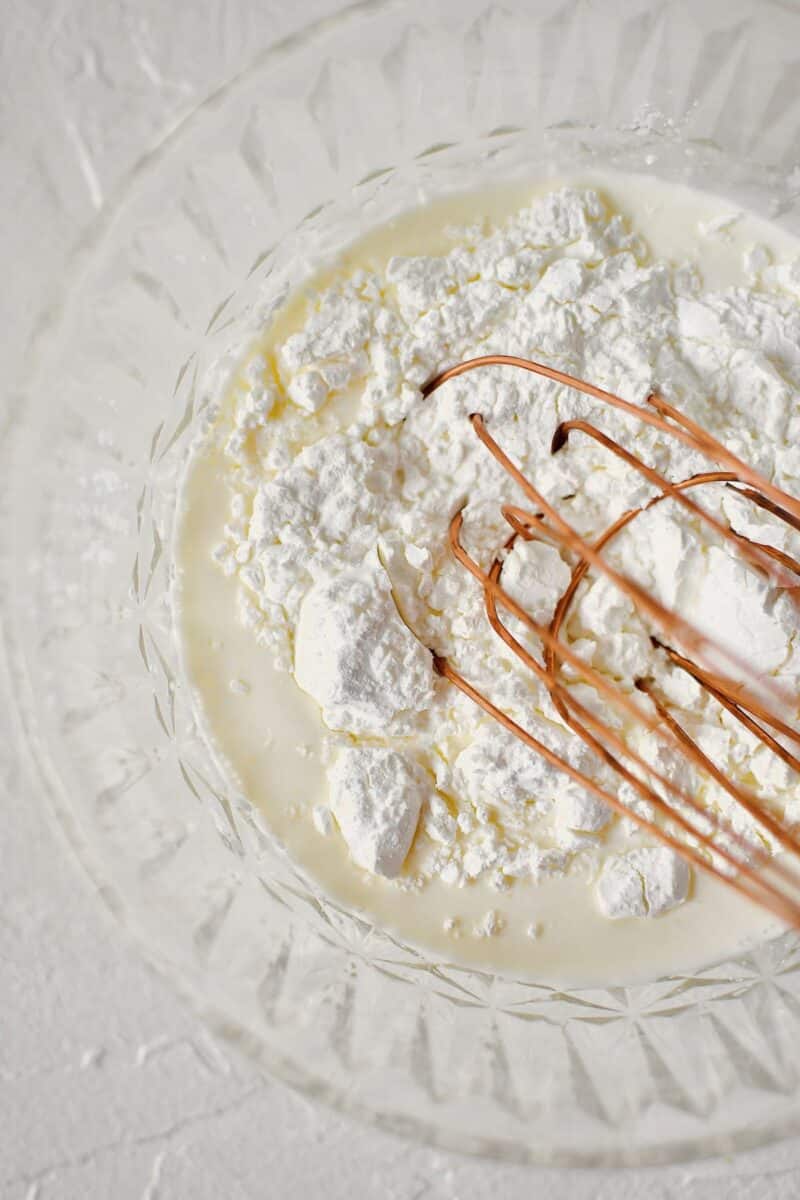 Blend the mixture till smooth while drizzling in the milk and peach jam. Remove the mixture to a large measuring cup, the recipe makes 8 cups of ice cream base. Chill the base overnight, then churn it in an ice cream machine.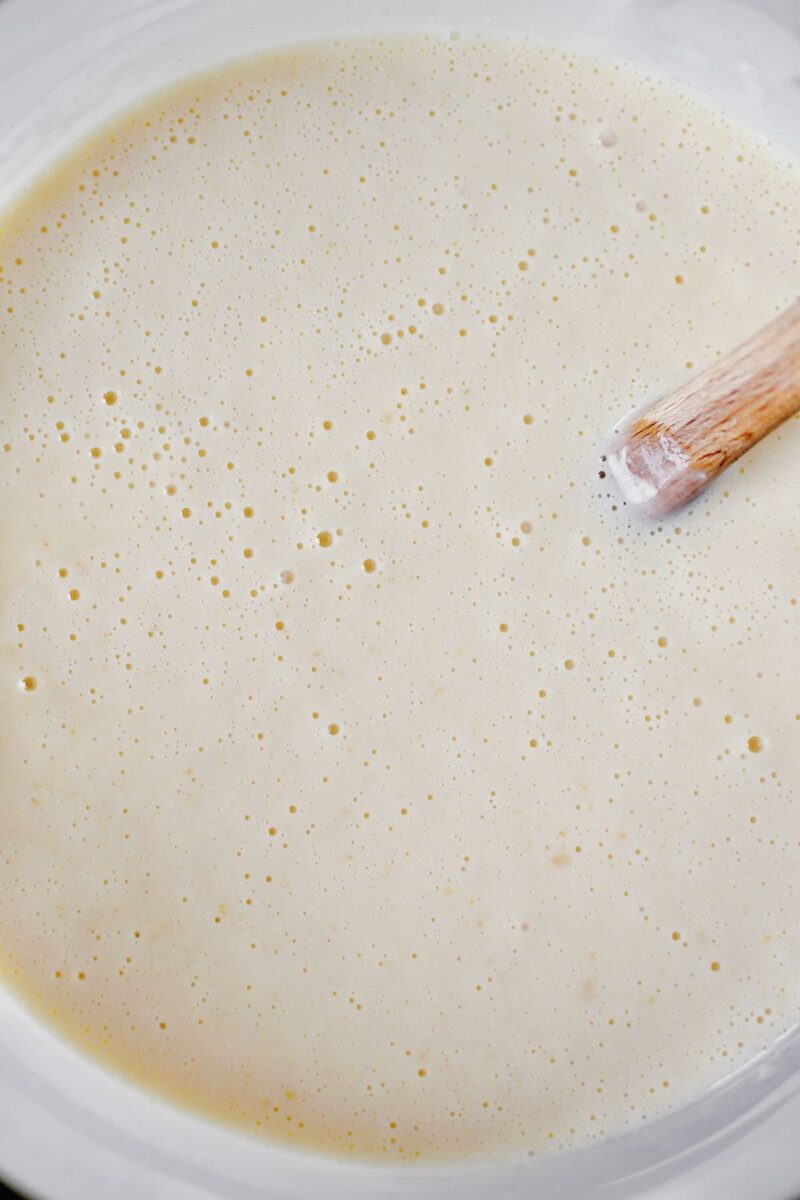 When the ice cream is set in the machine, remove it to a freezer-safe container and swirl in some more peach jam. Freeze till firm then it is ready to scoop into cones, with even more jam drizzled on as you scoop.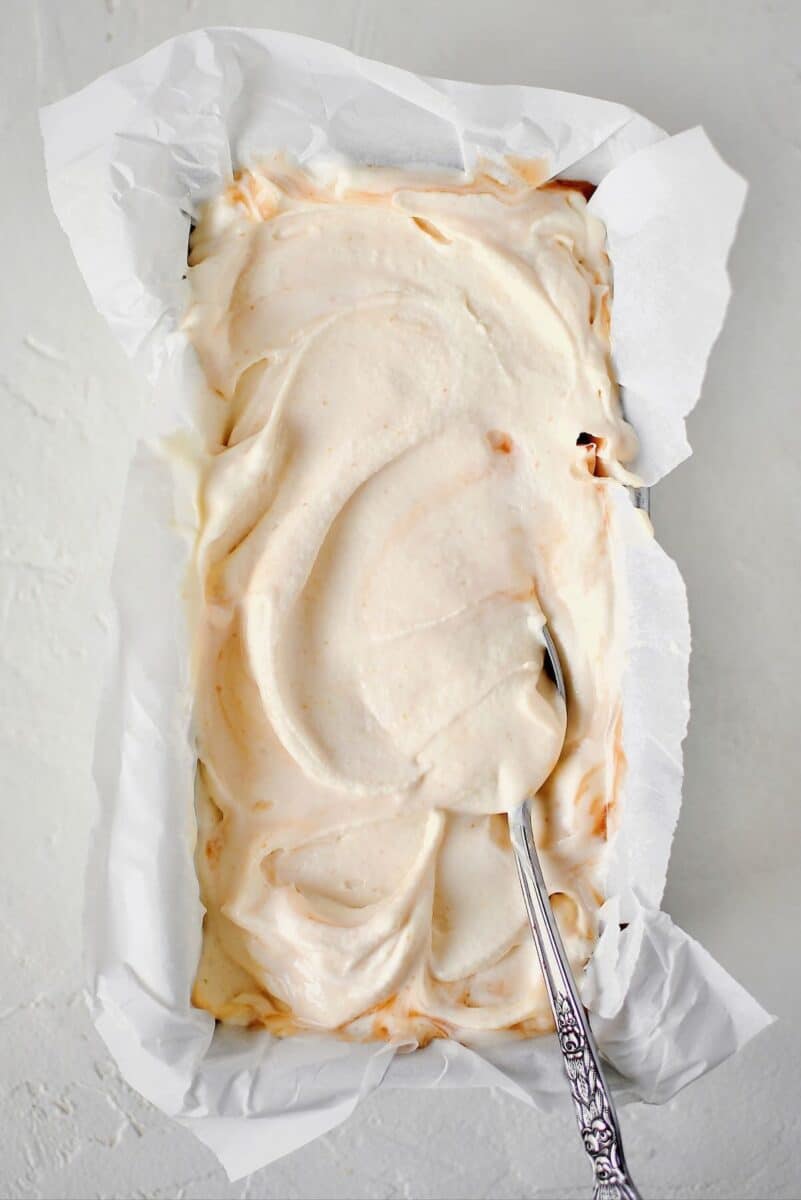 This ice cream is best enjoyed in a cone if you ask me. Get my homemade Waffle Cone Recipe for the best cone you've ever had!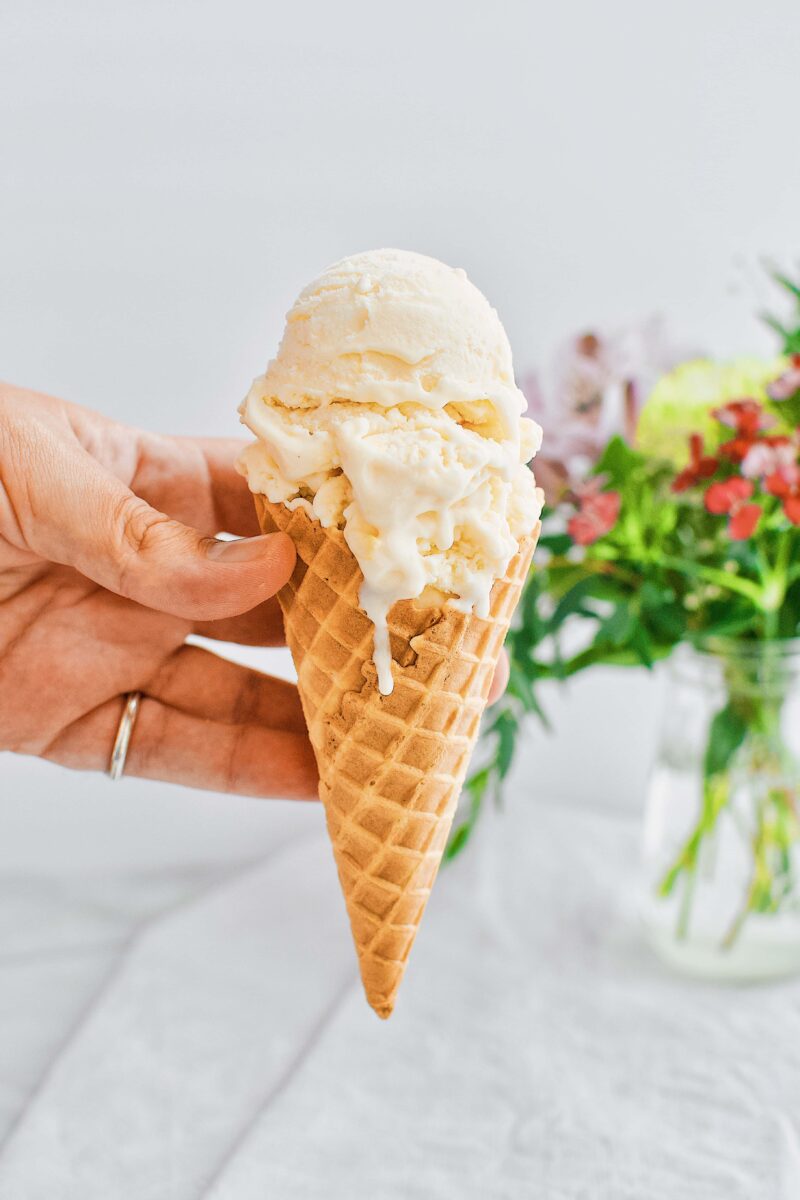 Notes & Tips
This recipe makes a big batch, I have a 2-quart ice cream maker, and I have to churn it in two batches to use all the ice cream base, giving you about a gallon of ice cream once churned. Cut the recipe in half if you don't want that much.
The ice cream base also keeps in the fridge for up to a week, I typically churn the batches on different days while only having to make the base once. I like the big batch because if I am going to make the mess I might as well make enough to enjoy it!
Substitutions
This is one of those recipes that just doesn't work if you don't make it the way it is written. It is like baking, you can't veer too far off or it just doesn't work.
The one thing you can swap is the jam. You can use anything from low to high-quality jam, it will work with any. You can also change the flavor by using a different fruit or berry jam altogether.
Think of the cream, milk, cream cheese mixture as a jumping-off point, and you can go anywhere from there, but that base can't change or it won't work. Let your mind go wild with fruit possibilities.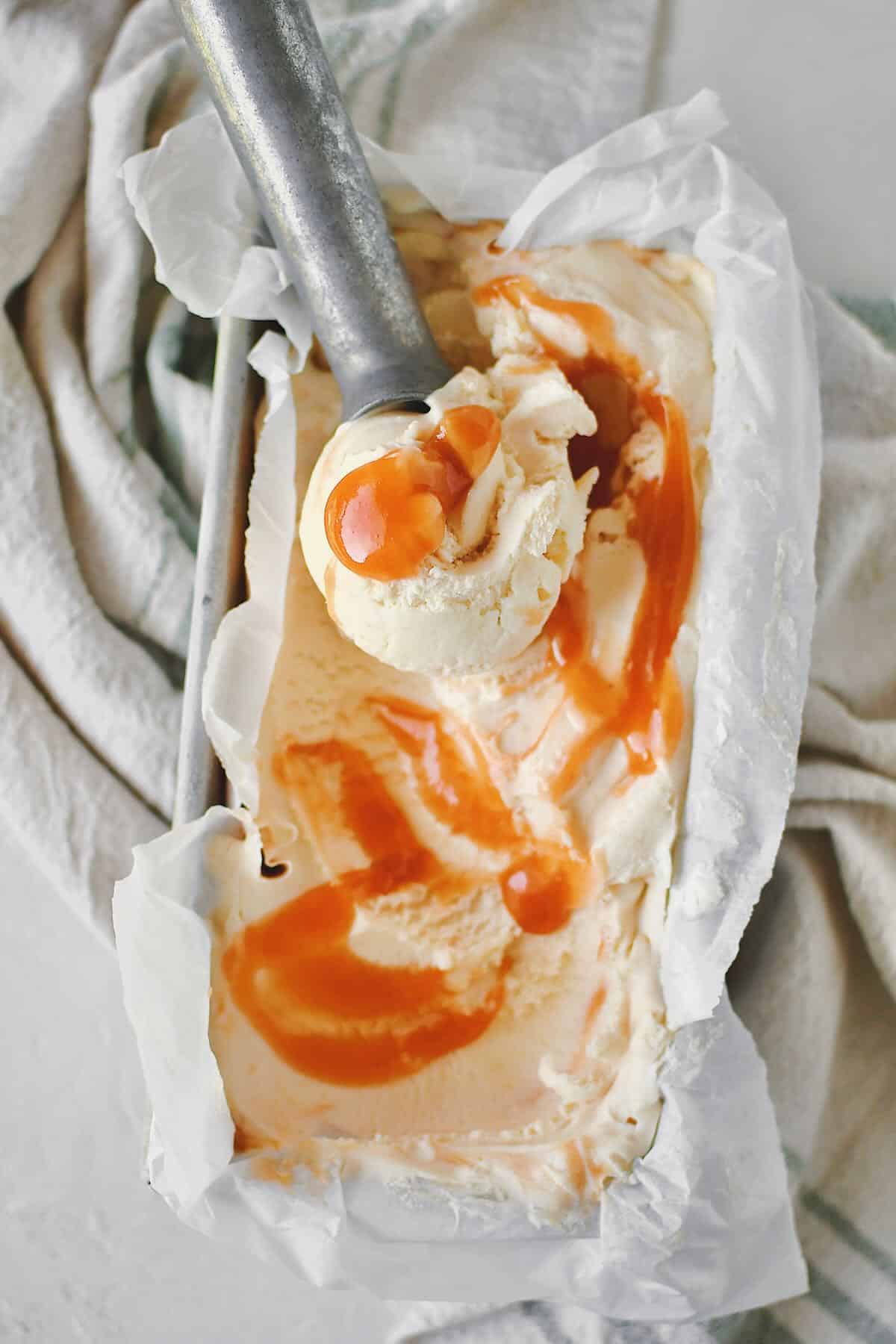 More great Ice Cream like this one!
My Favorite Ice Cream Makers
If you have the space to store it and the budget for it, the Breville Smart Scoop is THE BEST maker out there. It churns batch after batch without stopping. And it churns everything from sorbet to gelato!
If you need a more economical option this Cuisinart is a perfect option, you will just be able to churn one batch a day. But if you just want to make ice cream at home once in a while, it is perfect!
Did you make this recipe? Let me know by leaving a review or comment! And be sure to sign up for my newsletter, and follow along on Instagram, Pinterest, and Facebook!