Y'all, I have said it once and I will say it again unless it is a slab pie I just can't make pie. But the shallow pie with cooked filling is where it's at. I take all the safety nets into account, but it makes this Spiced Peach Pie 100% foolproof and delicious!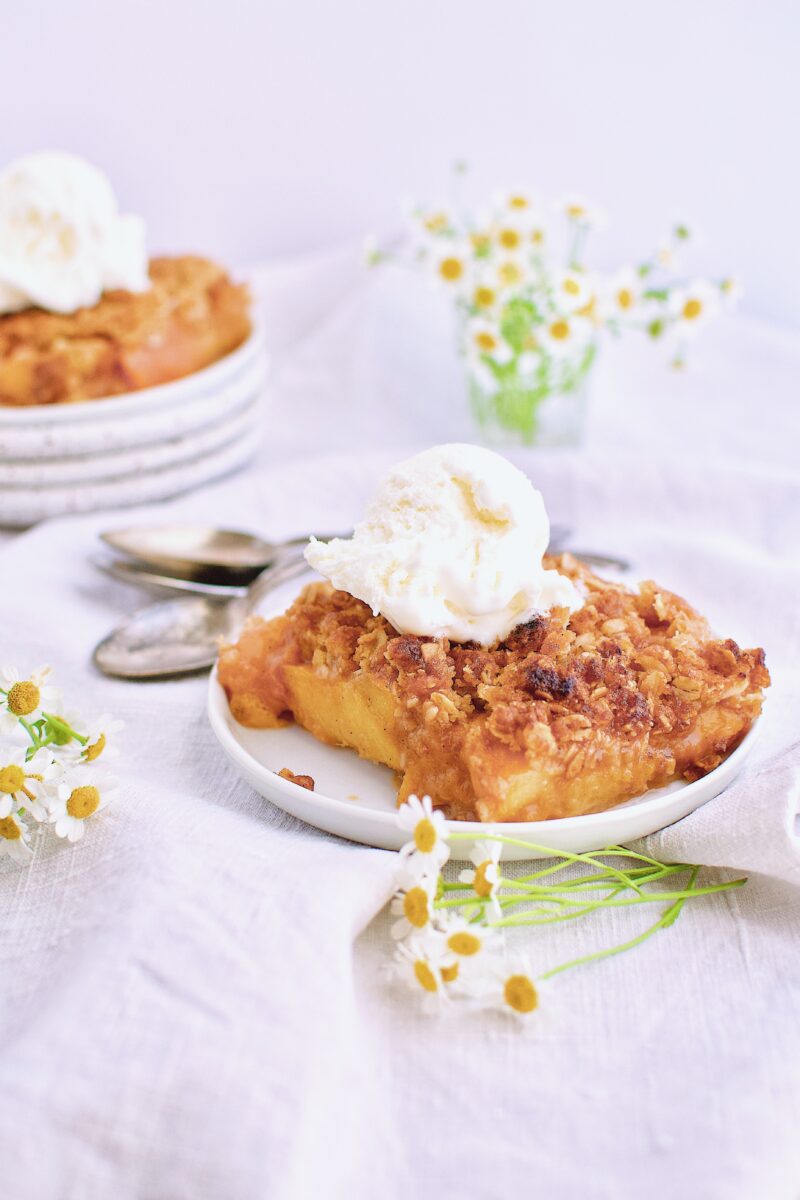 Why this Spiced Peach Pie is so great!
Call it a hack, cheat, or safety net, but what makes this pie so good is the shallow form it is cooked in and cooking the filling before baking. Whatever you decide it is, it makes is a totally sure bet that you won't end up with a soggy bottom! Which always has me thinking that would make Mary Berry very happy.
I have always struggled with getting pie just right but once I started to bake them in a sheet pan my whole life changed! It is shallow which lets it ensure that the crust will fully cook and it also keeps the juice from the fruit equally distributed so the crust doesn't get saturated.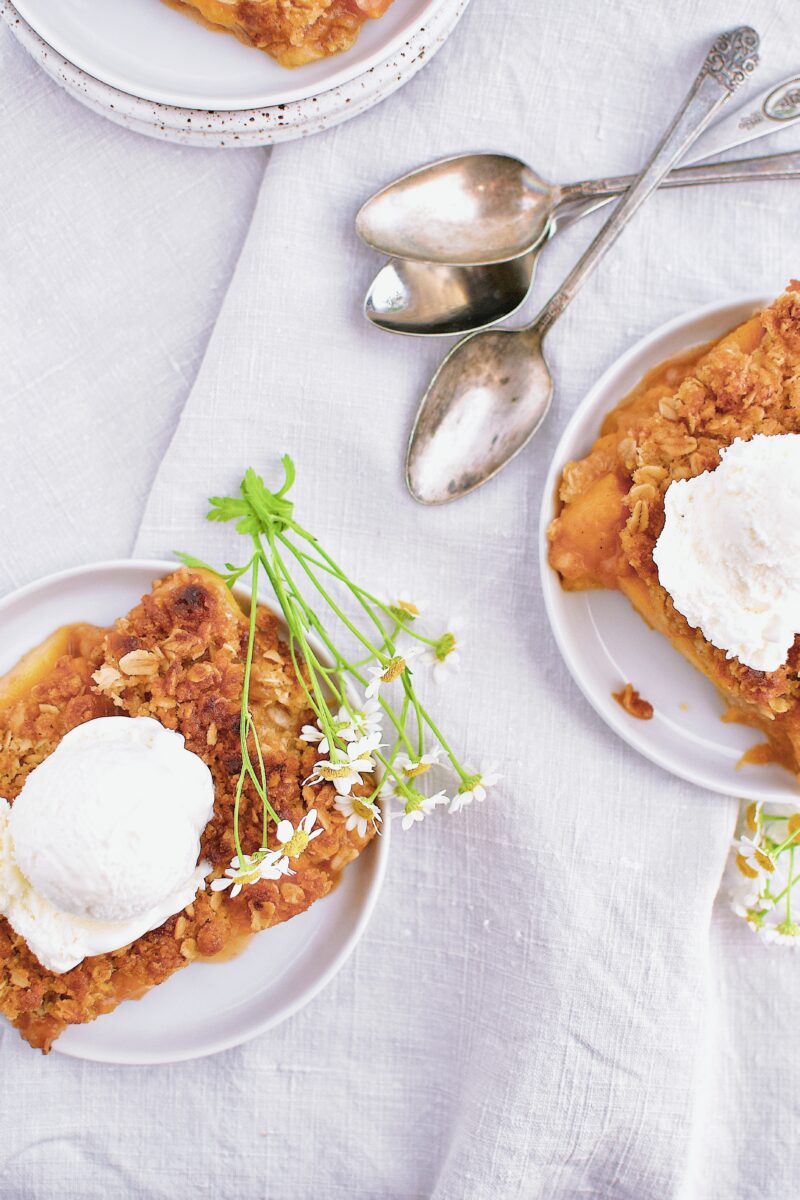 Cooking the filling first is also my newest go-to. I love this method because then the final outcome of your pie doesn't have to be a surprise. You can taste and adjust the fruit seasonings to be sweeter or more tart just how you like it.
It's all about control, so let's just call it good technique!
These are my FAVE Nordic Ware Sheet Pans, every kitchen should have at least 2 sets of these! I think I have at least 4 of each of these. The smallest one is the one that I used to make this peach slab pie.
Assembling your Slab Pie
So the real key is getting your pie crust rolled out to just the right thickness. I think that this is where I always seem to go wrong. Mine are usually too thick or too thin, but this one was just right.
Start with a batch of your favorite pie crust dough. I used the recipe from the Magnolia Table Cookbook. When I cooked my way through the entire book I fell in love with Joanna Gaines's basic pie dough recipe.
It cooks up perfectly crisp and makes even this chef, that has a hard time looking like the pro when it comes to pie, look like a pro! So if I can do it you can too. I'm not the most amazing pie baker but when I do get it right I get it RIGHT!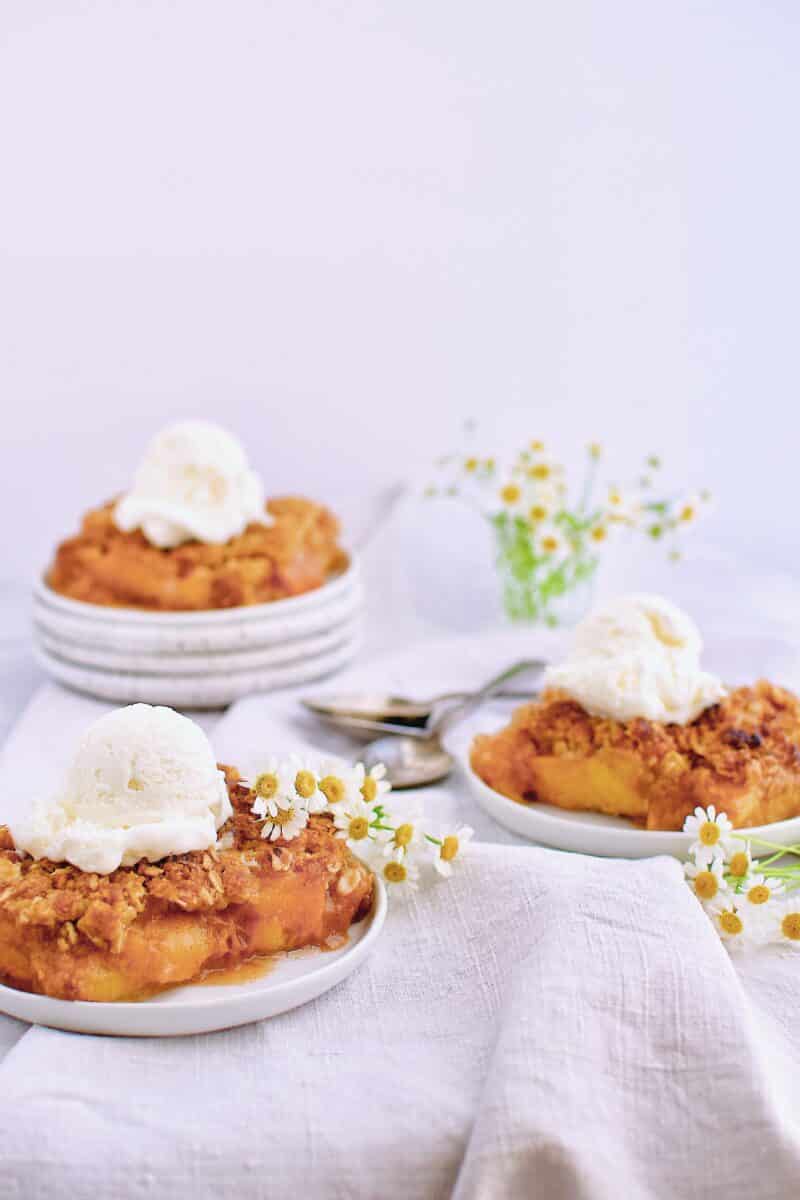 When it comes to the peaches, I don't bother going through the process of peeling them. Because the filling is cooked first, the skins become so tender this step can be eliminated. It is a bit of a rustic approach, but you won't even notice it in the finished product.
The crumble and the crust can both be made a day or 2 ahead of time to save some stress on pie day. This pie is best the day it is made, but will hold at room temperature for up to 2 days. To prevent the crust from becoming soggy as it rests, remove the pie from the pan after it cools and reheat it in an oven or toaster oven to re-crisp the crusts on both sides.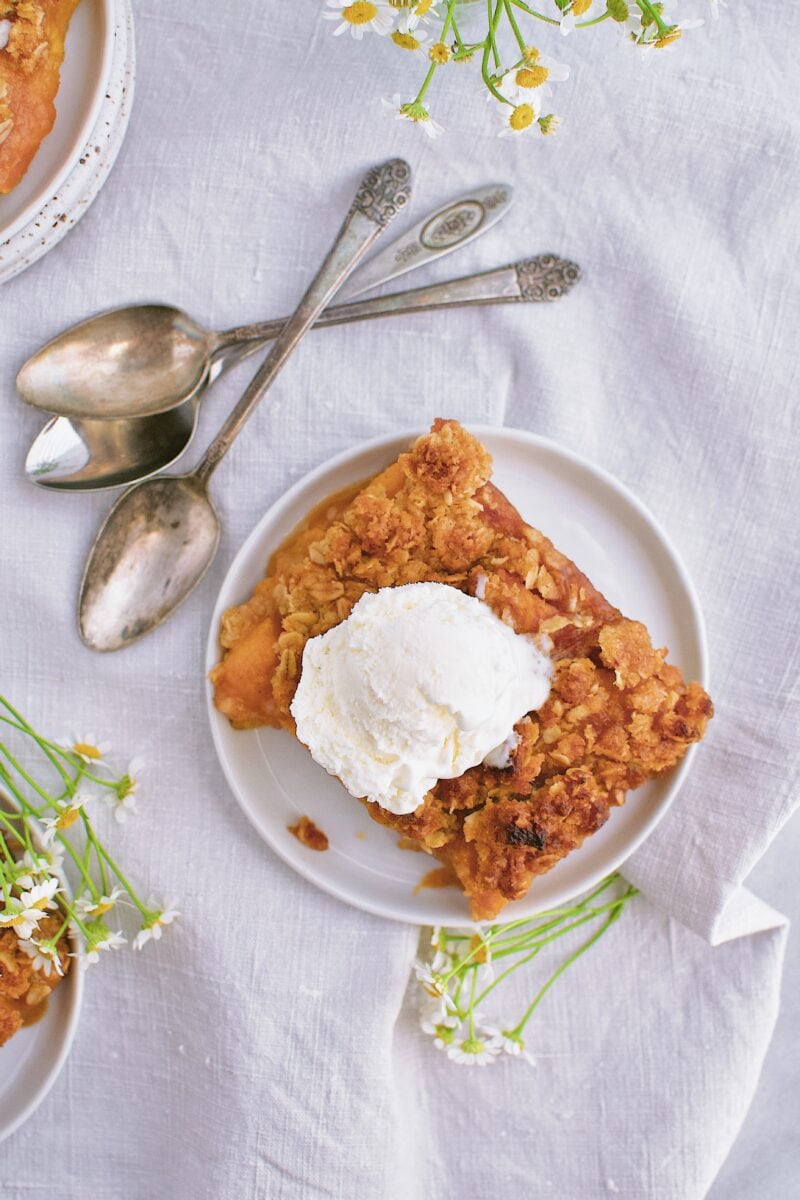 I love the texture contrast this pie has, from the oats in the crumb topping that crispy brown sugar, to the buttery flaky pie crust and the tender tart peaches. There just isn't much to not like, especially when you top the warm pie with a cold scoop of ice cream. I hope you enjoy and that this recipe makes you day just a little brighter!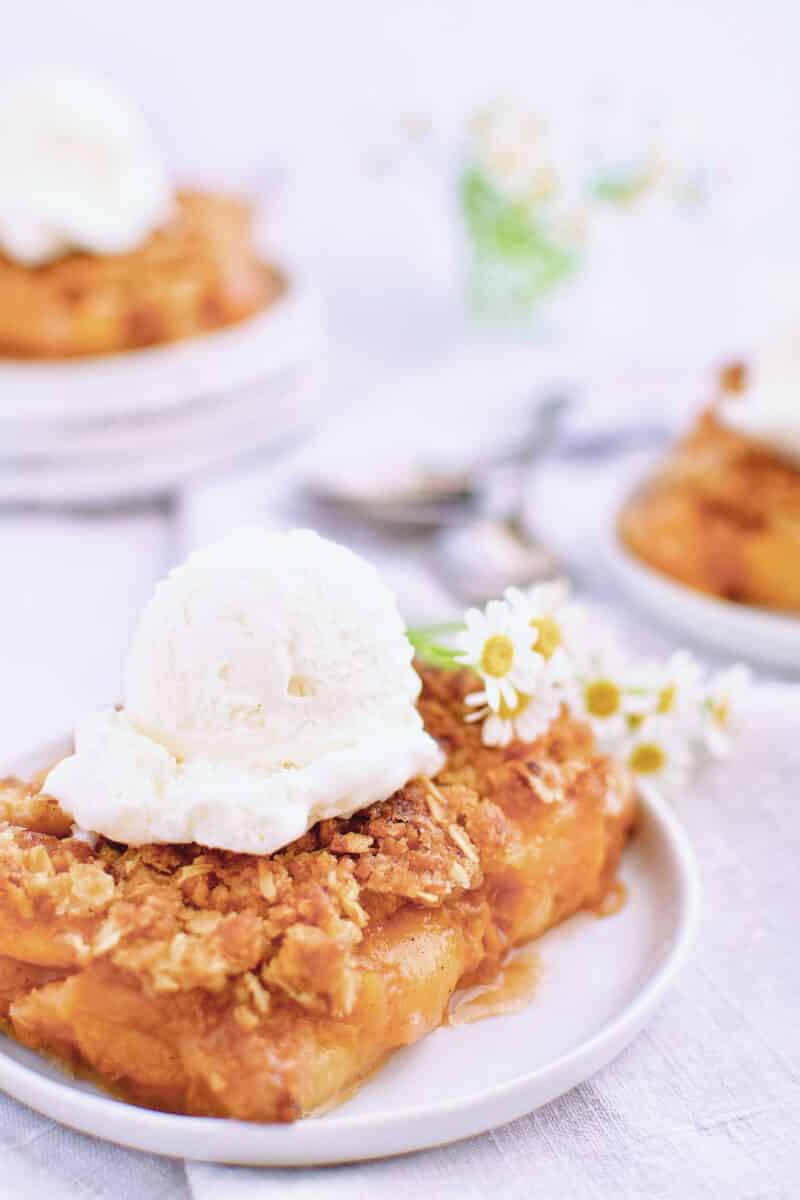 Did you make this recipe? Let me know by leaving a review or comment! And be sure to sign up for my newsletter, and follow along on Instagram, Pinterest, and Facebook!
Did you make this recipe? Let me know by leaving a review or comment! And be sure to sign up for my newsletter, and follow along on Instagram, Pinterest, and Facebook!