Jo's Spinach Tortellini Soup is another one of the recipes that she released early during the worldwide quarantine. it makes the perfect lunch and as she said in her instagram video, I loved it served with a grilled cheese. This recipe like many in Joanna Gaines's first Magnolia Table Cookbook is perfectly fit for a family and can be on the table in a matter of minutes on a busy day.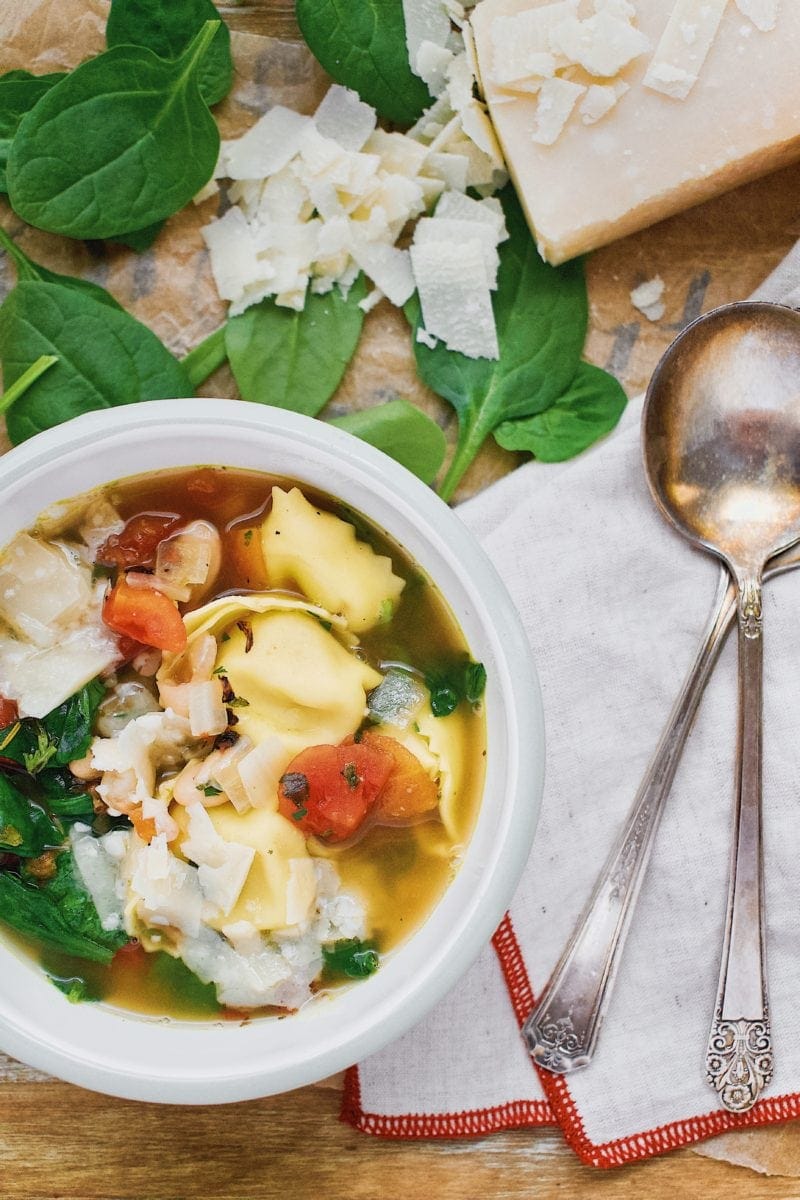 Magnolia Table Volume 2 seems to be pretty carb-heavy, but that means it's going to be a delicious ride! I did a count and it seems like 95 of the 145 recipes are heavily focused on bread, rice, pasta, or tortillas. And this one jumps right in line, BUT, I can't be mad at it, it's so tasty!
If you want the recipe and don't have your own copy of the book yet, GET IT HERE, Joanna shared it on the Magnolia Blog. If you need your own copy of the cookbook, you can get one of those HERE! I am not affiliated with Magnolia, but if you purchase the book through that link I get a little payout at no additional cost to you 😉
The review…
Aside from waiting for the soup to come to a boil so you can add the tortellini, this soup literally takes about 10 minutes to make! Dice an onion and mince some garlic, sweat it down in a little butter, season and add the chicken stock and the hard part is over.
The one thing I really don't understand about the recipe is why the beans are there? I mean, I guess if you want to keep it vegetarian then they add a little bit of protein to the dish, but if they weren't there at all, I wouldn't miss them. If you don't have them, I would drop them, the pasta is more than enough to make this a substantial lunch, especially if you add the hunk of bread or grilled cheese.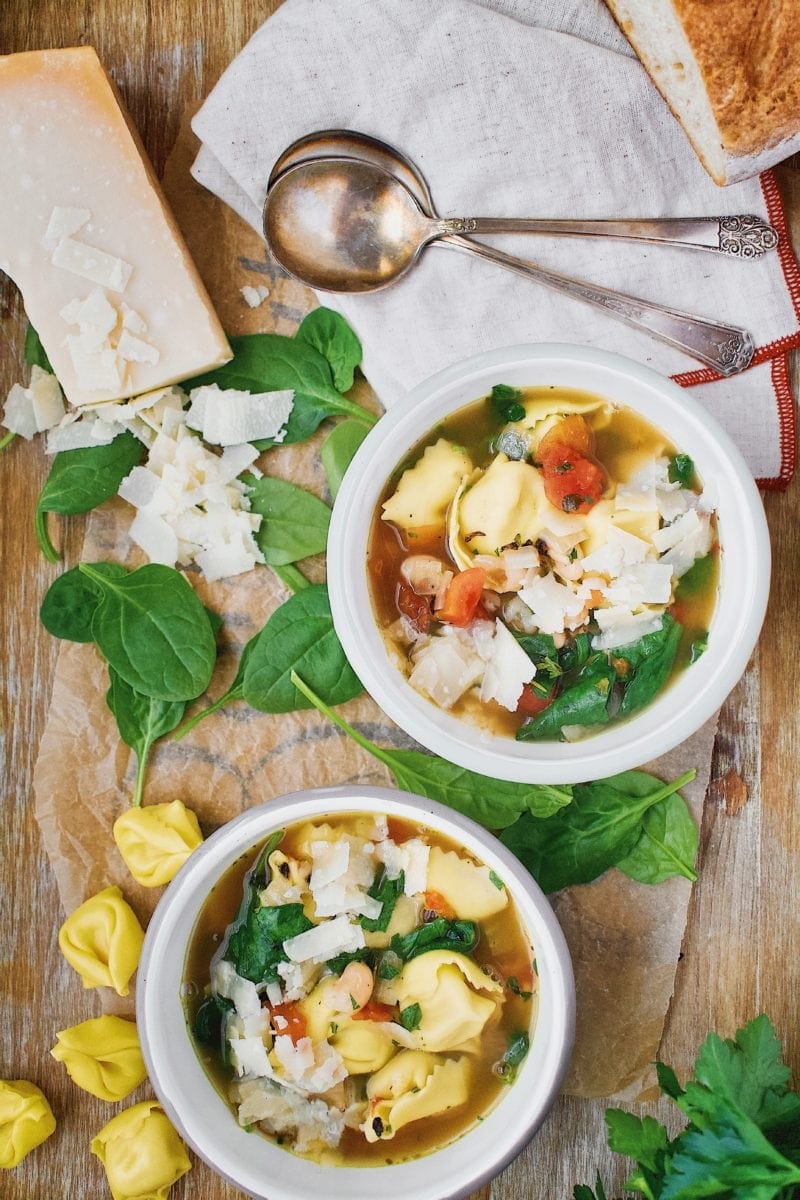 The reaction…
Everyone in the family enjoyed this Spinach Tortellini Soup. It is a great way to get some greens in, and on a cool winter or even spring day, it makes a great lunch or lighter dinner. I baked a fresh loaf of sourdough bread the day I made it and it paired really nicely with the wonderfully flavored broth.
It is herb heavy which gives it really great flavor. I wouldn't back off on them, I might even add a little more! And be sure to be generous with the parm, it makes the broth creamy and adds a little saltiness to everything.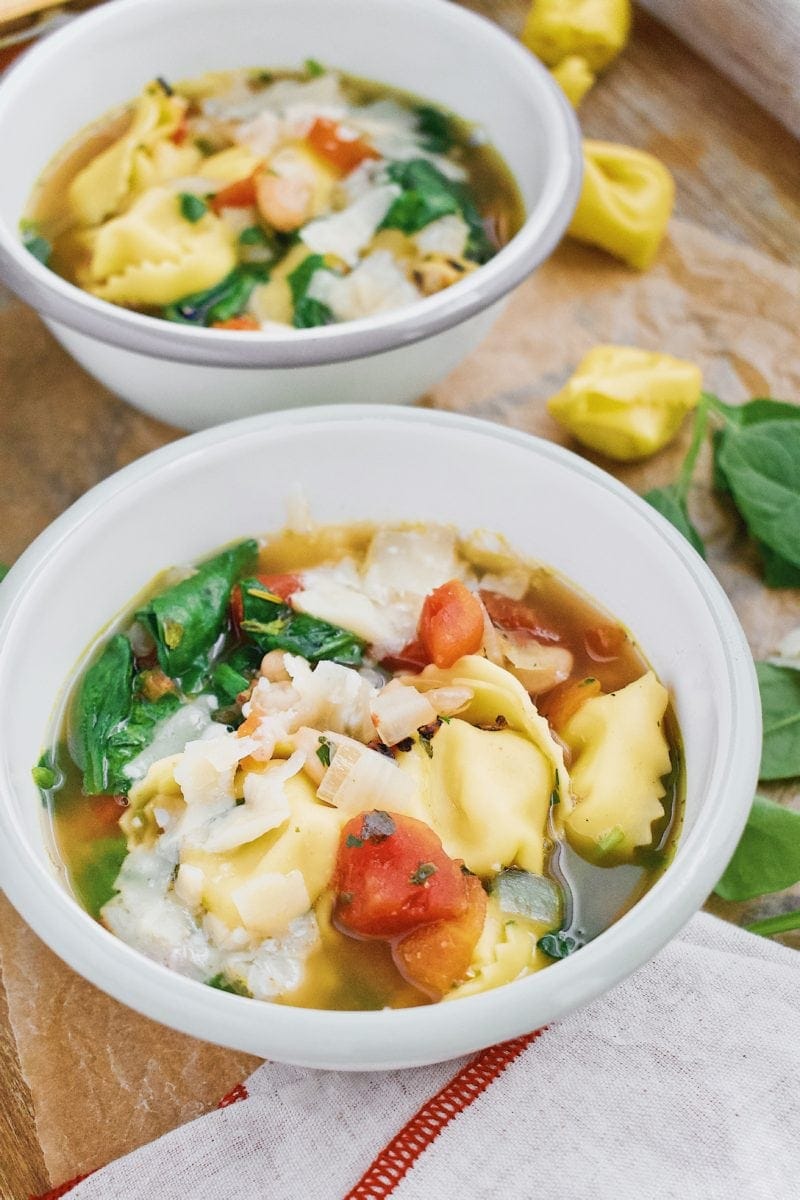 The TIPS…
I found some great tortellini in the cooler section of Costco, and they were perfect for this! They are 5 cheese, bite-sized when cooked, and exactly what this recipe wants.
Costco also sells a big hunk of parmesan, if you are there, seek it out because you'll want LOTS of it on top of each bowl!
And a little money saver for you, buy the big box of spinach at the store and throw half of it in the freezer on a sheet pan if you don't think you will use it all. It freezes really well, then throws it in a Ziploc and you can use it to make another batch of this soup or in smoothies or to make lasagna. The big box is always the better deal, and this trick keeps it from going to waste.
Overall this one was a WIN, and I would absolutely make it again. Be sure to leave a reply in the comments and let me know how it goes over in your house when you make it.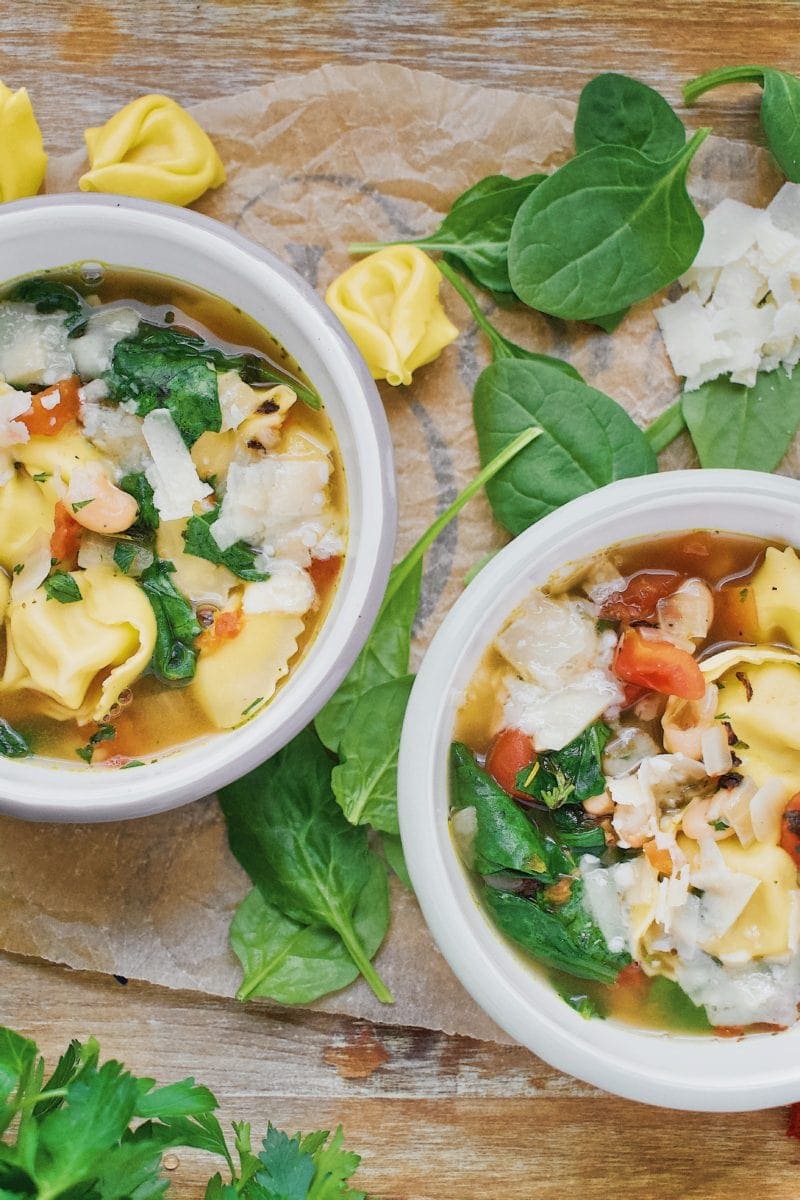 Until next time, Happy Cooking!
Kendell
MY LATEST RECIPES!
Restaurant-Style Alfredo Sauce (Gluten-Free)
Get my NEW e-Cookbook here!! ⬇️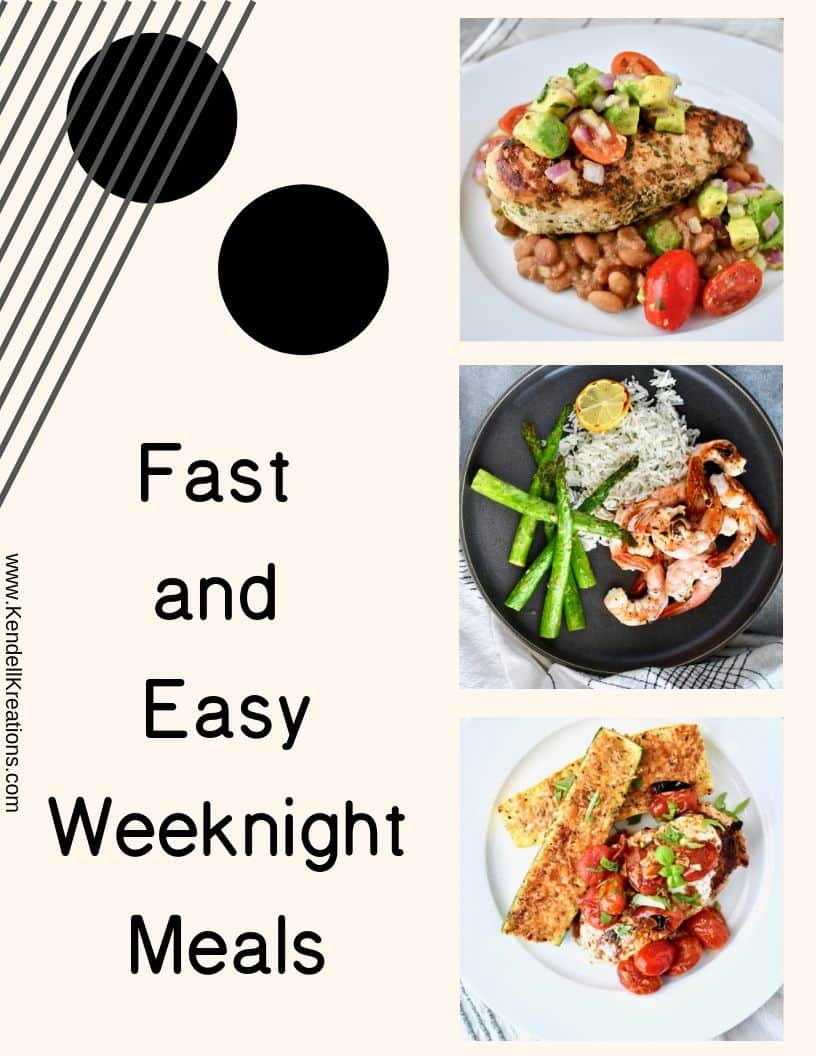 MY FAVORITE KITCHEN TOOLS!
Here are a few links to some of my favorite kitchen tools! You get a car, YOu get a car, YOU ALL GET A CAR…in my best Oprah voice
These Rösle Silicone Tongs are a little pricey but they will last you the rest of your life and are the softest in your hand. This is important for someone like m that cooks so much. It reduces strain, I have 4 sets in my kitchen!
These are my FAVE Nordic Ware Sheet Pans, every kitchen should have at least 2 sets of these! I think I have at least 4 of each of these. 
This is my favorite pressure cooker, the Fagor is the same concept as the "Instant Pot" but easier to use in my opinion, if you don't have one you NEED one, it will be your best friend in the kitchen!
A sharp knife is the most important tool in the kitchen, these Japanese steel "Shun" knives are my favorite! And this is a great starter set to build on. Once you try them you will be in love so use this as a foundation you can build on for years to come.
This Scanpan 11″ skillet is just the right size for almost anything you will need to cook and my best friend and a real workhorse in my kitchen, it's also a great deal at $99. Scanpan is the best in the world for healthy cooking. It is coated with a proprietary ceramic-titanium coating that is durable while allowing you to use fewer fats and oils when cooking. It is a coating only they use. I could talk all day about my love for these pans, message me if you want more info. Here are some other sizes that are available if you are looking to outfit your kitchen with some new goodies. 8″ & 10″ Skillet set or 8″ Skillet, I still need this one for my kitchen  Also, I don't really know how to cook small so the 12.5″ is my other fave!
This giant vat of olive oil is my favorite, I decant it into a smaller bottle for my counter. Or put this spigot on top of a wine bottle!
My favorite baking dish that is so easy to clean even burnt on cheese slides right off!
This Tovolo jar scraper has to be my single favorite kitchen tool, it is definitely the most used tool in my kitchen. If you are NOT a gadget person, this is the only necessity I say is a MUST beyond the wooden spoon.
A great wood spoon is essential, this Olive Wood one is my favorite, I have more than I can count.  But can you really ever have too many?
A food scale can be a very important tool in your kitchen, this one is the one I use every day!
If you love Joanna Gaines as much as I do then the 'Magnolia Table Cookbook' is a must in your kitchen, get a copy HERE!