Joanna Gaines recipe for Whole Roast Chicken from her Magnolia Table Cookbook Vol. 2 received accolades all around for being "the best chicken ever" from my family, and before we were even done eating I was asked when it could be eaten again! It is simple and straightforward and could even be roasted in your toaster oven any day of the year.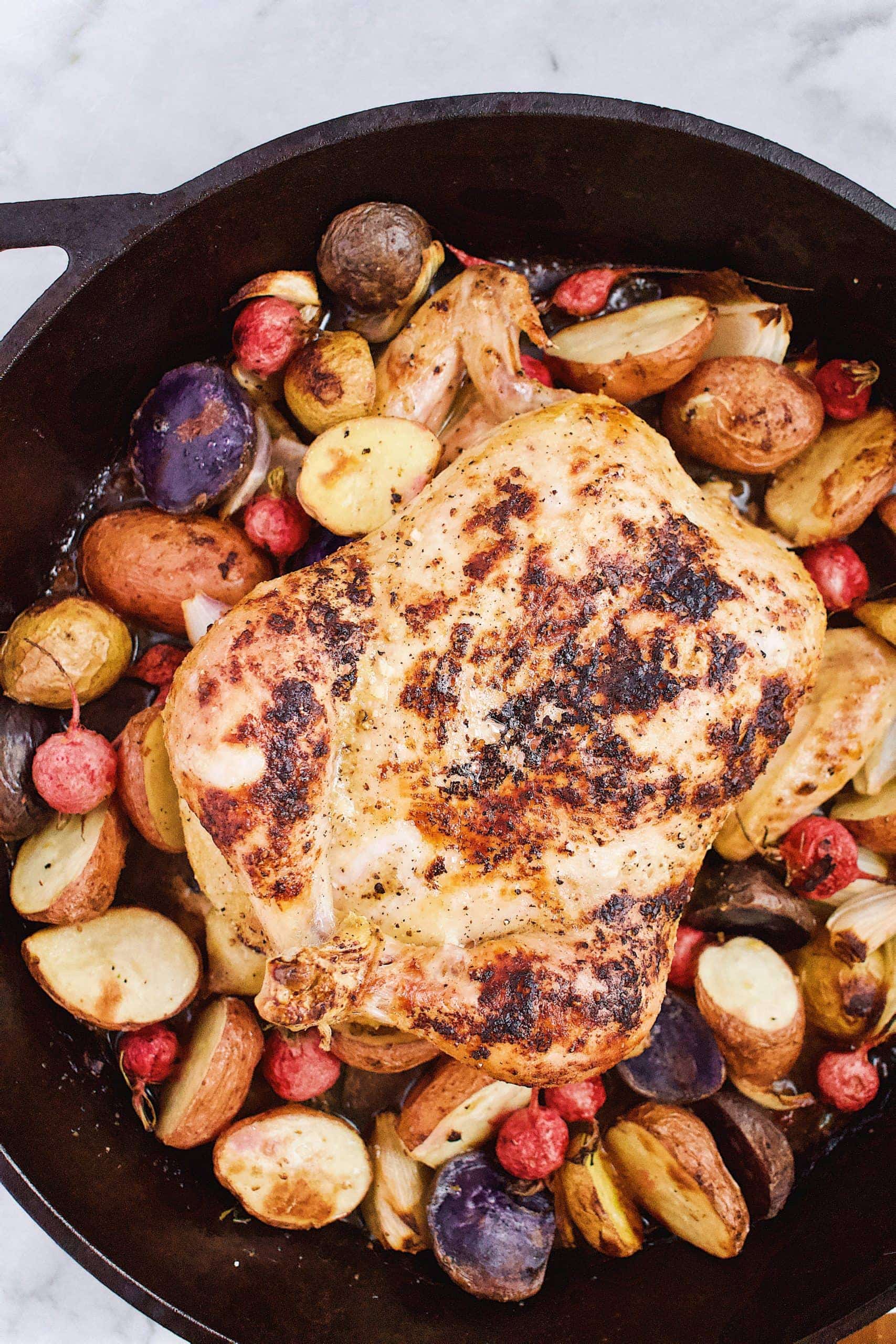 The review...
Unlike the chicken recipe in Jo's first cookbook, this one is much easier and requires less touching of the actual chicken. In the first book, you make a lemon herb butter and you have to get it all under the skin and around the whole chicken. This recipe just calls for seasoning the outside, and you didn't miss that rub down one bit!
I also love that this is essentially a sheet pan dinner. Throw everything on the pan, season it and toss some butter on it, and it is ready for the oven.
The recipe calls for you to roast onions, potatoes, and carrots alongside the chicken. I have an intolerance to carrots but had some extra radishes in the fridge from when I made the Steak Tacos that are also in the book. I threw those in and every really enjoyed them.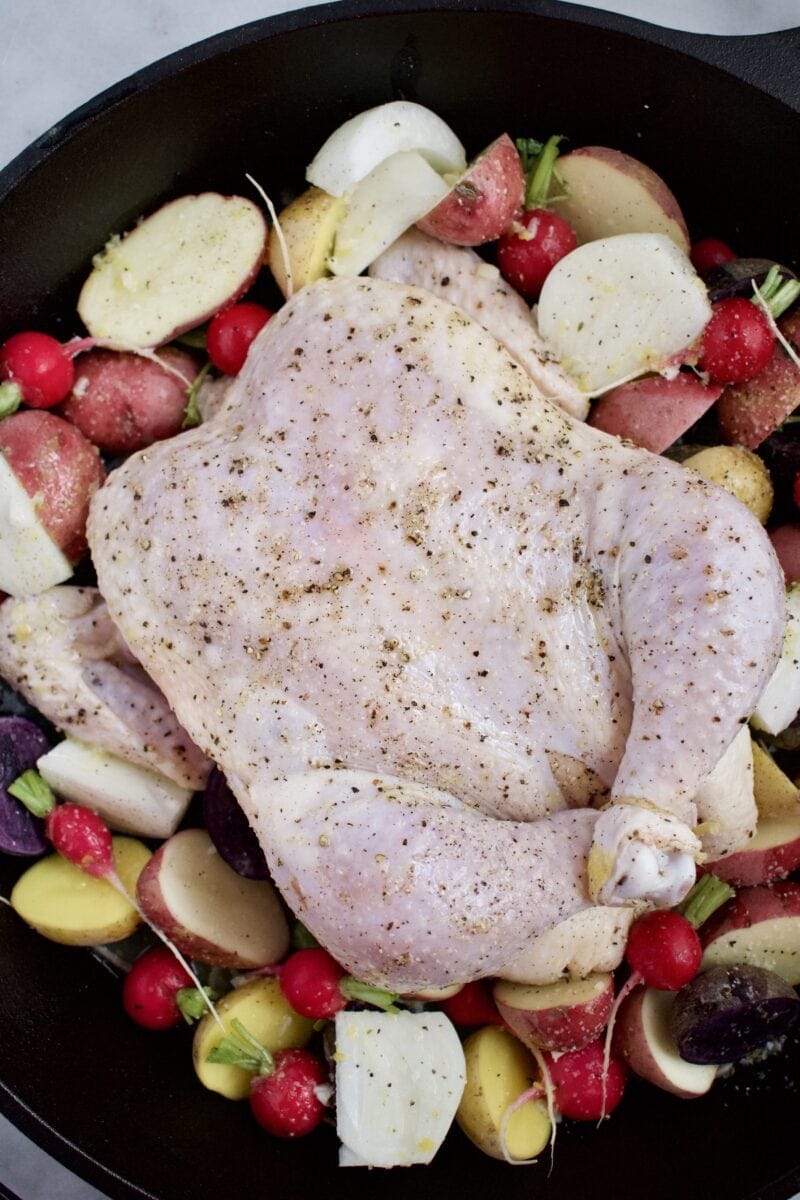 It also doesn't hurt that this recipe is all butter! That makes sure everything is going to taste GREAT!
The reaction...
With all that butter and the basting of the chicken with the remainder, you can only imagine that this Whole Roast Chicken is DELISH!! The flavor balance is great and far supersedes store-bought roast chickens. This is the recipe that will have you walking right past those in the future!
I received lots of comments from my family that this was the best and most flavorful chicken that they have ever had. There was just something about this bird. Super tender and tasty and when you boil down the pan juices at the end as I would highly suggest you do, you get a great little drippings sauce to pour over each plate.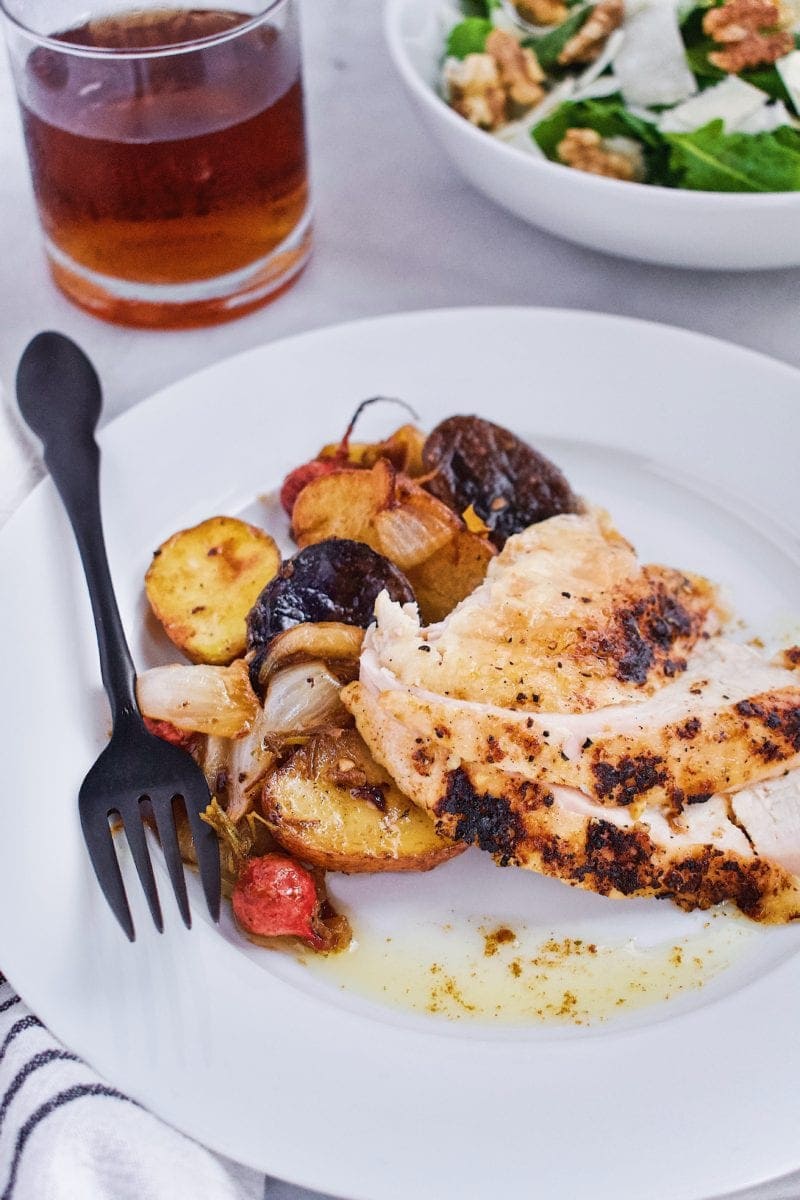 The TIPS...
My goal here is to show you what a recipe really looks like when it hasn't been heavily styled or overcooked just for the sake of brown skin. The photos you see here are the result of the recommended cooking times and temperatures. When the chicken was cooked, this is what it looked like.
And that was in a convection oven, on the middle rack, with the breast meat facing the back. The chicken was perfectly tender and juicy, but not as perfectly brown and crispy as a photo.
I basted the skin twice with the remaining butter and still didn't get perfectly brown skin. And be sure to toss the vegetables around a bit so they get evenly browned and flavored with the butter and chicken juices in the bottom of the pan. I also cooked mine in a large 16-inch cast-iron skillet, if you do this you can put it on a burner after you remove the chicken and reduce the pan drippings with the potatoes in the pan for extra flavor.
I highly recommend this no matter what pan you use, because the pan drippings are FANTASTIC!
I also have to note. I used radishes instead of carrots as I have an intolerance to carrots and can't eat them. The radishes were a great swap and very much enjoyed when roasted!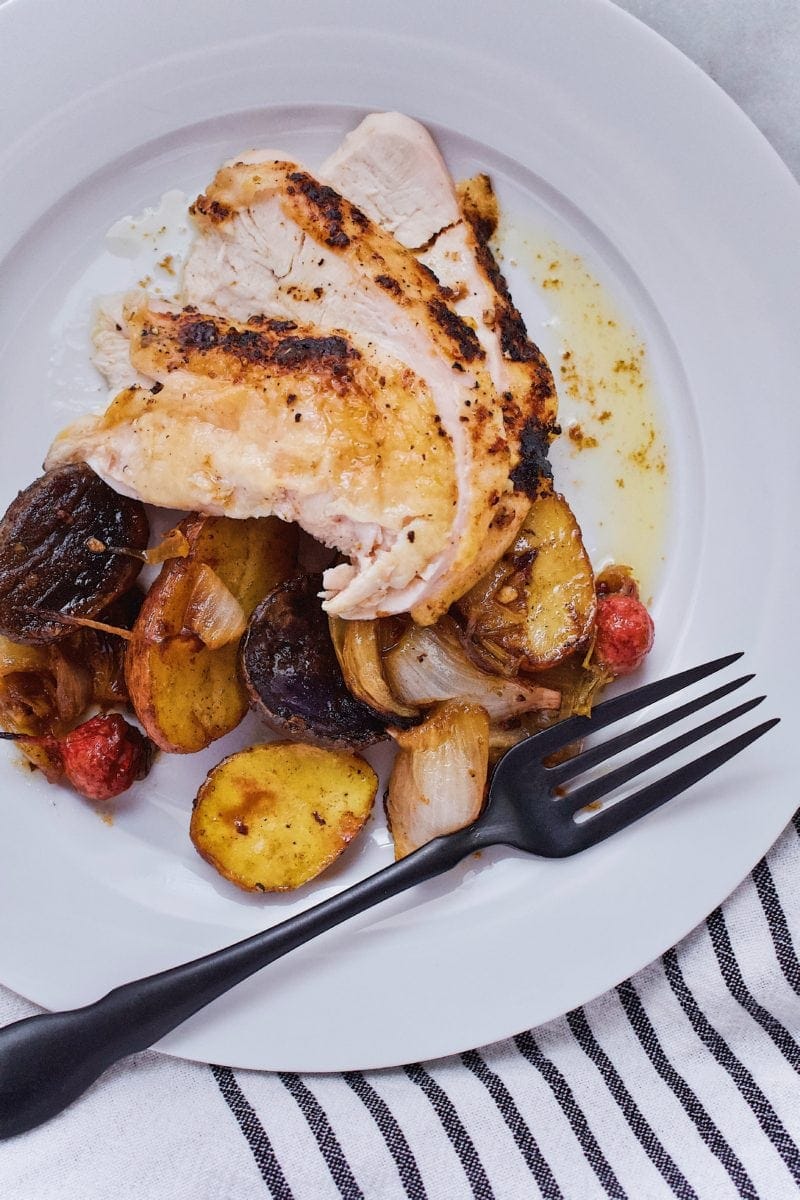 Overall, a new favorite that I am sure to be making again and again!
Until next time, Happy Cooking!
Kendell
If you watched Joanna makes this recipe on Season 3, Episode 5 of her new cooking show 'Magnolia Table with Joanna Gaines' you can get the recipe by CLICKING HERE, she shared it on her blog so you can make it at home!
read my other reviews of season 3 episode 5 here...
Sweet Kale Salad with Poppyseed Dressing (coming soon)
Bow Tie Pasta with Baby Kale and Sundried Tomatoes (coming soon)
Classic Cheesecake with Grahm Cracker Crust (coming soon)
Did you make this recipe? Let me know by leaving a review or comment! And be sure to sign up for my newsletter, and follow along on Instagram, Pinterest, and Facebook!