The addition of a simple peach jam to a classic "New York Style Cheesecake" makes this Peaches & Cream Cheesecake NEXT LEVEL! Whether you make the jam from scratch using the summers freshest crop or not. This is something you can make to brighten your day, any day of the year.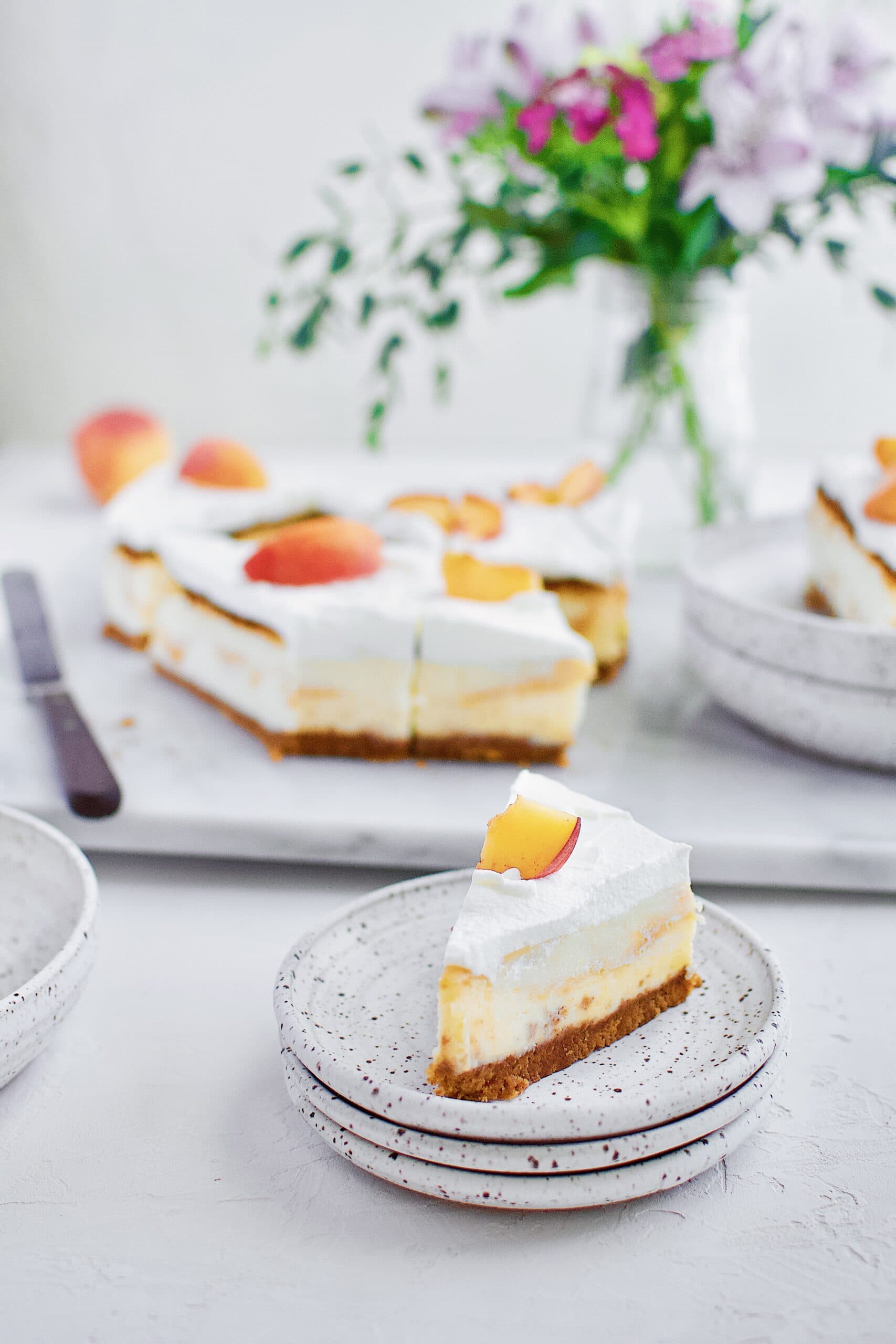 Why Peach Cheesecake?
I am loading up on a whole slew of fantastic recipes and came to the decision to make this Peaches and Cream Cheesecake in honor of "National Peaches & Cream Day". It is every June 21st, so mark it on your calendar, and if you do decide to make this only once a year, make it in honor of that.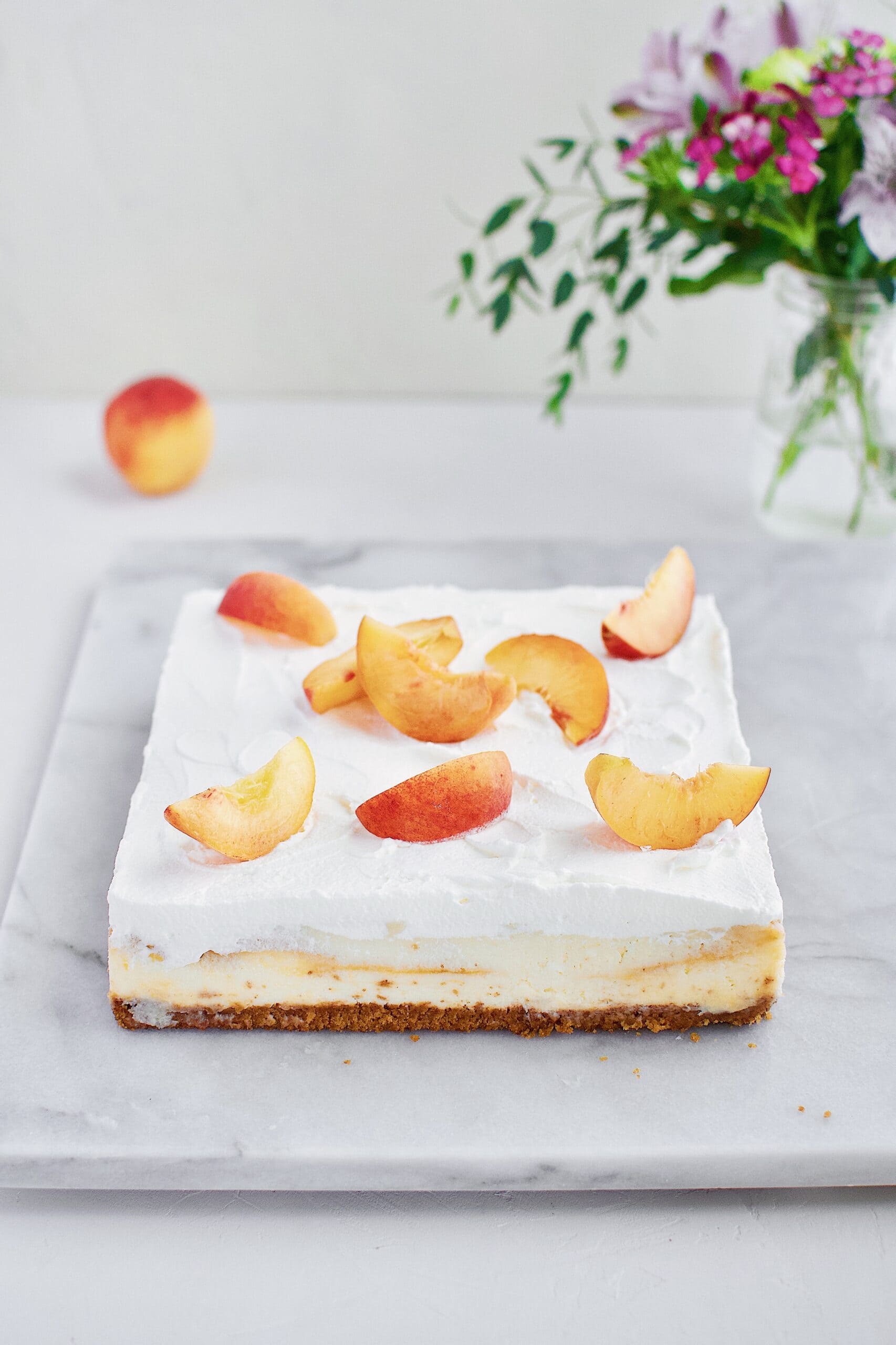 What makes this special?
This is a basic cheesecake recipe at the core, but I am elevating it with the addition of my Quick Peach Jam. I also use some of the jam in the ice cream I made for my Ice Cream Sodas. It's a great way to cross-utilize your homemade jam and ensure none of it goes to waste.
I will be adapting the recipe for Junior's Classic New York Cheesecake as the base and my Quick Peach Jam as the filling. To decorate my cheesecake just before serving I will whip some fresh whipped cream and pipe rosettes on top of where I will cut each slice. I then top each rosette with a fresh peach slice and a tuile cookie.
You can use either, or, or both, don't stress, just use what you have. Maybe you just make some whipped cream and top with that. Keeping it simple is the best thing to do if you don't feel comfortable decorating a cake.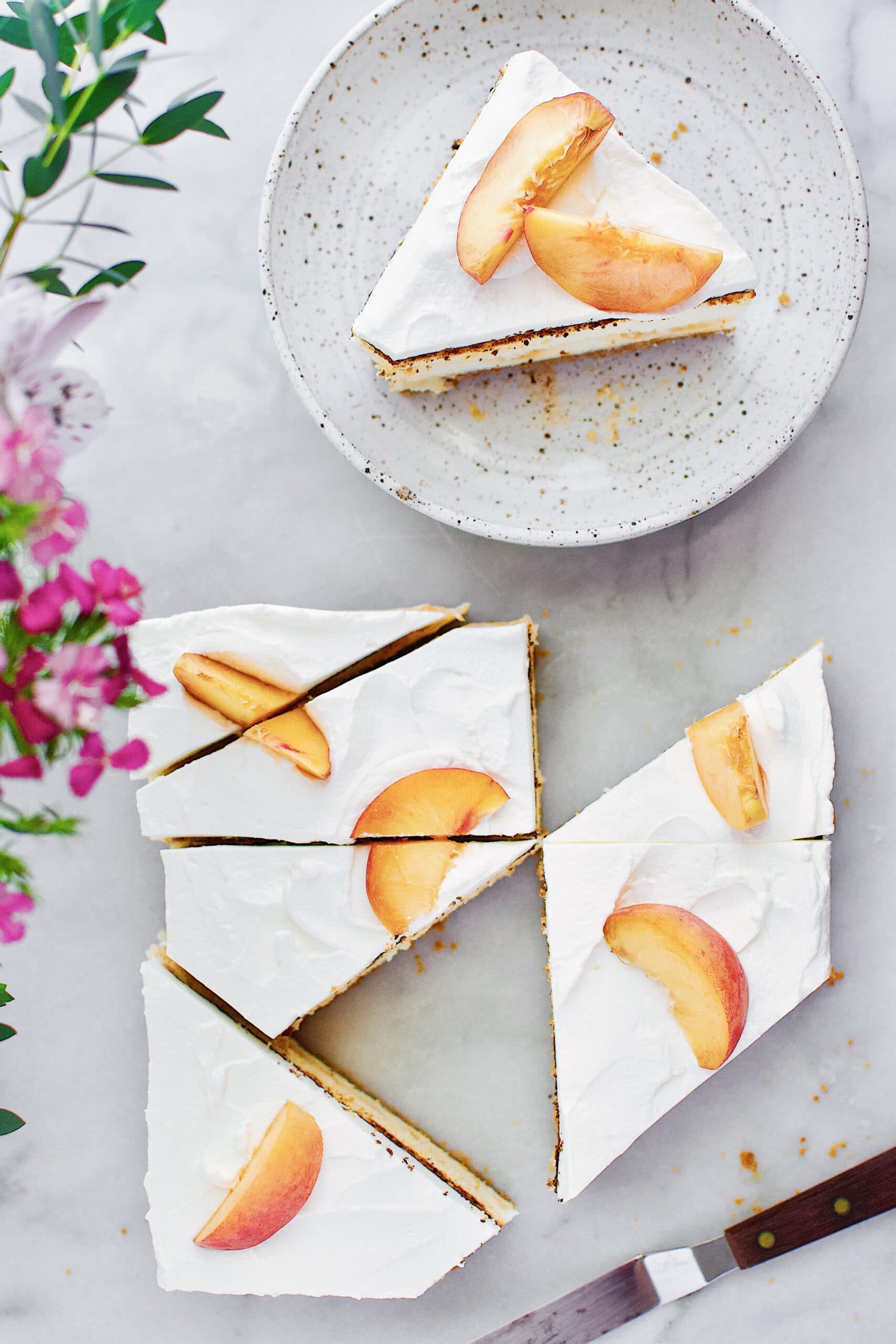 Ingredients needed:
Graham Cracker Crumbs
Butter
Cream Cheese
Sugar
Cornstarch
Vanilla Extract
Eggs
Heavy Cream
Peaches
Tuile Cookies
Assembeling your Cheesecake
Many cheesecake recipes call for you to bake in a springform pan what you have to then cover with tin foil so you can cook in a water bath. While using a water bath gives you a perfect cheesecake with no crack, I personally use a regular ole' cake pan to bake my cheesecakes. Just be sure to grease the edges really well and line the bottom with a piece of parchment.
The first step is the graham cracker crust on the bottom. I use Keebler brand crumbs and just follow the directions on the package for making a cheesecake base. The only thing I do differently is to blind bake the crust for 7 minutes before adding my cheesecake filling.
Next, you make your filling and when adding it to your cake pan, add half the cheesecake mix, then add your peach jam filling, then the remainder of your cake mix. Spread to evenly distribute, making sure to cover the jam completely. Don't mix too much, just cover, you want to have a nice line of jam in the middle when you cut your cheesecake.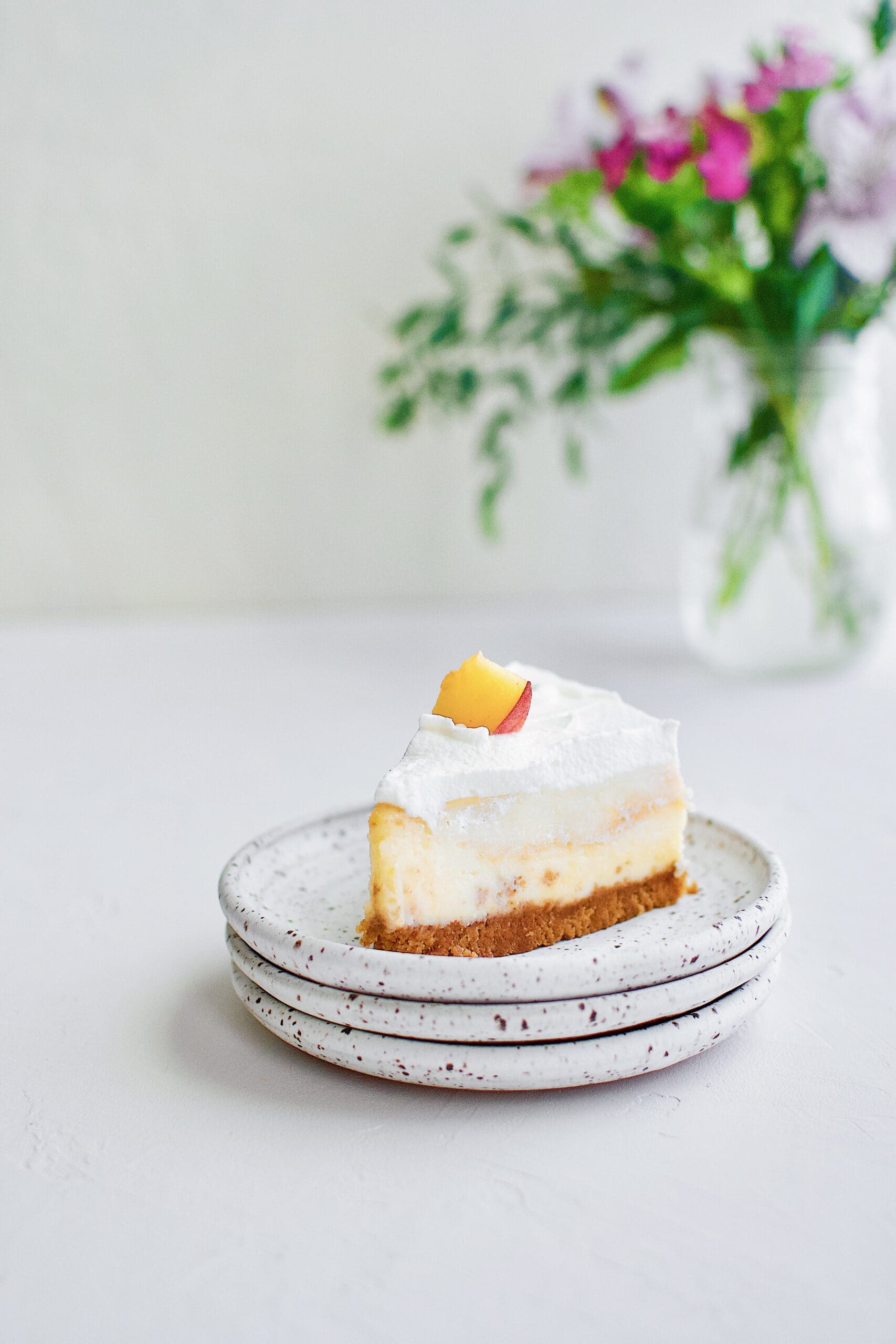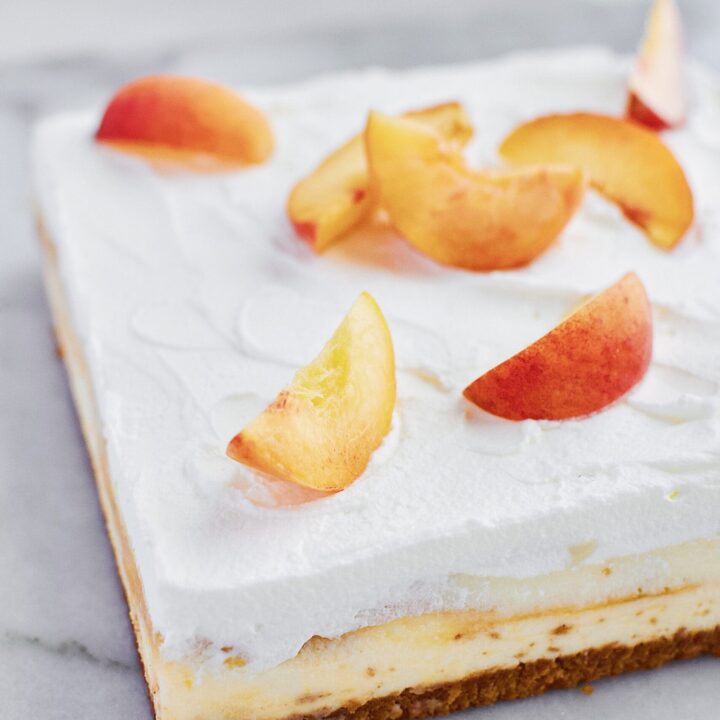 Peaches & Cream Cheesecake
The addition of a simple peach jam to a classic "New York Style Cheesecake" makes this Peaches & Cream Cheesecake NEXT LEVEL! Whether you make the jam from scratch using the summers freshest crop or not.
Ingredients
2 C Graham Cracker Crumbs
1/2 C Butter, melted
3 8 oz Cream Cheese Blocks, room temp
1 1/3 C Sugar
2 T Corn Starch
1 T Vanilla Extract
2 Eggs, extra large
1/2 C Heavy Whipping Cream
1ish C Quick Peach Jam
Instructions
Preheat oven to 350F.
Prepare a 9 x 3 inch round or 8 x 8 inch square cake pan by lining the bottom with parchment paper and greasing the bottom and sides well with pan spray.
In a small bowl combine the graham cracker crumbs and melted butter for the crust. Mix until the mixture is like wet sand and all the crumbs are wet.
Press the crust into the bottom of your pan using the base of a measuring cup or drinking glass.
Bake crust in the preheated oven for 9 minutes. Remove and set aside while making your filling.
In a stand mixer, combine one package of cream cheese and 1/3 cup of sugar. Mix on low until well combined, about 3 minutes. Add each of the remaining cream cheese blocks one at a time until they are all combined. Scraping the sides and bottom of the bowl after each addition.
Add the remaining sugar, the cornstarch, and the vanilla. Mix on medium speed adding the eggs one at a time, making sure they are well combined after each addition. Add the cream and only mix until combined, being careful not to over mix.
Spoon half of the cream cheese mixture over the graham cracker base. Pour the peach jam over, and cover with the remaining cream cheese mixture on top. Gently cover the jam, being careful not to completely mix it in. You want a defined line of jam in the center of your cake when you cut it.
Place the cake in a shallow pan, place in oven and fill the pan with 1 inch of water. This is a water bath, it keeps the cheesecake from cracking while cooking.
Bake for about 55-65 minutes until the top is golden brown and it has the slightest wiggle to it. Remove from the oven and let cool on a wire rack for 2 hrs at room temp. DO NOT TOUCH it while it is cooling. The less you move it the better chance you have that it will not crack. Leave the cake in the pan and cover loosely with plastic wrap and place in refrigerator until completely cool, 4 hrs or overnight.
To remove from pan, turn upside down keeping the plastic wrap on top and warm the bottom with your hands. You do this because the butter when cold will keep the cake in the pan. Rub the bottom for about a minute and then give the bottom a good whack. The cake should fall from the bottom and be in perfect condition. Lift the cake using the plastic wrap and place on a plate.
Decorate with whipped cream on top or simply enjoy as is!
Notes
Nutrition Information:
Serving Size:

1 grams
Amount Per Serving:
Unsaturated Fat:

0g
If you make this recipe, please let me know by leaving a review at the bottom of this page!
And make sure to sign up for my newsletter and follow along on Instagram, Pinterest, and Facebook for more KendellKreations!
MY LATEST RECIPES!
Get my NEW e-Cookbook here!! ⬇️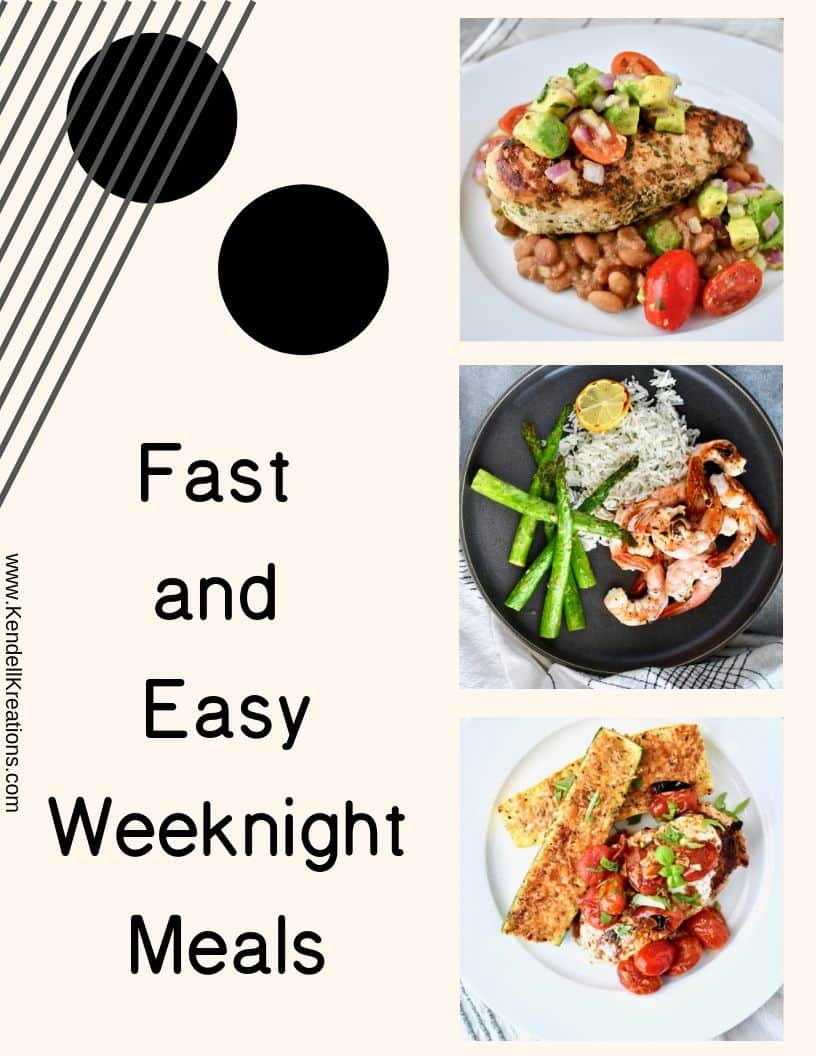 MY FAVORITE KITCHEN TOOLS!
Here are a few links to some of my favorite kitchen tools! You get a car, YOu get a car, YOU ALL GET A CAR…in my best Oprah voice
These Rösle Silicone Tongs are a little pricey but they will last you the rest of your life and are the softest in your hand. This is important for someone like m that cooks so much. It reduces strain, I have 4 sets in my kitchen!
These are my FAVE Nordic Ware Sheet Pans, every kitchen should have at least 2 sets of these! I think I have at least 4 of each of these.
This is my favorite pressure cooker, the Fagor is the same concept as the "Instant Pot" but easier to use in my opinion, if you don't have one you NEED one, it will be your best friend in the kitchen!
A sharp knife is the most important tool in the kitchen, these Japanese steel "Shun" knives are my favorite! And this is a great starter set to build on. Once you try them you will be in love so use this as a foundation you can build on for years to come.
This Scanpan 11″ skillet is just the right size for almost anything you will need to cook and my best friend and a real workhorse in my kitchen, it's also a great deal at $99. Scanpan is the best in the world for healthy cooking. It is coated with a proprietary ceramic-titanium coating that is durable while allowing you to use fewer fats and oils when cooking. It is a coating only they use. I could talk all day about my love for these pans, message me if you want more info. Here are some other sizes that are available if you are looking to outfit your kitchen with some new goodies. 8″ & 10″ Skillet set or 8″ Skillet, I still need this one for my kitchen Also, I don't really know how to cook small so the 12.5″ is my other fave!
This giant vat of olive oil is my favorite, I decant it into a smaller bottle for my counter. Or put this spigot on top of a wine bottle!
My favorite baking dish that is so easy to clean even burnt on cheese slides right off!
This Tovolo jar scraper has to be my single favorite kitchen tool, it is definitely the most used tool in my kitchen. If you are NOT a gadget person, this is the only necessity I say is a MUST beyond the wooden spoon.
A great wood spoon is essential, this Olive Wood one is my favorite, I have more than I can count. But can you really ever have too many?
A food scale can be a very important tool in your kitchen, this one is the one I use every day!
If you love Joanna Gaines as much as I do then the 'Magnolia Table Cookbook' is a must in your kitchen, get a copy HERE!