This recipe for Potato Chip Chicken is a classic from the mid-century. So crispy from being crusted in potato chips, it can be eaten hot or cold. It is also known as picnic chicken in some parts because it stays crispy when cold, hence good for a picnic.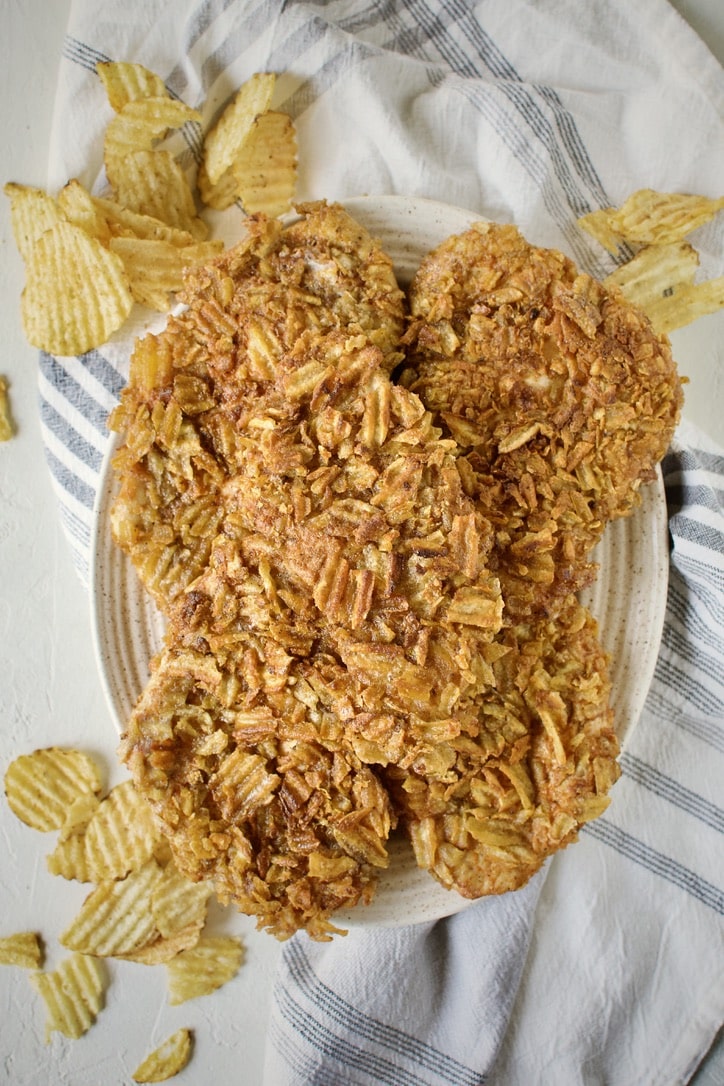 This recipe really couldn't be any easier to make. Plus it is a really fun way to use up the end of the potato chip bag. I often save up from a few bags and make this chicken when I have enough crumbs. You can also mix chips, or use any flavor you like, in this recipe I share only using plain salted chips.
Jump to:
Ingredients
Chicken, salt, pepper, some flour, and some chips are all you really need. Flatten the chicken slightly, dip it through some beaten eggs, and crust it with chips. Fry it up in some butter and oil and you have some of the best chicken EVER.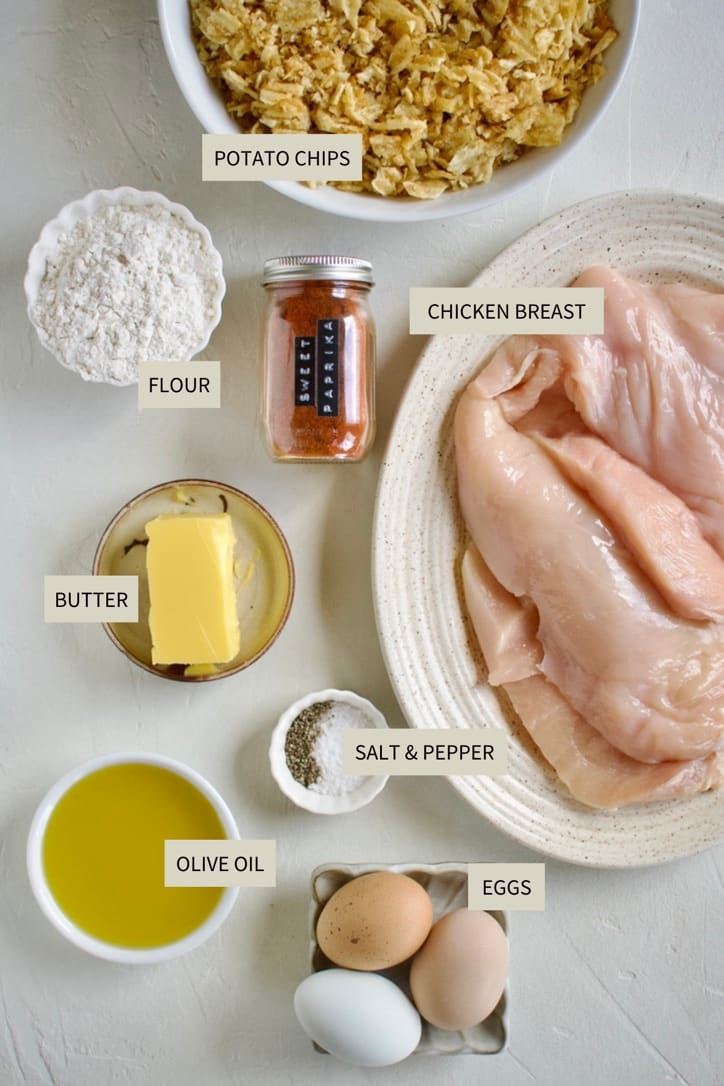 My family even says this is better than fried chicken. There is always lots of excitement around when I make this recipe.
Use the JUMP TO RECIPE button at the top of the post, or scroll to the bottom of the post to see the full recipe card with ingredient measurements and instructions.
Method
First, split your chicken breasts in half lengthwise. Then, between two pieces of plastic wrap, flatten the chicken and tenderize it a bit with a meat mallet or heavy skillet.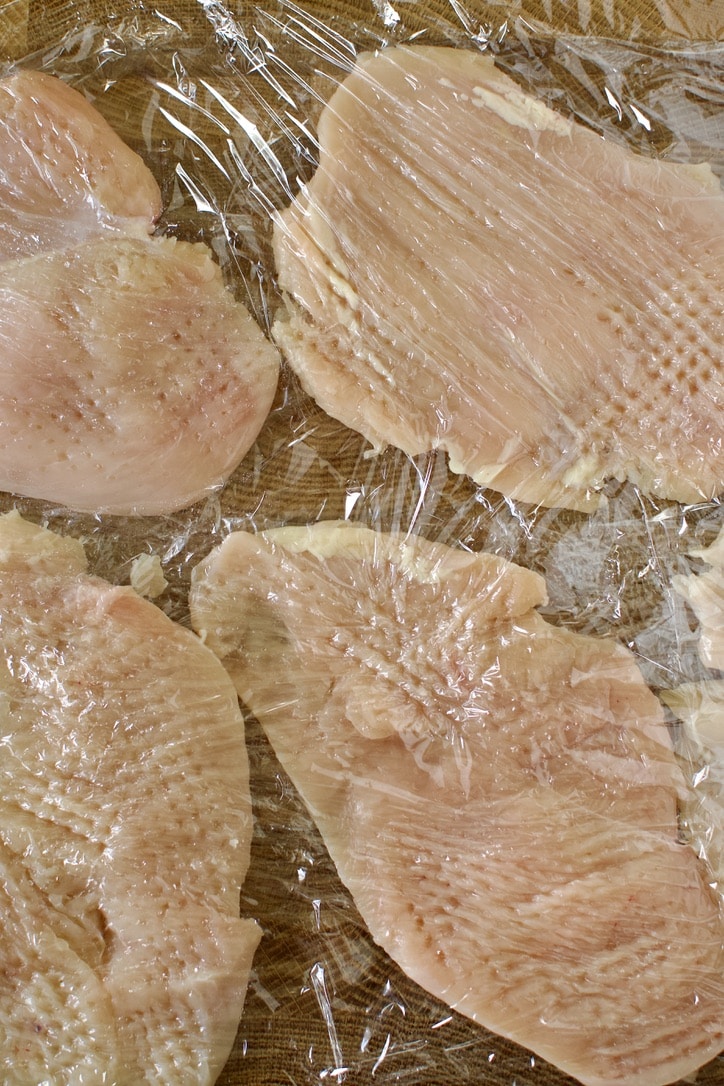 I then use this great little tool, and dust each chicken breast with some paprika and flour, after you salt and pepper both sides.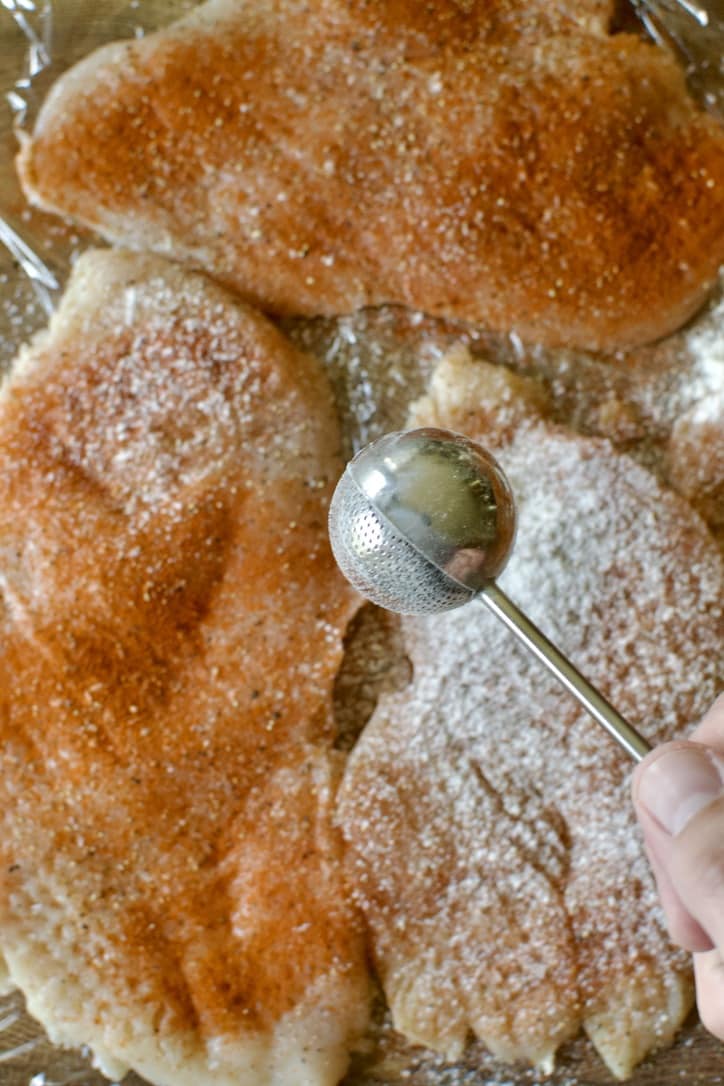 Then heat your skillet with the butter and oil in it and pass the chicken through some beaten eggs and press the chips onto each side.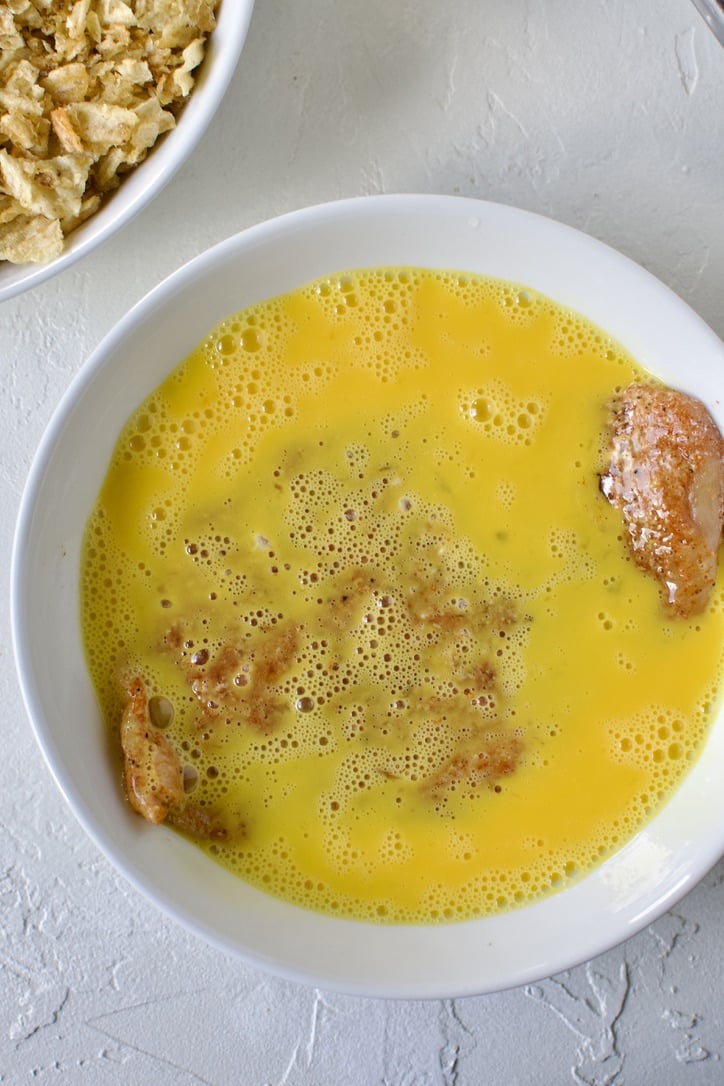 Fry until crispy and golden and then remove to a paper towel-lined tray to drain off any excess oil.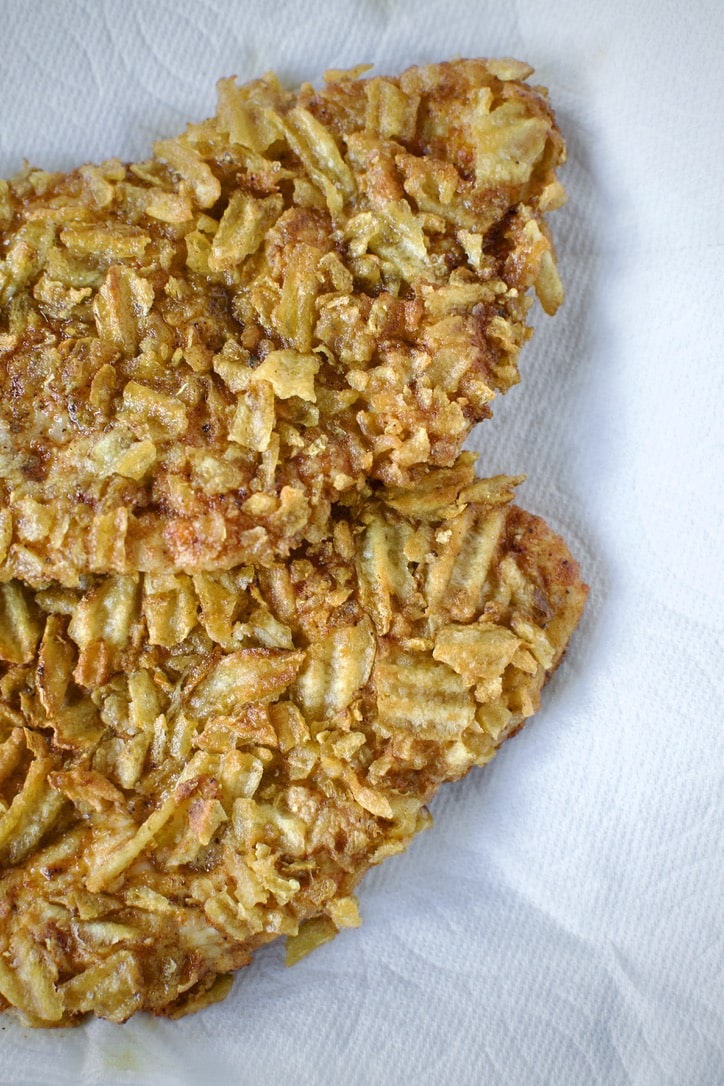 I didn't add this in the recipe, but I like to serve this topped with some quickly marinated onions, and halved grape tomatoes, tossed in a little olive oil, banana pepper juice, and salt and pepper. The fresh salad is a nice contrast to the salty, crispy chicken.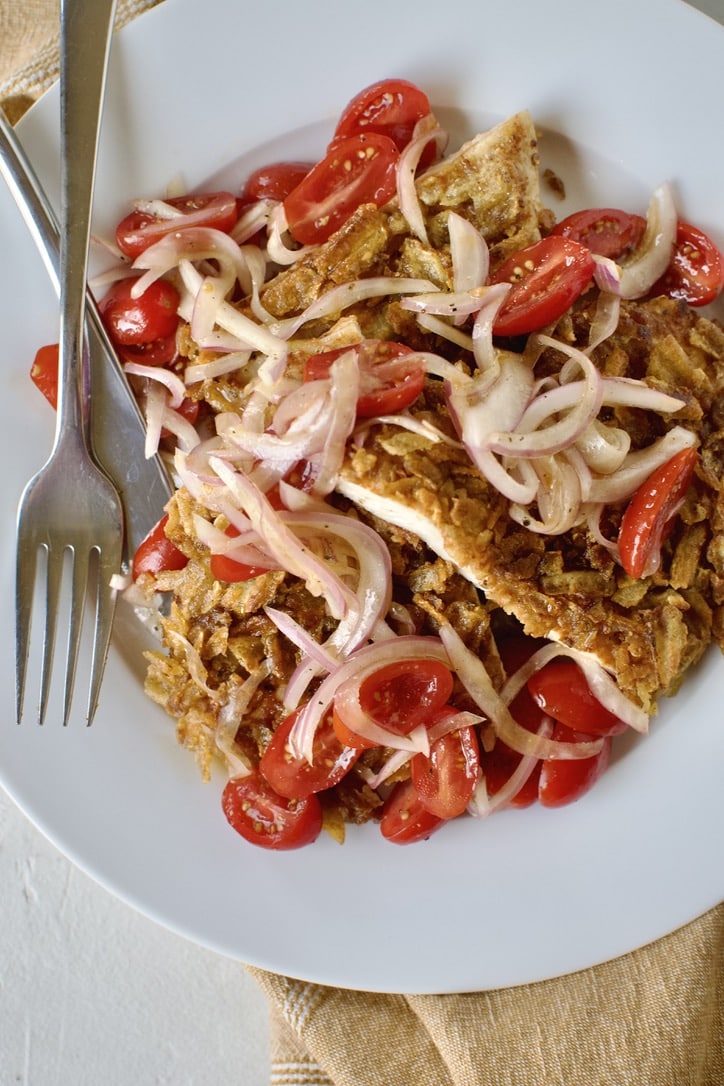 Notes & Tips
Fry the chicken in a heavy-bottomed skillet to prevent burning. A cast-iron skillet is my recommendation.
Pound out the chicken with the meat mallet until it is very thin. This ensures that the chicken will cook fully and quickly. You want the chicken to cook before the chips burn.
I like to use a really sturdy kettle-cooked chip. They seem to hold up the best. The wavy ones are what you see used in these photos.
Don't waste time or plastic, just crush the chips right in the bottom of the potato chip bag. You will need a full standard-size bag of chips to make this recipe. I collect the bottom crunchies of 2-3 Costco size bags before I make this recipe.
Don't skimp on the paprika, it really adds a lot of flavor. Dust the chicken generously with it.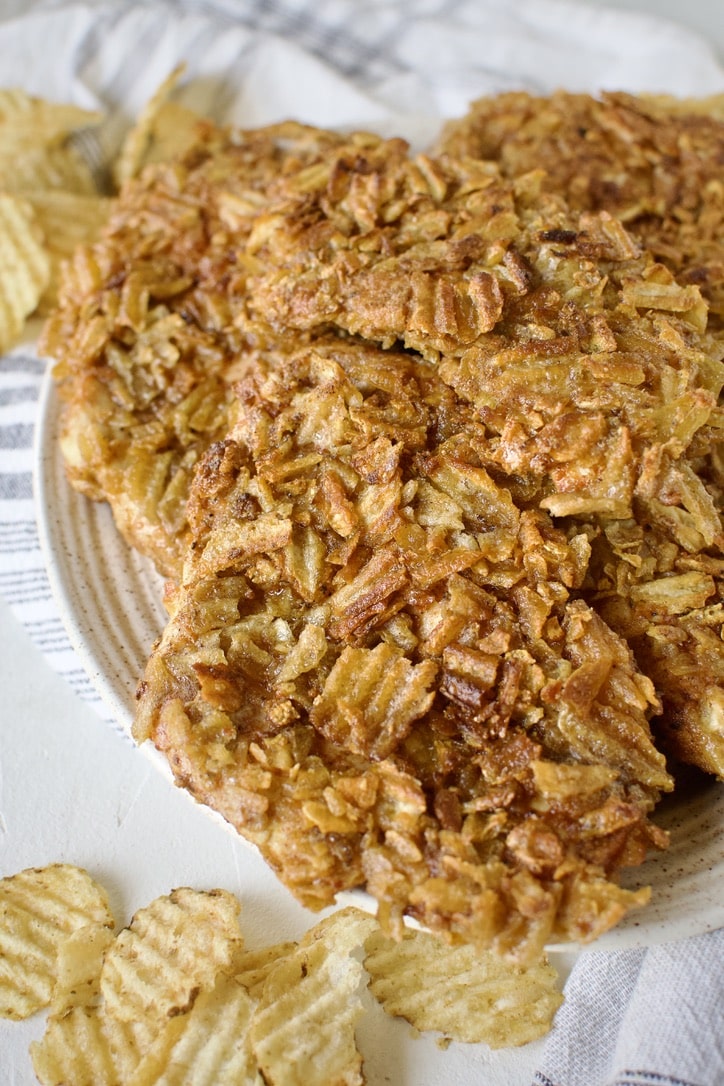 Substitutions
If you would like to keep this recipe dairy-free, simply omit the butter and only fry the chicken in the oil.
If you need to make this recipe gluten-free, you can leave off the flour and give a light dusting of cornstarch in its place.
I like to use wavy kettle-cooked chips, but this recipe can easily be made with your favorite chips of any flavor.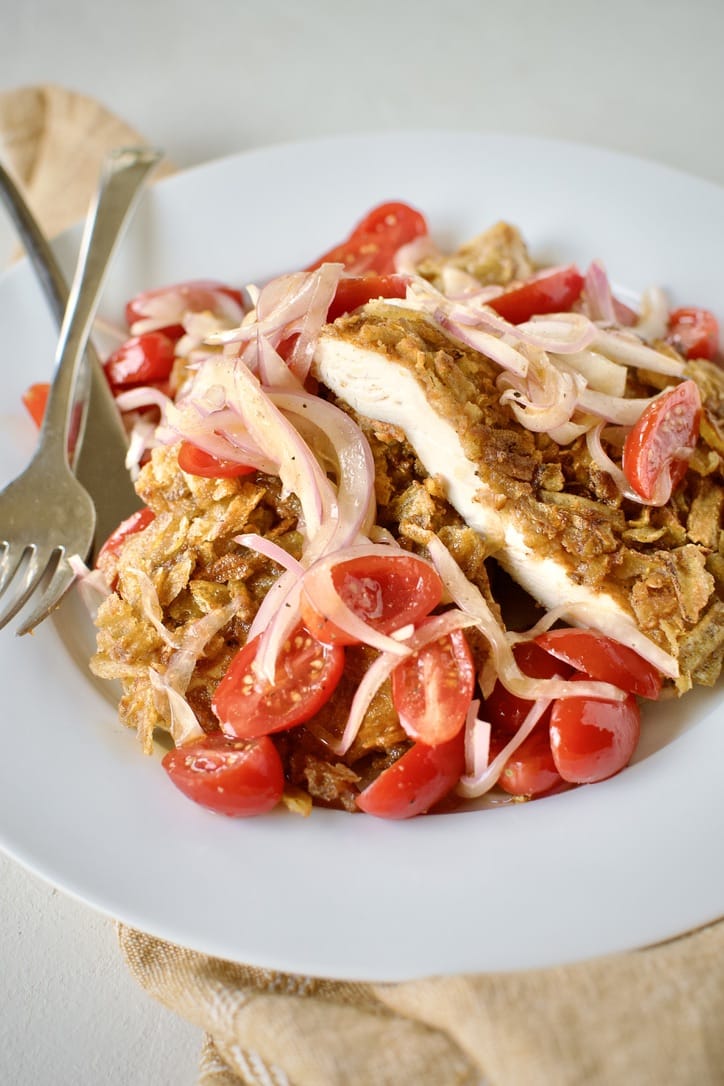 Did you make this recipe? Let me know by leaving a review or comment! And be sure to sign up for my newsletter, and follow along on Instagram, Pinterest, and Facebook!