I have been told that the recipe for Peanut Butter Cup Cookies that my family has been making my whole life is different than many out there today. These are a Christmas cookie staple in my family, and we don't really make them much any other time of year. Though we do sometimes whip some up for a special occasion.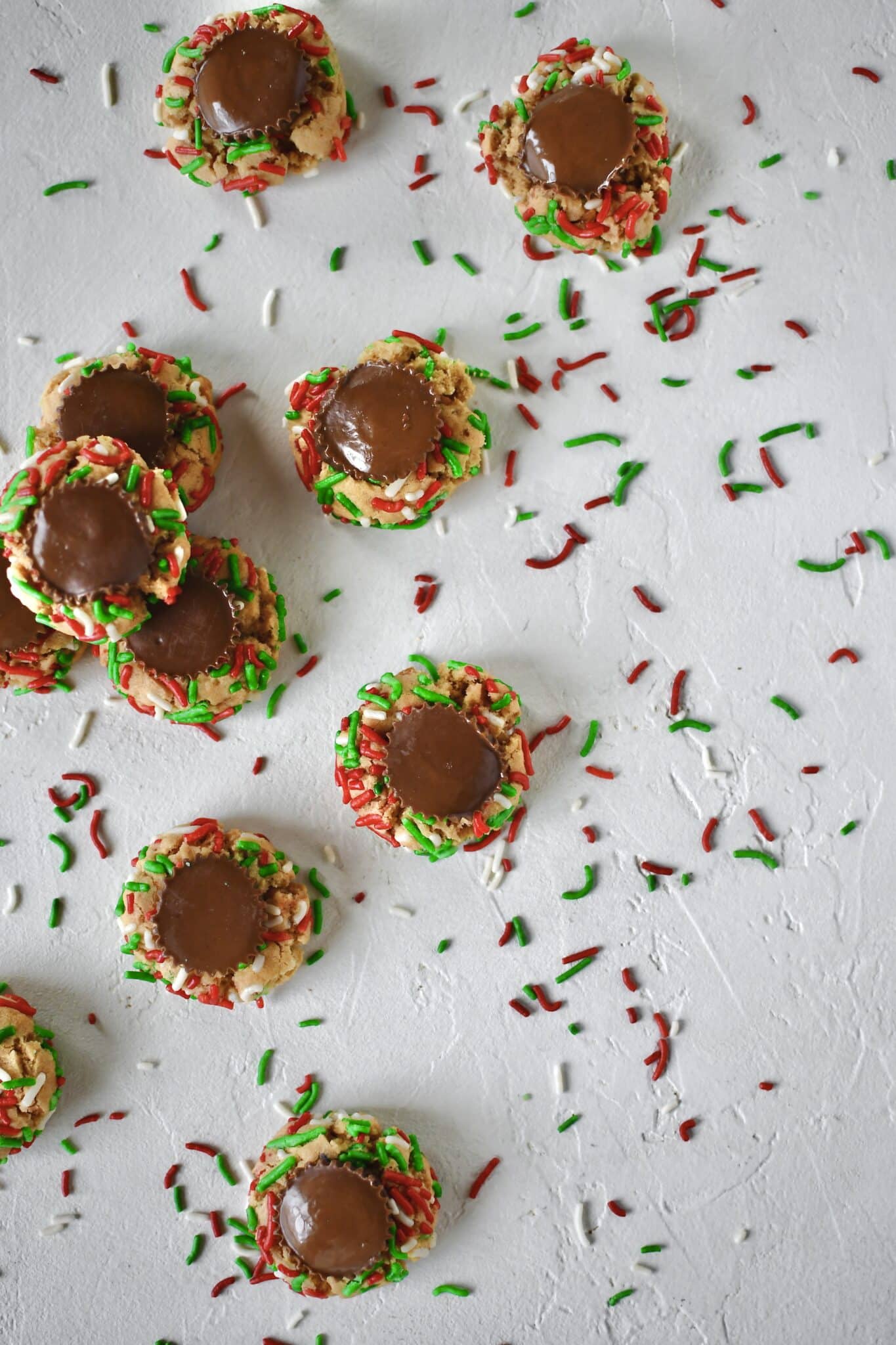 This recipe is just an old classic, but it recently was brought to my attention that this recipe just seems to work, while new recipes don't turn out the same. So I decided to share it, I don't know the full origin, but my mom wrote this one down some 35+ years ago and it just stands the test of time.
Jump to:
Ingredients
One note I will share when it comes to ingredients is that moms original recipe says to use shortening, while I ALWAYS use butter. It is just because I always have butter on hand and almost never buy shortening.
The other thing I personally do is use crunchy peanut butter. I do it just because that is all I buy so I have it around. But I am pleased to tell you, that you can use either creamy or crunchy and the recipe will work.
Oh, and if you ever seem to come across already peeled mini peanut butter cups, BUY THEM. I only see them sometimes, but we end up having a family peeling party so they can all get peeled quickly for baking time.
Use the JUMP TO RECIPE button at the top of the post, or scroll to the bottom of the post to see the full recipe card with ingredient measurements and instructions.
Method
These cookies are SUPER easy to make. You start by creaming together the butter's and sugars until they are light and fluffy. 2-3 minutes minimum.
Then add the eggs and beat them in until well combined. Work in the dry ingredient and you are ready to portion the dough out before rolling in sugar.
After you portion the dough, roll them into balls and then roll them in some sugar. You can roll them in plain white sugar, but since we always make these at Christmas time, mom always worked a little food coloring into the sugar before rolling. Red and Green sugars make these super festive. You can also use nonpareils that are festively colored or traditional jimmies, I have used all kinds of sprinkles over the years.
Next, bake the cookies until golden and set. Then you have to work super-quick when they come out of the oven and press the mini peanut butter cups into them before the cookies begin to cool and harden. You only have about a minute to get them all pressed in before it's too late.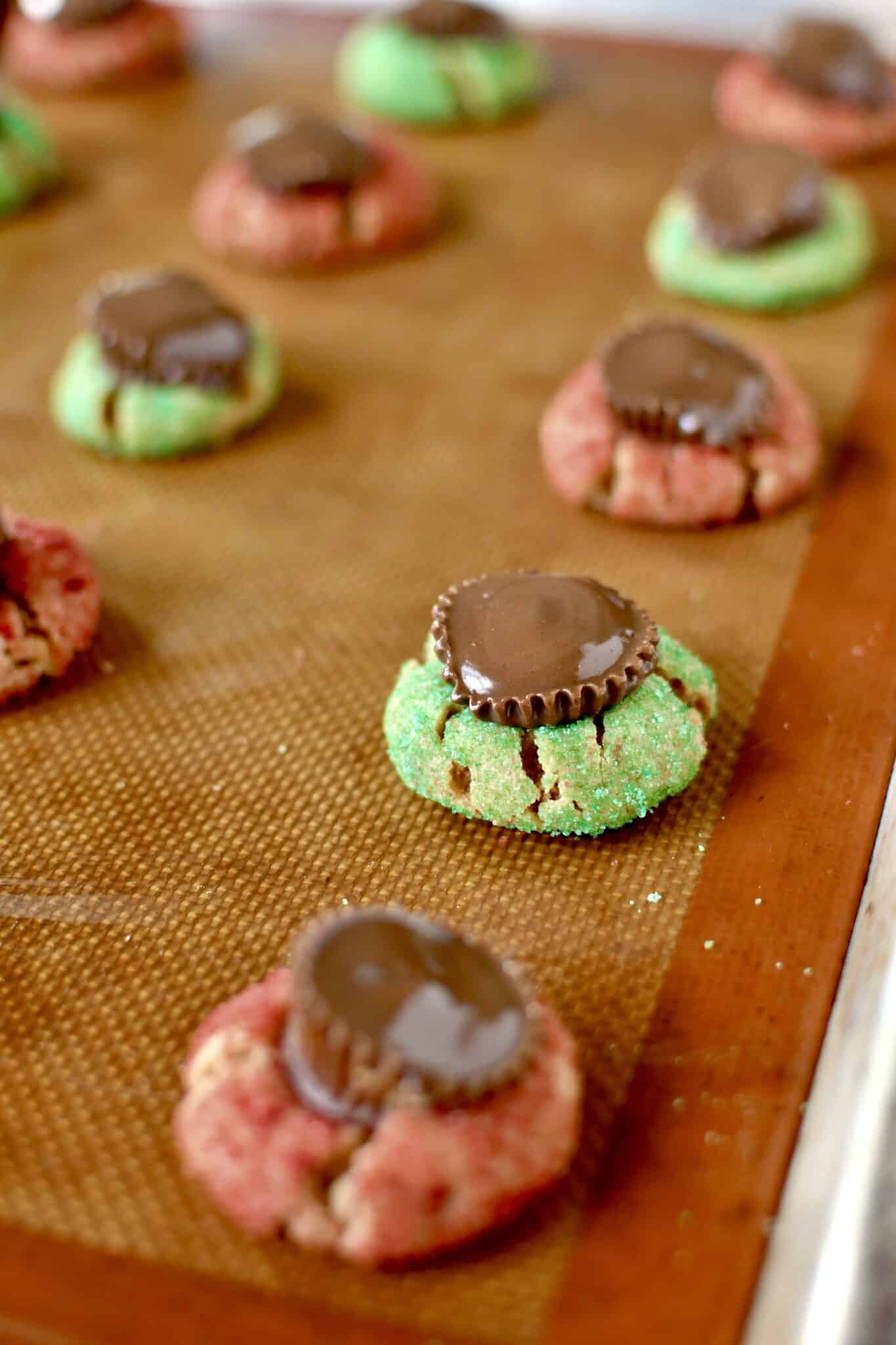 The chocolates will melt slightly from the warmth of the cookies, so be sure to let them cool completely and until the chocolate is fully hardened again. Once the chocolate has set again, you can stack the cookies on plates or in air-tight containers for storage.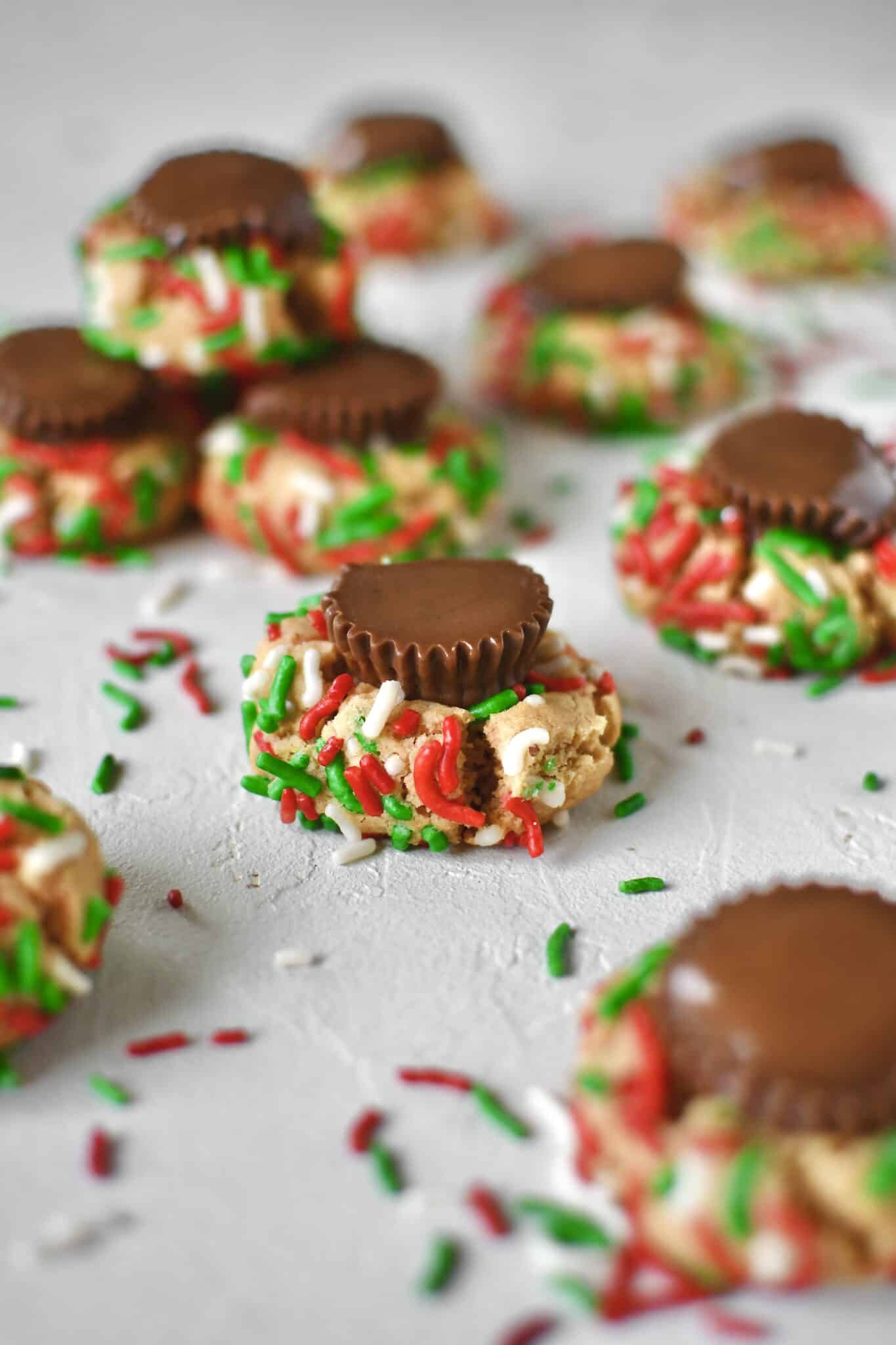 Notes & Tips
My family makes these mostly at Christmas, so we roll them in red and green sugars. However you can make them any time of year, and if you do, simply roll them in plain white sugar or even omit the sugar on the outside if you like.
We make our own colored sugars, starting with about 1 cup of sugar and 10-12 drops of red or green liquid food color, stir it in with a spoon until evenly colored. Add more or less to achieve your desired color. I like to add until I achieve a deep rich color.
Substitutions
I personally ONLY prefer to make these cookies with peanut butter cups, but you could also make them with chocolate drops, or any chocolate you really love.
I call for crunchy peanut butter in this recipe because it is my favorite. But, you can use smooth peanut butter, just don't use natural peanut butter that separates or needs heavy stirring.
Growing up mom always rolled these cookies in sugars that she colored red and green, you can dye your sugar any color you like or simply roll them in plain white sugar. I also sometimes roll them in festive nonpareils or jimmies sprinkles.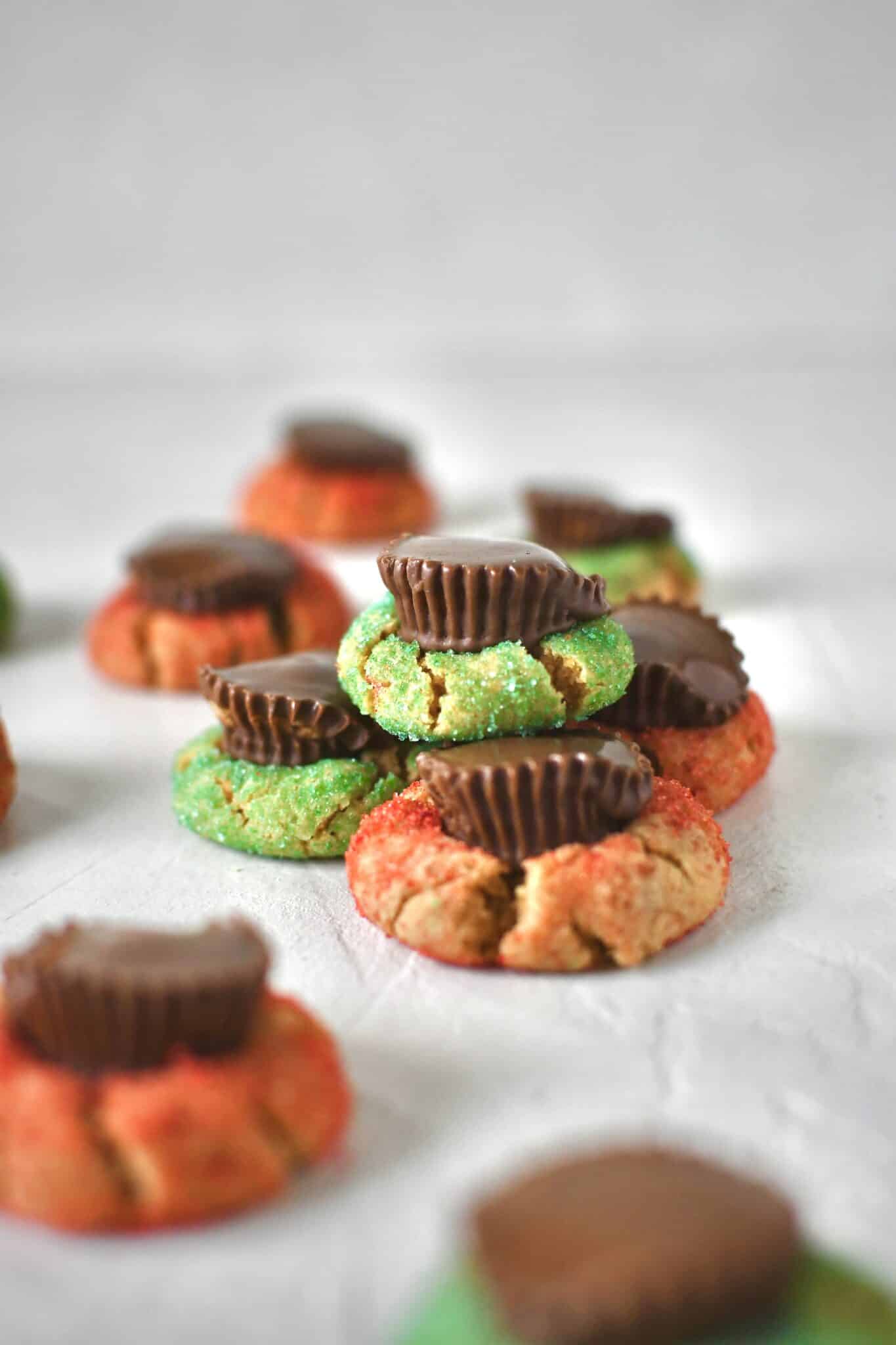 Did you make this recipe? Let me know by leaving a review or comment! And be sure to sign up for my newsletter, and follow along on Instagram, Pinterest, and Facebook!