If you have ever tasted this seasonal Sugar Plum Cheese Danish from Starbucks, you'll be like me and want to eat one every day! But DANG they have gotten expensive and I can now make a whole batch at home for the price of one.
And while, as someone mentioned to me these look like grown-up toaster strudel, I'll just turn on my grown-up easy bake oven and whip up a batch. They are so good, and if you can, eat them as soon as they cool enough to. So good while still warm!
Jump to:
Ingredients
While you can go through the work of making your own puff pastry, these turn out just as good, maybe even better with storebought. I typically am a major proponent of making pretty much everything homemade, but this is the one shortcut I am willing to make.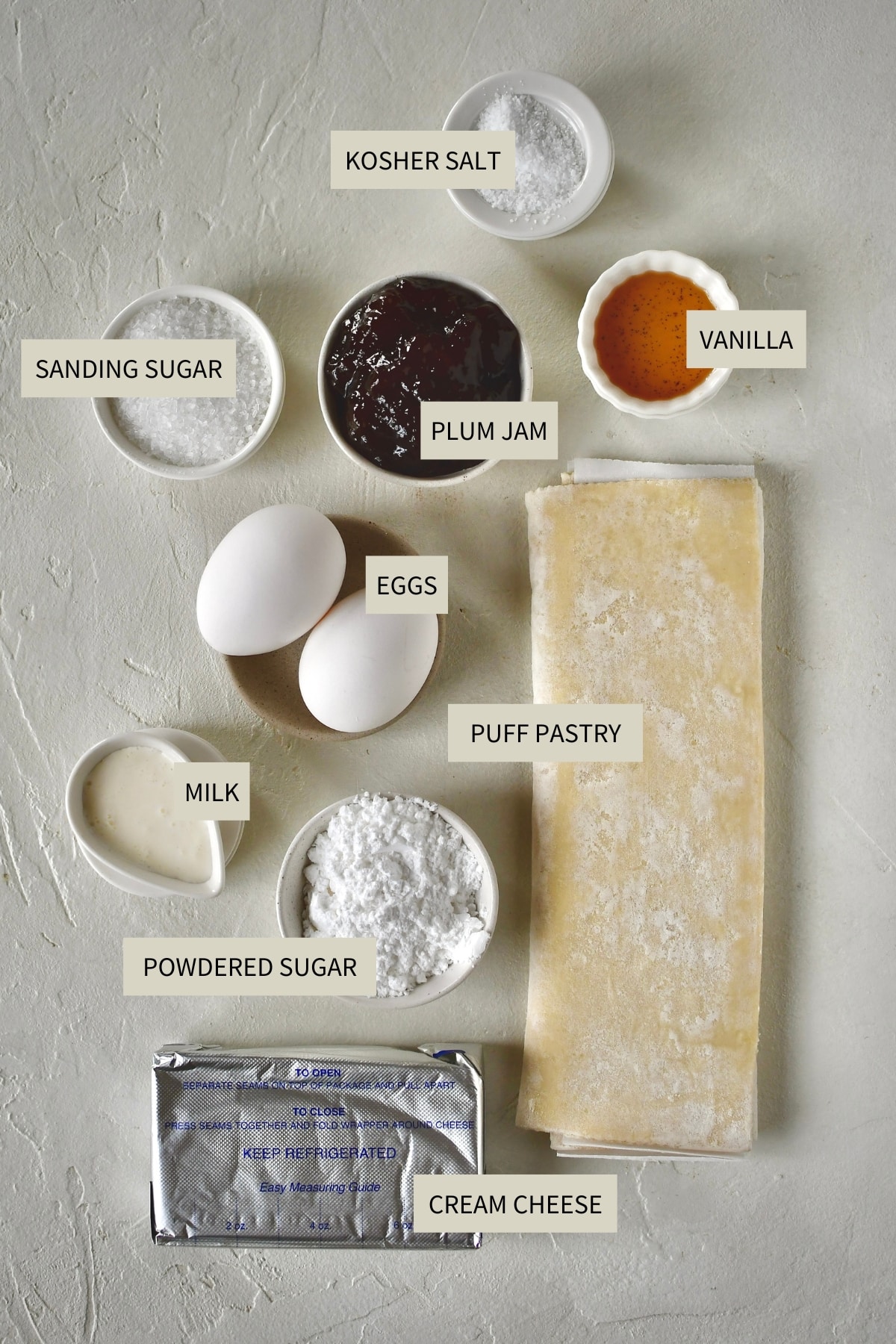 I also use purchased plum jam for this recipe too, I typically make them in the winter so plums are not readily available. You could also use just about any jam you like.
Use the JUMP TO RECIPE button at the top of the post, or scroll to the bottom of the post to see the full recipe card with ingredient measurements and instructions.
Method
First thaw the puff pastry, then roll it out just a little bit on a lightly floured surface. Do not push it out too hard or your pastries won't rise well. Just make it a tiny bit bigger and flatten it out so you can get 4 fairly even squares out of it. Then cut the pastry into 4 squares.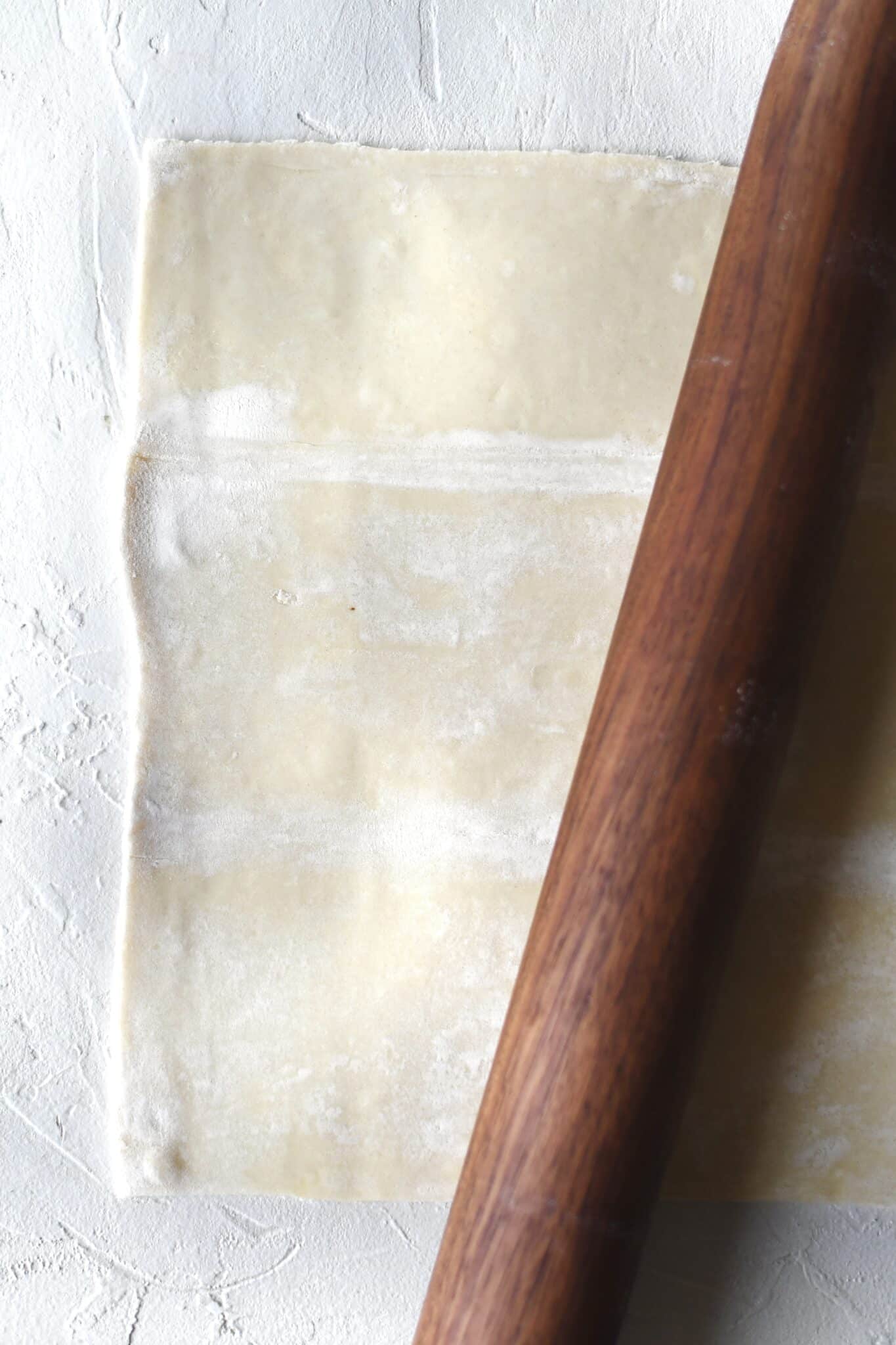 Place the four squares on a parchment-lined baking sheet and cut 4, 1 ½ inch or so list on each side. Dab some egg wash on all four corners and the middle and fold the corners into the middle. Brush the folded parties with some egg wash all on the tops and sides, and place them in the freezer to chill.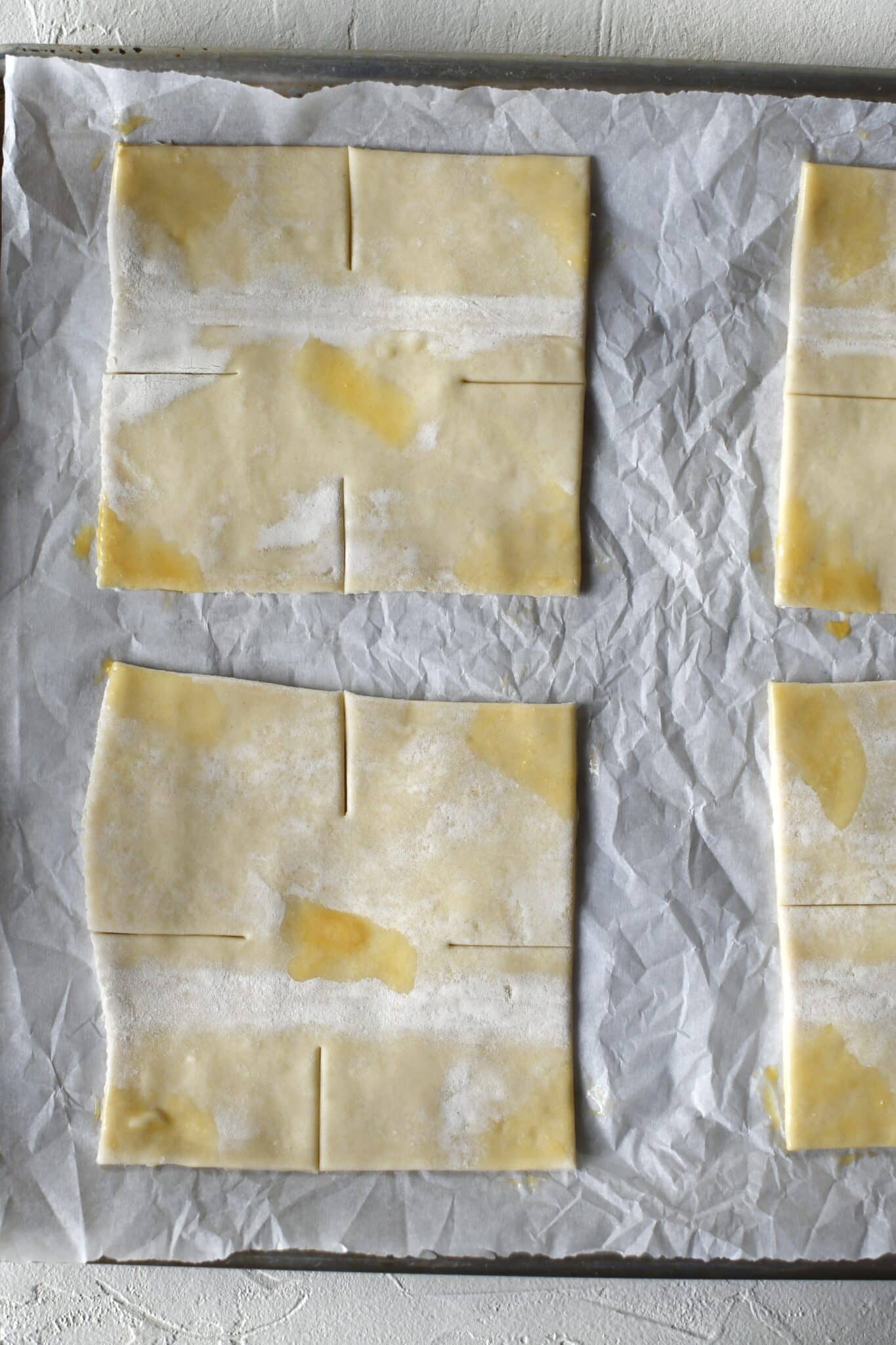 Once chilled, dollop some of the cream cheese filling on top of each pastry and dust the edges with sanding sugar. Bake them immediately until golden and puffed. Place the jam on top as soon as they come out of the oven, then let them cool and drizzle the glaze on if desired.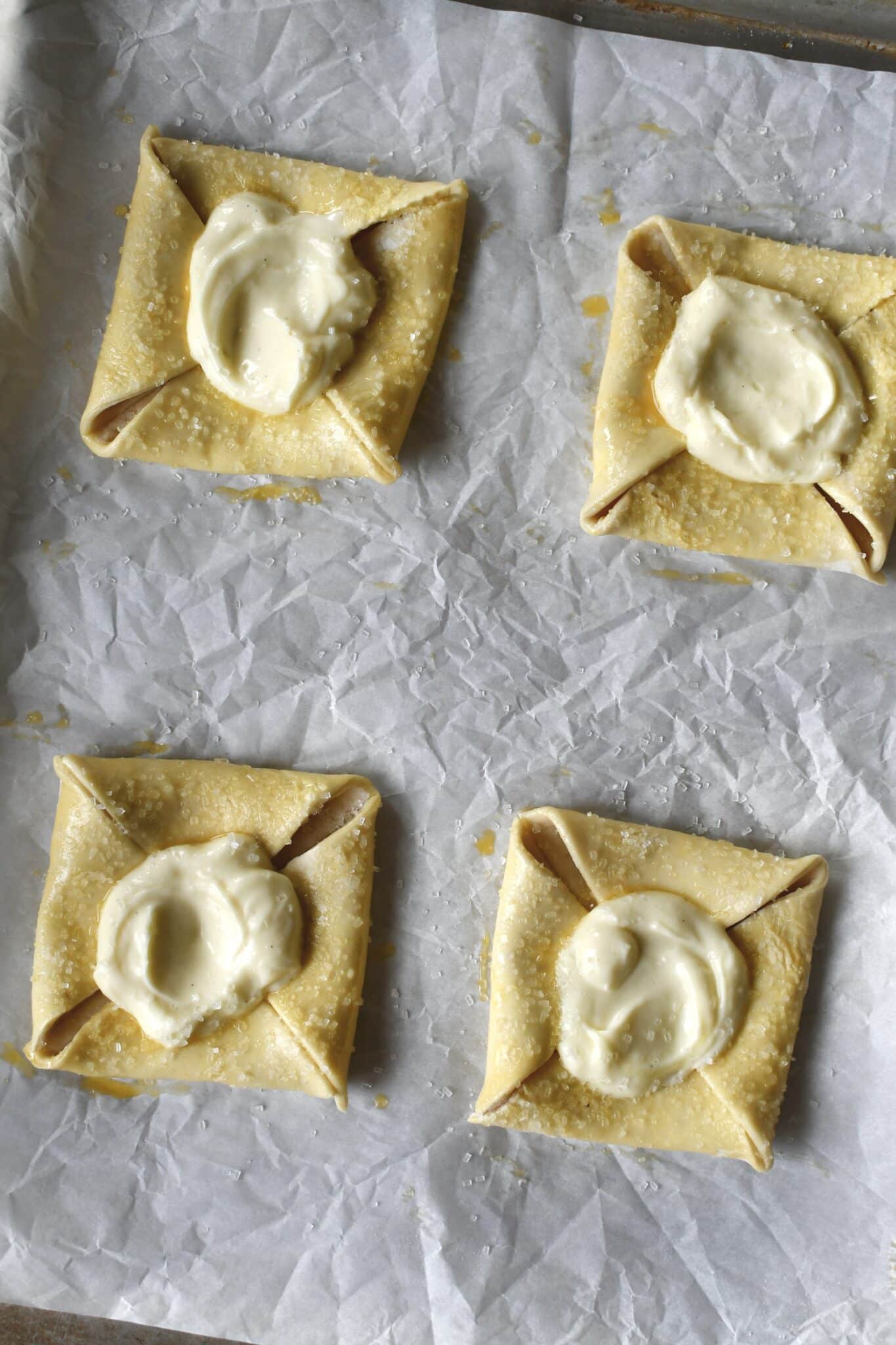 Notes & Tips
It is important to chill the puff pastry after you form the danishes. Doing so ensures you get a really great rise out of it. Rushing it will still give you puffy danish, but chilling it makes it next-level puffy. This is because when the butter is cold, it creates more layers, hence more PUFF.
Be sure your cream cheese is room temp, if not a little softer or you will get a lumpy filling. And that is no good. I even make the filling in my little food processor to ensure it is SUPER smooth.
The glaze is totally optional, it really is just to make them a little showier. But it also enhances the feel of adult toaster strudels.
Substitutions
While you can make your own puff pastry if you like, store-bought is always perfect. I usually encourage anyone to make almost everything from scratch, but this is one shortcut I am willing to take.
I love some crunch sanding sugar on pastries like this, if you can not find really chunky sanding sugar, you can also use Turbinado or sugar in the raw.
Plum jam makes these super reminiscent of the Starbucks Sugar Plum Cheese Danishes, but you can honestly use ANY jam you like on top of these. You could also use NO jam and just have a cheese danish if you prefer.
Did you make this recipe? Let me know by leaving a review or comment! And be sure to sign up for my newsletter, and follow along on Instagram, Pinterest, and Facebook!