This Pollo Asado Recipe is a classic that is getting some news lately thanks to a fast-casual restaurant named after a pepper. But it is a deep-rooted, Mexican dish that is packed with flavor. It has a bit of an ingredient list, but it's super easy to make and totally delicious!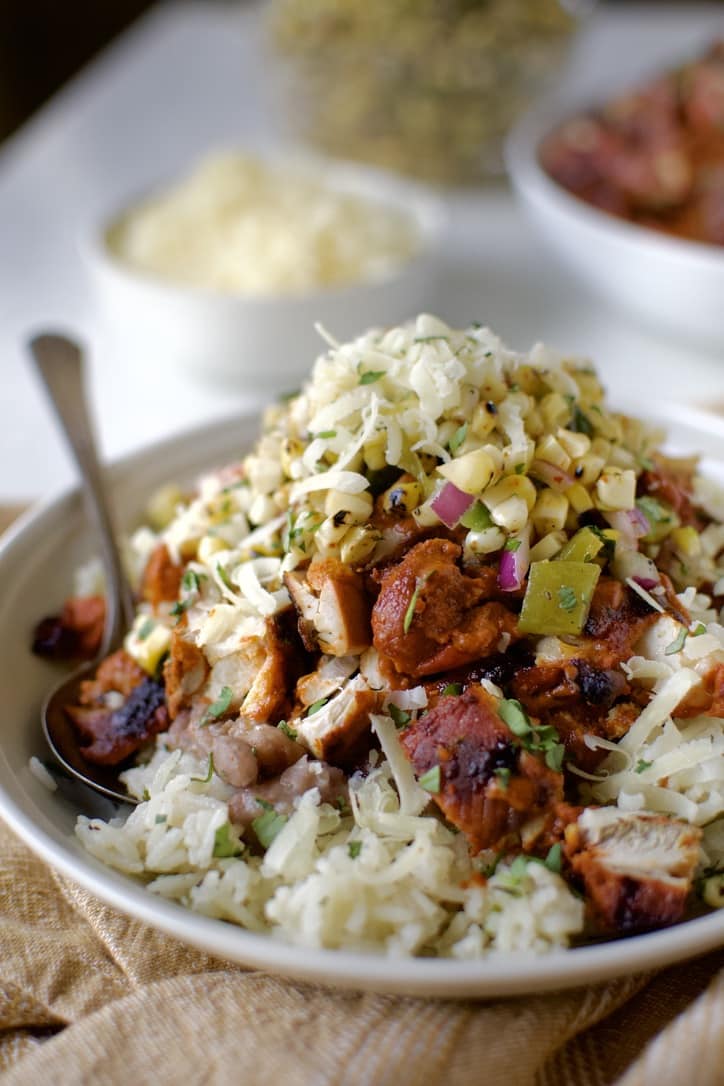 This Pollo Asado recipe is a flavorful marinated grilled chicken dish with roots tied to Mexico and Cuba. The marinade features Mexican spices, citrus juices, and achiote, which gives the dish its beautiful deep red color.
Jump to:
Ingredients
There is really only one ingredient in this list that you will need to hunt down a little bit. Achiote Paste. It may not be readily available in the regular grocery store, but I typically find everything else there, even the guajillo peppers.
The only other thing you can look for is "Naranja Agria" or Bitter Orange. I have a hard time locating these fresh, but I make my own version of it by combining fresh orange, lemon, and lime juice to imitate the bitter and sour orange juice they yield.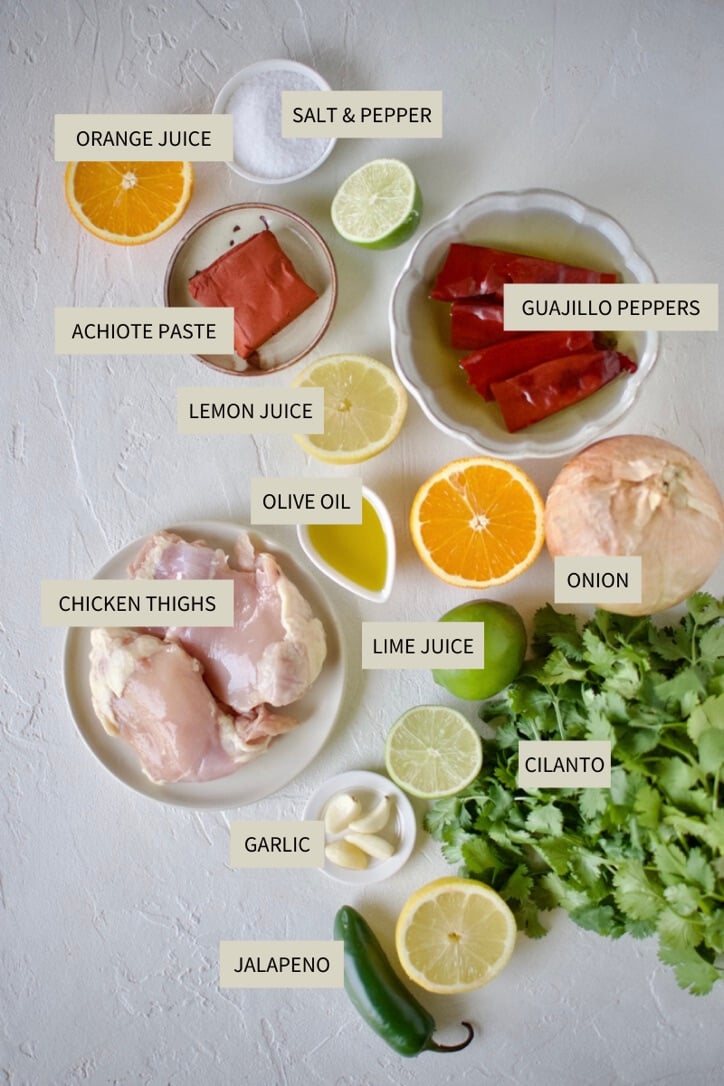 Achiote or Annatto Paste (also known as recado) is a flavorful spice made by grinding annatto seeds with vinegar, garlic, and other spices. Most often you will find the paste in a small 4-ounce block. Learn more about Achiote and Annatto HERE!
Where to buy Achiote Paste? Look for it in the ethnic aisle of your grocery store, or at a Latin market. Click those words (where to buy) to purchase it on amazon!
Use the JUMP TO RECIPE button at the top of the post, or scroll to the bottom of the post to see the full recipe card with ingredient measurements and instructions.
Method
Pollo Asado or Asada? "Pollo" translated from Spanish to English means "chicken", and Asado (or Asada) means "roasted" or "barbecued". And it is a VERY simple recipe to make! To make the marinade, toss all the ingredients into the blender, a high-speed one is best for getting a really creamy marinade.
Then place the chicken (I use chicken thighs) in a zip-top bag and pour the marinade over it. Close it up and toss it around to coat the chicken. It can rest in the marinade for up to 3 days.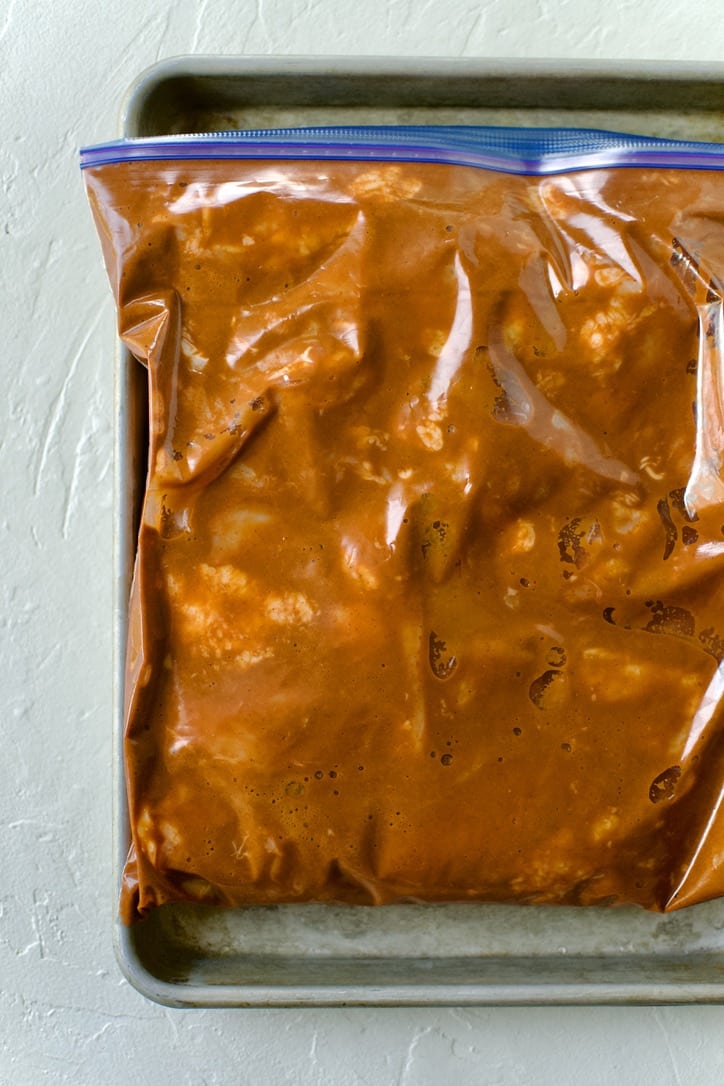 When you are ready to cook the chicken, remove it from the marinade and place it on a foil-lined baking sheet, to make for easy cleanup, season with some more salt and pepper and it is ready to cook.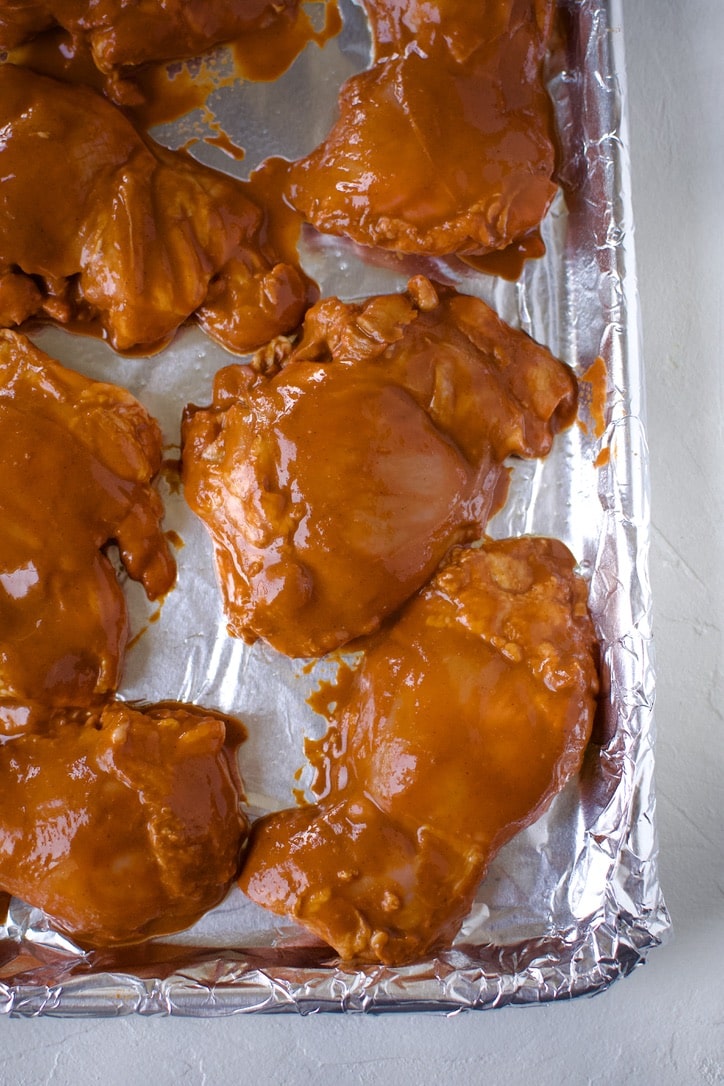 Then cook the chicken under the broiler until crispy and slightly blackened on the top. This is my favorite way to cook this chicken, it is a great way to control the browning of the chicken, and the marinade doesn't get stuck all over my grill making a mess.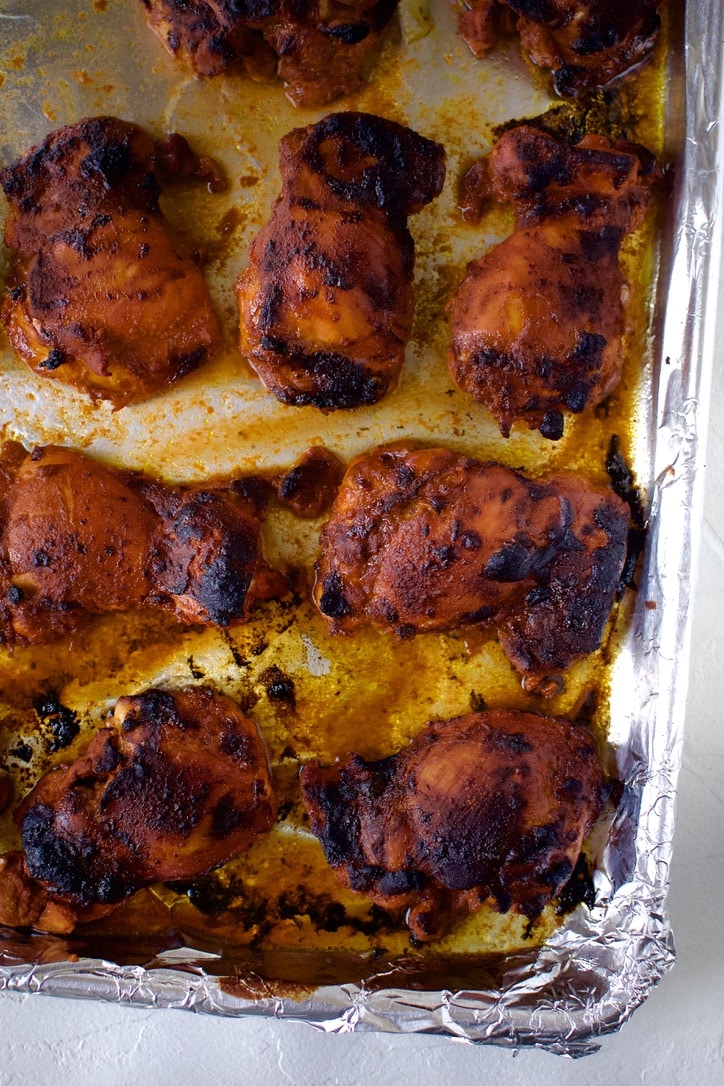 I also save a little bit of the marinade and warm it on the stove to toss the chicken in after I cook it. I dice the chicken thighs up and toss them with the extra sauce, and a little cilantro.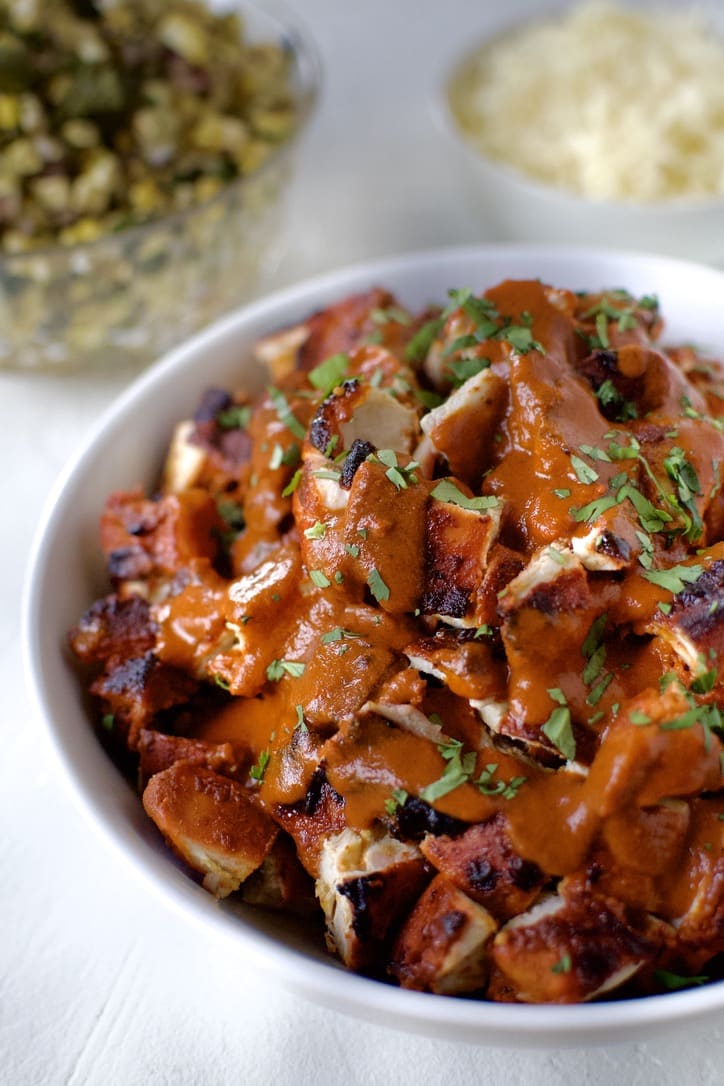 My favorite way to serve this chicken is in a burrito bowl. A little cilantro lime rice on the bottom, some pinto beans, the chicken, and topped with some Roasted Chili-Corn Salsa and cheese.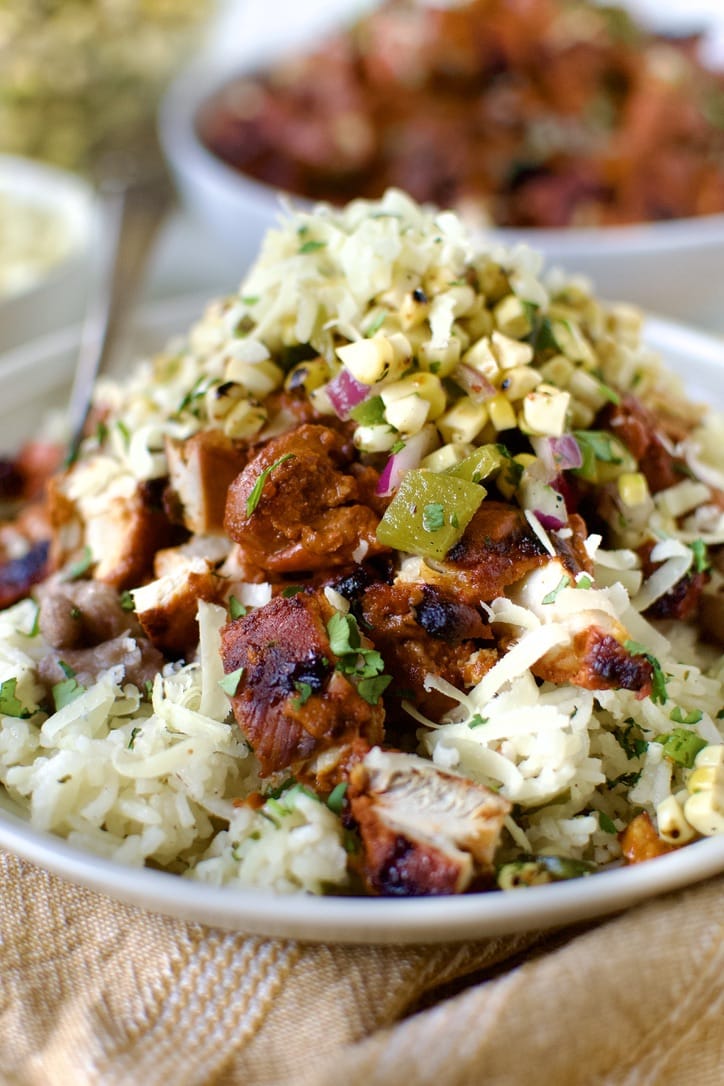 Notes & Tips
You will find dry guajillo chiles in the grocery store. That is the only way they come. They need to be reconstituted by soaking them in boiling water. Bring some water to a boil and place the chiles in a bowl and pour the water over them. Let them soak for about 15 minutes, then take them out and drop them in the blender for your marinade.
The chicken needs at least a couple of hours in the marinade if you ask me. Do that at a minimum, but it can also be kept for up to 3 days for even more flavor!
Substitutions
I like to use chicken thighs for this recipe, no bones to get in the way. But if you want to go uber traditional, use a whole chicken that has been cut into quarters or eighths.
I enjoy including guajillo chiles, they add a little extra spice and smoke to the marinade. You can leave them out if you can't find them, or just toss an extra jalapeno in, in their place.
You can substitute the orange, lime, and lemon juice with the juice of Naranja Agria if you can get your hands on them.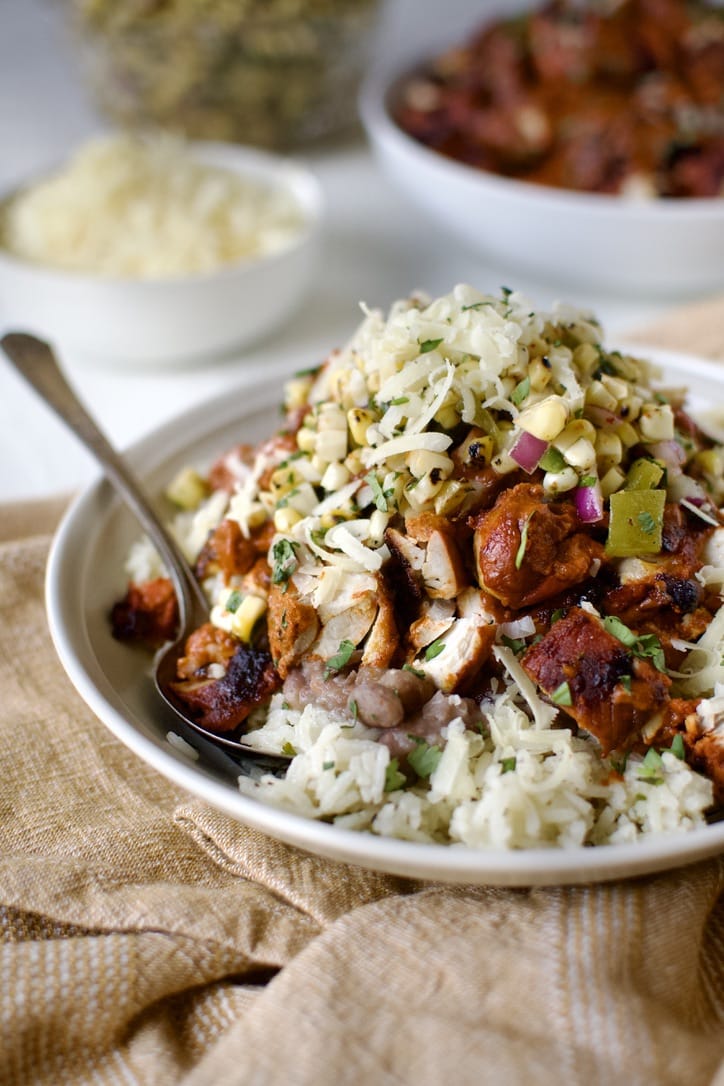 More Tex and Mex-inspired favorites!
Did you make this recipe? Let me know by leaving a review or comment! And be sure to sign up for my newsletter, and follow along on Instagram, Pinterest, and Facebook!