If you spend any amount of time on this website you will notice my LOVE for Greek Foods. I love cooking them, and while this Lemon Orzo Chicken may not be a traditional Greek dish, it definitely has some Greek flair!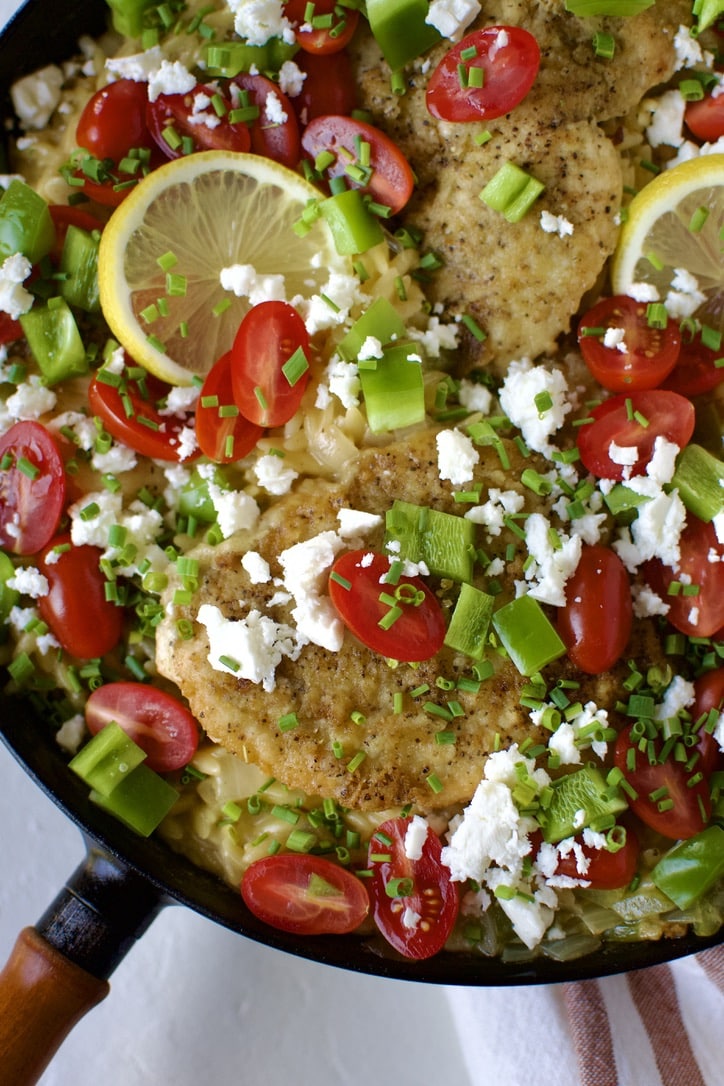 Jump to:
Ingredients
This is a medium-length ingredient list, but every single one is worth it! The finished product is full of flavor and texture, I just love it. And don't think the chicken stock and bullion are redundant, use both of them, trust me on this one.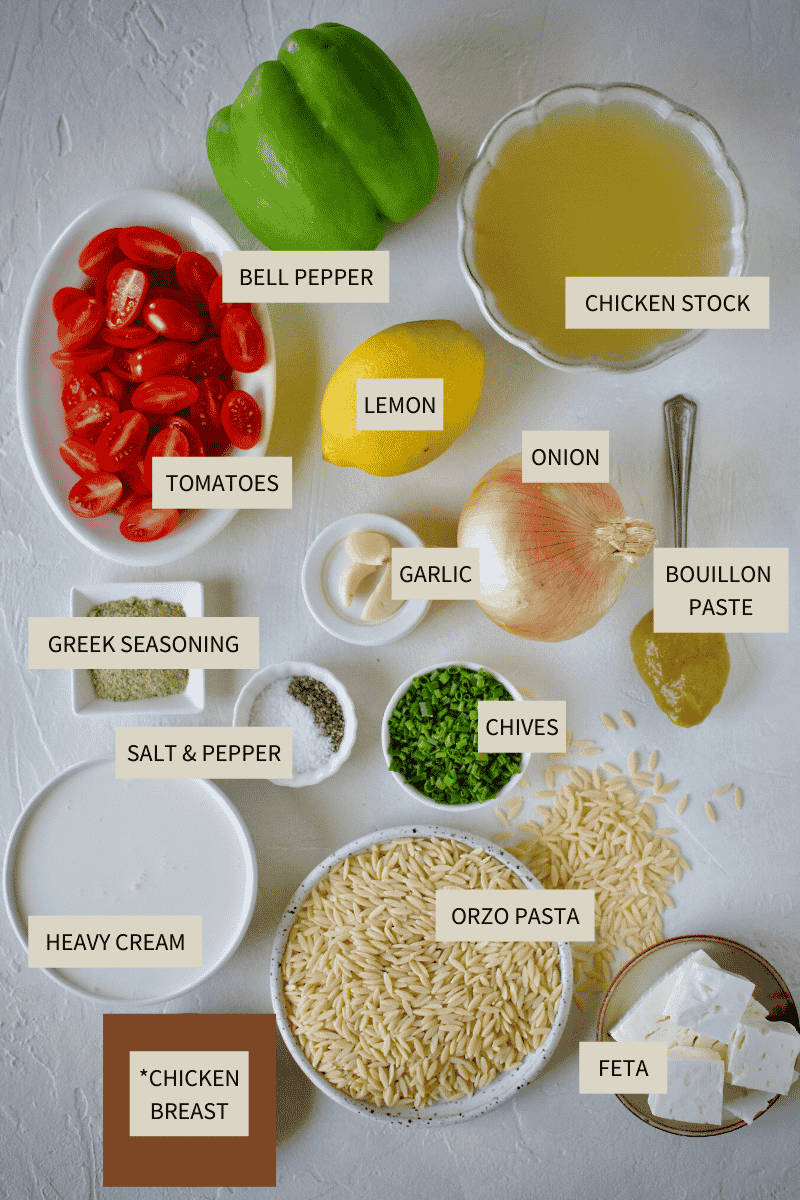 Also, to note, I love this sheep's milk feta that I pick up at Costco. It comes in a big tub of 4 slabs that I crumble. It just takes some gentle pressure and it breaks into little pieces. And it has TONS of flavor, if you don't shop at Costco, look for a large slab piece of feta over already crumbled, it's just better!
Use the JUMP TO RECIPE button at the top of the post, or scroll to the bottom of the post to see the full recipe card with ingredient measurements and instructions.
Method
First, season the chicken and sear it in the skillet. Cook it until it gets really well browned on one side then flip and cook for a short amount of time, as it will finish cooking with the orzo later.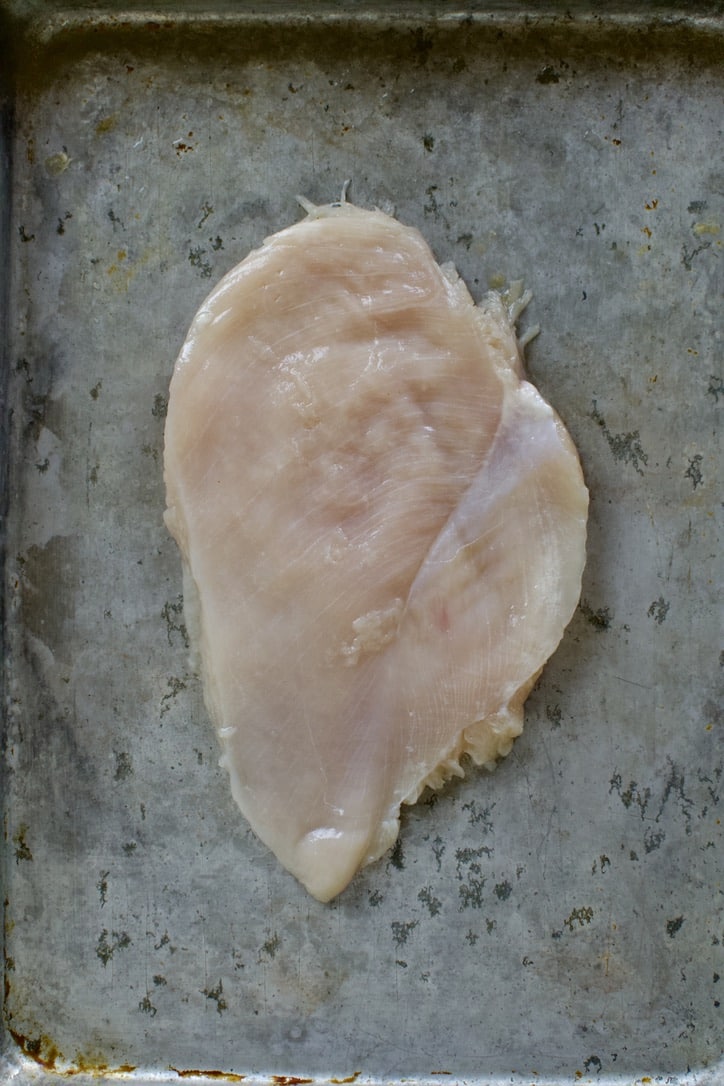 Remove the chicken from the pan, and in the same pan, cook the onion, pepper, and garlic until tender, then add the stock, paste, cream, and orzo, and bring the mixture to a simmer.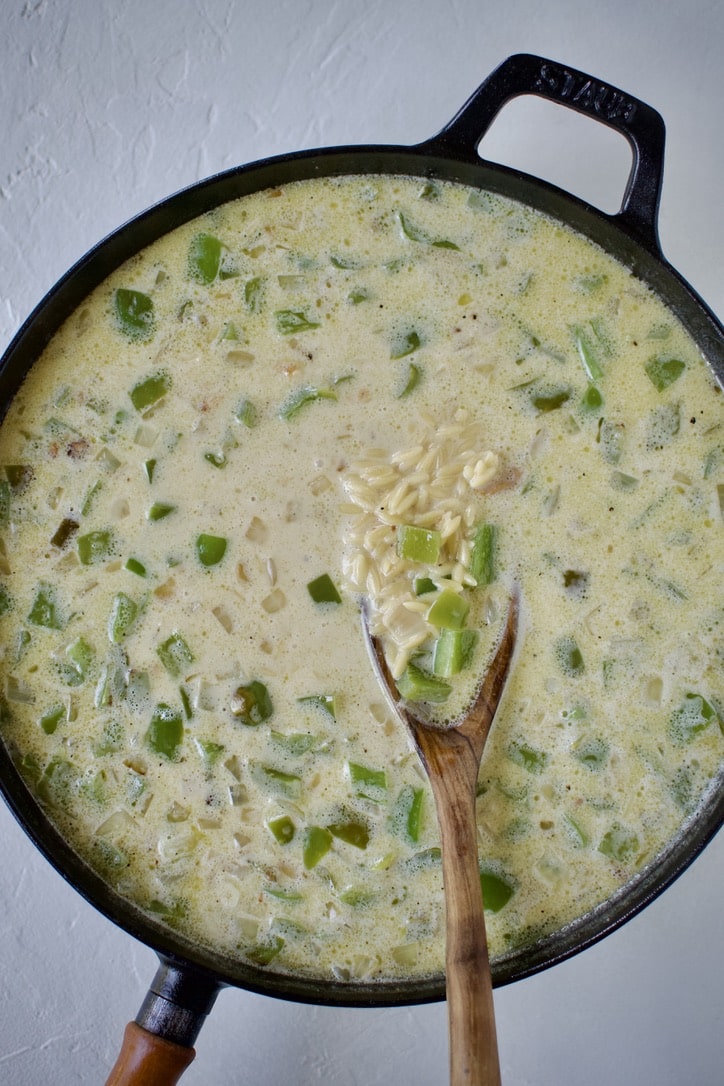 Then place the chicken on top and the lid for the pan, or some tin foil, and simmer for 10-15 minutes until the chicken is fully cooked. Top with the feta, tomatoes, and chive and it is ready to serve.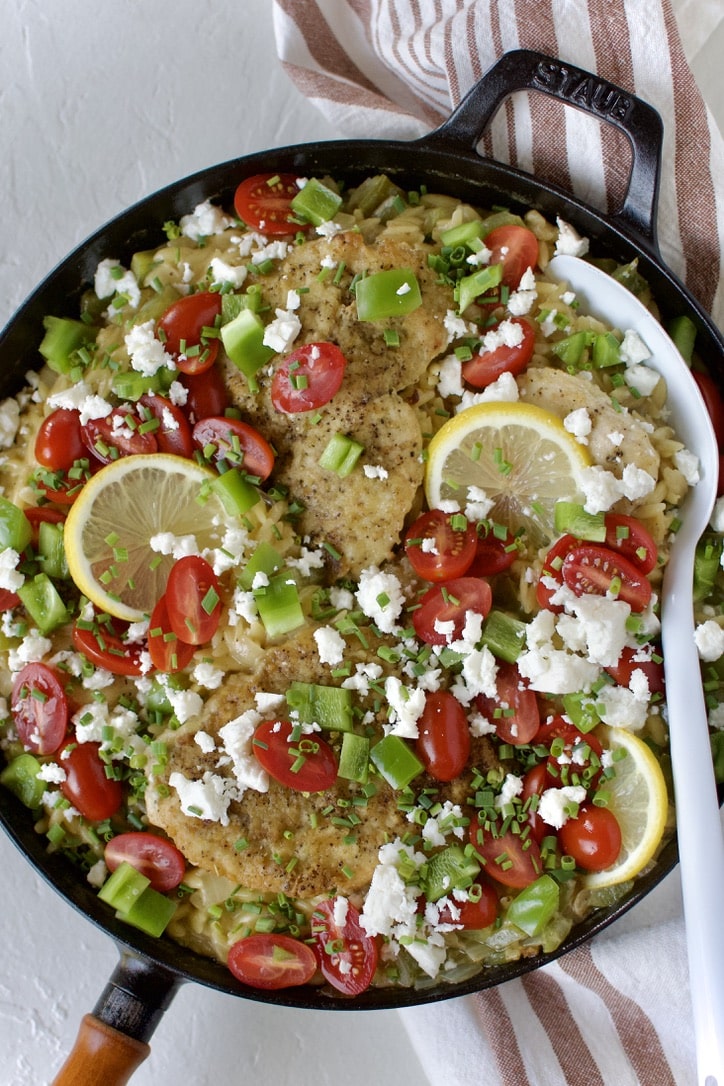 This very simple dinner is ready in about 30 minutes and is one of the most heartwarming meals. This is comfort food to me!
Notes & Tips
Really get a good crusty sear on that chicken. Have patience with it, and once it is able to release from the pan, move it around until it gets very evenly browned.
To be honest, I pull my chicken out after everything cooks together and give the orzo a good stir. Some can stick to the bottom, and I like to scrape it off, then set the chicken back on and garnish with the cheese, tomatoes, and chives.
Serve with a lemon wedge or squeeze the juice of a fresh lemon over the dish before serving.
Get your hands on this chicken bullion paste, I dare say it makes the dish. And it has so many uses!
Substitutions
I use olive oil because I always have a bottle by the stove, you could use any neutral oil or even butter if you like to cook the chicken and subsequent onions, etc.
I prefer yellow onion here, but red onion or shallots could even work.
Green bell pepper adds a nice pop of color, but any color pepper would be admissible.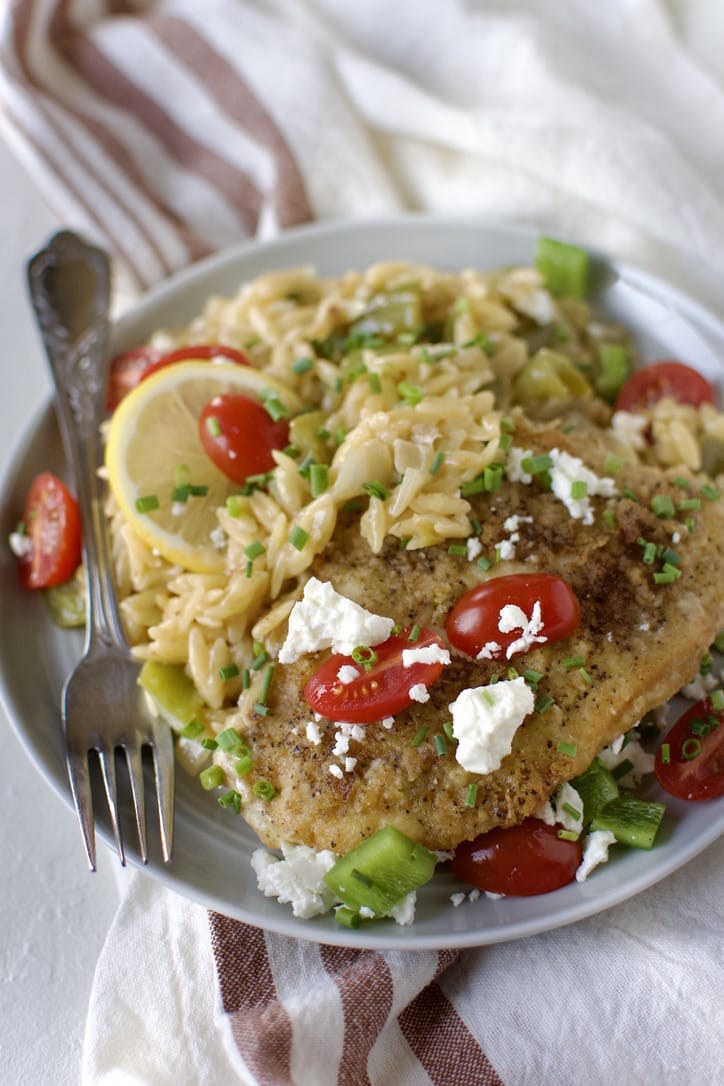 More great Chicken Recipes
Did you make this recipe? Let me know by leaving a review or comment! And be sure to sign up for my newsletter, and follow along on Instagram, Pinterest, and Facebook!